Biang Biang noodles show you the power of simplicity. With a spoonful of savory seasoned soy sauce and fresh, nutty hot sauce, the thick and meaty handmade noodles will bring you to foodgasm!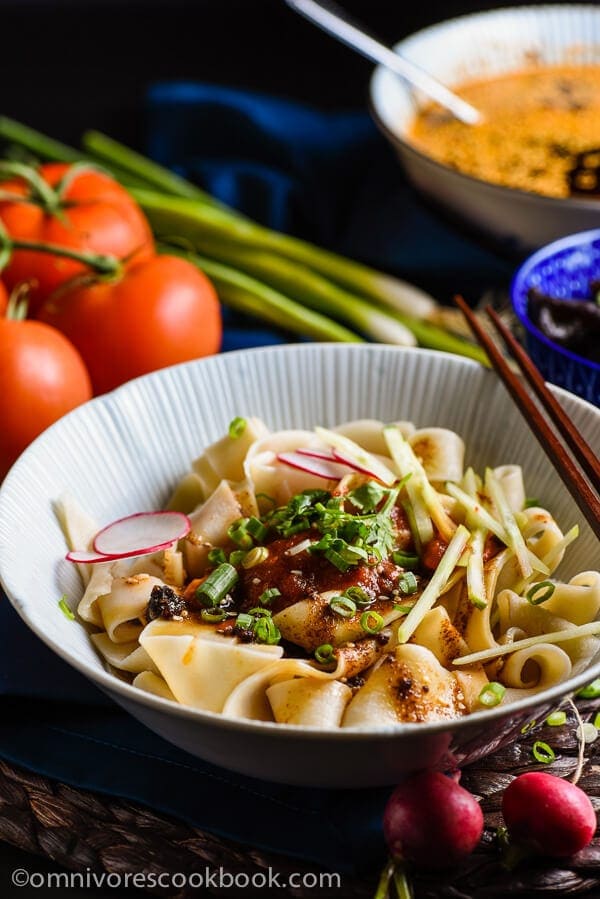 Does the name of this dish sound strange enough? Biang Biang noodles is actually a simple spicy noodle dish. The noodles are freshly made and quite wide and thick. The word "biang" is an onomatopoeia – it mimics of the sound made in the process making the noodles, when the dough is pulled and slapped against the working surface.
The dish is classified as cuisine of the poor, since it is so basic and cheap. Even in Beijing, where the average lunch usually costs 4 to 8 dollars, a big bowl of Biang Biang noodles only costs 2.
This simple noodle dish is the signature of Shaanxi, a province not well known for its food.
However, Biang Biang noodles have become quite trendy as of late. There is even a New York restaurant named after it and featuring it as the signature dish.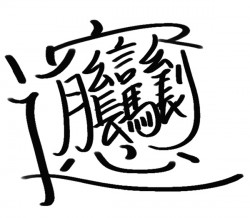 Wikipedia says that the reason it's becoming trendy is that the name of the dish contains the most complicated Chinese character – it has 58 strokes. Insane, right? You can see how it looks in the picture to the right.
But if you ever try this dish, even once, you'll learn that its popularity is due to its simplicity and great flavor.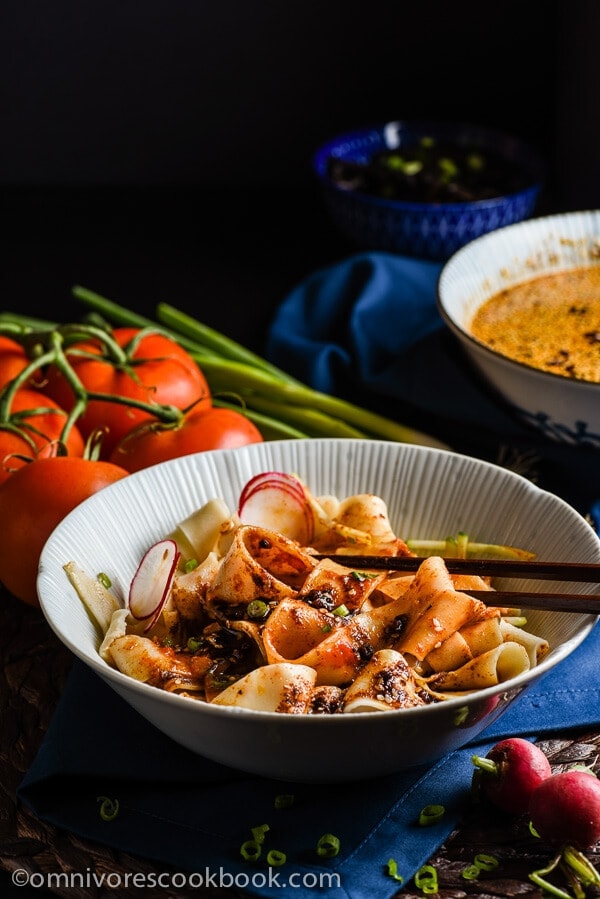 The idea of Biang Biang noodles is really simple but there are unlimited ways to serve it. The basic version of the dish uses thick and wide hand-ripped noodles, drizzled with tons of hot chili oil, chili flakes, and soy-sauce-based seasoning. For homemade versions, people add all kinds of simple toppings, such as blanched bean sprouts and simple stir-fried or raw veggies. As for the restaurant version, fancy items like chicken, beef, and lamb are often placed on top.
I had the best bowl of Biang Biang noodles when I was visiting Xi'an (the city of origin for this dish) with Thomas. It wasn't even a famous restaurant or one one with particularly good reviews, just a random small bistro that we came across on the side of the road. The big bowl of fat noodles was topped with tomato and egg stir fry, a rich chili sauce, and extra chili flakes. It was so simple, yet also rich and satisfying.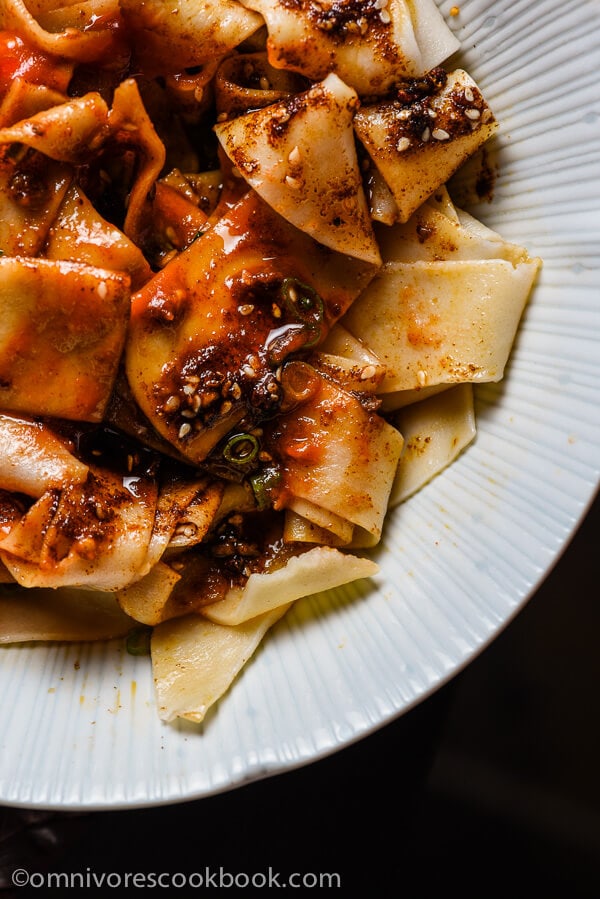 When trying to recreate the Xi'an version of these noodles at home, I tried several methods and finally found a perfect one. The chili oil and seasoned soy sauce in the recipe below were adapted from Xi'an Famous Hot Rice Ribbons by Lady and Pups. The ingredient list might look very long, but it creates the best noodle sauce ever, and you'll fall in love with it immediately.
A note about serving the noodles: the chili oil recipe uses tons of chili powder. DO add plenty of chili powder when serving the noodles. Yes, the dish will be very spicy. But the chili powder brings out a very nutty flavor and creates a thick texture that is essential to the dish.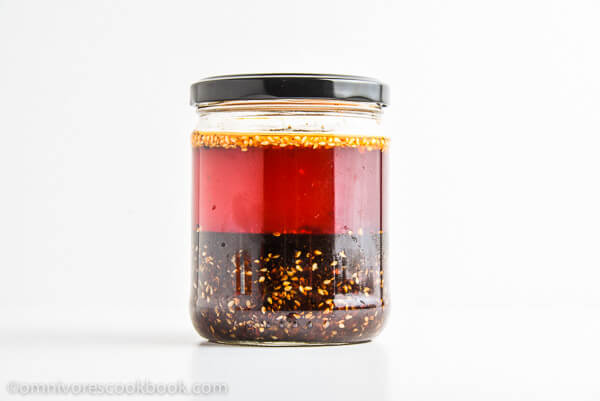 The ultimate lunch solution
This recipe will generate more chili oil and soy sauce you'll need for one meal (which serves 4 people). However, do make sure you follow the quantities of this recipe to create extra sauce. It'll become a great solution for cooking quick and delicious lunches.
Option 1 – Create a new version of Biang Biang noodles with different toppings. Such as tomato egg stir-fry (classic Chinese), blanched or grilled chicken, grilled beef, or stir-fried ground chicken. You can top any of these on freshly boiled noodles and drizzle with chili oil and seasoned soy sauce.
Option 2 – Add a quick nutty sauce to make sesame noodles.
Combine peanut butter (or Chinese sesame paste), soy sauce, and black vinegar in a small bowl. The ratio should be 1:1:1. Mix well.
You can create a noodle bowl with:
Freshly boiled noodles + chili oil + seasoned soy sauce + nutty sauce + whatever toppings you prefer (aka whatever leftovers you have in the fridge)
For example, I did this with the only leftovers in my fridge yesterday. I used some carrot, celery and wood ear mushrooms to make a quick stir-fry. I chopped a chicken breast and stir fried it with green onion. I seasoned it with soy sauce and salt without marinating. Then I used the formula above to combine everything together. And bam! Two big bowls of super tasty noodles were ready. Easy!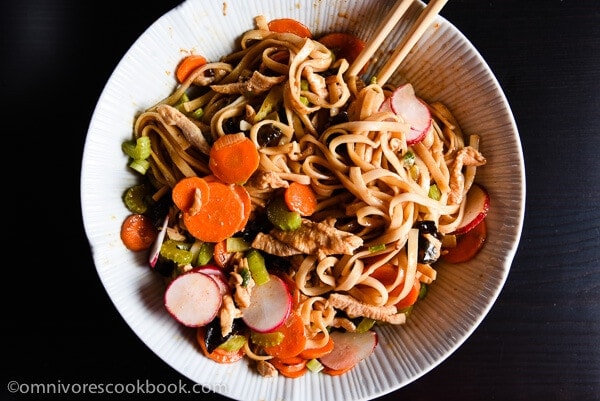 You can even simplify the process by using sliced cucumber (for a vegan dish), leftover meat, or any blanched veggies that come to mind.
Option 3 – Use the seasoned soy sauce and chili oil to create an awesome salad/side.
You can make cool things, such as red-oil chicken, with blanched chicken breast and these two sauces. Or you can drizzle them on blanched broccoli, smashed cucumber, or other veggies to create a quick side dish.
More Chinese noodle recipes
Do you like my recipes? Sign up for Omnivore's Cookbook's weekly newsletterto get the latest updates delivered to your inbox and a free e-cookbook! And stay connected via Facebook, Instagram, Pinterest and Google+. Thanks so much for reading, and happy cooking!
Want to Know More?
Receive our 5-Day Chinese Cooking Crash Course & Recipe Updates! Subscribe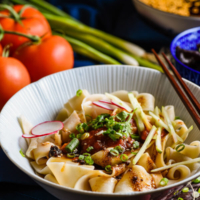 Biang Biang Noodles (Chinese Hot Sauce Noodles)
Biang Biang noodles show you the power of simplicity. With a spoonful of savory seasoned soy sauce and fresh, nutty hot sauce, the thick and meaty handmade noodles will bring you to foodgasm!
Ingredients
Chili Oil
2

tablespoons

soy sauce

1

bulb

garlic

, grated

2

cups

peanut oil

(or a vegetable oil with a high smoke point)

1/2

cup

Chinese chili powder

(or Korean chili powder)

1/4

cup

white sesame seeds

2

bay leaves

, dried

1

teaspoon

coriander powder

1

teaspoon

cumin powder

2

tablespoon

ground Sichuan peppercorn
(Optional) Tomato sauce (*see footnote 1)
1

tablespoon

peanut oil

(or vegetable oil)

3

roma tomatoes

, chopped

3

tablespoons

tomato paste
Noodles
4

servings

homemade fresh noodles

(or 7 oz. / 200 g dried noodles)

1

cucumber

, sliced (Optional)

4

small radish

, sliced (Optional)

2

green onions

, chopped

1

stalk

cilantro

, chopped (Optional)
Instructions
Make chili oil
Combine soy sauce and garlic in a small bowl.

Add peanut oil, chili powder, white sesame seeds, star anise, dried bay leaves, coriander powder, and cumin powder into a large skillet (or a wok).

Heat over medium low heat until it reaches a gentle sizzle. Turn to low heat. Stir constantly. Keep cooking until the chili powder turns dark brown (without turning black), 3 to 4 minutes. If the oil starts to bubble fiercely, remove it from heat.

Remove the skillet from heat immediately and add ground Sichuan peppercorn. Gently stir a few times and let cook for 10 to 20 seconds.

Carefully add garlic and soy sauce with a ladle. The oil will sizzle for a while due to the added liquid. When the sizzle dies down a bit, stir gently with a spatula to mix everything well (see footnote 2). Transfer everything to a heat resistant bowl to let oil cool off faster.

When the chili oil has cooled, discard bay leaves and star anise. Let sit for 2 hours, or up to overnight, before using.

Transfer the leftover chili oil to a air-tight glass jar or glass container and store in the fridge up to 1 month.
Make seasoned soy sauce
Add soy sauce, water, sugar, whole Sichuan peppercorn, star anise, cinnamon stick, and cloves into a small saucepan. Heat over medium low heat until it reaches a simmer. Turn to low heat and let simmer for 15 minutes.

Strain the sauce and discard the spices. Add black vinegar and mix well. Allow to cool before using.
Make tomato sauce
Add oil to a medium-sized skillet and heat over medium heat until warm. Add tomato and tomato paste. Chop and stir the tomatoes. Cook until the tomato pieces break down and form a thick sauce, 5 to 7 minutes. Transfer to a bowl.
Assemble noodles
Boil noodles according to instructions. Drain and run tap water over noodles. Drain again and transfer to servings bowls.

Add tomato paste and seasoned soy sauce according to taste. Add plenty of chili oil with the chili powder (*see footnote 3).

Top noodles with cucumber, radish, green onion, and cilantro.

Serve immediately as main.
Notes
You can serve this dish without the tomato sauce, but I highly recommend you to add it. The tomato sauce helps balancing the spiciness and adds a nice thick mouthfeel to the noodle sauce.
When I was taking the step-by-step pictures, I poured the oil into the garlic and soy sauce bowl. Please follow steps in the recipe instead. It's much easier and safer this way.
I usually start by adding 2 tablespoons of each. And more soy sauce to increase saltiness or more chili oil to increase spiciness. The noodles should able to be evenly coated with sauce. Add more tomato sauce if it becomes too spicy.
Nutrition
Serving:
431
g
,
Calories:
565
kcal
,
Carbohydrates:
60.3
g
,
Protein:
12.7
g
,
Fat:
32.4
g
,
Saturated Fat:
4.9
g
,
Trans Fat:
0.1
g
,
Cholesterol:
58
mg
,
Sodium:
2138
mg
,
Potassium:
518
mg
,
Fiber:
4.3
g
,
Sugar:
5.8
g
,
Vitamin A:
400
IU
,
Vitamin C:
11.6
mg
,
Calcium:
60
mg
,
Iron:
2.9
mg