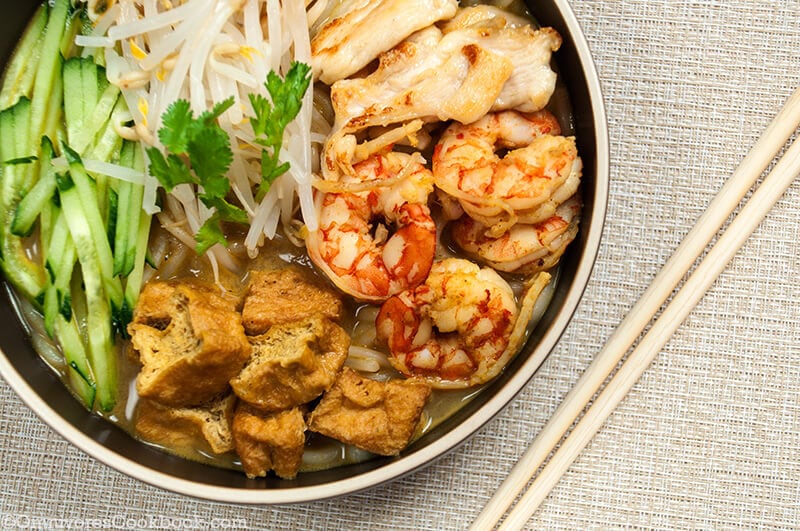 Today I want to share one of my favorite Malaysian dishes – curry laksa. The highlight of this dish is the soup base, a rich coconut curry soup infused with a taste of sea. The toppings are like a feast, with toasted chicken, shrimp, and colorful vegetables. It takes some time to prepare this dish, but you can easily prepare a large batch ahead of time to feed a group of people.
The fist time I had Malaysian food was in 2010 in Beijing, and I fell in love with it immediately. We don't have many options for Malaysian food here, so when I saw this recipe on Roti n Rice, I couldn't wait to try it out!
Aside from talking about food, I'd like to share a few of my experiences in productivity.
Use Google Drive to store all your works, so you can access your files no matter where you are and you can work on it from various devices. I found it extremely useful, because I usually use my office PC and my laptop at home to work on the same files. I can even work on my cell phone by using the mobile version during my commute. It's also very easy to share work with team members, which is very efficient for workflow, so you don't need to send files via email all the time. And the best part, it's FREE!
Use Evernote to capture every idea. Have you ever noticed that some of your best ideas come to you while traveling or commuting? I sure do, all the time. Maybe you also noticed that when you're spending all your time staring at a screen, you seldom come up with really creative ideas, no matter whether it's your PC during the day, a TV in the evening, or your cell phone in between. But commuting or exercising gives your brain a short time to relax. Most likely, it's during that time that new ideas are jumping out but you don't have a pen and a notebook with you. The good news is that now you can use Evernote on your cellphone to capture every idea. There are so many books and articles on this topic, so I won't go deep into it today. You can check out this book if you're interested. It's definitely one of the most life-changing books that I ever read.
Never wait until you feel ready to write, because that moment will never come. This logic also applies to every other project. I found this is so true after blogging for a while. No matter which project I intend to work on, I always fall back on the excuse that I don't have time now, or I don't have any inspiration. The truth is, if you want to get things done, you really need to make a plan, and then finish each step by following a specific timeline. Inspiration never strikes. Only procrastination can result when you stare at a goal without a plan to execute. It doesn't matter that your first draft sucks. Making tweaks and changes are far easier than staring at a blank page.
So much for those boring topics; let's get back to the food!
Want to Know More?
Receive our 5-Day Chinese Cooking Crash Course & Recipe Updates! Subscribe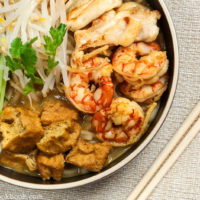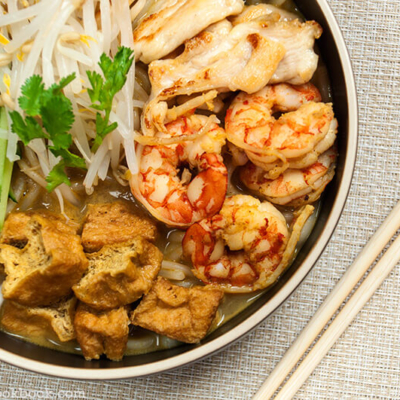 Curry Laksa
Ingredients
12 - 15

medium sized shrimp

1

small onion

coarsely chopped

2

large cloves garlic

chopped

1/2

thumb ginger

sliced

1

piece

dried lemon grass

cut into small pieces

4

tablespoons

curry powder

I used Curry Masala and Garam Masala

2

tablespoons

vegetable oil

1

chicken breast

thinly sliced to bite sized pieces

1

teaspoon

cornstarch

2

handfuls bean sprouts

8

ounces

225 grams fresh noodles

1

cup

coconut milk

2

handfuls fried tofu cubes

halved

1

cucumber

sliced

salt to taste

cilantro to garnish
Instructions
Peel and devein shrimp, place them in a bowl, and set aside. Save the heads, legs, and skins.

Add shrimp heads, legs, and skins into a separate pot. Add 4 cups water to that pot and bring to a boil over medium heat. Cover and simmer for 20 to 30 minutes. Filter the shrimp broth with a colander or sieve as you pour it into a large bowl. Set aside. Discard the shrimp heads, legs, and skins.

Combine onion, garlic, ginger, and lemon grass in a food processor. Blend until everything is mixed well with a smooth texture. Add the mixture and curry powder into a bowl and mix with a fork to form a thin paste.

Heat 1 tablespoon oil in a pot over medium heat. Add the paste from step 3 and stir constantly until fragrant, 3 to 4 minutes. Add shrimp soup from step 2. Bring the soup to a boil. Turn to low heat, cover, and simmer for 20 minutes. Add more water if the soup gets too thick.

Add shrimp to the curry soup and cook for 2 to 3 minutes, until shrimp is fully curled and turns pink. Scoop shrimp out with a slotted spoon and place in a small bowl.

Lightly season chicken with salt. Add cornstarch to chicken and mix well with a fork. Heat the remaining 1 tablespoon oil in a nonstick skillet. When oil is hot, spread chicken in the skillet and saute over medium high heat until the bottom side turns golden brown. Flip to cook the other side until chicken is cooked through. Turn off heat and transfer chicken to a bowl.

Bring a large pot of water to boil. Add bean sprouts and boil for about 30 seconds, then transfer sprouts to a plate with a colander or strainer.

In the same pot, add noodles and cook according to the instructions. Drain noodles with strainer and set aside.

Add coconut milk to the curry soup. When the soup comes to a boil, add fried tofu and simmer for another 3 to 4 minutes.

Add soup and noodles evenly into three large bowls. Top with tofu, shrimp, chicken, cucumber and bean sprouts. Garnish with cilantro.

Serve immediately.
The nutrition facts are calculated based on 1 of the 3 servings generated by this recipe.