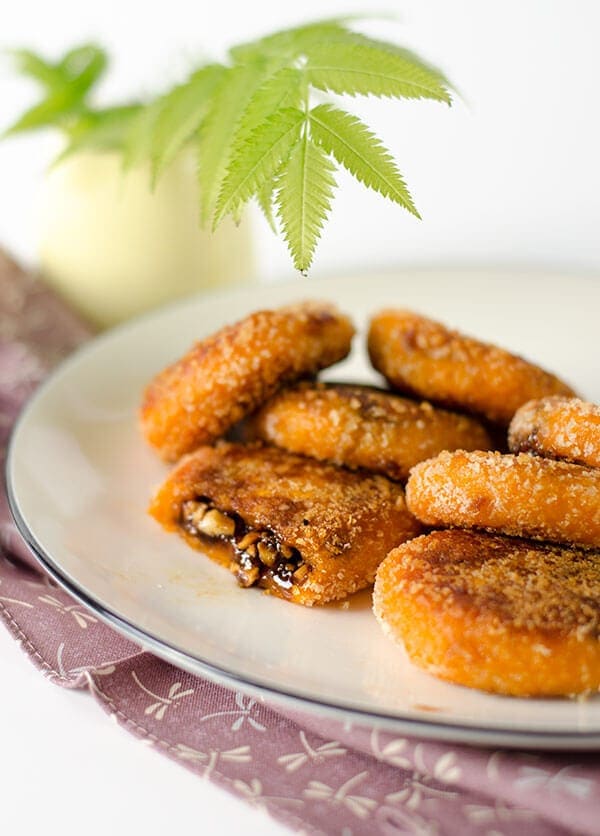 The Chinese pumpkin bun is a warm dessert that is perfect for the chilly days of Autumn. It has a crispy surface, a soft, moist texture, and a runny, nutty brown sugar filling.
To speak of Chinese buns, you might think of pork belly bun or chashu bun, but have you ever heard of pumpkin buns? It is a very popular dessert in local Chinese restaurants and is super delicious. There are several ways to make pumpkin buns. One of the most common ways is to blend rice flour into steamed pumpkin paste, fill it with red bean paste and deep fry it. The other popular way is to mix sugar and rice flour with pumpkin puree, to make a sweet dough, and deep fry it. Either way, you will end up with a beautiful, golden colored bun with a super crispy surface, gooey texture, and sweet taste.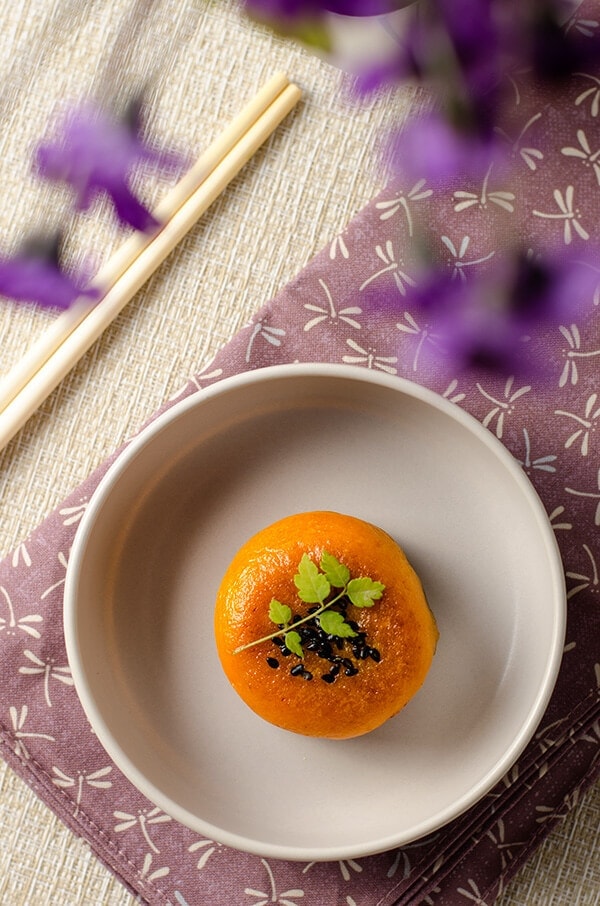 How I came up with this recipe
Personally, I really hate deep frying, because it is messy and uses tons of oil. I was looking for a way to cook the buns without bringing down the quality and flavor. First, I tried the same method I used to cook sticky rice cakes. I filled the pumpkin dough with red bean paste and grilled it in a nonstick frying pan. The result was great, as you can see in the pictures. The pumpkin bun was not too sweet, yet has a very satisfying texture and a tasty filling.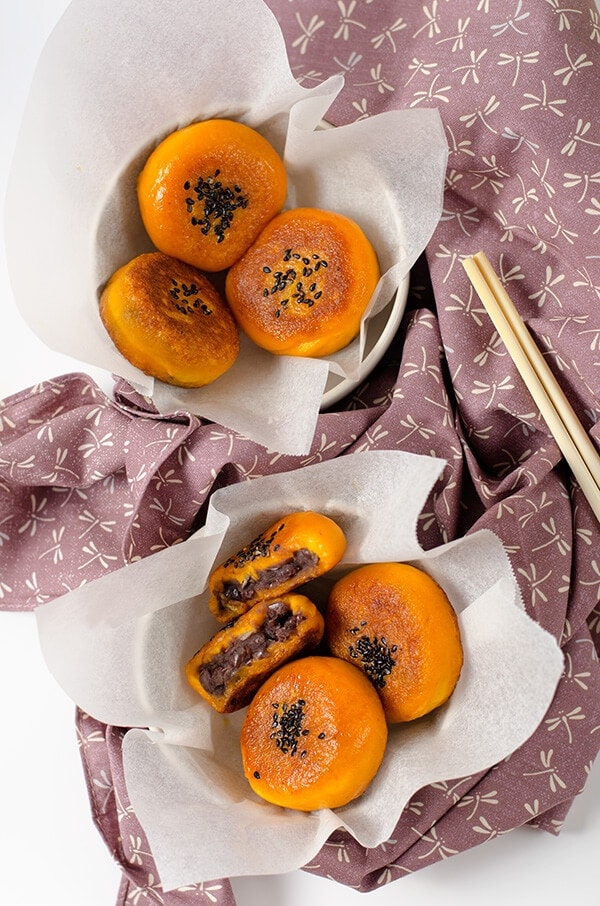 However,  I didn't stop there. When we finished the first batch of pumpkin buns, I thought, why not change up the filling and try something new? In the end, my mom and I came up this idea – we decided to fill the bun with roasted peanuts and brown sugar. Hmmm, I could imagine how great it would taste before even making it!
While we were wrapping those cute little buns, I suddenly remembered that when restaurant chefs make fried pumpkin buns, sometimes they coat them with bread crumbs. Why not apply the same technique in my recipe? We tried it immediately and loved the result! Not only did the buns look look even better, they came out more crispy and delicious too! I didn't even need to deep fry the dough to get a wonderful texture.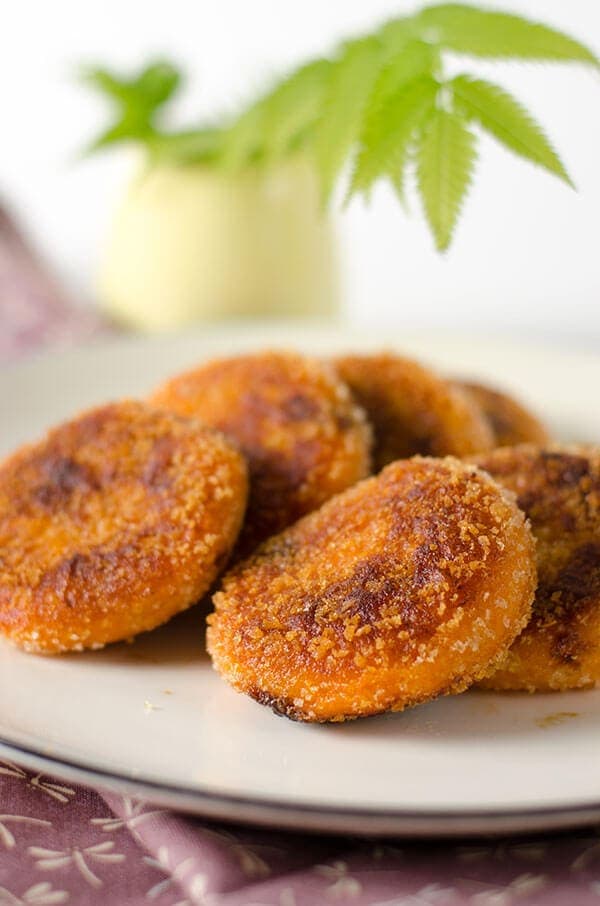 A few Cooking tips
Type of the pumpkin / squash. I used red kuri pumpkin in this recipe. If you want to use other types, try to find the one with bright orange colored flesh, a sweet taste, and a dry texture.
The amount of glutinous rice flour you will use can vary a lot, depending on the texture of the squash. If the pumpkin flesh is moist, you might end up using double the amount given in the recipe.
Knead the dough thoroughly. After blending in enough rice flour, it's very easy to form into dough by mixing it a few times with hand. However, you should knead the dough with both hands for at least for 5 minutes after the dough has formed. It will help the rice flour to incorporate better with the pumpkin, so that the dough will be more elastic.
Adding water to the brown sugar helps it to stick to itself, so you will find it easier to wrap later. In traditional Chinese cooking, oil is added in this process to make the filling easier to shape and taste better. I found that water works as well as oil does, and making this substitution reduces the calories of the dish.
Cook the buns covered on low heat and check multiple times during cooking. The bun contains sugar and high heat will burn the surface in no time. Turn off heat if the surface browns too fast. Leave the cover on to let the heat of the frying pan cook the buns slowly.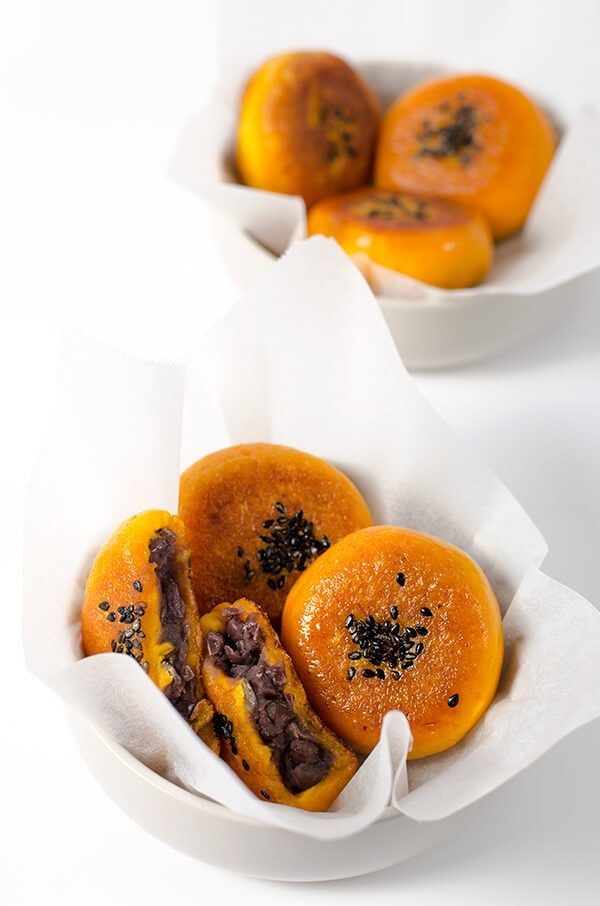 I have documented the whole cooking process in the short video below. In the video, I only recorded how to make the bun with peanuts and sugar filling. You can definitely apply the same method if you want to make it with red bean paste or any other filling you prefer.
If you are new to Chinese cooking, don't forget to check out my YouTube channel! I have a collection of cooking videos that is focused on Chinese cuisine, which will help become familiar with preparing Chinese dishes in a very short time.

Want to Know More?
Receive our 5-Day Chinese Cooking Crash Course & Recipe Updates! Subscribe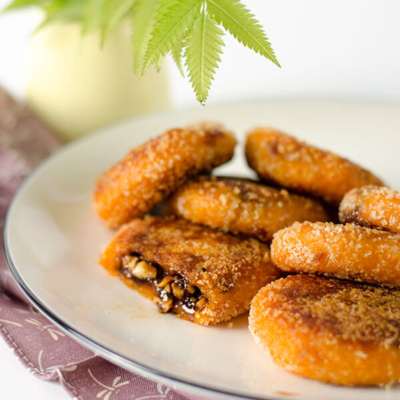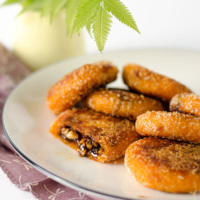 Chinese Pumpkin Bun
Ingredients
1/2

red kuri pumpkin

560 grams / 20 ounces, seeds removed and divided to 8 slices

120

grams

glutinous rice flour

* see footnote

1/2

cup

peanuts

roasted, peeled and finely chopped

1/2

cup

brown sugar

4

tablespoons

bread crumbs

3

tablespoons

peanut oil
Instructions
Fill a steamer with 5 centimeters (2 inches) water. Place pumpkin on steaming rack, skin side down. Cover pot and bring to a boil over medium high heat. Turn to low heat and steam until you the pumpkin can easily be pierced with a fork, about 15 minutes. Transfer pumpkin to a plate to cool.

Scoop the pumpkin flesh from the skin and add it into a large bowl. Smash into paste. The pumpkin yielded 340 grams (12 ounces) of paste in my case.

Slowly blend glutinous rice flour into pumpkin paste, about 2 tablespoons at a time. Whisk with a pair of chopsticks (or a fork), until flour is fully cooperated. Add more flour and keep mixing, until the flour becomes difficult to blend. Dust both hands with rice flour. Knead the dough together with one hand, until it forms a consistent and soft dough. The dough should be easily picked up by hand and should stick to the bottom of the bowl a bit. Pick up the dough and use both hands to press and knead the dough for another 5 minutes to blend the rice flour in well. The surface of the dough should be smooth and you shouldn't notice any stray flour on or inside the dough.

Put bread crumbs in a small bowl and set aside.

Blend peanuts and brown sugar in a medium sized bowl. Slowly add 1 tablespoon water and mix with a fork.

Divide the dough into 4 equal parts, then divide each part into 4 small pieces. Shape each small piece into a dough ball with both hands.

To make pumpkin buns: Hold a dough ball in one hand and use the other hand to press it into a flat, round shape, about 5 centimeters (2 inches) in diameter. Add about 1 teaspoon of peanut filling in the center of the dough. Wrap the dough around the filling and pinch the edges together, forming a ball again. Gently press the ball until it is shaped like a mini pancake, 1 - 1.5 centimeters (0.5 inch) in thickness.

(optional) You can use red bean paste instead of brown sugar and peanuts as filling for the buns.

Toss the buns in bread crumbs, and shake off any extra.

Process the rest of the dough in the same manner.

Heat a tablespoon of oil in a nonstick skillet over medium high heat until warm. Place pancakes in skillet. Cover and cook over low heat for 2 minutes, until bottom side turns golden brown. Flip the buns. Cover and cook the other side over lowest heat for another 2 minutes. Check the bottom side of the buns after 1 minute. If the color has already turned brown, turn off heat cover, and allow to sit for another minute.Transfer to a plate to cool off.

Cook the rest of the buns in the same manner.

Serve warm. Store in air tight container in the fridge up to 3 days.
Notes
The amount of glutinous rice flour used in this recipe will vary due to the texture and moisture content of the pumpkin. Prepare extra glutinous rice flour and increase or reduce the amount according to your own situation.
The nutrition facts are calculated based on 1 of the 16 pumpkin buns with peanut brown sugar filling generated from the recipe.