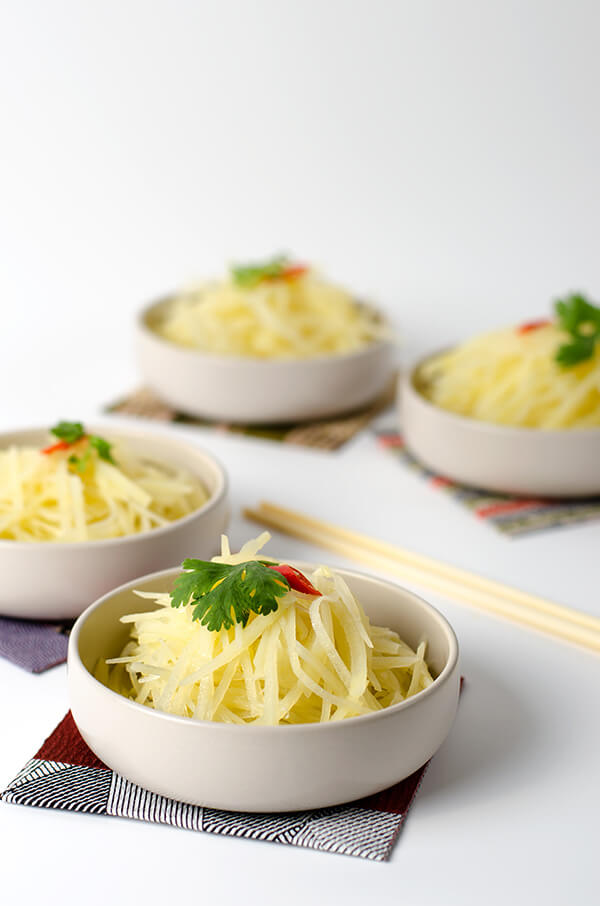 Chinese style potato salad is an easy dish that you can finish in less than 30 minutes. The potato slivers are crisp and infused with a clean and appetizing, slightly spicy flavor. In Chinese restaurants, it is served as a cold dish. The idea of a cold dish is similar to that of Turkish meze. Multiple cold dishes are usually served in small portions as an appetizer, before the hot dishes (or main dishes). That is also why cold dishes are usually very simple and use ingredients that are not overwhelming.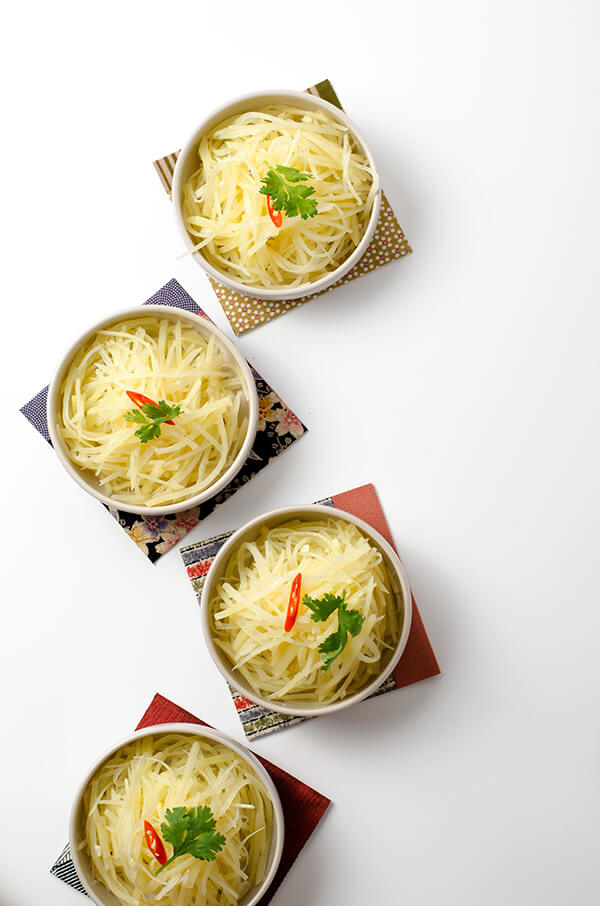 When cooking this potato salad at home, I always make a lot and serve it as a side dish or as a salad. Although I use chili pepper in this salad, feel free to skip it if you don't like spicy food. It is quite amazing that although this dish contains only six ingredients (including the potato), it has so much flavor that I can easily finish a whole batch by myself in one sitting.
The dish uses a common Chinese cooking skill, that of pouring hot infused oil over blanched vegetables to create a simple yet delicious dish. The hot oil will cook the vegetables and blend the salty and garlicky flavor perfectly with the veggies. The Chinese style bok choy uses the same method.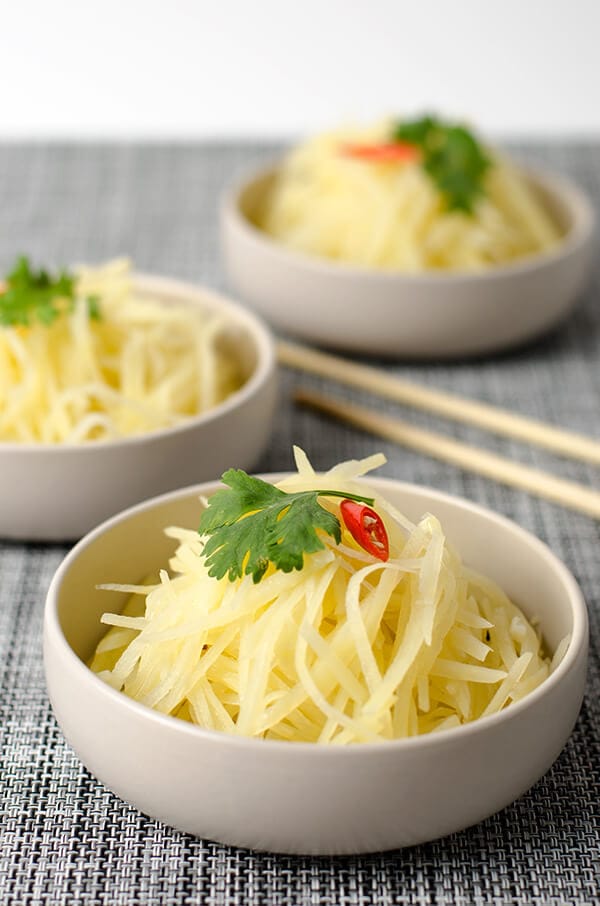 One of the most important ingredients in this dish is the Sichuan peppercorn. Sichuan peppercorn has a spicy pungent aroma and a "numbing" taste. By cook Sichuan peppercorns in oil, the oil is infused with a nice umami, which then adds great flavor to simple vegetable dishes. In Sichuan cuisine, the most well-known chili oil also uses this peppercorn to add complicity to the spicy oil.
I have created  a short video below to work you through the cooking process. If you like the video, don't forget to check out my YouTube channel! I have a collection of cooking videos that walk you through the delicious recipes at Omnivore's Cookbook. It is one of the fastest ways for you to get used to the techniques that are used in Chinese cooking!
I hope you enjoy this recipe and have a nice week ahead!
Print
Chinese Style Potato Salad
---
Author:

Prep Time:

10 mins

Cook Time:

5 mins

Total Time:

15 mins

Yield:

2

1

x
Category:

salad

Cuisine:

Chinese
Ingredients
1

large potato (300 grams /

10 ounce

s) (preferably the waxy type), shredded

2 tablespoon

s minced garlic

1/2 teaspoon

salt

2 tablespoon

s peanut oil (or vegetable oil)

1/2 teaspoon

Sichuan peppercorn
(optional) 2 pieces dried chili pepper, broken into 2 – 3 pieces
---
Instructions
Bring a medium pot of water to a boil, add potato, then boil until the potato is cooked through, but still crisp.
Drain potato and rinse it with cold water, to remove the starch and maintain a firm texture. Drain and transfer potato to a large bowl.
Add garlic to potato, sprinkle salt on top, and set aside.
Heat oil over medium heat in a small skillet (or a wok). When the oil is warm, add peppercorn and cook them until fragrant, about 1 minute. Turn off heat. Use a spatula (or a ladle) to scoop out the peppercorn, then discard them. (optional) Add chili pepper and stir for a few times, until the chili pepper turns dark brown.
Carefully pour the hot oil over the potato, and use two pairs of chopsticks to mix everything together immediately to coat potato evenly with oil and salt.
Serve at room temperature as a side dish or as a salad.
The nutrition facts are generated from 1 of the 2 servings generated from the recipe.