Luxurious XO sauce is super rich with a seafood umami flavor that's both savory and sweet. Add it to rice, noodles, fried rice, and much more to boost the taste.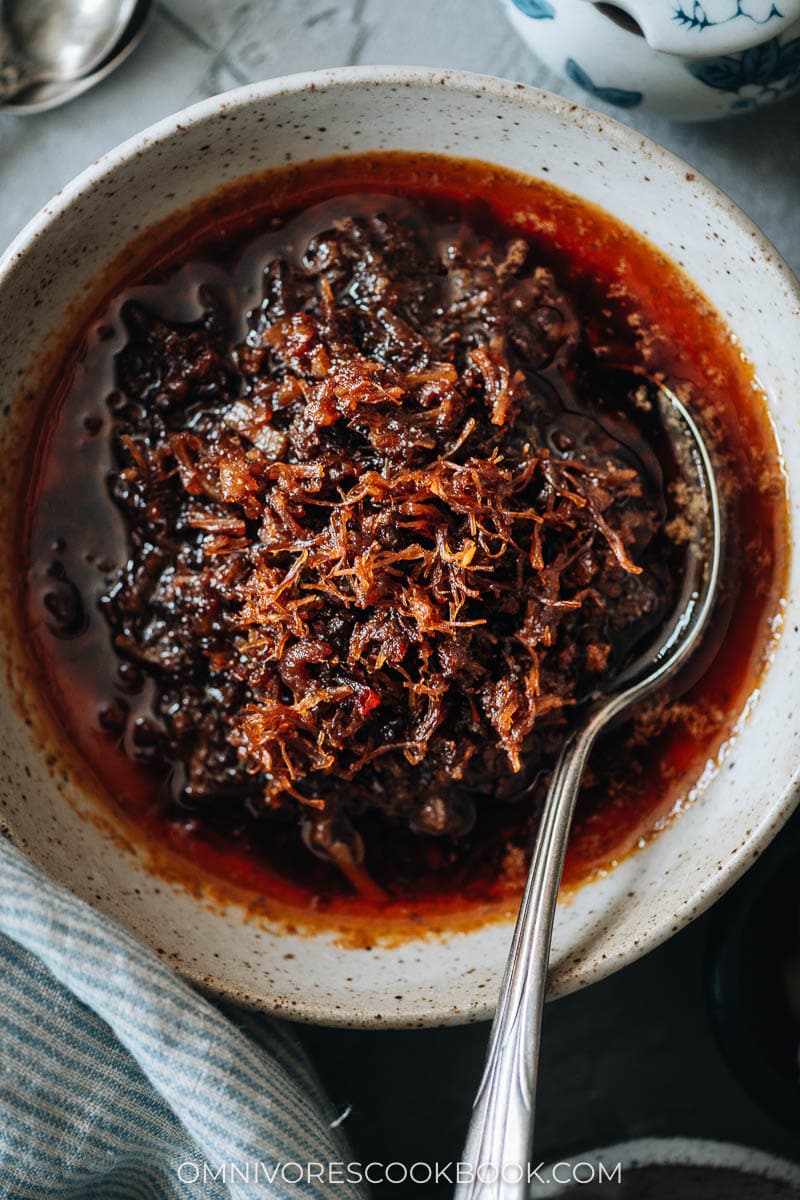 What is XO sauce
XO sauce is a very interesting creation, considering China's culinary history goes back thousands of years. This sauce hails from the 1980s when it was created from chopped dried seafood to complement Cantonese cuisine.
A staple in Hong Kong and the southern mainland regions like Guangdong, the 'XO' is a nod to the 'extra old' denotation used for cognac. However, there is no cognac used in the making of XO sauce. It usually contains various dried goods such as shrimp, shrimp roe, scallop, ham, and fish, along with aromatics such as garlic and onion.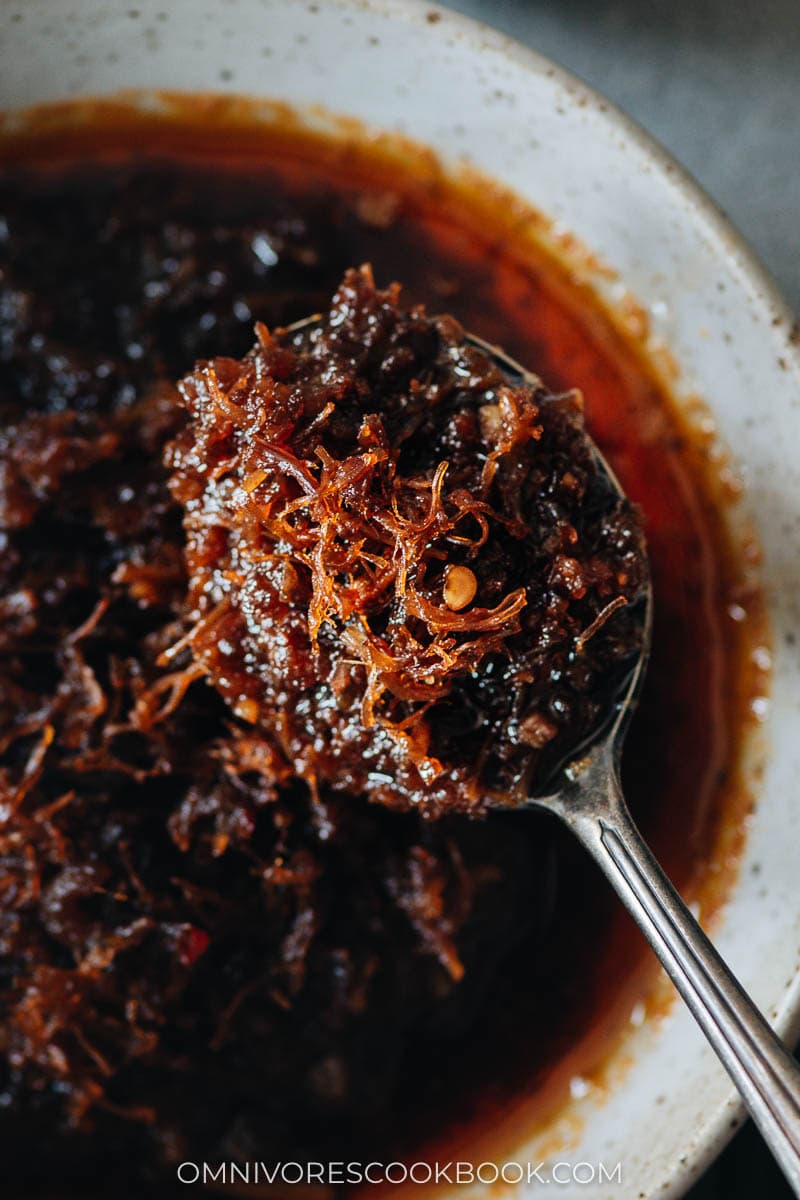 Making XO sauce at home
Because of the bounty of dried seafood contained in it, XO sauce is considered a luxury item. It's pretty expensive, but if you make it yourself out of high-quality ingredients, you can save money and enjoy that same premium flavor.
When you make XO sauce, it requires a fair amount of time and patience. First, you'll have to pre-soak all those dried ingredients. Then, you'll have to spend quite a lot of time slow-roasting everything to get it to the perfect texture. Traditionally, every ingredient is cooked separately to achieve the correct doneness, then mixed together. After many experiments though, we found out that it's possible to group ingredients together to shorten the process.
PS: I DO NOT recommend adding everything together in one go, which I've seen in many online recipes. It's very hard to control the doneness this way and it always ends up with some undercooked or overcooked ingredients.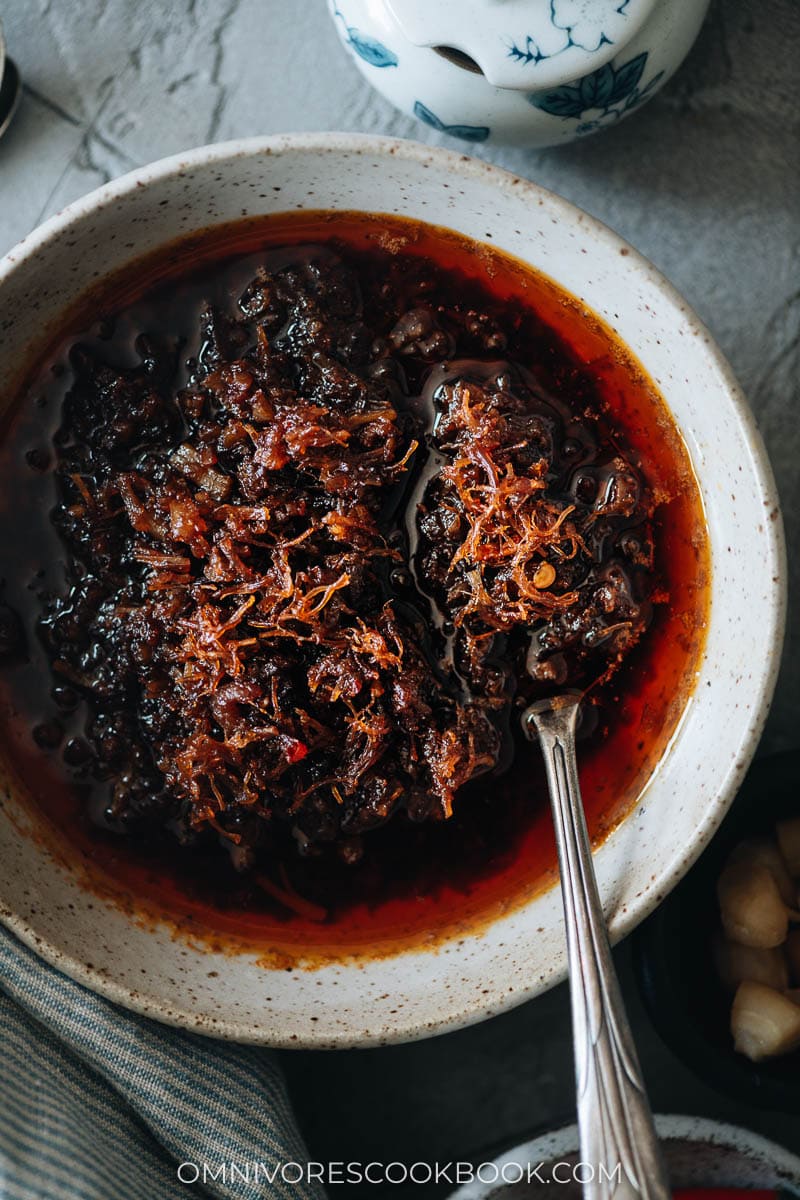 Ingredients
And since you will need some more unusual ingredients that aren't found in the typical American supermarket, you'll have to run to your local Chinatown to get the key ingredients like dried scallops, dried shrimp, and cured ham.
Bigger Asian markets or shops in Chinatown should have them, but if you can't find one near you, you can always order dried scallops and dried shrimp from Amazon. Prosciutto can be used instead of Chinese cured ham, but it may increase the cost of your homemade XO sauce.
Prepare ahead
You will need to soak the dried scallops and shrimp ahead of time, for a minimum of 4 hours or up to overnight.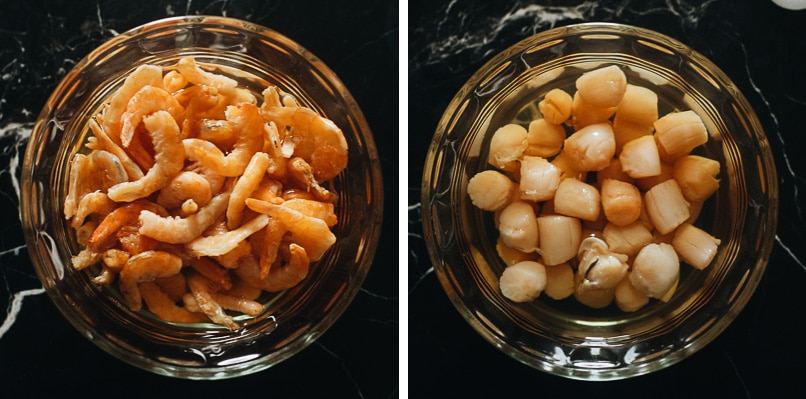 For the scallops, once you're done soaking them, you should remove and discard the tough piece from each (the adductor muscle). You can feel it with your hand. It's not necessary, but your XO sauce will have tough bits mixed in, once cooked, if you skip this step.
Chop the ingredients
Chopping the ingredients is one of the most time-consuming parts of this recipe.
I prefer to use a food processor to chop the scallops and shrimp. It shreds the scallops way quicker and the shrimp are almostly minced when it's done.
On the other hand, mincing the aromatics and the ham with a knife will provide a much better consistency without turning the ingredients into powder.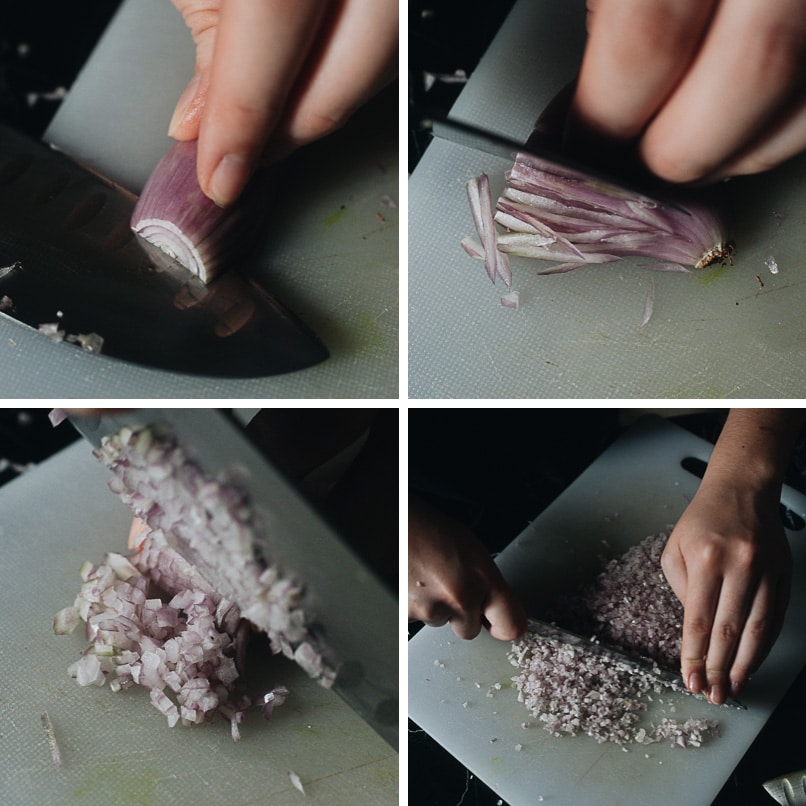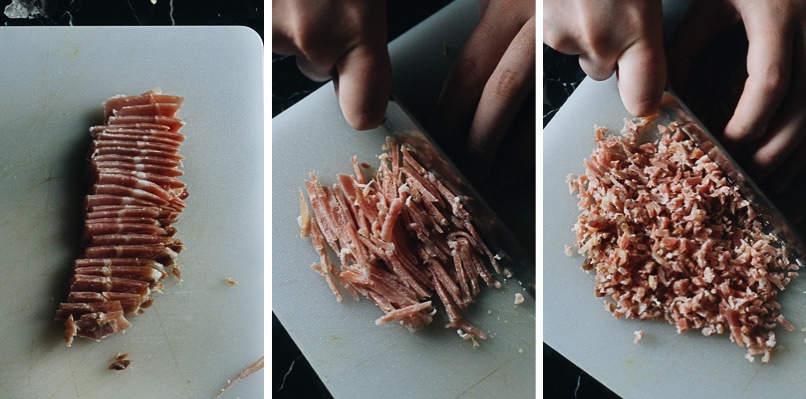 Read to cook
Once you've gathered all the ingredients, you're ready to cook!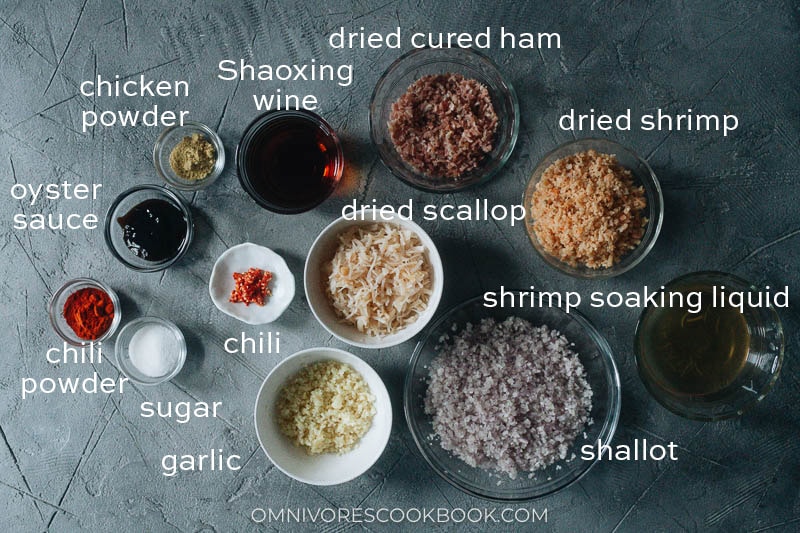 Cooking process
Fry the shallots and garlic, then add the chilis
Cook until the ingredients turn pale golden (It's important to stop cooking before they turn golden brown, otherwise the aromatics will turn bitter)
Drain the aromatics and set aside
Cook the dried scallops until they just start to brown
Add the dried shrimp and cook for 5 mins
Add the dried ham
Cook until everything turns dark brown
Add the cooked aromatics back in. Pour in the Shaoxing wine and add the chili powder
Cook for another 5 minutes.


You can find XO sauce recipes online that may seem easier, I know. While mine isn't the easiest, I promise it's worth it. The cooking steps I walk you through ensure that you'll get a quality result with everything cooked to absolute perfection.
How to use XO sauce
Your patience will be rewarded with this incredibly rich, seafood-flavored sauce that touches on both savory and sweet appeals. Add it onto anything you like, from congee to rice to noodles. Stir it into fried rice, or add it to veggies or grilled fish for a completely mesmerizing taste that will change your weeknight routine into something much more exotic.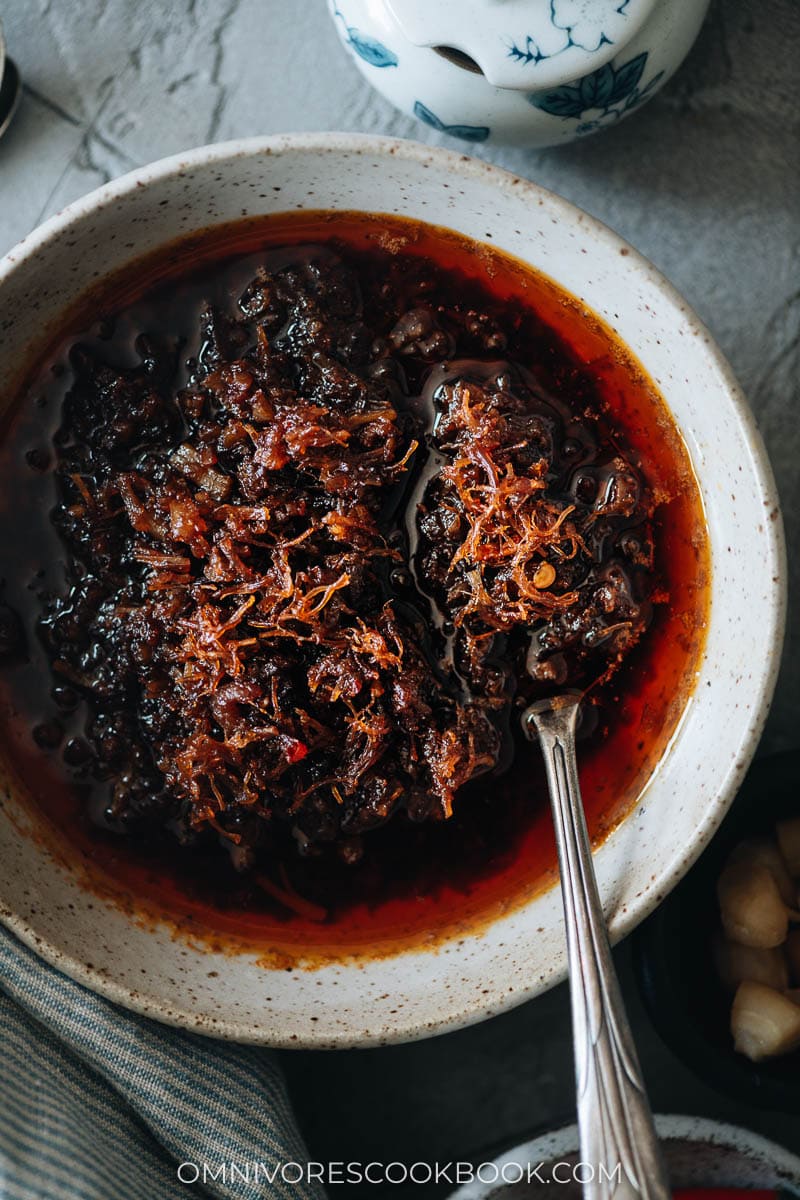 Want to learn more about Chinese Cooking? Sign up my newsletter to receive the 5-Day Chinese Cooking Crash Course and recipe update!
Want to Know More?
Receive our 5-Day Chinese Cooking Crash Course & Recipe Updates! Subscribe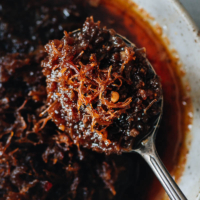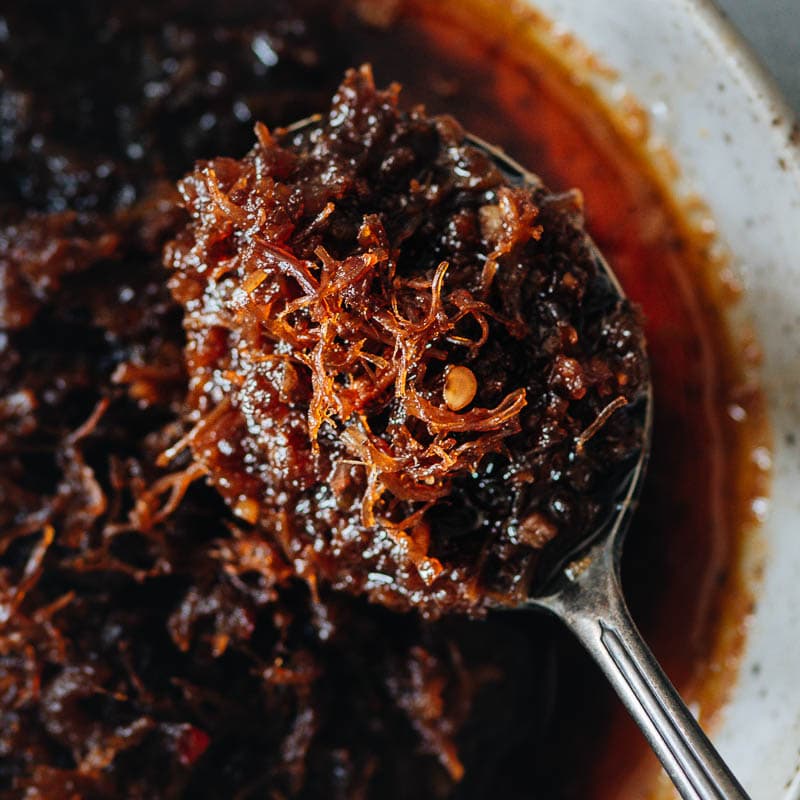 Homemade XO Sauce (XO酱)
Luxurious XO sauce is super rich with a seafood umami flavor that's both savory and sweet. Add it to rice, noodles, fried rice, and much more to boost the taste.
To make this dish gluten free, use dry sherry instead of Shaoxing wine. Use a gluten free oyster sauce or homemade oyster sauce.
Ingredients
2

oz (55 g)

dried scallops

2

oz (55 g)

dried shrimp

1/2

cup + 2 tablespoons

Shaoxing wine

(or dry sherry)

1.5

oz (42 g)

dry cured ham

, minced (Jinhua or Yunnan style if possible, or prosciutto) (*Footnote 1)

2

large shallots

, minced

8

cloves

garlic

, minced

2

Thai bird's eye chilis

, minced

1

and 1/4 cup

canola oil

(*Footnote 2)

1

tablespoon

sugar

1

and 1/2 tablespoon

oyster sauce

1

teaspoon

chicken powder

1

tablespoon

Chinese chili flakes
Instructions
Soak
Rinse the scallops and shrimp with running water to remove any dust. Place them in separate heatproof bowls. Add a tablespoon of Shaoxing wine and 1/2 cup boiling water to each bowl. Let soak for at least 4 hours or overnight.
Prep
Drain the soaked seafood, reserving the shrimp soaking liquid. Remove the hard feet on the side of the scallops (adductor muscle) (*Footnote 3). Add the scallops and shrimp into a small food processor and pulse until the scallops are shredded and the shrimp are minced. (*Footnote 4)
Cook aromatics
Prepare a large heatproof bowl (enough to hold 2 cups of oil) and layer it with a strainer.

Heat a heavy-bottomed pot or high-walled pan (*Footnote 5) over medium heat and add the oil.

Once the oil has reached 200 to 250°F (94 to 120°C), add the shallots and garlic. Cook, stirring frequently, until they just start to show color, about 12 minutes.

Add the minced chilis. Fry for another 5 minutes, or until the aromatics turn golden and crispy. (*Footnote 6)

Strain the aromatics using the prepared bowl with the strainer. Pour the oil back into the pot and set aside the cooked aromatics.

Heat the oil again to 200 to 250°F (94 to 120°C). Add the shredded scallops. Cook, stirring constantly, for about 10 minutes, until they just start to brown.

Add the minced shrimp and continue to fry for 5 minutes.

Add the minced ham. Cook and stir until everything turns a deep golden brown, 10 more minutes or so.

Return the fried aromatics to the pot and stir to mix well.

Pour in the Shaoxing wine. Add 2 tablespoons of the shrimp soaking liquid along with the sugar, oyster sauce, chicken powder, and chili flakes. Cook for another 5 minutes, or until the ingredients turn a dark brown color and the scallops are withered.

Remove the skillet from the stove. Transfer everything to a heat-proof container.

Once the sauce has cooled completely, you can store it in an airtight container or a jar in the fridge for about a month, or 3 months in the freezer.
Notes
Chinese dried ham might be hard to find because not all Asian markets carry it. It's usually sold in a vacuum package at room temperature. If you cannot find it, prosciutto is a great replacement.
It's very important to use a neutral oil in this recipe so the flavor does not muddle the rich sauce. Avoid using peanut oil, olive, oil and sesame oil. Other neutral oils like vegetable oil and grapeseed oil are OK.
You can use your fingers to feel the scallop surface and it will be pretty obvious that a small part is tough. Removing this hard part will yield a more even texture for the cooked sauce.
If you don't have a food processor, use a knife to mince the shrimp. For the scallops, use your fingers to press the scallop and break it apart into small shreds. This can take a long time. I highly recommend watching your favorite TV show while doing this.
It's very important to use a tall pot. Do not use a flat skillet! The oil will bubble and rise very high while you cook the sauce.
Be careful not to over-fry and wait until the color turns golden brown. The aromatics will continue to cook after they've been removed from the oil.
Nutrition
Serving:
1
serving
,
Calories:
86
kcal
,
Carbohydrates:
1.1
g
,
Protein:
1.1
g
,
Fat:
8.6
g
,
Saturated Fat:
0.7
g
,
Cholesterol:
5
mg
,
Sodium:
25
mg
,
Potassium:
22
mg
,
Sugar:
0.4
g
,
Calcium:
4
mg
If you give this recipe a try, let us know! Leave a comment, rate it (once you've tried it), and take a picture and tag it @omnivorescookbook on Instagram! I'd love to see what you come up with.
More homemade sauce recipes
Lilja Walter is a part of the Omnivore's Cookbook team and worked closely with Maggie to develop and test this recipe.