This slow roast goose recipe yields extra juicy meat with crispy skin. It's a perfect dish for your Thanksgiving or Christmas dinner, which you can make in advance with minimal hands-on time.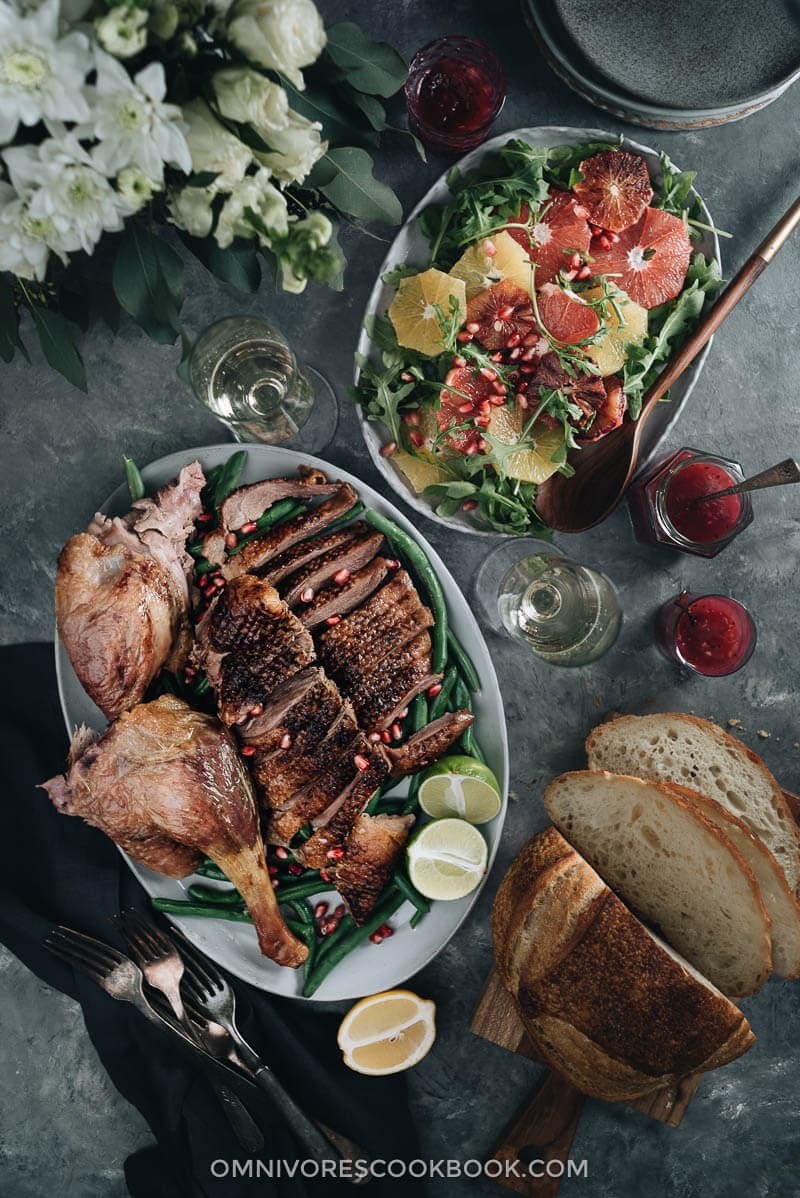 I've had three Thanksgiving since moving to the US. As a family tradition, everybody travels to Atlanta, Georgia, and stays at my sister-in-law Patty's place. We always cook a big Thanksgiving dinner and dine together. This year the dinner party was busier than ever. Since Patty just gave birth to a beautiful little boy, her husband's family also came to spend the holiday with us. We had 15 people at our Thanksgiving table. It was indeed a big holiday feast!
Curious what we cooked and served for Thanksgiving this year?
We served 3 turkeys, 1 roast goose, 2 fruit breads, dinner rolls, green beans with cream and mushrooms, turkey stuffing, sweet potatoes with cream, squash casserole, 4-cheese mac and cheese, mashed potatoes with gravy, and 6 homemade pies.
Everything was made from scratch through our efforts of teamwork. Quite impressive isn't it?
Like I mentioned a couple weeks ago, I have been practicing making traditional American dishes so I could contribute to our family dinner. This year I was in charge of the slow roast goose and a kabocha pumpkin pie. Both of the dishes got really positive feedback!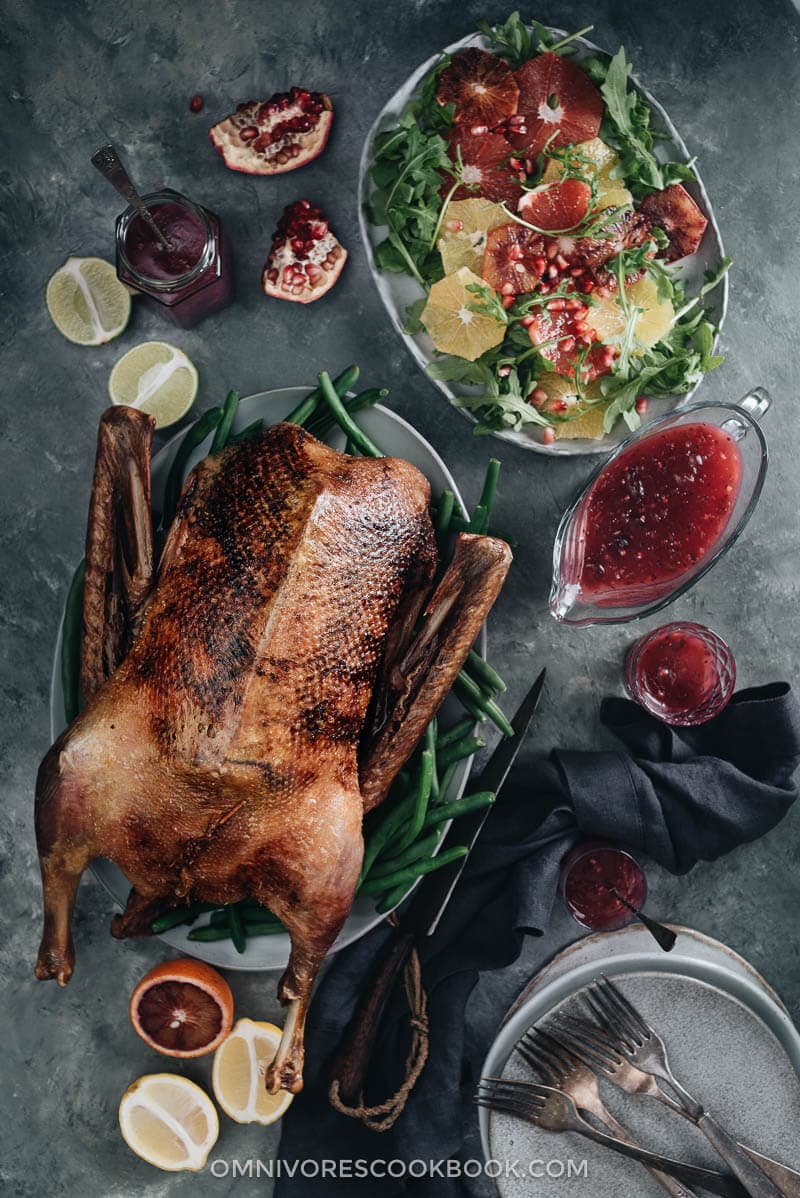 The slow roast method
Today I want to share the slow roast goose recipe with you, so you can make it for your next family gathering or Christmas dinner.
There are a few reasons I chose the slow roast method.
I can bake the goose overnight before Thanksgiving, so it does not occupy oven space on the big day.
The goose meat will remain juicy and tender and the skin crispy after reheating.
The recipe requires very little prep and does not need to be monitored during cooking. You can set it up and forget about it.
Despite the fact that we had two ovens, we had more than 10 dishes to bake on Thanksgiving day. Imagine how busy our oven schedule was!
Here is what we did. We started to roast the goose the night before. The baking temperature was super low, so the goose would just be ready on the morning of the second day. Then we rested it at room temperature until ready to serve. I carved the goose up and crisped it up in a 400 F oven. It resulted in a beautifully brown goose that was tender and juicy.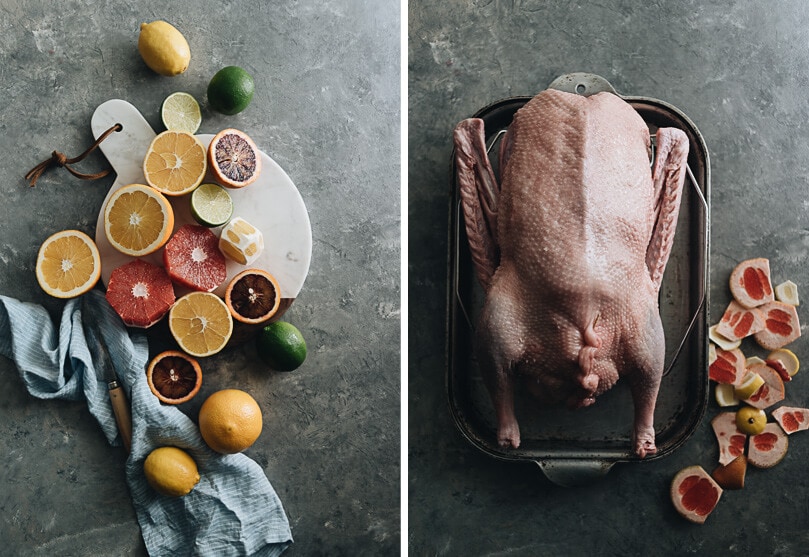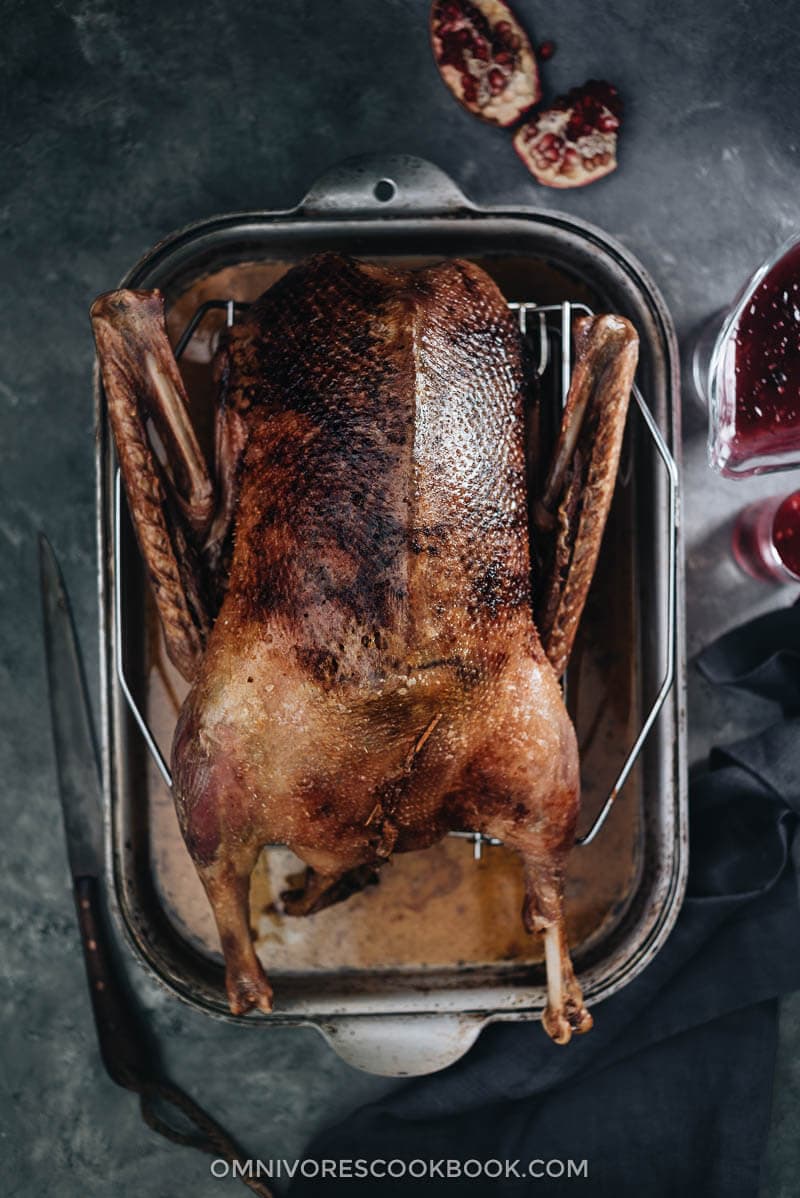 Easy goose sauce
I made a black currant sauce to serve with the goose using Hero fruit spread. Back in China when I was living with my family in Beijing, I had been using Hero. Hero is a Swiss brand commonly used by professional chefs. It was much pricier in China and we had to get it from a specialty store that sold imported products. But we loved it nonetheless because it is fruitier, less sweet, and made with natural ingredients, no high fructose corn syrup, or preservatives. Hero's also Kosher and now Gluten Free. Not to mention you have a lot more variety to choose from, including less common fruits such as red currant and bitter orange. One of my favorite things to do for breakfast is to toast some bread and spread butter and jam on it. I was so happy that now I could buy my favorite jam at a cheaper price and even find it at my local HEB.
The goose sauce is super easy to make and pairs very well with the savory meat. What you need to do is heat up some sparkling wine and dissolve the jam in the liquid with some ginger powder. Then use a cornstarch slurry to thicken it. The sauce is very fruity and a bit sweet with notes of citrus. Don't worry that the sauce contains alcohol. Since we'll be simmering the sauce for quite a while, most of the alcohol will evaporate.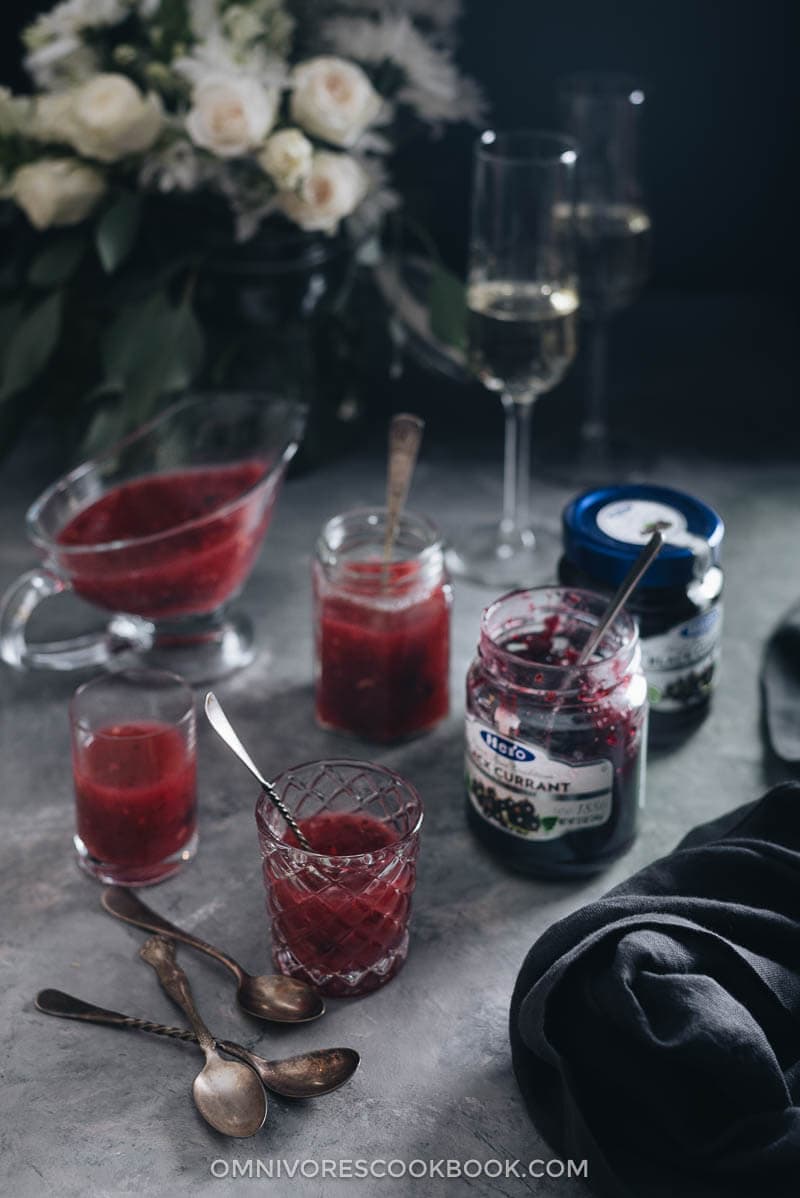 If you have not tried Hero fruit spread, check out their website to see the flavors they make. You can find it in the jam aisle in major grocery stores such as Shop Rite, Stop & Shop, ACME, King Kullen, Key Food, Kings, Balducci's, Fairway, Shaw's, Market Basket, Price Chopper, Ralph's, HEB, Harris Teeter and Giant Eagle.
This is such a versatile sauce and it goes well with other roast poultry, green beans, mashed potatoes, toast, and dinner rolls. Not to mention its beautiful rose color will make your holiday table extra happy and merry 🙂
More holiday recipes
If you give this recipe a try, let us know! Leave a comment, rate it (once you've tried it), and take a picture and tag it @omnivorescookbook on Instagram! I'd love to see what you come up with.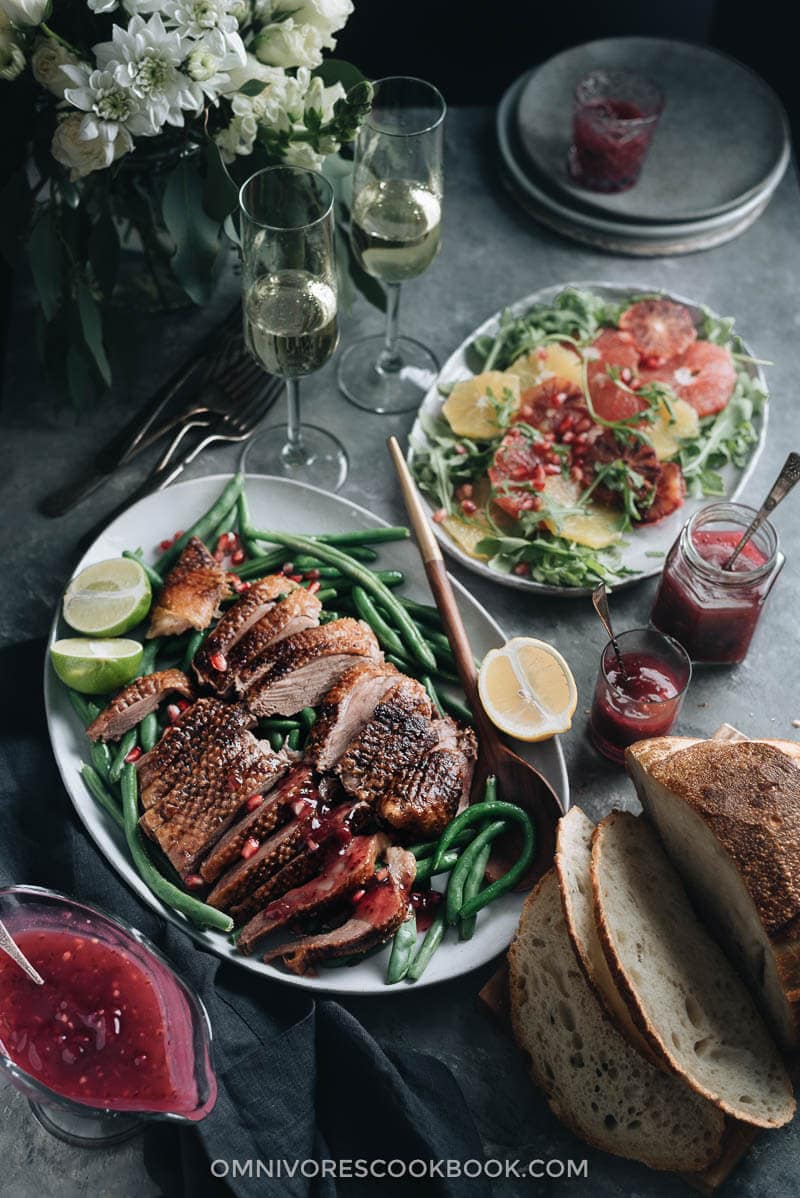 This post is sponsored by Hero. All opinions expressed are my own. Thank you so much for supporting the companies that keep this blog going.
Want to Know More?
Receive our 5-Day Chinese Cooking Crash Course & Recipe Updates! Subscribe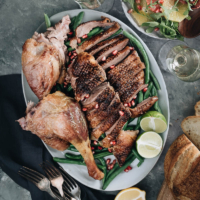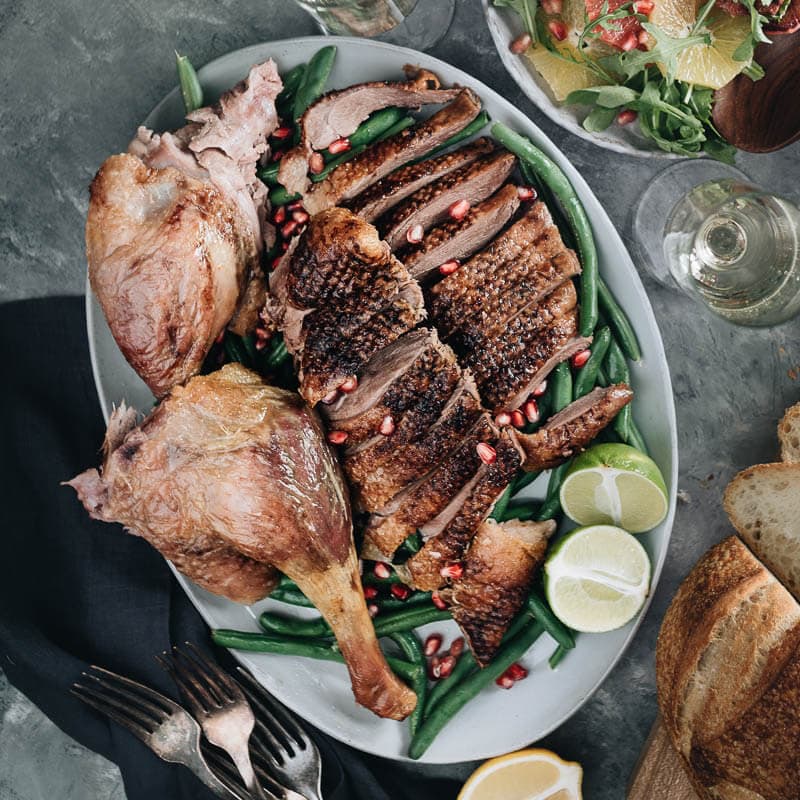 Slow Roast Goose With Black Currant Sauce
A perfect dish for your Thanksgiving or Christmas dinner, which you can make in advance with minimal hands-on time.
Ingredients
1

(8 to 10 lbs / 3.5 to 4.5 kg)

whole goose

Sea salt

5

to 7

citrus fruits

, lemon, lime, grapefruit, and/or orange, peels removed
Sauce
2

cups

sparkling wine

1/4

teaspoon

ginger powder

1/2

cup

Hero Black Currant jam

2

tablespoons

cornstarch
Instructions
Adjust oven rack to the lower third. Preheat oven to 120°C (250°F). Line a baking pan with aluminium foil (for easy cleanup) and top with a V-rack.

Prepare a plate. Transfer the neck and giblets from the goose cavity to the plate, and save for

making stock

later. Use a pair of poultry shears to trim the neck skin. Do not trim any skin from the bottom of the goose, because it will keep the meat moist during roasting.

Place goose on a working surface or cutting board. Use a toothpick to prick the goose skin on the breast and the thigh without piercing the meat, as many times as possible or at least about 1/3 inch (1 cm) apart. Note, the thickness of goose skin is not consistent, so start slow and do not prick too deep. If the skin is too tough to prick through, let the goose rest at room temperature for 30 minutes, or use your hands to massage the skin to loosen it up.

Rub both sides and the inside of the goose with a generous amount of sea salt.

Stuff citrus inside the goose, using as many fruits as you can. Use a few toothpicks to seal the bottom of the goose, to secure the fruits inside. Place goose onto the V-rack, breast side up.

Bake until the skin turns golden brown, 8 to 10 hours. You do not need to flip the goose or monitor the process.

If you're going to serve the goose immediately, turn up the heat to 260°C (500°F) to brown the goose for another 5 to 10 minutes.

If you're going to serve the goose later, remove the goose from the oven. Place the goose in a cool place, loosely covered with aluminum foil, if you're going to serve it the same day. Alternatively, you could let the goose rest for 30 minutes, then carve it into breast and leg pieces. Use aluminum foil to wrap the pieces, seal them in Ziplock bags, and store them in the fridge for up to 3 days.

Reheat goose

Thirty minutes before serving, heat oven to 200°C (400°F). Roast the whole goose for 30 minutes, or until the skin turns dark brown and crispy. If you have carved the goose, spread the pieces on an aluminum-foil-lined baking sheet, and bake until the skin turns crispy, 15 minutes or so.

Fruit sauce

While resting (or reheating) the goose, cook the fruit sauce. Dissolve potato starch in a few tablespoons of the sparkling wine.

Heat the rest of the sparking wine with the ginger powder in a small saucepan until bringing to a simmer. Turn to medium low heat and let simmer for 10 minutes so that the alcohol evaporates. Add the black currant jam and a pinch of salt. Stir and mix so that the jam incorporates with the wine. When the liquid comes to a simmer, taste it and adjust the flavor by adding more wine or jam.

Stir the cornstarch slurry again so that the starch fully dissolves. Slowly pour half of the slurry into the sauce, stirring at the same time. Continue adding more slurry to get the sauce to the desired thickness.

Serve

Remove the goose from the oven and let it rest for 15 to 30 minutes for an un-carved goose. You don't need to rest it if you've already carved the goose. Do NOT cover the goose with foil. The stuffing will keep the meat hot.

Transfer the goose onto a large cutting board, carve, then slice the breast meat into bite-size pieces.

Serve the goose hot with the fruit sauce on the side.
Nutrition
Serving:
1
serving
,
Calories:
265
kcal
,
Carbohydrates:
7.3
g
,
Protein:
17.7
g
,
Fat:
15.4
g
,
Saturated Fat:
5.1
g
,
Cholesterol:
81
mg
,
Sodium:
353
mg
,
Sugar:
4.1
g