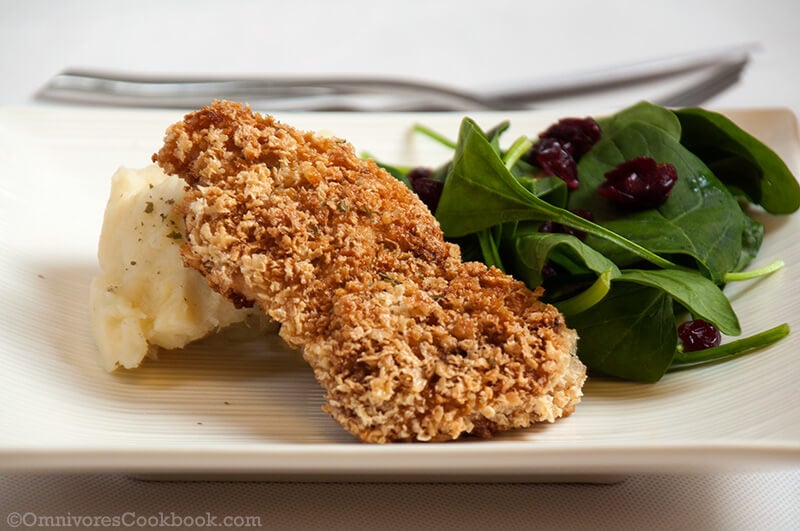 This fried pork chop dish is simple and delicious. It uses minimal seasoning to make the pork stand out by itself. The fresh-from-the-skillet fried crispy pork chop is light, crunchy and moist with a savory seasoning. Yum yum!
Fried pork makes me think of German food, and I admit it doesn't sound like a Chinese dish. Believe it or not, it's a very traditional Shanghainese dish and you can easily find it at local restaurants in China. To cook a Chinese style fried pork chop, the pork is marinated in Chinese ingredients, including soy sauce, cooking wine, and fresh herbs. It is then coated with bread crumbs (or panko) and deep fried until crispy.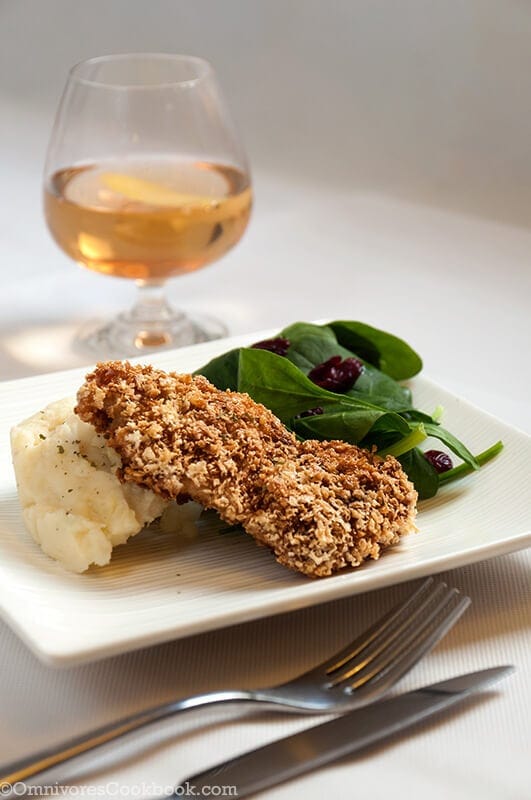 Fried crispy pork chop is one of my favorite dishes when I feel like a splurge. I learned this dish from my dad. In my family, although my mom cooks most of the time, my dad's cooking skill is somehow actually superior. This time, in addition to all the techniques I learned, I tried a new way to cut down on the amount of oil for frying and the result was great!
The pork in this recipe is lightly seasoned with Chinese Shaoxing wine and garlic, which help remove the raw smell from the pork and tenderize the meat at the same time. The recipe uses three layers of coating – flour, egg white and bread crumbs. This way, the pork will have very a crispy and rich surface, with a moist and tender texture.
The recipe uses only enough oil to cover the bottom of the skillet, but it yields a great deep fried texture. I like to serve it with mashed potatoes and a spinach salad. Sometimes I also follow the Chinese habit and serve it over steamed white rice.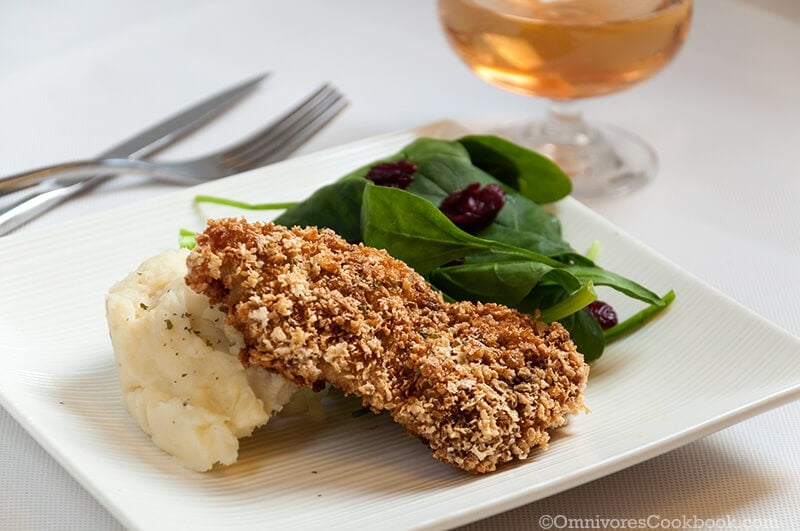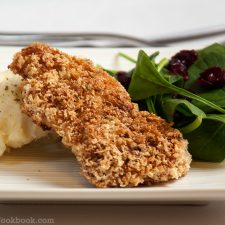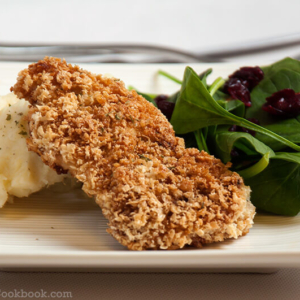 Ingredients
4

boneless pork chops

1.5 centimeters / 0.6 inches in thickness

4

tablespoons

Shaoxing wine

or Japanese sake

2

teaspoons

minced garlic

salt and pepper

vegetable oil to fry pork

1/2

cup

all-purpose flour

1

egg white

1/2

cup

bread crumbs

panko

a wedge of lemon

or ketchup / mayonnaise
Instructions
Place pork chops on a cutting board and hit with the back of a knife to tenderize them, until the pork chops become half their original thickness.

Place pork chops on a big plate. Add Shaoxing wine to cover the pork chops and marinate for 15 to 30 minutes at room temperature. Discard cooking wine and dry the pork with a paper towel.

Season both sides of pork with salt and pepper and set aside.

Place flour, egg white and bread crumbs in 3 separate plates.

Add vegetable oil to a non-stick skillet, just enough to cover the bottom. Heat over medium high heat. When oil is hot, coat both sides of a pork chop with flour and shake off any extra. Dip it in egg white, then coat with bread crumbs. Gently place pork chop into the skillet and fry over medium heat, until the bottom side turns golden brown. Flip to cook the other side, until it turns golden. Cover and cook over low heat until the pork is cooked through, 3 to 4 minutes. Cut a piece of pork to make sure it's cooked inside. Transfer to a plate with a paper towel to soak up any extra oil.

Add more oil to the skillet and cook the rest of the pork chops in the same manner.

Serve warm with a wedge of lemon, ketchup or mayonnaise.