Recreate the authentic Korean seafood pancake in your kitchen with all the savory flavors, a soft interior, and a crispy outside that you will surely love!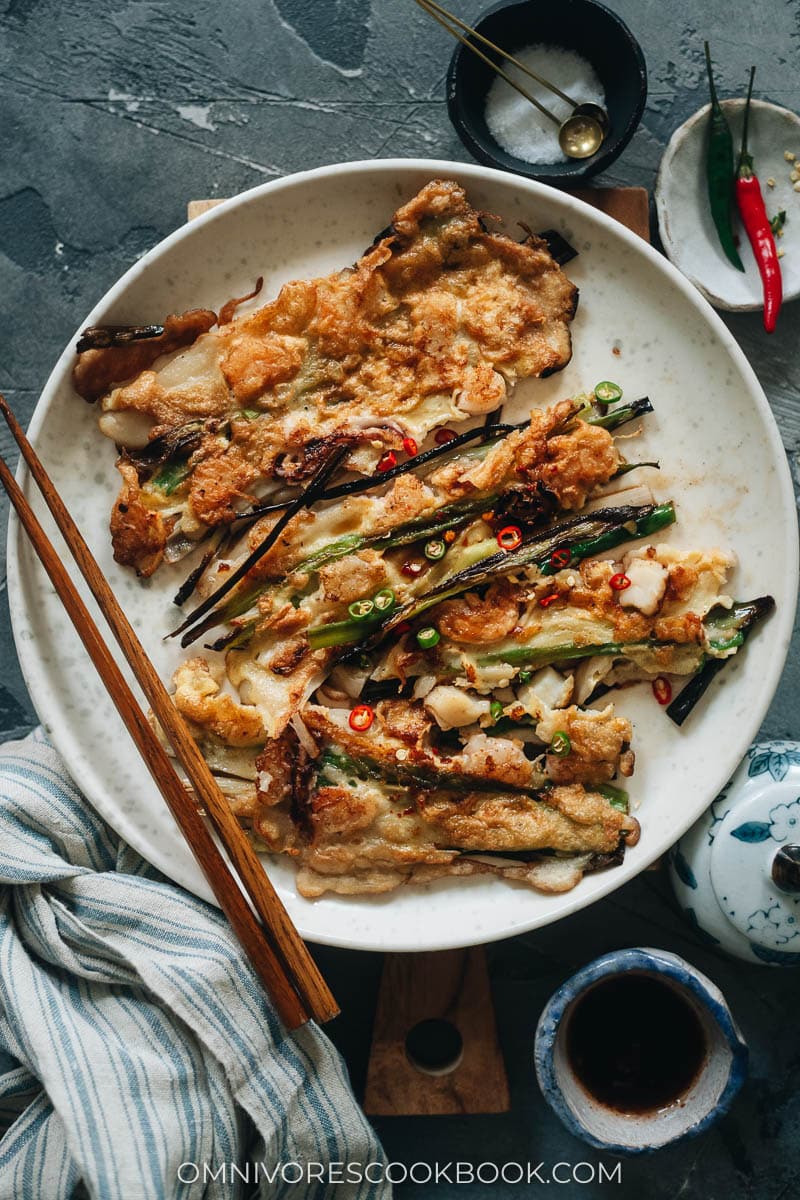 In Korea, they have a fantastic street food-style pancake filled with savory things. Green onions and a mixture of seafood are embedded into a soft, tender pancake that has a nice crispy-textured surface. The Korean seafood pancake, or 'haemul pajeon,' is the perfect appetizer, side, or snack for any seafood lover.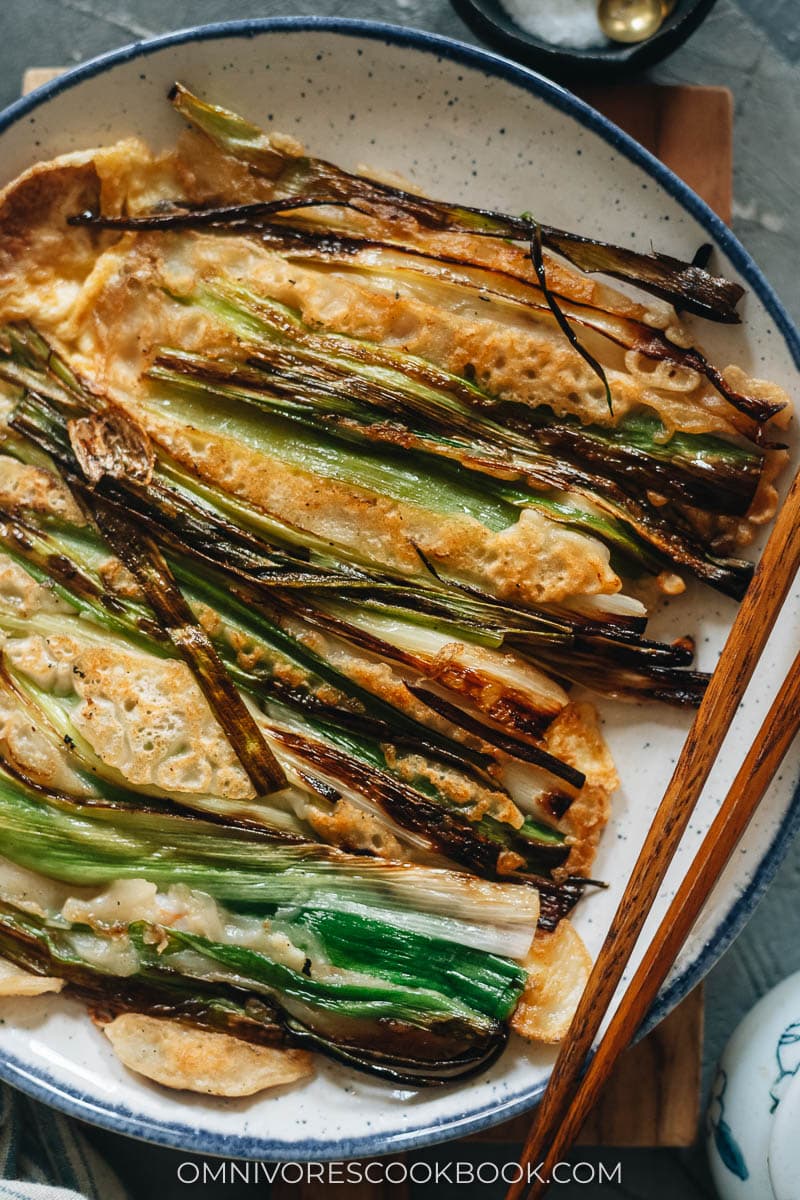 It definitely tastes better than it looks and in Seoul, this is a common comfort food that they enjoy on rainy days along with Korean rice wine called 'makgeoli.' You can look for that too, the next time you're at your local Asian market.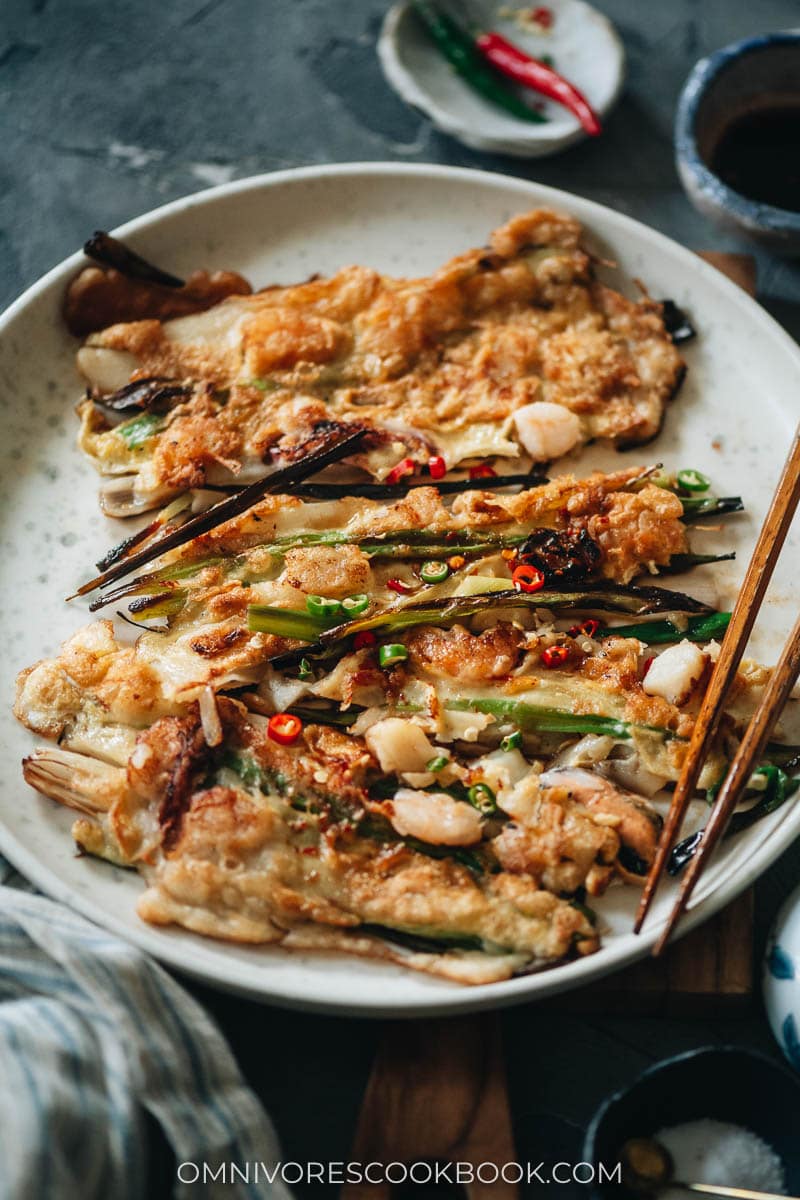 In my Korean seafood pancake recipe, I'll show you step-by-step how to make an incredibly easy batter that works just like the Korean pancake mixes you find on store shelves. But those contain more additives and ingredients, so why not simplify things? Plus, this batter will give you soft, tender pancakes and a nice crispy exterior just like the real Korean seafood pancake!
Special batter
Simple blend
The batter uses all-purpose flour as a main ingredient, along with cornstarch and a few seasonings that you can find in your pantry to make a simple flavorful blend. You will need to use ice water, which makes an extra fluffy and crispy result (a trick that's used in Japanese tempura batter as well).
Water ratio
The water ratio will vary depending on the brand of flour you use. Once you mix everything together, it should form a very runny consistency that just coats the back of a spoon. It's important to adjust the amount of water by observing the thickness of the batter so you can get the perfect result.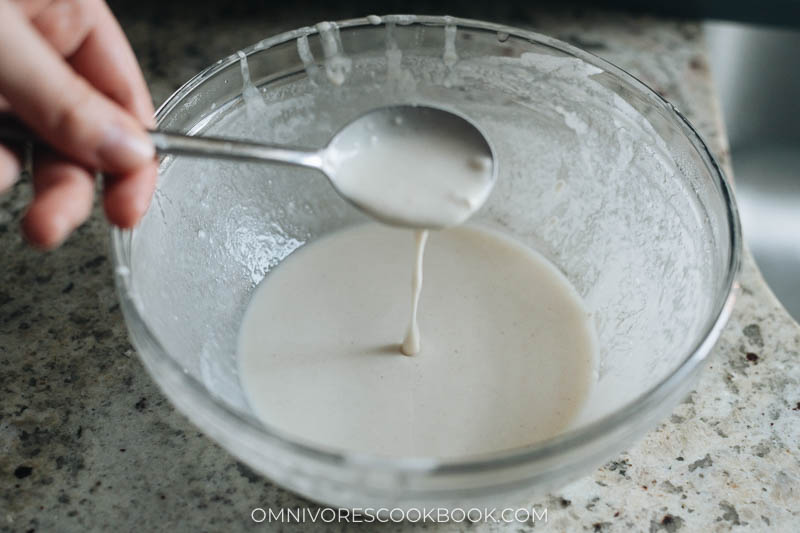 Add the egg at the end
Instead of mixing the eggs into the batter, this Korean seafood pancake recipe adds the eggs separately as a finish, which is how you get that wonderful, satisfying crispiness with a better taste. It's a technique that Korean street vendors use to give the pancake a more interesting texture.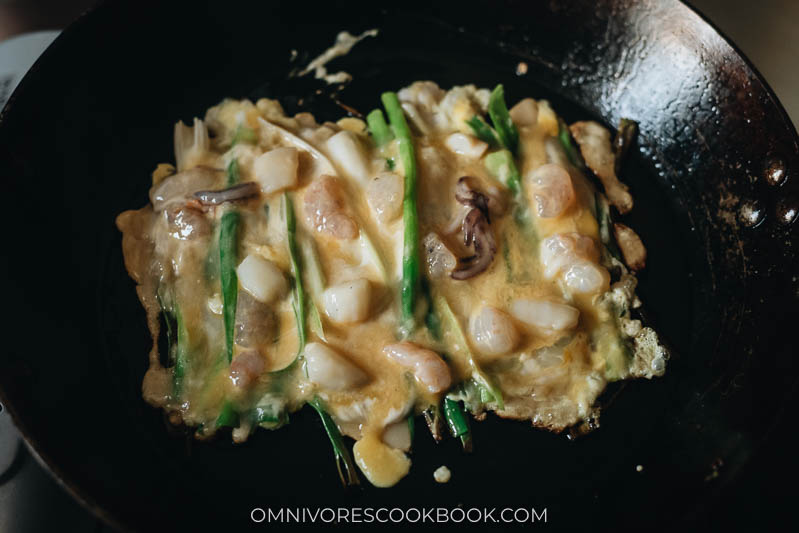 Reheat
As soon as they're done, you'll want to eat them all up, though you can make them in advance and heat them later and they will still taste great. Actually, they get even crispier when you do that! To reheat, you can simply fry them up in a pan or even bake them in the oven.
Ingredients
Your table should have these ingredients before you start cooking.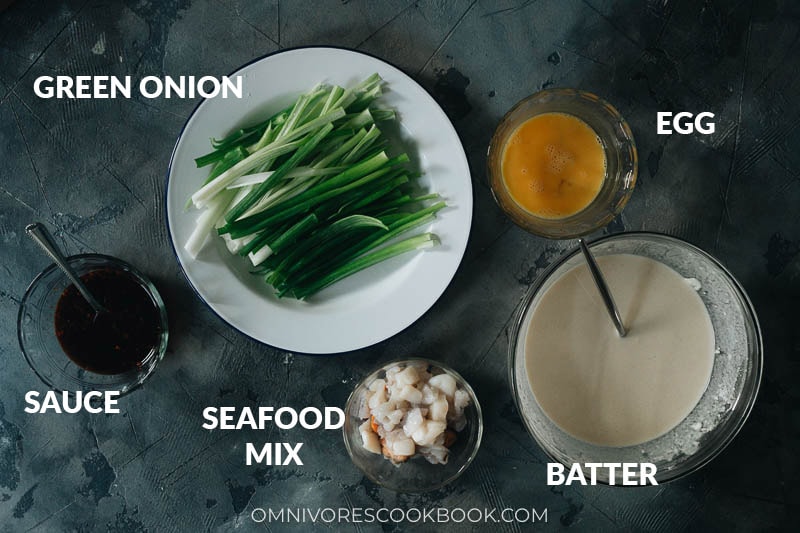 How to make Korean seafood pancakes
Spread out green onion in the heated pan
Pour on the batter
Top with the seafood
Add another layer of batter to cover the seafood
Drizzle the egg mixture
Gently bruth the egg mixture so it evens out
Flip the pancake once the bottom is browned
Enjoy!
NOTE:
To make a great seafood pancake, it's important to add the ingredients by the layers. The green onions go to the bottom layer so it will be seared properly. The runny batter will lightly bind the pancake together, forming a soft texture and crispy edge.
Flipping the pancake can be a bit tricky. I usually use two spatulas to help with the process. If your pancake falls apart while flipping, no worries! It will still end up delicious.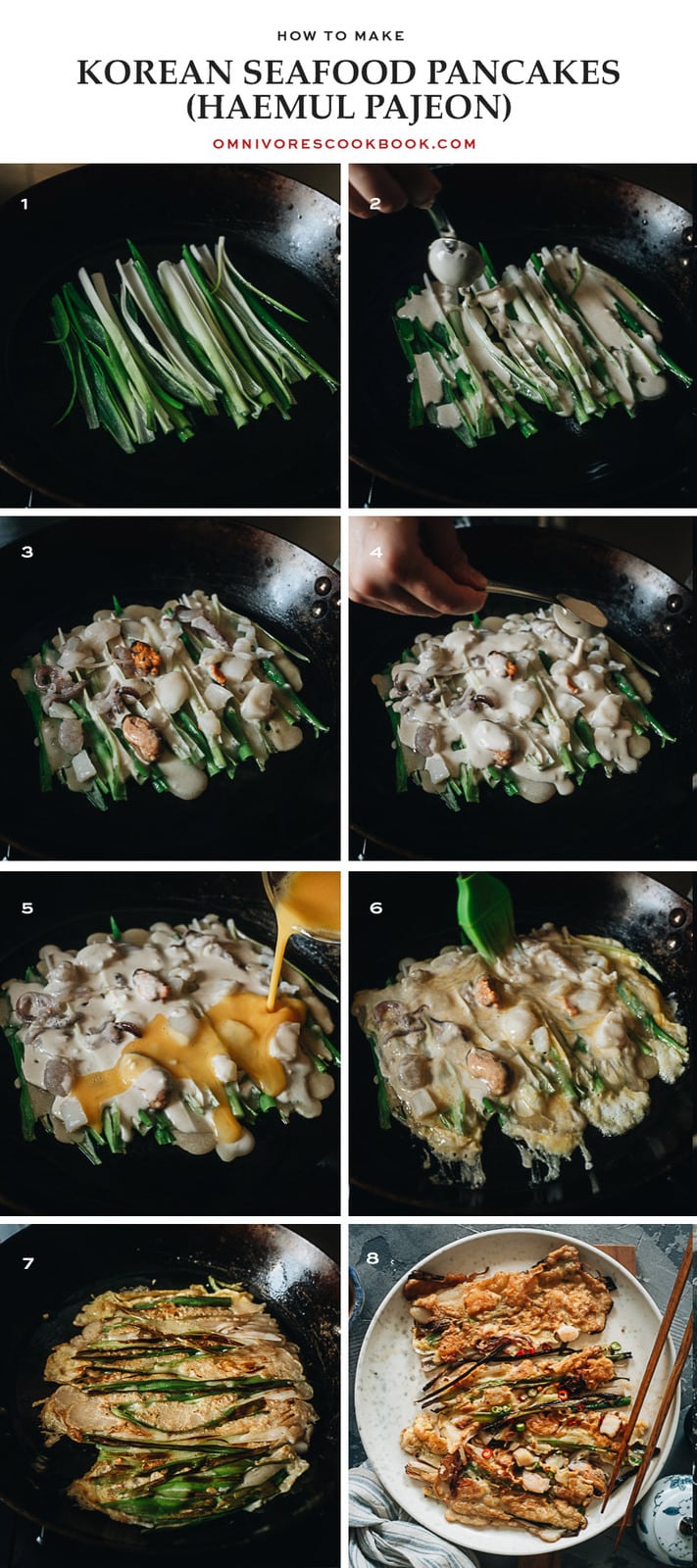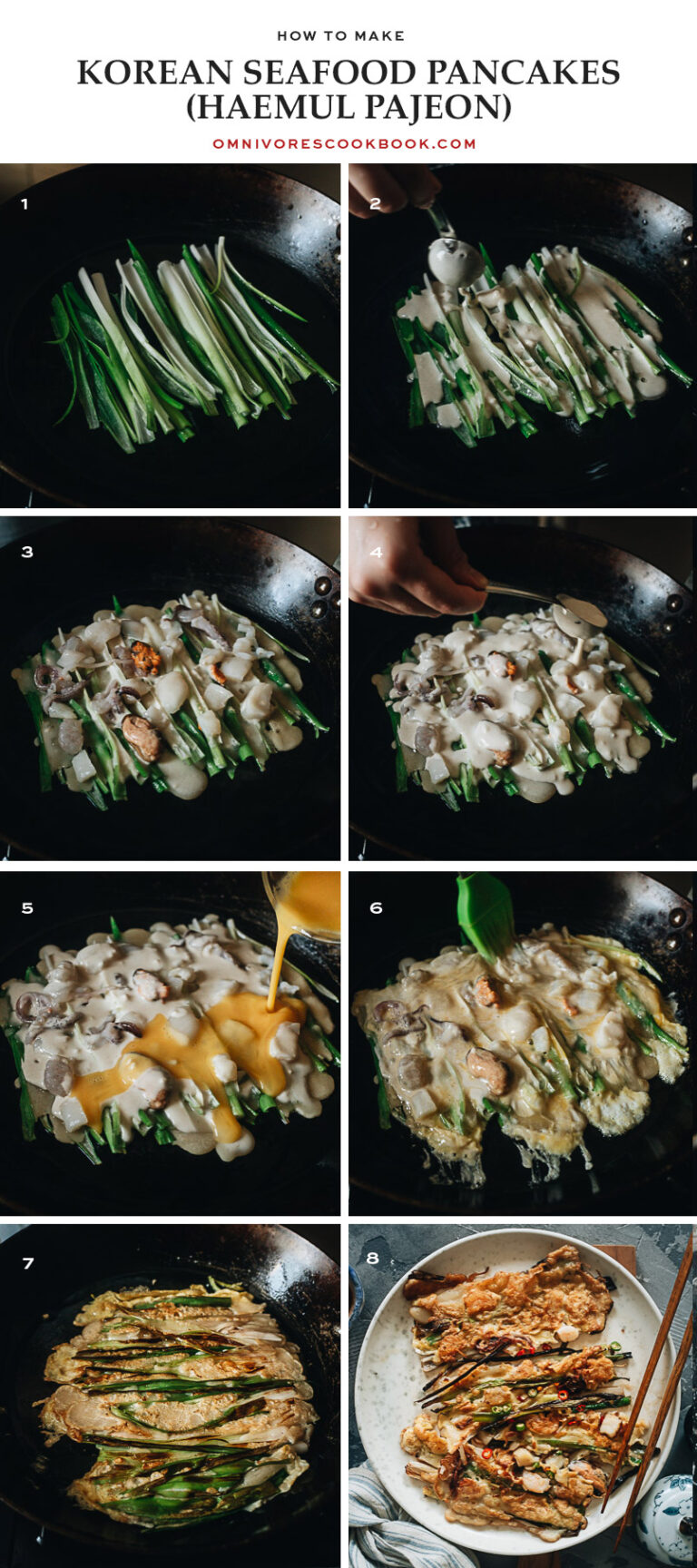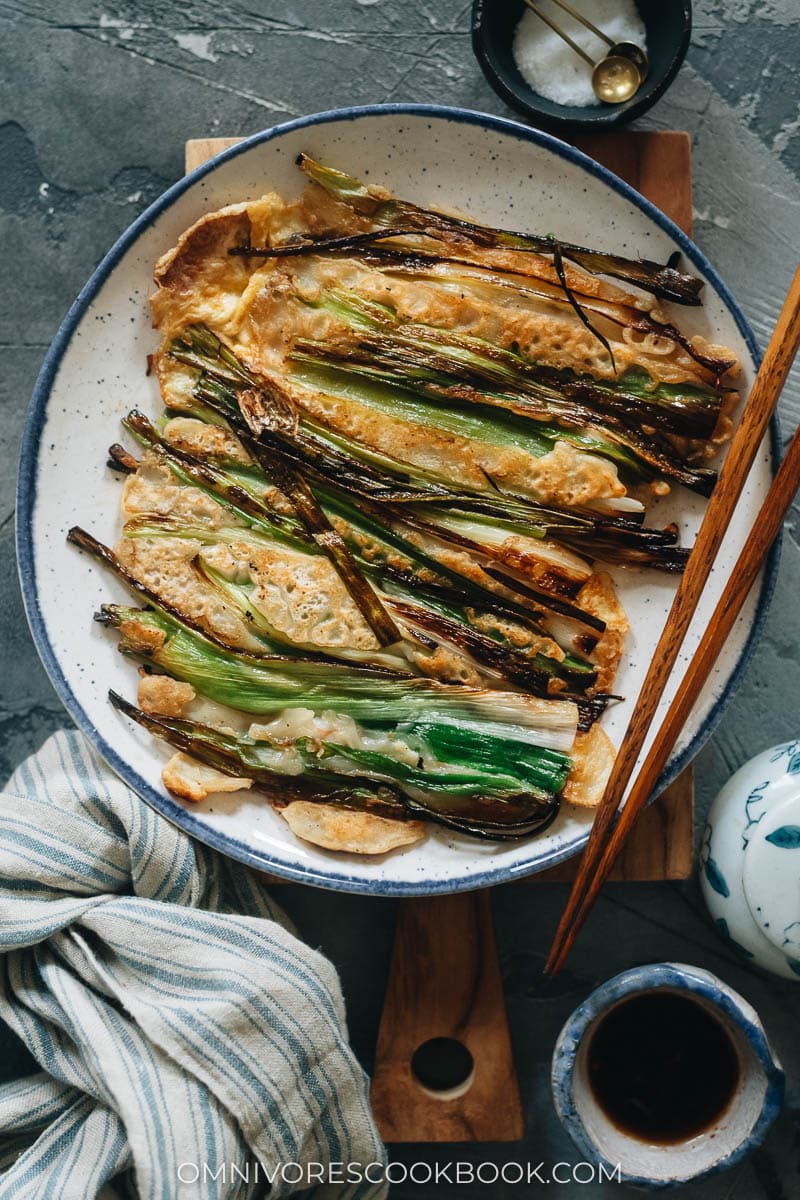 With my Korean seafood pancakes, I made a simple, savory sauce with a little spice using Chinese pantry staple ingredients. I think you'll love dipping the Korean seafood pancake into it though I have to say that these pancakes already taste so good on their own. You can try it out with alternating bites to see which you like best.
And if you're not a seafood person, you can absolutely leave out the seafood and just use the green onions. That's also a popular pancake in Korea, known simply as 'pajeon.'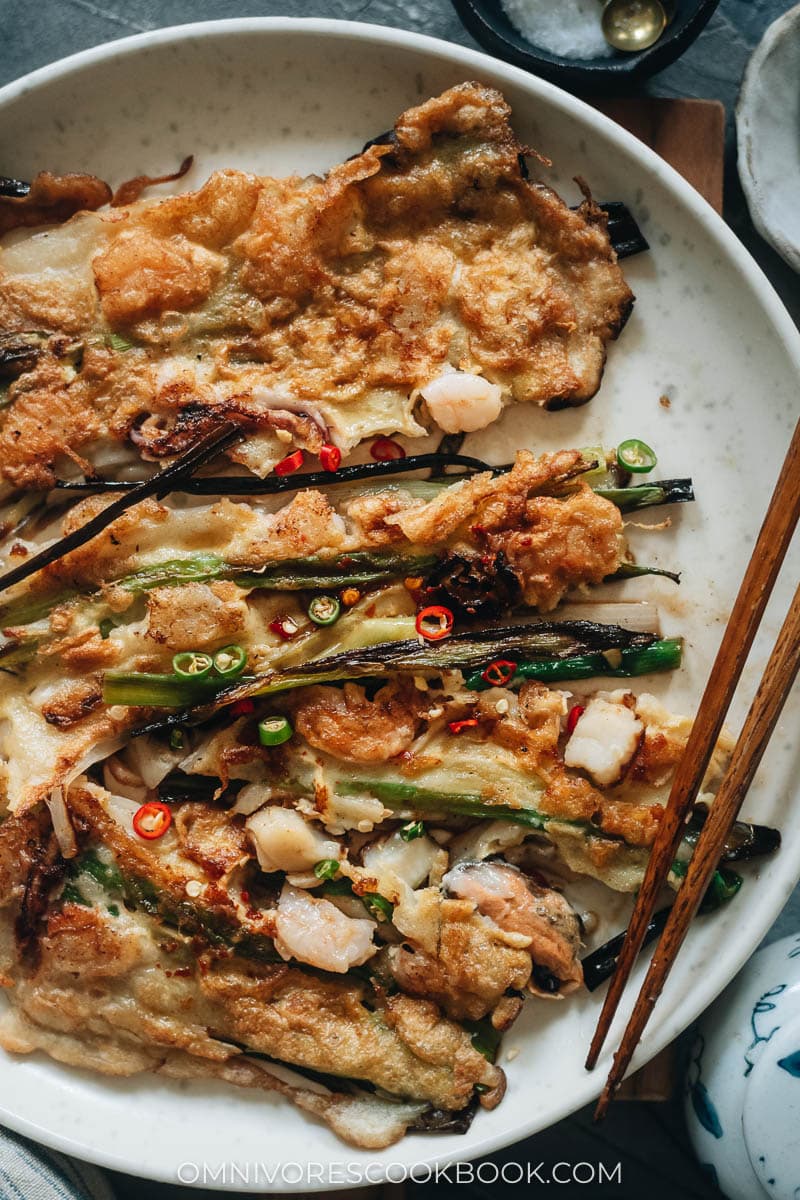 Serve Korean seafood pancake with
Want to learn more about Chinese Cooking? Sign up my newsletter to receive the 5-Day Chinese Cooking Crash Course and recipe update!
Want to Know More?
Receive our 5-Day Chinese Cooking Crash Course & Recipe Updates! Subscribe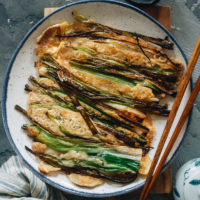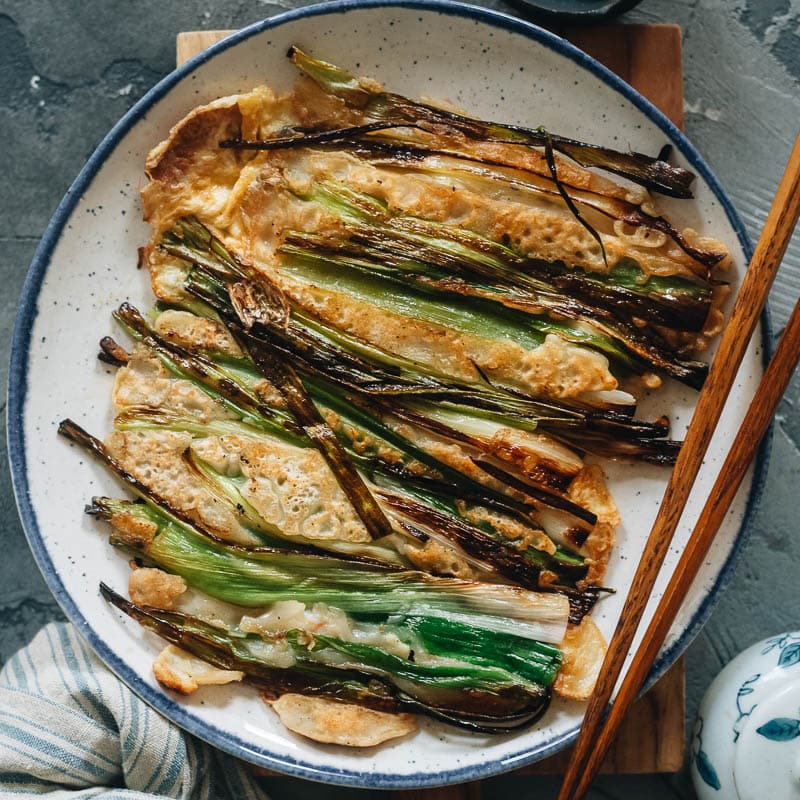 Korean Seafood Pancake (Haemul Pajeon)
Recreate the authentic Korean seafood pancake in your kitchen with all the savory flavors, a soft interior, and a crispy outside that you will surely love!
Servings:
2
to 4 servings (3 pancakes)
Ingredients
1

cup

seafood mix

(*Footnote 1)

9

to 12

green onions

, sliced in half lengthwise and cut in half (*Footnote 2)

1

egg

, beaten

1/4

cup

vegetable oil
Batter:
1

cup (150 g)

all-purpose flour

1

teaspoon

cornstarch

1

teaspoon

salt

1/2

teaspoon

sugar

1/2

teaspoon

garlic powder

(or 1 clove minced garlic)

1/4

teaspoon

white pepper

(or black pepper)

1

cup + 3 tablespoons

ice water

(*Footnote 3)
Instructions
Combine the dry ingredients of the batter in a medium-sized bowl. Slowly stir in the water and mix with a spatula until it forms a smooth, runny batter that can just coat the back of a spoon. Add a bit more water if the batter is still a bit thick and mix again.

Mix the dipping sauce ingredients until the sugar is dissolved. Set aside.

Heat 2 tablespoons of oil over medium-high heat in a large skillet until hot.

Add half of the green onions to the pan in a single even layer, forming a rectangle about 7" by 9" (18 cm by 23 cm).

Drizzle about 4 tablespoon of batter evenly over the green onions.

Spread 1/3 cup of seafood mix evenly across the pancake and drizzle another 2 to 4 tablespoons of batter evenly over the seafood.

Turn the heat to medium and allow the pancake to cook for 1 minute.

Add about a third of the beaten egg over the pancake and spread it with a brush or a spoon to form an even layer.

Cook the pancake for another 1 to 2 minutes, occasionally checking underneath, until it is browned and crisp.

In one fluid motion, flip the pancake using a spatula (or two spatulas). It may be necessary to add another tablespoon of oil to the pan.

Cook the pancake until the seafood side is browned and cooked through, another 2 to 4 minutes.

Turn the pancake out onto a cutting board and slice into 9 squares or 8 triangles.

Add more to the pan and repeat steps 4 through 11 to cook the remaining two pancakes.

Serve hot with the dipping sauce on the side as an appetizer or main.
Notes
If you are using frozen seafood mix, you need to thaw it before using. To measure frozen seafood mix, you will need to use a heaping cup. It will be about a cup after thawing.
The number of green onions depends on their size. If the green onions are large (and come in 6 a batch at the grocery store), use 9. If they are smaller (8 in a batch), use up to 12.
Depending on the brand of flour you use, you might need to slightly adjust the water ratio to form a thin, runny batter that could just coat the back of a spoon.
Nutrition
Serving:
1
serving
,
Calories:
295
kcal
,
Carbohydrates:
29.2
g
,
Protein:
9.5
g
,
Fat:
15.4
g
,
Saturated Fat:
3.3
g
,
Cholesterol:
70
mg
,
Sodium:
694
mg
,
Potassium:
177
mg
,
Fiber:
2.1
g
,
Sugar:
1.8
g
,
Calcium:
60
mg
,
Iron:
3
mg
If you give this recipe a try, let us know! Leave a comment, rate it (once you've tried it), and take a picture and tag it @omnivorescookbook on Instagram! I'd love to see what you come up with.
Other delicious appetizer recipes
Lilja Walter is a part of the Omnivore's Cookbook team and worked closely with Maggie to develop and test this recipe.