Budae Jjigae is also called Korean army stew. Its rich spicy broth is made with aromatics, ground meat, and noodles, topped with sausage, veggies and runny egg yolks. It's an easy one-pot meal that requires very little prep and is fast to make.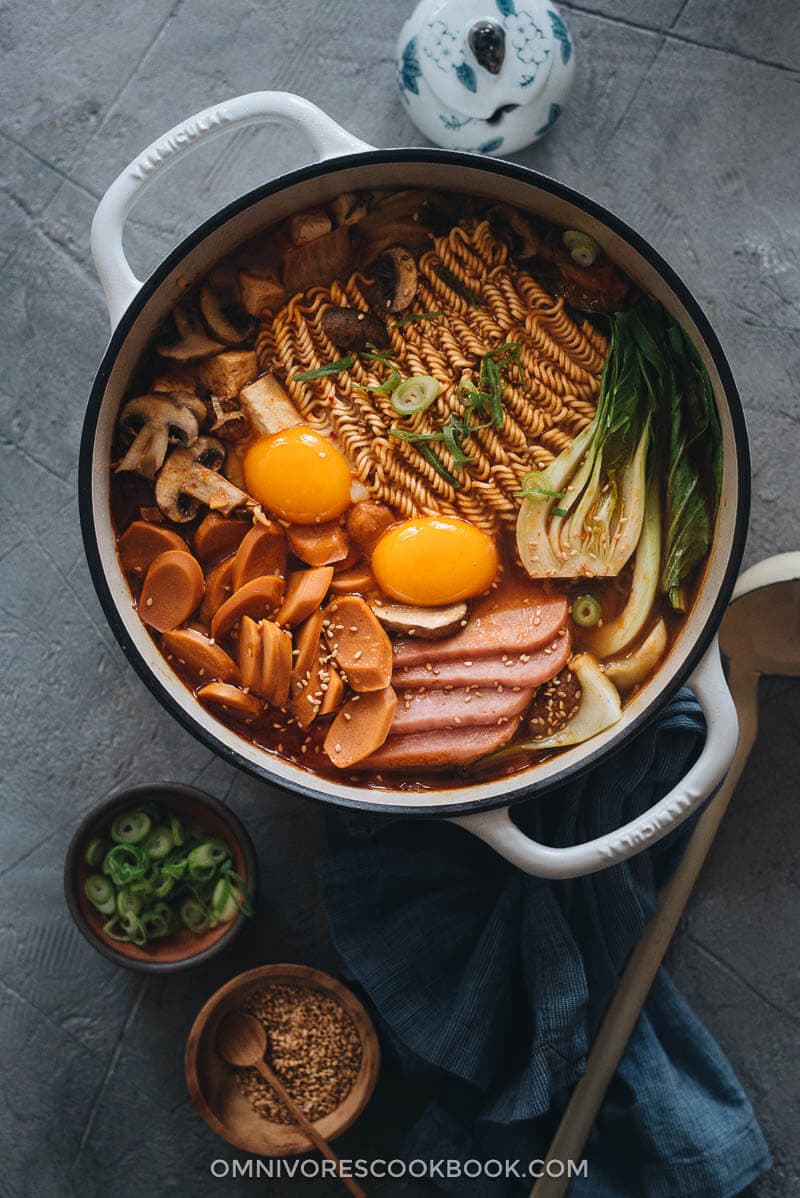 Earlier this March, my husband and I moved from Austin to New York. We'd been thinking about the move for a while, but the timing was quite random. I was traveling in New York during fashion week in February. And there was a day that I had nothing on my schedule. So I decided to go window shopping and look at apartments, to understand the market in New York. I started browsing on StreetEasy and arranging apartment tours, hoping someone would reply within the day. To my biggest surprise, my inquiries were replied to very quickly and I scheduled eight viewings within a couple of minutes.
After looking at four places, I stumbled upon this beautiful south-facing sun-filled apartment in the Lower East Side, a 10-minute walk from both Soho and Chinatown. The place is tiny, just like the rest of the apartments in Manhattan. Everything happened so quickly next. I submitted the application, made the security deposit, and got all my papers ready for the realtor to review. The next thing I know, I'd got us a place in New York and we'd be moving in 2 weeks.
The moving process was even more chaotic than I expected. It took forever to get the kitchen furnished, all the cookware in place, my cabinets organized, explore the grocery options, and gather all the condiments I need for basic cooking.
During that time, I was cooking extremely simple dishes all the time. Because our kitchen only had a tiny working surface that could barely fit a cutting board, before I installed more cabinets on the other side of the wall. We didn't have gas (and still don't) because there was an explosion in the restaurant downstairs that destroyed the pipeline. There was a time that I could only cook one-pot food (powered by an electric pot) that needed minimal prep.
Thus the Korean army stew became one of my favorites and I've been cooking it a lot.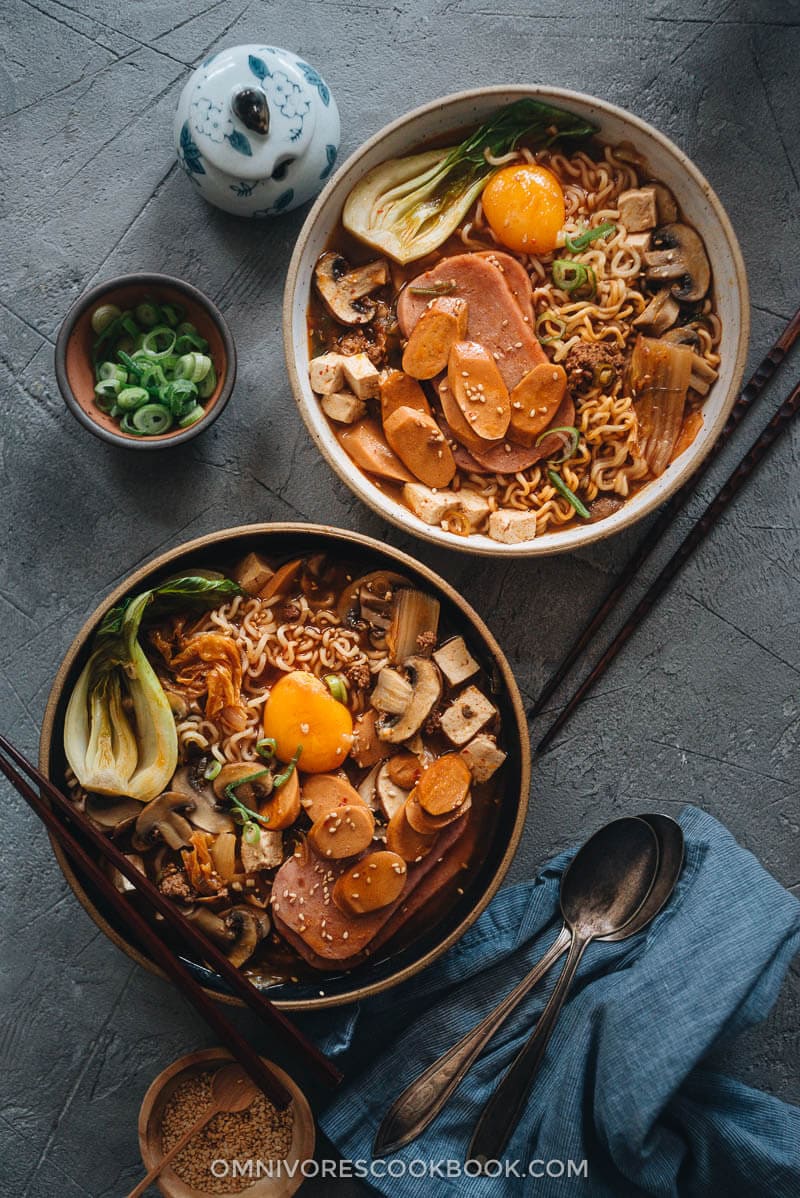 What is army stew (Budae Jjigae)
You can read more about the history of the army stew on Wikipedia. In short, it is a dish created during the period of post-war impoverishment, using the cheapest ingredients to create a comforting meal.
There is no single way to make army stew because you can literally create hundreds of combinations based on the ingredients you have on hand.
Some of the common ingredients include all kinds of sausage, hot dogs, Spam, bacon, tofu, pork, ground beef, instant noodles, macaroni, rice cake, American cheese, scallions, and whatever vegetables are in season. These ingredients are cooked in a Korean chili-pepper-based soup, sometimes with the addition of kimchi.
I wanted to share this recipe as a guide, to let you know the key elements of the dish and the order to cook them in. So you can create your own army stew with whatever ingredients you have on hand.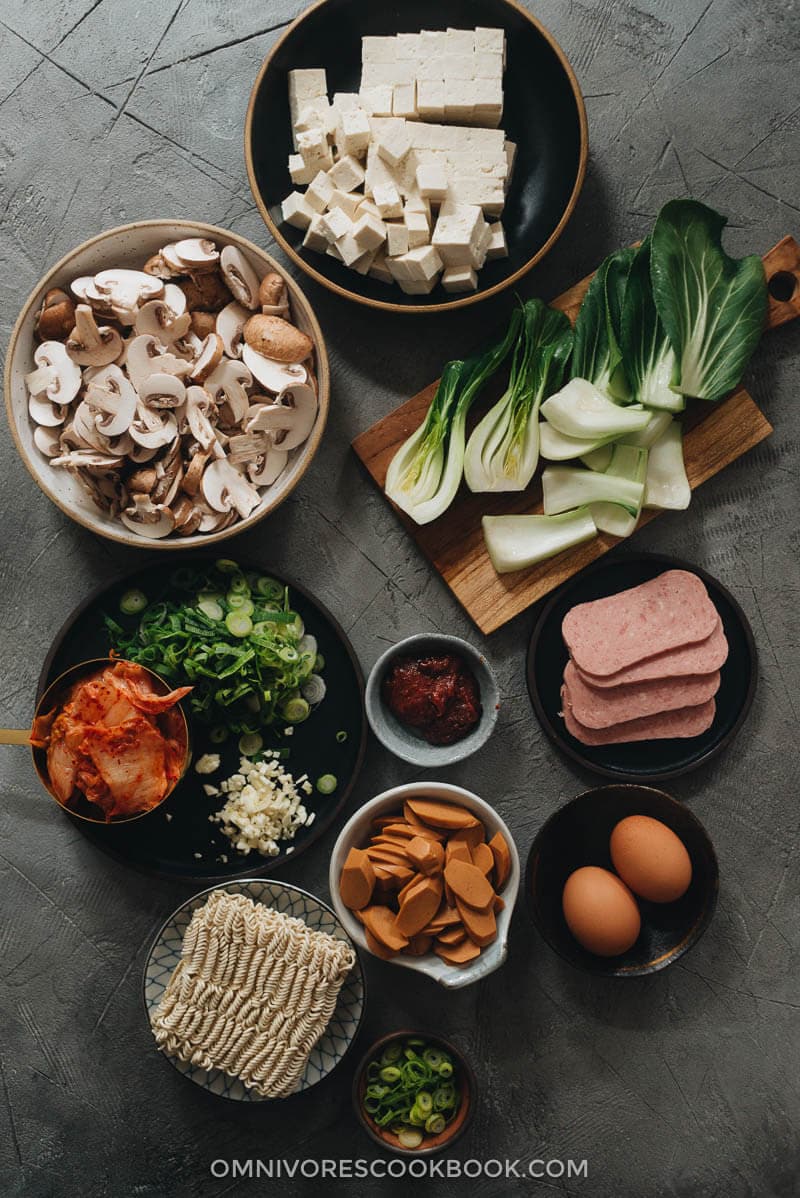 Cooking notes
1. Using plenty of fresh aromatics makes a difference
Lots of green onion and garlic are my default go-to aromatics when making any kimchi stew. You can add some minced ginger too if you have it on hand. I like to saute the aromatics with gochujang, to make the soup broth very fragrant. I know some recipes simply boil everything together. But trust me, this very quick step makes a difference and your soup broth will taste richer.
2. A bit of ground meat goes a long way
Most army stew recipes add the proteins into the soup at the end. For example, sausage, spam, sliced pork, etc. When I make the dish, I like to cook some ground meat at the beginning and boil it with the soup. The ground meat will infuse a rich taste into the broth during the short cooking time. Sometimes I don't even top the soup with sausages, just to make dinner a bit healthier. The ground meat is my secret weapon to make the dish very satisfying, even when I have veggies and tofu as toppings.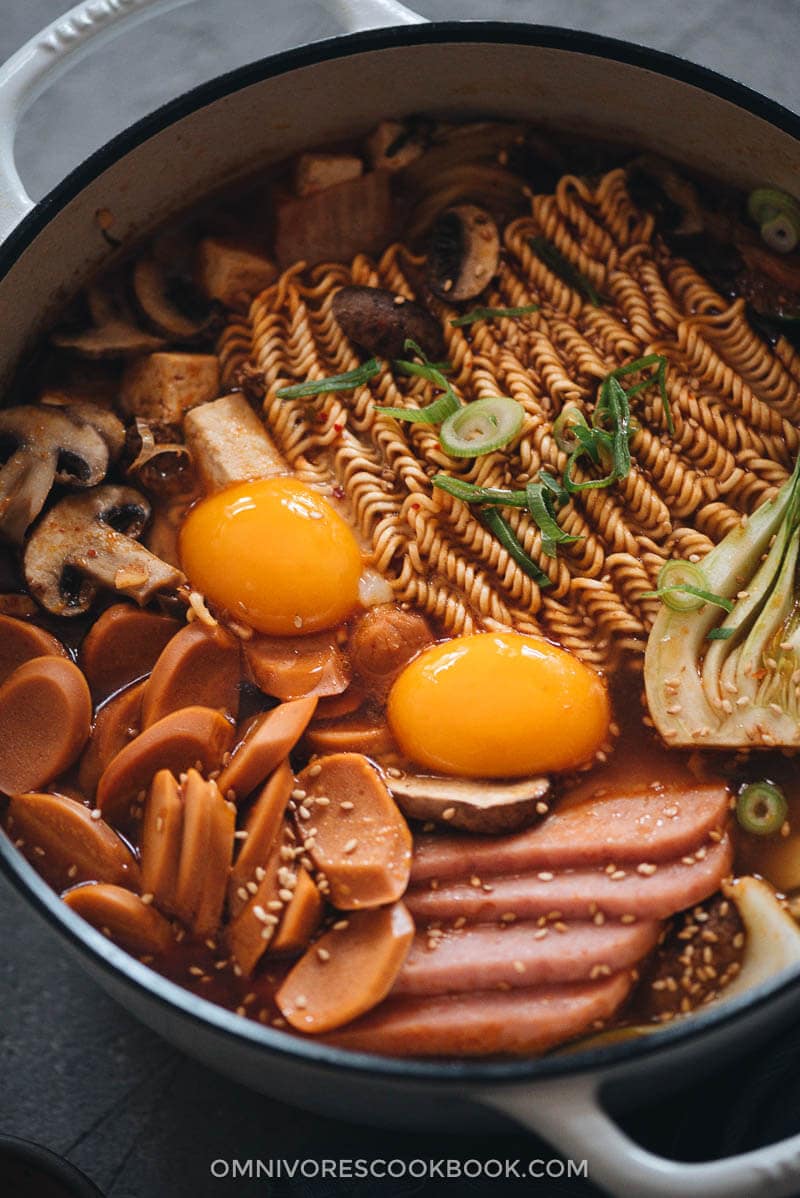 3. Versatile ingredients
The soup base works with practically everything. Some of my favorite veggie ingredients include kale, napa cabbage, baby bok choy, spinach, mustard greens, and peppers. I also like to add plenty of mushrooms to my soup, which makes the broth extra fragrant. As for the topping, Spam is always a favorite, although maybe not very healthy. By the way, you might think Spam is totally an American ingredient. But the truth is, it's a very popular ingredient in Chinese and other Asian cuisines. For example, I talked about it in my previous recipes such as Spam musubi. It's also a popular ingredient in Chinese hot pot and dry pot.
4. How to make Budae Jjigae vegan / vegetarian
I know I topped the dish with so many meat ingredients! But the truth is, it's totally possible to make the dish vegan or vegetarian and it'll still taste great.
Here is how:
Use vegetable broth.
Use sliced mushrooms or a few minced shiitake mushrooms to replace the ground meat.
Utilize various tofu products to make the toppings interesting. For example, some of my favorites include deep fried tofu, tofu sheets, and bean threads (see the more detailed introduction in this post). These products have very different textures and they absorb flavor better than regular tofu. They will make the stew much more interesting.
That's it!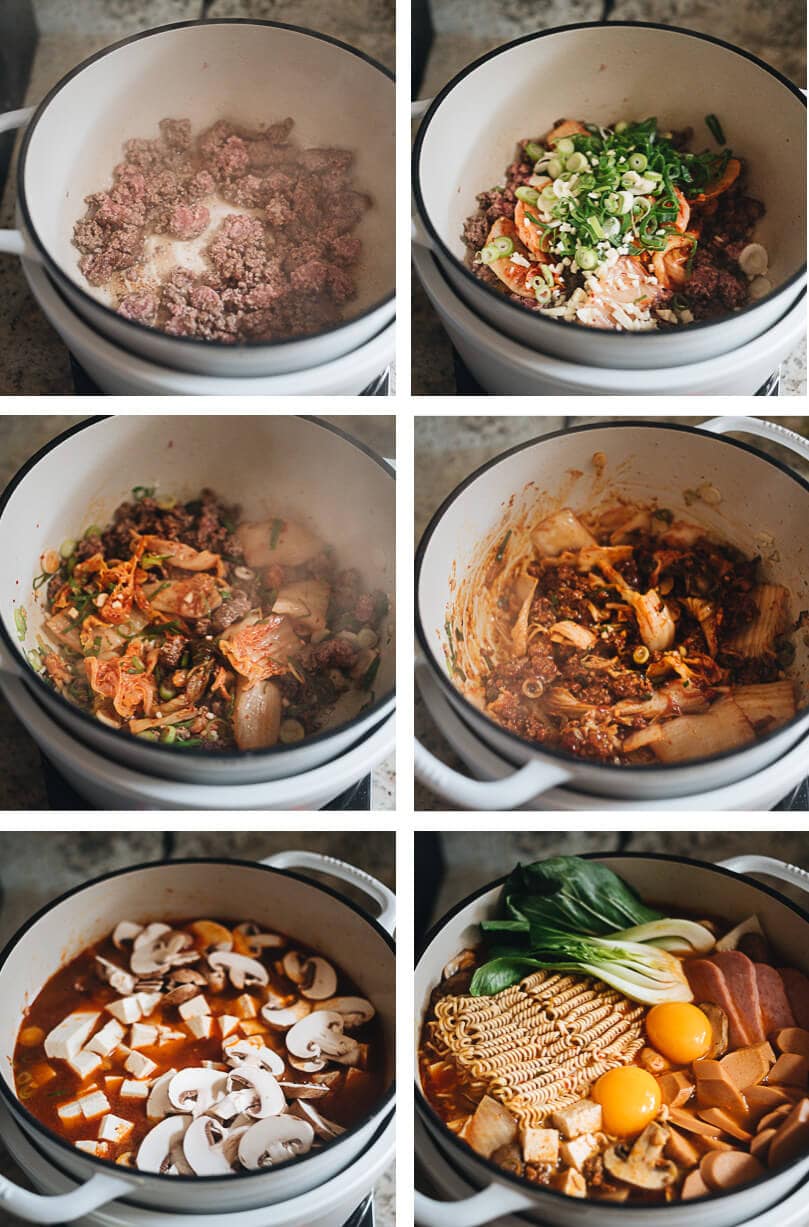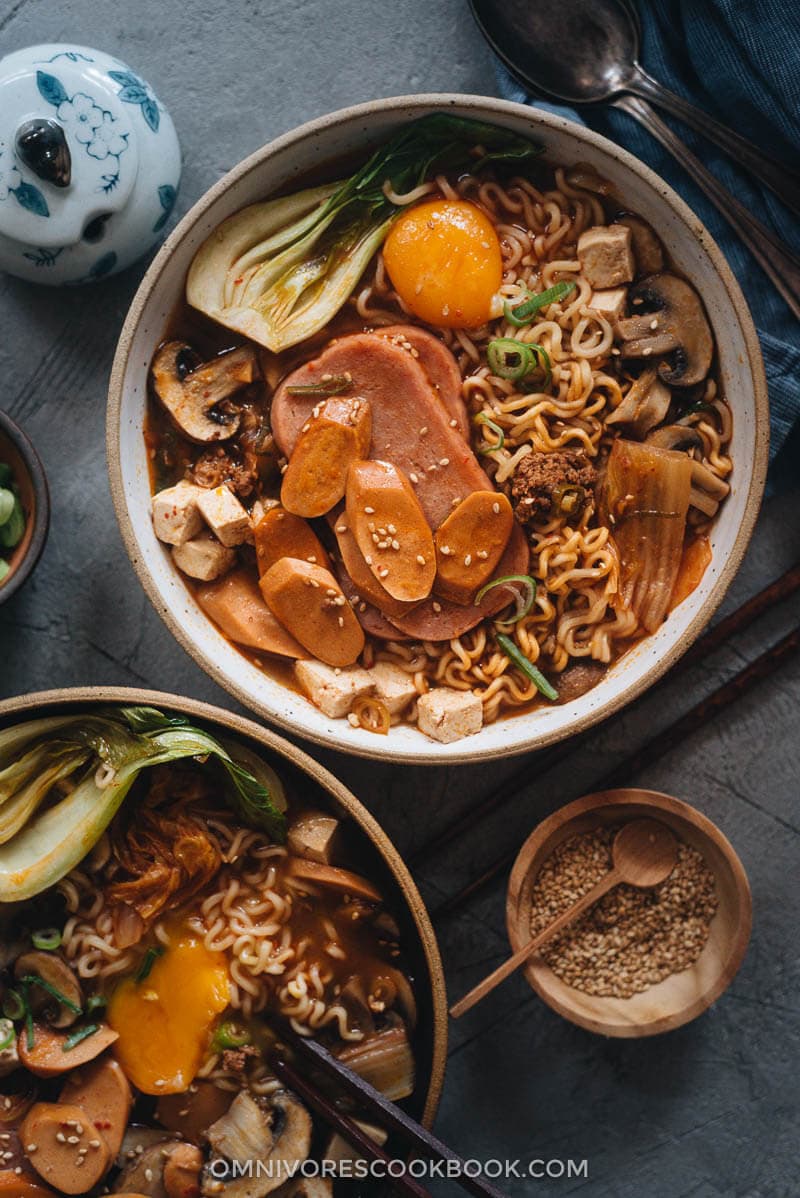 More delicious one-pot recipes
If you give this Budae Jjigae recipe a try, let us know! Leave a comment, rate it (once you've tried it), and take a picture and tag it @omnivorescookbook on Instagram! I'd love to see what you come up with.
Want to Know More?
Receive our 5-Day Chinese Cooking Crash Course & Recipe Updates! Subscribe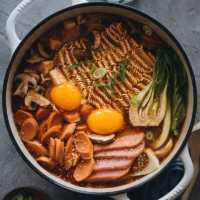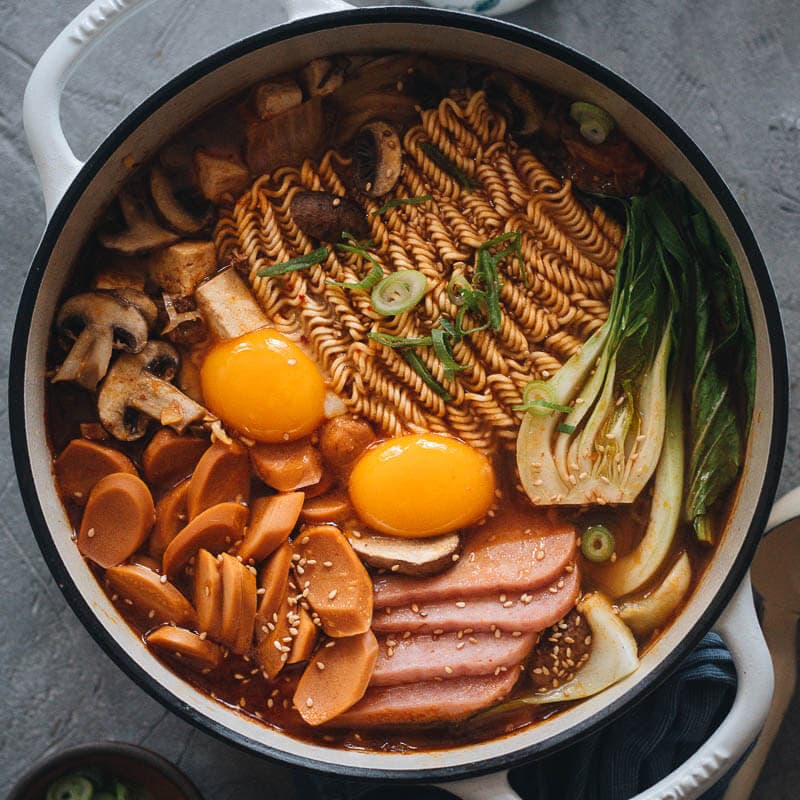 Korean Army Stew (Budae Jjigae)
Budae Jjigae is also called Korean army stew. Its rich spicy broth is made with aromatics, ground meat, and noodles, topped with sausage, veggies and runny egg yolks. It's an easy one-pot meal that requires very little prep and is fast to make.
Ingredients
1

tablespoon

peanut oil

(or vegetable oil)

1/2

lb (225 g)

ground beef

(ground chicken or turkey works as well

3

green onions

, chopped

2

cloves

garlic

, minced

1

cup

kimchi

2

tablespoons

Gochujang

spicy Korean chili paste

4

cups

chicken stock

2

tablespoons

dry sherry

(or rice wine)

1

tablespoon

soy sauce

1

tablespoon

sugar

1

(1 lbs / 450 g)

block tofu

, cubed

1/2

lb (225 g)

white mushrooms

, sliced

1/2

lb (225 g)

sausage of your choice and/or Spam

, sliced (I used both)

2

heads baby bok choy

, quartered (or 2 cups thinly sliced cabbage)

2

packs (6 oz. / 170 g)

instant noodles

2

eggs

(Optional)
Instructions
Heat oil in a 4-quart dutch oven (or heavy pot) over medium-high heat until hot. Add the ground meat. Cook and break apart the meat with your spatula, until the meat is mostly cooked through and the surface is lightly charred.

Add the green onions, garlic, and kimchi. Stir and cook for 1 minute.

Add the Gochujang. Stir and cook to coat everything well, 30 seconds or so.

Pour in the chicken stock and use your spatula to scrape the brown bits off the bottom of the pot. Add the dry sherry, soy sauce, sugar, tofu, and mushrooms. Turn to medium or medium-low heat. Simmer, covered, until the mushrooms are cooked, 5 minutes or so.

Add the sausage and Spam. Cook for another 5 minutes.

Add the baby bok choy, Instant noodles, and eggs. Cook covered until the noodles turn tender and the veggies are cooked.

Serve hot as a main dish.
Nutrition
Serving:
4
servings
,
Calories:
522
kcal
,
Carbohydrates:
26.6
g
,
Protein:
39.1
g
,
Fat:
29.1
g
,
Saturated Fat:
8.3
g
,
Cholesterol:
195
mg
,
Sodium:
1353
mg
,
Potassium:
841
mg
,
Fiber:
2.1
g
,
Sugar:
10.1
g
,
Calcium:
120
mg
,
Iron:
15.3
mg