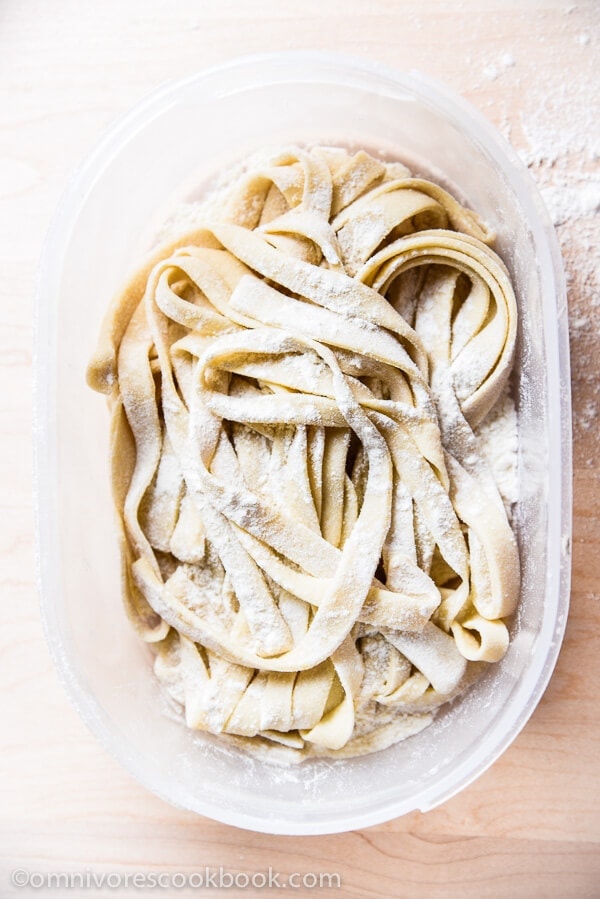 Try out these fresh homemade noodles with your favorite noodle sauce – it will bring your noodle experience to a whole new level!
Fresh noodles are one of the most important staples in the Chinese household. In large cities, people buy cheap, fresh noodles from the market to fit cooking into their busy days. In smaller cities and rural areas, some families make and serve fresh noodles on a daily basis.
You have endless options when deciding what to do with noodles. Make a quick stir-fry to serve with them; cook a hearty sauce to top them with; pour on chili oil and seasoned soy sauce to make a simple summer dish; or cook them in hot broth to make a comforting dish. The list goes on and on.
Of course, you can make a very delicious meal from dried or frozen noodles, too. However, if you want to re-create the authentic Chinese noodle experience,  you have to serve freshly made noodles. Homemade noodles have a meaty and springy texture that you'll never get from packaged noodles. They are just like fresh homemade pasta. They turn a great meal into a perfect one.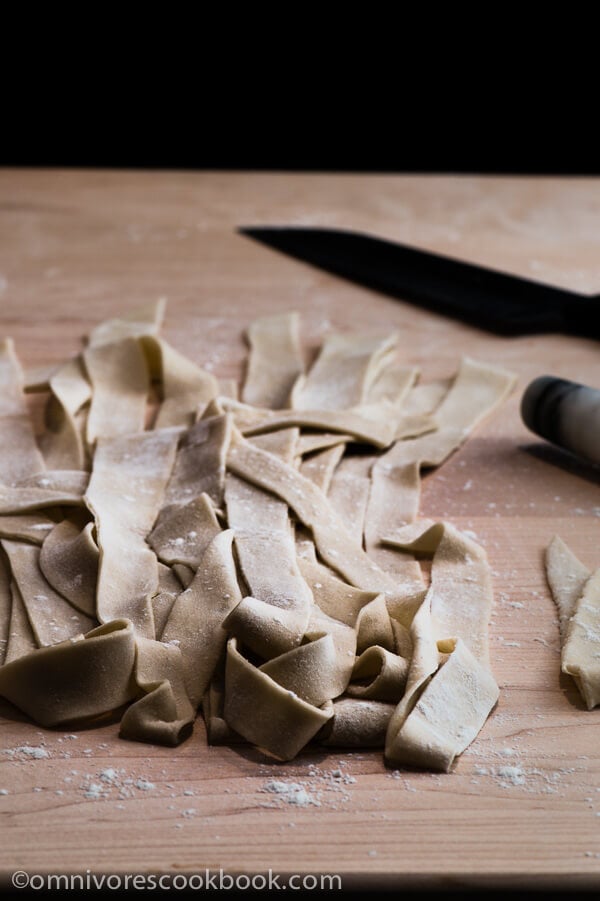 A while ago, I shared a recipe for Chinese hand-pulled noodles. Compared to hand-pulled noodles, this recipe uses a tougher and drier dough. The noodles will finish with a chewy and more springy texture. We call this hand rolled noodles (手擀面, shou gan mian) in Chinese. It refers to making noodles with a rolling pin.
It might seem daunting to make noodles from scratch, but once you get the idea, you will find it very easy. It does requires some work, but you'll find the process fun and the results satisfying.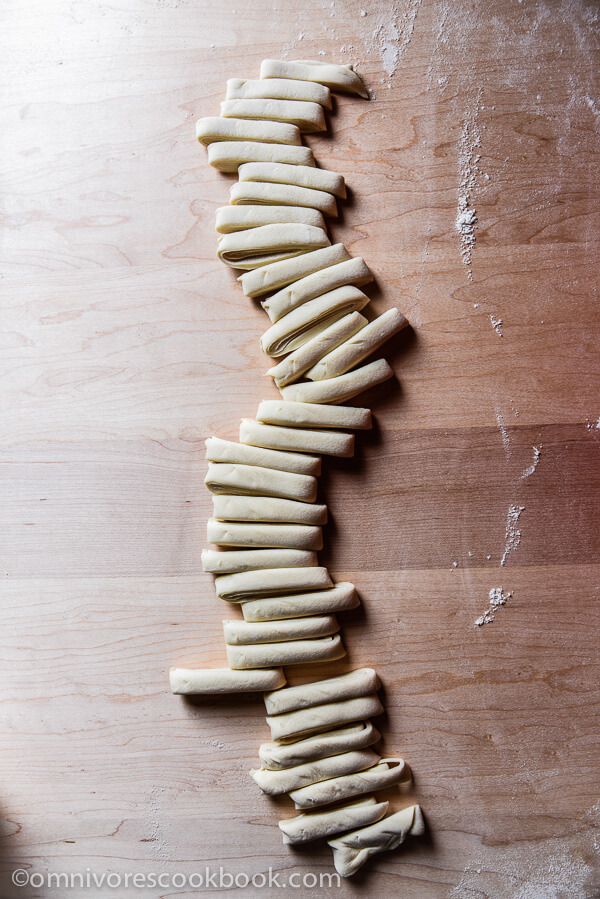 Cooking Notes
Homemade noodles are flexible. You can create whichever shape you like, whether wide like fettuccine or fat like udon, to get your favorite texture. You can replace the water with egg, to make fresh pasta with the same method. If you replace part of the water with egg(s), you will get egg noodles.
Making hand rolled noodles does require a bit of strength. Since the dough is very tough (its texture is close to that of pasta dough), it is a bit difficult to knead and roll. At first, you might find the dough too dry to shape, but you'll eventually get there if you keep kneading. I have to confess, when I feel lazy, I just dump the flour and water into the mixer bowl and switch on the mixer, and the dough is ready in 10 minutes.
If the dough is too tough to roll, let it rest for another 30 minutes or longer. It will get more tender and easier to work with. When you work on the noodles, take your time and turn on some music. Roll each side repeatedly and do not worry about its shape. The work will be over within minutes.
After unfolding these freshly cut noodles, as you shake of the flour, and line them to dry on a pasta rack (or the back of a chair), you will feel the thrill of the task you just accomplished. For me, I often open a can of beer and begin dancing in the kitchen as I whip up a simple sauce to serve with the noodles!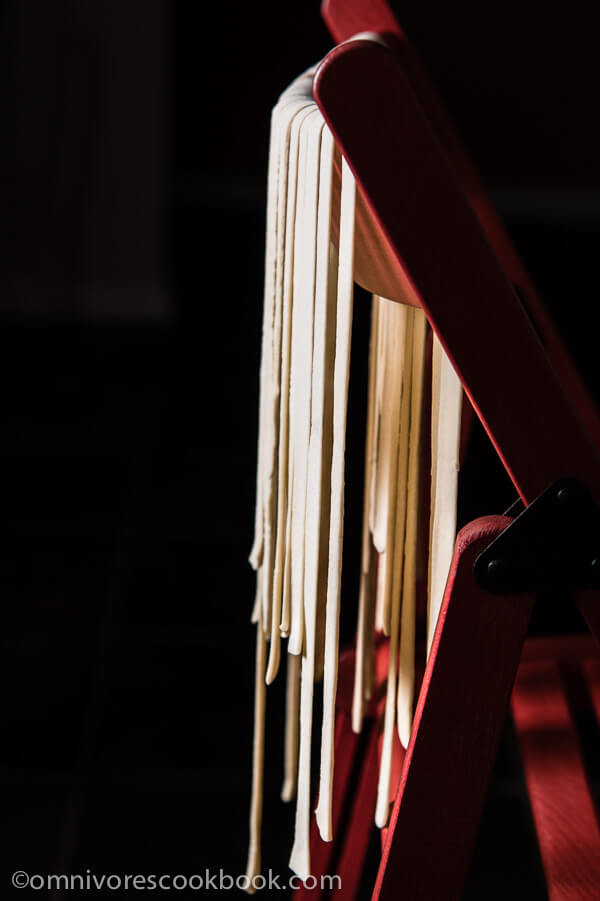 Make these dishes with these fresh homemade noodles
Do you like my recipes? Sign up for Omnivore's Cookbook's weekly newsletter to get the latest updates delivered to your inbox and a free e-cookbook! And stay connected via Facebook, Instagram, Pinterest and Google+. Thanks so much for reading, and happy cooking!
Want to Know More?
Receive our 5-Day Chinese Cooking Crash Course & Recipe Updates! Subscribe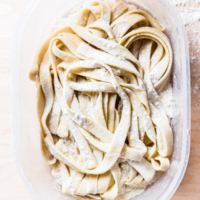 Fresh Homemade Noodles (手擀面)
Try out these fresh homemade noodles with your favorite noodle sauce – it will bring your noodle experience to a whole new level!
Ingredients
3

and 1/2 cups (500 grams)

bread flour

(or all-purpose flour) (see how to convert to cups) and extra to dust the working surface

240

milliliters

water

slightly less than 1 cup, room temperature (*see footnote 1)
Instructions
Make noodle dough
(Option 1 - knead by hand) Add flour into a large bowl. Slowly add water and mix with a spatula until water is fully absorbed. Knead by hand, until dough forms and the bowl is clean of flour. Dust a working surface (or large cutting board) with flour and transfer the dough onto it. Knead until the surface of the dough becomes smooth, about 10 minutes. The dough should feel very tough and should be able to easily be lifted from the bowl without sticking to the bottom (*see footnote 2).

(Option 2 - knead by mixer) Attach the dough hook to the mixer. Add flour into the bowl and turn on low speed. Slowly add water. Let the mixer run at low speed until the dough becomes consistent and smooth, about 10 minutes total. Transfer the dough to a clean working surface. Knead a few times to shape the dough into a ball.

Dust a large bowl with flour. Transfer the dough into the bowl and cover the dough with a clean dish towel. Cover the bowl with a lid (or plastic wrap). Let the dough rest for 30 minutes to 3 hours (*see footnote 3).
Make noodles
Dust the working surface with flour and transfer the dough onto it. Knead a few more times. Divide into two equal pieces. Knead both pieces into a ball shape. Work on one dough at a time. Place one piece of dough back into the bowl and cover with a damp dish towel and lid.

Dust the working surface again. Press the dough into a flat disc. Roll with a rolling pin into a large, thin rectangle. If you are going to make wide noodles, try to roll the dough as thin as possible. If you're going to make narrow noodles, the dough sheet can be a bit thicker (About 1/16" or 3 mm).

Dust the dough sheet with plenty of flour. Roll and fold the long side like rolling a cinnamon bun, until it shapes a multi-layered long sheet.

Slice along the short side with a sharp knife to make noodles (*See footnote 4). The width of the noodle is flexible and you can cut according to your preference, from 1/16" (3mm) to 1/2" (1.5cm).

Unfold the noodles and shake off extra flour.

(Optional) If you're making wide noodles, you can use both hands to gently stretch the noodles from one end to the other (just like when making

hand-pulled noodles

(link)). The noodles will have a better mouthfeel this way.

Align the noodles on the working surface or hang them on a rack to dry for 30 minutes (*see footnote 5).
Cook noodles
Bring a large pot of water to a boil over medium high heat. Prepare a big cup of cold water.

Add noodles and immediately stir with chopsticks (or tongs), so the noodles won't stick to the bottom.

Boil until the noodles are cooked through, about 3 minutes. If the water starts boiling, add some cold water to stop the boiling. Repeat until the noodles are cooked (*see footnote 6).

Use tongs to transfer the noodles to a strainer. Flush with tap water to cool. Drain and transfer to serving bowls.

You can now enjoy the noodles in a bowl of broth or top it with sauce.

The noodles will stick together when getting cold. If you're not going to serve the noodles immediately, pour a few drops of oil onto them and gently toss by hand. If the noodles are already sticking together, rinse them with warm water and gently toss by hand.
Store
Dust the bottom of an airtight container with flour. Generously sprinkle flour on the noodles. Fold the noodles into the container and cover. Store in freezer up to 1 month.

To cook frozen noodles, cook them like you cook fresh noodles, without thawing.
Notes
To make egg noodles or pasta, just add egg(s) to a measuring cup and add water until it reads the amount in the recipe below.
Even if the dough turns out a bit softer than it should be, you can still make noodles without any problem. If you find the dough tends to stick to the working surface when you're rolling it, dust extra flour on the bottom and on top, so the noodles won't stick together when you cut them.
You should let the dough rest at least 30 minutes to 1 hour, so its texture will become smooth. The longer you let the dough rest, the easier it will be to roll the dough later. If you're not going to make noodles within a few hours, store the dough in the fridge up to a day.
You should use a dry, sharp knife to cut the noodles, so you will get a clean-cut edge without smashing the noodles.
I don't have a pasta rack, so I hung the noodles on the back of the chair to dry. You can also use a cooling rack.
Preventing the water from boiling will help cook the noodles without breaking them apart.
Nutrition
Serving:
185
g
,
Calories:
455
kcal
,
Carbohydrates:
95.4
g
,
Protein:
12.9
g
,
Fat:
1.2
g
,
Sodium:
4
mg
,
Potassium:
134
mg
,
Fiber:
3.4
g
,
Calcium:
20
mg
,
Iron:
5.8
mg