Tender slices of beef mingling with thick lo mein noodles, vegetables, and a savory sauce are perfect for tonight's dinner in this beef lo mein. And it takes less time than takeout to put on your table!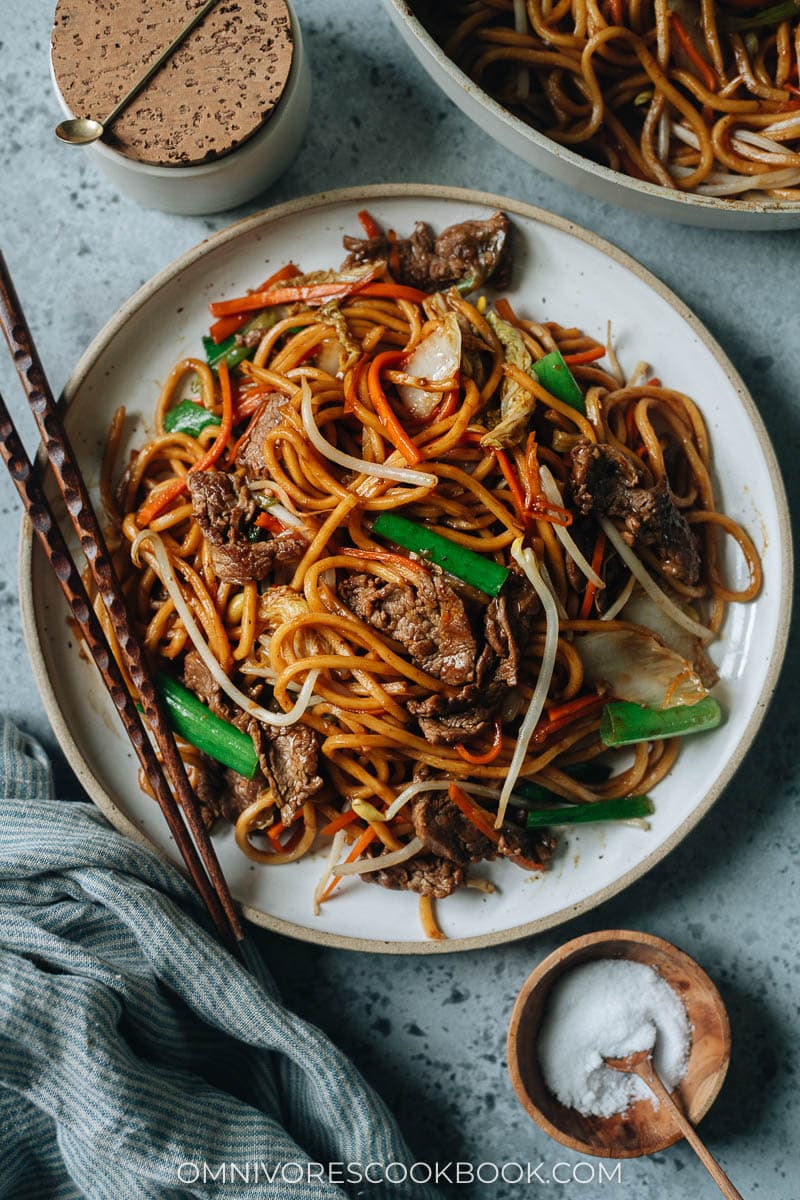 Beef Lo Mein: Like Takeout, but Better
What's your favorite Chinese takeout dish? One of mine is beef lo mein. I can't resist the allure of discovering tender beef slices amid a sea of noodles and vegetables. Or that sauce! It's really delicious and comforting, but I know of something even better…making your own beef lo mein at home!
Yes, you can do it too! Get takeout-style beef lo mein that tastes even better than your favorite Chinese takeout place.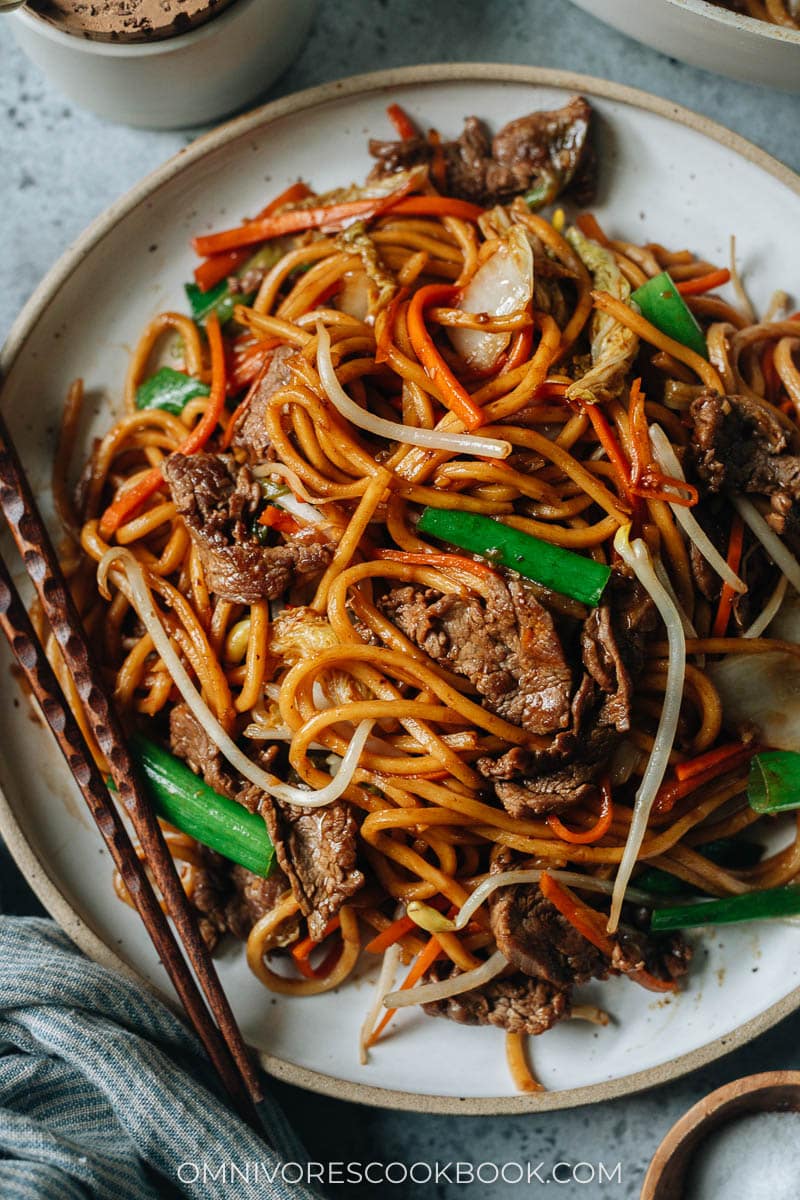 Beef Lo Mein Secrets
Don't despair if you have tried before but didn't like the results. My beef lo mein recipe takes you through how to use a quick marinade. This keeps your beef tender and gives it that beautiful caramelized color that makes you want to dig right in.
Ideally, you should use the fresh lo mein noodles. I realize though that not everyone may be able to find them. If you check your local Chinese market or any large Asian markets like H-Mart, they will most likely keep fresh lo mein noodles stocked. However, if you live in an area that doesn't give you easy access to these types of markets, you can choose the dried type of lo mein noodles and you'll still be able to make a really tasty dish.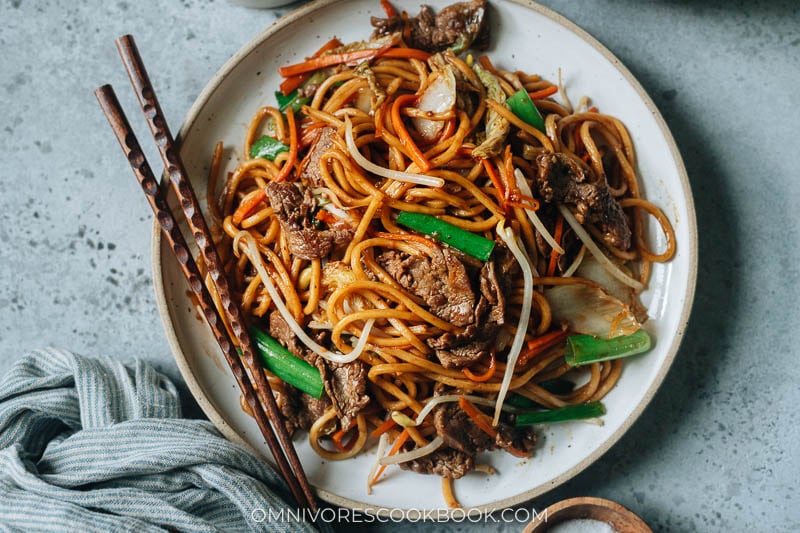 Can I Use Spaghetti? Yes, Actually
And yes, you can use spaghetti in this recipe. It will turn out deliciously, but the texture of the noodles will be a bit different so get ready for that.
You will want to undercook the spaghetti slightly, so that it becomes just the right doneness after you mix and stir fry them in the skillet. For spaghetti (and all kinds of noodles and pasta), texture is everything!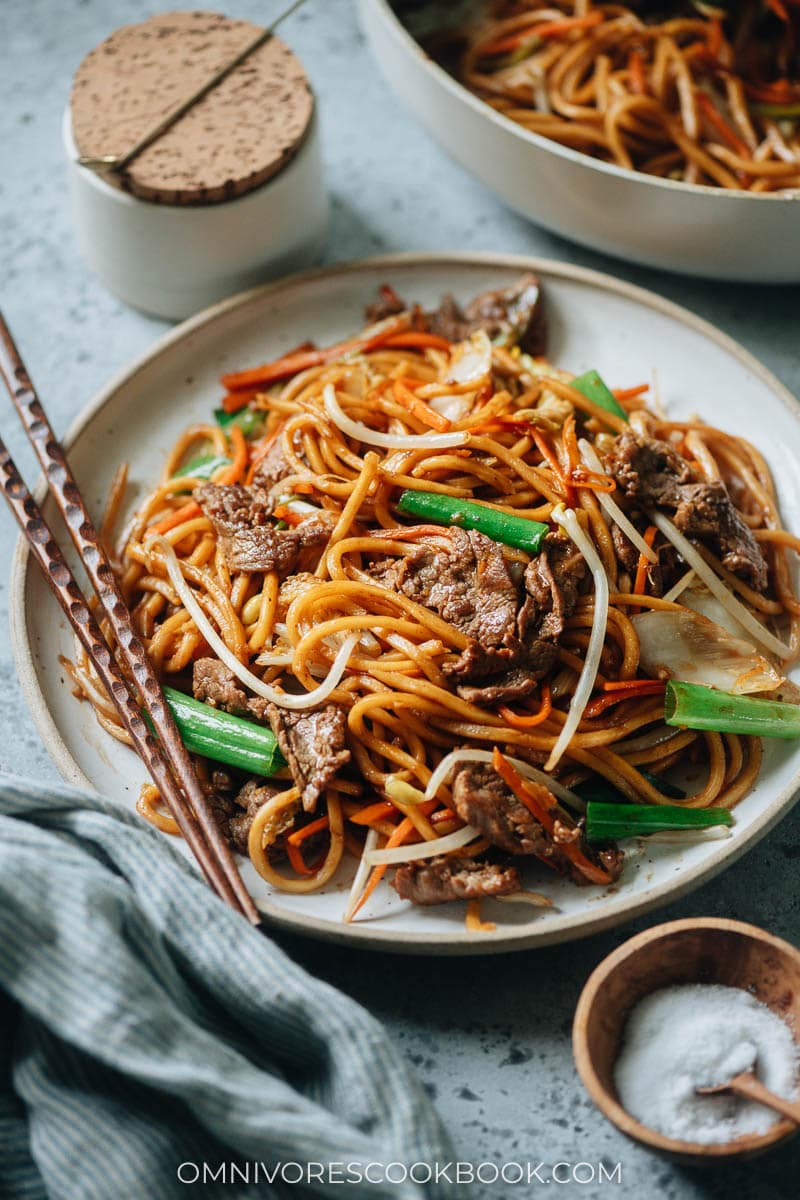 Make Use of Pantry Staples
While the ingredient list looks a little long, don't feel overwhelmed. Most of it is Chinese pantry staples you should already have around.
Shaoxing wine, light soy sauce, dark soy sauce, oyster sauce, and sesame oil are all indispensable in terms of cooking Chinese food. If you are looking to get more into Chinese cooking, the small amount that you spend on these ingredients will pay off handsomely as you cook delicious food with them over and over again.
For dishes like this, I recommend products from Pearl River Bridge and Lee Kum Kee. Both are widely used in China and most Asian grocery stores in the US carry them too.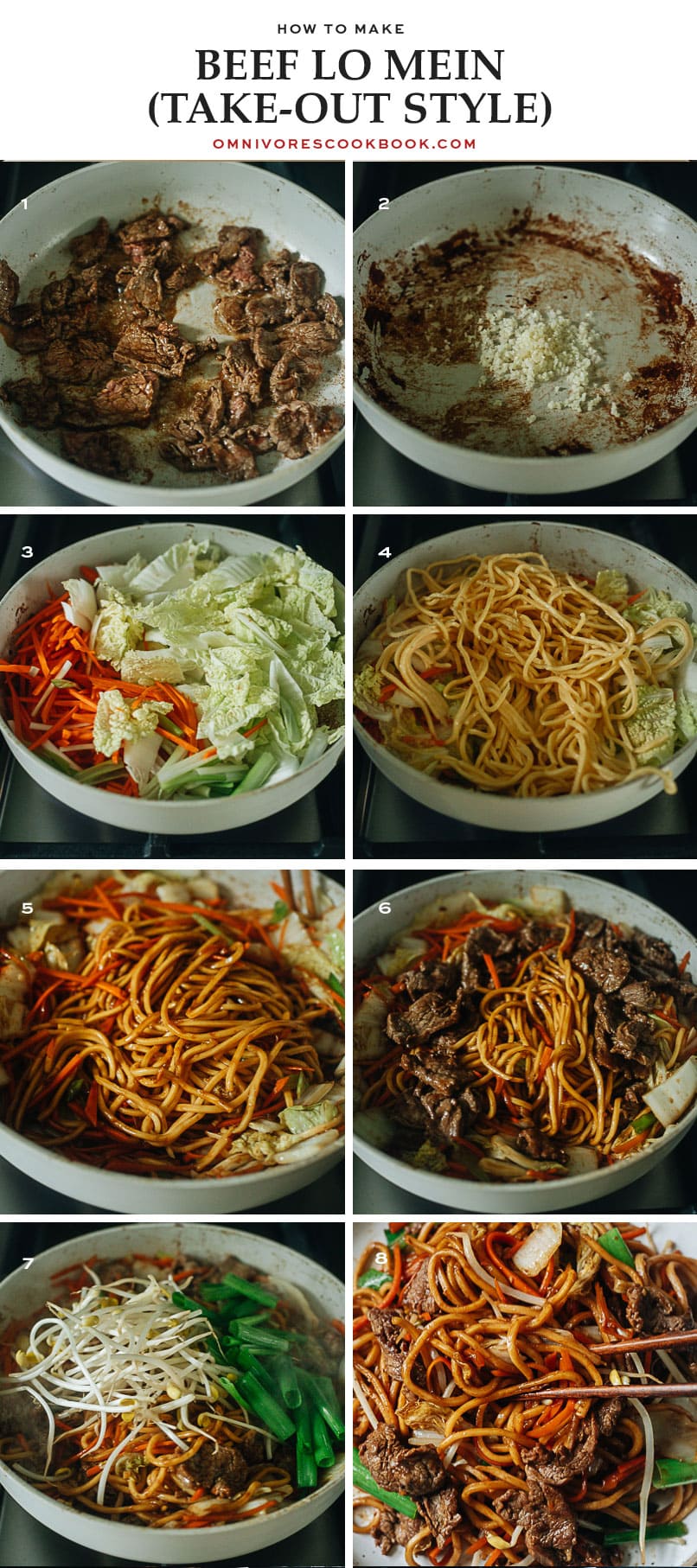 Set Your Mise-en-Place Like a Pro Chef
What will make this recipe even easier, especially if it's your first time making beef lo mein, is to keep your ingredients grouped together in the order that you'll be adding them to the pan. If you arrange them in a row that goes from garlic to green onion whites to onions to carrots to cabbage, you won't miss a beat. The bean sprouts and the green portion of the green onions will go in at the end.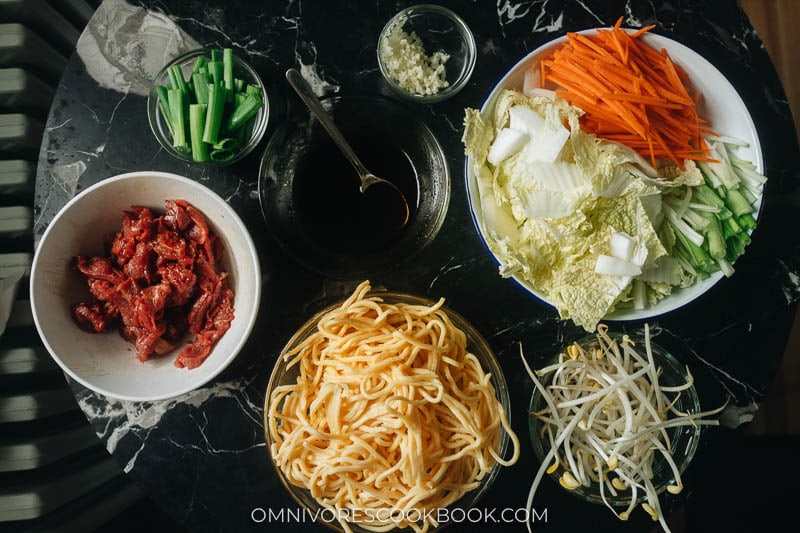 Beef Lo Mein Makes Great Leftovers
Another pro tip: this beef lo mein recipe makes for an excellent lunch of leftovers. Depending on how many people you share your noodles with the first time around, you may get lucky and have a lunch that is the envy of everyone!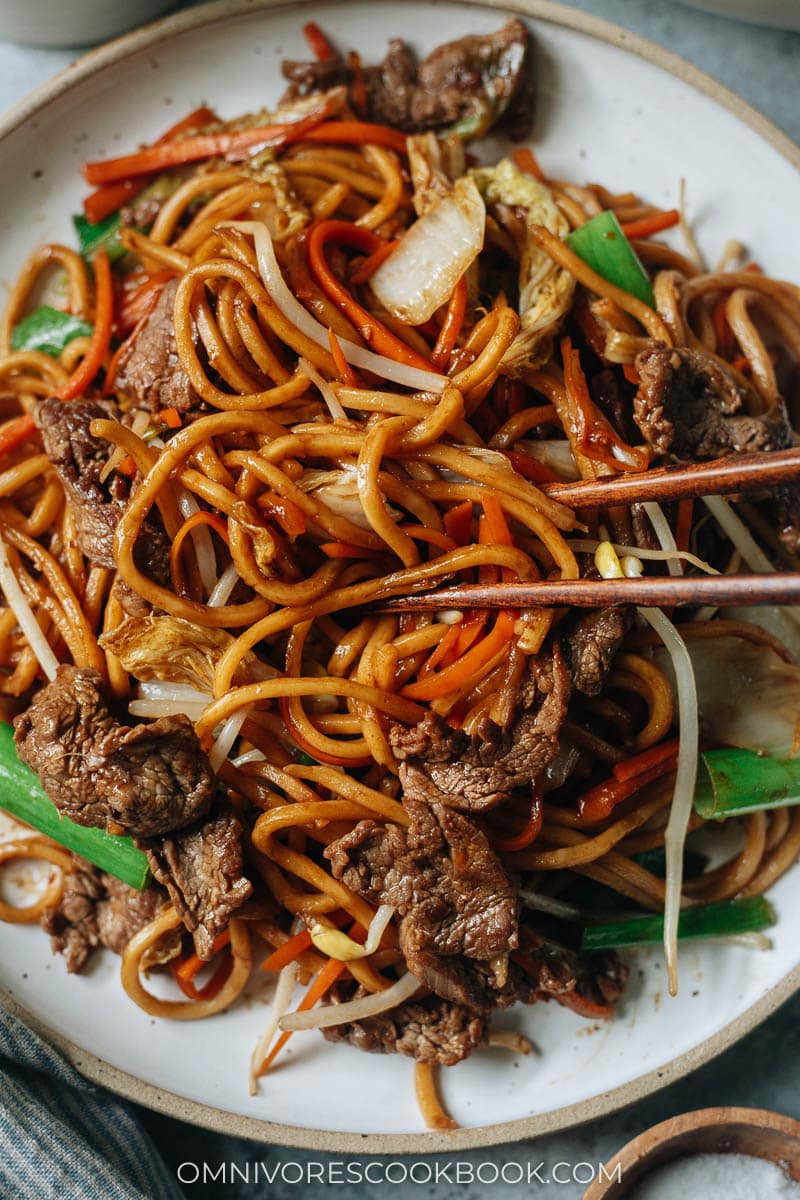 Want to Know More?
Receive our 5-Day Chinese Cooking Crash Course & Recipe Updates! Subscribe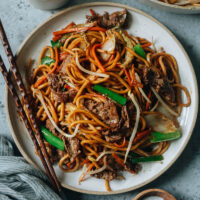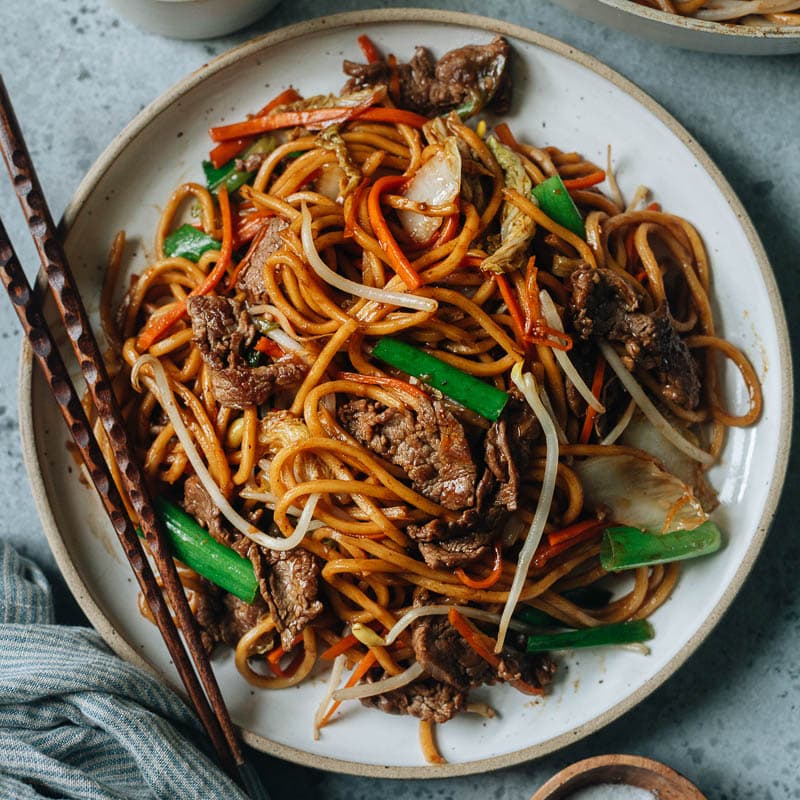 Beef Lo Mein
Tender slices of beef mingling with thick lo mein noodles, vegetables, and a savory sauce are perfect for tonight's dinner in this beef lo mein. And it takes less time than takeout to put on your table!
Ingredients
8

oz (225 g)

flank steak

, cut against the grain into 1/4" (4 cm) thick slices

8

oz (225 g)

fresh lo mein noodles

(or 6 oz / 170 g dried lo mein / chow mein noodles)
Stir Fry
3

tablespoons

peanut oil

, divided

2

cloves

garlic

, minced

4

green onions

, sliced into 1" (2 cm) pieces, greens and whites separated

1/2

large carrot

, cut into matchsticks

5

pieces

napa cabbage leaves

, chopped

1/2

cup

bean sprouts
Instructions
Combine the steak with the marinade ingredients in a medium-sized bowl. Mix until well coated and marinate for 15 minutes.

Mix the sauce ingredients in a small bowl until the sugar is dissolved.

Cook the noodles according to package instructions. Rinse under running cold water to stop cooking. Drain and toss with a drizzle of sesame oil to prevent sticking.

Add 1 tablespoon of oil to a large skillet and heat over high heat until hot. Spread the marinated steak without overlapping. Cook without disturbing until the bottom turns golden brown, 1 minute or so. Flip to cook the other side until browned but the inside is still a bit pink. Transfer the beef onto a big plate and set aside.

Reduce the heat to medium-high and add 1 tablespoon of oil. Add the garlic. Stir a few times to release the fragrance, about 30 seconds.

Add the white part of the green onion, onions, carrots, and cabbage. Stir fry until the cabbage begins to wilt, 2 to 3 minutes.

Add the noodles and drizzle the remaining 1 tablespoon oil on top. Toss the noodles a few times to mix with the oil.

Pour in the sauce and toss together everything.

Add back the cooked steak and toss again, until the sauce is fully absorbed.

Add the bean sprouts and green onion greens. Stir a few times until the bean sprouts just wilted but remain crispy.

Transfer everything to serving plates and serve hot.
Nutrition
Serving:
1
serving
,
Calories:
291
kcal
,
Carbohydrates:
21.9
g
,
Protein:
16.4
g
,
Fat:
15.6
g
,
Saturated Fat:
3.5
g
,
Cholesterol:
40
mg
,
Sodium:
400
mg
,
Potassium:
339
mg
,
Fiber:
1.6
g
,
Sugar:
3.7
g
,
Calcium:
49
mg
,
Iron:
2
mg
More Fried Noodle Enjoyment
Lilja Walter is a part of the Omnivore's Cookbook team and worked closely with Maggie to develop and test this recipe.