This chicken lo mein recipe yields juicy chicken, crisp peppers, tender napa cabbage, and thick, chewy noodles tossed in a rich savory brown sauce that is extra fragrant. Make your favorite Chinese takeout dish without a wok and it will taste just as great as the restaurant version!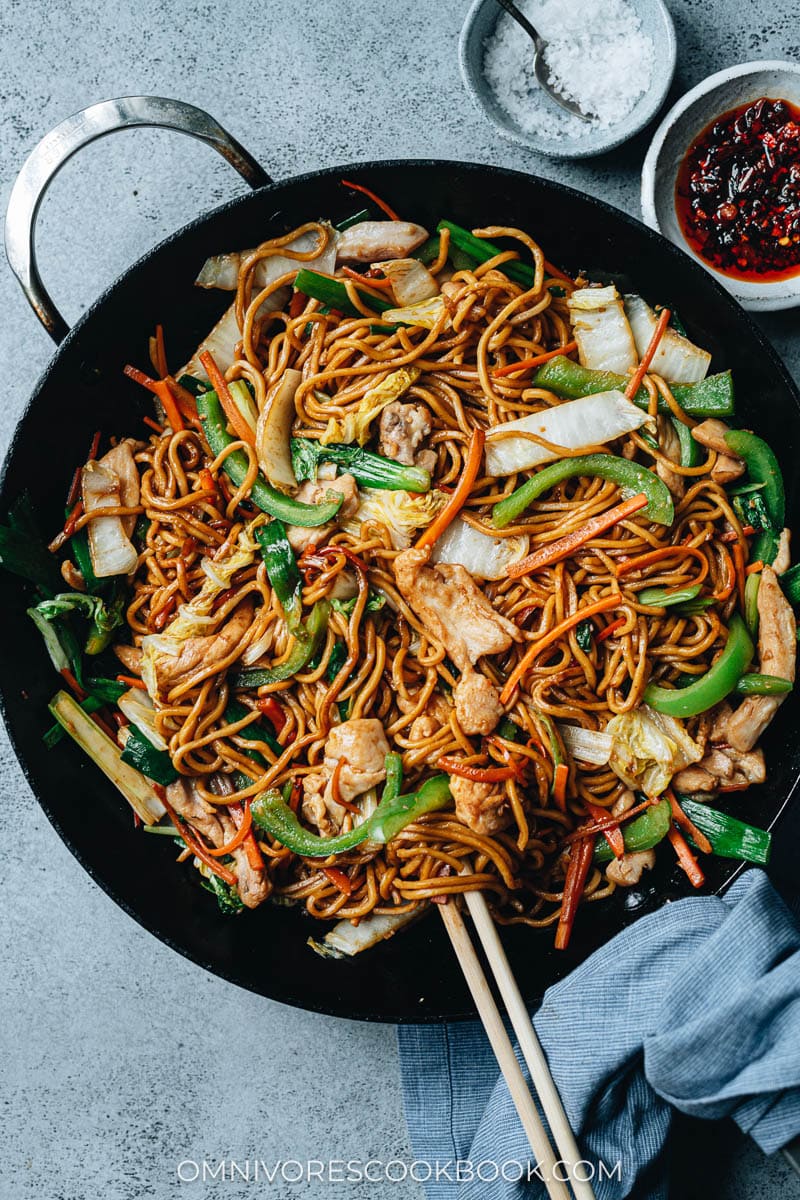 Chicken lo mein is one of those comfort foods like pizza and burgers, that you might find yourself craving on any occasion. No matter whether it's a busy Monday night, or when you've just come home after a trip, or are feeling cozy and want to stay in and watch TV, you might want to reach for that small box of Chinese takeout that is loaded with flavorful noodles and tender chicken. I'm not surprised that many people associate chicken lo mein with Chinese takeout. It's definitely one of the iconic dishes of Chinese cooking.
Here is the fun part – you can make chicken lo mein at home, one that is not only practical and easy enough for a home cook, but my recipe will also help you make it as tasty as the restaurant version.
Let's jump into the details!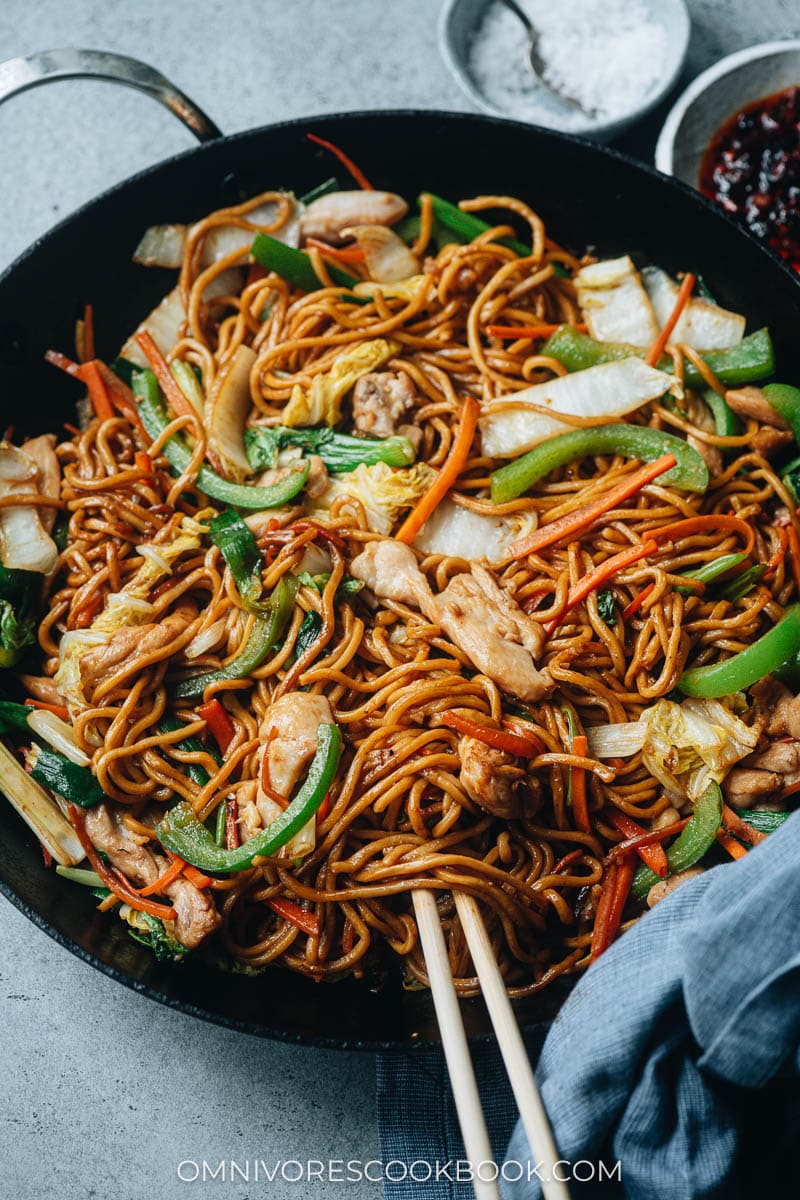 Chicken lo mein ingredients
What type of noodles to use
The biggest difference between chicken chow mein and chicken lo mein is the type of noodles used. Chicken chow mein uses thin chow mein noodles that create a crunchy crispy texture once fried in oil. Lo mein uses thick egg noodles that yield a chewy texture once cooked.
The best noodles for chicken lo mein are fresh lo mein noodles. You can find them at Chinese markets or large Asian markets such as H Mart. They are usually stored in the refrigerated or freezer section. You can also find them at online Asian grocery stores such as Umamicart.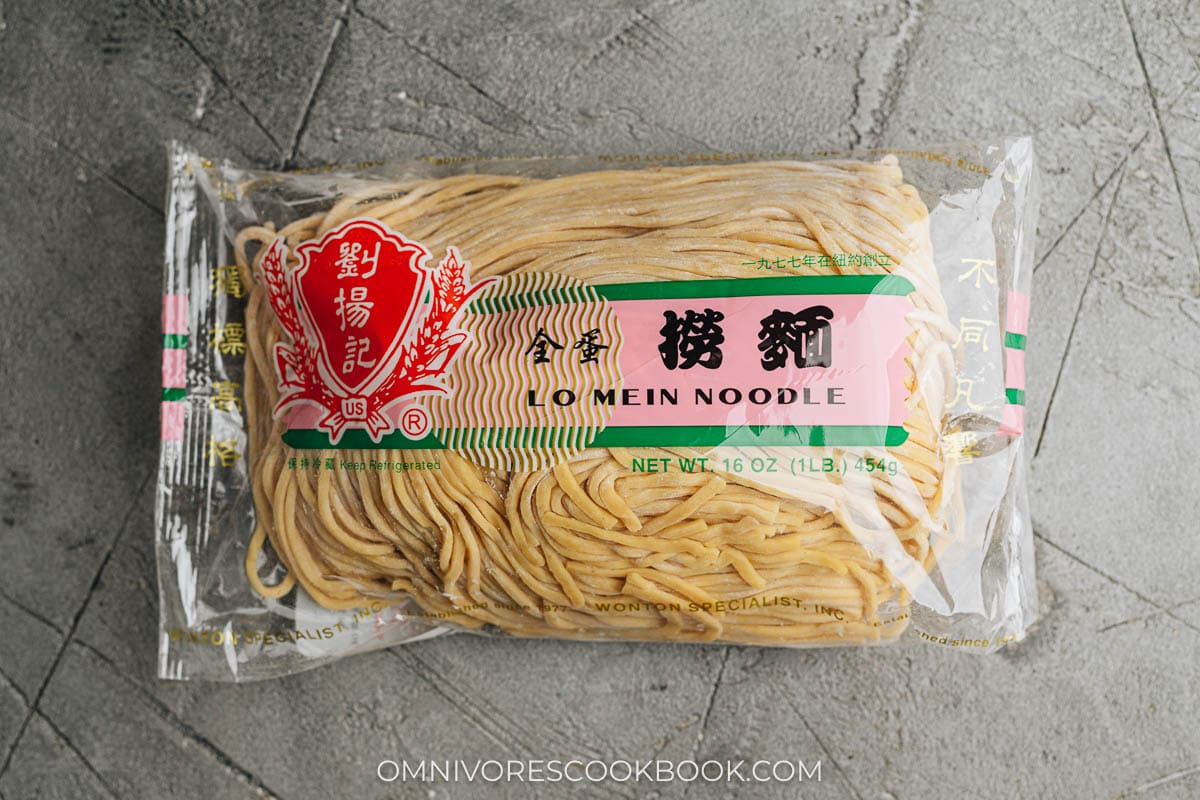 Alternatively, I've found that udon noodles and thicker dried wheat noodles also work in this dish. However, I highly recommend sourcing fresh lo mein noodles if you want to replicate the restaurant experience. Unlike dried noodles, fresh lo mein noodles yield the satisfying chewy texture that is the highlight of the dish.
How to create the most tender and flavorful chicken
Always always marinate your chicken before cooking. It only takes a minute to prepare and 10 minutes to marinate. But it makes a big difference. Your chicken will end up juicy and more tender and bursting with flavor. The cornstarch not only tenderizes the chicken, but it also protects it from overcooking in the hot pan. It's an important practice in Chinese cooking that I never skip.
What vegetables to use
I love adding tons of vegetables to my chicken lo mein, as they give the dish a delightful texture and make your meal more balanced. In this recipe I used napa cabbage, carrot and pepper. You can also replace them with other vegetables you might have on hand.
The rule of thumb is to choose vegetables that have different textures and colors.
Here are some alternative vegetables to use in chicken lo mein:
Cabbage, baby bok choy, spinach, Chinese broccoli (to replace napa cabbage)
Bamboo shoot, water chestnuts, hot peppers (to replace green pepper)
Onion, zucchini, mushrooms, bean sprouts (to replace carrot)
Note, the cooking time of the different veggies varies. As a rule of thumb, hard vegetables such as carrots, water chestnuts and carrots take longer to cook (3 to 4 minutes). Spinach and bean sprouts take the shortest time to cook, as little as 1 minute.
If you're not sure about the proper order to add the veggies, cook them individually until almost done, then add them back into the pan later on. This way, your veggies will always cook perfectly and maintain their vibrant colors.
Mise en place
Once you're ready to cook, your table should have:
Chopped veggies: cabbage, pepper, carrot, green onion
Mixed sauce
Marinated chicken
Chopped aromatics: ginger and garlic
Cooked noodles
How to make restaurant-style chicken lo mein
Cooking chicken lo mein is super easy once you have prepared the ingredients.
Pan fry the chicken until just cooked and slightly browned
Gently saute the aromatics
Cook the napa cabbage and carrots until al dente
Add the noodles and sauce, toss together
Add the green onion and pepper
Add back the chicken, toss everything together
PS: I like to have very crunchy peppers, so I add them at the very end. If you prefer a more tender texture, you can add the pepper and green onion before adding the noodles and give it a quick 30-second stir fry.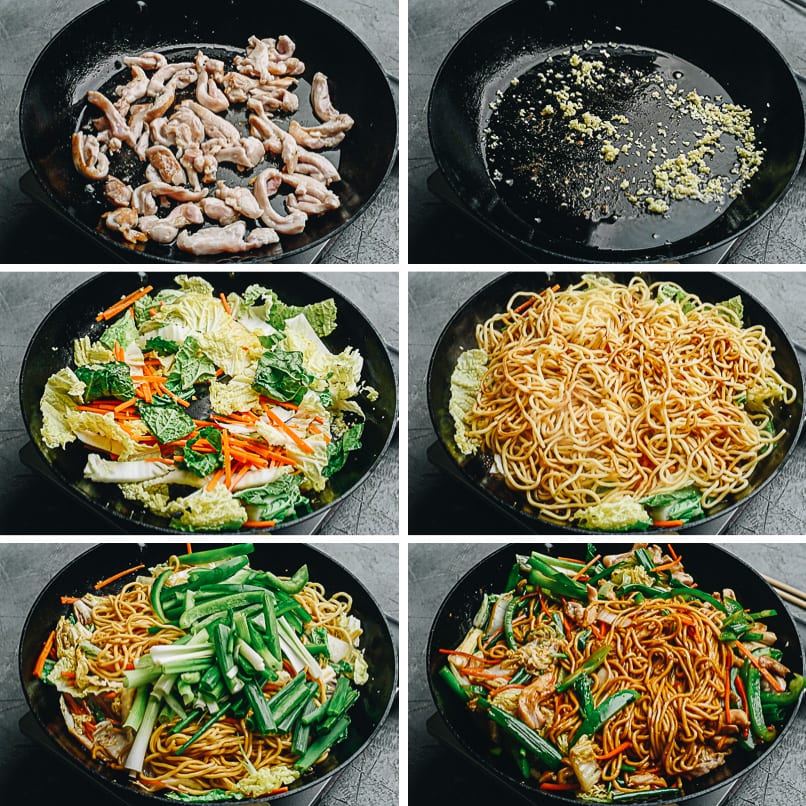 Why you don't need a wok
I expanded on this topic in my post Wok vs. Stir Fry Pan and you can find more information there. But, long story short, you can make a delicious chicken lo mein without a wok as long as you use a lot of aromatics (fresh ginger and garlic), a great lo mein sauce, the correct type of noodles, and a pan that's hot enough. You can achieve all of these by following my recipe below with a large nonstick skillet or a carbon steel pan. In fact, if you have an electric stove or induction stove at home, a skillet will heat up better than a wok because it has a larger contact area with your stove. I toss my noodles using a pair of tongs to prevent the ingredients from flying out of the pan.
What NOT to do
The biggest mistake when making lo mein is to crowd the pan with too many ingredients. When you do this, the pan will take a long time to heat up, so all your food will be steamed instead of seared. The dish will end up watery, soggy, and generally lacking in flavor.
The recipe below fills up a large 12.5" (32 cm) frying pan. If you want to tweak the recipe, make sure not to use too many ingredients that crow the pan.
Afterthoughts
OK, this might be a lot of information to take in. But trust me, if you simply follow my recipe and try this dish once, you'll be impressed at the results – the flavorful chewy noodles, tender chicken, crisp veggies, and rich sauce that is bursting with flavor.
I love homemade chicken lo mein even more than the restaurant version because I like to load it up with a lot of vegetables and I can choose higher quality ingredients. I hope you like this one and happy cooking!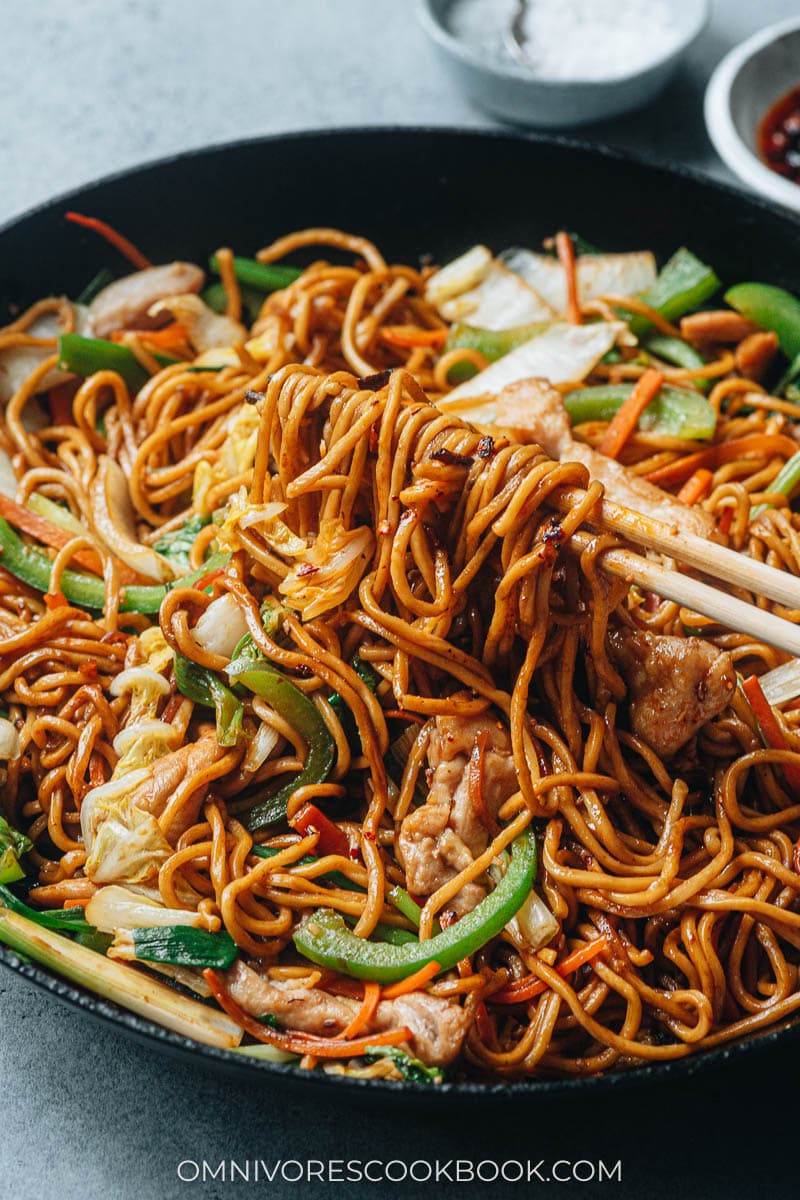 More Chinese takeout dishes
Want to Know More?
Receive our 5-Day Chinese Cooking Crash Course & Recipe Updates! Subscribe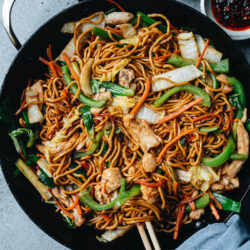 Chicken Lo Mein (Restaurant Style Without A Wok)
This chicken lo mein recipe yields juicy chicken, crisp peppers, tender napa cabbage, and thick, chewy noodles tossed in a rich savory brown sauce that is extra fragrant. Make your favorite Chinese takeout dish without a wok and it will taste just as great as the restaurant version!
Ingredients
Marinade
8

oz (225 g)

boneless skinless chicken thigh

, cut into 1/4-inch (5-mm) slices (or breast)

1/2

tablespoon

Shaoxing wine

1

teaspoon

cornstarch

1/4

teaspoon

salt
Stir fry
2

tablespoons

peanut oil

(or vegetable oil)

1

tablespoon

minced ginger

2

cloves

garlic

, minced

4

cups

chopped napa cabbage

(*Footnote 2)

1

carrot

, julienned (yield about 1 cup once cut)

4

green onions

, cut into 2" (5 cm) long pieces

1

bell pepper

, cut to thin strips (or sweet pepper)
Instructions
If using dried noodles, boil the noodles according to package instructions minus 1 minute, until al dente. If using fresh lo mein noodles, boil for 1 minute total, until al dente. Rinse with tap water, drain, and set aside.

Combine the chicken and all the marinade ingredients in a medium-sized bowl. Mix well and let marinate for 10 minutes.

Whisk all the sauce ingredients together in a medium-sized bowl.

Heat 1 tablespoon of oil in a large nonstick skillet over medium-high heat until hot. Spread the chicken in the pan. Cook for 30 to 45 seconds without touching, until the bottom turns slightly golden. Flip to cook the other side for 30 to 45 seconds, stirring occasionally, until the chicken is just cooked through. Transfer the chicken to a plate.

Pour in the remaining 1 tablespoon of oil and the ginger, garlic and green onion. Add carrot and napa cabbage. Cook and stir until the veggies just start to turn soft, 1 minute or so. (*Footnote 3)

Add the noodles and pour in the sauce. Toss a few times to mix everything.

Add the pepper and green onion. Toss to mix everything together well, until the sauce is absorbed, 1 to 2 minutes. Return the cooked chicken to the pan and toss again to mix well. Transfer everything to serving plates and serve hot as a main dish.
Notes
Dark soy sauce has a caramel taste and a thicker texture than soy sauce. It gives the dish a light sweet taste and adds a beautiful brown color to the sauce. You can use soy sauce as a replacement, but I highly recommend using dark soy sauce if you cook this dish often.
To cut the napa cabbage, I like to slice the white part into small bite-size pieces (and into thin, even strips if the white part is extra thick), and chop the leafy part into large bite-sized pieces. So the whites and greens cook at the same speed. The greens will also shrink a lot, so I like to keep the pieces larger so they have a nice texture once cooked.
I like to undercook my peppers and keep them extra crisp. If you prefer a tender texture, add them after you cook the napa cabbage and carrot. Give it a quick 30-second stir before adding the noodles.
Nutrition
Serving:
1
serving
,
Calories:
361
kcal
,
Carbohydrates:
43
g
,
Protein:
21
g
,
Fat:
12.6
g
,
Saturated Fat:
2.2
g
,
Cholesterol:
38
mg
,
Sodium:
923
mg
,
Potassium:
601
mg
,
Fiber:
4.4
g
,
Sugar:
11.5
g
,
Calcium:
104
mg
,
Iron:
3
mg