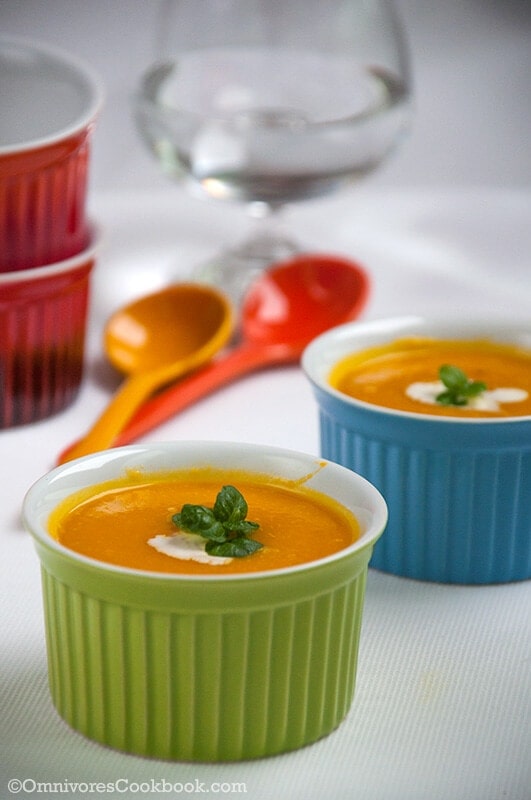 Temperature in Beijing just dropped to minus 1 degree C (30F) and I could feel winter now. At winter time, nothing is better than a bowl of hot soothing soup to warm the body up. Pumpkin soup is a good choice in winter to add color on the table. Also because it's the season of pumpkin, so you can buy easily get fresh and good quality pumpkin with low price. There are so many version of pumpkin soup out there, but the one I made today is the basic version. It's very easy to prepare and it tastes creamy, simple and nice.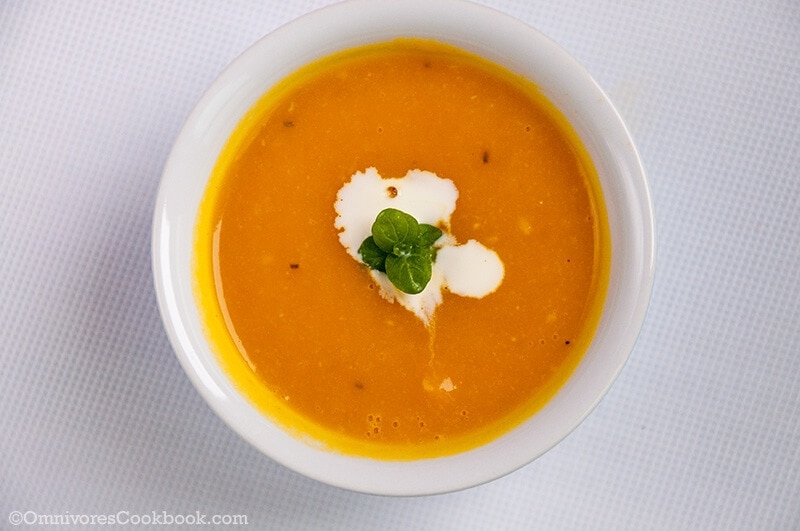 Easy Pumpkin Soup
Author:
Omnivore's Cookbook
Ingredients
1 tablespoon vegetable oil
3 cloves garlic, minced
650g peeled and chopped pumpkin
1/4 onion, chopped
1 can chicken broth
1 cup warm water
1/2 teaspoon thyme
pinch of black pepper
1 teaspoon salt
2 tablespoon heavy cream
Instructions
Heat vegetable oil in a medium size dutch oven on medium high heat, add garlic and stir till fragrant. Add onion and saute till turn transparent, in about 5 minutes. Add pumpkin and keep saute for another 5 minutes. Add chicken broth, water, thyme and black pepper, turn to low heat, cover to simmer till pumpkin turns very soft, in about 30 minutes. Set aside to let the soup cool down a bit.
Puree soup in food processor in several small batches.
Return pumpkin puree to the dutch oven. Add salt and heavy cream, simmer with lid open for a few minutes. If the soup is still thin, turn to medium heat and boil down the liquid to the preferable thickness. Stir constantly to avoid burning the bottom.
Garnish soup with several drops of heavy cream and serve while hot.