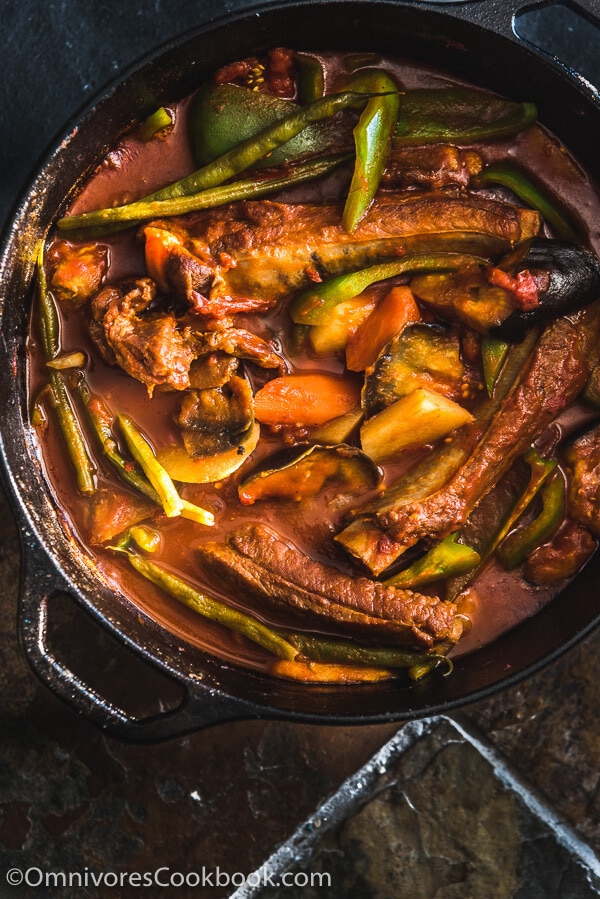 The Chinese style Vegetable stew helps you clean out the fridge and enables you to finish a big bowl of veggies – probably 10 times your average daily veggie consumption – in one sitting.
There are various types of vegetable stew in China, including the vegetarian version (Buddha's Delight) I introduced last time. This Northern style stew is the most abundant. It is called luan dun (乱炖) in Chinese, which literally means "chaos stew". Not a pretty name, but it represents well the character of Dongbei cuisine.
The Dongbei region covers the three northeastern provinces of China that are adjacent to Russia. The region's cuisine is the opposite of exquisite. Food always comes in big portions. You'll never see delicate dinnerware. The cooking emphasizes simplicity, with a hint of rustic wildness. The weather there is as cold and harsh as in Canada. So it's not unusual that local people would choose a giant pot stew over dim sum to survive the winter.
Dongbei vegetable stew represents the harvest. It comes with 5 to 8 types of veggies, meaty and wide bean flour noodles, and a touch of pork. To create the authentic version, you simply dump everything into a pot and slow cook it with a pungent fermented soybean sauce that is mostly salt. The finished dish is just like its name suggests – chaotic. It passes the number one rule of Chinese home cooking – it gets you to eat a lot of rice.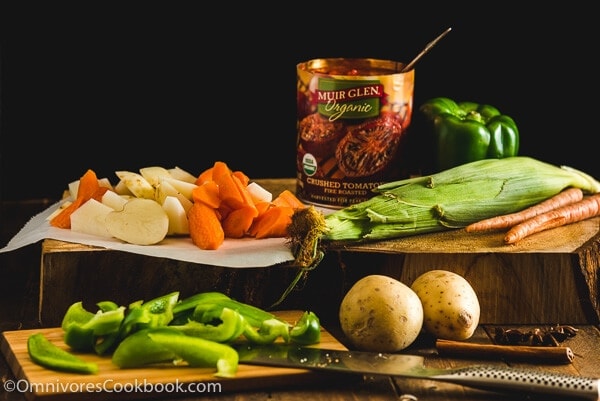 By the time this pot of stew had reached all the way to Beijing, it had become less chaotic. The cooking method became more delicate. It also borrowed a few ingredients from other parts of China to evolve the seasoning from simply salty to actually bring out the great flavor of the veggies.
If you have ever tried the not-so-chaotic stew in a Beijing restaurant, you'll find it always tastes better than the authentic version. Because the chef always sears the veggies over a gas stove that is five times more powerful than yours  (sometimes even deep frying them briefly in hot oil), to make the vegetables blistered and smoky. Then the chef finishes up the dish with a rich sauce.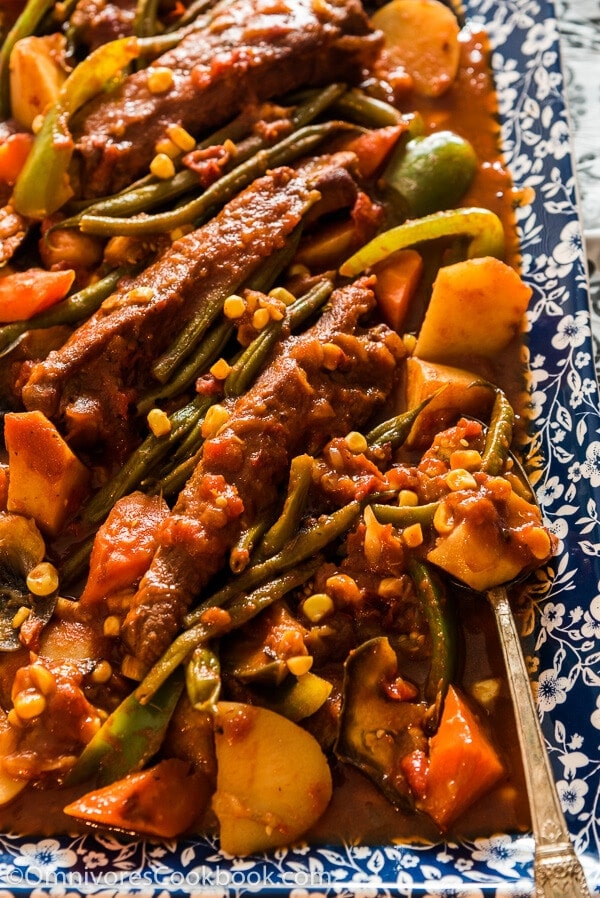 My goal is to create a northern vegetable stew that is as good as the Beijing restaurant version, with a practical cooking process you can conduct at home.
I ignored the authentic sauce, aka salty soybean paste + pork fat + chopped tomato + water + MSG.
And I made a copycat of the Beijing restaurant sauce:  Szechuan spicy fermented broad bean paste (doubanjiang) + secret hot sauce + chicken & pork bone stock.
Sounds much better right?
My secret sauce is made from Muir Glen Organic fire roasted crushed tomatoes. To produce these, red tomatoes are harvested when they reach their peak, and then grilled over an open flame that blackens the skin and sears in the unique flavor of fire-roasted goodness.
Now you can take a deep breath. I'm not asking you to spend $6,000 on a commercial gas range and a gallon of oil to deep fry eight types of veggies individually to make a stew.
Instead, you can create a restaurant-caliber stew by simply boiling the vegetables, if you use these fired roasted tomatoes.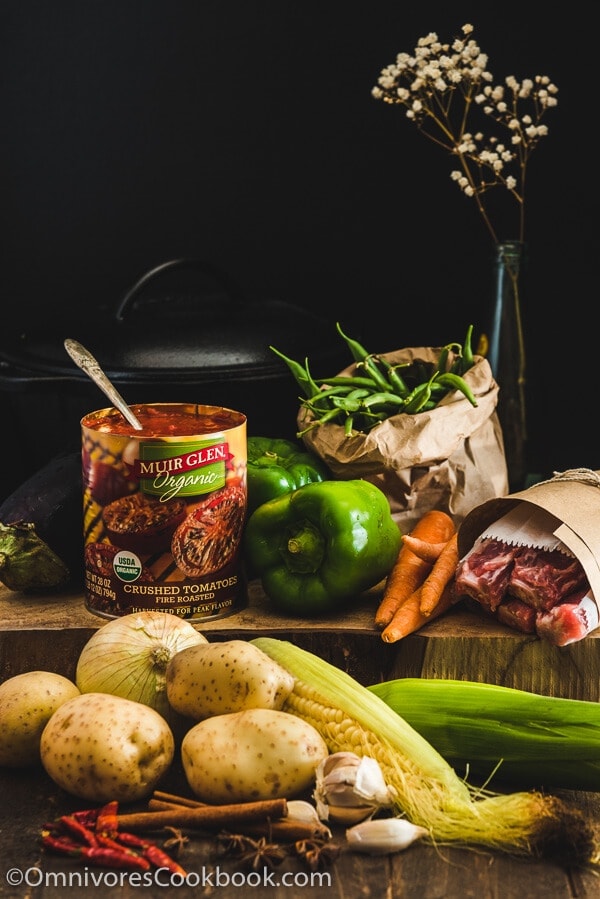 A few quick cooking notes:
This recipe uses pork ribs as a base. Ribs are used to create a quick pork stock that makes a big bowl of veggies so irresistible that you eat probably 10 times your average daily veggie consumption, in one sitting.
Yes, you can choose your own veggies to put in this dish. My favorite alternative vegetables include okra, pumpkin, cabbage, and mushrooms.
You can make the dish vegetarian, by replacing the chicken stock with vegetable stock and skipping the pork ribs. In this case, I highly recommend you add some dried shiitake mushrooms or the vegetarian version of oyster sauce into the stew, to further enhance its flavor.
Make sure you use the fire roasted tomatoes instead of the plain ones. Again, you get the smokiness and extra dimension of flavor without searing or grilling the vegetables.
Use a cast iron dutch oven to make the stew taste even better.
Use your own creativity to tweak the stew into any version of leftover vegetables and meat (hint: make a casserole or Chinese Shepherd's Pie). The sauce brings everything together.
If you give this recipe a try, let us know! Leave a comment, rate it (once you've tried it), and take a picture and tag it #omnivorescookbook on Instagram! I'd love to see what you come up with. Happy cooking, everyone!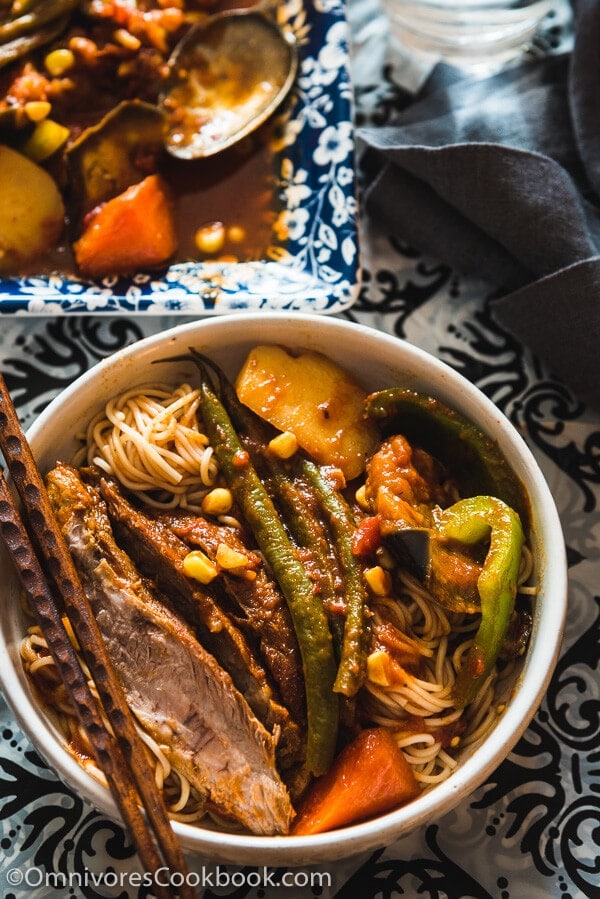 I'm partnering with Muir Glen Organic to share this recipe with you. All opinions/endorsements are my own. Thanks for your support!
Want to Know More?
Receive our 5-Day Chinese Cooking Crash Course & Recipe Updates! Subscribe
Northern Vegetable Stew with Pork in Hot Sauce (乱炖)
The Chinese style Vegetable stew helps you clean out the fridge and enables you to finish a big bowl of veggies – probably 10 times your average daily veggie consumption – in one sitting.
Ingredients
Part 1
2

tablespoons

peanut oil

(or vegetable oil)

1

pound (450 grams)

pork ribs

Sea salt

1

onion

, chopped

4

cloves

garlic

, smashed

1

whole star anise pod

2

tablespoons

doubanjiang

Fermented spicy chili bean paste

1

cinnamon stick

1

tablespoon

sugar

1

and 1/2 cups

chicken stock

(or water)
Part 2
1/2

pound (240 grams)

potato

, chopped

1/2

pound (240 grams)

green beans

, tough ends removed

2

big carrots

, chopped

1

cup

fresh corn kernels

(or frozen corns)

1

big eggplant

, chopped

1

can (28-oz.)

Muir Glen fire roasted tomatoes

1 to 2

bell peppers

, chopped
Instructions
Part 1 (Footnote 1)
Heat 1 tablespoon oil in a 5-quart dutch oven (or an oven-safe heavy duty pot) over medium heat until hot.

Sprinkle sea salt on both sides of pork ribs to help with browning.

Add pork ribs into the dutch oven. Brown all sides until golden. Transfer to a plate. If the pot is getting too hot and smoky, remove it from stove and allow it to cool.

Add the remaining 1 tablespoon oil, onion, garlic and star anise pod in the same pot. Turn to low heat. Cook and stir until onion turns tender.

Add doubanjiang. Cook and stir until the ingredients are covered evenly, and you can smell a pungent aroma, about 1 minute.

Add chicken stock. Use a spatula to scrape off the brown bits from the bottom of the pot. Add cinnamon stick and and sugar. Return the pork ribs to the pot. Turn to medium high heat and cook until bringing to a boil. Cover, turn to low heat, let simmer for 30 minutes.
Part 2
While simmering the pork ribs, prepare and chop the veggies. Spread chopped eggplant on a cutting board or working surface. Sprinkle a thin layer of salt on top and let rest for 15 to 20 minutes. Wipe with paper towel to remove moisture. This step helps the eggplant stay in shape and generate a better texture. Skip this step if you're using a long Asian eggplant.

Transfer the pork ribs to a plate. Add potato, carrot, green beans, corn, and eggplant into the pot. Return the pork ribs on top.

Pour fire roasted tomato over everything. Cover, turn to medium high heat, and cook until boiling. Uncover, let boil for 15 minutes. Carefully mix with spatula in the middle of cooking, so that all the ingredients are soaked in sauce and to prevent sticking to the bottom.

Add bell pepper into the pot. Let cook for another 2 to 3 minutes, until the bell pepper turns tender.

Serve warm with rice, noodles, or bread.
Notes
Skip browning and cooking pork ribs if you're cooking a vegetarian stew. Read my cooking notes in the post to make the stew tastier.
Nutrition
Serving:
390
g
,
Calories:
311
kcal
,
Carbohydrates:
27.9
g
,
Protein:
18
g
,
Fat:
13.9
g
,
Saturated Fat:
4.2
g
,
Trans Fat:
0.1
g
,
Cholesterol:
58
mg
,
Sodium:
432
mg
,
Potassium:
636
mg
,
Fiber:
6.8
g
,
Sugar:
11.1
g
,
Vitamin A:
3950
IU
,
Vitamin C:
65.2
mg
,
Calcium:
50
mg
,
Iron:
2.5
mg