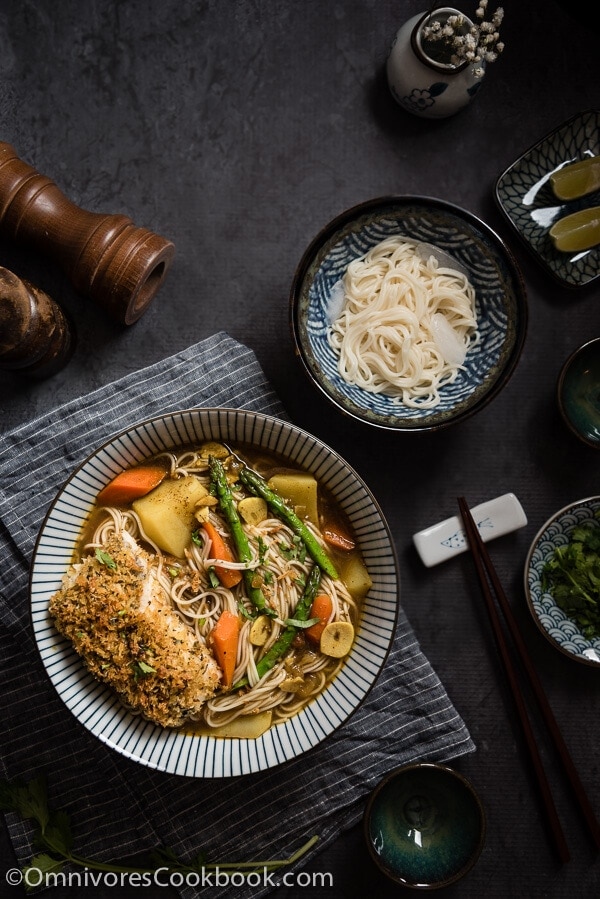 This fish curry noodle soup is an easy, fast, and flexible one-dish meal. The fish is "fried" in the oven until crispy and flaky. It is placed atop a hearty curry noodle soup cooked with colorful veggies. You can use this recipe to create your own version of fish curry, too!
The last time we had dinner at Takashi, a Michelin one-star restaurant in Chicago (now closed), our minds were blown by a wonderful curry noodle soup paired with a glass of Spanish dry red. The soup was served cold, with a few somen noodles, mushrooms, and snow peas, in a rich dashi curry broth. It might sound strange at first, but once we had a sip of the soup and then the wine, we found everything went together perfectly like magic. It was one of the best curry noodle soups I ever had.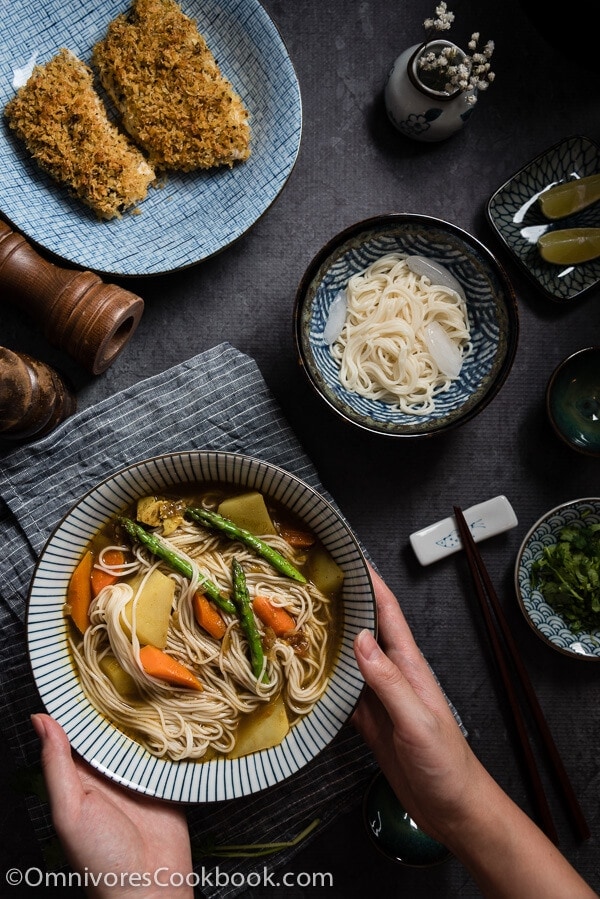 When I was trying to come up with dinner the other day, I suddenly thought about the curry noodle soup. We still had these frozen fish fillets. They would be really tasty served with a bowl of curry noodle soup.
I learned a baked fish recipe from Whole Foods: the fish is coated with toasted panko breadcrumbs, olive oil, and herbs, and then roasted in the oven. By using this method, you can create a great tasting fried fish fillet with minimal oil in only 15 minutes.
I made a very simple curry broth, with onion and tomato as a base, and a few drops of fish sauce to add flavor. I added potato, carrot, and asparagus to make it a nourishing meal. After a brief boil, I added noodles and topped with the crispy fish. We paired it with sparkling wine.
It was a perfect meal!
The crunchy crispy fish coating absorbed a bit of curry broth, and it made the fish taste even richer. The curry broth was so hearty and flavorful alongside the veggies and noodles.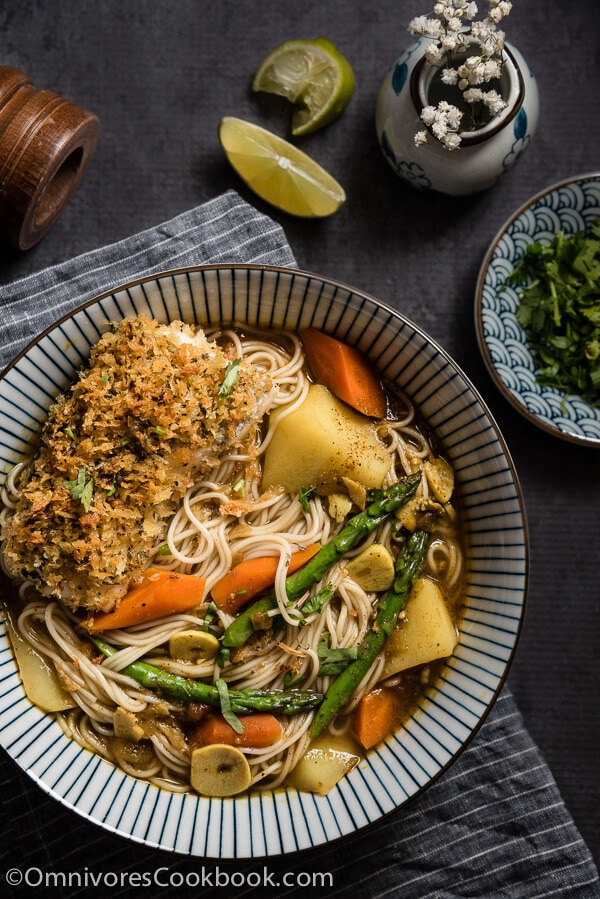 Tweak it
The ingredient list below probably seems long, but this is a very flexible dish and you can tweak it to fit your taste buds or whatever ingredients you have on hand.
You can change the veggies to include broccoli, mushrooms, peas, cabbage, or green beans.
Replace the water with chicken stock, so you can use fewer ingredients and less time to create a rich broth.
To make curry soup into a stew, skip the noodles, add less water, and boil it a bit longer. You can serve the fish with the curry stew as a side, with or without rice.
To cook this dish even faster, replace water with chicken stock and boil the noodles in the stock instead of a separate pot. Make sure there is enough soup before adding noodles (add hot water if there isn't). The noodles will soak up a lot of liquid during boiling and make a soup into a stew.
Serve the dish cold. It is very delicious that way, as well.
I hope you enjoy this dish! If you make this recipe, don't forget to take a picture and tag it #omnivorescookbook on Instagram. I love seeing your photos!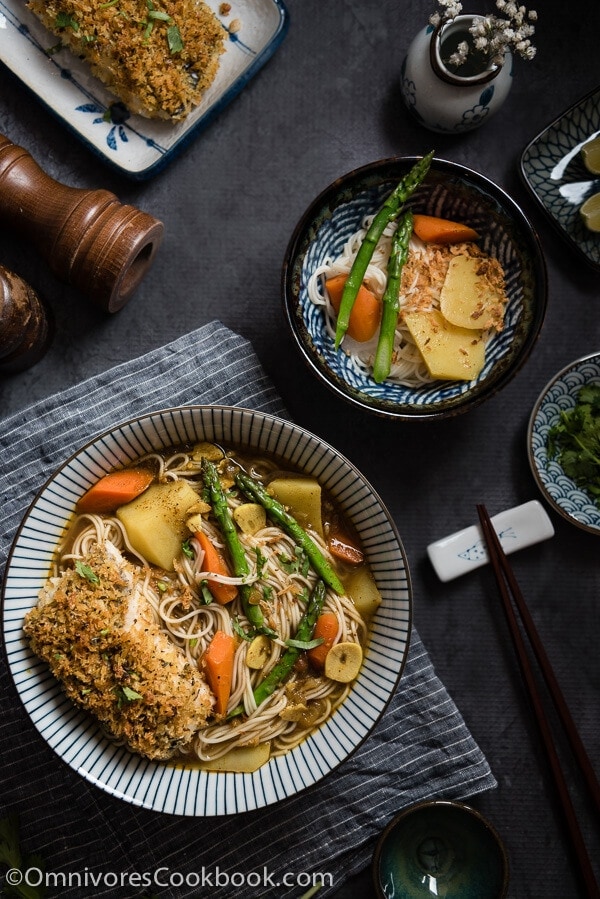 Do you like my recipes? Sign up for Omnivore's Cookbook's weekly newsletter to get the latest updates delivered to your inbox and a free e-cookbook! And stay connected via Facebook, Instagram, Pinterest and Google+. Thanks for reading and happy cooking!
Want to Know More?
Receive our 5-Day Chinese Cooking Crash Course & Recipe Updates! Subscribe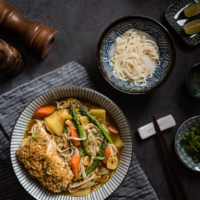 Oven Fried Fish Curry Noodle Soup
This fish curry noodle soup is an easy, fast, and flexible one-dish meal. The fish is "fried" in the oven until crispy and flaky. It is placed atop a hearty curry noodle soup cooked with colorful veggies. You can use this recipe to create your own version of fish curry, too!
Ingredients
Fish Katsu
2

(4-oz / 100-g)

SizzleFish haddock

(or cod fillets)

2/3

cup

panko bread crumbs

4

teaspoons

lemon zest

, grated

4

teaspoons

olive oil

plus more for the pan

2

teaspoons

basil

, dried

Sea salt and black pepper
Curry noodle soup
2

tablespoons

vegetable oil

1

teaspoon

grated ginger

2

cloves

garlic

, minced

1/4

cup

white onion

, minced

2

roma tomatoes

, chopped

3

tablespoons

curry powder

I used garam masala and mild madras (*see footnote 1)

2

potatoes

, chopped

3

small carrots

, chopped

1

teaspoon

fish sauce

1

teaspoon

salt

(or to taste)

1

teaspoon

sugar

(or to taste)

1

and 1/2 bundles (90-g)

Japanese somen noodles

(*see footnote 2)

1 cup chopped asparagus

(Optional)

chopped cilantro to garnish

(Optional)
Instructions
Spread panko breadcrumbs on a baking sheet and place into oven. Preheat the oven to 425 degrees F (220 C). Toast bread crumbs while the oven preheats, until breadcrumbs are lightly golden, 5 to 6 minutes. Stir once during baking, and watch closely so the breadcrumbs don't get burned.

While preheating the oven,combine lemon zest, oil, basil, salt, and pepper in a bowl. Add toasted bread crumbs and mix well.

Spray a thin layer of oil onto a baking sheet.

Dry fish fillets thoroughly with paper towels. Coat all sides of the fillets with the crumb mixture. Place them onto the oiled baking sheet. Press remaining crumbs onto the tops of the fillets. Bake until fish is cooked through, 12 to 14 minutes.(*see footnote 3)

While baking the fish, heat oil in a large skillet over medium heat until warm. Add ginger, garlic and onion. Stir fry for 2 minutes, or until the onion turns soft.

Add curry powder. Cook and stir until the onion is evenly coated, about 1 minute.

Add tomato. Cook and chop until it turns soft.

Add potato and carrot. Cook and stir for 2 minutes.

Add 4 cups water and fish sauce. Turn to high heat. Cook until it reaches to a boil. Turn to medium or medium low heat. Simmer until the vegetables are cooked through, about 20 minutes.

While cooking the curry broth, heat a big pot of water over high heat until boiling. Add noodles and cook according to instructions. Remove noodles from water and rinse with tap water. Set aside.

(Optional) Blanch asparagus in the same pot for 1 minute. Drain and set aside.

When the curry soup is ready, transfer broth and veggies to serving bowls. Add noodles and asparagus. Top with the oven fried fish and cilantro to garnish (if using) right before serving.

Serve warm or cold.
Notes
This recipe does not call for a special curry powder. I found that mixing two to three different curry powders enhances the flavor, so I blend the ones I have in the kitchen.
Because this dish contains a lot of potatoes, 1 and 1/2 bundles noodles were just enough for two of us. Reduce the amount to 1 bundle if you want a lighter dish.
If you have leftover breadcrumbs, do not throw them away! Sprinkle them on the noodle soup. It's really tasty!
Nutrition
Serving:
748
g
,
Calories:
836
kcal
,
Carbohydrates:
108.3
g
,
Protein:
43.7
g
,
Fat:
28
g
,
Saturated Fat:
4.7
g
,
Cholesterol:
84
mg
,
Sodium:
2290
mg
,
Potassium:
2203
mg
,
Fiber:
14.6
g
,
Sugar:
15.7
g
,
Vitamin A:
13300
IU
,
Vitamin C:
151
mg
,
Calcium:
200
mg
,
Iron:
12.4
mg