Full of fresh aromatics and flavors, this Chinese chicken noodle soup will warm you through and through on chilly days and comfort you when you're feeling under the weather.
Chicken noodle soup is the traditional home remedy for colds as well as for warming up on cold days, across many different cultures. I've grown to love the American style of this soup after moving to the US from China five years ago. But today I want to introduce you to the Chinese chicken noodle soup.
Back in China, my mom would always make the chicken broth from a whole chicken to guarantee the best flavor. In such cases, very little seasoning would be needed in the soup.
However, now that I'm living in the US at a much faster pace, I do not have time to make chicken broth from scratch every time I crave a bowl of hearty chicken noodle soup. That's why I decided to develop a recipe that uses packaged broth, using aromatics to make the soup base very flavorful and hearty, yet also keeping the cooking simple. The flavor comes from the aromatics and spices like ginger, cumin, and Sichuan peppercorns, which add a wonderful taste to the soup.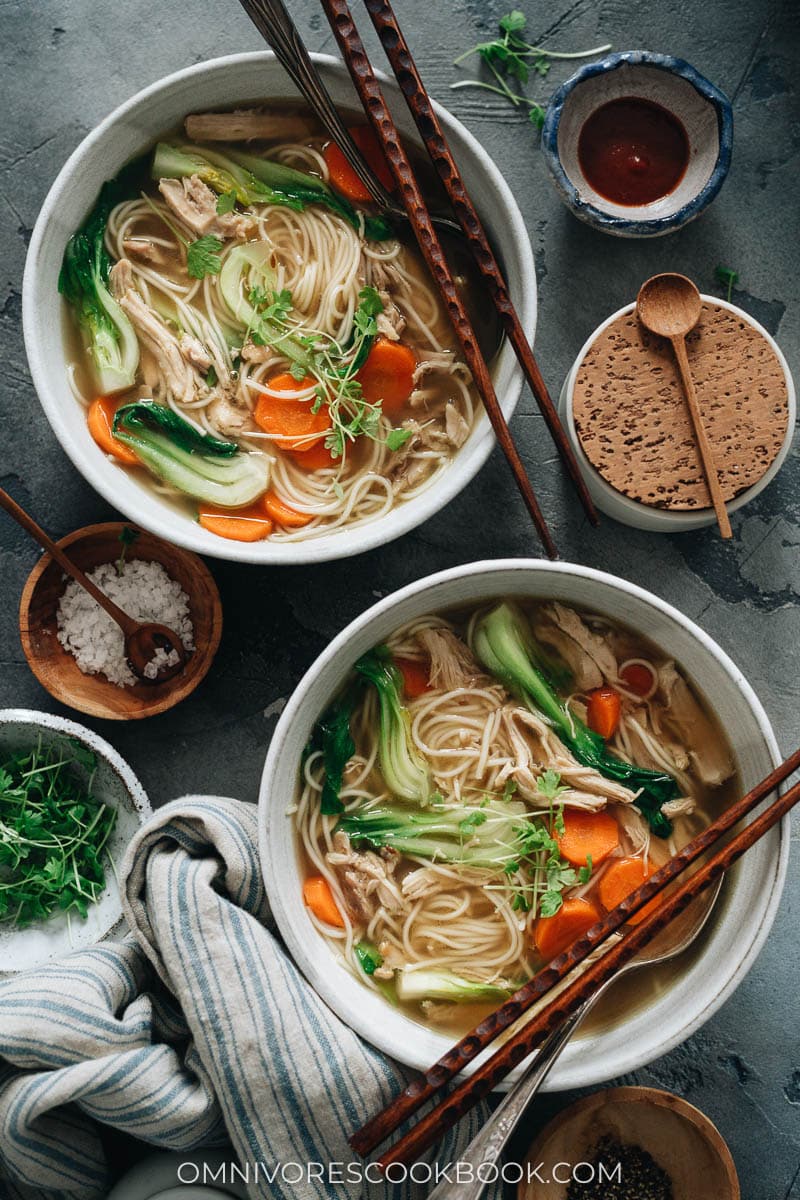 Ingredients
For even greater flavor, I highly recommend using bone-in chicken thighs. Brown them first and then simmer them. The bones and skin add a richness to the broth that is deeply satisfying.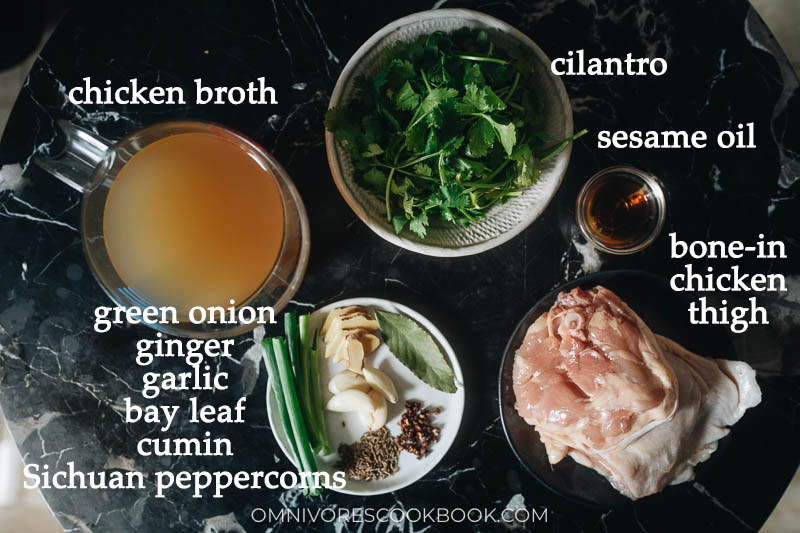 What type of noodles to use
Almost any type of wheat noodles will work well in this recipe, but I personally prefer the thin type in a light broth like this one. You can use Japanese somen noodles or Chinese thin noodles (Gua Mian, 挂面). You can use thicker noodles as well, if you prefer a chewier texture.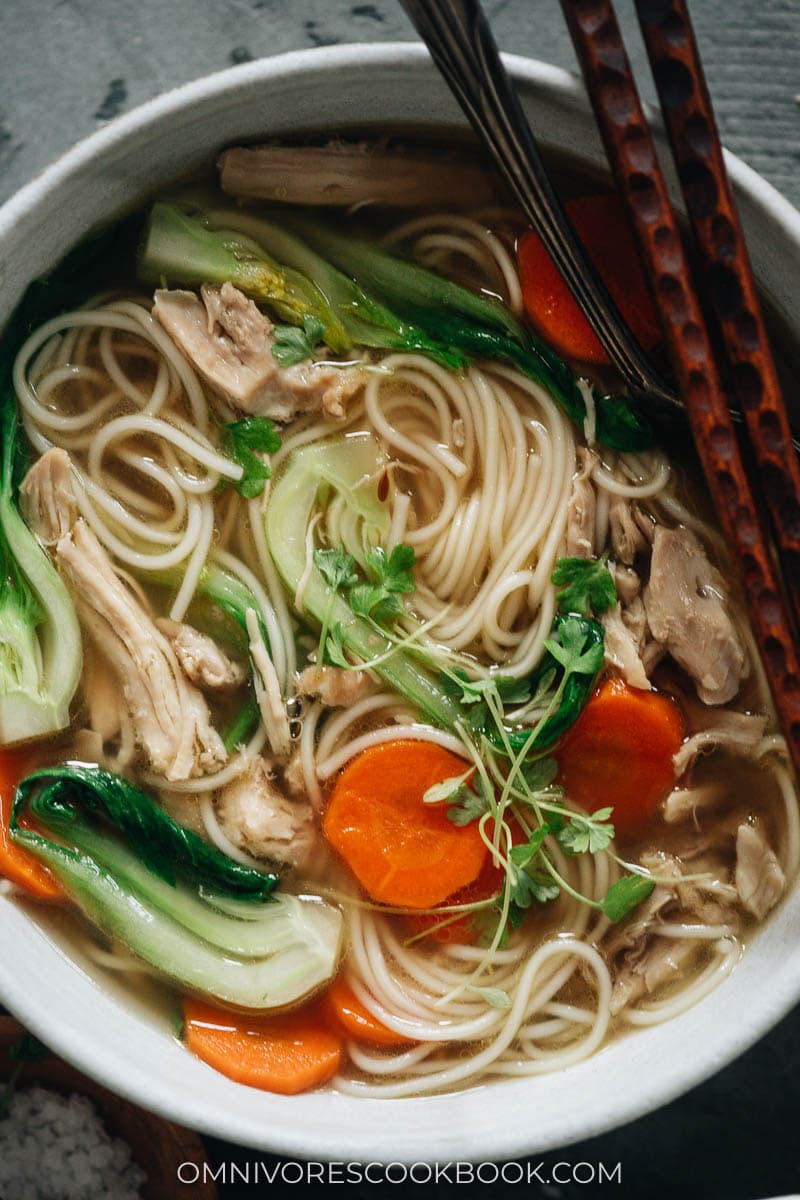 Cooking process
There's very little fuss to making Chinese chicken soup in your own kitchen. You'll go from prep to fully cooked in just 25 minutes, so you can make it anytime you need it. You can even make a big batch of soup base and freeze it in advance, and heat it up with freshly boiled noodles whenever you want it.
Lightly brown the chicken with the aromatics
Add the chicken broth and the rest of the seasonings
Remove all the solid ingredients
Shred the chicken
Cook the vegetables
Cook the noodles according to the package instructions and add them into the soup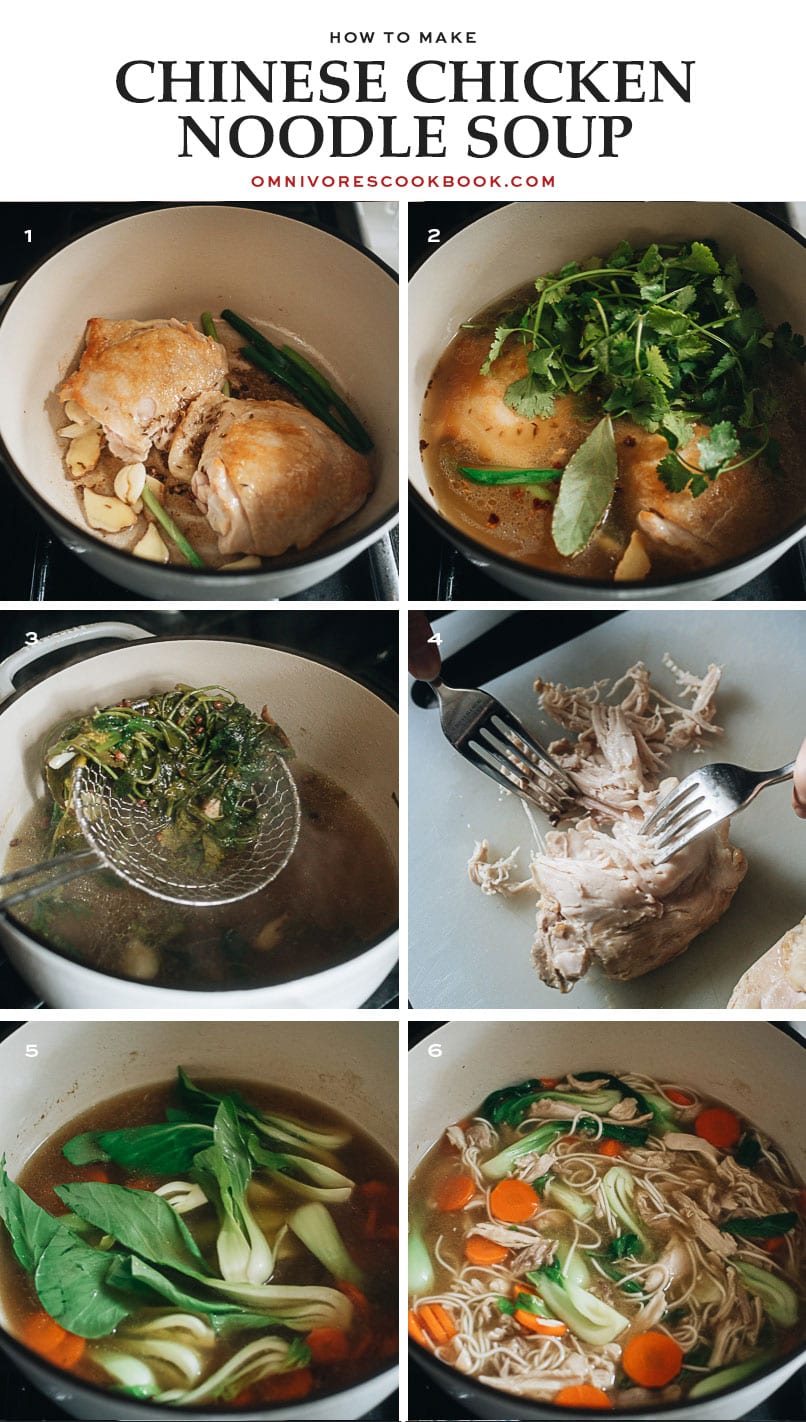 This recipe is quite simple and straightforward. However, if you want to save time or make things even easier, you can skip the chicken thigh step and use leftover rotisserie chicken to top it off.
If you can get your hands on fresh noodles, you can boil the noodles in the broth to make the cooking even faster. But if you use dried noodles, it's best to cook them separately, otherwise you will end up with very little soup, as the noodles will absorb much of the broth.
I used carrots and baby bok choy because they are two of my favorite ingredients in Chinese chicken noodle soup. However, feel free to replace them with whatever vegetables you prefer. Kale, spinach, chard, bamboo shoots, and mushrooms will work very well in this recipe.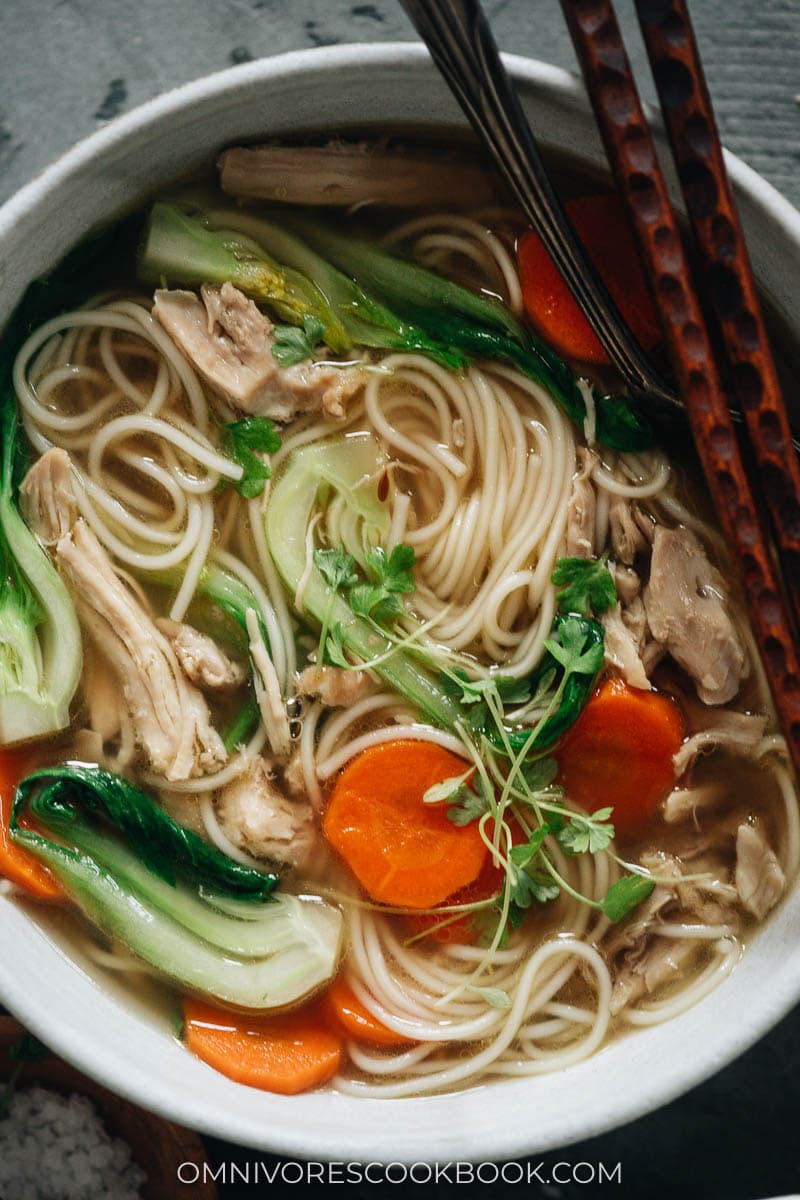 Whichever way you go, you're going to find yourself with soup so satisfying and delightful, you'll want this Chinese chicken noodle soup all the time!
Want to Know More?
Receive our 5-Day Chinese Cooking Crash Course & Recipe Updates! Subscribe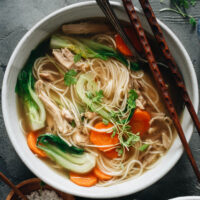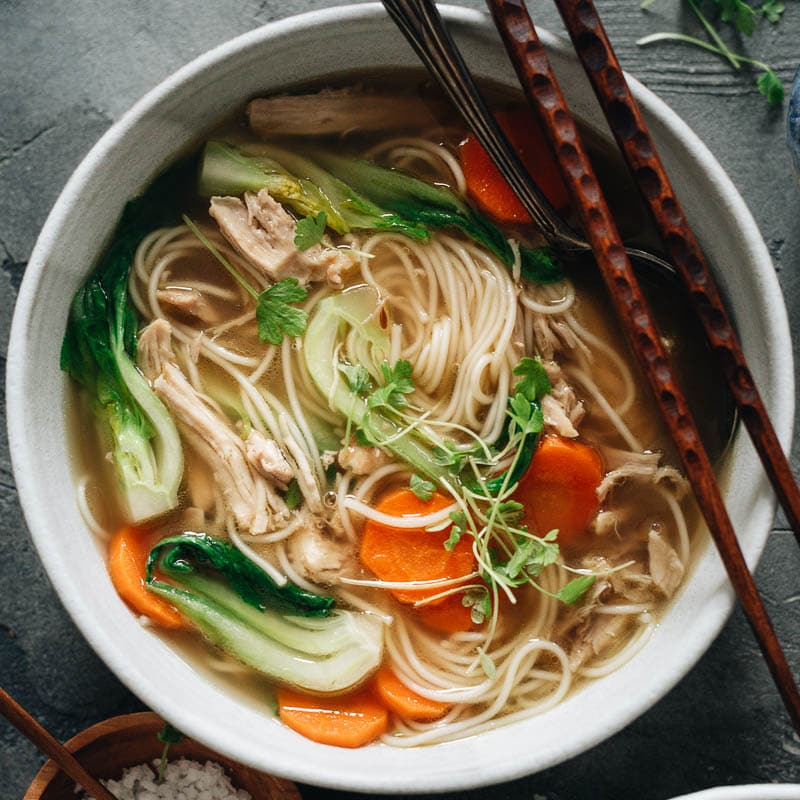 Chinese Chicken Noodle Soup
Full of fresh aromatics and flavors, this Chinese chicken noodle soup will warm you through and through on chilly days and comfort you when you're feeling under the weather.
Ingredients
Broth (*Footnote 1)
1

teaspoon

olive oil

(or chicken fat)

2

bone-in skin-on chicken thighs

(or boneless skinless thighs) (*footnote 2)

4

cloves

garlic

, smashed

1

"

ginger

, sliced

1

green onion

, halved

1/2

teaspoon

cumin seeds

1/2

teaspoon

Sichuan peppercorns

(or black pepper)

1

teaspoon

Shaoxing wine

(or dry sherry)

4

cups

chicken broth

(or low-sodium chicken broth)

1/2

bunch

cilantro

, including leaves and stems (about 1 cup packed)

1

bay leaf
Soup
1/2

teaspoon

soy sauce

(or to taste)

3

oz

dried noodles

(or 4 oz thick fresh noodles)

1

carrot

, sliced

3

baby bok choy

, cut into 6 pieces lengthwise

2

tablespoons

fresh cilantro

, chopped
Instructions
Heat the oil in a 3.5 qt pot or dutch oven over medium heat until hot. Add the chicken thighs. Cook undisturbed for a minute or until the bottom turns light golden.

Flip the chicken thighs. Add the garlic, ginger, green onion, cumin, and Sichuan peppercorns. Cook for 1 minute, stirring occasionally, until the spices release fragrance.

Add the Shaoxing wine, stock, cilantro, and bay leaf. Bring to a boil over medium-high heat, then reduce to a simmer. Cook covered for 20 minutes.

Meanwhile, cook the noodles in a separate pot according to package directions. (*Footnote 3)

Remove the chicken with a pair of tongs and transfer it to a plate. Use two forks to remove and discard the chicken skin. Then use the forks to shred the chicken meat.

Use a mesh colander to remove the solid ingredients and discard them.

Add the soy sauce and taste the broth to adjust the seasoning. Heat over medium-high heat again, to return to a boil.

Add the carrots and cook for 3 minutes. Add the bok choy for another minute or until it reaches the desired texture. Add back the shredded chicken and give it a stir, so it warms up again.

Transfer the noodles, the broth and vegetables to serving bowls. Garnish with a sprig of cilantro and serve hot.
Notes
For a quicker version: the garlic, ginger, green onions, and cilantro can be halved and minced, and the spices can be powdered and halved. Skip the straining step.
Bone-in skin-on chicken thighs are highly recommended because they add more flavor to the broth, but boneless skinless chicken works too. For an even easier approach, use 2 cups of shredded rotisserie chicken at the end, topping it on the noodles and skip the chicken thighs all together.
If you use fresh noodles, you can add them to the broth at the end of the cooking. However, I highly recommend you cook your dried noodles separately because they will absorb a lot of your broth if you cook them directly in the soup.
Nutrition
Serving:
1
serving
,
Calories:
291
kcal
,
Carbohydrates:
17.3
g
,
Protein:
26.2
g
,
Fat:
13.4
g
,
Saturated Fat:
3.5
g
,
Cholesterol:
102
mg
,
Sodium:
345
mg
,
Potassium:
579
mg
,
Fiber:
2.2
g
,
Sugar:
2.3
g
,
Calcium:
79
mg
,
Iron:
2
mg
Lilja Walter is a part of the Omnivore's Cookbook team and worked closely with Maggie to develop and test this recipe.