This post is sponsored by Pete and Gerry's Organic Eggs. All opinions expressed are my own. Thank you for supporting the companies that keep this blog going.
Crispy fluffy egg foo young filled with crisp veggies and aromatic green onion and served with a rich brown sauce. It's super easy to make and tastes so satisfying. Serve it with steamed rice and veggies and you'll have a nutritious meal in no time.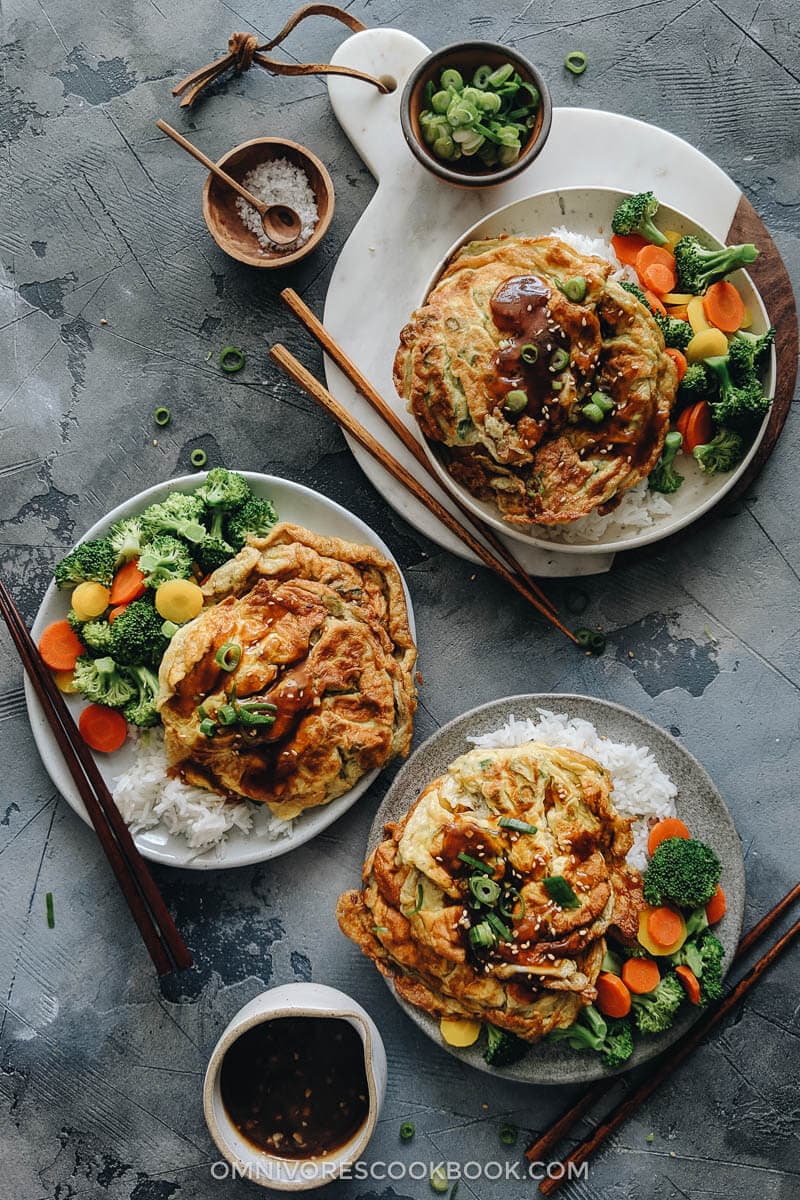 My sweet moments with eggs
Having grown up in China, one of my favorite and most intimately familiar ingredients is the egg. For almost 30 years, I ate soft boiled eggs with dipping sauce for breakfast every single day. The first dish I learned to cook was scrambled eggs with tomatoes. I snack on tea eggs when I'm traveling or having a picnic. When I feel hungry at late night, I fix myself some egg fried rice to satisfy my stomach before bed. Whenever my mom is busy and doesn't feel like spending too much time in the kitchen, she cooks this simple egg foo young with plenty of green onion and serves it with steamed rice. These are some of my fondest memories in my life.
Maybe you've noticed, all of these dishes are very simple, sometimes containing 5 ingredients or less. The truth is, when you have quality eggs with a great taste, you don't need complicated cooking methods or crazy seasonings to make them shine.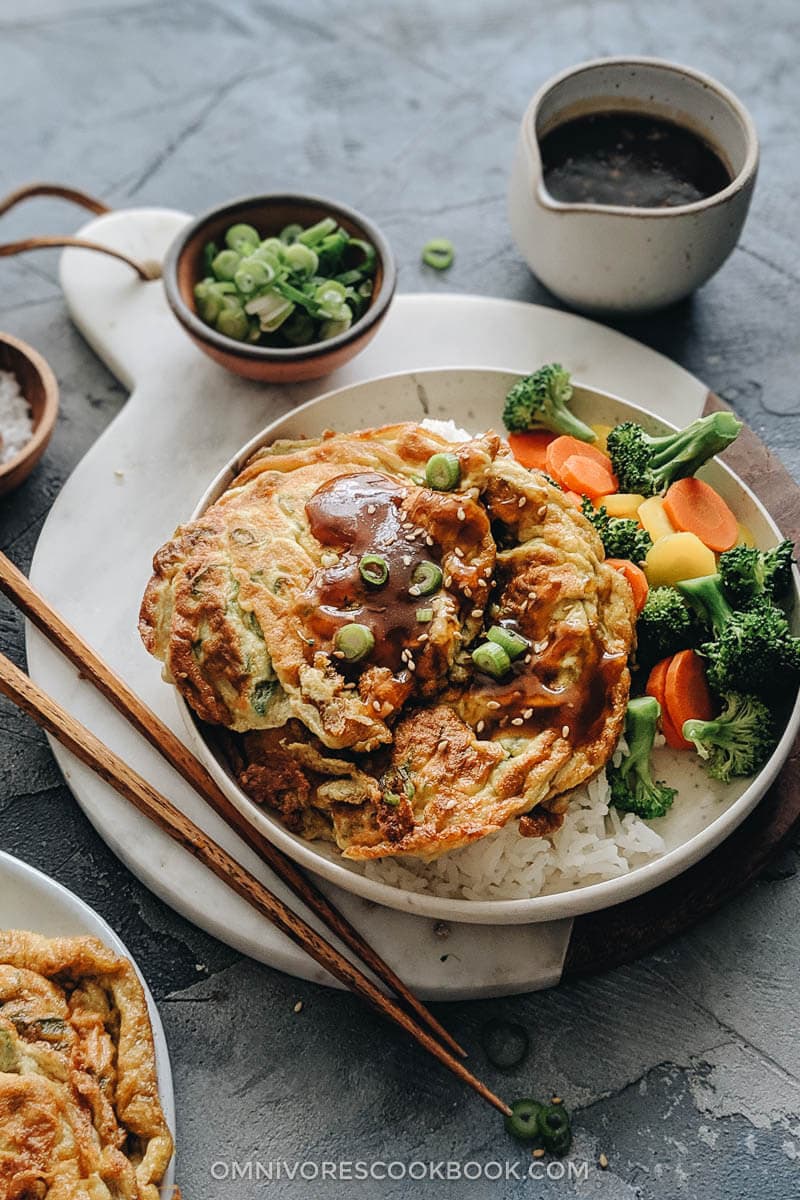 Egg quality matters
My mom is very particular about the quality of her eggs. She found this small farm that is two hours outside of Beijing, where they raise organic free-range chickens. The farm is so small that they have very limited supplies. She orders a large box of eggs with her friends and makes a long road trip to stock up once per month.
Fresh eggs make a big difference. They have a more vibrant-colored yolk that is creamy with a deeper umami. That's why I always looked forward to my breakfast first thing after waking up. And it was simply two boiled eggs with a dipping sauce of soy sauce, vinegar, and a drop of sesame oil.
Sourcing quality eggs in the US
I was quite sad when I moved to the US, about the fact that I couldn't find a quality egg source like my mom did in the past. That was, until I discovered Pete and Gerry's Organic Eggs.
Pete and Gerry's raises the highest quality, freshest eggs possible. They are a values-led company dedicated to humane treatment of animals and supporting small family farms. I was surprised to find out that they are a Certified B Corporation, which means that their goals include meeting the highest standards of verified social and environmental performance and creating a sustainable business beyond profit.
The eggs that Pete and Gerry's sources are all from small family-run farms, not factory farms that simply use the farm label. Their organic eggs also contain no pesticides, no added hormones, no antibiotics, and no GMOs.
Pete and Gerry's eggs are Certified Humane Free Range, which means that there is ample outdoor space that gives the hens real access to grass, dirt, and fresh water whenever they want it. It's totally different from the misleading "cage-free" label, which means that the producers might simply put their hens into an over-crowded space without caged sides.
I noticed that Pete and Gerry's Organic Eggs are different from other organic eggs I've bought. They have a darker and harder shell, a big, vibrant yolk, and a richer taste. They truly remind me of those eggs my mom used to buy from the small farm.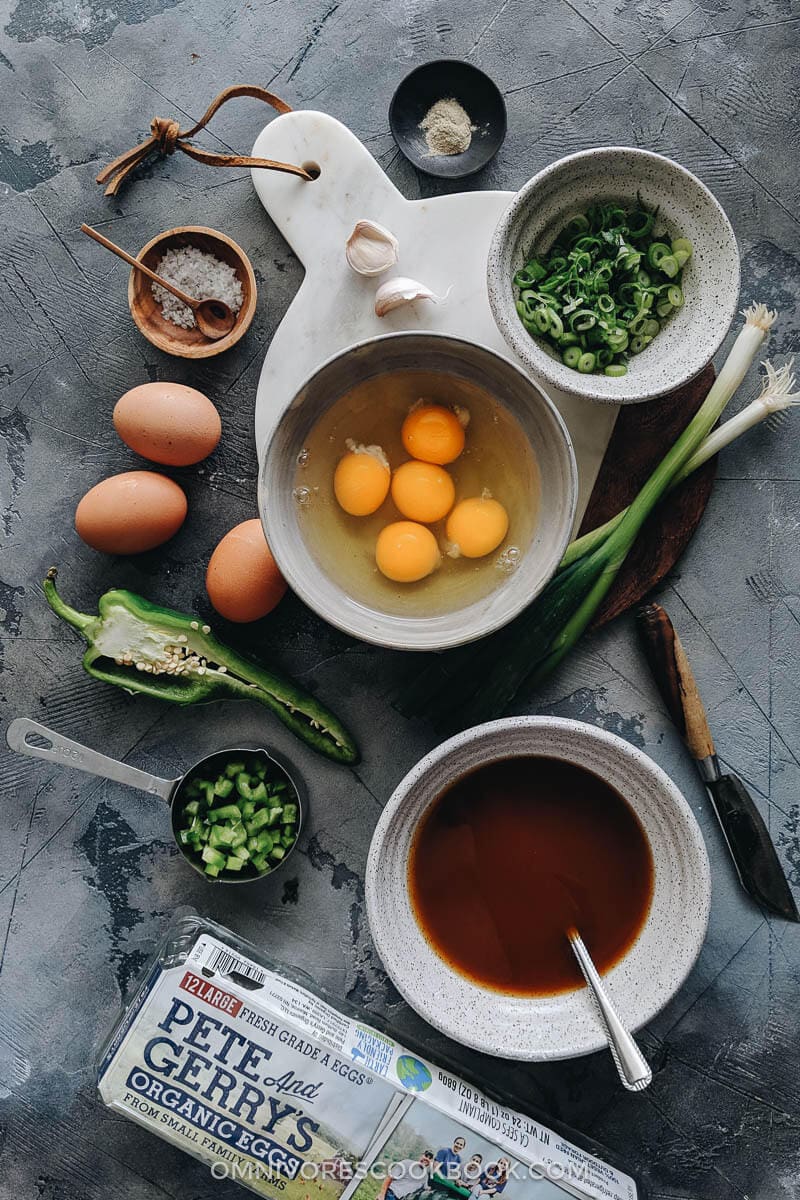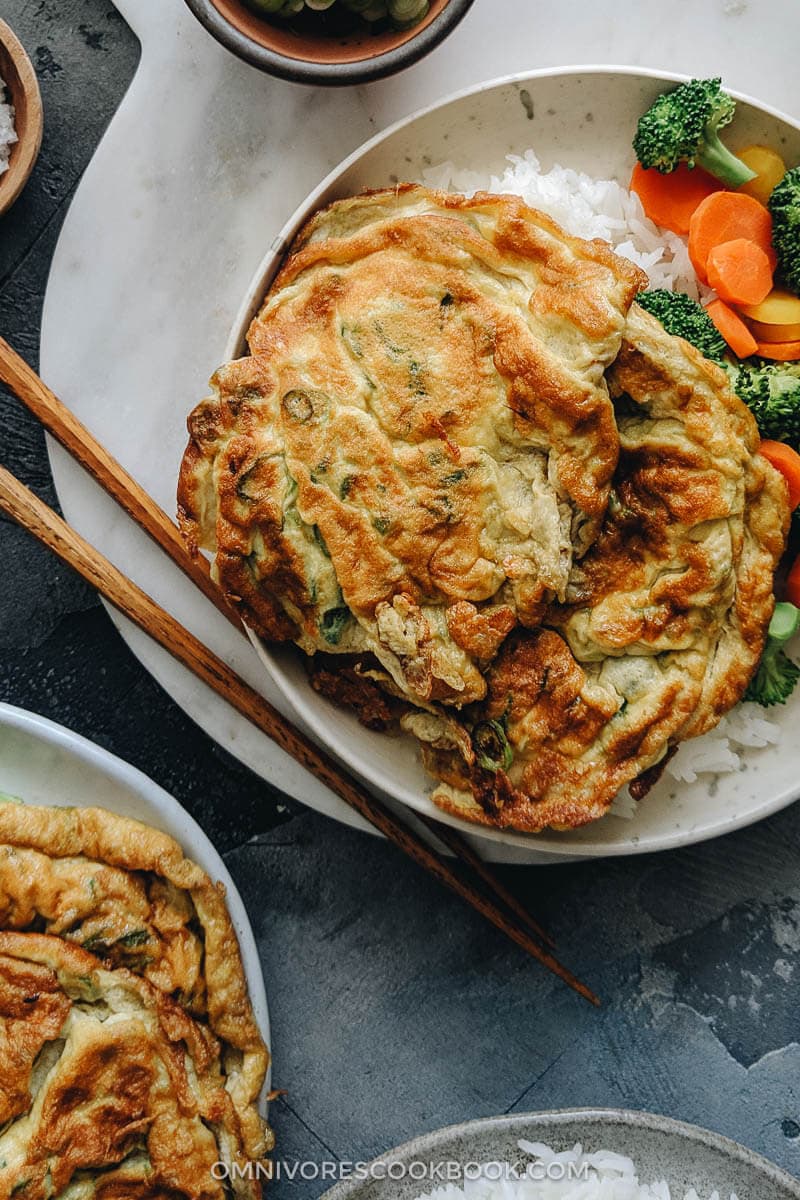 Cooking notes
Today I want to share this easy and simple egg foo young dish with you. Different from some of the other recipes, this one does not use a meat filling. Even though I enjoy a good shrimp egg foo young when eating out, at home I prefer to cook them without any meat. It's faster to prepare, and it tastes so satisfying when you use quality eggs and the proper cooking method.
In northern China, we don't usually serve the dish with a sauce. That's why I made the eggs taste great enough as a standalone dish. Of course, I've included the classic gravy as well, to re-create the sensation of the restaurant version. The recipe generates enough sauce for you to serve over steamed veggies and rice, to make a full meal that's balanced with nutrition.
1. How to make the eggs fluffy
You need to use a bit more oil in order to make the eggs fluffy. That's why I've included the range of oil you might need to use in the recipe. Of course, you can always use less oil for a healthier dish. But note, the eggs will come out a bit flatter and will have a denser texture in this case.
2. High heat is the key
Culinary school taught me to always use low heat to make the best soft scrambled eggs. Not in this case. Chinese cooking always uses high (or medium high) heat to give the eggs a lightly browned surface. That means "overcooking" the eggs in French cuisine terms. But it gives you those fluffy crispy bites with a richer flavor. It tastes the best when you serve these eggs hot, right out of the pan.
3. Less is more
Cooking a good egg foo young is like making pizza. You don't want to overfill it with other ingredients. You only need a handful of veggies and spices to add texture and bring out the great taste of the eggs themselves. Here I used chopped peppers to add crispiness, and plenty of green onion to create the aromatic fragrance. Other than these, a pinch of white pepper and salt are all you need to season the eggs.
4. The sauce
I created extra sauce in the recipe so you will have enough to serve over steamed rice and veggies. I used oyster sauce to add a rich taste to the sauce, but you can also use soy sauce to replace it if you don't have any oyster sauce on hand. In that case, you might need to add a bit more cornstarch (1 teaspoon or so) to thicken the sauce.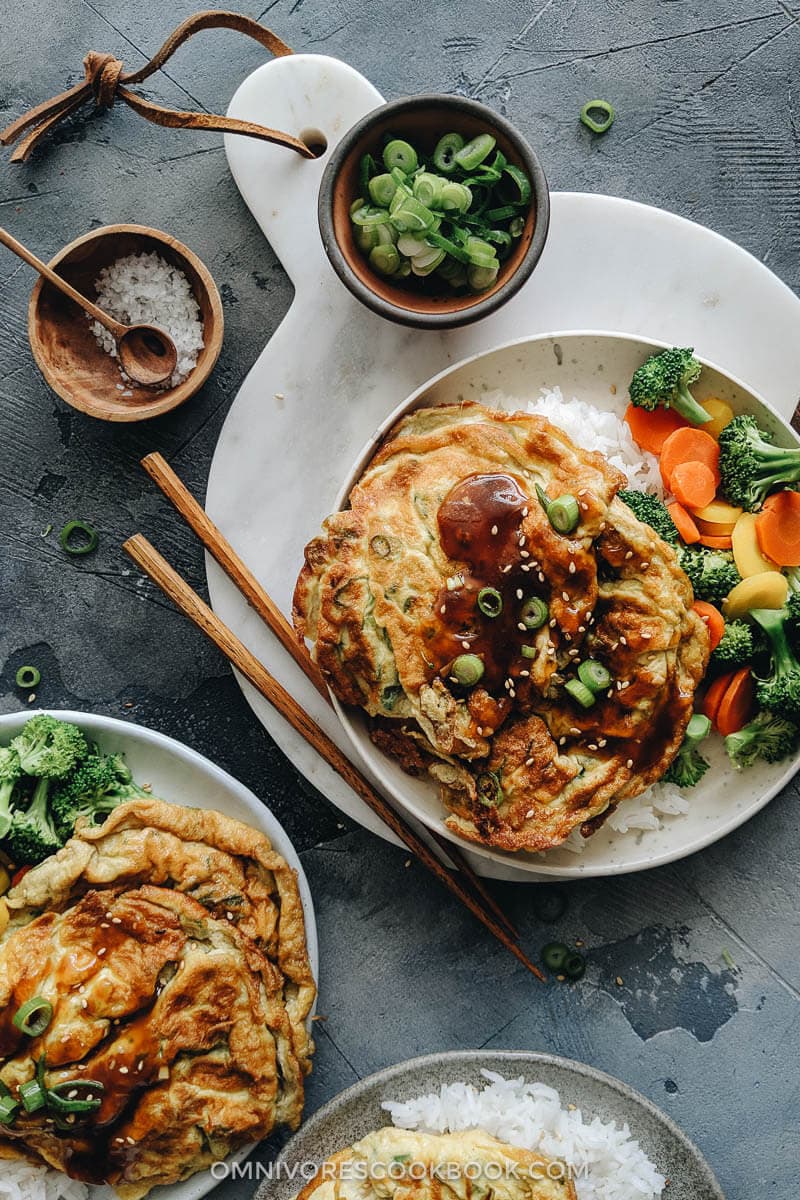 Afterthoughts
I try to not to cook this dish too many times a week because my husband and I always overeat! Last time I made 8 eggs, and we finished the whole thing in one sitting and wanted more. I hope you enjoy this fast and simple version of egg foo young as much as I do.
Happy cooking!
More delicious egg recipes
If you give this recipe a try, let us know! Leave a comment, rate it (once you've tried it), and take a picture and tag it @omnivorescookbook and @peteandgerrys on Instagram! I'd love to see what you come up with.
Want to Know More?
Receive our 5-Day Chinese Cooking Crash Course & Recipe Updates! Subscribe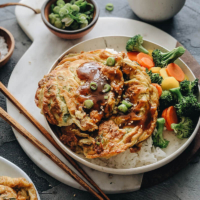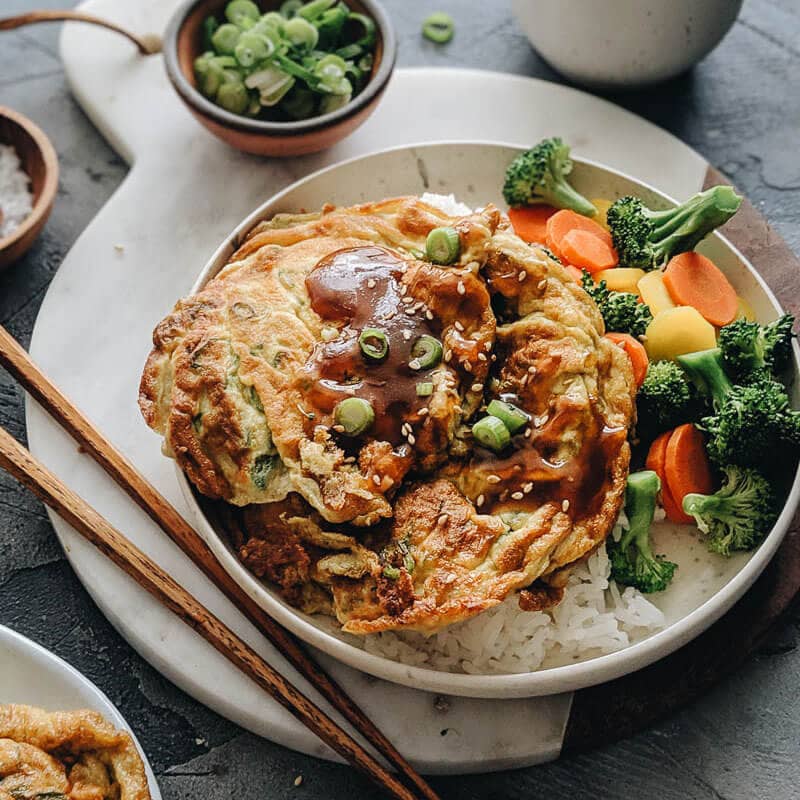 Easy Egg Foo Young
Crispy fluffy egg foo young filled with crisp veggies and aromatic green onion and served with a rich brown sauce. It's super easy to make and tastes so satisfying. Serve it with steamed rice and veggies and you'll have a nutritious meal in no time.To make this dish gluten-free, use gluten free oyster sauce like this one. Replace Shaoxing wine with dry sherry. And replace soy sauce with tamari or coconut aminos.

Ingredients
8

large

Pete and Gerry's Organic Eggs

1/2

cup

bell peppers or anaheim peppers

, finely diced

2

green onions

, finely chopped

1/4

teaspoon

fine sea salt

1/8

teaspoon

white pepper powder

2

to 8 tablespoons

vegetable oil

(*Footnote)
Sauce
1

cup

chicken broth

2

tablespoons

oyster sauce

2

tablespoons

Shaoxing wine

(or dry sherry)

1

tablespoon

soy sauce

(or tamari for gluten-free)

1

teaspoon

sugar

4

teaspoons

cornstarch

2

teaspoons

peanut oil

(or vegetable oil)

2

cloves

garlic

, chopped
Sides (Optional)
Steamed rice

Steamed vegetables

Bean sprouts
Instructions
Sauce
Whisk together the chicken broth, oyster sauce, Shaoxing wine, soy sauce, sugar, and cornstarch in a medium-sized bowl.

Heat oil in a small saucepan over medium heat until hot. Add the garlic. Stir fry a few times to release the fragrance.

Stir the sauce mixture again to completely dissolve the cornstarch. Pour it into the pan. Stir immediately until it forms a silky sauce that is thick enough to coat the back of a spoon. Immediately transfer to a clean bowl. Set aside.
Eggs
Beat the eggs in a large bowl using an immersion blender or fork until evenly blended. Add the peppers, green onions, salt, and white pepper. Mix until well combined.

Heat the oil in a small skillet over medium heat, and scoop about 1/3 cup of the egg mixture into the skillet to make a patty.

Fry until golden brown, about 2 minutes per side. You can use your spatula to shape the egg so it forms a round circle. If the egg starts to brown too fast, turn to lower heat. Repeat with the remaining egg mixture.

Serve the eggs hot over steamed rice and veggies, along with the brown sauce. Drizzle sauce on top while serving. The eggs will taste good enough even served without the sauce, as well.
Notes
To make extra fluffy eggs, you need to use more oil so the bottom of the eggs will be submerged in the oil. On the other hand, you can use less oil if you prefer a healthier version. In this case, the eggs will not be as fluffy, but tasty nonetheless. 
Nutrition
Serving:
4
g
,
Calories:
235
kcal
,
Carbohydrates:
10.6
g
,
Protein:
13
g
,
Fat:
16
g
,
Saturated Fat:
4.2
g
,
Cholesterol:
327
mg
,
Sodium:
778
mg
,
Potassium:
235
mg
,
Fiber:
0.5
g
,
Sugar:
4.9
g
,
Calcium:
50
mg
,
Iron:
2
mg