With only two ingredients and minimal prep time, you can create a fragrant and irresistible little bok choy dish in under 5 minutes!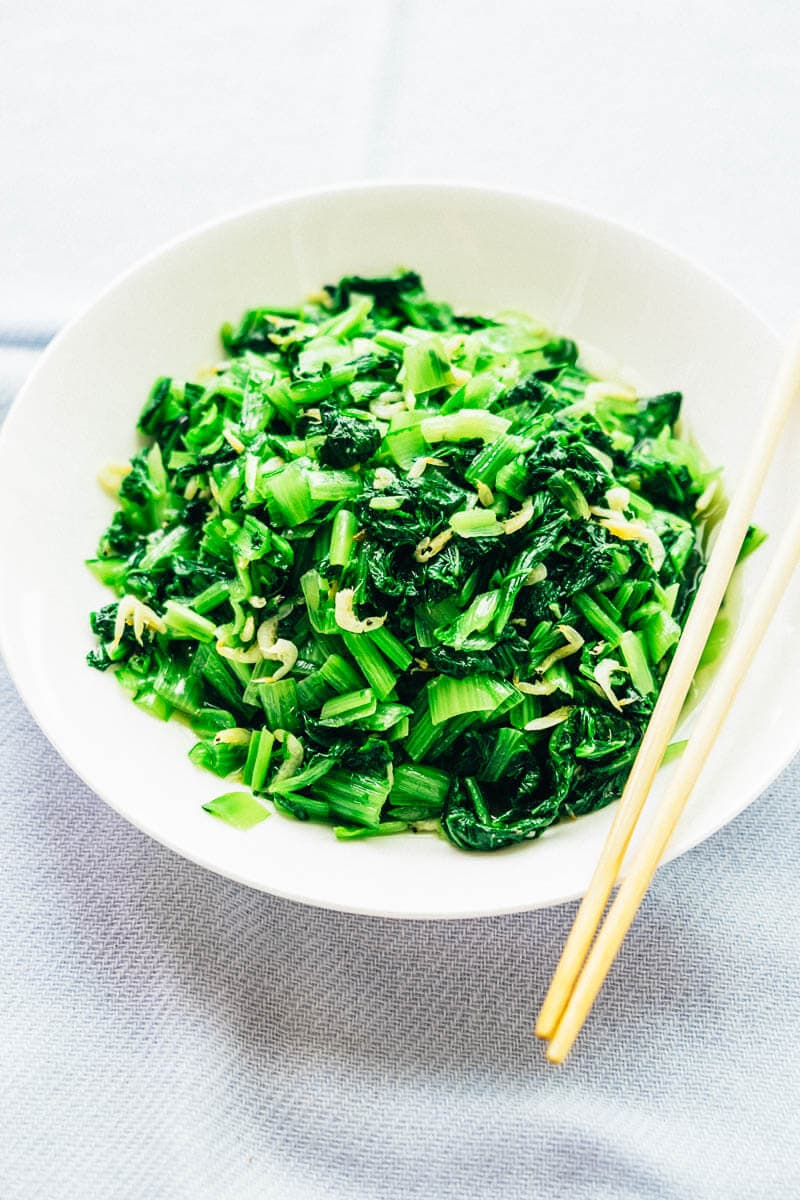 Earlier this month I was back in Beijing to visit my parents. During my short stay, one of the most comforting things was enjoying the simple homemade lunches and dinners.
Today I want to take this chance to share some of the pictures of our homemade meals, to let you have a peek at how a Chinese family serves lunch and dinners.
I know it is unfair to use my family's sole example as a representation of homemade meals in China. The foods and eating habits are entirely different across regions, and between families. I don't think there is one great example of the "usual" homemade meal. Anyhow, just keep it in mind that every person has their unique way of serving dinner, and this is only a peek at my family tradition 🙂
In the picture below was my home-welcome meal at my grandma's place. It's a lunch for six. On the table there is: stir fried mustard greens, fried tilapia, braised pork belly with chicken, stir fried celery with tofu, braised eggplant with tomato, and winter melon soup with pork meatballs.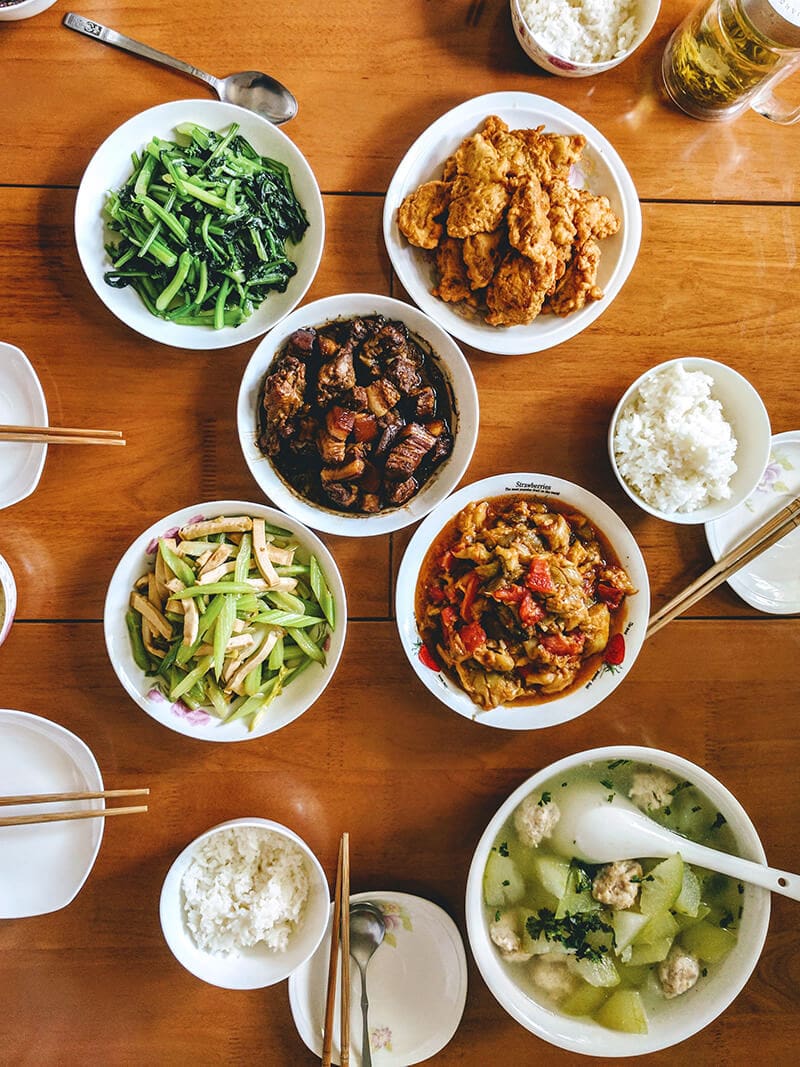 Here is another picture of our dinner table at my parent's place (on a weekday evening)—we had stir fried little bok choy with dried shrimp, stir fried zucchini with garlic, homemade steamed pork and cabbage dumplings, stir fried cabbage in soy sauce, and blanched shrimps.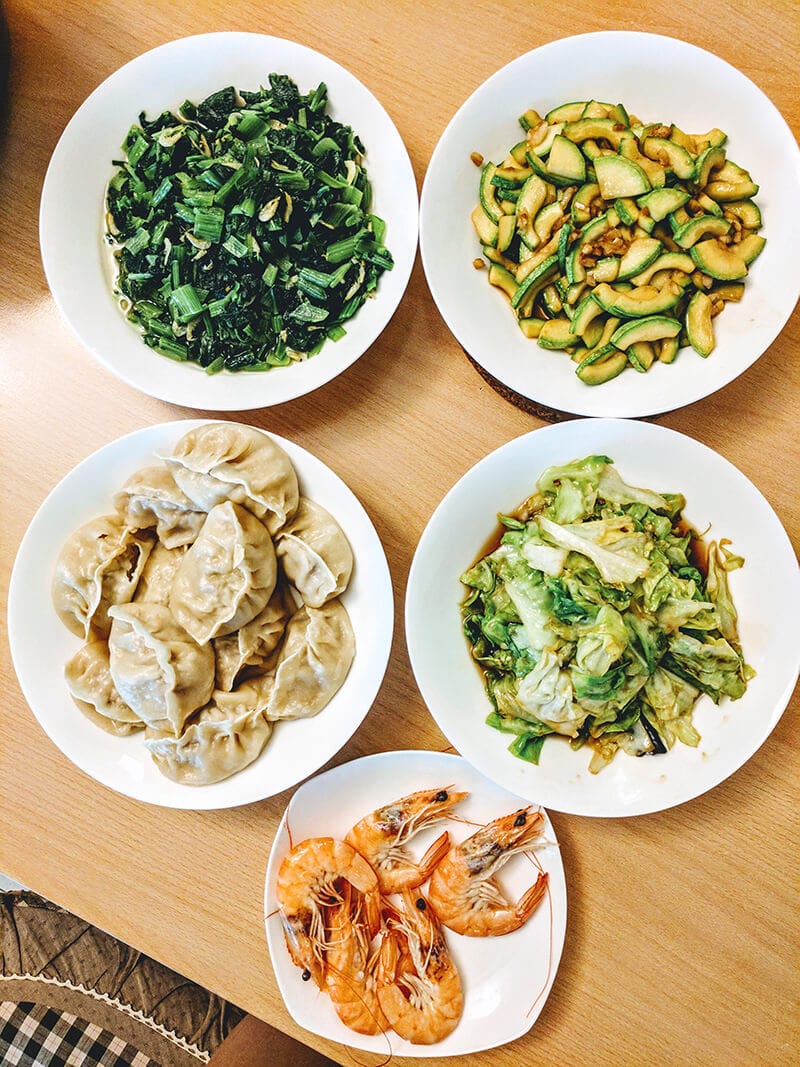 Did you notice some common elements on each table? Yep, we serve a LOT of vegetables for each meal!
Of course, I've seen many Chinese families serve more meat dishes than us. But in general, some Chinese greens on the table is a must for a Chinese dinner table. It's as important as serving rice or dumplings.
What is Little Bok Choy?
Chinese greens are a convenient way to add a vegetable dish to your meal. These dishes use simple ingredients, are quick to cook, and are super delicious! Some common Chinese greens include baby bok choy, gai lan (Chinese broccoli), and napa cabbage. These are the more common Chinese greens that you're able to find in a normal grocery store.
On the other hand, you might see tons of unfamiliar green vegetables when you visit an Asian market. They have a very similar appearance and can be confusing when you look at their names.
However, you'd be surprised at how easy it is to cook with them once you learn a recipe or two!
One of the most popular green vegetables on the northern Chinese table is little bok choy (xiao bai cai, 小白菜). It looks a bit like Chinese broccoli (gai lan) and choy sum, but has a straight stalk, flat leaves, and sometimes tiny flower buds. The stalk is crispier, more like the texture of bok choy, and slender. It has a mild grassy flavor. Due to its high water content, little bok choy will lose a lot of liquid during cooking and turn to a tender texture with just a hint of crispiness once cooked.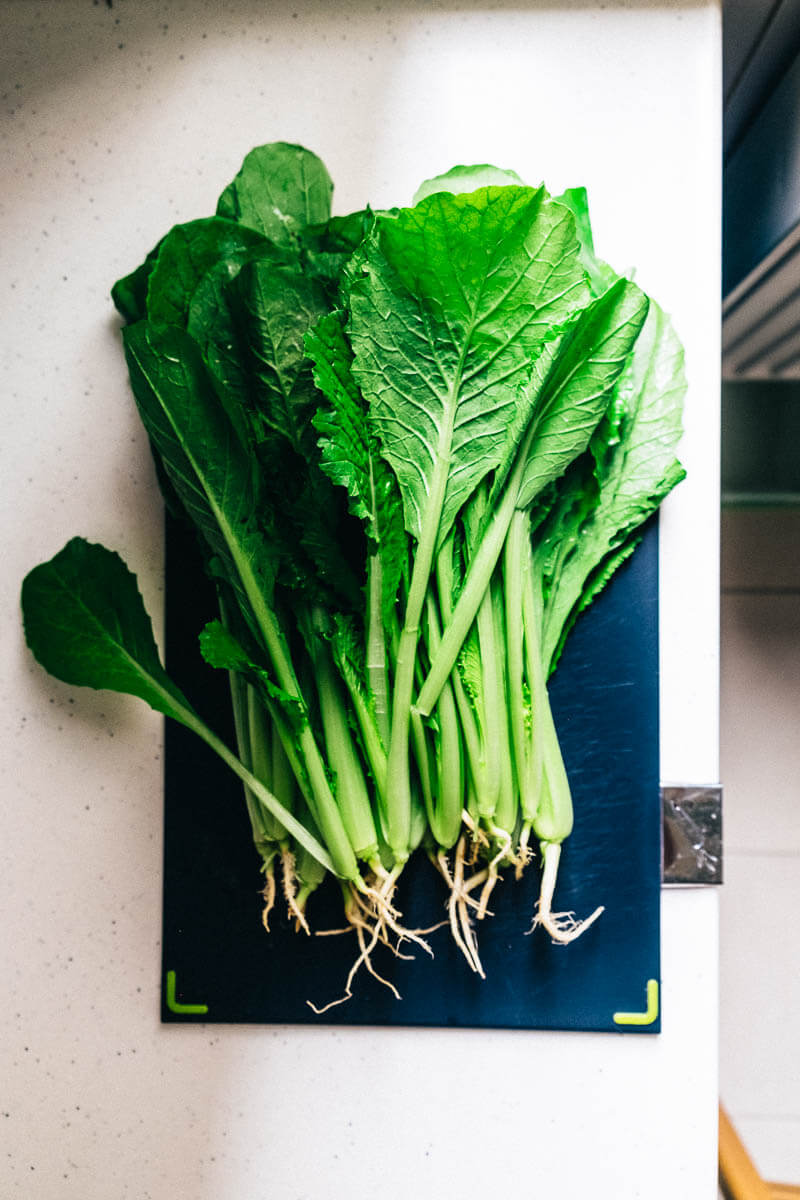 My mom's secret recipe for little boky choy
The recipe only contains four ingredients and takes 3 minutes to cook. Here are the two key elements to make this awesome vegetable dish:
(1) Use dried baby shrimps instead of aromatics to infuse the oil.
OK, I've been talking about how important aromatics are in Chinese stir fry. But this one is an exception.
When we cook daily meals during weekdays, we love using tiny shell-on dried shrimps to impart rich savory flavors. Not only does it create a super tasty veggie dish, you can also skip the prepping and chopping. One stone with two birds.
The dried baby shrimps we use here are also called papery dried shrimp, or Xia Pi (虾皮) in Chinese. It's literally translated to shrimp skin. Although they are actually tiny unshelled whole shrimps that are boiled and then sun dried. Sometimes we add a spoonful of the tiny shrimps to add a seafood umami to a bowl of wonton soup. Here we use it to turn our vegetable stir fry into a dish full of aroma and irresistible!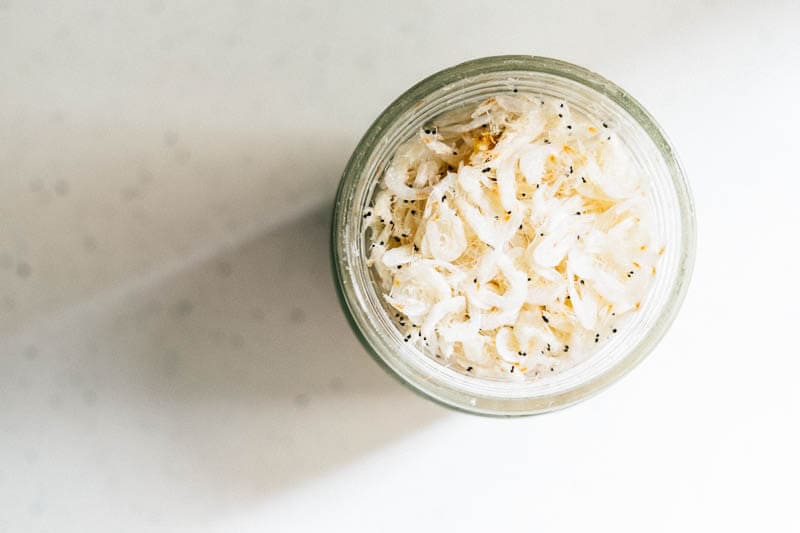 You can find this type of dried shrimp in Asian market. To distinguish the baby dried shrimps from larger dried shrimps that require pre-soaking, read this article.
(2) Blanch the little bok choy before stir frying.
It might look a bit troublesome additional step, but it removes some water content from the little bok choy, so the dish will be more flavorful and less watery once cooked.
(3) Cooking steps.
The actual cooking of the dish can't be easier. You need to:
Quickly blanch the little bok choy. Rinse in cold water then chop into small pieces.
Heat oil and fry 2 to 3 tablespoons dried shrimps.
Add the little bok choy. Cook, covered, over a medium low heat for 20 seconds.
That's it!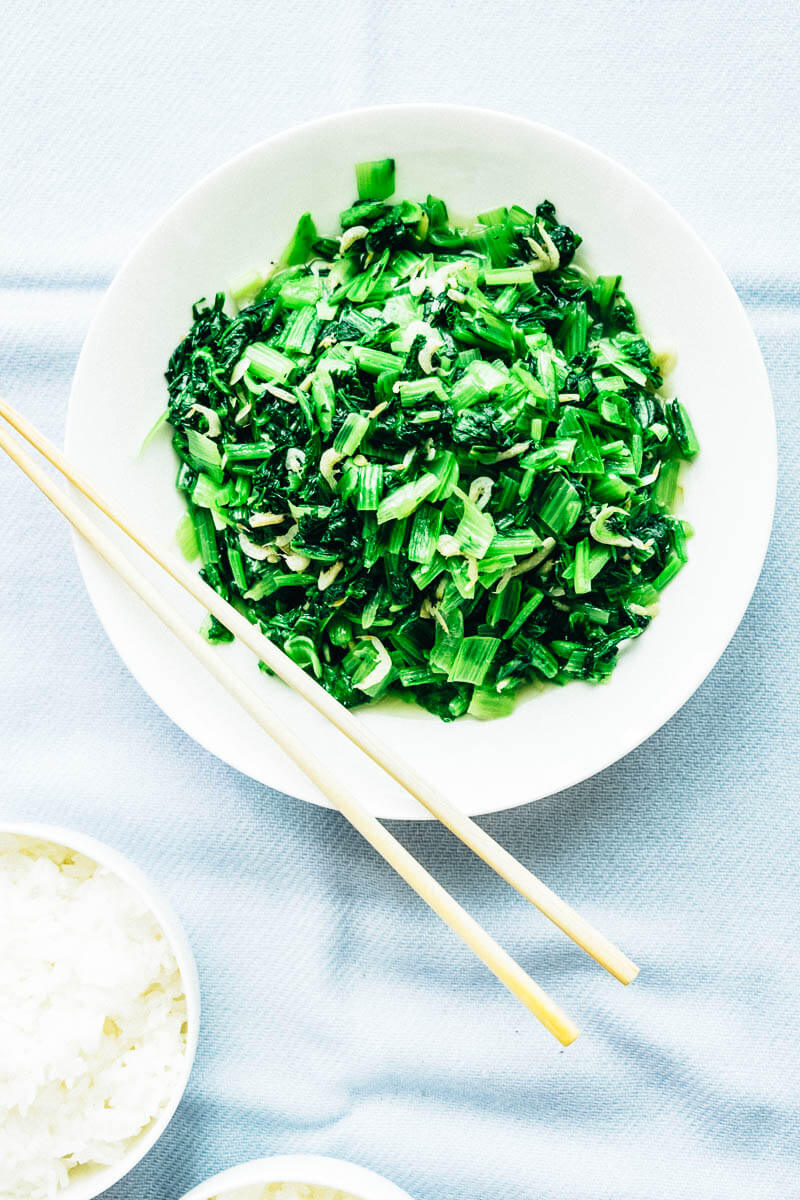 (4) Can't find little bok choy?
You can use the same method to make a great spinach dish as well. In this case, cut the spinach into 1-inch (2.5-cm) pieces instead of 1/2-inch (1-cm).
You will get a plate of fragrant green vegetables to pair with your rice and the main dish 🙂
Cooking video
I've created this short video for you, so you can easily get an idea of the workflow.
By the way, I totally used the wrong name when I first posted the recipe (I used choy sum instead of little bok choy). Just to proof how tricky the name of these Chinese greens are!
More super quick Chinese veggie dishes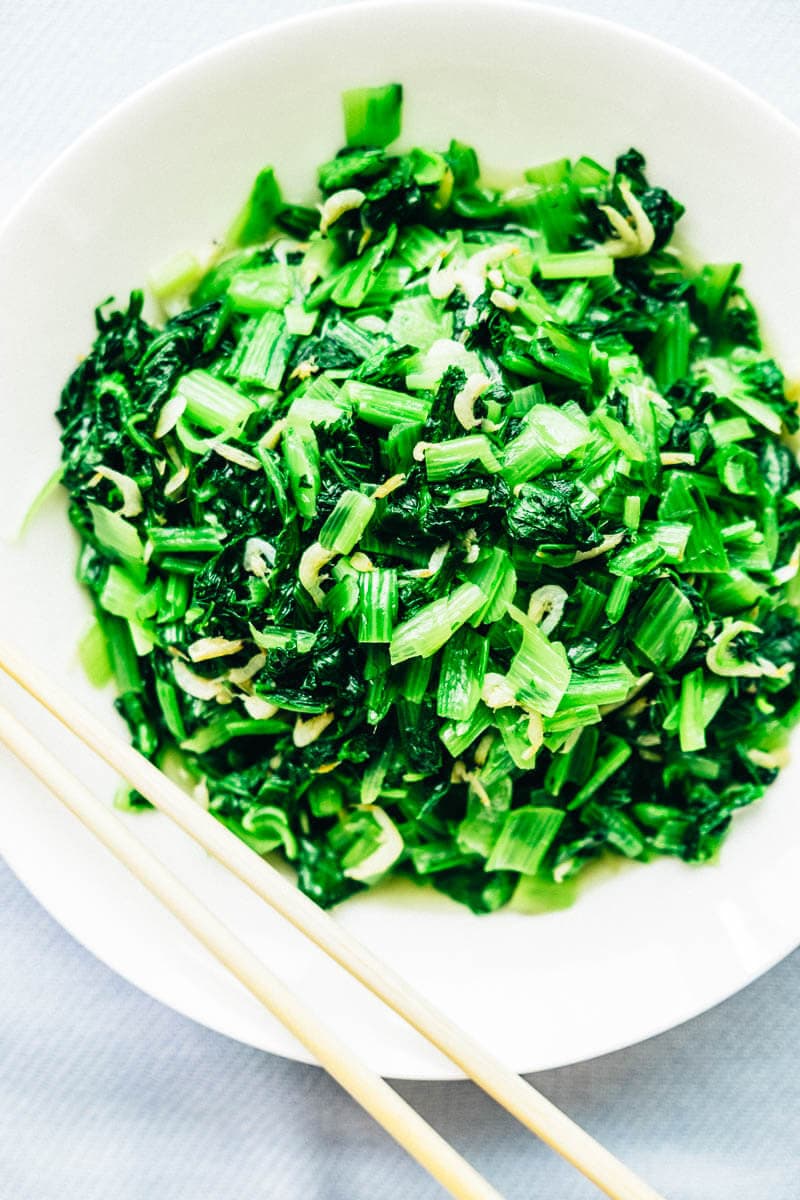 If you give this recipe a try, let us know! Leave a comment, rate it (once you've tried it), and take a picture and tag it @omnivorescookbook on Instagram! I'd love to see what you come up with.
Want to Know More?
Receive our 5-Day Chinese Cooking Crash Course & Recipe Updates! Subscribe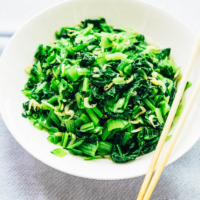 Stir Fried Little Bok Choy with Dried Shrimps & What We Eat in China #1
With only two ingredients and minimal prep time, you can create a fragrant and irresistible veggie dish in under 5 minutes!  
Servings:
2
to 4 servings
Ingredients
2

batches little bok choy

(about 1 pound / 450 grams)

1

tablespoon

peanut oil

or vegetable oil

2

to 3 tablespoons

shell-on baby dried shrimps

(papery dried shrimps) (*footnote 1)

Salt to taste

(Optional)
Instructions
Remove the ends of the little bok choy by using a pair of scissors. Rinse the little bok choy thoroughly to remove any dirt between stalks.

Bring a medium pot of water to a boil. Fill a large second pot with cold water. Add all the little bok choy (without chopping) and press them into the boiling water. Let briefly cook for 5 to 7 seconds. Remove them immediately from the pot and transfer to the cold water. Let cool for a minute or so, until it's possible to handle with your hands. Gently squeeze the water from the little bok choy without pressing too hard. Chop the little bok choy into 1/2-inch (1-cm) long small pieces.

Heat a wok over a high heat (*Footnote 2). Add the oil and swirl to coat the bottom. Add the dried shrimps. Cook and stir for a few seconds until the shrimps turn crispy and lightly browned.

Add the little bok choy. Stir a few times to mix well. Turn to a medium low heat. Cook covered for a minute or so, until the little bok choy turns tender but still has a hint of crunchiness. Cover and let cook a bit longer if needed.

Uncover and stir a few more times. Taste the little bok choy and sprinkle on a bit more salt if necessary. Transfer everything into a plate immediately, to prevent from overcooking.

Serve hot or warm as a side dish.
Notes
Dried shrimps taste different depending on the brand you buy, and sometimes they can be very salty. When you buy a new brand, start with 1 to 2 tablespoons of dry shrimps, so your dish won't turn out too salty.

Although I used a wok as demonstration (at my mom's place), you can definitely use a nonstick flat skillet instead.
Nutrition
Serving:
1
of 4 servings
,
Calories:
75
kcal
,
Carbohydrates:
4
g
,
Protein:
6.8
g
,
Fat:
3.5
g
,
Sodium:
27
mg