These Chinese Chive Pockets make a perfect snack. The super crispy and thin dough is stuffed with a hearty, savory filling made with Chinese chives and scrambled eggs. They're easier to make than potstickers and have all the goodness that dumplings have, only more satisfying!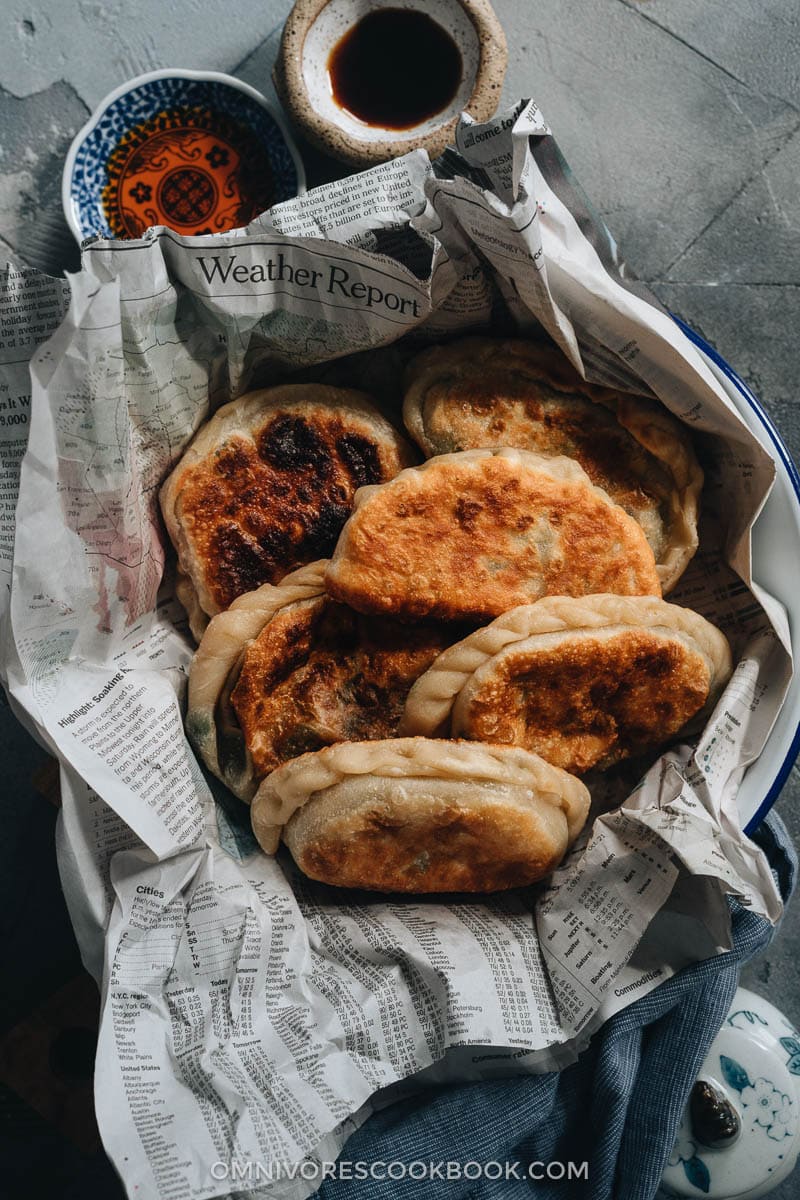 Chinese Chive Pockets are a kind of omelette-dumpling hybrid that's massively popular in the northern part of China. Made predominantly from eggs, green chives, flour, and dried shrimp, they have a crispy golden outer layer and a tender filling. It's a beautiful combination of distinct textures and flavors.
So what is a pocket? I think you can liken it to dumplings (or potstickers), only bigger in size. Which translates to – more filling!
I introduced a northern Chinese beef meat pie recipe in the past. It's in the same genre as the Chinese chive pockets. Only the beef pie has a more complicated dough – it's made with layered dough with oil in between, to create a very buttery and crispy texture. These chive pockets are quite different. They use a very simple hot water dough that is very forgiving and easy to work with. If you're new to dumpling making, you can try out this recipe because it's very easy to wrap.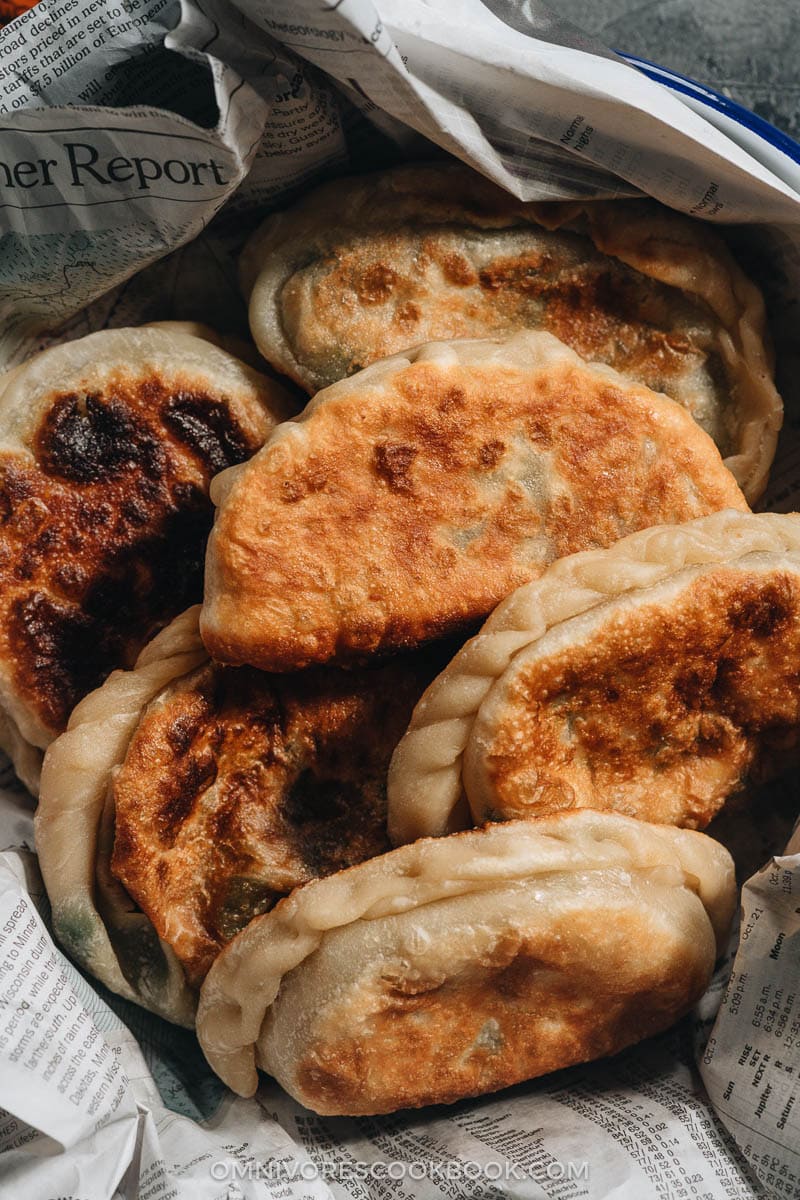 Cooking notes
1. What are Chinese chives?
Chinese chives resemble regular chives in shape and color, but with much larger, longer, and meatier leaves. Unlike chives which are usually used as a garnish to finish up a dish, Chinese chives are commonly used as the main ingredient in stir-fried dishes or add to dumpling filling. These delicate emerald straws have a garlicky taste and soft texture once cooked, which gives a kick to whatever dishes they're used in but they're not as overwhelming as green onions. They pair surprisingly well with egg-based dishes.
If you see Chinese chives at the market, definitely try out this dish because you'd be surprised how delicious the dumplings taste with such simple filling.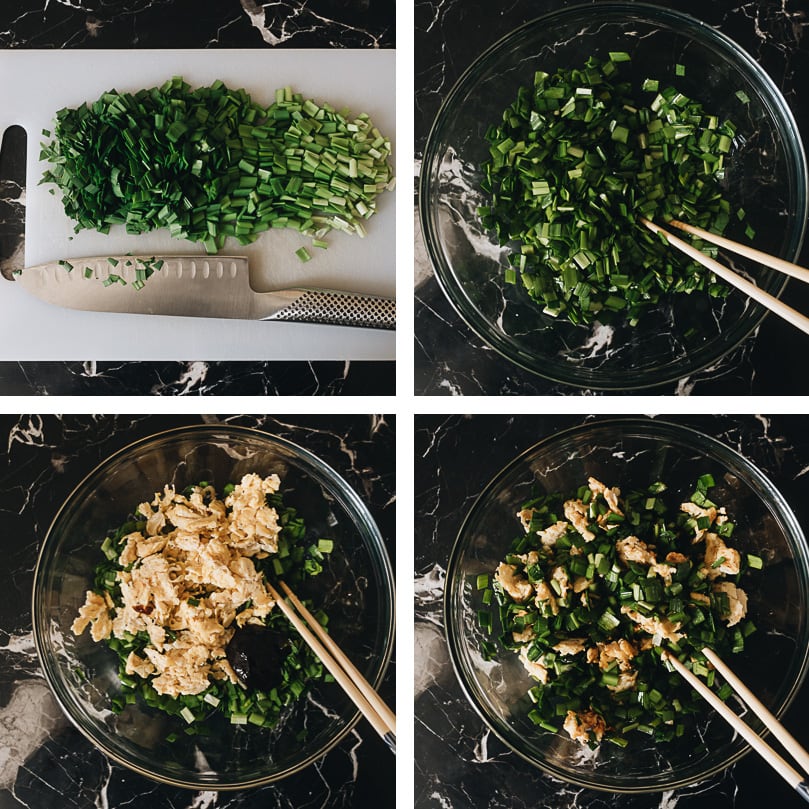 2. Papery shrimp
Papery dried shrimp, Xia Pi (虾皮) in Chinese, means shrimp skin. They are tiny dried shrimp that are very tender in texture and have a strong taste of the sea. Different from the larger and meatier Asian dried shrimps, you don't need to rehydrate them before cooking with them. Although in this recipe I gently toasted them in hot oil to give them a crispy texture and eliminate the raw taste. It's a very handy ingredient to add umami to a soup, fried rice, or stir fry, such as the traditional wonton soup or the Little bok choy stir fry.
Although the dried shrimp are a traditional ingredient in Chinese chive pockets, you don't have to use them if you can't find any or don't want to. Their purpose is to add sea-salty notes to the pockets, but you can always just use half a teaspoon of salt instead. Papery dried shrimp are available on Amazon here.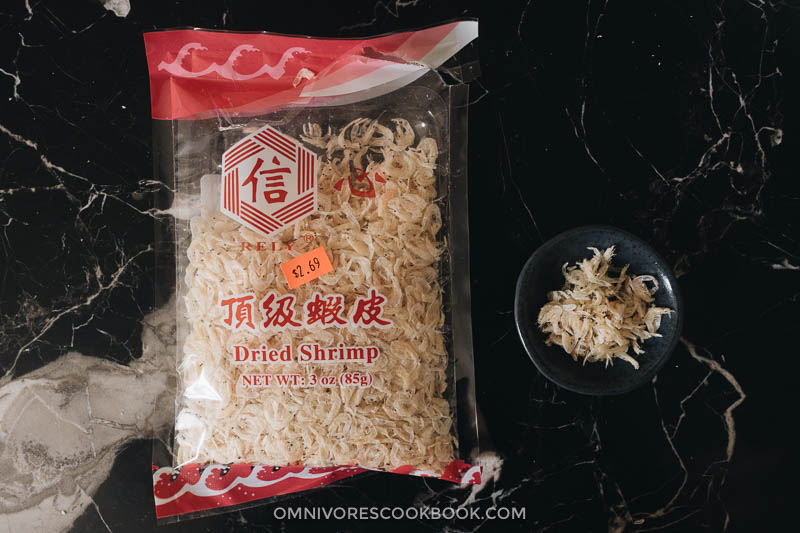 3. Hot water dough
This recipe uses a hot water dough. It uses all-purpose flour, salt, sugar, and peanut oil to create a silky and tender dough that is very palpable and will crisp up nicely once pan fried. You only need to knead the dough for a couple minutes once it comes together. After resting for 30 minutes, it will become smooth and easy to work with.
Although you can dust the working surface with dry flour to work with the dough, I highly recommend you grease your working surface with a bit of oil. Not only does it prevent the dough from sticking, it doesn't change the dough texture and will make the end product crispier.
4. Seasoning
You might find it weird to add Shaoxing wine into the scrambled eggs. Because this recipe uses very simple ingredients, the wine adds a very nice tangy aroma to the pockets. If you don't want to use alcohol in your dish, you can use chicken stock instead.
Some traditional Chinese chive pockets use only salt to season the filling. I found that adding some oyster sauce boosts the taste a lot and makes a difference.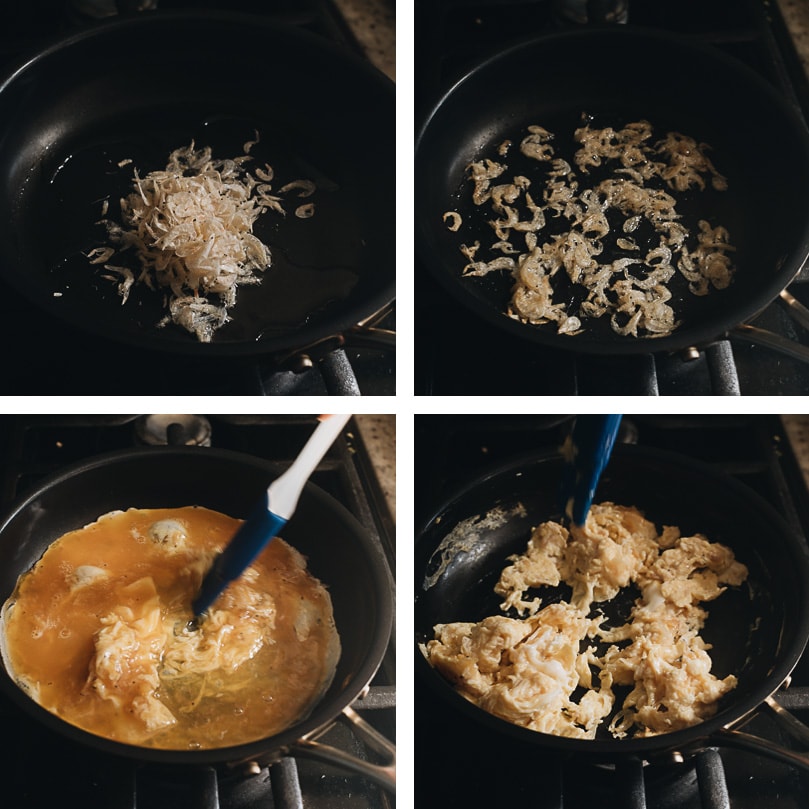 5. One word on the thickness of the wrapper
If you buy chive pockets from a street vendor in China, you'll be amazed at how skillful they are at wrapping so much filling into paper-thin pockets. When it comes to home cooking, it might be safer to roll the wrapper a bit thicker so it's easier to wrap. When I made these chive pockets, I rolled the dough very thin and the end result was amazing. But I did find it more difficult to wrap and the pocket shape was not perfect. The recipe is quite forgiving in any case. So roll the dough to the thickness you're comfortable with, and I promise the end result will taste just as great.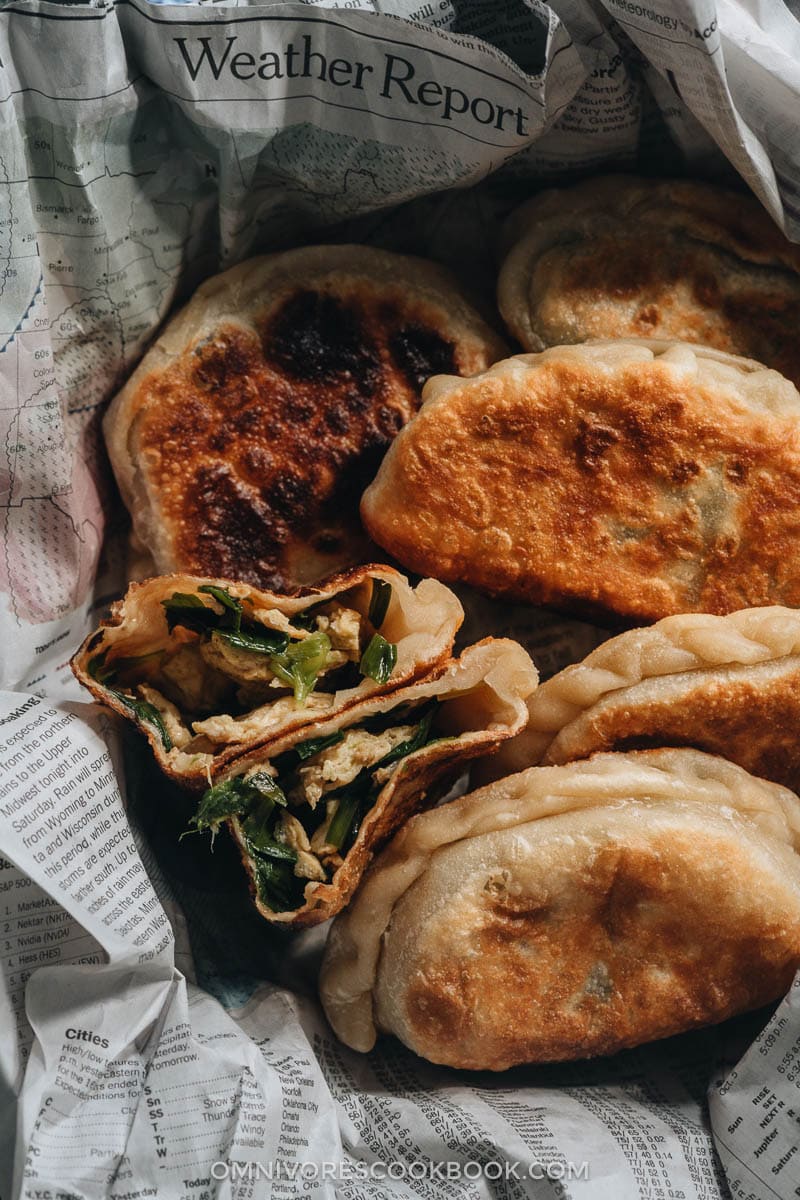 6. How to wrap the pockets
Chive pockets are very easy to wrap. Different from dumplings that require pleats, you can simply roll the dough into a large round sheet, add the filling in the center, and fold it into a half-moon-shaped pocket. Once folded, you can use your finger to fold the edge, one finger width at a time, until it forms a pretty pattern. Alternatively, you can simply press the dough together. It's OK as long as the pocket doesn't fall apart during cooking.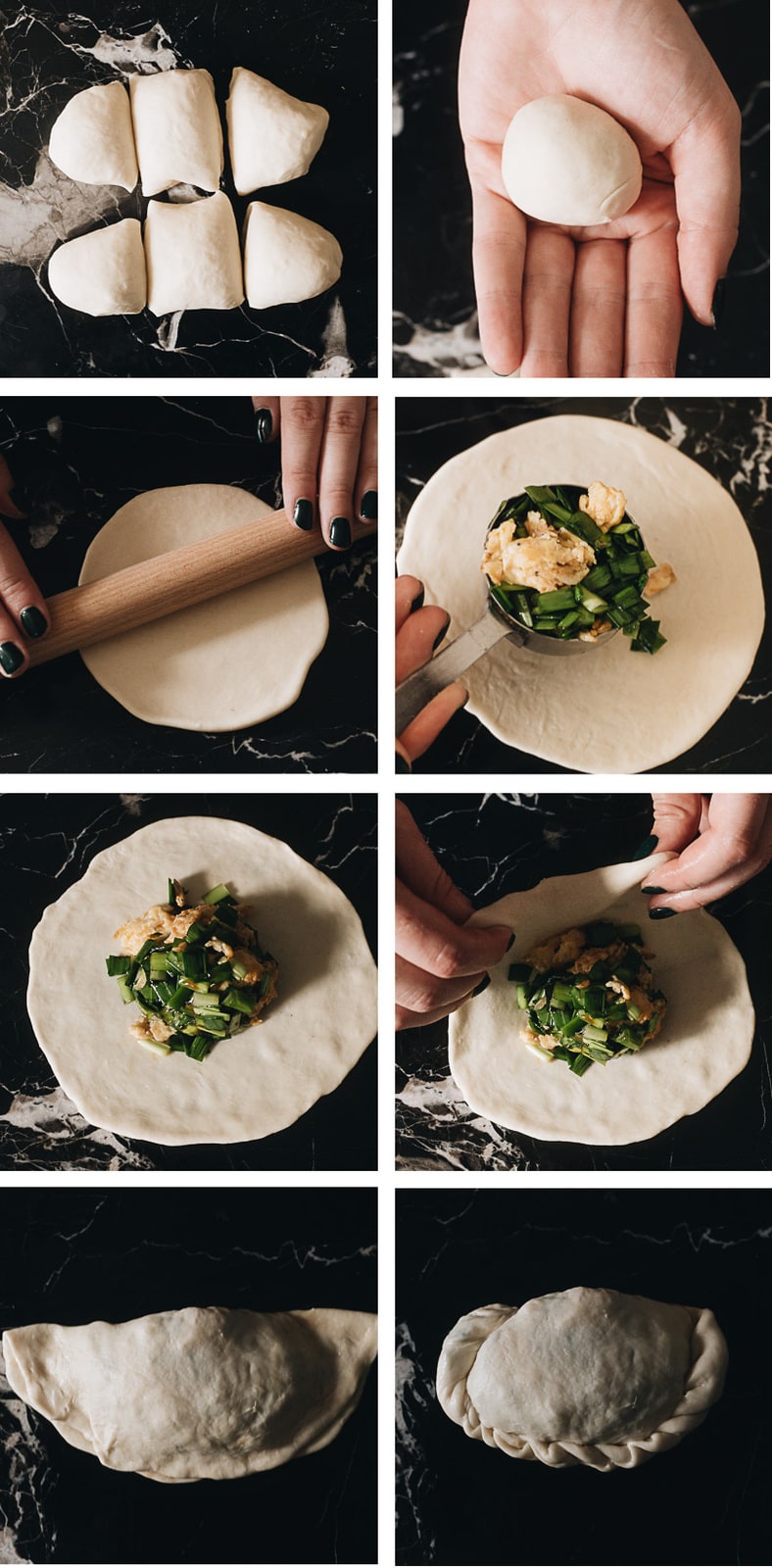 7. Pan fry the chive pockets
You simply need to pan fry the Chinese chive pockets to create the super crispy crust. If you like an extra crispy crust, use a bit more oil. If you prefer a healthier dish, use less oil. The crust will be more crunchy than crispy, but the result will still be tasty.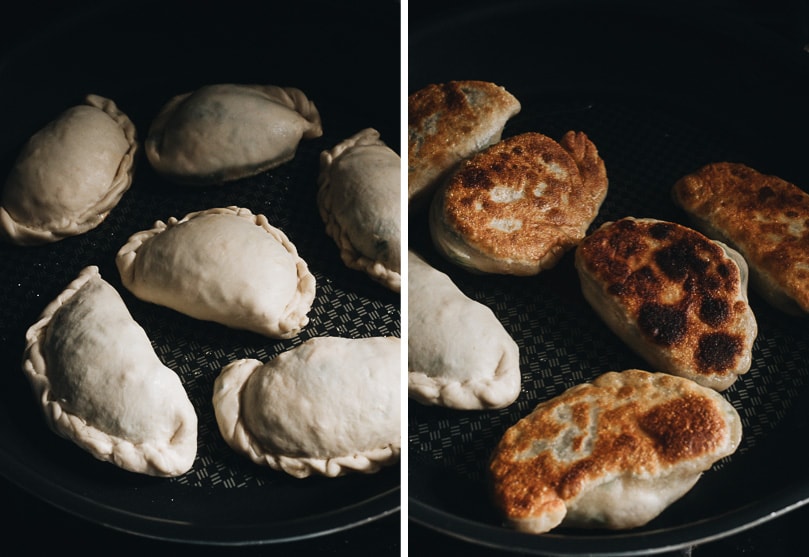 Afterthought
My grandma used to make a dozen chive pockets and freeze them for later. It was one of my favorite childhood snacks. We usually served them with a bowl of congee, making it a hearty and delicious dinner. It brings back good memories whenever I eat this dish.
If a chive and egg dumpling sounds weird to you, you can change up the filling by using my vegan dumpling filling or pork dumpling filling. The result will be super delicious, too.
More Chinese dumpling recipes
If you give this recipe a try, let us know! Leave a comment, rate it (once you've tried it), and take a picture and tag it @omnivorescookbook on Instagram! I'd love to see what you come up with.
Want to Know More?
Receive our 5-Day Chinese Cooking Crash Course & Recipe Updates! Subscribe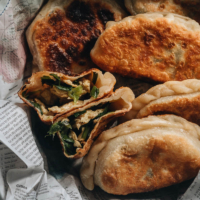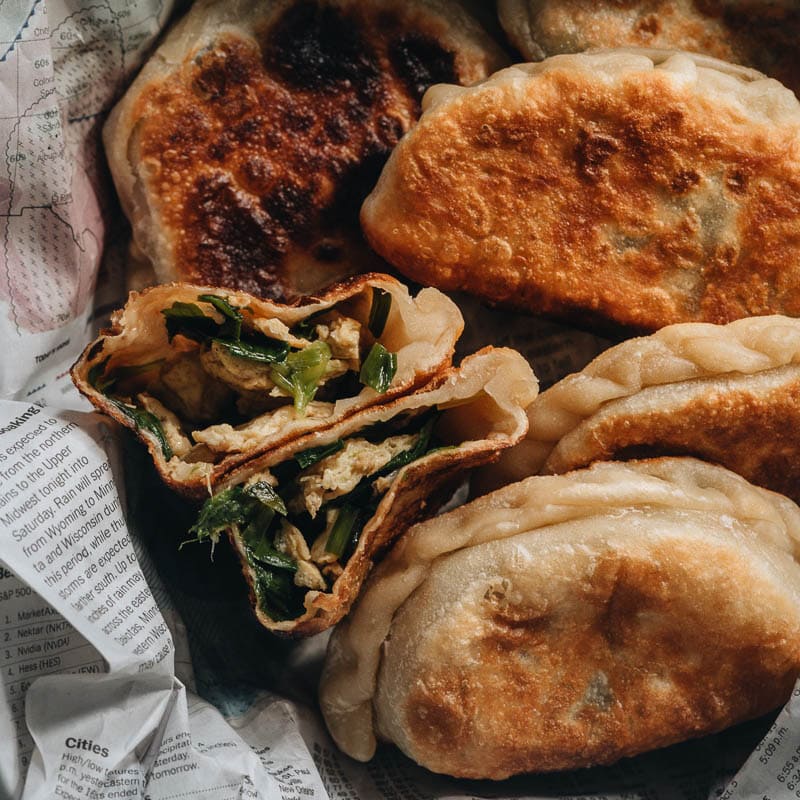 Chinese Chive Pockets (韭菜盒子, Chinese Chive Dumplings)
These Chinese Chive Pockets make a perfect snack. The super crispy and thin dough is stuffed with a hearty, savory filling made with Chinese chives and scrambled eggs. They're easier to make than potstickers and have all the goodness that dumplings have, only more satisfying!
Ingredients
3

to 4 tablespoons

peanut oil

(or vegetable oil, to fry the pockets)
Dough
2

cups (300 g)

all-purpose flour

1

teaspoon

salt

1/2

teaspoon

sugar

3/4

cup (180 ml)

water

2

teaspoon

peanut oil

(or vegetable oil)
Filling
4

large eggs

2

teaspoons

Shaoxing wine

(or dry sherry, or chicken stock)

1

teaspoon

salt

, divided

1/4

cup

papery dried shrimp

(Optional)

2

tablespoons

peanut oil

, seperated (or vegetable oil)

1/2

lb (225 g)

chinese chives

, cut into 1/4" (0.6 cm) pieces

2

tablespoons

oyster sauce

2

teaspoons

sesame oil
Instructions
Dough
In a large bowl combine the all-purpose flour, salt, and sugar. Stir with a fork to mix well.

Microwave the water to approximately 180 degrees F (80 C). It should be too hot to touch but not boiling.

Slowly add the hot water into the flour mixture, stirring with a fork to mix the water into the flour.

Once all the water is added, work the water into the flour until it forms large doughy flakes without any dry flour left. Feel the flakes with your hand. It should be quite firm and not too soft. If there's still a lot of dry flour left, add 1 more tablespoon of water.

Add the oil. Mix and knead with your hand until it forms a dough ball.

Transfer the dough ball onto a clean working surface. Knead by hand for 5 to 8 minutes, until the dough becomes firm. It is OK if the surface is not smooth.

Return the dough to the bowl and cover with plastic wrap. Let rest for 30 minutes.
Filling
Prepare the filling while the dough rests. Combine the eggs, Shaoxing wine, and salt in a medium-sized bowl. Whisk until evenly mixed.

Heat 1 tablespoon of oil in a medium-sized pan over medium heat until hot.

(Optional) Add the dry shrimp. Cook and stir until it turns golden brown, 1 minute or less.

Add the egg mixture. Stir with a spatula to scramble the eggs and cut them into smaller pieces. Cook until the eggs just begin to firm up. Transfer to a plate to cool.

Add the chives into a large bowl. Add the remaining 1 tablespoon of peanut oil. Mix with a spatula until the chives are evenly coated with a thin layer of oil.

Once the eggs are cooled, add them into the bowl with the chives. Add the oyster sauce and sesame oil. If you aren't using the papery dried shrimp, add 1/2 teaspoon salt into the mixture.
Assemble
Once the dough has rested, the surface should become smoother and the texture softened. Divide the dough into two even pieces using a knife of dough cutter. Work on the dough one piece at a time. Place one piece back into the bowl and cover with plastic wrap.

Roll the dough on the working surface until it forms a ball. Cut the dough in half. Roll each piece into a long log, then divide it into 3 even pieces.

Add a small spoon of oil onto your working surface and use your hand to grease the surface. It prevents the dough from sticking to the surface.

Work on the dough one piece at a time. Roll the dough with both of your hands until it forms a ball.

Press the dough with your hand, then roll it out into a 6" (15 cm) disk.

Use a measuring cup to scoop 1/4 cup of egg-chive filling, press it down with your hand, and add more filling so it fills the cup tightly (very important). Add the filling onto the center of the rough disk. Fold the dough over it to create a half moon. Gently use your hand to press the filling to even it out.

Seal the edges of the dough together by gently pressing the dough and pressing out as much of the air bubbles as you can.

Crimp the edges by folding the excess dough together along the edge using your hand, one finger width at a time, until it forms a pattern. Cut off any extra dough at the end and discard it. If you don't know how to crimp the edges, you can simply press the dough together so it won't break apart during cooking.
Cook
Heat 1 to 2 tablespoons of oil in a large nonstick frying pan over medium heat until hot. Pan fry the Chinese chive pockets until the bottom turns golden brown, 2 minutes or so. Turn to the other side and fry until golden brown. If the pan starts to smoke, turn to medium-low heat. If your chive pockets are thick, you can also stand them upright in the pan to fry the edge.

Once done, transfer the chive pockets to a big plate. Serve hot with Chinkiang vinegar (highly recommended) or dumpling sauce. You can add soy sauce to the vinegar if you think the pockets are not salty enough.
Storage and reheating
To store the chive pockets, place in a ziplock bag, using parchment paper to separate the pockets. Squeeze out as much air as possible, and seal the bag. Freeze them for up to 2 months. To reheat frozen pockets, you don't need to thaw them. Cook them in the pan just like if you were making fresh ones, except that you'll need to cover the pan and add a splash of water while heating. Once heated through, open the lid and cook a bit longer to crisp up the surface.
Nutrition
Serving:
1
pocket
,
Calories:
153
kcal
,
Carbohydrates:
17.1
g
,
Protein:
4.9
g
,
Fat:
7.3
g
,
Saturated Fat:
1.5
g
,
Cholesterol:
62
mg
,
Sodium:
431
mg
,
Potassium:
101
mg
,
Fiber:
1
g
,
Sugar:
0.7
g
,
Calcium:
30
mg
,
Iron:
2
mg
Lilja Walter is a part of the Omnivore's Cookbook team and worked closely with Maggie to develop and test this recipe.