If you're looking for a super quick and easy veggie dish, make this authentic Chinese tiger salad for a tasty and refreshing addition to your meal!
Tiger Salad: Bold, Clean Refreshing Flavor
As the weather warms up, I'd love to share with you this classic Northern Chinese cold dish called tiger salad.
Made with cilantro, English cucumber, green onions, and green chiles plus simple seasonings, it creates a bold yet refreshing taste that is perfect with the cool, crisp texture.
Easy Cold Dishes: Variety with Minimal Effort
A typical family-style (or restaurant-style) Chinese meal will include a number of cold and hot dishes. This not only provides a sense of balance and variety in terms of temperature, it's also a way to keep the meal from not overwhelming the cook!
By including cold dishes like tiger salad, the cook can easily add something tasty to the spread without spending much more time. The cold dishes can even be made earlier in the day or the day before.
Cold dishes like this may not be common in overseas Chinese restaurants, but they are very much a staple in China.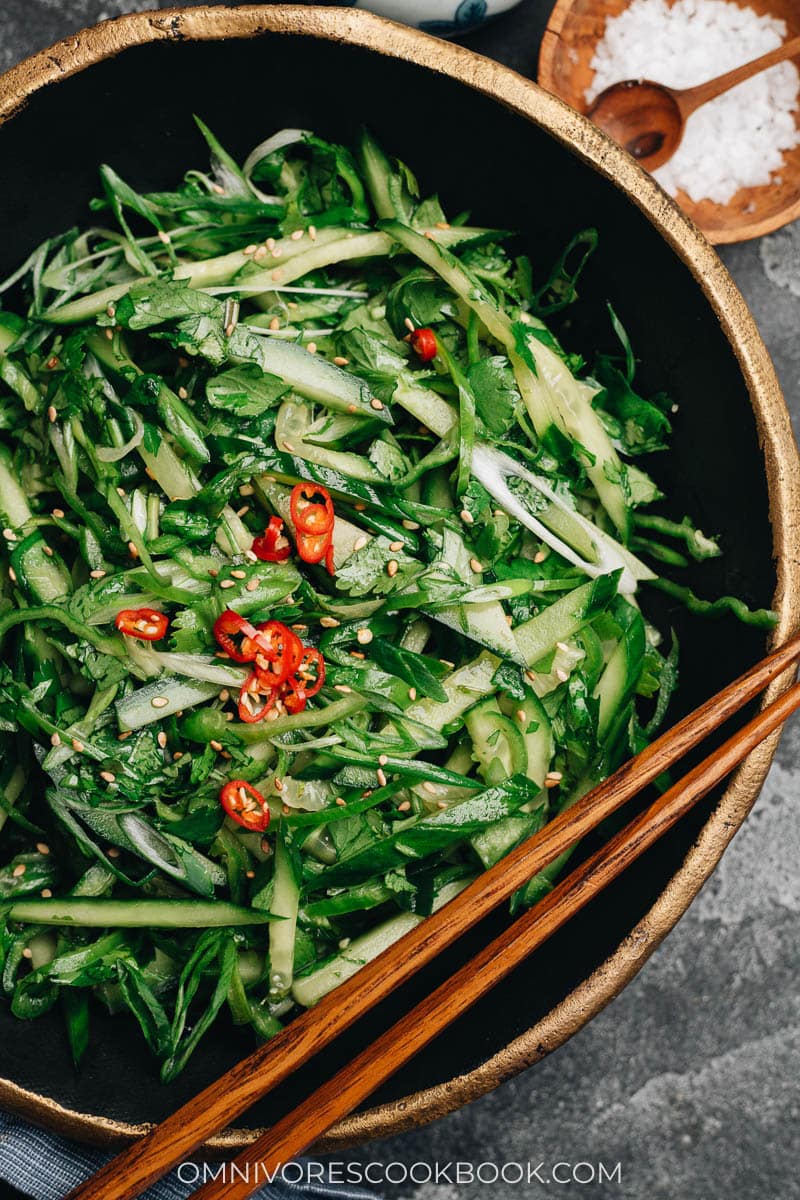 Variations on Tiger Salad
This appetizer has several different versions, though I'm happy to tell you that NONE of them contain tiger. The most common ingredients are the greens that I've included here. In some tiger salad recipes, chefs will use a huge amount of cilantro and green onion to give the dish an extra big kick of fragrance.
Optimizing the Ratios
When we were developing this recipe for tiger salad, we decided to reduce the quantity of those more intense herbs so your mouth won't be overwhelmed when you take a bite.
As for the dressing, it's made from just five ingredients. Those ingredients include rice vinegar, sesame oil, soy sauce, sugar, and salt.
Our goal here was to create balance – giving you a hint of each of the spicy, sweet, sour, nutty, and umami notes but not so much of anything so as to overpower the cooling essence of the dish.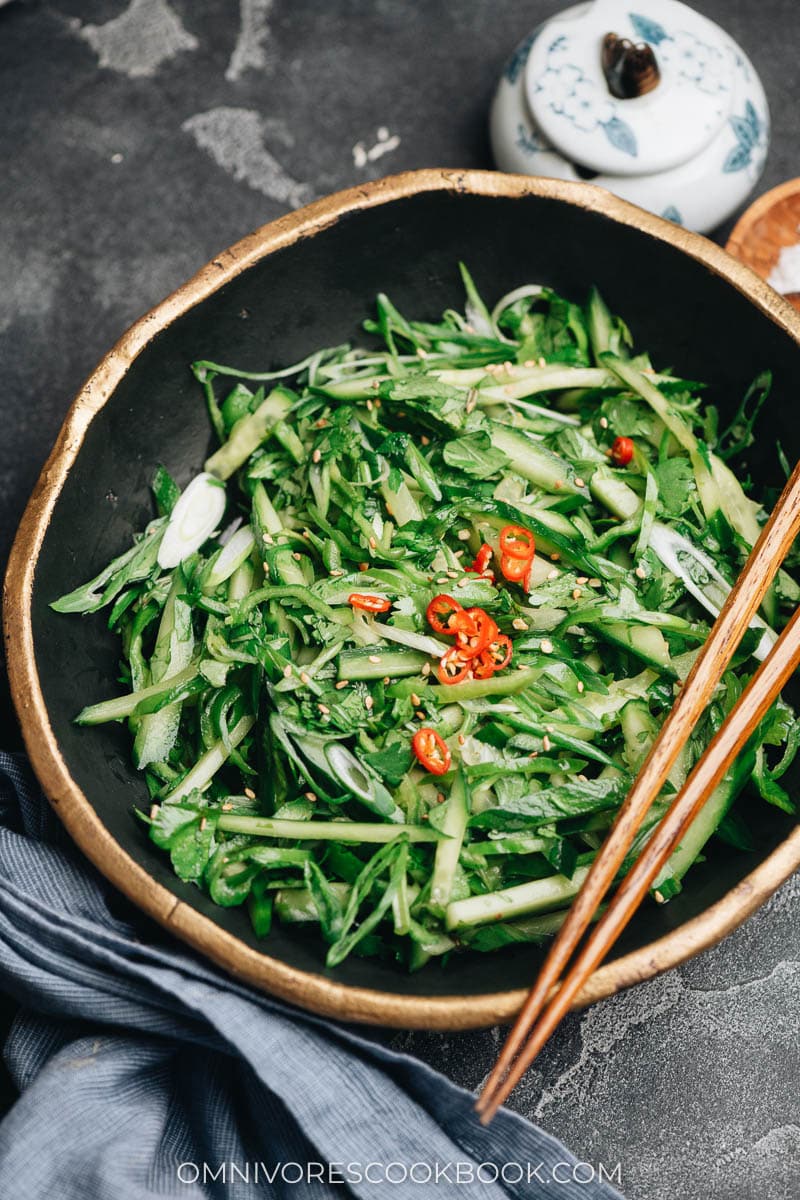 A Note on Knifework
For the best experience, I recommend preparing the veggies using julienne cuts as shown in the photos. It takes a bit more care, but there are some significant advantages to julienning:
It makes it easier to get some of each ingredient in one grab with your chopsticks
The long, thin cuts make for more surface area and better sauce absorption
It looks pretty, and we eat with our eyes before we do so with our mouths 🙂
Super Easy and Perfect for Summer
I know it seems simple, and it is, but once you mix this all together, it has an incredibly refreshing and delicious taste and you'll want to make this dish all the time.
Tiger salad is one of my favorite cold dishes on warmer days. It's a great way to get in your veggies and herbs for better health. If you grow any of these things in your garden, then your tiger salad will be even fresher and more full of flavor.
Versatile for All Occasions
You can make tiger salad in just five minutes, perfect as part of a quick and light lunch. Serve it as an appetizer for dinner on a busy weeknight, or even when you have guests to give them something healthy yet unique.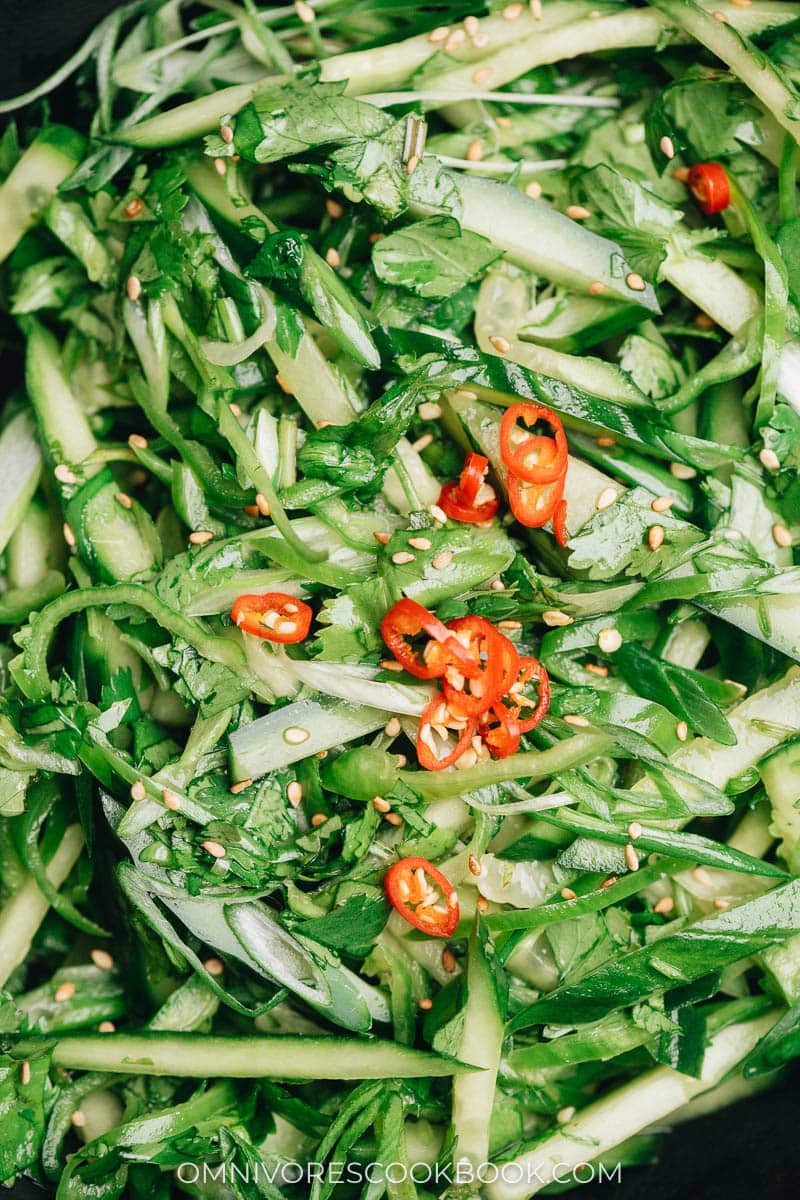 Want to Know More?
Receive our 5-Day Chinese Cooking Crash Course & Recipe Updates! Subscribe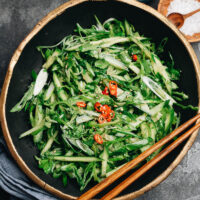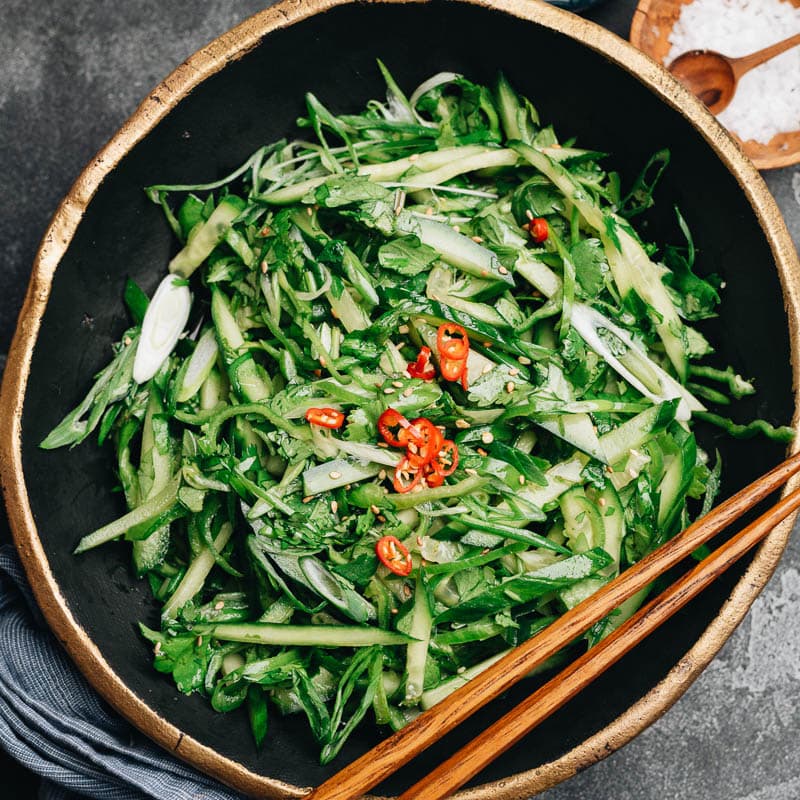 Tiger Salad (老虎菜)
If you're looking for a super quick and easy veggie dish, make this authentic Chinese tiger salad for a tasty and refreshing addition to your meal!
To make the dish gluten-free use tamari instead of soy sauce.
Ingredients
Salad
1

cup

cilantro

, thick stems removed and chopped into 1"(2.5 cm) pieces

1

english cucumber

, sliced to thin strips

1

to 2

anaheim chilis

, thinly sliced (or other long green chilis, depending on desired spice level)

2

green onions

, thinly sliced in a diagonal
Dressing
1 1/2

tablespoons

rice vinegar

1 1/2

teaspoons

sesame oil

1/2

teaspoon

soy sauce

2

teaspoons

sugar

1/2

teaspoon

salt
Instructions
Combine all the salad ingredients in a large bowl.

Add all the dressing ingredients over the salad then toss to coat well.
Nutrition
Serving:
1
serving
,
Calories:
42
kcal
,
Carbohydrates:
5.6
g
,
Protein:
0.8
g
,
Fat:
1.8
g
,
Saturated Fat:
0.3
g
,
Sodium:
333
mg
,
Potassium:
156
mg
,
Fiber:
0.7
g
,
Sugar:
3.5
g
,
Calcium:
20
mg
More Classic Chinese Cold Dishes
Pair with These Authentic 30-Minute Mains
Lilja Walter is a part of the Omnivore's Cookbook team and worked closely with Maggie to develop and test this recipe.