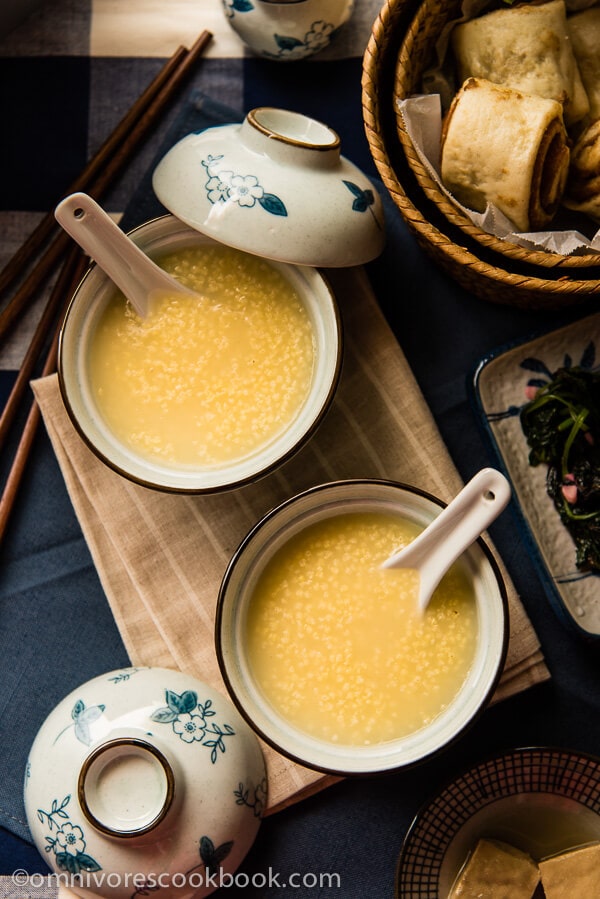 Millet porridge is an easy, comforting, and versatile side on the Chinese dinner table. Season it with sugar, pickled vegetables, or cheese; this porridge goes well with nearly any type of main dish.
Millet porridge is one of the most important side dishes in Chinese home cooking, and we serve it from breakfast to dinner. We usually cook a handful of millet in a big pot of water, until the millet is tender and the broth creamy. Then we serve it as a simple soup, seasoned with a pinch of sugar, or with a small cold dish, such as pickled vegetables or fermented tofu. No matter whether you're eating a fluffy pork bun, a piece of steamed fish, or some braised pork, the warm and creamy porridge helps you wash down the food with such a comforting feeling – as satisfying as washing down a medium rare steak with a sip of wine.
Soup is an important part of Chinese cuisine. For a lot of families, soup is served on the dinner table every day. Different from most Western style soups, the soups we cook daily are very simple. They usually contain just a few ingredients and take practically no time to cook.

MY LATEST VIDEOS
This millet porridge belongs to that genre.
Actually, since it's so cheap to make, street food vendors and most lunch cafeterias give it out for free, as a side dish for a lunch set menu, a plate of dumplings, or a rack of steamed buns. If you're eating a heavy or meaty main dish, the porridge will clean your palate and help with digestion. If you're eating a very light meal or are on a diet, the porridge makes your stomach feel full and satisfied.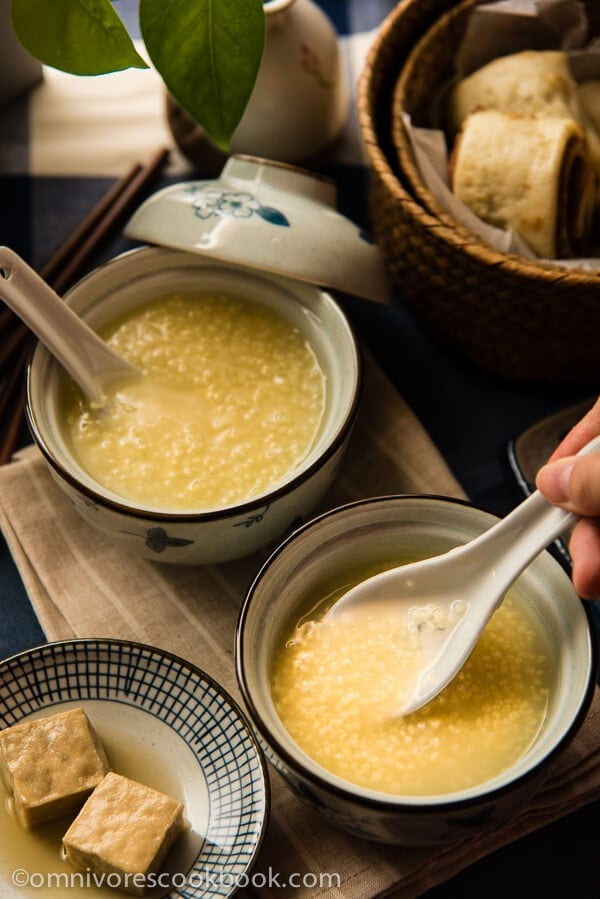 Cooking millet porridge is brainless and easy. You just need to throw the millet into boiling water and let it cook for 30 minutes, then it's ready to serve. The only thing to note, is to add the millet after water is boiling and skim the foam from the top. This way, the millet won't spill easily during cooking.
To prepare a dinner, you could start by cooking the porridge first, then prepare a stir-fry or a simple salad. With some pre-made steamed buns or bread, you can finish preparing a three-course dinner for two in 40 minutes. If you're cooking for four people, prepare some braised meat ahead of time (or on the weekend) and reheat it in a steamer. You'll probably still finish preparing dinner in 40 minutes or so. The great thing about this combo is that even if you make a main or appetizer from a different cuisine, like a green salad or hummus with toasted bread, the dishes will still go perfect together.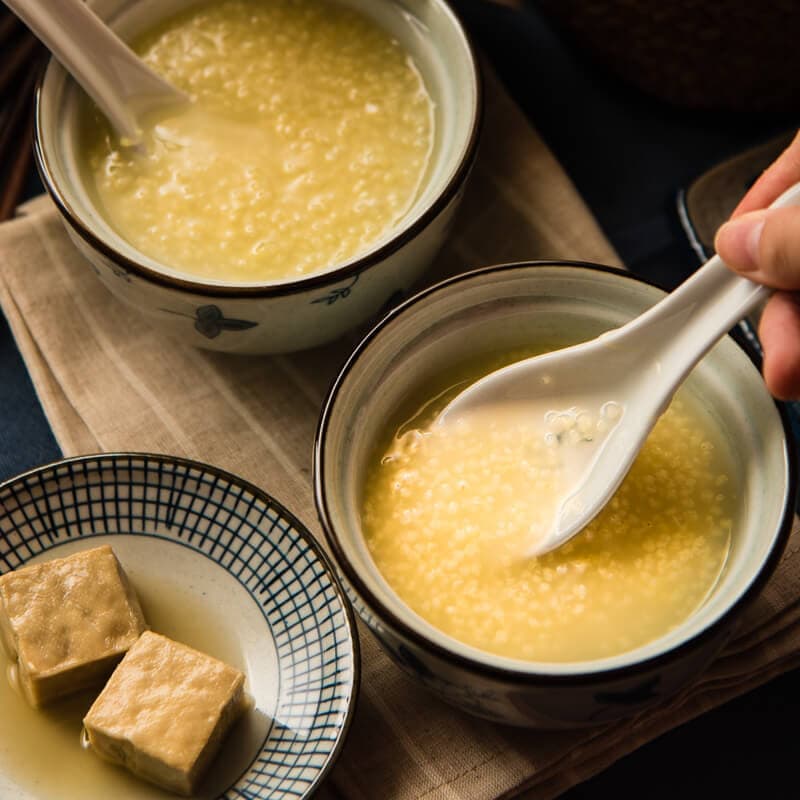 Menu ideas
Millet porridge (seasoned with sugar)
Millet porridge (serve with pickled vegetables)
Millet porridge (seasoned with parmesan cheese)
Print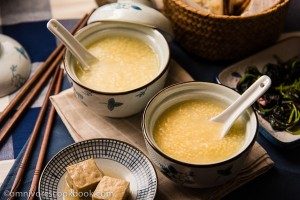 Simple Millet Porridge (小米粥)
---
Author:

Prep Time:

5 mins

Cook Time:

30 mins

Total Time:

35 mins

Yield:

4

-

6

1

x
Category:

Side

Cuisine:

Chinese
Ingredients
For the porridge
120

grams (1/2 cup) millet (*see footnote)

2

liters (8 cups) water
To serve with
Sugar
Fermented tofu
Pickled vegetables
Parmesan cheese
---
Instructions
Rinse millet a few times with tap water and drain.
Add water to a medium-sized pot and bring to a boil.
Slowly add millet to the pot.
Continue cooking until the water returns to a boil. Turn to low heat. Use a ladle to skim the foam from the surface, so the porridge won't spill during cooking.
Cook while keeping the porridge boiling, but not too fiercely, for 30 minutes. Stir the porridge several times after 20 minutes, so the millet won't stick to the bottom of the pot.
If you want a thicker porridge, keep cooking after 30 minutes are up, and stir the porridge constantly as it thickens, about 10 minutes.
The porridge is ready when the millet is tender but still keeps its shape.
How to serve
(Option 1) Sweet porridge – Transfer the porridge to serving bowls and add sugar to taste.
(Option 2) Savory porridge – Serve warm with pickled vegetables or fermented tofu.
(Option 3) Cheesy porridge – Grate parmesan cheese into the porridge while it's still hot.
Notes
1. This amount of millet yields a creamy porridge that is not too thick nor too thin. For a soupy porridge, use 80 grams (1/3 cup) millet instead (my family's favorite). For a thicker porridge, cook the porridge a bit longer until it thickens, about 10 minutes.
The nutrition facts are calculated based on 1 of the 6 servings generated by this recipe.