This easy home-style Chinese recipe combines tender stir-fried pork, bright green garlic chives, and a simple yet satisfying savory sauce.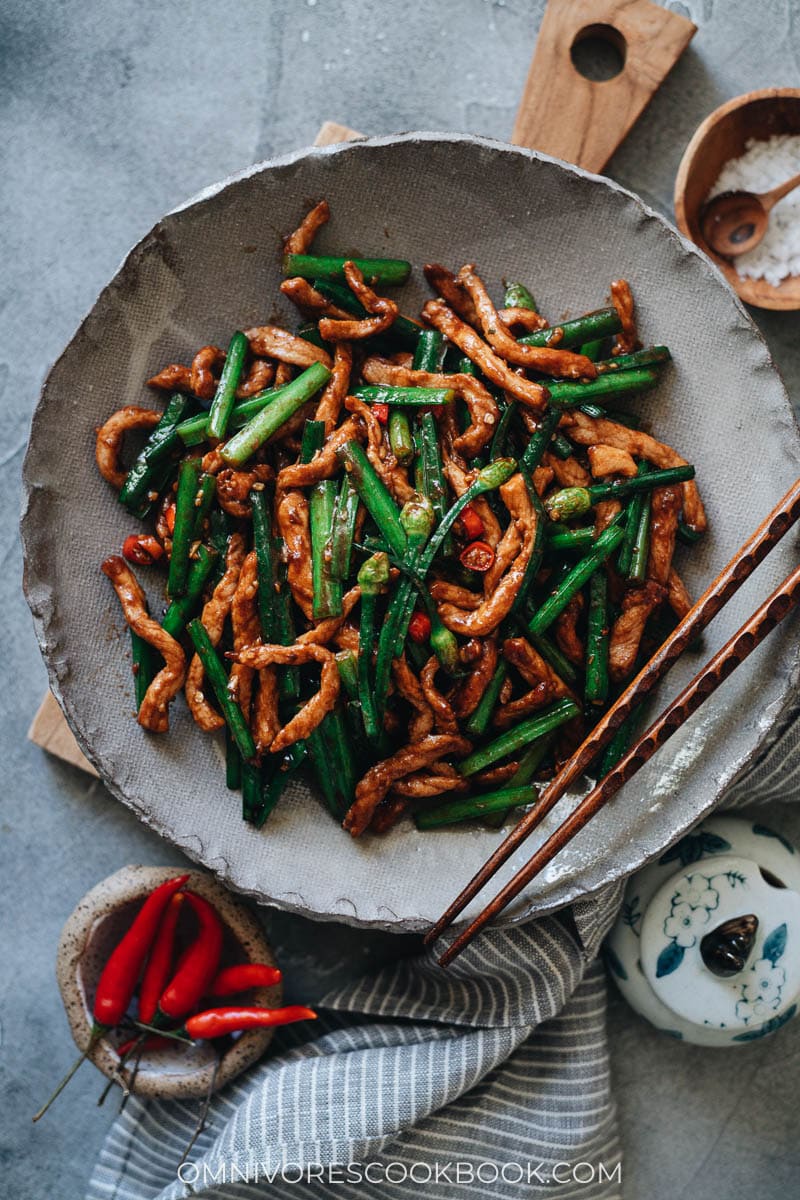 What Are Garlic Chives?
There are a few varieties of chives in Chinese cuisine and the nomenclature can be confusing. Namely, there is the thin, flat Jiu Cai (韭菜, Chinese chives), which are a common ingredient in dumplings. They require a shorter cooking type and will turn soft once cooked.
The garlic chives in this recipe are also called flowering chive, flowering leek, or leek flower (Jiu Cai Hua, 韭菜花). It has a hollow stem and an unopened flower bud on top. It's a key ingredient in a fermented sauce which is commonly used in hot pot dipping sauce. Cooked normally, they will be semi crisp and soft while keeping their shape.
And the other one is garlic sprout, or garlic scrape (蒜苔, Suan Tai). It has a round stem. Once cooked, the stem will taste meaty and crisp, similar to the texture of cooked asparagus.
All of them have a pungent taste that combines notes of garlic and chives, which I consider very convenient, since you only need to cut one vegetable to get the taste of both. If I had to rank them in terms of flavor, Chinese chive and garlic chive are more pungent, while the garlic sprout is on the milder side.
You can actually interchange and use either of the varieties in this recipe, which we often do in China. But they do require slightly different cooking times and the texture at the end will be very different.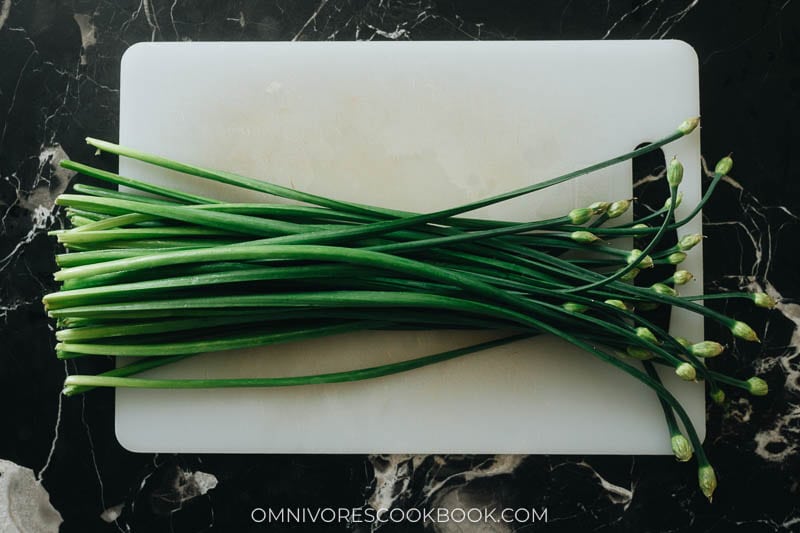 Why You Should Try Garlic Chives
Using them in your cooking really gives a unique flavor, especially in a stir fry like this one, lending both the nuttiness of toasted garlic and the grassy flavor of chives. It's one of my favorite ingredients whenever I can find it. It's like adding green onions and garlic to your meal without the need for mincing.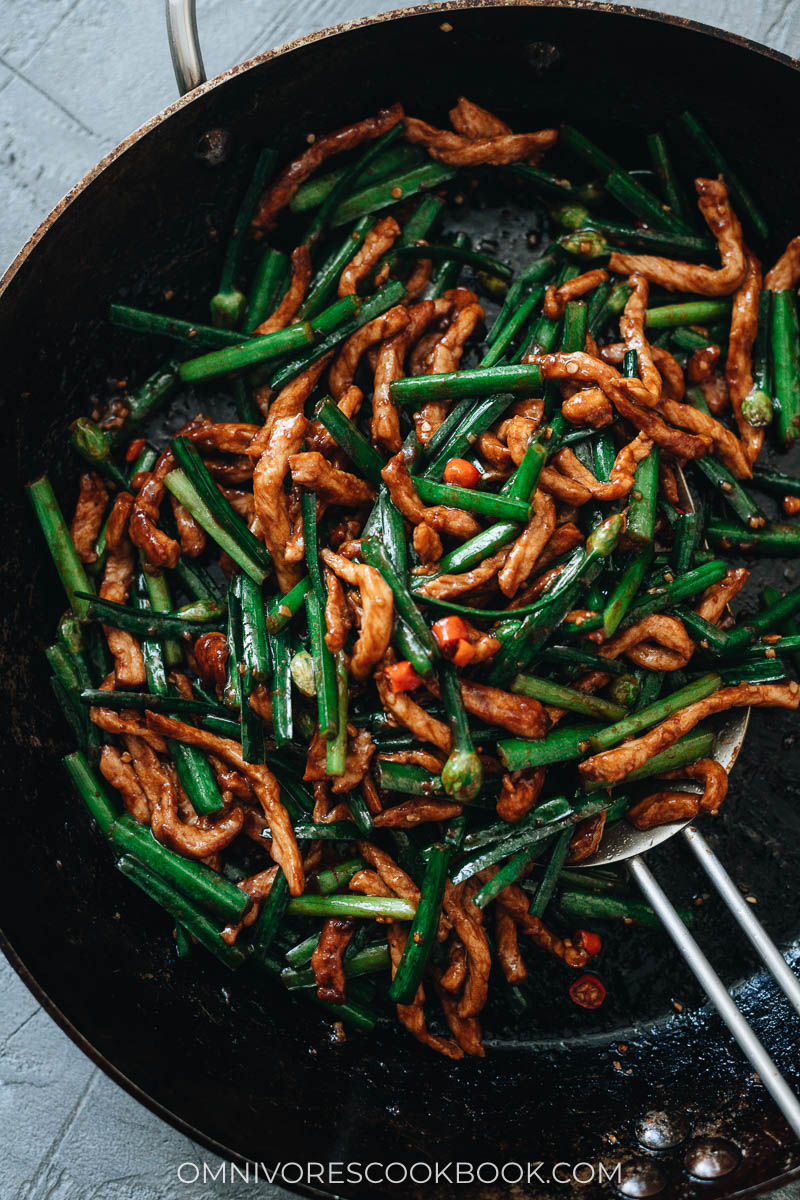 So you get a green vegetable plus garlic flavor all in one. You can use them many ways in your cooking, plus they're really great for your digestive system, help promote circulation, and are a natural diuretic. You've got to try them!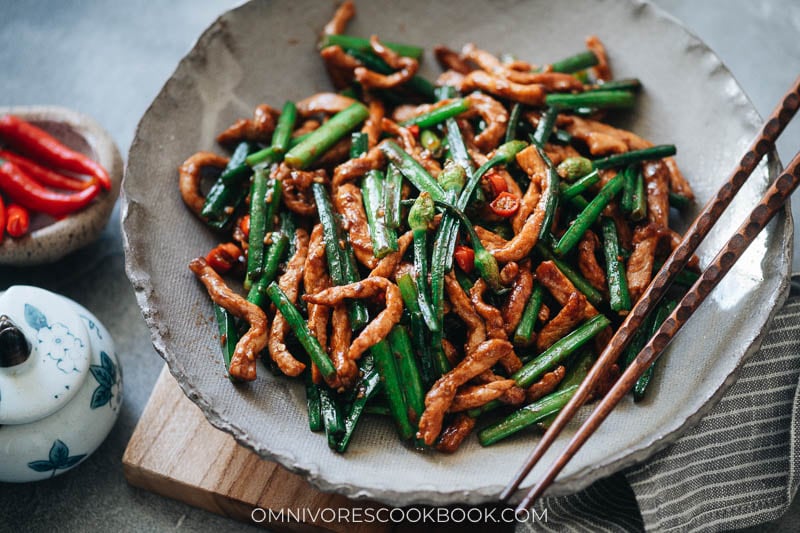 Cutting the Pork for the Best Texture
For this garlic chive stir fry, you want the best texture to accompany this unique vegetable, and the texture of finished pork can vary tremendously depending on how you cut it. That's why I recommend that you cut the pork into thin slices so it is more similar to the shape of the garlic chives. This way, it will cook evenly and be easy to chew. And each piece will be just the right size for you to grab a piece of both pork and chive in each bite.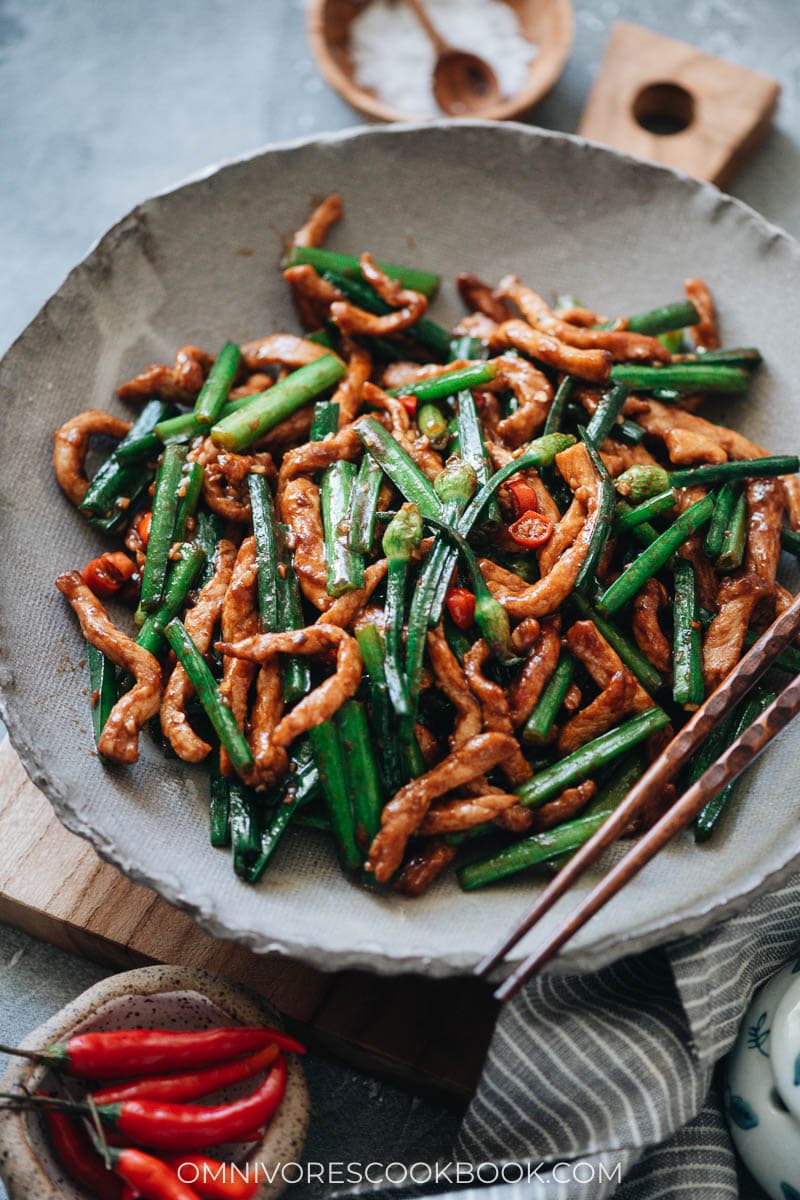 My favorite way to prepare the meat is to get a pork chop, slice it horizontally into thin slabs, and then cut those slabs into strips. However, if you have pork loin or tenderloin, you can easily slice either of those up to get that thin texture you need.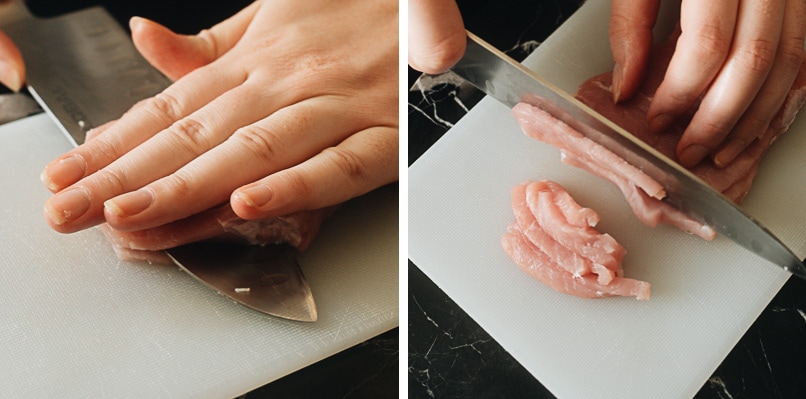 How to Make the Garlic Chive Stir Fry
The dish is a pretty straightforward stir fry. You'll want to start by cutting the garlic chives as shown below.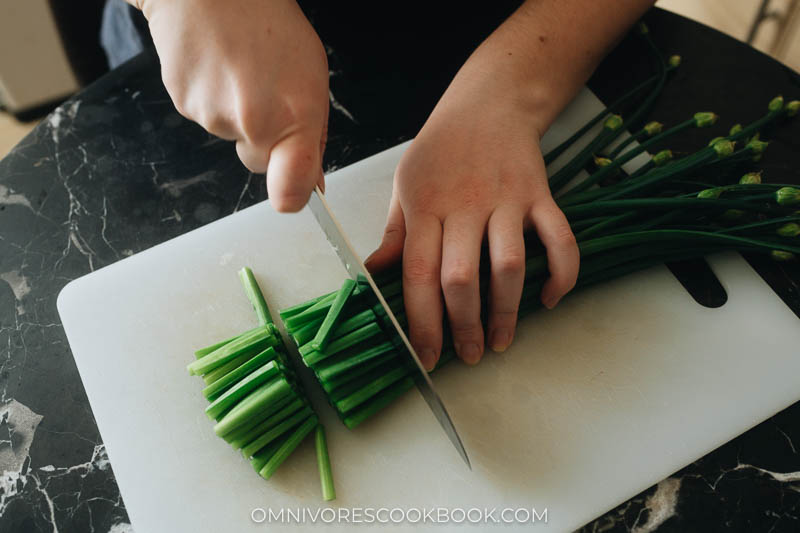 From there, cut the pork as previously mentioned, marinate it, mix up the sauce, and set up your mise-en-place like this: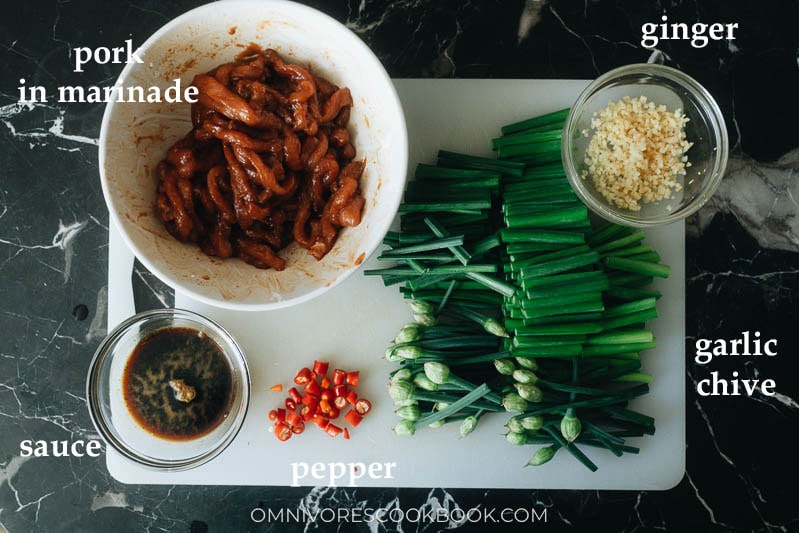 Once everything is ready to go, you'll heat up the pan and stir fry the pork first. It doesn't take much time until you're ready to add the garlic chives along with it. Continue cooking them both together, and they will both be properly cooked around the same time.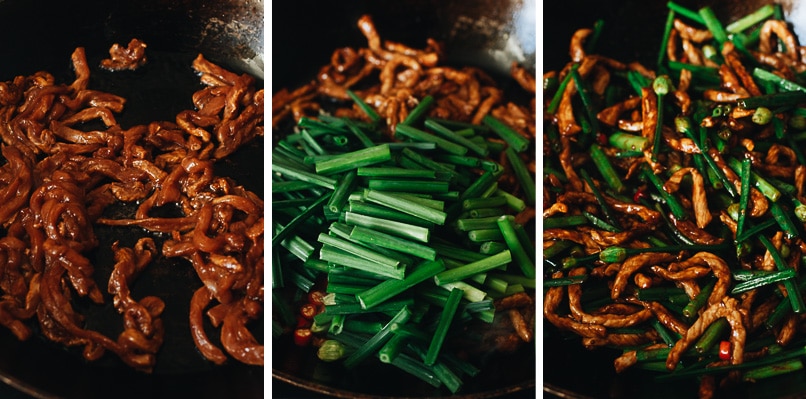 Quick Enough For Any Night of the Week
You'll love this garlic chive stir fry on top of steamed rice for a fully delicious and nutritious meal. Plus, it takes so little time to put together, it will definitely make your regular weeknight dinner rotation!
Want to Know More?
Receive our 5-Day Chinese Cooking Crash Course & Recipe Updates! Subscribe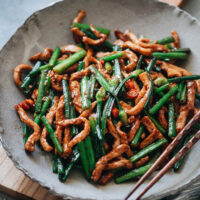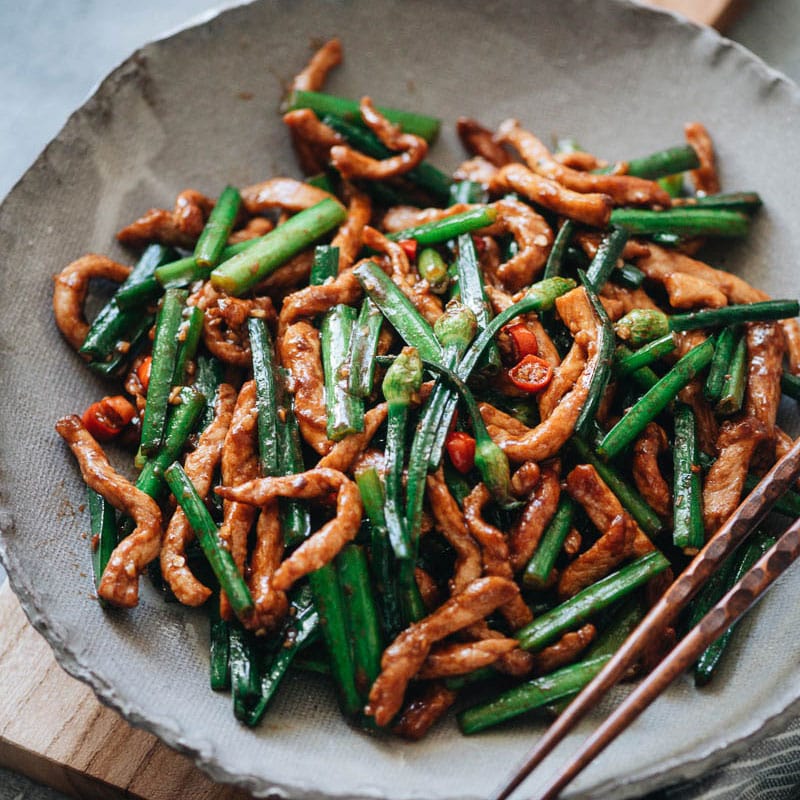 Pork and Garlic Chive Stir Fry
This easy home-style Chinese recipe combines tender stir-fried pork, bright green garlic chives, and a simple yet satisfying savory sauce.
Ingredients
Pork & marinade
8

oz (225 g)

pork loin

(or chop), sliced into thin strips

1/4

teaspoon

sugar

2

teaspoons

dark soy sauce

(*Footnote 1)

2

teaspoons

Shaoxing wine

(or dry sherry)

2

teaspoons

cornstarch
Sauce
1

tablespoon

water

1

teaspoon

dark soy sauce

(*Footnote 1)

1/2

teaspoon

chicken bouillon powder

1/2

teaspoon

sugar
Stir Fry
1

tablespoon

peanut oil

1

" (2.5 cm)

ginger

, minced

4

Thai chilis

, chopped (or 1 small jalapeno, diced) (*Footnote 2)

8

oz (225 g)

garlic chive

, chopped into 2" (5 cm) pieces
Instructions
Add the pork with the sugar, dark soy, and wine in a small bowl. Mix until the liquid is absorbed. Add the cornstarch and mix again. Marinate for 15 minutes while preparing the rest of the ingredients.

Combine the sauce ingredients in a small bowl and set aside.

Heat a large skillet with peanut oil over medium high heat until hot. Spread out the marinated pork to the pan with as little overlapping as possible. Cook undisturbed for 30 seconds, or until the bottom is cooked. Flip the pork. Immediately add the ginger, Thai chilis, and garlic sprouts. Continue stir and cook for 1 minute.

Pour the sauce into the pan. Stir and cook until the sauce is reduced and coated to all the ingredients. Immediately transfer everything to a serving plate to prevent overcooking.

Serve hot over rice as a part of a multi-course meal or as a light main dish
Notes
You can use regular soy sauce to replace the dark soy sauce. Although I highly recommend the dark soy sauce if you have any. It adds a nice dark brown color and a light caramel taste to the dish.
You can use other types of chilis as well or skip it all together. The chilis adds a nice kick to the dish and I really enjoy it. But it's totally fine if you do not like spicy food.
Nutrition
Serving:
1
serving
,
Calories:
203
kcal
,
Carbohydrates:
7.1
g
,
Protein:
17.8
g
,
Fat:
11.7
g
,
Saturated Fat:
3.6
g
,
Cholesterol:
45
mg
,
Sodium:
212
mg
,
Potassium:
459
mg
,
Fiber:
1.7
g
,
Sugar:
3
g
,
Calcium:
66
mg
,
Iron:
2
mg
More Homestyle Stir Fries
Lilja Walter is a part of the Omnivore's Cookbook team and worked closely with Maggie to develop and test this recipe.