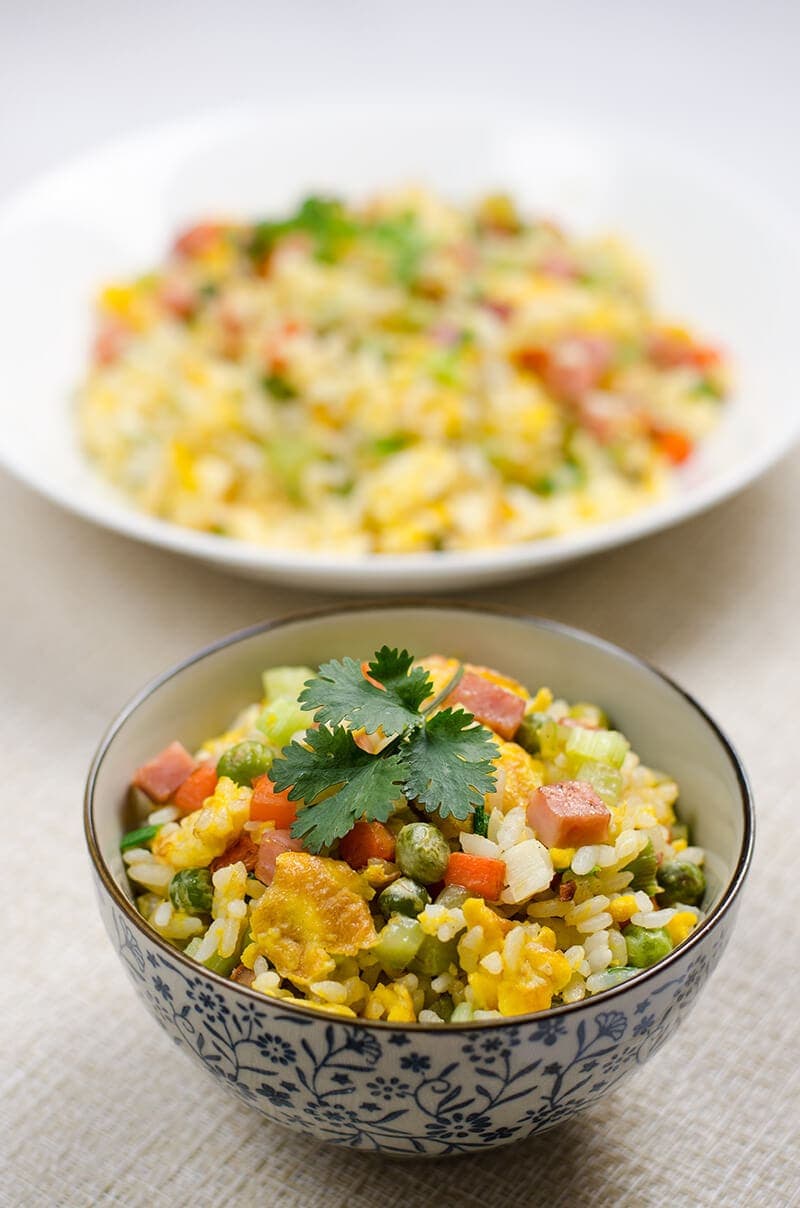 Vegetable Egg and Ham Fried Rice is a classic Chinese staple dish. It's super easy to cook, delicious, and fast enough to prepare for a weekday dinner. It's also a good way to use leftover rice and vegetables, and you can even use frozen vegetables if you want to skip the washing and chopping. The type of vegetables to be used in fried rice is totally flexible. I chose several types to make the dish healthier and more colorful, but you can choose any combination you like.
Fried rice a very simple dish, but you might want to check out the tips below to cook a better dish.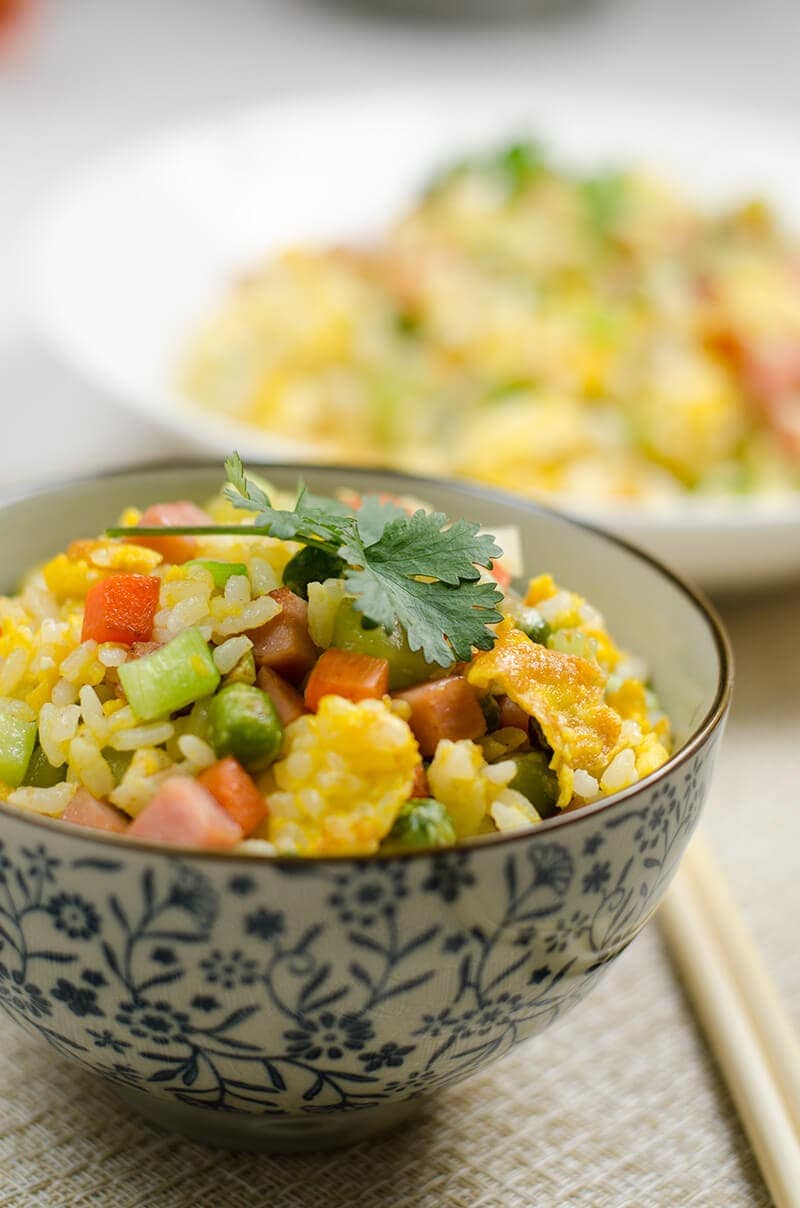 1) Use a lot of green onion. Green onion has a pungent flavor and adds great depth to a simply seasoned dish like this. Do not be afraid to add too much green onion. The green onions will be sweet and mild as long as they're cooked through.
2) Cook the egg first, then add the rice when the egg is half-cooked. This way, you can get the mouthfeel of both egg and egg-coated rice at the same time, without making the rice soggy. (View detailed instructions in the recipe below)
3) Cook the vegetables through before adding them into the rice. The rice will take up most of the space in the skillet and the temperature of the metal will drop when the rice is added. Therefore, the vegetables will be difficult to cook through later on. Half-cooked veggies will result in either a raw-tasting dish or soggy rice. To avoid this – (1) Cut the veggies into evenly sized, small pieces. (2) Add vegetables in order of texture. Cook the toughest ones first, then add the ones that are easier to cook through.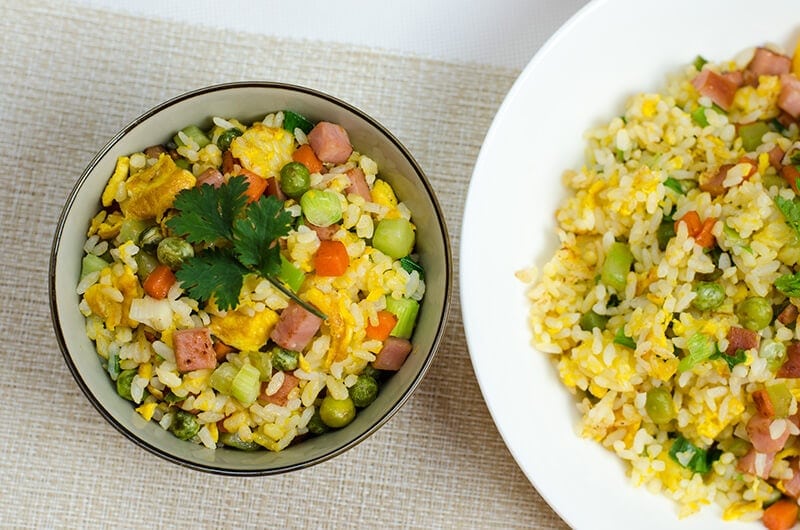 Vegetable Egg and Ham Fried Rice
(1) I used quite a lot of vegetables in this recipe to make it healthier. You can add 1 more cup of rice to make it serve 3 people.
(2) Cube the carrot, cucumber and ham to be the same size as a pea, so they will be easier to cook through.
(3) You can use frozen vegetables instead.
Print
Rate
Ingredients
2

tablespoons

vegetable oil

1/2

cup

diced carrot

1/2

cup

shelled peas

1/2

cup

diced cucumber

1/2

cup

diced ham

3

eggs

beaten

1

teaspoon

salt

2

cups

cooked white rice

frozen or refrigerated overnight works best

1/2

cup

chopped green onion

or white onion

1/2

teaspoon

chicken bouillon powder
Instructions
Heat 1 tablespoon oil in a large nonstick skillet over medium high heat. When oil is hot, add carrot and peas and stir fry until half cooked, about about 3 minutes. Add cucumber and ham and stir fry until the vegetables are cooked through and slightly charred on the surface. Turn to lowest heat. Transfer the vegetables and ham to a plate and set aside.

Combine 1/2 teaspoon salt and eggs in a small bowl, mix well.

Add 1 tablespoon oil to the same skillet and heat until warm over medium high heat. Pour in egg and cook until the bottom is set but the top side is still raw. Add rice on top of egg and spread it with a spatula, so the rice will be coated with egg mixture. Cook for another minute until the bottom side of the egg turns golden brown. Use a spatula to break the rice into smaller morsels. Stir until the rice becomes hot and the egg is fully cooked. If you prefer the rice to be crispy, fry for a bit more time until it turns golden.

Add green onion into rice and stir a few times. Add cooked vegetables back into skillet, sprinkle with the remaining 1/2 teaspoon salt and the chicken bouillon powder. Stir fry for 1 to 2 minutes until mixed well. Use a spoon to taste the rice and season with more salt if necessary.

Serve warm.
The post was updated 17 November 2014.