Everything you need to know about making fresh steamed dumplings dough from scratch, dumpling filling, the working process, and how to cook and store, with step-by-step photos and video.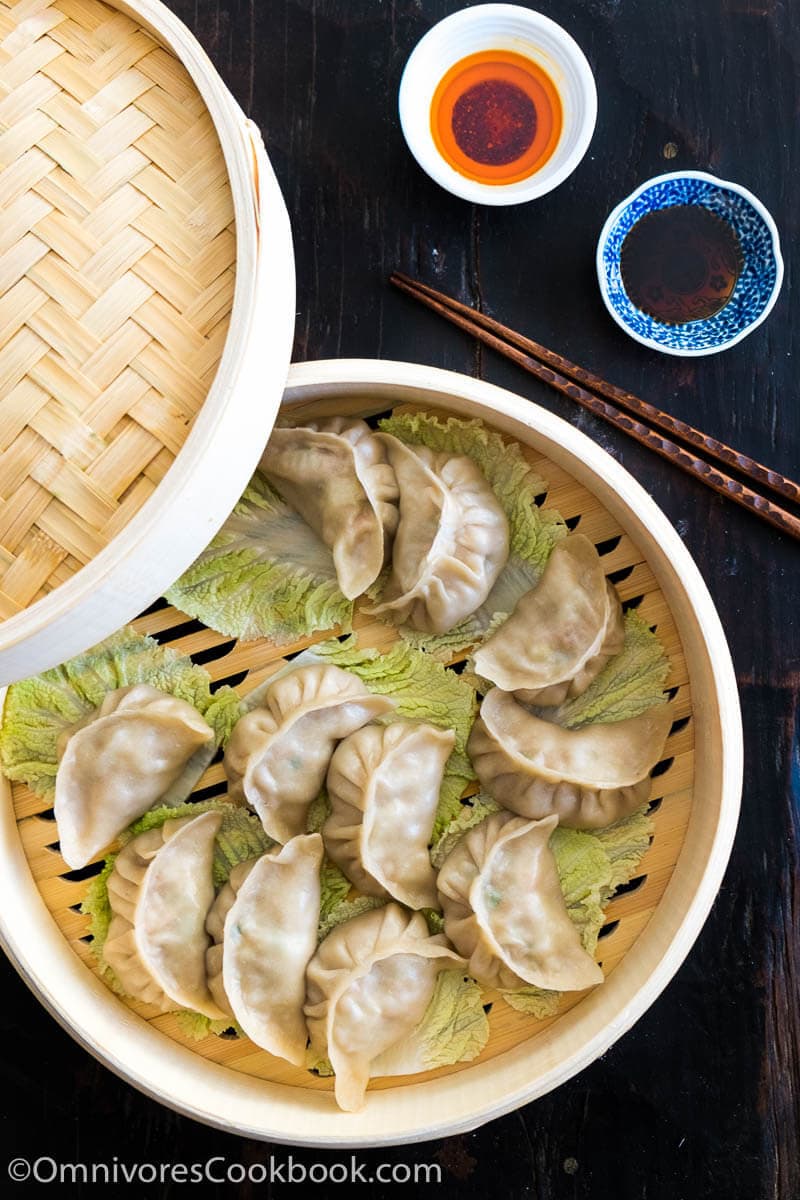 Since I wrote about how to make dumpling dough for boiled dumplings (the most common type in northern Chinese cuisine), I've received a lot of requests for steamed dumplings dough recipe.
In my last homemade dumpling post, I mentioned that dumpling making requires teamwork as it's quite tough to work alone. However, the task seems less daunting even when you're a one-person team in the case of steamed dumplings.
Steamed dumpling dough is easier to roll and shape.
You can make bigger dumplings, which equals less work.
It won't cause a big problem even if the dumplings didn't seal tightly.
Steamed dumplings are a great starting point if you want to take up challenge of making fresh dumplings for the first time.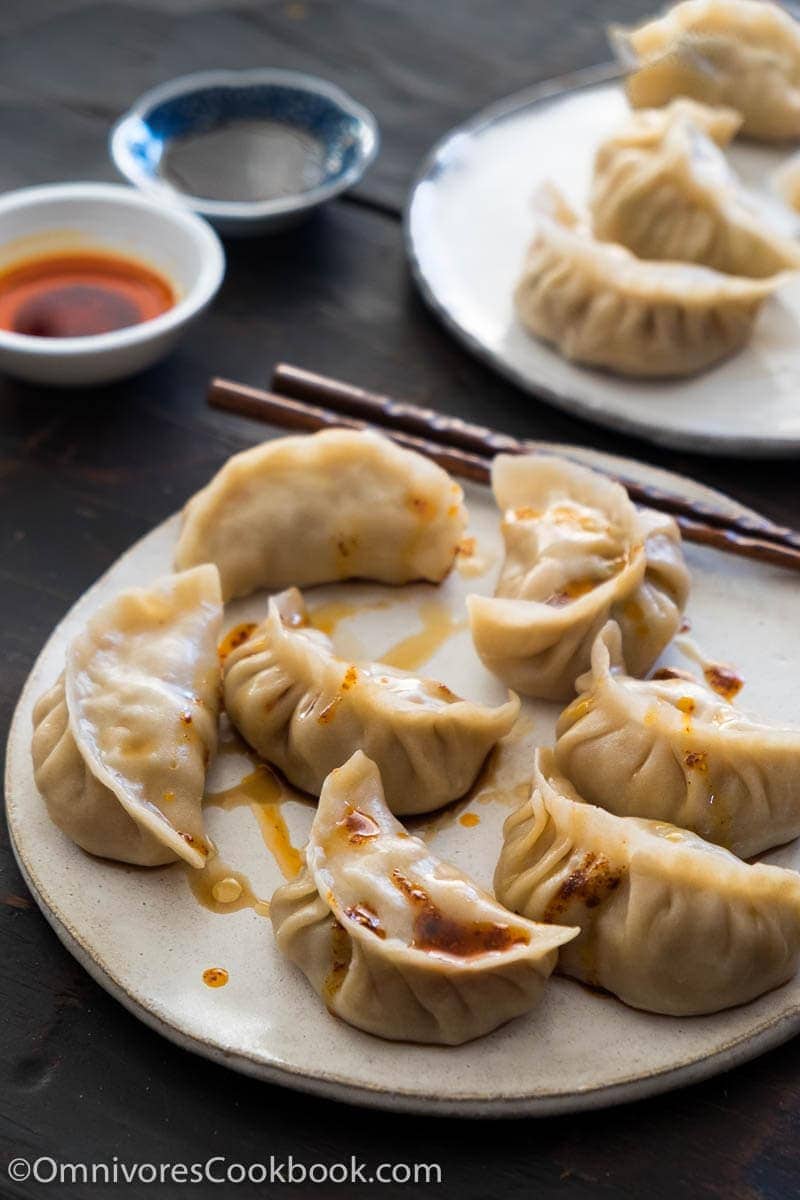 Steamed dumplings dough
To understand steamed dumpling dough, we need to look at boiled dumpling dough and why it's different.
Water boiled dumplings (水饺, shui jiao) call for room temperature water to form the dough. In the process of adding water and kneading, the two major proteins in the flour – glutenin and gliadin, will form gluten. Gluten is a stretchy protein matrix which gives dough its structure, and resulting in a chewier texture once cooked. The more you knead the dough, the tighter and more elastic it becomes. Once you finish working with boiled dumpling dough, you need to let it rest for at least an hour or longer to allow the gluten to relax. Otherwise the dough will spring back when you stretch it, and be extremely difficult to roll out into a thin wrapper.
In the case of water boiled dumplings, we use the cold water dough so the dumplings will stay sealed during the cooking process. It results in slightly chewy dumplings that give a better mouthfeel.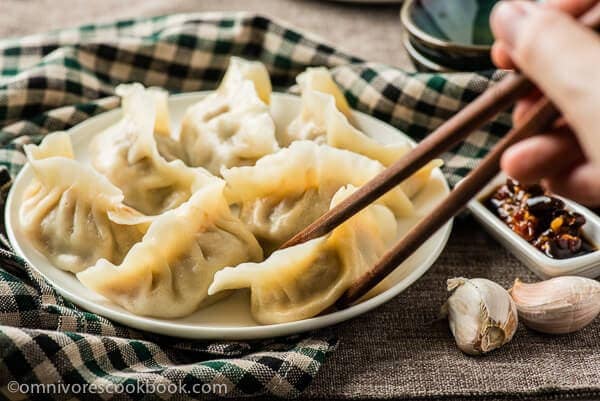 On the other hand, steamed dumplings use hot water dough (烫面, tang mian). By adding boiling water, you will cook the proteins and smash them into small pieces. In this process, the flour will end up absorbing more water but the texture of the dough remains tough. Due to the higher water content, the dumplings remain tender after steaming (the dumplings wrapper tend to taste very tough if you use cold water dough to make steamed dumplings). The finished dough will not be as stretchy and elastic as cold water dough. That's why the dough is much easier to work with and roll out.
The beauty of steamed dumplings is that you can make slightly bigger dumpling wrappers without worrying them falling apart during cooking. For example, the standard boiled dumpling wrapper is about 7 to 8-cm (about 3") in diameter, whereas the steamed dumpling wrapper can be 10 to 11-cm (about 4") in diameter. You can make 80 boiled dumplings with 500 grams (1 pound) flour, but only about 45 steamed ones.
Steamed dumpling dough is great for vegetarian dumplings and dumplings filling with more vegetables (for example pork dumplings with cabbage). The larger wrapper makes the process easier, and you can add more vegetables into the dumplings to make them healthier.
Even if it is your first time wrapping dumplings and you cannot stuff a lot of filling into the wrapper, you still end up with a very decent and delicious result. If you're hosting a dinner party, you can almost halve the working time because less wrappers need to be rolled and sealed. Even better, because of the low gluten development, you can work with the dough straight out of the fridge. You can prepare the dough ahead of time, and work on it anytime when you're ready.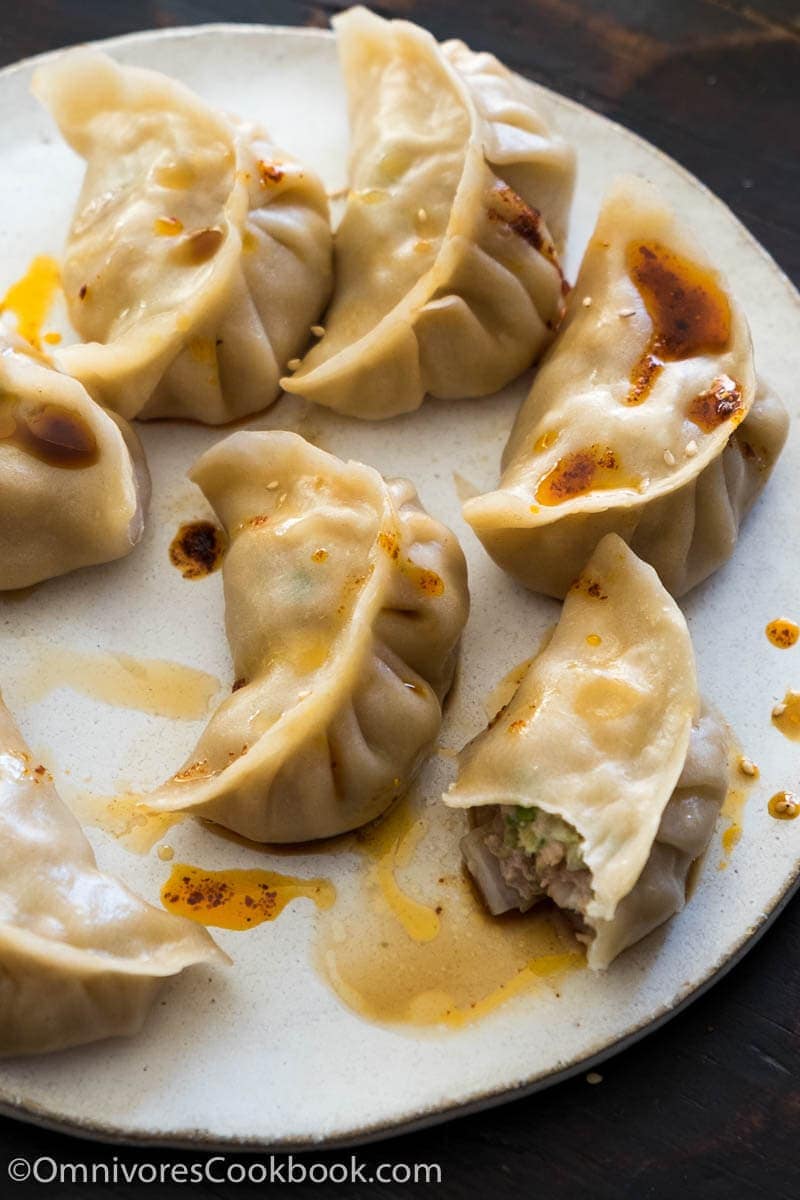 The workflow & cooking notes
There are a few things to keep in mind when it comes to making dumplings.
Dumpling filling
(1) Select ground meat that contain good amount of fat.
The majority of Chinese dumplings are made with ground pork, and many dumplings use lamb. They are both great in flavor and contain good amount of fat. I always make sure the ground meat contains at least 20% fat. You can use ground meat with higher fat content as well. The fat will keep the dumplings juicy and tender. If you use lean meat, the filling will end up tight and dry.
You can also choose ground chicken or beef with correct lean fat ratio. I personally like to use turkey meat instead chicken for dumpling filling because you can choose a fattier type (15% fat), and the meat itself is more flavorful. Most Chinese restaurants mix fatty pork into the chicken dumplings, to make them juicy enough. Same idea when using ground beef. Just like making burger, a fattier ground meat prevent the cooked meat from drying out.
(2) Another great way to create juicy and delicious dumpling filling is to add vegetables.
Ingredients such as carrots, bamboo shoots, bean noodles, corn, peas, and mushrooms are often added to create a more interesting texture. Vegetables that have a higher water content, such as napa cabbage, zucchini, and radishes, are often used to create a juicy filling.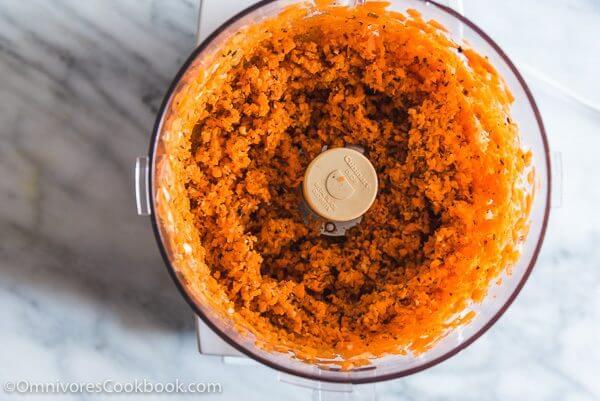 (3) Choose fresh ingredients and use only enough seasoning to bring out the flavor of the ingredients.
Just like cooking a premium cut of steak, you only need salt and pepper to highlight the steak itself. When making dumplings we usually use a few basic seasonings such as soy sauce, Shaoxing wine (very important), white pepper, salt, and sesame oil. You want to taste the freshness of the dough and the filling. Not overpower the dumplings with heavy seasonings.
(4) Marinate the ground meat a few hours prior to wrapping.
Marinating allows the seasonings to penetrate the meat evenly so the dumplings will be more flavorful without adding too much salt. Some seasoned cooks also beat ginger water into the ground meat during this step to make the filling juicer (same idea as injecting water into chicken before grilling).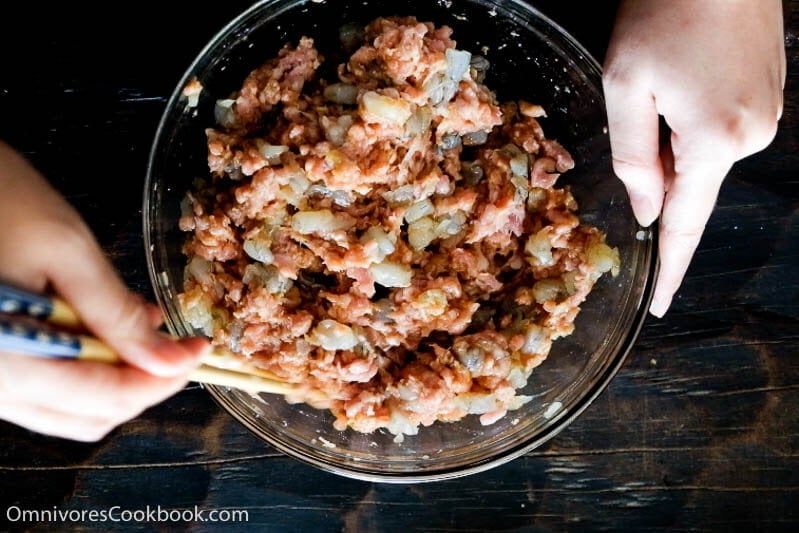 (5) Only add vegetables when you're ready to wrap dumplings.
If you add them too early, the moisture from the vegetables will seep out due to the salt content, and cause the filling to become watery. It becomes difficult to work with the dumplings as the dumplings tend to fall apart during cooking.
(6) Create soup-dumpling-like texture.
We're not talking the real soup dumplings (小笼包, xiao long bao), rather a juicy dumpling. It means, once the dumplings are just off the stove and still hot, you should see juice coming out of the dumplings after one bite. The juice won't be as abundant as soup dumplings, but it tastes just as great. It is my favorite part when eating homemade dumplings.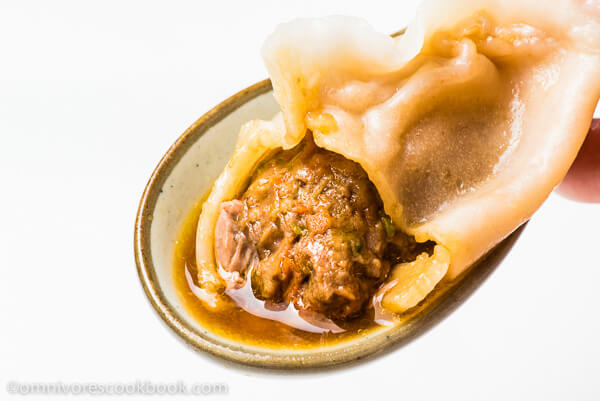 The juice comes from the vegetables and the fat content you add into the filling. My parents usually use high water content vegetables, such as zucchini and napa cabbage, without squeezing water out before adding them to the filling. You need to work on the filling very fast (usually with a team) before it turns watery. In return, you get "soupy dumplings" every time you make dumplings.
When I make the pork and cabbage dumpling recipe, I squeeze the water out to make the recipe easier. You'll see in the picture below that the dumplings are quite juicy.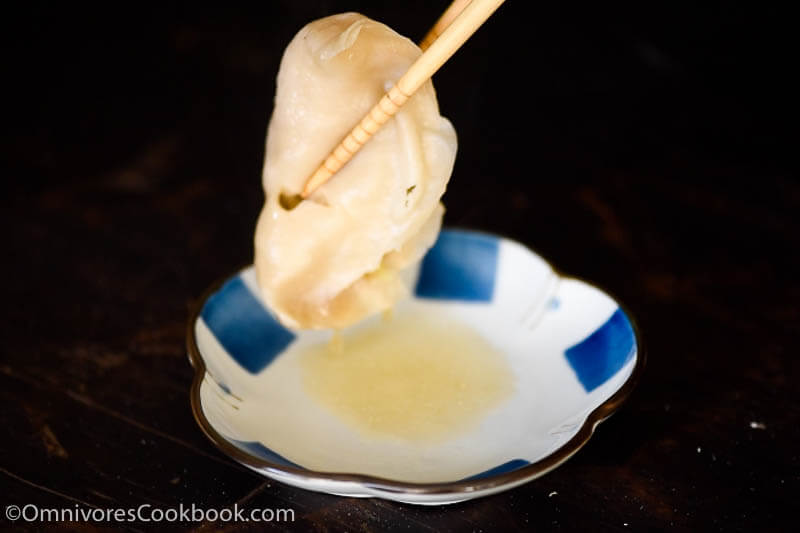 Dumpling dough
(1) You can either use a mixer or knead with your hands.
To learn the proper way to create the dough by hand, check out this video. Alternatively, I like to use my KitchenAid to knead the dough. It makes the task so much easier.
(2) When it comes to the texture of the dough, use your judgement instead of blindly following a recipe.
I've tried my best to use accurate measurements in this recipe. But depending on the flour, you might need to use more or less water. The best way is to judge is the dough flakes when the water is incorporated into the flour, and before they form a dough. If the dough flakes feel tough, flaky, and difficult to shape, add more water. If the dough flakes feel sticky and too tender, you can add more flour. Once the dough is formed, it's easier to correct a soft dough by adding more flour than vice versa.
I've tried working with tender and tough dough. They both work.  Soft dough is easy to roll, and the dumplings will turn out tender after cooking. But the wrapping process can be challenging and the dumplings won't look very pretty. Tough dough is slightly more difficult to roll out, very easy to work with, and the cooked dumplings will look pretty. But they will be a bit chewier.
After a few tries, you want to adjust the dough texture according to your own taste and cooking habit.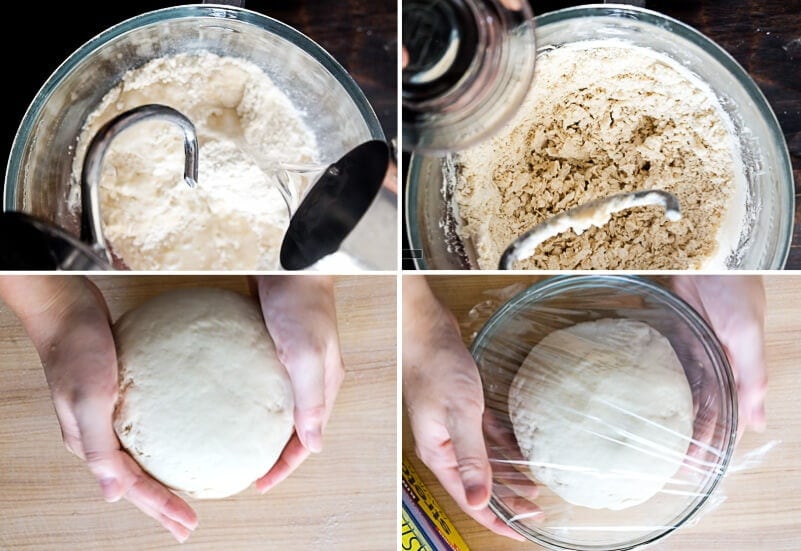 (3) Always remember to wrap the dough when not using it, and cover the dumplings wrappers to keep them from drying out.
Place the dough in a oiled bowl and cover with plastic wrap (or a clean wet towel) when you're working on other things. Prepare a few layers of wet kitchen paper towel or clean towel, cover the dumpling wrappers immediately after rolling out. The dumpling wrappers will dry out very fast and become difficult to seal.
(4) Use the technique you're comfortable with to make dumpling wrappers.
In the pictures below, I demonstrate the Chinese way to roll out dumpling wrappers. Unlike ravioli, we roll the dough into a long stick and divide them into portion sizes. Then, roll out each small dough piece by rotating the dough with one hand and rolling with the other hand at the same time. In the end you will get a paper thin round wrapper that is thick in the center and thin on the edge.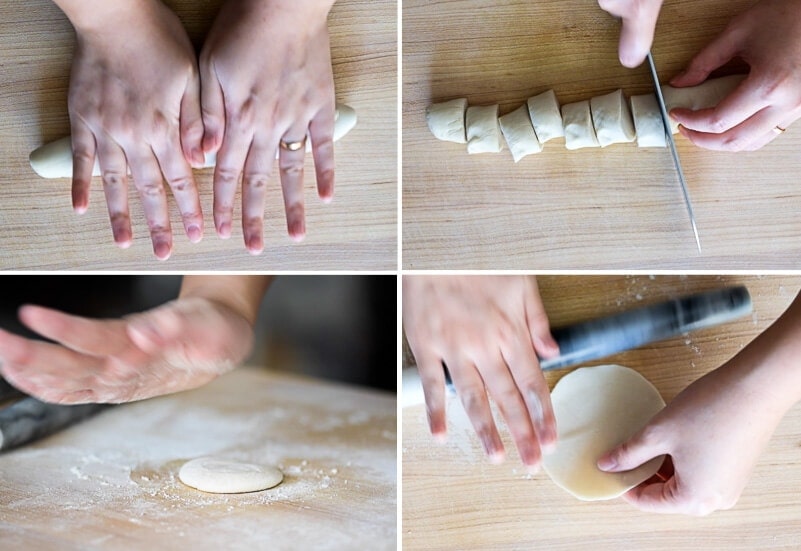 In the picture below you can see that the edge of the dumpling wrapper is almost transparent. Once you fold the pleats, the dumpling skin will have an even thickness, without heavy and thick pleats.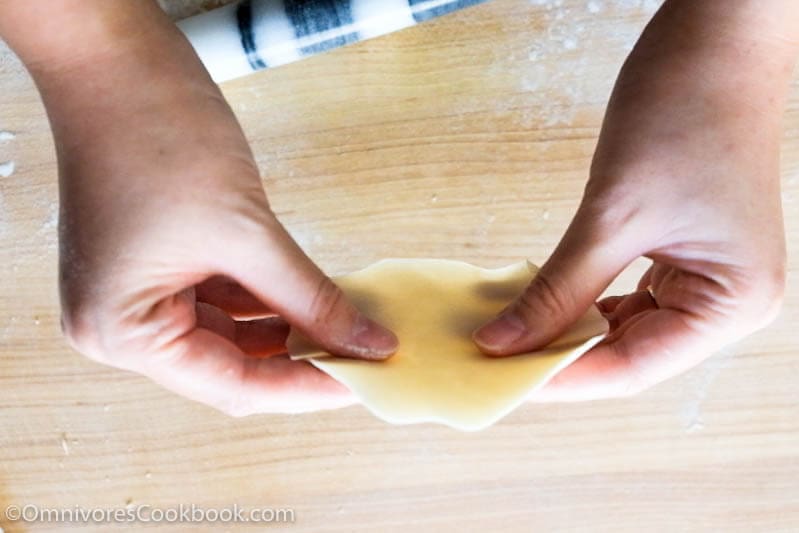 On the other hand, if you want your dumpling wrappers to be cut into evenly and in a perfect round shape, you can use a cup or a cookie cutter as well.
(5) Wrap the dumplings as soon as the wrappers are made.
Or preferably, at the same time if you can ask your family members to help. Unlike packaged dumpling wrappers, homemade ones are more tender and do not contain additives that prevent them from sticking together. That's why the homemade dumplings taste so much better, and are healthier too. But they dry out easily and tend to stick together if you stack them for too long. Unlike packaged dumpling wrappers, you don't want to use too much extra flour or starch to dust the wrappers once made (to prevent them from sticking), because it makes the dough texture tougher.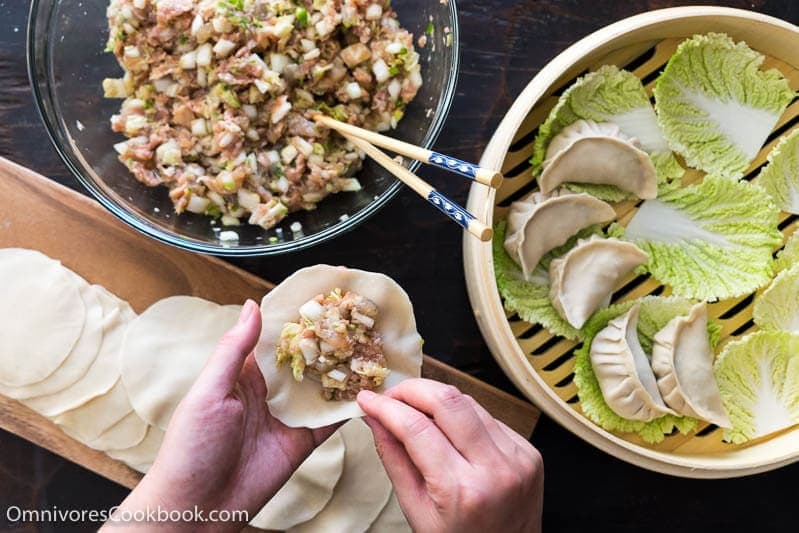 (6) How to store.
If you don't serve the dumplings immediately it's best to store the covered dough in the fridge until you're ready to serve them. Or wrap dumplings and freeze them raw. Do not wrap dumplings and then let them sit on the counter until they dry out.
This is especially important if you want your dumplings soupy (see last point in "Dumpling Filling" part). If you freeze the dumplings soon after wrapping and steam them later, the filling will remain very juicy, just like fresh dumplings.
Cooking
The easiest step of all.
The traditional way is to use a bamboo steamer and cook the dumplings over a wok or a skillet. But a normal steaming pan or steaming rack works just as well. For better presentation and to prevent dumplings sticking to the pan, you can use napa cabbage leaves to line the steamer. You can also use a few layers of clean, wet cheese cloth too.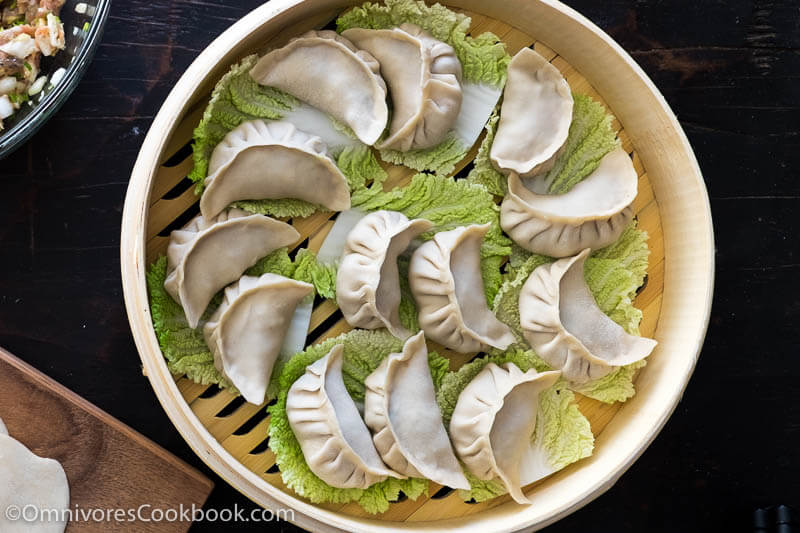 Always boil the water first before adding the rack of dumplings. Once you start cooking, do not uncover and peek inside. This releases the steam and causes a drop in pressure, which results in a longer cooking time.
Once steaming is finished, remove the steam rack from the pot first. Carefully uncover with a wet towel placed on the lid. The hot steam will come out immediately, so wait a few seconds before transferring the dumplings onto a plate to serve.
To cook frozen dumplings, steam directly without thawing. It takes 15 to 20 minutes depending on the size of the dumplings.
The steaming method does not require oil and keeps the dumpling juicy and intact, and does not impact the flavor of delicate dumplings.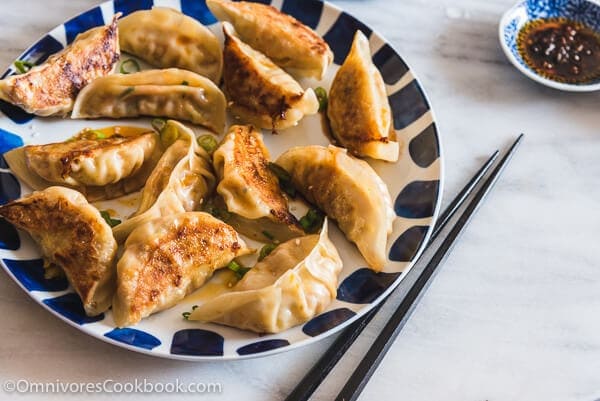 You can use this dumpling dough to make potstickers too. In China, potstickers is a way to deal with dumplings leftovers – we pan fry the cooked dumplings to heat them up. You can grill the roast dumplings in a skillet as well. Note that the size of the dumplings is much larger than normal potstickers, so you might need extra water, lower heat, and longer cooking time to cook through, and prevent the bottom from burning.
More dumpling recipes
For more dumpling filling recipes, check out my favorite lamb dumpling recipe, Pork and cabbage dumplings, vegetarian dumplings, and pork mushroom dumplings. Go to this page to learn how to make dumpling sauce.
I have another dumpling dough recipe for boiled dumplings.
Want to Know More?
Receive our 5-Day Chinese Cooking Crash Course & Recipe Updates! Subscribe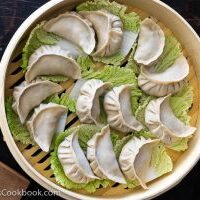 How to Make Steamed Dumplings from Scratch
Everything you need to know about making fresh steamed dumpling dough from scratch, dumpling filling, the working process, and how to cook and store, with step-by-step photos and video.
Servings:
40
to 45 dumplings
Ingredients
Dumplings dough
3

cups (420 grams)

all-purpose flour

1

cup

boiling water

1/4

cup

room temperature water

1

teaspoon

oil
Dumpling sauce
Instructions
Marinate dumpling filling
If you are using ground meat in dumpling filling add seasonings now to marinate the meat. Note, do not add vegetables at this stage. Cover the ground meat and marinate in the fridge for 1 hour to a day. Re-hydrate and prep dry ingredients if you're making vegetarian dumplings.
Make dough with a mixer
Attach dough blade to your mixer. Add flour into mixing bowl. Pour 1 cup hot water in the middle. Mix on low until the water is mostly incorporated. Stop mixer and scrape flour from the wall with a spatula. Mix on low until water is fully incorporated. Add room temperature water along the edge. Stir with spatula to mix. Start mixer on low until it forms a dough. If the dough won't come together, keep adding cold water, 1 to 2 tablespoons at a time, until a dough is formed. The dough should be a bit springy, not sticking to the bowl, and not too tender. Add flour if the dough is too soft and doesn't hold its shape. Keep kneading until the surface becomes smooth, about 10 to 15 minutes. Transfer to a working surface and knead a few times to shape into a dough ball.
Make the dough by hand
Add flour into a large mixing bowl. Pour 1 cup hot water in the middle. Mix in a swirling motion to combine the flour in center of the bowl and leave some of the flour along the edge untouched. When the water is fully combined, add room temperature water along the edge in a swirling motion. Keep mixing until all the water is absorbed. Dust both hands with flour and start kneading to form dough. When dough has formed, dust the working surface with flour and dust hands again. Transfer the dough to the working surface and continue to knead it until its surface becomes smooth, about 10 to 15 minutes.
Rest the dough
Brush a thin layer oil in a bowl and place the dough inside. Cover with plastic wrap and rest it for 30 minutes to 1 hour. If you don't make the dumplings immediately, store the dough in the fridge for up to a day.
Mix the filling
Now it's the time to finish up the dumpling filling. Adding vegetables to the marinated ground meat. Finish with sesame oil. Mix well.
Prepare steamer
Line a large steamer with napa cabbage leaves or a few layers wet cheese cloth.

If you're going to serve the dumplings immediately, add water to a large skillet or a wok. Bring it to the boil.
Make dumplings wrappers
Divide the dough into 4 parts and roll into balls. Work on them one by one. Place the rest of the dough balls back in the bowl and cover with plastic wrap to prevent them from drying out.

Shape and roll the dough into a long stick, about 20-cm (8-inch) length. Cut into 2-cm (2/3-inch) thick small pieces. You will get 10 to 12 pieces dough. I personally prefer to make large dumplings, so you can wrap in more fillings which are less work.

Lightly dust both sides of each small dough with flour, and shape them into a cylinder. Work on them one at a time. Cover the rest with a few layers of wet kitchen paper towel to prevent them from drying out.

Dust the working surface again. Take one dough ball and press it to a round disc. Roll with a rolling pin and rotate it a few times to thin out the dough. Then rotate the dough with one hand while rolling the dough with the other hand at the same time until it forms a round sheet (refer to the

video

to see how). Try to roll it so that that the edge is thinner than the center. The wrapper should be about 2 millimeters (1/16-inch) thick in center (i.e. almost same as the thickness of a CD), and paper thin on the edges. The diameter should be about 10 to 11-cm (4-inch). It is ok if the wrapper is not perfectly round.
Fold dumplings
Starting here, you should work as quickly as you can because the wrappers will dry out quickly. Cover the wrappers with a few layers of wet paper towel to l prevent them from drying out too fast. If they do, you will find it difficult to seal the dumplings later. If the wrappers dry out when you start to fold the dumplings, brush a bit of water over the edge so you can still seal the dough.

If you have a helper, they could start folding dumplings now, while you keep rolling the wrapper.

Scoop about 2 tablespoons (or less, so you can easily fold the dumpling) of dumpling filling and place it in the center of the wrapper. Hold the dumpling with one hand and start sealing the edges with the other hand (refer to the

video

to see how to fold a dumpling). After folding, press edge again to seal well. You can use any way to fold the dumplings as long as you're comfortable with it.

If you're going to cook the dumplings immediately, place them into the steamer, about 1 finger apart.

If you're going to cook the dumplings later, place them onto a baking tray and seal with plastic wrapper. Store dumplings in the freezer for up to 1 month. Once the dumplings are completely frozen, about a day, you can transport them to an air-tight container or a gallon bag to save freezer space.
Cook dumplings
To steam dumplings, prepare the steamer by adding 2" (5cm) water to the steamer. Place the dumplings onto the steaming rack, at least one finger apart each other (the dumplings will expand a lot after cooking). Place the steaming rack onto the steamer and cover. Heat over medium heat until the steam comes out. Leave to cook, without peeking into the steamer, for 10 minutes or until the dumplings are completely cooked through.

Serve immediately with dipping sauce. When the dumplings are just off the stove and still hot, carefully try one without any dipping sauce. The dumpling should have a lot of juice inside and be delicious and flavorful without any sauce.
Dipping sauce
I introduced 4 types of dumpling sauce recipes

in this post

.
Storage and reheating
The best way to store is to freeze uncooked dumplings immediately after wrapping. Steam frozen dumplings without thawing until they're cooked through, 15 to 20 minutes.

If you have leftover cooked dumplings, store in airtight container in the fridge and consume within 1 to 2 days.

To reheat in microwave - Add dumplings into a bowl and sprinkle with a few drops of water. Cover and heat until warm.

To reheat by steaming - Just like steaming the raw dumplings, cook dumplings in a steamer until heated through, about 5 minutes.

To pan fry - Grease a nonstick skillet with a thin layer of oil and heat over medium heat. When skillet is hot, add dumplings. Swirl in a tablespoon of water, cover immediately, and cook for 2 to 3 minutes.