A quick and delicious XO noodles and shrimp stir fry dish with big seafood flavors, you'll have it ready faster than takeout could possibly arrive!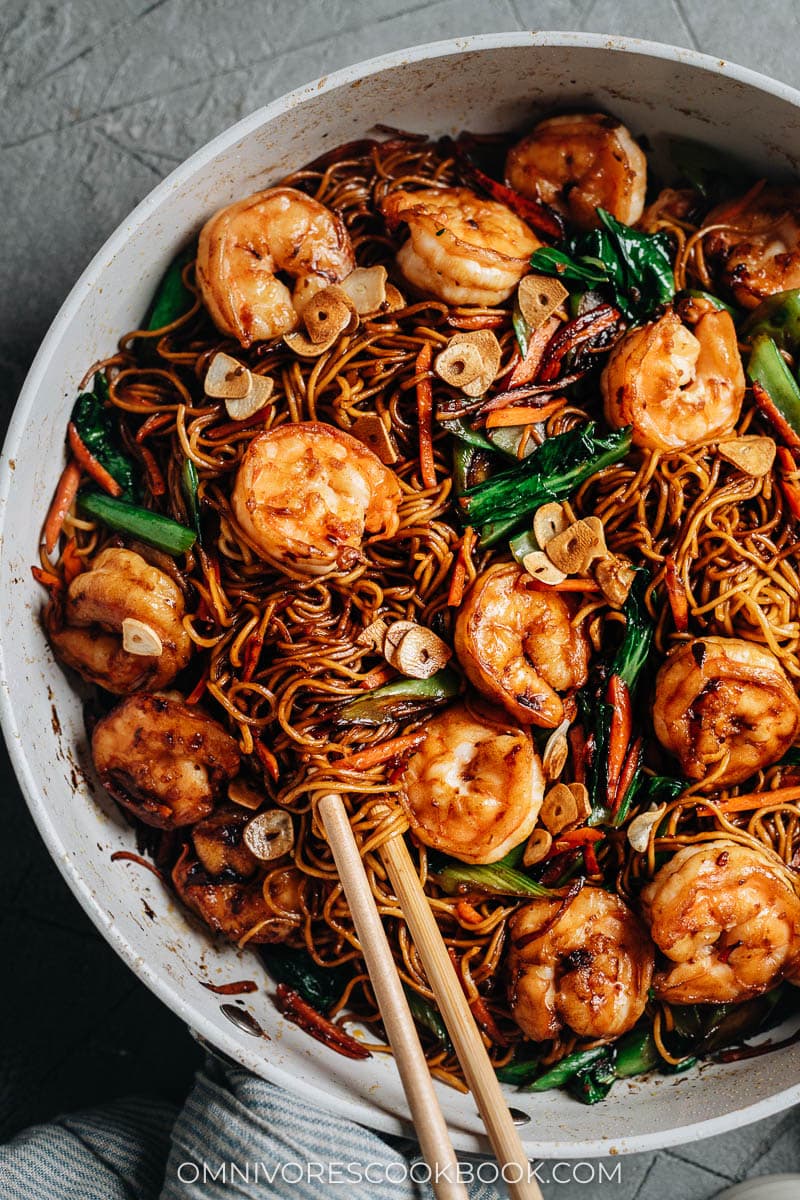 If you're craving Chinese, there's no better dish than XO noodles. Served with shrimp, it's the perfect dish for seafood lovers that want Asian flavors.
I posted a homemade XO sauce recipe before, along with a super fast XO fried rice with char siu recipe. It's definitely worth making the sauce at home, but you can buy it ready-made to save some time. If you like seafood flavors, it's something you should keep in your Chinese pantry ingredients to make dinners like these a breeze.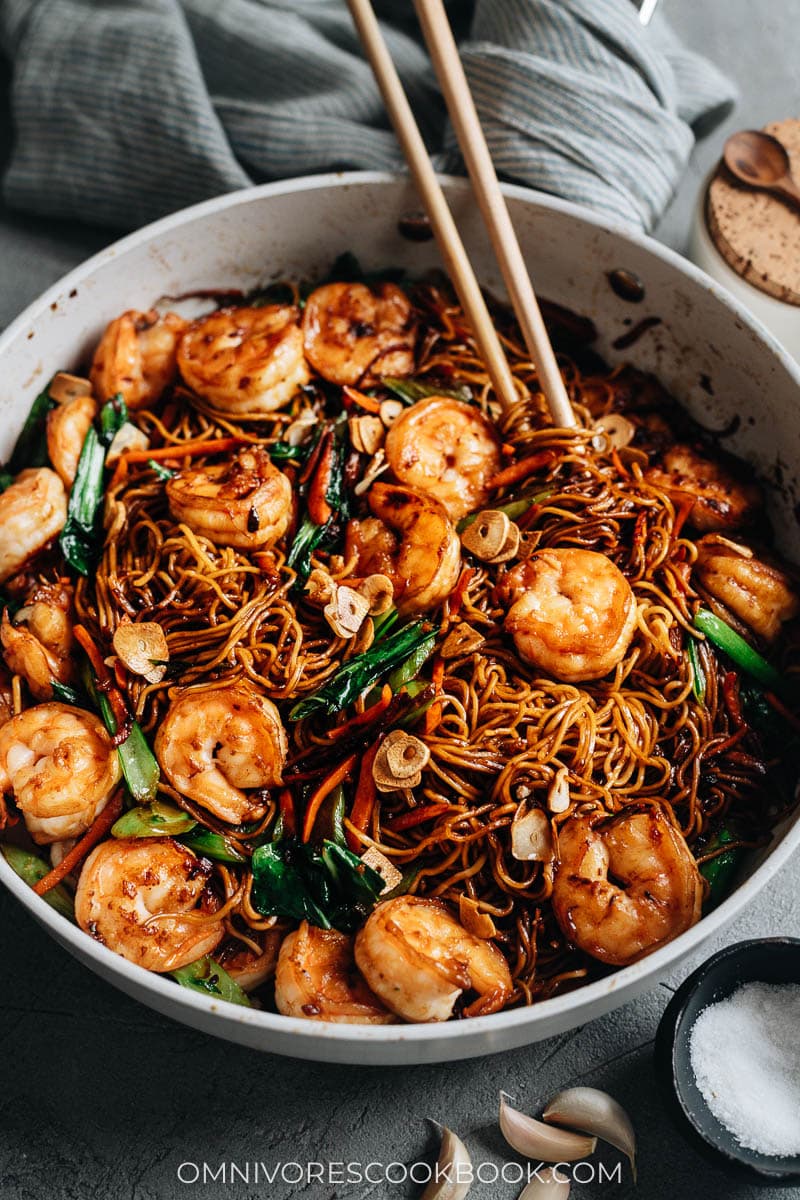 What is XO sauce
XO sauce is popular in Hong Kong as well as the southern regions of China's Mainland, like Guangdong. The 'XO' comes from the same denotation assigned to cognac, "extra old", even though this sauce doesn't use cognac in the creation of it. It uses dried seafood such as scallops and shrimp, along with dried ham. It is most certainly a luxury item. Making it yourself definitely requires patience as well as plenty of unusual ingredients that you'll have to round up at the Chinese supermarket.
If you don't have time for that, though, just buy it to use and you won't regret it.
Ingredients for making XO noodles
When you're ready to cook, your table should have the ingredients below.
If you cannot find yu choy, you can replace it with baby bok choy or napa cabbage. It's possible to replace it with broccoli, as well, but you will need to blanch the broccoli before using it.
Type of noodles
If you're lucky enough to live close to an Asian market, try to find Hong Kong Style Pan Fried Noodles. They are pre-cooked so you only need to quickly dip them in boiling water before using them. It also produces a nice mouthfeel that is very authentic.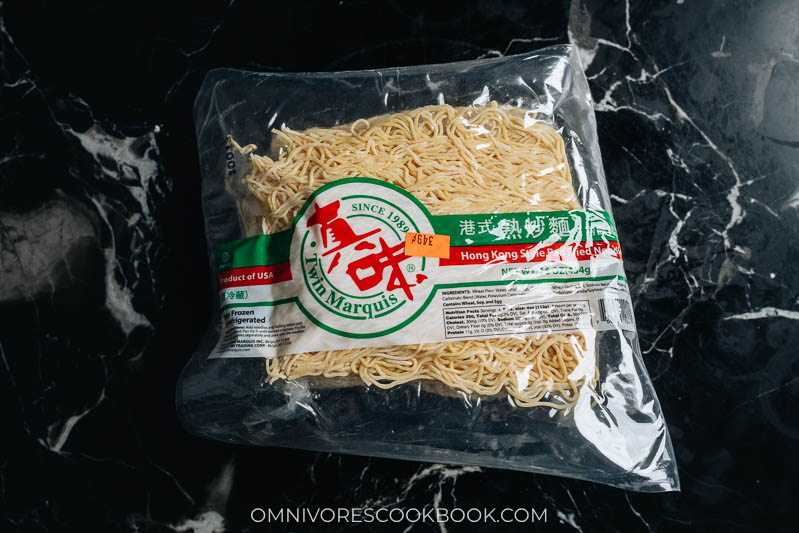 If you cannot find this type of noodles, you can simply use dried chow mein, lo mein, or thin egg noodles.
Cooking process
Quickly blanch the noodles (or cook them according to package instructions)
Saute the aromatics
Brown the shrimp so both sides turn golden. Then remove them from the pan.
Briefly cook the veggies
Add back the noodles and toss
Add the veggies and add back the shrimp
Pour in the sauce
Give it a final toss
NOTE: I used a powerful stove when shooting the recipe, so I added back the cooked shrimp earlier. After testing this on my regular stove, I found that the shrimp tend to be overcooked if added back too early. The images above may be a bit misleading; please follow the recipe below.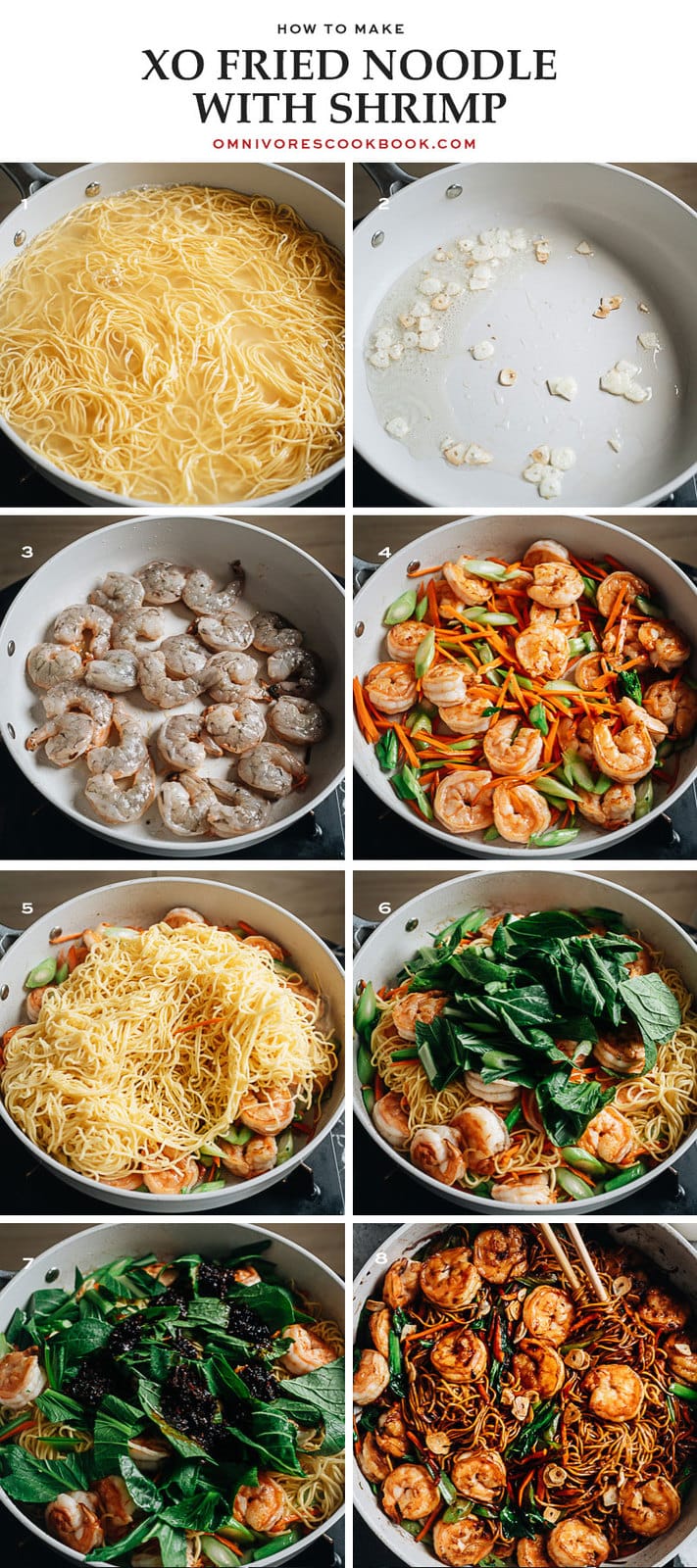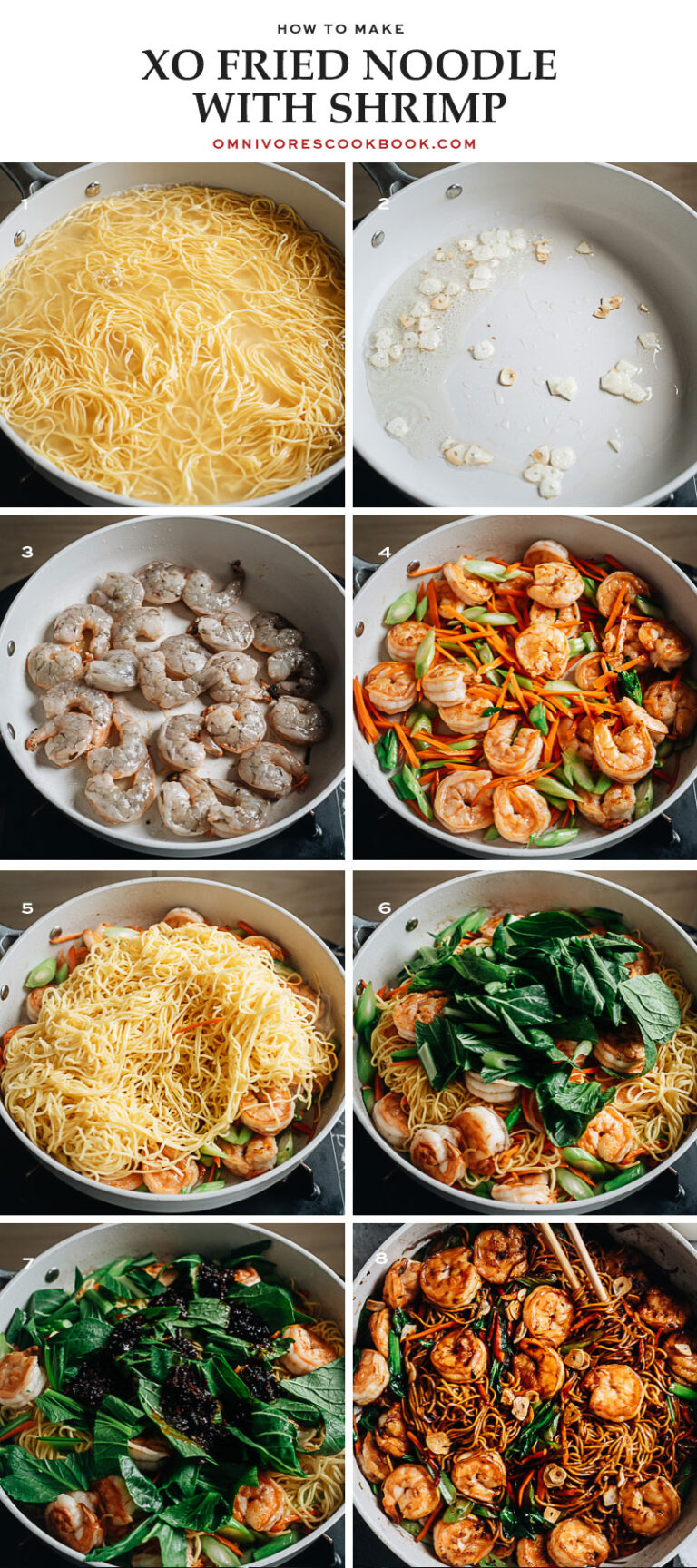 In just 22 minutes, this fried noodle recipe comes together and is on your table. It's way better than takeout, with its delicious and fragrant appeal. I love these XO noodles with shrimp, as this recipe indicates. However, you can also use chicken or pork if you prefer. The sauce is so aromatic and delightful that it goes great with just about anything.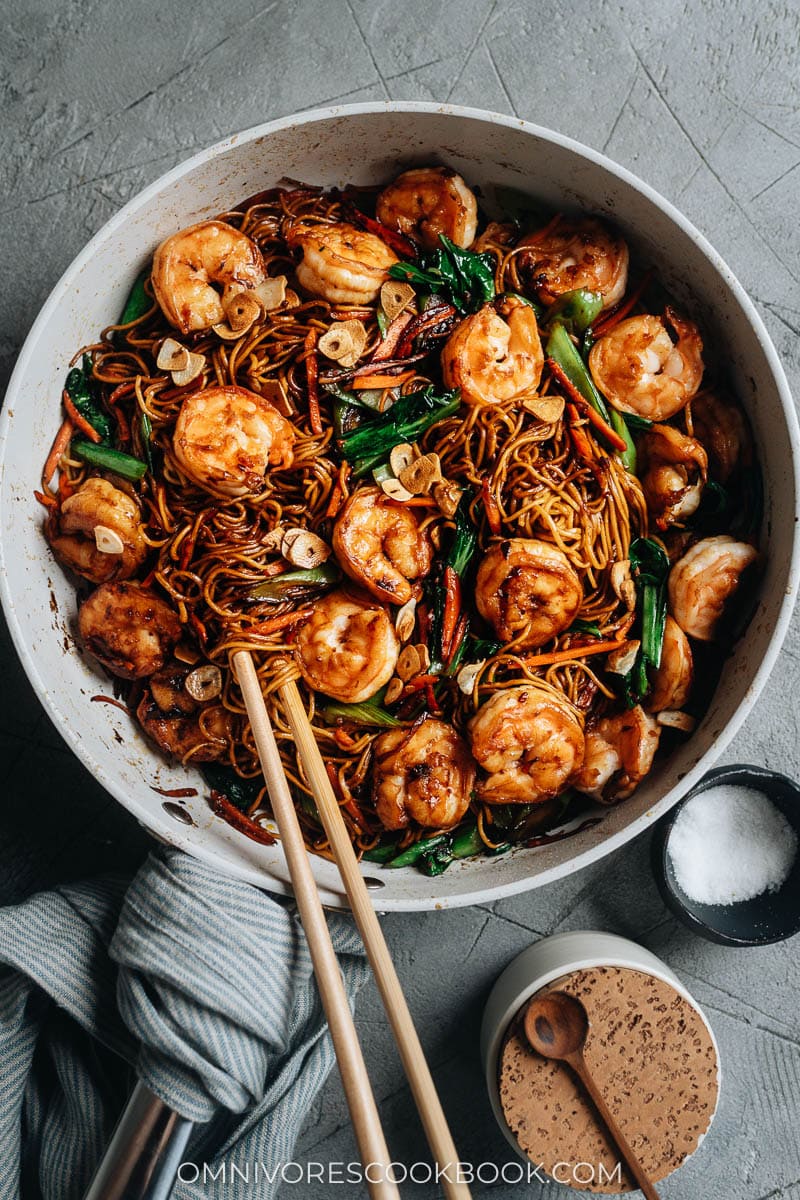 Afterthoughts
XO noodles are the fried noodles of your dreams. They hold up pretty well in the fridge, so feel free to use this for meal prep to make lunch a bright spot in your day. If you plan to double or triple this recipe, I recommend cooking them in batches for the best results.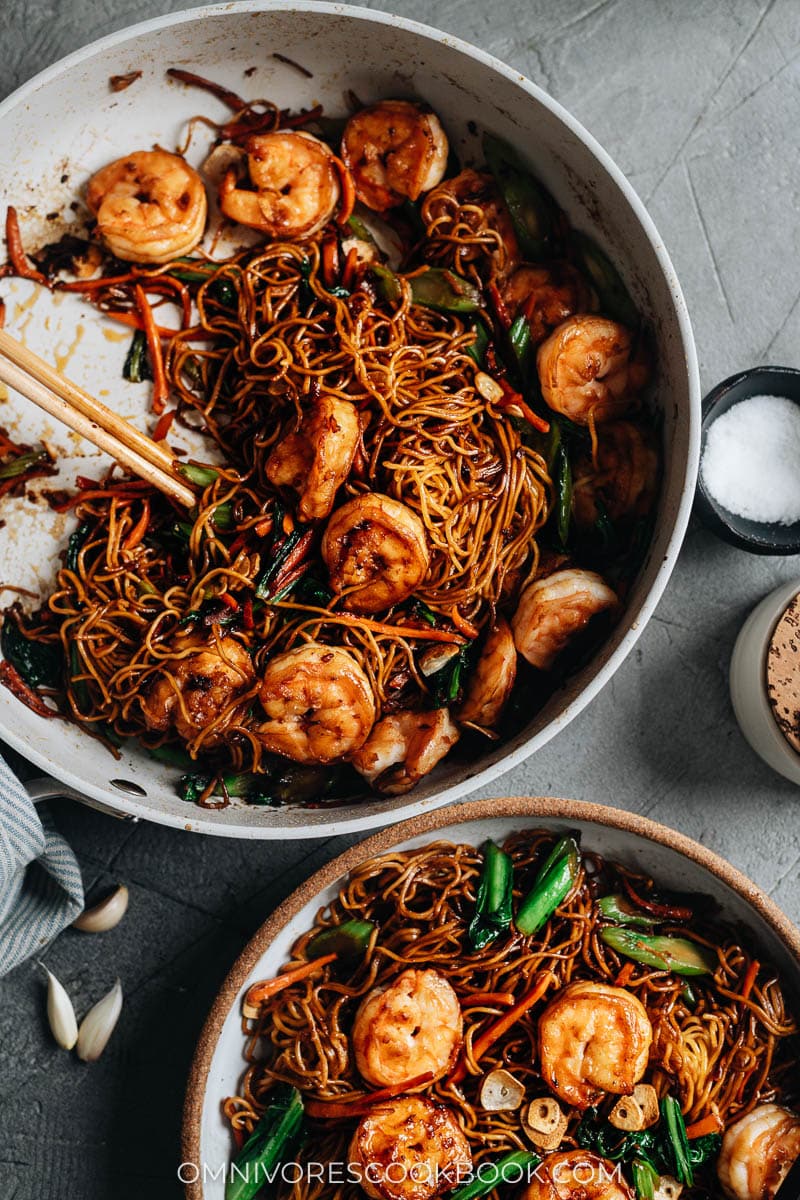 Want to learn more about Chinese Cooking? Sign up my newsletter to receive the 5-Day Chinese Cooking Crash Course and recipe update!
Want to Know More?
Receive our 5-Day Chinese Cooking Crash Course & Recipe Updates! Subscribe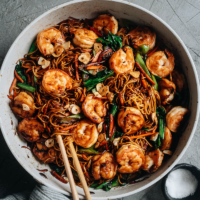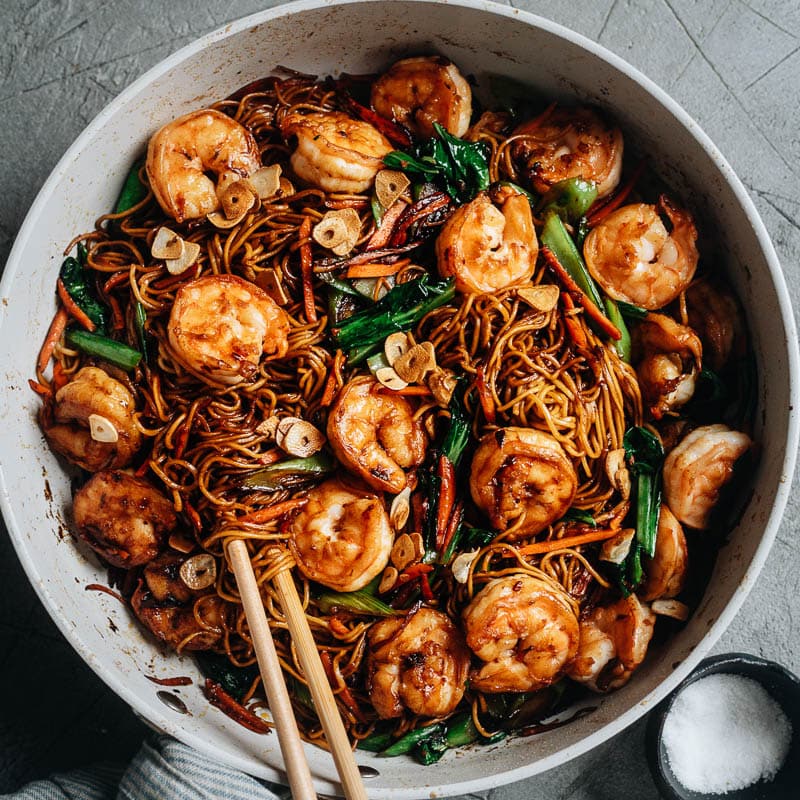 XO Noodles with Shrimp
A quick and delicious fried noodle dish with big seafood flavors, you'll have it ready faster than takeout could possibly arrive!
Servings:
2
to 4 servings
Ingredients
Instructions
Combine the shrimp and the marinade ingredients in a medium-sized bowl. Stir to mix well. Set aside for 10 minutes.

Mix the sauce ingredients together in a small bowl and set aside.

In a large nonstick skillet bring an inch of water to a boil over medium-high heat. Add the noodles and cook for 30 seconds (or according to the packaging). Drain and rinse the noodles with cold water to stop cooking. Add a drizzle of oil, toss, and set aside.

In the same pan, add 1 tablespoon of oil and heat over medium-high heat. Once the oil is hot, add the garlic. Cook until the garlic is fragrant, 30 seconds or so.

Add the shrimp and brown both sides, about 1 minute per side, or until the shrimp curl up. Transfer the shrimp to a large plate and set aside.

Add the yu choy stems and carrots. Let everything cook without stirring for 30 seconds, then stir and cook for another minute.

Add the noodles and yu choy greens to the pan along with another tablespoon of oil. Toss the noodles with a pair of tongs to incorporate all the ingredients, 1 to 2 minutes.

Pour in the sauce and add back the cooked shrimp. Stir and toss to coat everything evenly. The veggies should be tender but still a bit crunchy. Carefully taste the noodles and cook for another minute if needed. You can adjust the seasoning by adding a bit more XO sauce.

Transfer everything to serving plates. Serve hot as a main dish or a side dish.
Nutrition
Serving:
1
serving
,
Calories:
281
kcal
,
Carbohydrates:
23
g
,
Protein:
25.8
g
,
Fat:
9.8
g
,
Saturated Fat:
2.1
g
,
Cholesterol:
196
mg
,
Sodium:
761
mg
,
Potassium:
715
mg
,
Fiber:
3.1
g
,
Sugar:
4
g
,
Calcium:
309
mg
,
Iron:
3
mg
If you give this recipe a try, let us know! Leave a comment, rate it (once you've tried it), and take a picture and tag it @omnivorescookbook on Instagram! I'd love to see what you come up with.
More delicious noodle recipes
Lilja Walter is a part of the Omnivore's Cookbook team and worked closely with Maggie to develop and test this recipe.