An easy Instant Pot braised beef recipe that creates melt-in-your-mouth beef with a rich, well-rounded sauce that is very fragrant. Make it ahead of time and enjoy it throughout the week!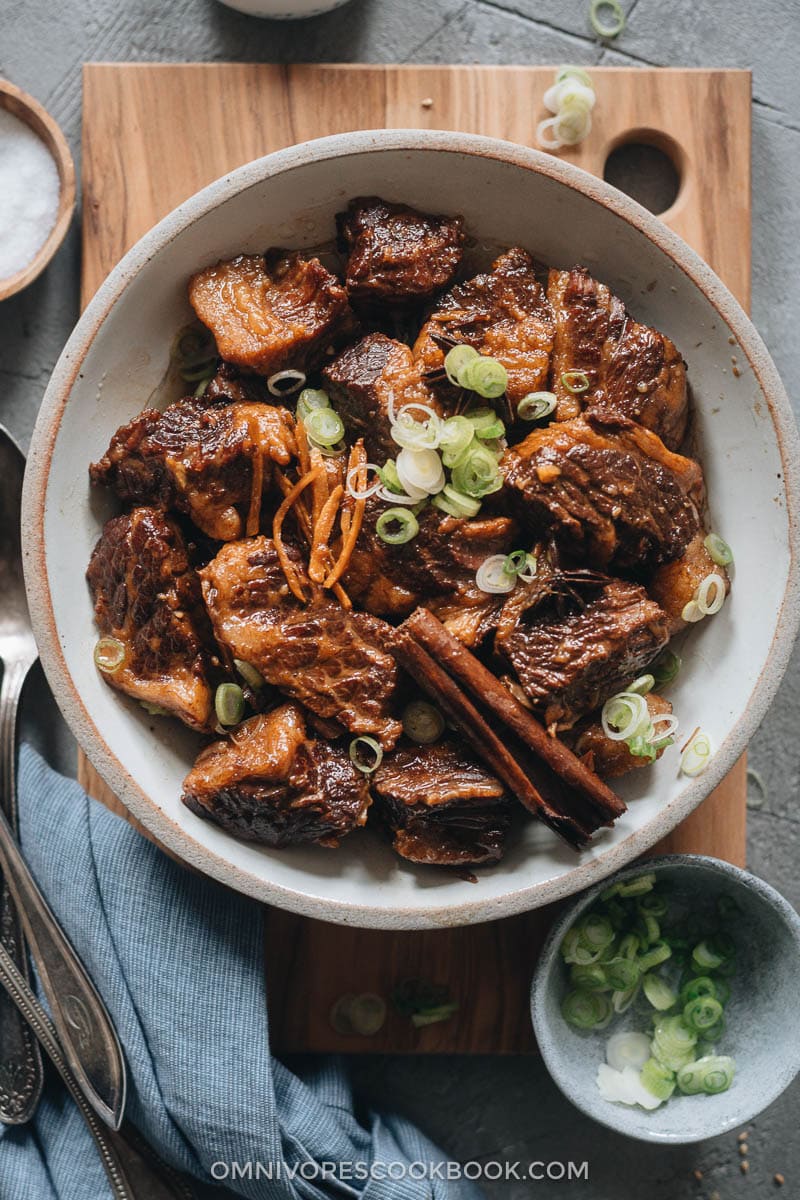 The Instant Pot is a perfect appliance for cooking ingredients that require a long cooking time, such as beans and meat. For dishes such as braised beef, it reduces hours of cooking into one hour (or less, depending on the cut you use) and creates a great result. Today I want to introduce this Chinese braised beef that you can make in the Instant Pot.
Why this recipe
It's easy to prepare and only requires 15 minutes of active cooking time.
There's no browning required! It will make the cooking much easier and less messy.
I'll introduce a secret sauce to make your braised beef immediately even tastier.
The finished dish is very well balanced and rich with buttery tender meat.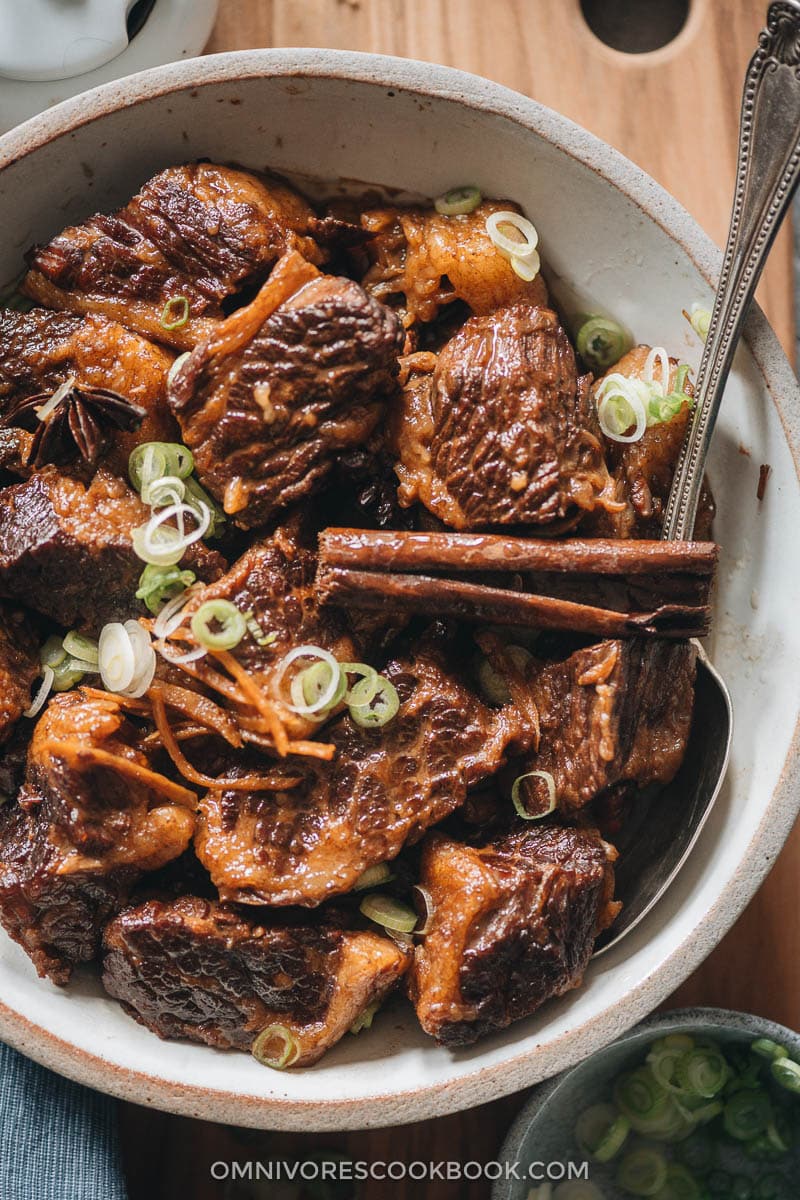 Which cut of beef to use
The rule of thumb when braising beef is to use a well-marbled and fatty cut. The more fat it contains, the more tender the meat will become.
My personal favorite cut is shin bones. Shin bones contain a lot of collagen between the lean meat. It will become super tender after cooking and taste heavenly.
Fatty brisket is great, too, and it's usually less expensive. The layer of fat will protect the lean meat, so the meat will be super tender after braising.
Beef neck bones are another good option. The meat and broth will be extra flavorful, but will yield less meat since it's mostly bone.
Chuck is another good option and requires less cooking time, even though it's on the leaner side compared to the other cuts.
NOTE: Avoid stew meat when possible. It's usually very lean and cut unevenly, so it isn't suitable for braising.
In this recipe I used a VERY fatty cut of brisket, due to the availability at my local market.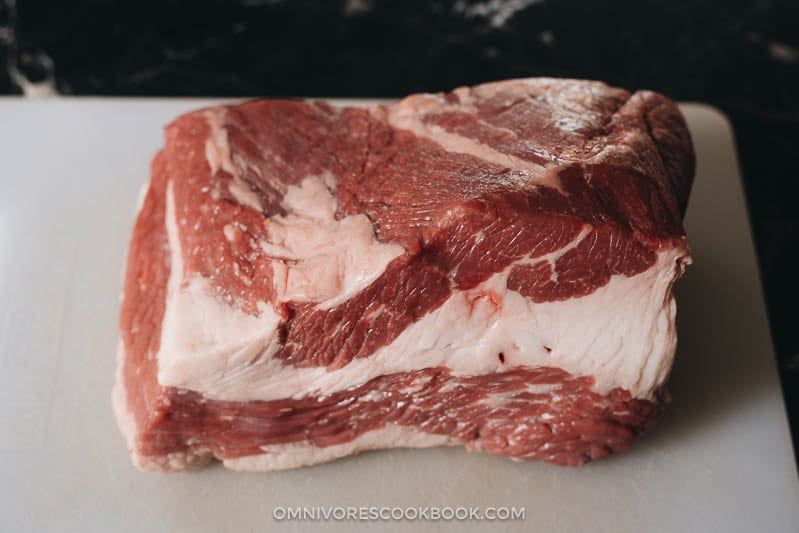 How to cut beef for braising
DO NOT trim off the fat. That's the one thing that matters most. The fat will protect the lean meat from drying out during cooking, producing an extra tender result.
You will see that the cut of brisket I used is super fatty.
I split the meat down the middle of the fat layer, so the lean meat would have some fat attached.
Then I cut the meat into 2" (5 cm) chunks, as evenly as I could.
A lot of the fat will melt away during the cooking. But don't worry. You can easily skim the oil off the liquid once you're done cooking. If you do not like the fat attached to the lean meat, simply trim it off of the cooked beef.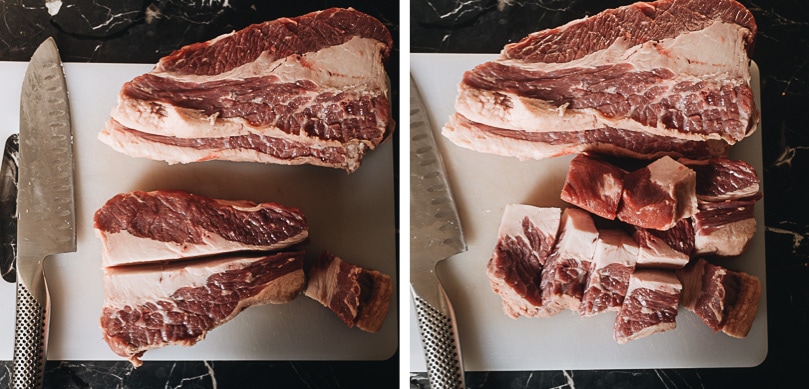 Secret sauce
Chee Hou Sauce (柱候酱, Zhu Hou Jiang), or Chou Hou Sauce, is a thick dark brown sauce that is made with soybeans, ginger, garlic, sugar, and sesame seeds. It is somewhere between the taste of oyster sauce and hoisin sauce, with a savory essence that is lightly sweet. It's a sauce that's commonly used in Cantonese cuisine, especially for braising beef brisket.
We tested the Instant Pot braised beef with and without the sauce. We found that the version with the sauce has a much better aroma and is more well-rounded in flavor.
You can easily find Chee Hou Sauce in Asian markets sauce aisle or on Amazon.
NOTE: If you do not have that sauce, oyster sauce is the best replacement.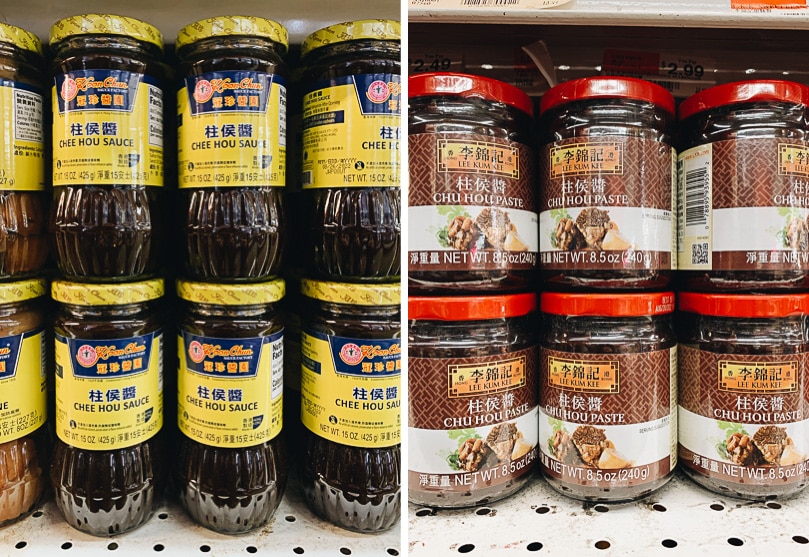 TIP: Have leftover Chee Hou sauce once you cooked this recipe? Check out my super easy Choy Sum with Garlic Sauce, that uses Chee Hou sauce to create a scrumptious side dish in no time!
Cooking process
Cooking Instant Pot braised beef is so easy. There are only two steps:
(1) Blanch the beef
Boil the beef with aromatics.
Skim off the foam.
Let it cook for 10 minutes.
Rinse the beef to remove any excess foam.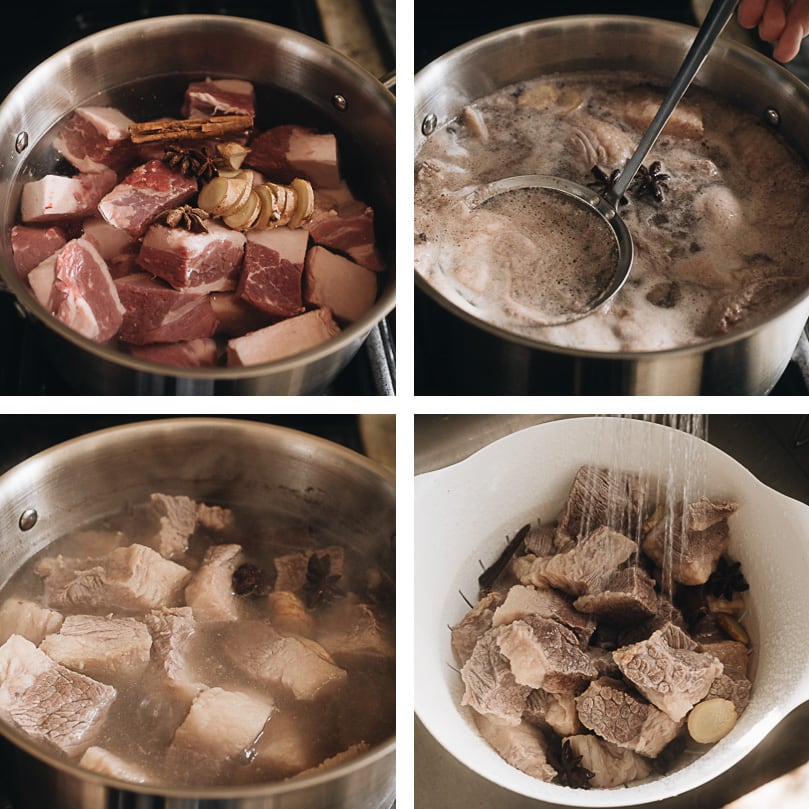 This process will remove the impurities from the beef and create a clear broth at the same time. You will use some of the blanching liquid in the cooking, and you can reserve the rest to use as beef stock.
NOTE: I did this step in a separate pot. But you can do it in the Instant Pot as well.
(2) Set up the Instant Pot
Saute the aromatics to release their fragrance.
Add everything, set the timer, and wait.
The beef will be done in 1 hour (or less, depending on the cut you use)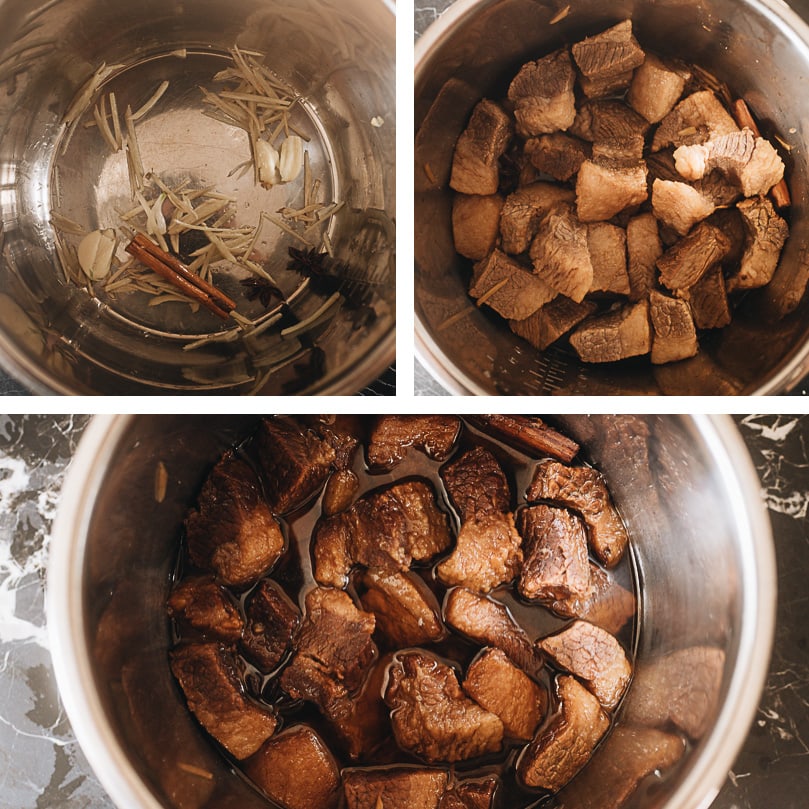 How to serve
I highly recommend making the braised beef ahead of time and letting it sit in the fridge overnight before eating it. The sauce will have a rounder taste and the meat will be more flavorful.
I enjoy serving the beef with the sauce on steamed rice with a side of steamed veggies. The veggies will taste great dipped in the braising sauce.
You can also use some of the braising liquid to cook veggies, such as napa cabbage, daikon radish, cauliflower, baby bok choy, and broccoli.
Making a balanced meal couldn't be easier!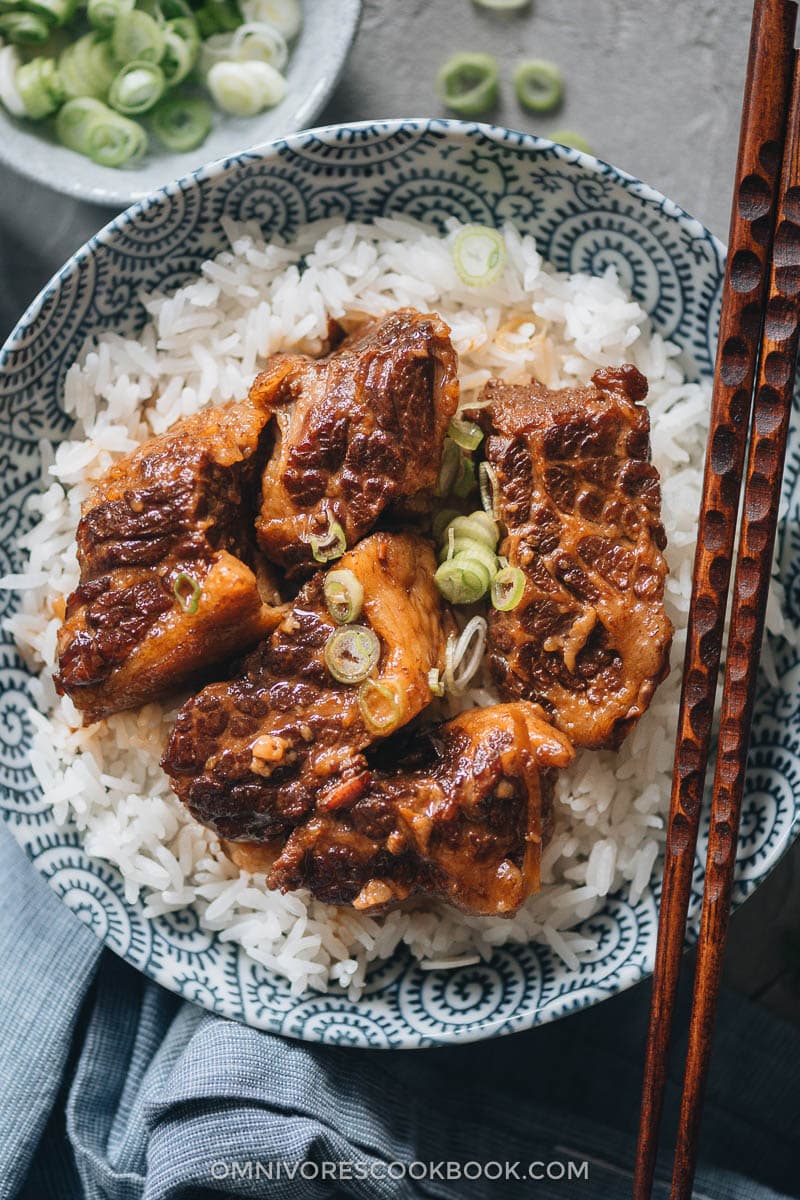 More delicious Instant Pot recipes
If you give this recipe a try, let us know! Leave a comment, rate it (once you've tried it), and take a picture and tag it @omnivorescookbook on Instagram! I'd love to see what you come up with.
Want to Know More?
Receive our 5-Day Chinese Cooking Crash Course & Recipe Updates! Subscribe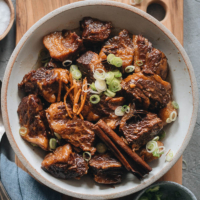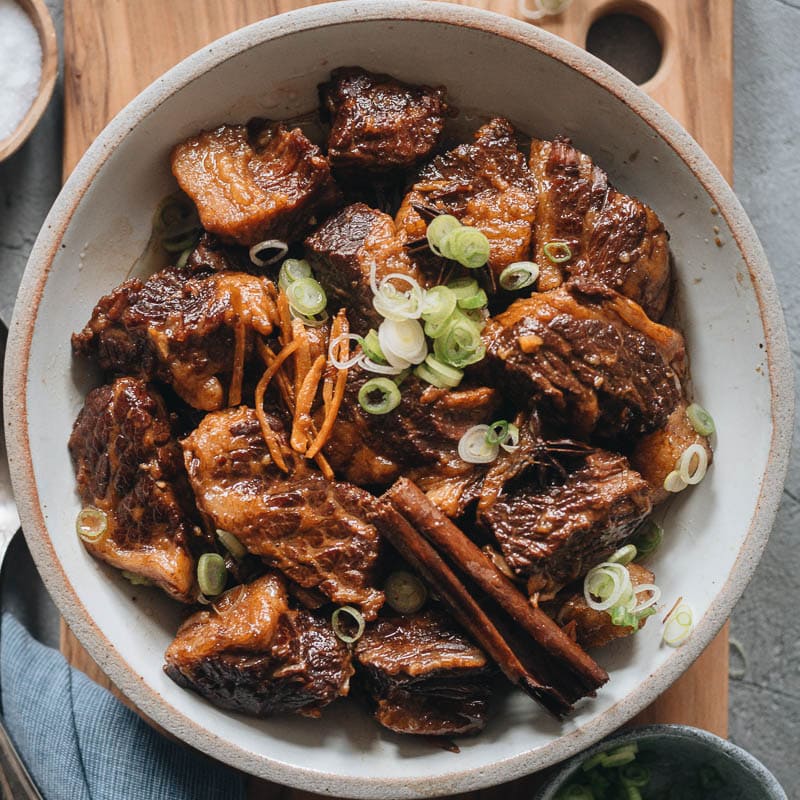 Instant Pot Braised Beef (Chinese-Style)
An easy Instant Pot braised beef recipe that creates melt-in-your-mouth beef with a rich, well-rounded sauce that is very fragrant. Make it ahead of time and enjoy it throughout the week!
Ingredients
2.5

to 3 lbs (1 to 1.2 kg)

brisket

, cut into 2" (5 cm) chunks (neck bone, shin bone, or chuck)
Blanching
2

" (5 cm)

ginger

, sliced

1

cinnamon stick

2

star anise pods
Braising
1

tablespoon

peanut oil

2

" (5 cm)

ginger

, cut to think strips

2

cloves

garlic

, smashed

2

star anise pods

1

cinnamon stick

1/4

cup

Shaoxing wine

(or dry sherry)

2

tablespoons

soy sauce

1

tablespoon

dark soy soy

1

tablespoon

Chee Hou sauce

(or oyster sauce)

1

tablespoon

sugar

3/4

cup

reserved blanching broth
Instructions
Add the beef and 6 cups of water into a medium-sized pot. Add all the ingredients listed under "Blanching" above. Heat over medium-high heat until boiling. Turn to medium heat. Skim away any brown foam that rises to the top, until the broth runs clear, 10 minutes or so. (*Footnote 1)

Transfer the blanched beef to a colander and reserve the braising liquid (*Footnote 2). Run tap water over the beef and shake the beef, to rinse off any residue.

Turn on the Instant Pot's "Saute" function. Let it heat up until it shows "HOT".

Add the oil, ginger, garlic, star anise, and cinnamon stick. Saute until the ginger and garlic begin to brown, 2 minutes or so.

Add the Shaoxing wine. Scrape off any brown bits from the bottom of the pot using a wooden spatula.

Add all the "Braising" ingredients above and stir to mix well.

Add the blanched beef and stir. Arrange the beef into an even layer.

Seal the Instant Pot and make sure the valve lock is on. Set to "Manual" at "High Pressure". Set the timer for 60 minutes if using brisket, 50 minutes for neck bones and shin bones, and 40 minutes for chuck.

Once the Instant Pot is done cooking, let it release the pressure naturally.

Open the Instant Pot and stir the beef with the broth. (*Footnote 3)

The beef is ready to serve now. For a better result, let the beef sit in the braising liquid the fridge overnight, so the seasonings will round out more and the beef will be more flavorful.

Serve the beef hot over steamed rice as a main course.
Notes
You can do this step directly in the Instant Pot, as well. However, I prefer to blanch the beef on the stove top because it's easier to control the heat.
You only need 3/4 of a cup blanching liquid in this recipe. You can also reserve the rest of the liquid to use as beef stock in the future. I recommend using the liquid to make braised daikon radish with minced pork (use it in place of the chicken broth).
If you're using a fatty cut of beef, you might want to skim the floating oil from the top of the broth. You can do this with a ladle once you're done cooking. For a better result, you can chill the beef in the fridge so the fat will congeal into a solid layer on top. Then you can easily remove the fat.
Nutrition
Serving:
1
serving
,
Calories:
290
kcal
,
Carbohydrates:
1.9
g
,
Protein:
43.7
g
,
Fat:
10.7
g
,
Saturated Fat:
3.6
g
,
Cholesterol:
127
mg
,
Sodium:
391
mg
,
Potassium:
599
mg
,
Sugar:
1.6
g
,
Calcium:
3
mg
,
Iron:
27
mg
Lilja Walter is a part of the Omnivore's Cookbook team who work with Maggie closely to develop and test this recipe.