Dig into a bowl of XO fried rice with a crispy, crunchy texture and savory sweet, lightly seafoody taste that transforms your leftover char siu pork into a meal in minutes!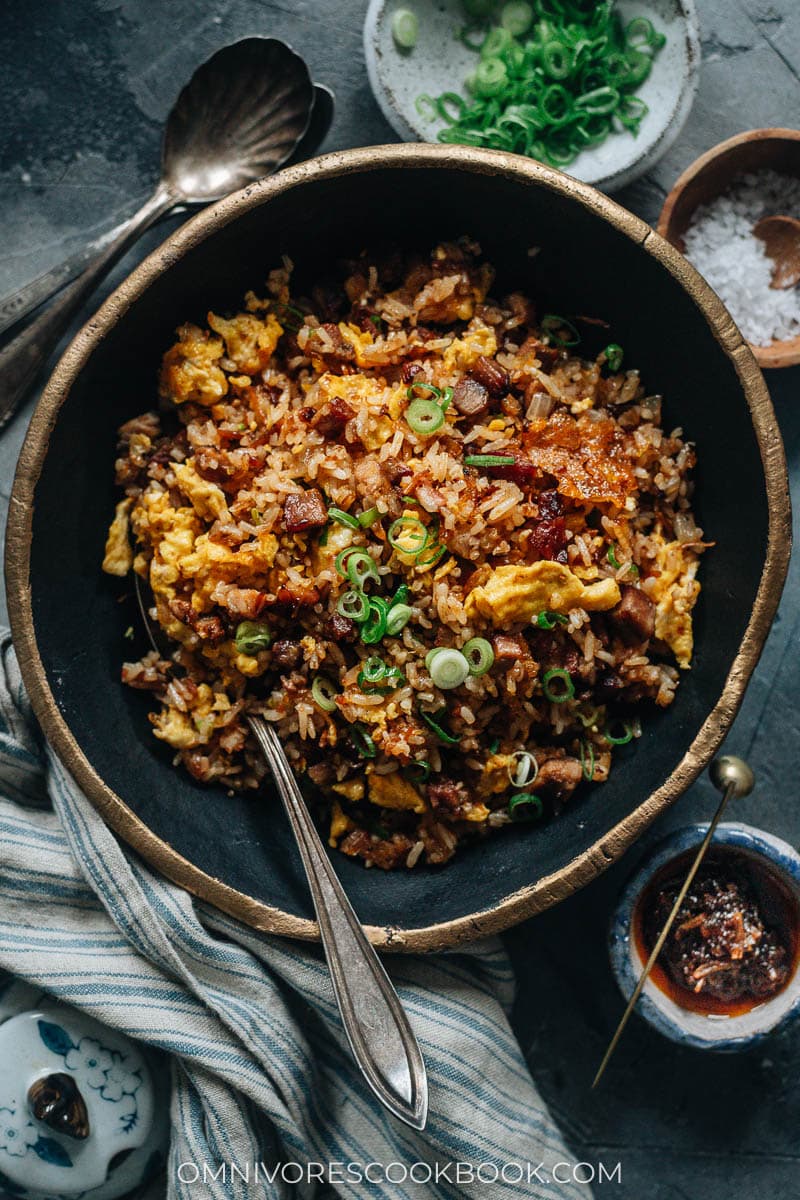 When you're craving fried rice, don't pick up the phone and order takeout. Instead, you can make a more scrumptious and luxurious XO fried rice bowl using XO sauce and leftovers that tastes even better.
I recently shared a recipe for homemade XO sauce. It's an incredibly rich sauce that has a seafoody umami flavor with both savory and sweet notes to it. The taste is fantastic with pretty much any rice or noodle dish. And for fried rice, it's absolutely amazing.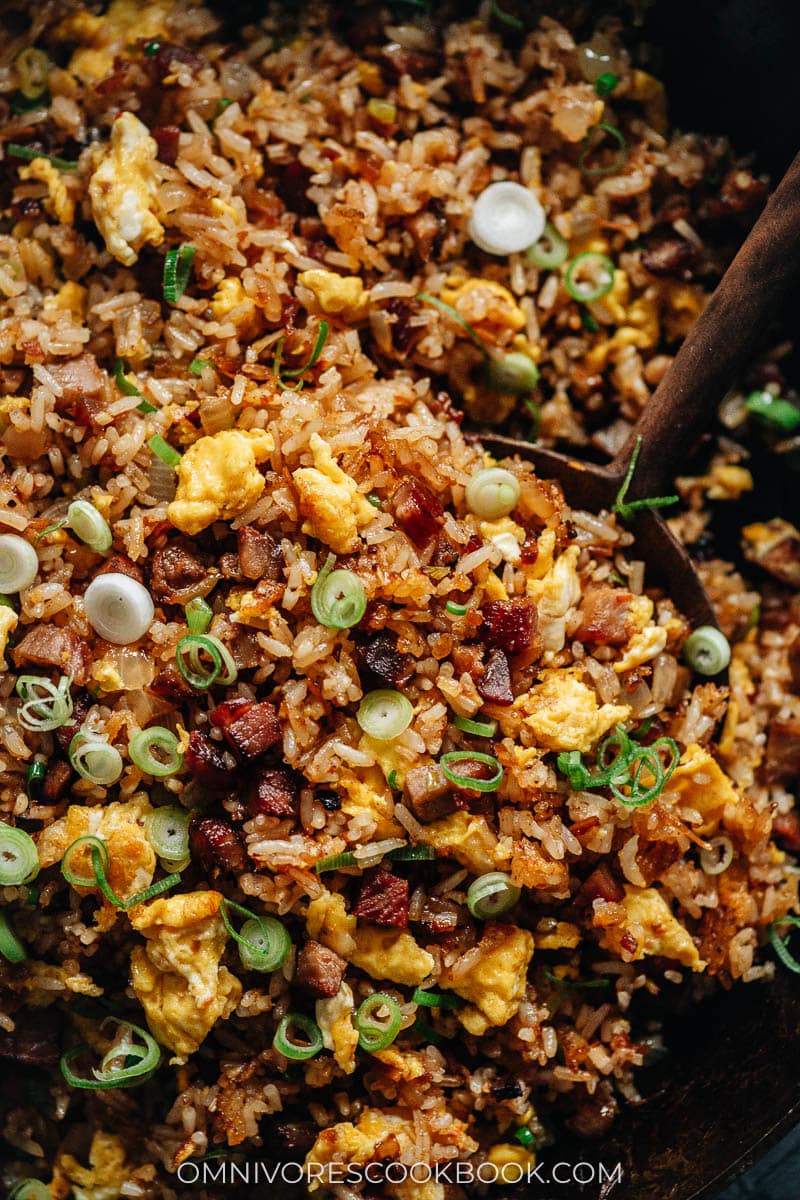 You may have seen XO fried rice on the menu at your local Chinese restaurant. But this one tastes even better. This recipe is loaded with more goodies. There are plenty of eggs and Chinese BBQ pork in this homemade version that no restaurant could match. All you need to do is throw it all together and you'll have a real treat for dinner, super quick.
Ingredients
If you have the option, using homemade XO sauce will make this meal even more delicious. But if you want to make things easier on yourself, since it does require some time (and tracking down ingredients you won't find in regular supermarkets), you can get XO sauce from your Asian market. And you can also find it on Amazon.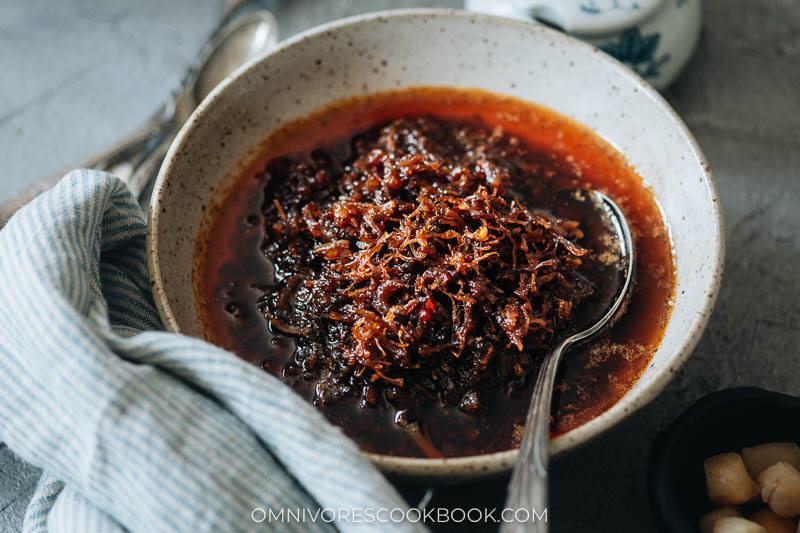 In my fried rice recipes, I usually include some veggies. But in this XO fried rice recipe, I decided to skip them. That's because the luxuriously rich taste of the XO sauce, along with the char siu pork, is something you won't want to distract your taste buds from.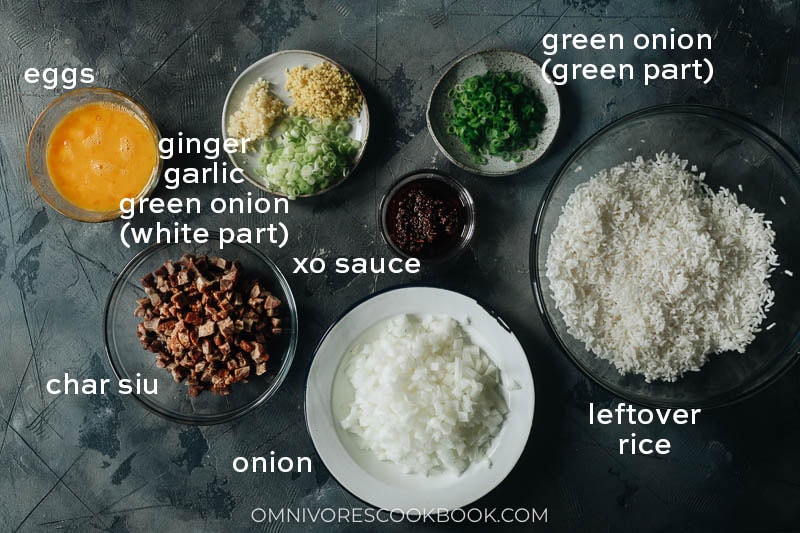 Cooking process
Cooking XO fried rice couldn't be easier. All you need to do is:
Heat your pan really hot and add the char siu pork and onion
Caramelize both very well
Add the aromatics and cook to release the fragrance
Add the rice and toast thoroughly
Mix in the XO sauce
Move all the ingredients to one side of the pan, and scramble the eggs on the other side
Mix in the eggs when it's mostly cooked
Finish up with green onion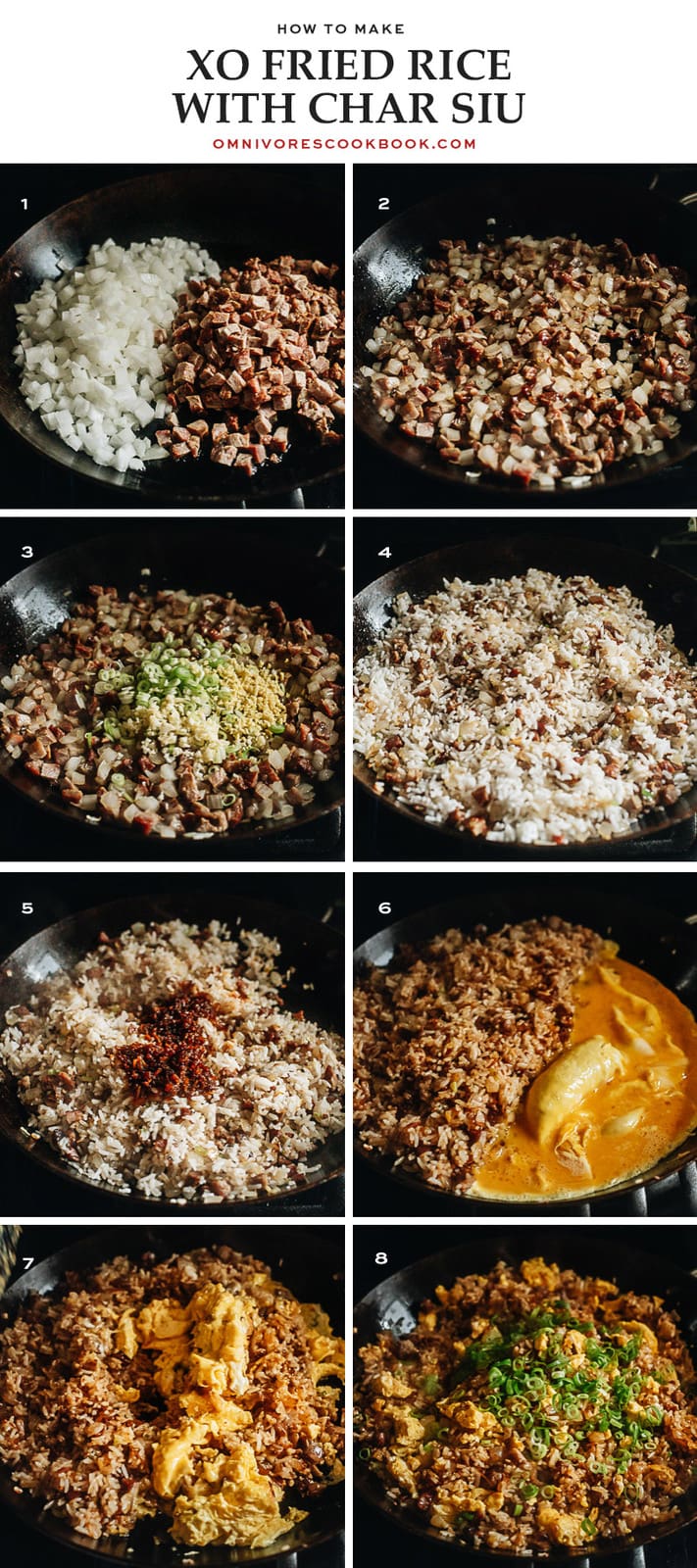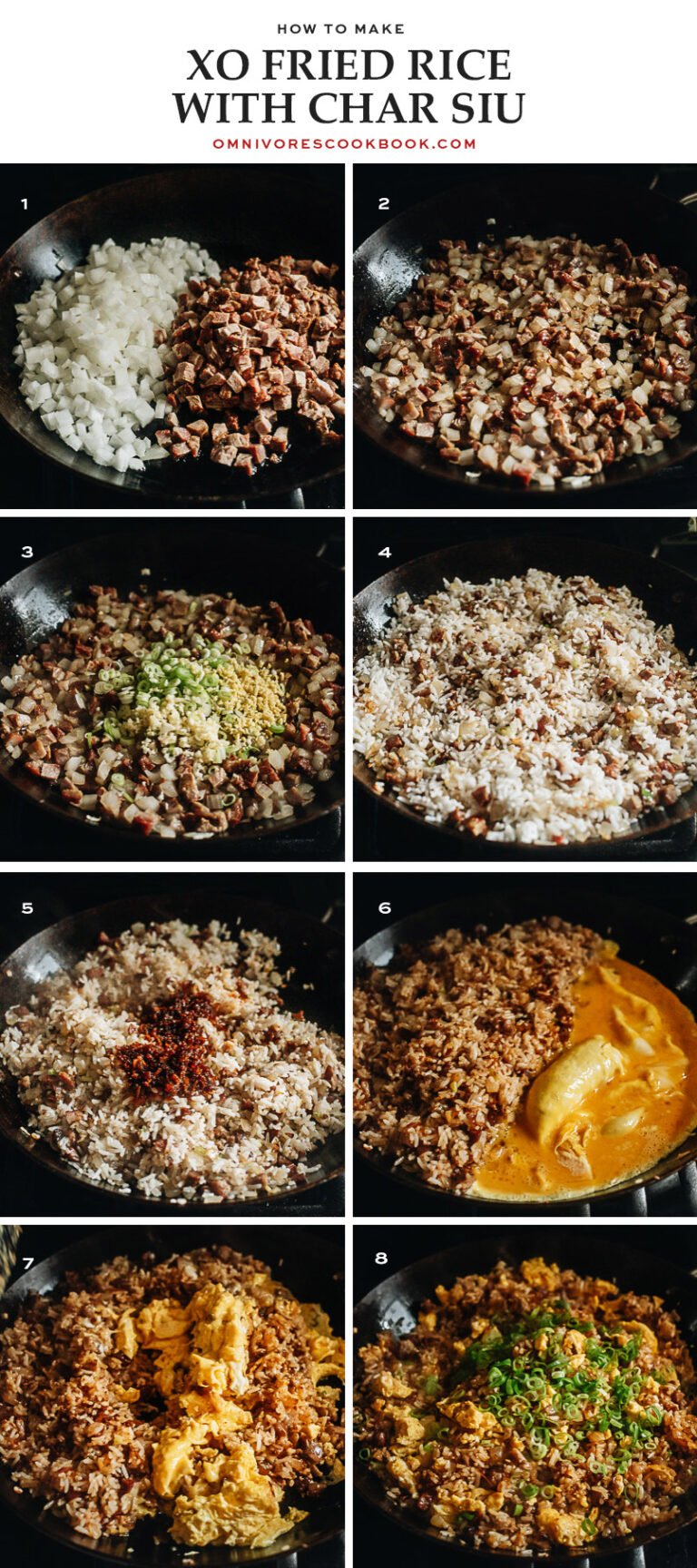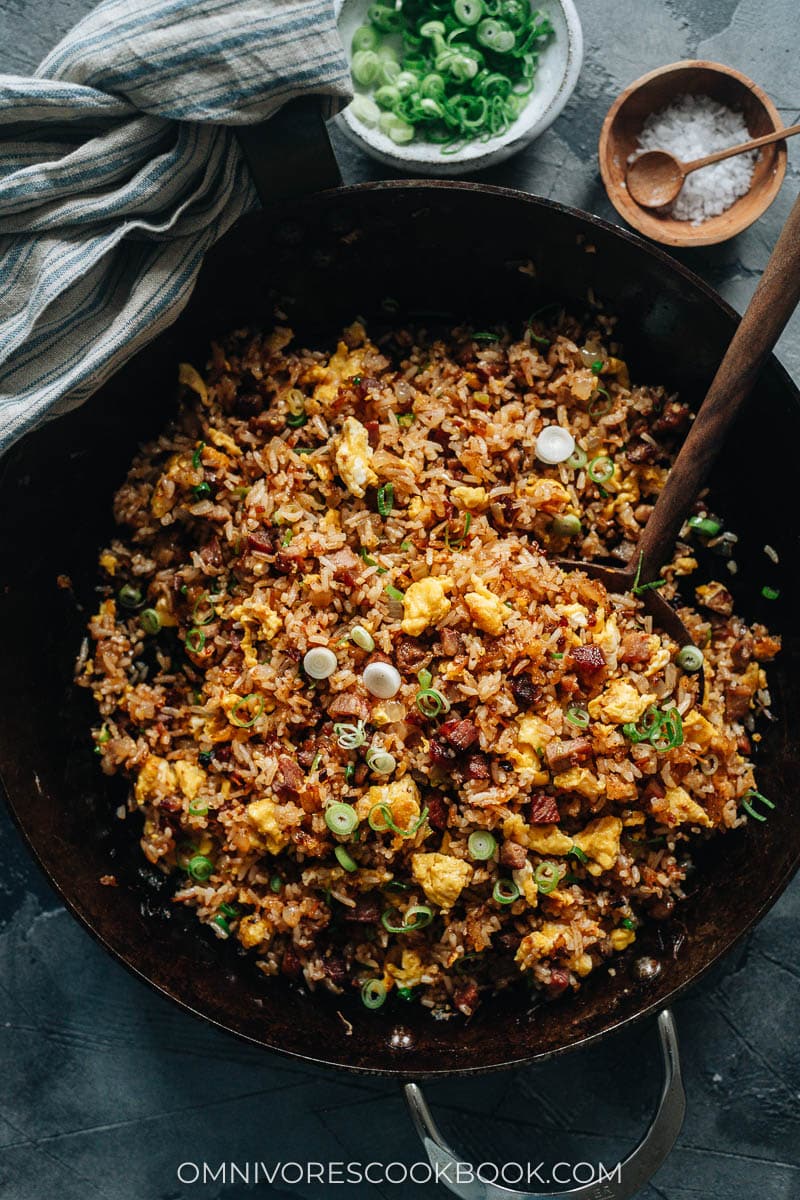 If you'd like to add something green to the meal, chop up some broccoli or Chinese broccoli stems, but leave it at that. Other vegetables will overpower the dish with their taste. Alternatively, you can balance your meal by steaming veggies separately, then adding them on top of your XO fried rice with a nice extra drizzle of XO sauce to pull it all together.
Afterthought
This is not the healthiest fried rice I've made, but it's one of the tastiest! The oil from the XO sauce will crisp up the rice and the result is irresistible. It's so rich and satisfying that I'd totally serve it as a main dish.
Besides cooking this dish to enjoy for dinner at home, it's also perfect for parties. Because it's extremely easy to cook, yet still luxurious. And it stores and reheats well.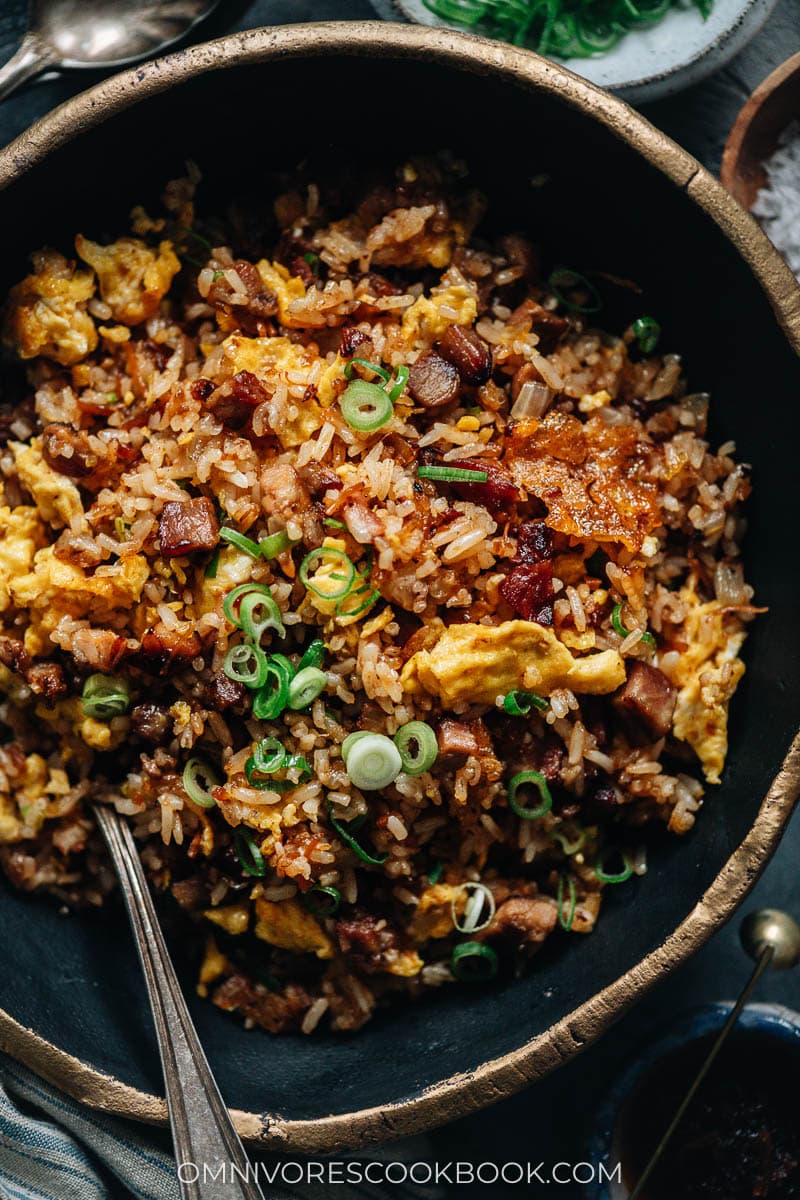 Want to learn more about Chinese Cooking? Sign up my newsletter to receive the 5-Day Chinese Cooking Crash Course and recipe update!
Want to Know More?
Receive our 5-Day Chinese Cooking Crash Course & Recipe Updates! Subscribe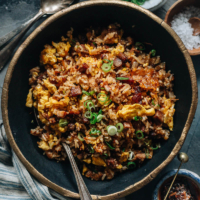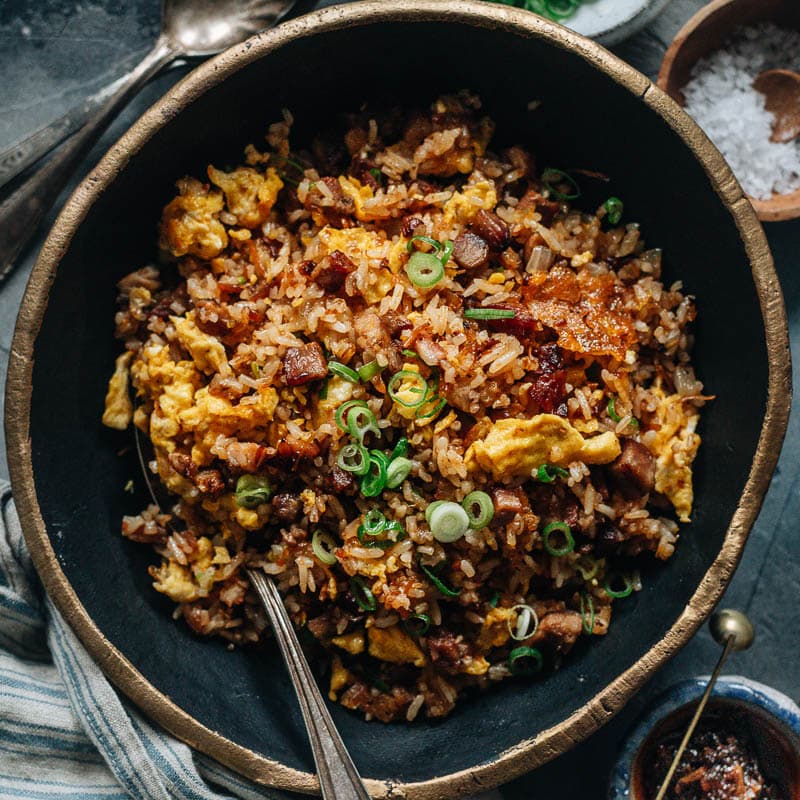 XO Fried Rice with Char Siu
Dig into a bowl of XO fried rice with a crispy, crunchy texture and savory sweet, lightly seafoody taste that transforms your leftover char siu pork into a meal in minutes!
To make this dish gluten free, I highly recommend using homemade char siu pork and XO sauce to ensure no gluten is included during the cooking process.
Ingredients
1 1/2

tablespoons

peanut oil

(or vegetable oil)

1

yellow onion

, diced

2

cups

char siu pork

, diced (about 1 lb / 450 g)

4

green onions

, sliced, whites & greens separated

1

"

ginger

, minced

2

cloves

garlic

, minced

4

cups

leftover rice

4

tablespoons

homemade XO sauce

(or store-bought XO sauce)

4

eggs

, beaten with a pinch of salt
Instructions
Heat 1 tablespoon of oil in a large skillet over high heat until hot. Add the onion and char siu. Cook and stir until they both begin to caramelize, 1 to 2 minutes.

Add the white part of the green onion, ginger, and garlic. Stir for another 30 seconds.

Add the rice. Cook, stirring occasionally, until the rice begins to crackle, 2 minutes or so.

Pour in the XO sauce. Stir until everything is coated and the XO sauce is fully absorbed.

Move everything to one side of the pan and add the remaining 1/2 tablespoon of oil to the other side. Add the egg to the oil. Wait until the bottom is set, then scramble for 20 to 30 seconds, so that the eggs are mostly cooked through, but there is some remaining runny egg. Chop the egg into the fried rice using a spatula.

Add the remaining green onion. Stir everything together and cook for another 30 seconds. Taste the rice carefully and adjust the seasoning by adding a pinch of salt, if needed.

Serve hot as a main or side dish.
Nutrition
Serving:
1
serving
,
Calories:
412
kcal
,
Carbohydrates:
48
g
,
Protein:
21.5
g
,
Fat:
14.4
g
,
Saturated Fat:
4.6
g
,
Cholesterol:
156
mg
,
Sodium:
709
mg
,
Potassium:
163
mg
,
Fiber:
1.7
g
,
Sugar:
7.7
g
,
Calcium:
43
mg
,
Iron:
3
mg
If you give this recipe a try, let us know! Leave a comment, rate it (once you've tried it), and take a picture and tag it @omnivorescookbook on Instagram! I'd love to see what you come up with.
More delicious char siu pork recipes
Lilja Walter is a part of the Omnivore's Cookbook team and worked closely with Maggie to develop and test this recipe.