These lemon cupcakes have an ultra soft and moist texture and are served with a fragrant white chocolate whipped cream and strawberries. This recipe is for you if you enjoy a decadent dessert that is not too sweet.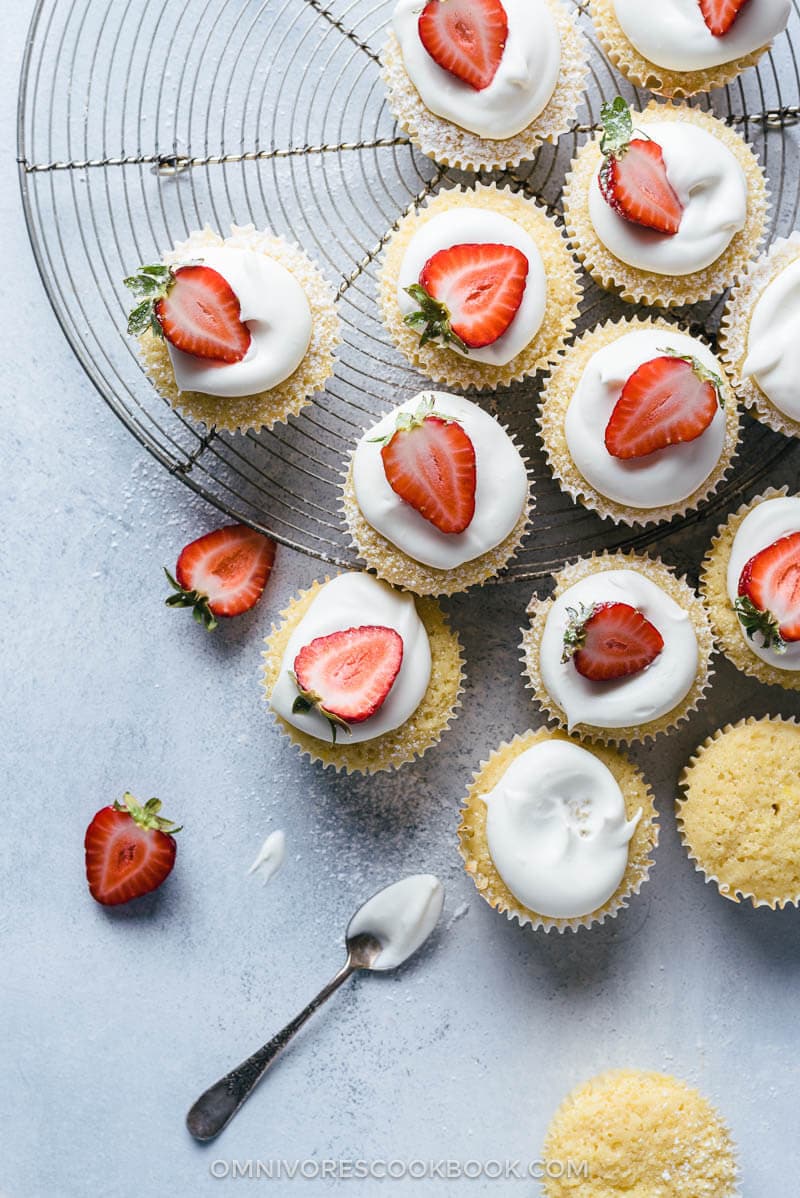 I started a baking project this summer–learning to make desserts and trying to recreate some of my favorite dishes from the past. I made some ginger infused creme brulee to kick off the project. Today, I want to introduce my latest work–a Japanese-style light lemon cupcake.
I became obsessed with Japanese-style baking while living in Japan back in college. Japanese bakeries always use the freshest ingredients possible to recreate Western desserts with less sugar. The desserts are usually light in texture and less sweet, which allows you to enjoy the original aroma of the milk and cream.
This recipe is slightly adapted from the Yuzu Vanilla Cupcake recipe in the cookbook Kyotofu–Uniquely Delicious Japanese Desserts by Nicole Bermensolo with Elizabeth Gunnison Dunn.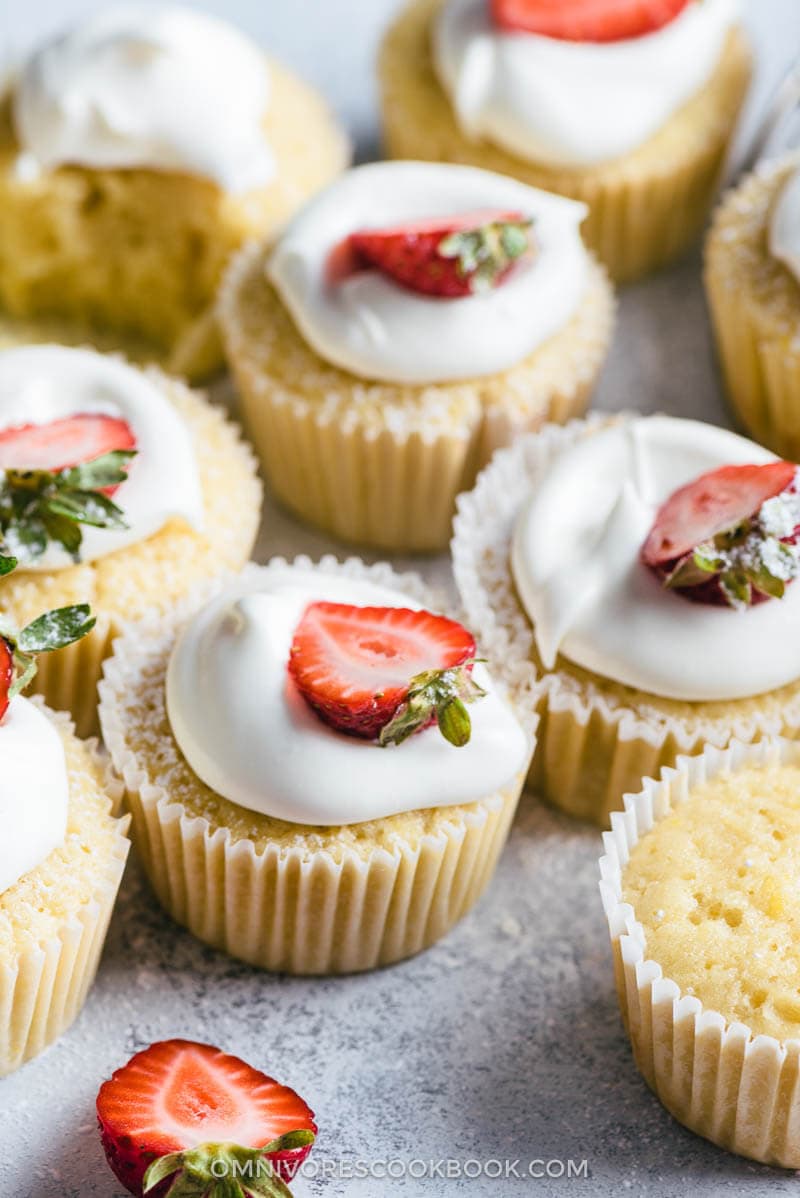 This lemon cupcake recipe is different from your average recipe because:
It uses a lot more lemon juice and vanilla to create a refreshing and rounded citrus taste that is not too sharp.
The white chocolate adds extra aroma to the cake. I also reduced the added sugar, so the cupcakes won't taste overly sweet.
The recipe uses extra butter to make a moist texture. The cupcake batter will look quite runny and will not rise too much during baking. But don't worry! Your cupcakes will come out well, and will hold their shape and toppings.
The white chocolate frosting adds a bit of sweetness, a buttery taste, and a fluffy soft texture without overpowering the lemon flavor.
Seasonal berries are topped on the frosting to give the cupcakes a stunning look.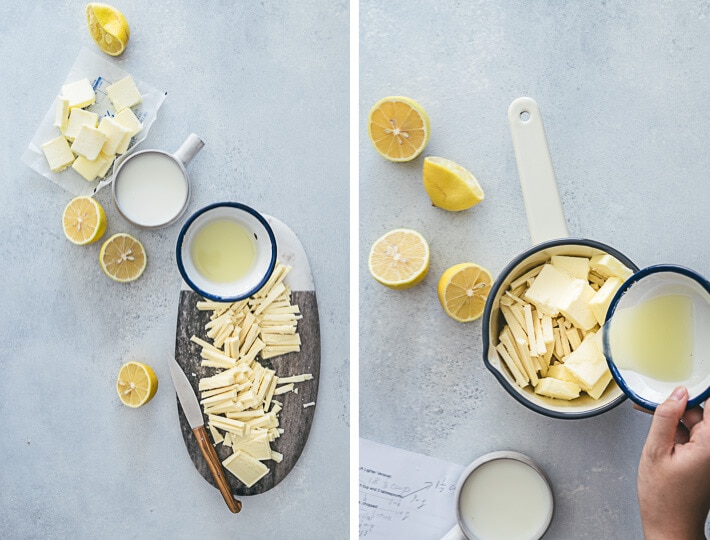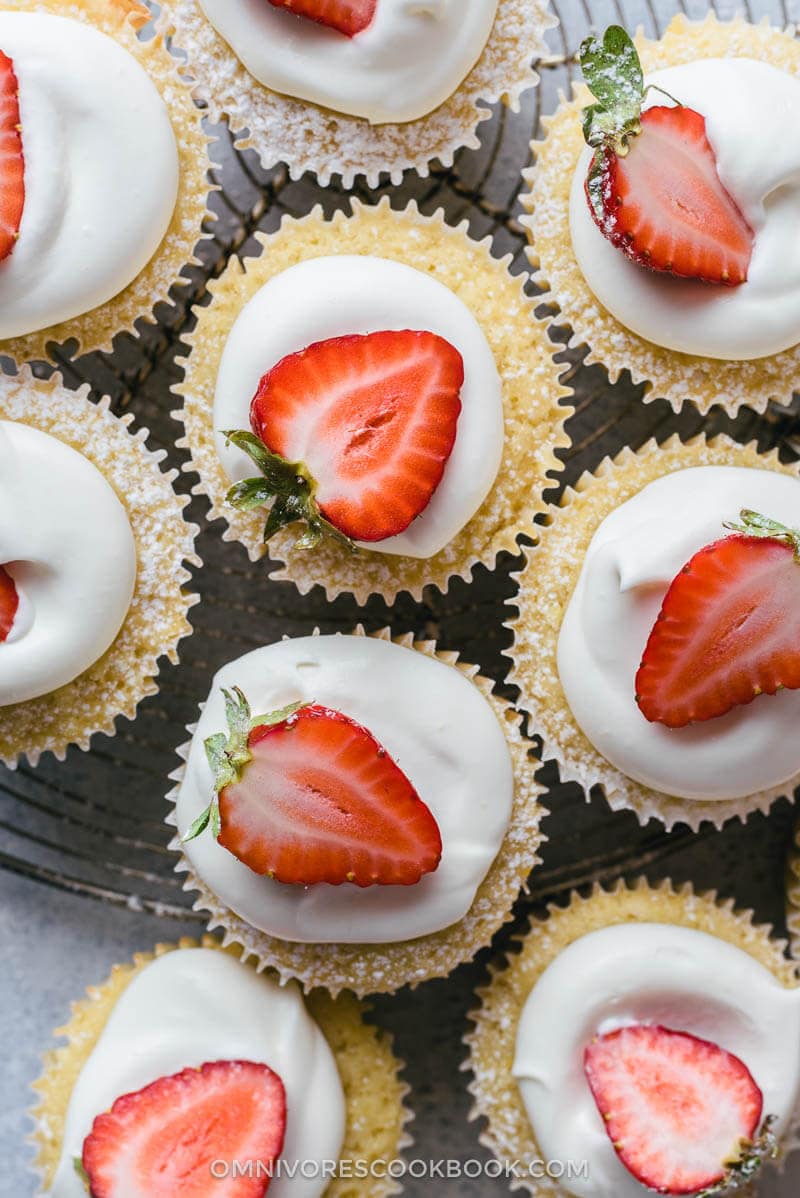 In the cookbook, the chef didn't add any frosting to the cupcakes. However, I still love to add some frosting to my cupcakes to make them look merrier. So I made this white chocolate frosting. It is somewhere in between whipped cream and ganache, and it adds a nice touch to the final product.
The only drawback is that the frosting will soften at room temperature (just like whipped cream). If you need to bring the cupcakes somewhere, you have two options:
(1) Pack the cream in a chilled bag and frost the cupcakes right before serving.
Or (2) Frost the cupcakes in advance and store them in the fridge. Pack them in an insulated container during transport. Let the cupcakes return to room temperature before serving.
I love to use the heavy duty OXO Non-Stick Pro Muffin Pan to bake my cupcakes. It has a unique micro-textured pattern that ensures even baking and adds structural rigidity, which generates satisfying results every time. And I highly recommend these cute and colorful silicone baking cups. The handy tabs make it easy to release them from the muffin pan. I also noticed my cupcakes rise better in these cups than in paper liners.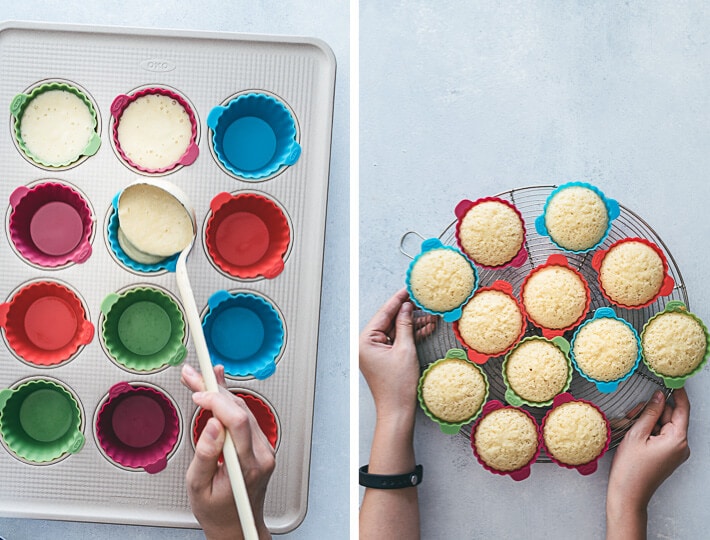 You can make the cupcakes a day in advance and store them in a container at room temperature. If you have frosted the cupcakes, store them in a container in the fridge for up to 3 days.
Disclosure: This blog post is a part of the OXO Cookies for Kids' Cancer campaign. For my participation, OXO will donate $100 to Cookies for Kids' Cancer (up to their $100,000 commitment.) Cookies for Kids' Cancer is a recognized 501c(3) public charity duly incorporated under the laws of the state of New Jersey.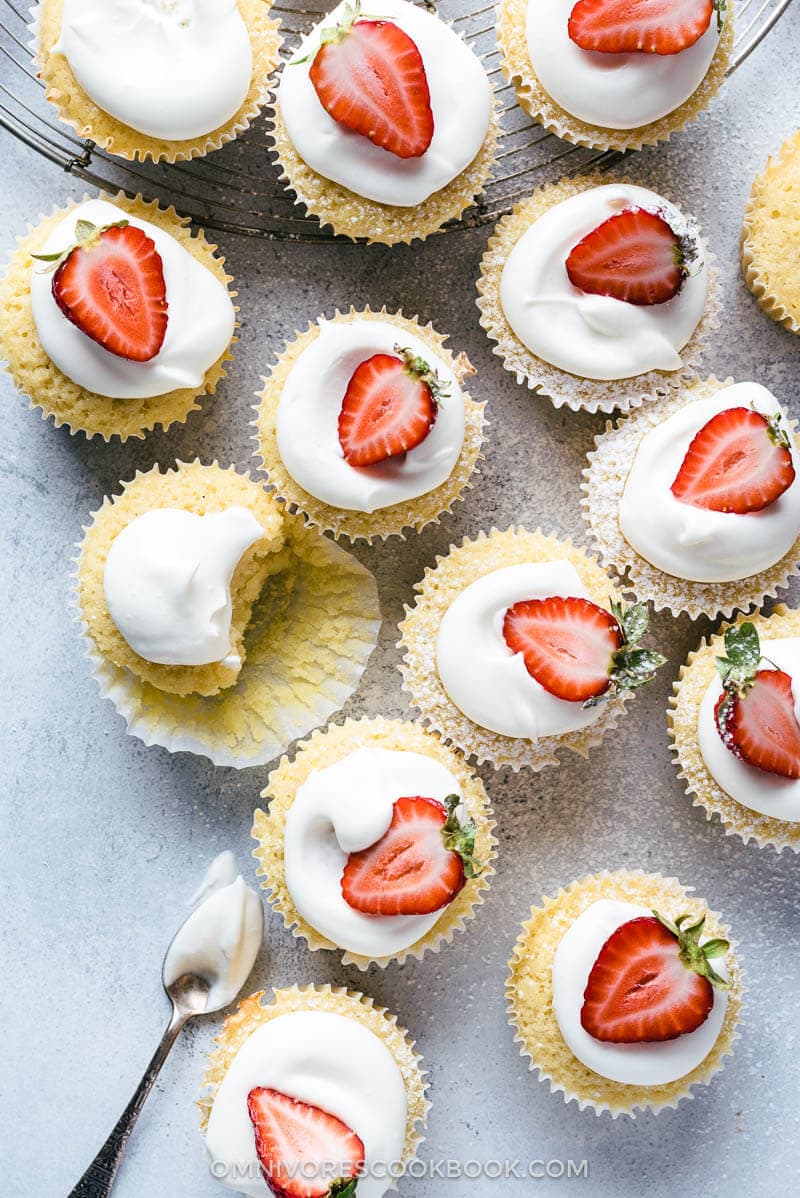 If you give this recipe a try, let us know! Leave a comment, rate it (once you've tried it), and take a picture and tag it @omnivorescookbook on Instagram! I'd love to see what you come up with.
Want to Know More?
Receive our 5-Day Chinese Cooking Crash Course & Recipe Updates! Subscribe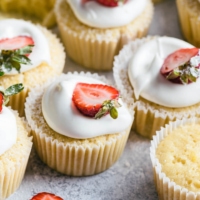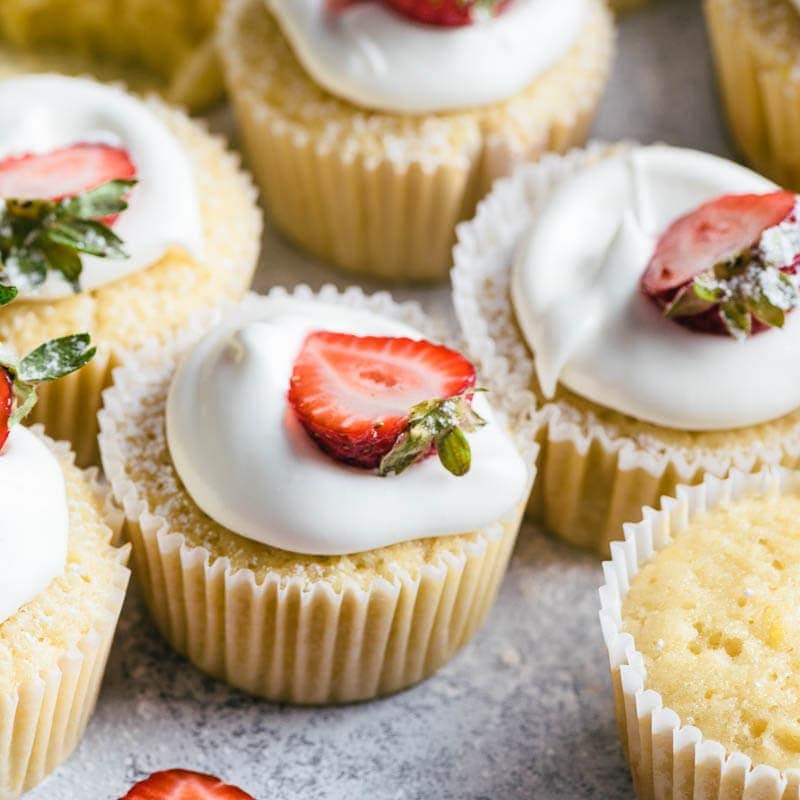 White Chocolate Lemon Cupcakes
These lemon cupcakes have an ultra soft and moist texture and are served with a fragrant white chocolate whipped cream and strawberries. This recipe is for you if you enjoy a decadent dessert that is not too sweet.
Ingredients
Cupcakes
190

grams

all-purpose flour

about 1 1/2 cups using this measuring method

1 1/2

teaspoons

baking powder

1/2

teaspoon

salt

1 1/2

cups (226 grams)

white chocolate bar or chips

, chopped

1

stick (113 grams)

unsalted butter

1/2

cup (120ml)

lemon juice

1/3

cup (80ml)

milk

1/2

cup (100 grams)

granulated sugar

4

large eggs

, at room temperature

1

tablespoon

vanilla extract
White chocolate cream frosting
1 1/2

cups

heavy whipping cream

, chilled (*Footnote 1)

1/3

cup (50 grams)

white chocolate bar or chips

, chopped
Topping options
Confectioners' sugar for dusting

Strawberries

blueberries, or blackberries for garnish
Instructions
Cupcakes
Preheat the oven to 350 degrees F (177 C). Line 12 cupcake tins with paper liners.

Combine flour, baking powder, and salt in a medium bowl. Stir to mix well.

Prepare an electric mixer and set it aside. Create a double boiler by choosing a medium and a small pot, so you can stack the small one into the medium pot. Add water to the medium pot to the height that covers the bottom of the small pot. Bring water to a simmer. Add white chocolate, butter, lemon juice, and milk to the small pot. Dip the bottom of the small pot into the simmering water. Whisk and cook until the ingredients are melted and combined. Remove the small pot from the water and place it on a working surface. Immediately add the granulated sugar into the small pot, and whisk at low speed with an electric mixer until the sugar is fully incorporated.

Add the eggs, one at a time. Whisk to mix well.

Add the vanilla extract. Whisk to mix well.

Gradually add the dry mixture, mix until just incorporated.

Fill the lined cupcake tins with the batter until almost full. Bake for 17 to 20 minutes, until a toothpick inserted into the center comes out clean.

Transfer to a cooling rack to cool down completely. You can make the cupcakes a day ahead and store them in a container at room temperature.
Cream frosting
Add chocolate and 1/2 cup heavy cream into a medium-sized bowl. Microwave in 30-second increments, until the chocolate is melted and starts to release the yellow cocoa butter, about 1 minute in total. Whisk until the white chocolate is fully dissolved, 2 to 3 minutes. Seal the bowl with plastic wrap and store it in the fridge until the mixture is chilled, 3 to 4 hours.

When you're ready to serve, combine the white chocolate mixture with the remaining 1 cup chilled heavy cream in a large tall bowl. Whisk on high speed until stiff peaks just form.

To assemble, spoon some white chocolate cream onto the cupcakes and garnish with berries. Serve with the rest of the frosting on the side.

The cupcakes will hold up at room temperature for a day or two, and in the fridge for 4 to 5 days. Always store the frosted cupcakes in an airtight container in the fridge. Let them rest at room temperature for 20 to 30 minutes before serving, to bring the texture back to life.
Notes
The 1 1/2 cup heavy cream is enough to frost all the cupcakes. Although I usually double the amount and serve the extra whipped white chocolate cream on the side, because I love top extra frosting on my cupcake while eating!
Nutrition
Serving:
1
cupcake
,
Calories:
304
kcal
,
Carbohydrates:
25.2
g
,
Protein:
4.1
g
,
Fat:
21
g
,
Saturated Fat:
12.6
g
,
Cholesterol:
103
mg
,
Sodium:
186
mg
,
Potassium:
118
mg
,
Fiber:
0.3
g
,
Sugar:
24.5
g
,
Vitamin A:
18
IU
,
Vitamin C:
8
mg
,
Calcium:
4
mg
,
Iron:
2
mg