A classic French dessert tweaked to Asian style, using less sugar and cream. This ginger creme brulee features a creamy custard that is more structured, with a lighter texture, but the mouthfeel remains rich and decadent.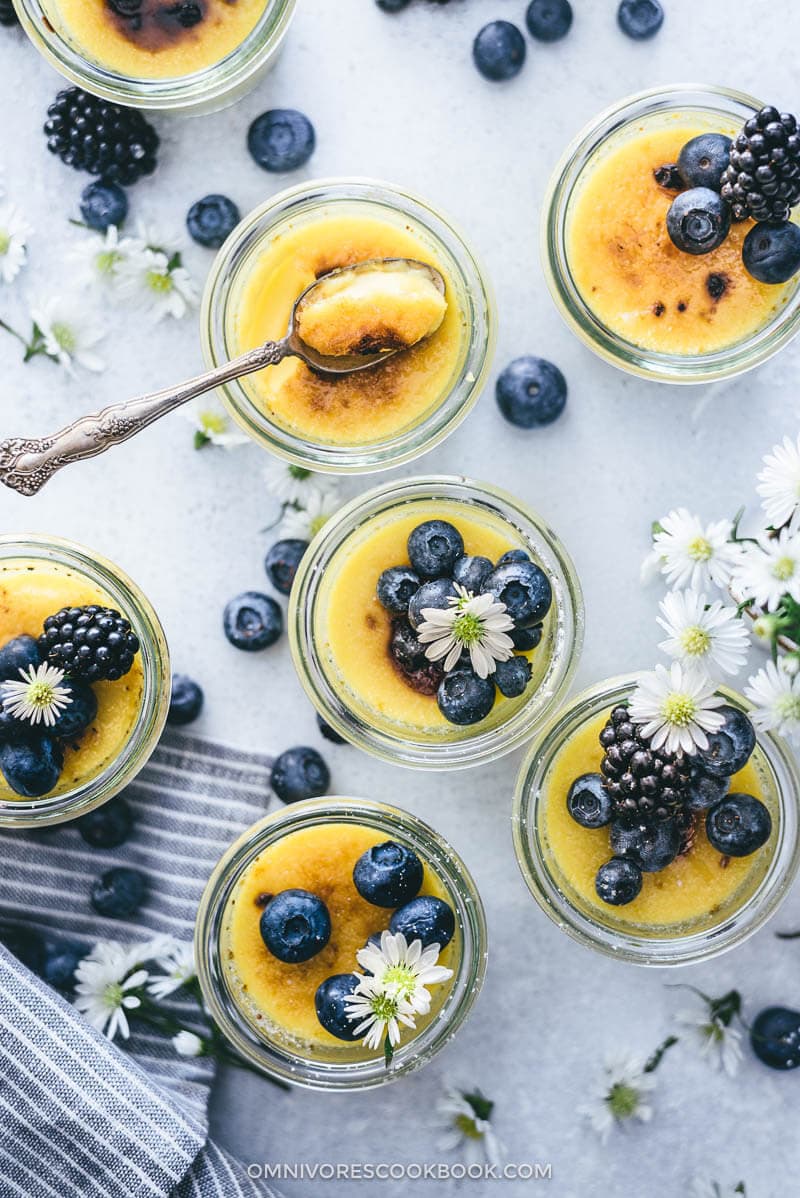 Summer is a great season to challenge yourself with new things, my yoga teacher told me. I could not agree with him more. In the hot summer, it seems like I tend to be more open, brave, and confident. And I become more fearless towards failure. That's why I decided to start learning baking – a project I've been wanting to do for years but kept procrastinating on.
When traveling in Switzerland and Germany last month, I was sucked into a wonderland of pastries and desserts. When visiting a place where everyone is handing out free chocolate to accompany my coffee, where I can get freshly baked pastries in every neighborhood, and where the desserts are made with fresh ingredients and are not overly sweet, I didn't even try to resist.
I was so impressed when I saw the pastry kitchen in the Geneva airport. I could see through the bright window and watch the pastry chefs making baguettes and croissants from scratch. And I'm talking about inside the terminal! The chocolate croissant was crispy and flaky on the surface, light as a feather, with a buttery soft texture, filled with just the right amount of melted chocolate. I devoured two and almost ordered a third.
After two weeks of indulging in great pastries and sweets, it's a bit difficult to get out of the habit! So here I am, finally deciding to pick up my cookbooks and challenge myself with some of my favorite recipes at home.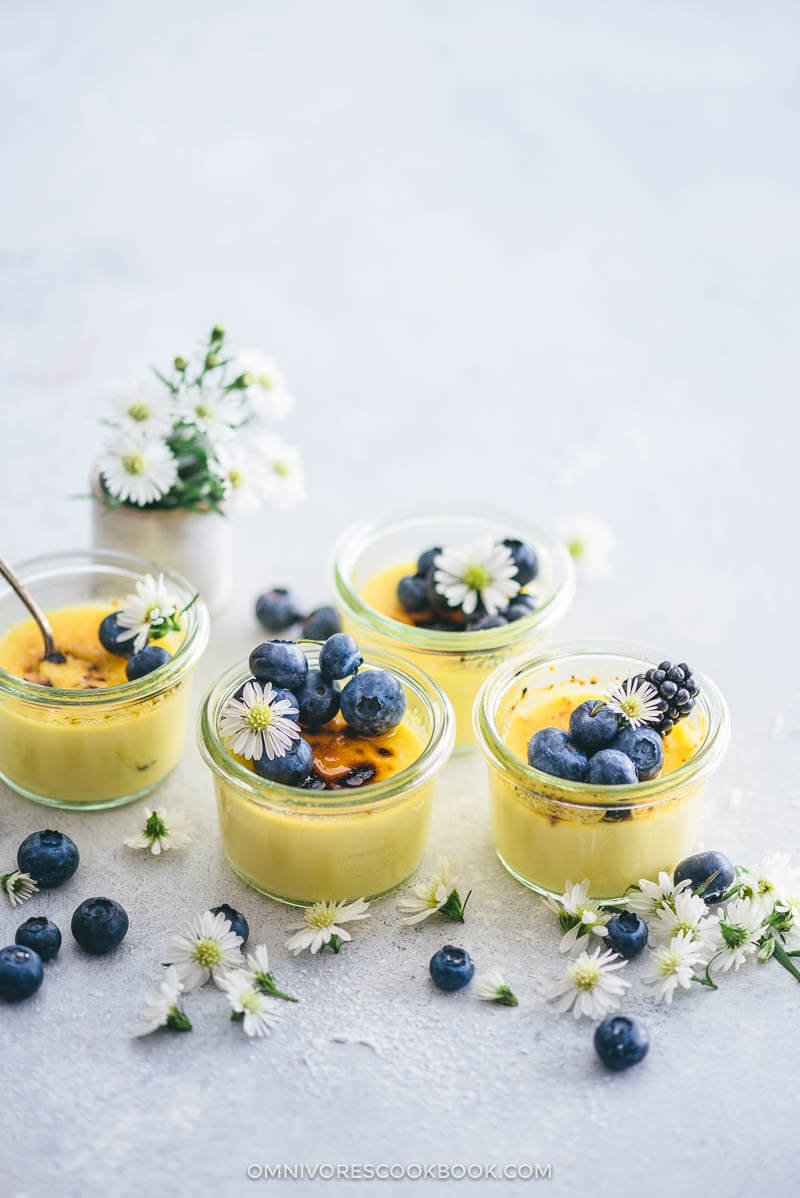 But wait for a second, didn't I just talk about cooking more healthy food a couple days ago? Yes, I did! But I don't think it's a contradictory statement.
When I bake at home, I have total control over the ingredients and I know exactly how the dessert is made. I can create fresh desserts that contain way less sugar, use high-quality ingredients, do not contain preservatives, and still retain a rich texture. My belief is that when you have a sweet tooth to satisfy, always spend those calories wisely on the good stuff.
OK, I just made an excuse to eat dessert. Judge me if you want! 😛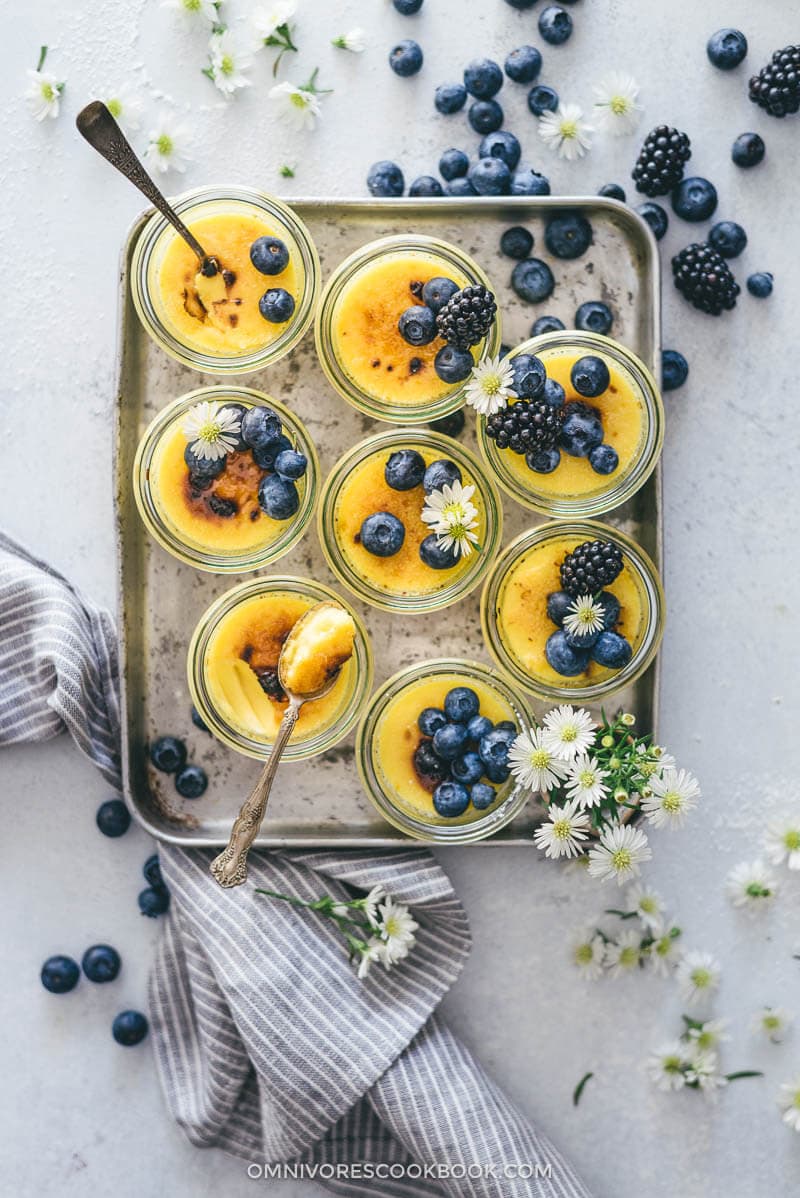 Creme brulee – Asian style
Today I'm sharing one of my favorite desserts of all time – a creme brulee with a bit of an Asian twist. The recipe is slightly adapted from Sam Leong: A Family Cookbook – Cooking Across Three Generations, with more detailed instructions based on learnings from various sources.
The creamy custard is infused with a refreshing ginger flavor. Instead of using 100% heavy cream, this recipe blends in a lot of whole milk. It also contains half the amount of sugar of the average creme brulee recipe.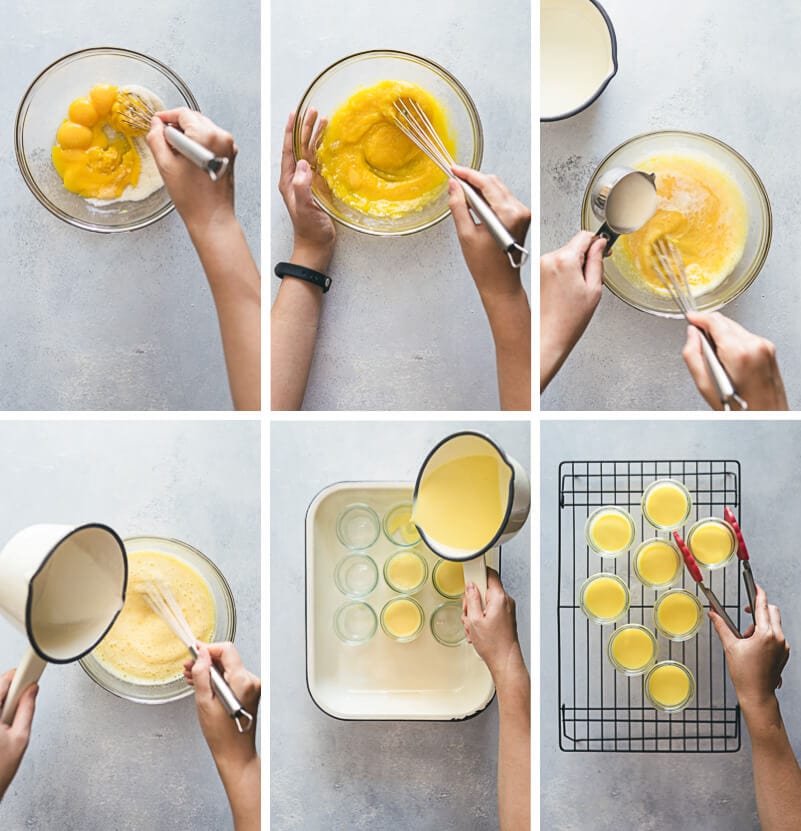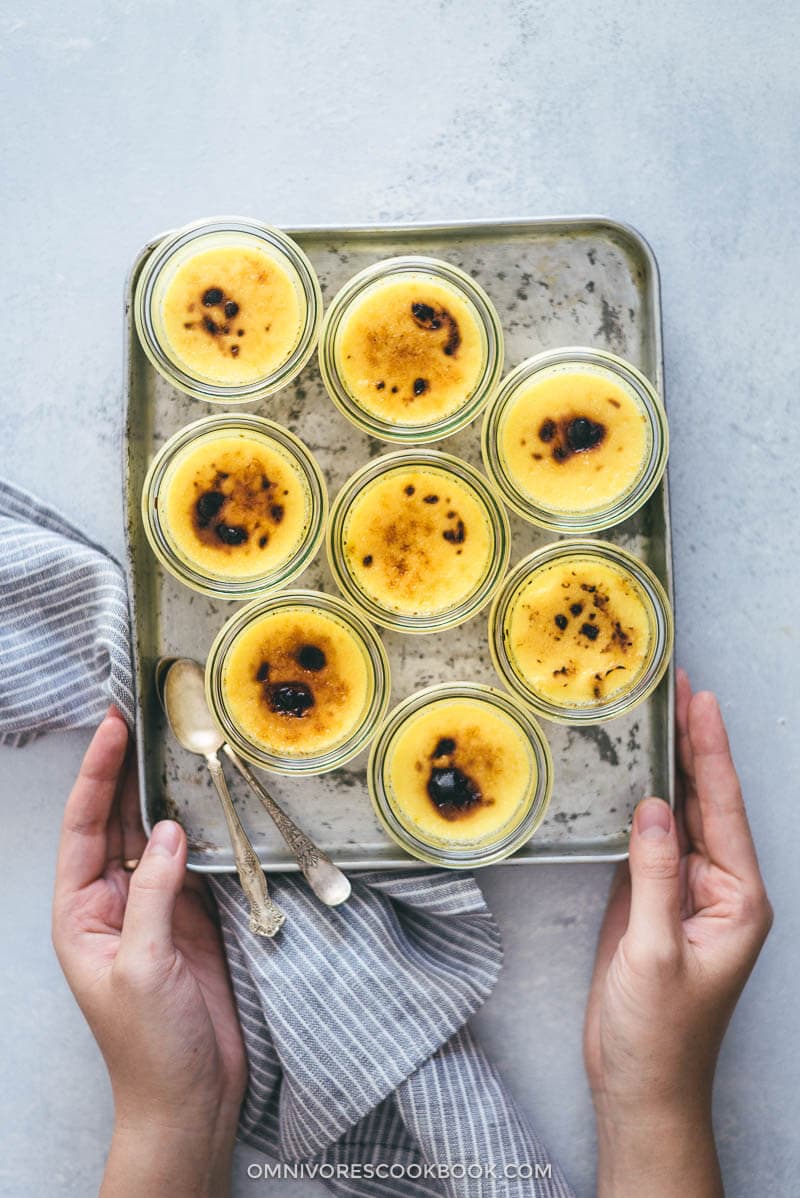 When you've finished cooking this, you will have a creamy custard that is slightly more structured, with a lighter texture, but a mouthfeel that remains rich and decadent. I love to top it with some summer berries, which also makes for a nicer presentation. My favorite part is when you crack the caramelized sugar with your spoon. That crisp sound alone is enough to make my day.
I used mini mason jars to make these desserts, half the size of the typical creme brulee you get in the US. I call it "Asian size", which is just the right amount of indulgence for dessert after a weekday dinner. One of the things I love about using these jars is that it is much easier to stack them in the fridge once you finish cooking them. They taste best fresh from the oven but hold up well in the fridge for three to four days.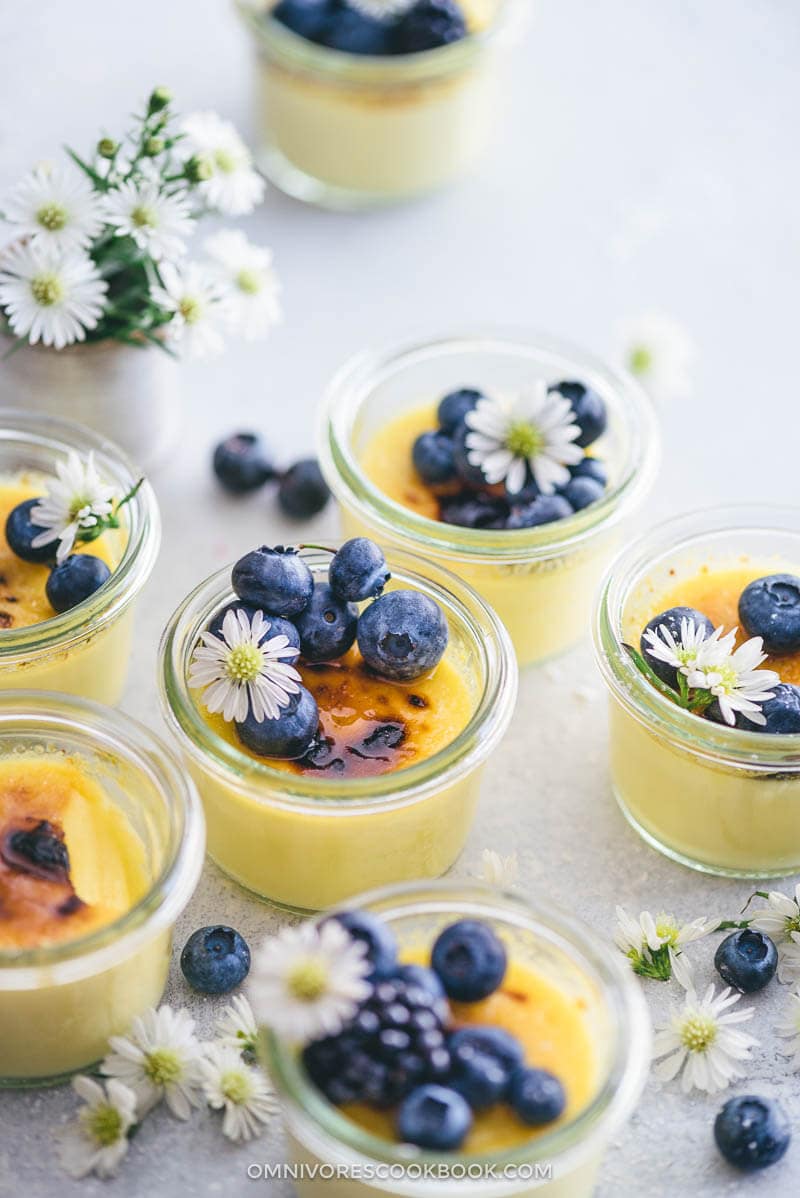 What if I don't have a blowtorch?
I highly recommend purchasing one from Home Depot or from Amazon. Select a bigger torch that can be clipped onto a butane can. This kind is much more powerful, browns the food faster, and can be used to cook other things, too. Most importantly, it makes your creme brulee immediately as professional as one from a French restaurant.
There are other approaches, such as using the broiler to caramelize the sugar. Or sprinkling sugar on a piece of aluminum foil and browning it under the broiler. I've tried all the methods, and the blowtorch wins, hands down.
If you want to use the broiler method, be sure to chill the creme brulee overnight in the fridge. Then place the ramekins in a tray filled with ice water. So you won't overheat the custard in the process
I've tried sprinkling a thin layer of sugar on a piece of foil and cooking it under the broiler. It forms a thin crispy layer of sugar that you can peel off and place on top of the custard. But it is very difficult to brown the sugar evenly and you might end up with some burnt sugar.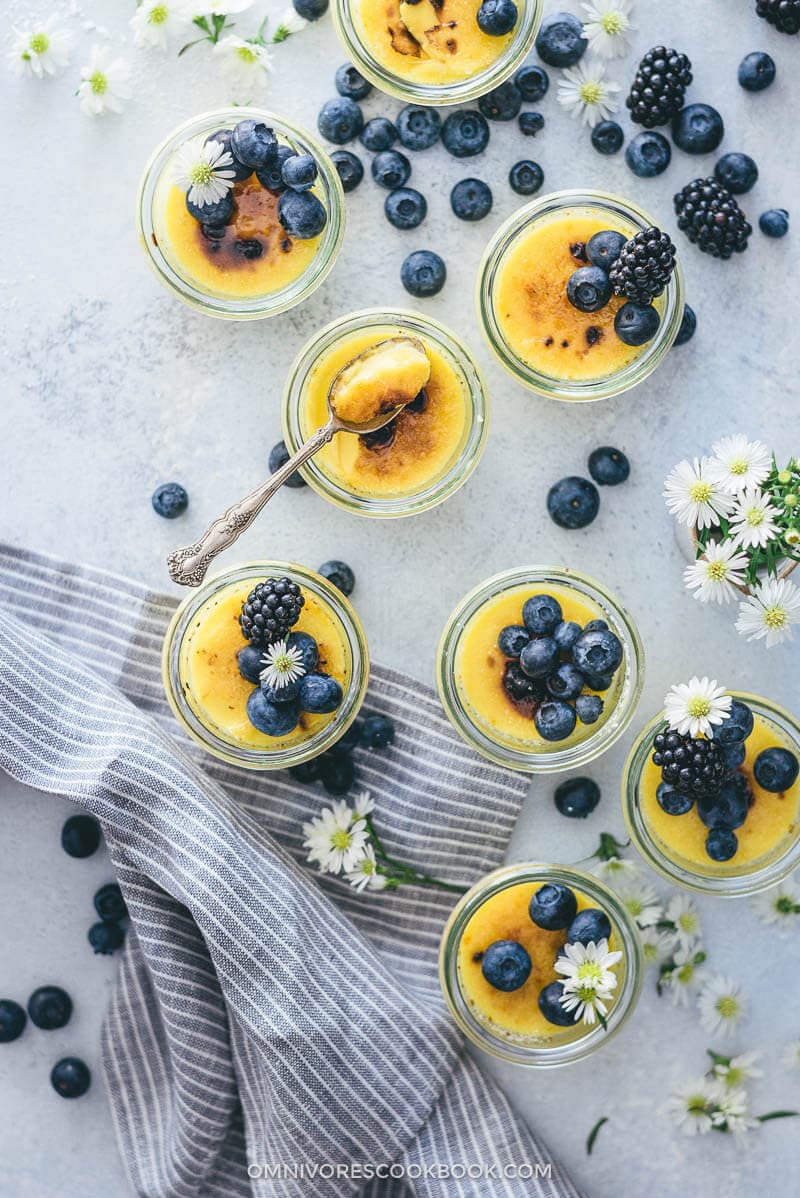 This is the first project of my baking challenge. Do you like it? I'll be searching for more delicious Asian-style desserts in my cookbooks and sharing them with you! Leave a comment below and share your favorite dessert. I'm looking forward to hearing your thoughts!
More Asian dessert
If you give this recipe a try, let us know! Leave a comment, rate it (once you've tried it), and take a picture and tag it @omnivorescookbook on Instagram! I'd love to see what you come up with.
Want to Know More?
Receive our 5-Day Chinese Cooking Crash Course & Recipe Updates! Subscribe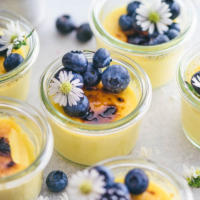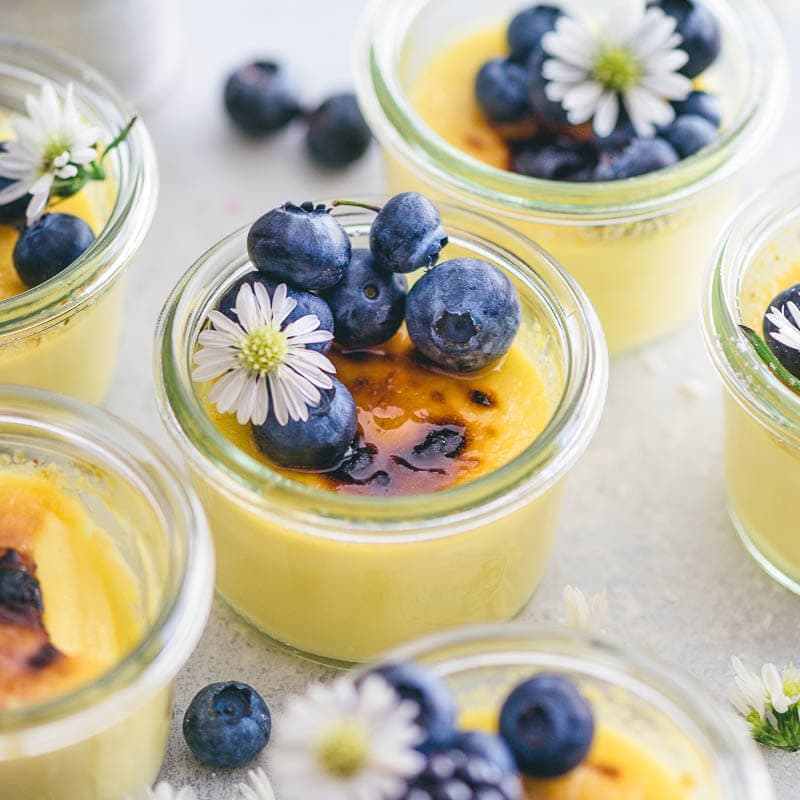 Ginger Creme Brulee
A classic French dessert tweaked to Asian style, using less sugar and cream. The ginger creme brulee features a creamy custard that is more structured, with a lighter texture, but the mouthfeel remains rich and decadent.
The recipe is slightly adapted from
Sam Leong: A Family Cookbook - Cooking Across Three Generations
, with more detailed instructions.
Servings:
10
mini servings or 4 normal servings
Ingredients
1

cup (240 ml)

whole milk

3/4

cup (180 ml)

heavy whipping cream

1/2

thumb (15g)

ginger

, peeled and sliced

6

(110 g)

large egg yolk

1/4

cup (70 g)

caster sugar

, and more for caramelizing

1/8

teaspoon

salt
Topping options
1

cup

blueberries

1/2

cup

blackberries
Instructions
Custard

Preheat oven to 300 degrees F (150 C). Bring a kettle of water to a boil, keep covered and sit on lowest heat to keep warm. Place eight 2.7-oz. (80ml) or four 6-oz (177-ml) ramekins (or heatproof jars) into a deep baking tray.

Add milk, cream, and ginger into a small saucepan. Cook over medium heat until almost simmering. Immediately remove the pan from the stove. Let steep for 15 minutes to allow the ginger to infuse. Remove ginger using a slotted spoon and discard. Cook the mixture again until it almost reaches a simmer.

While heating the cream mixture (after you've done infused the ginger), combine egg yolks and sugar in a medium-sized mixing bowl. Mix until the sugar is just incorporated.

Slowly pour about 1/2 cup of the heated cream mixture into the egg yolks and whisk until fully mixed. This step will bring the egg yolk toward the temperature of the hot liquid, so it won't be cooked into solid egg when you add the rest of the cream.

Add the rest of the cream mixture while whisking, until everything is fully mixed. Pour the mixture over a strainer into a milk pan to remove any extra bits of ginger. Use a spoon to remove the foam from the surface and discard.

Pour the custard mixture into the ramekins until each of them is 80% filled.

Place the baking tray into the preheated oven. Then pour the hot water into the baking tray, until it fills half way up the height of the ramekins.

Bake until the mixture is just set, about 25 to 30 minutes. (*Footnote 1)

Remove the ramekins from the water bath using a spatula and transfer them onto a cooling rack. Let cool to room temperature, for about 1 hour. Then seal the ramekins with plastic wrap (or cover the jars with lids) and store them in the fridge for at least 1 hour, up to overnight, before serving. The custard will stay good for 3 to 4 days in the fridge, but freshly made ones taste the best.

Sprinkle 1/4 teaspoon over each chilled custard. Shake the ramekin gently so the surface is evenly covered. Light up your kitchen torch, then cook the sugar by positioning the torch at a 45-degree angle, about 6 inches (15-cm) from the sugar. Move your torch back and forth slowly so it heats up the sugar evenly and does not create any burned spots. When the sugar starts bubbling and melting and some spots turn light brown, stop the torch. The sugar will continue to cook a bit more and then set, forming a uniform golden brown crust.

If desired, garnish the creme brulees with fresh berries and serve!
Notes
The cooking time varies a lot depending on the container you use and your oven temperature. If you forget to boil the water, the baking will take up to 1 hour.
Nutrition
Serving:
1
serving of the 10 servings
,
Calories:
122
kcal
,
Carbohydrates:
9.5
g
,
Protein:
3.3
g
,
Fat:
8.2
g
,
Cholesterol:
175
mg
,
Sodium:
25
mg
,
Potassium:
40
mg
,
Sugar:
8.7
g