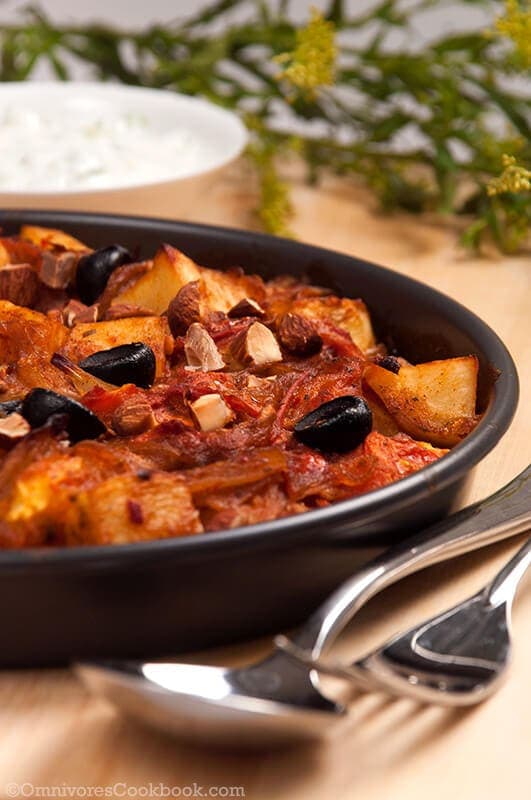 After having so many wonderful food at Istanbul, I started learning and trying to cook Turkish food. Like most of Mediterranean food, Turkish cuisine is very healthy and delicious.  It often uses olive oil, olive, nuts, beans, yogurt and all kinds of fresh vegetables. One thing I really like is, it cleverly utilizes yogurt to make various sauce and integrate it with dishes, to make them taste good and healthier.
Today, I want to introduce Turkish potato casserole, one dish I learnt from Classic Turkish Cooking.  The potato tastes very flavorful with tomato sauce, olive and nuts. The tzatziki sauce is very important in this dish, which added depth of sourness and creaminess. This one is a side dish which is good to go with poultry or fish, but I also like to enjoy itself as a main dish.
What is your favorite Turkish dish?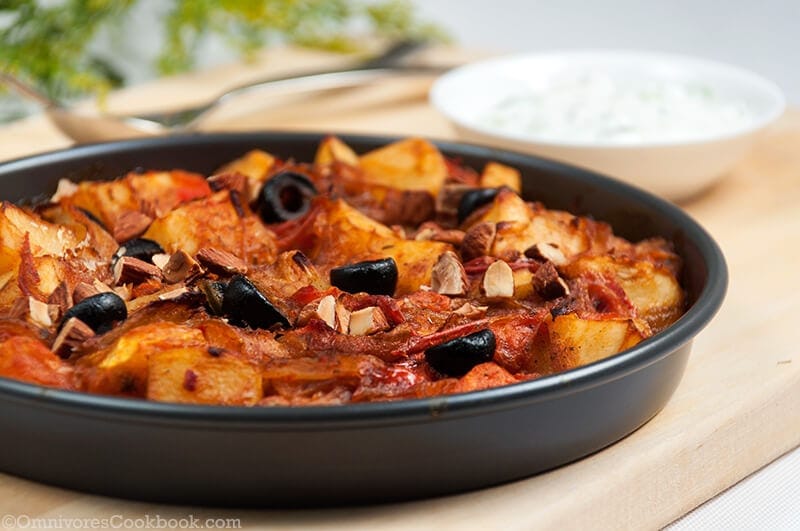 Want to Know More?
Receive our 5-Day Chinese Cooking Crash Course & Recipe Updates! Subscribe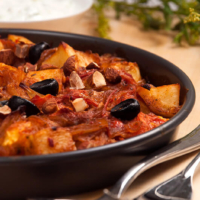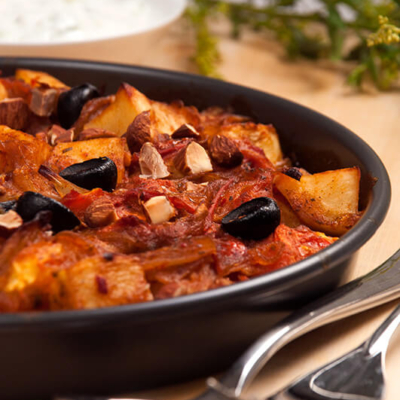 Turkish Potato Casserole (Patates Bastısı)
Ingredients
1

tablespoon

olive oil

2

small potatoes

peeled and chopped

1

small onion

sliced

1

tablespoon

minced fresh garlic

1/2

teaspoon

cumin powder

2

teaspoons

white wine vinegar

1/2

teaspoon

sugar

5

black olives

stoned and halved

2

small tomatoes

chopped

1/4

teaspoon

cayenne powder

3/4

teaspoon

paprika powder

1

teaspoon

dried oregano

1/2

teaspoon

dried parsley

1/2

teaspoon

salt

8

almonds

chopped
Tzatziki sauce
1

cup

Greek yogurt

or drained plain yogurt

1

small cucumber

peeled and diced (6-8mm square)

1

teaspoon

tried dill

1/2

teaspoon

salt
Instructions
Preheat oven to 200 degrees C (400F).

Heat olive oil in a non-sticky skillet on medium heat till hot. Add onion and potato, stir constantly till onion turns yellow, in 4 to 5 minutes. Add garlic and cumin and stir for another 2 to 3 minutes, till garlic fragrant well and cumin is mixed well with potato. Add in white wine vinegar, sugar and black olive, give it a stir. Then add in tomato, cayenne powder, paprika powder, oregano, parsley and salt. Keep stir until everything is mixed well.

Spread the mixture in a baking dish by spoon, place almond on top, bake in the oven for 25 to 30 minutes, until potato turns golden brown and most liquid has been absorbed.

Mix all the ingredients for the Tzatziki and set aside.

Serve the baked potato when chilled down a bit or cold, with Tzatziki sauce.