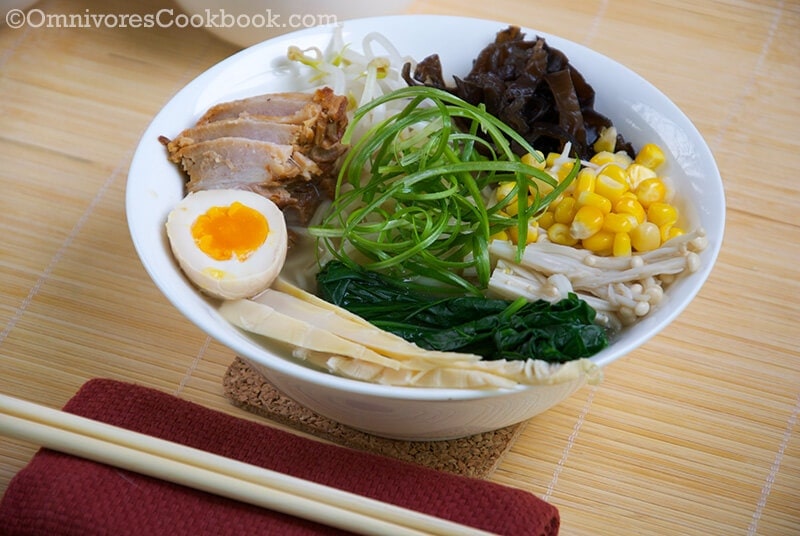 Ramen is one of my favorite Japanese food. It has so many varieties and every ramen restaurants has their own secret recipe to create special soup base. It was a lot of fun to try out different ramen at local restaurants in Japan.
While living in Japan, I've been working at a ramenya (small restaurant that mainly serve noodles). Restaurants in Japan has very flexible part-time shift that paid by hours and very few stuffs are formal employed. The restaurant I worked in has 10 tables and maximum of 30 people. It was covered by 8 to 9 stuffs during busy hours and only 2 to 4 by normal weekdays. I mainly cover evening shift during week days and lunch time for weekends. My peers were mostly college students. Stuffs of lunch time during week days are housewives. Their shift finish around 3-4pm, right before they go home and prepare dinner for their family.
In ramenya, work of waiter/waitress and job are mixed together, so basically everyone has to do everything. There are 2 positions. One is behind the counter, where stuff's mainly job is boil noodles, fry chickens, and fry rice in an open area. The other position is in front of counter, where you need to be a waiter/waitress, cashier, and partial chef (to help with place ramen toppings before serving) at the same time. All the stuffs need to do dishwashing (by hands…), swipe floor, prep food like slicing chashu and peel eggs, plus serving table during busy time. The boss will do everything thing mentioned above during extremely busy hours. Or sometimes if fewer customers are expected to come, the boss just tells some stuffs that their shifts ended early today and could go home now. Then the boss will only leave one stuff  with him to do all the works in order to lower cost.
My normal work flow is, lead customers to the table, take order, help with topping ramen, bring the food, collect cash, and clean the table. My mom once asked me, will you wash hands after collecting money and before doing the toppings. I said no, and you must do not think about it when you are dining there.
Well, until reading here, you might think I could obtain the tips and secret about how to make great ramen soup and chashu (braised pork), but unfortunately, NO!  The place I've been doing part-time is a chain restaurant and the soup and frozen chashu are delivered directly from factory. Even the owner of the place does not know how to cook them.
So until today, I still don't know the secret to make authentic ramen and I need to learn and make experiments by myself.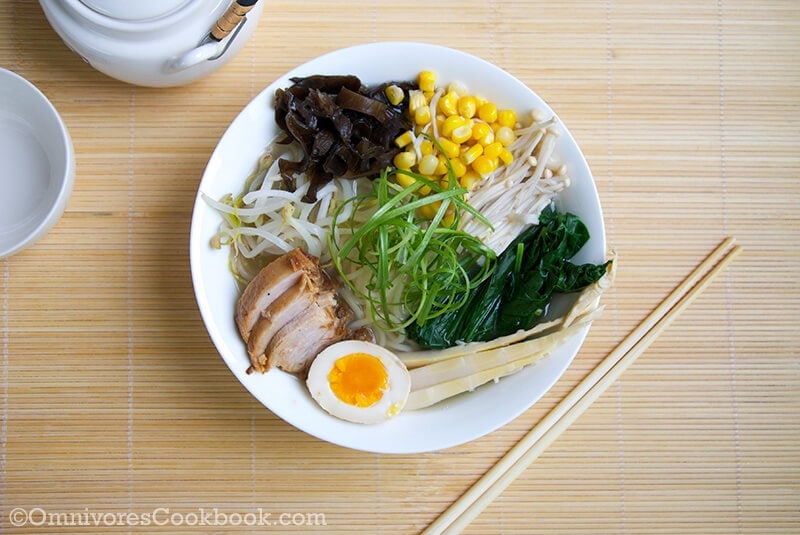 Want to Know More?
Receive our 5-Day Chinese Cooking Crash Course & Recipe Updates! Subscribe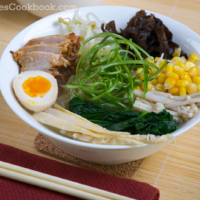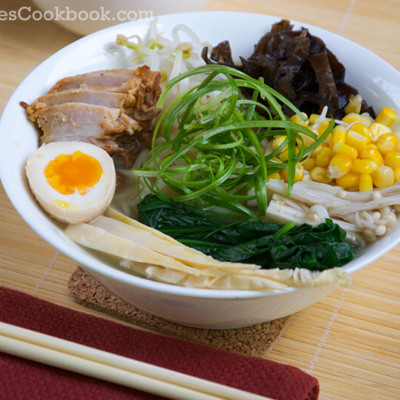 Tonkotsu Ramen
This recipe contains a lot of toppings, but you could only use chashu, corns, egg and green onion to make a very simple and delicious ramen dish.
Ingredients
2

serves dry

or fresh ramen noodles
Ramen soup
1

cup

pork stock

water to dilute pork stock

approx. 1-2 cup water, depends on the thickness of pork stock

1

teaspoon

chicken stock powder

1

teaspoon

soy sauce

1

teaspoon

rice wine

pinch

of salt

several drops of sesame oil
Toppings
1

block homemade chashu

3-4 slices per person

1

marinated egg

or boiled egg, halved

2

tablespoons

corns

4

small bamboo shoots

option

handful of boiled spinach

halved (option)

handful of boiled spring sprouts

option

handful of green onion

finely chopped
Instructions
Bring a large pot of water to boil, add noodles and boil according to instruction.

While boiling noodles, add pork stock and water into a small pot and heat till bringing a boil, add chicken stock, soy sauce, wine and salt to taste, boil for 1 more minute. Turn off heat, add sesame oil. The soup and noodles should be done at the same time. Simmer soup on lowest heat if noodles are still cooking.

When the noodles are done, pour soup into 2 big bowl till half full, drain noodles and add them into soup, stir slightly by chopsticks.

Add toppings on noodles and serve immediately.
Tonkotsu Ramen – Simple version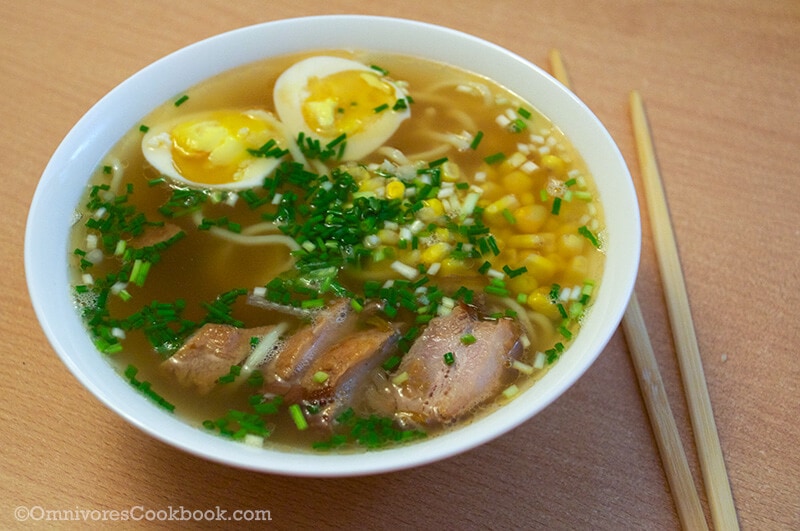 Other chapters of ramen making series
Chapter 1 … Chashu (braise pork belly)
Chapter 2 … Marinated Eggs
Chapter 3 … Pork Stork