Chrysanthemum salad is a simple, refreshing, and herbaceous dish that makes a perfect complement to any Asian meal.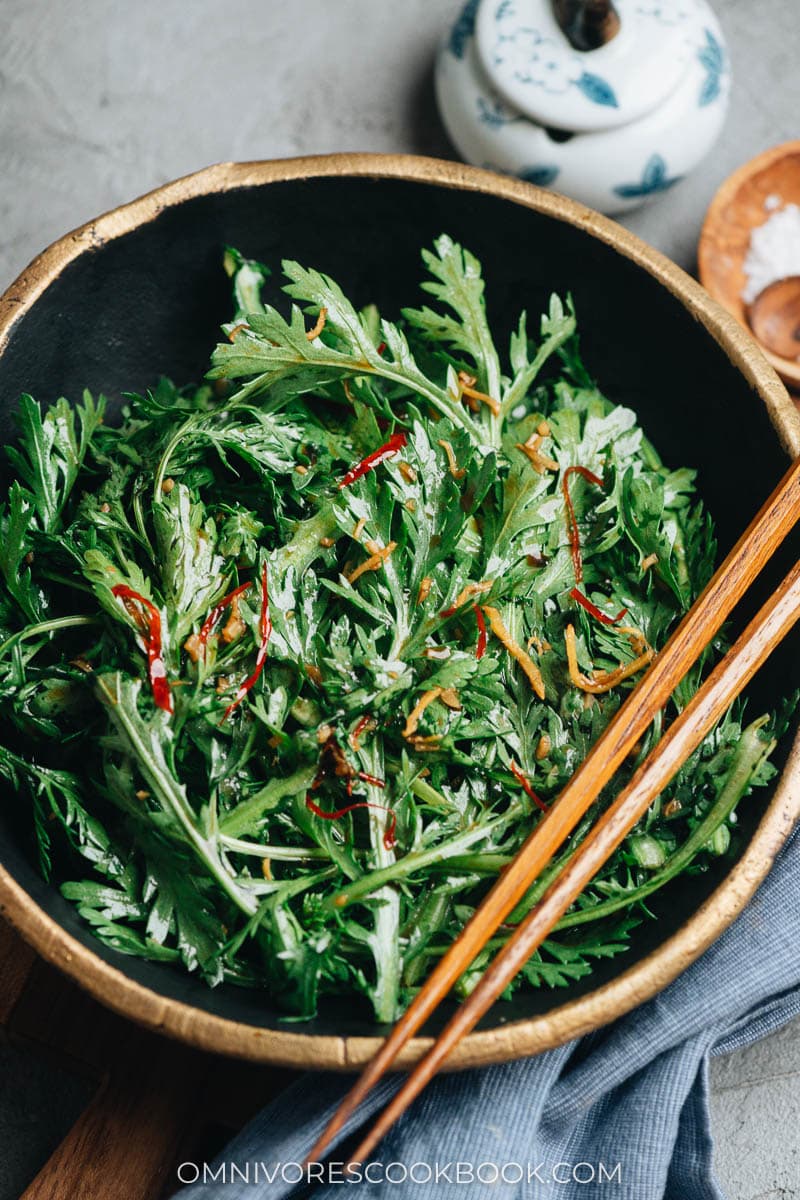 Chrysanthemum Salad: Cooling, Nourishing, and Delicious
This salad pairs chrysanthemum greens with a dressing of typical Chinese herbs and seasonings to make a cold appetizer that is a fitting counterbalance to heavier main dishes.
The greens have a nice crunch to them, and a subtle flavor that is balanced against the aromatics and other ingredients.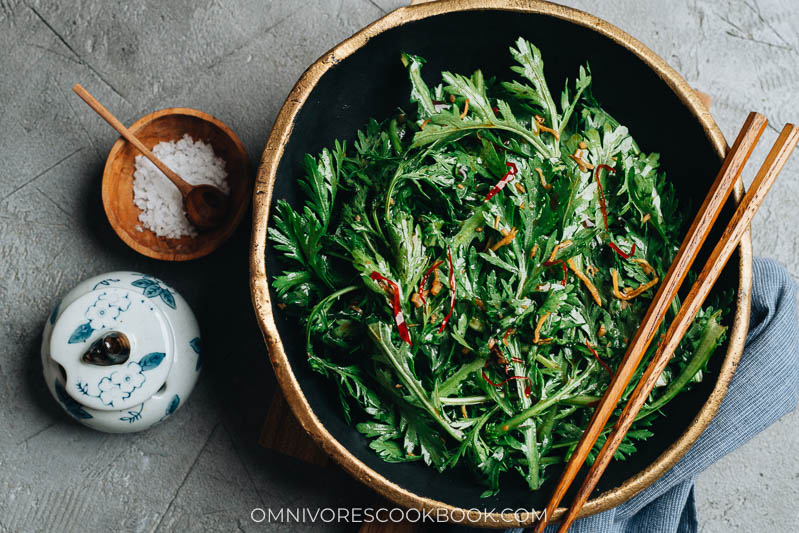 They also pack in quite a bit of nutrition, as they are rich in antioxidants and fiber, so they not only balance the flavor and texture profile of the meal, they also provide some balance in terms of healthiness.
Chrysanthemum? Isn't that a flower?
If you're unfamiliar with chrysanthemum greens, they come from a plant in the daisy family and are enjoyed in many East Asian countries, including China, Japan, and Korea.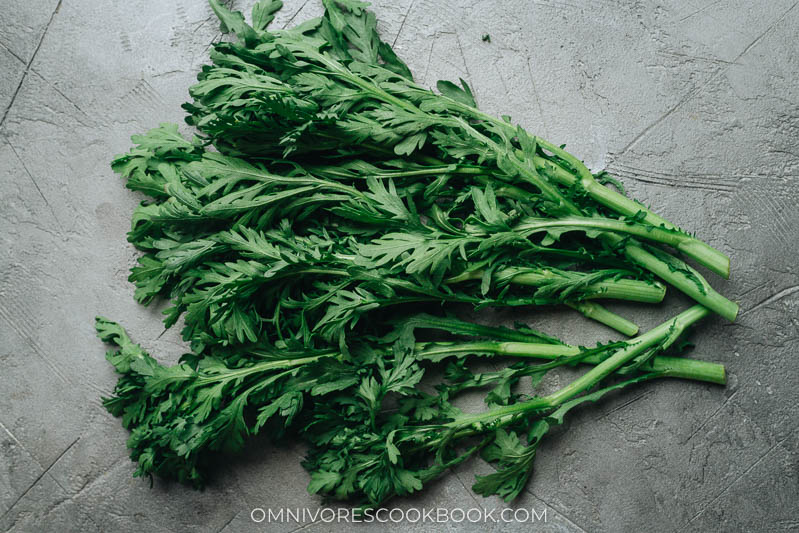 The greens have a lovely serrated appearance and can be eaten raw or cooked. Their flavor is grassy and mildly herbaceous/floral. They taste different from other greens but are overall quite pleasant. For comparison, I'd say they're milder than kale, so they're pretty versatile.
When I'm not eating them in salad, I like to enjoy them in hot pot and noodle soup. They are also quite tasty stir fried with garlic and seasoned with soy sauce.
Classic Chinese Salad Dressing
The dressing for this chrysanthemum salad is a standard and quite versatile combination of ingredients that works well with all kinds of veggies.
The sauce contains chinkiang vinegar, soy sauce, sesame oil, salt, and sugar, so it has a nice blend of umami, tartness, and nuttiness. The sugar is there for balance rather than sweetness.
The aromatics – garlic, ginger, and chili – give the sauce a bit of pop, but they don't overpower anything.
Hot Dressing for Flavor Development
While this dish is indeed a salad, the dressing does require a brief moment of heat on the stove. You'll heat up some oil to infuse the flavor of the garlic, ginger, and chili before mixing in the sauce ingredients and pouring it over the fresh greens.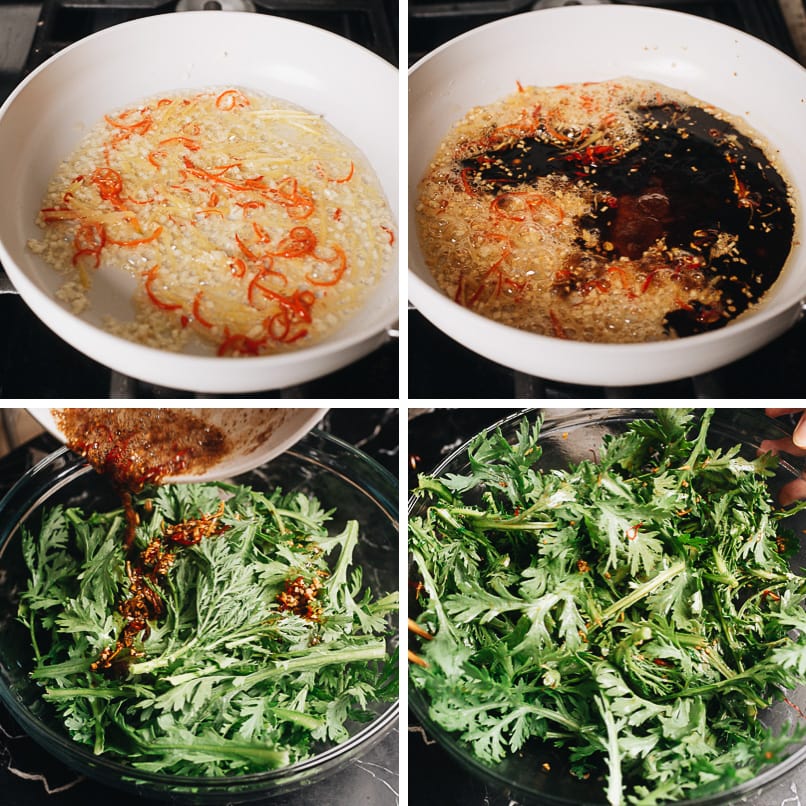 The greens will be very slightly wilted by the heat, but they'll still be cool, bright, and fresh. And you'll have a dressing with a nice bit of pop.
Quick Mains to Pair with the Chrysanthemum Salad
Given the clean flavor and aromatics of the salad, you can pair it with some pretty substantial main dishes. If you're pressed for time, here are some quick and tasty mains that you can whip up in 30 minutes or less: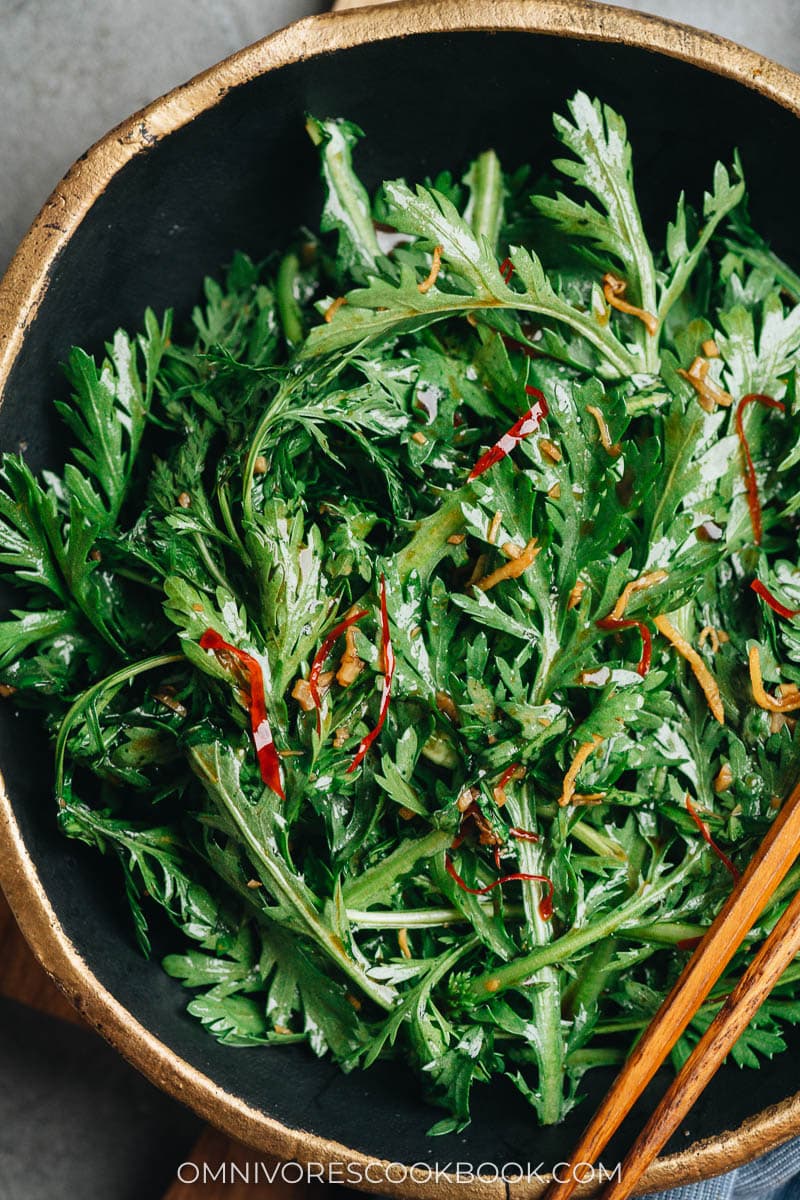 Want to Know More?
Receive our 5-Day Chinese Cooking Crash Course & Recipe Updates! Subscribe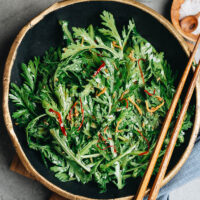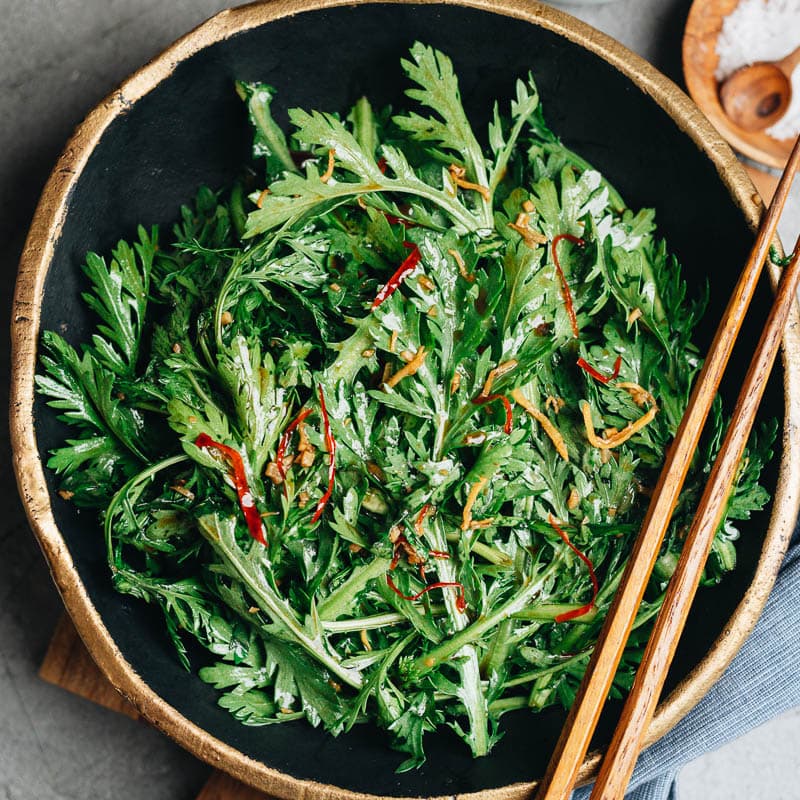 Chrysanthemum Salad
Chrysanthemum salad is a simple, refreshing, and herbaceous dish that makes a perfect complement to any Asian meal.
To make the dish gluten-free, replace the chinkiang vinegar with rice vinegar and the soy sauce with tamari.
Ingredients
8

oz (220 g)

chrysanthemum greens

(yield about 6 oz / 170 g washed & trimmed)
Cooking
1

tablespoon

peanut oil

2

cloves

garlic

, chopped

1

" (2.5 g)

ginger

, shredded

6

dried chilis

, chopped (or 3 thai chilis, deseeded & sliced)
Instructions
Thoroughly wash the chrysanthemum greens with running water and let air dry. You can also use a few layers of kitchen paper towels to pat dry. One done, chop them into bite-size pieces and add to a large heat proof bowl.

Combine the sauce ingredients in a small bowl and set aside.

Heat the oil in a small pan over low heat and add the garlic, ginger, and chilis. Fry slowly until the garlic begins to brown lightly.

Pour in sauce and turn off the heat.

Stir the sauce into the oil briefly, then pour over the chrysanthemum leaves. Immediately toss everything with a pair of tongs to evenly mix the sauce. Set aside and let the leaves wilt for about 2 minutes.

Serve immediately as an appetizer.
Nutrition
Serving:
1
serving
,
Calories:
59
kcal
,
Carbohydrates:
4.4
g
,
Protein:
1.2
g
,
Fat:
4.2
g
,
Saturated Fat:
0.7
g
,
Sodium:
334
mg
,
Potassium:
173
mg
,
Fiber:
0.8
g
,
Sugar:
2.3
g
,
Calcium:
64
mg
,
Iron:
1
mg
More Cold Appetizer Dishes
Lilja Walter is a part of the Omnivore's Cookbook team and worked closely with Maggie to develop and test this recipe.