Heavenly, soft and thick cookies with melting chocolate chunks, a buttery texture, and a hidden savory umami that is even better than sea salt and caramel ❤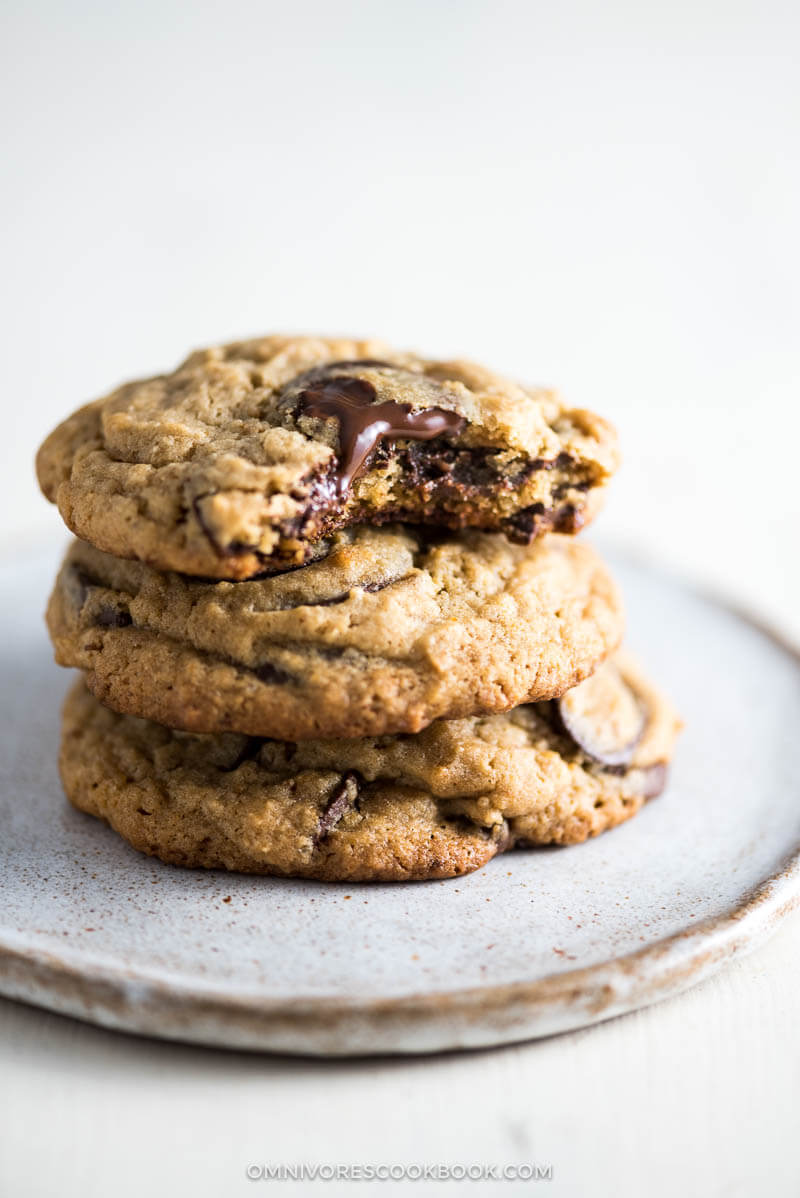 If you've been following my blog for a while, you know that I rarely bake dessert. I love cookies and cakes just like you do, but I find the task so intimidating that I often leave it to professional bakers.
There are exceptional occasions, though.
When I saw those Best Ever Chocolate Chip Cookies made by I am a food blog, I started to dream about them. Stephanie, the talented lady behind the blog, is my idol. Not only does she create irresistible recipes, but her photography and writing are so inspirational that it draws you in within seconds. Her blog is like a fairyland, full of surprises and magic. Check out her totoro recipes and you'll know what I mean.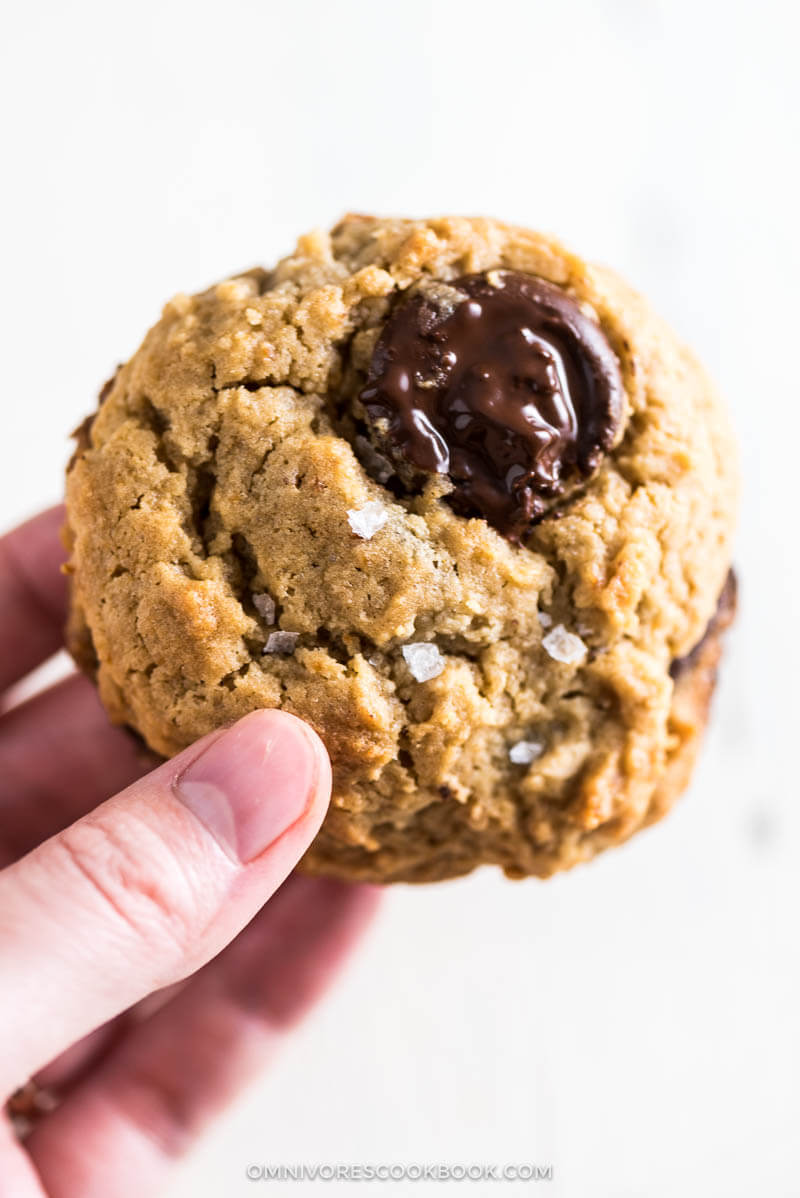 Back to talking about the cookies! Not only is this recipe so simple that even I can follow it, it produces soft and thick cookies with melting chocolate chunks and a buttery texture that are so good, nobody could stop at only having one cookie.
The second time I used this recipe, I dared to do something different – I replaced salt with miso paste.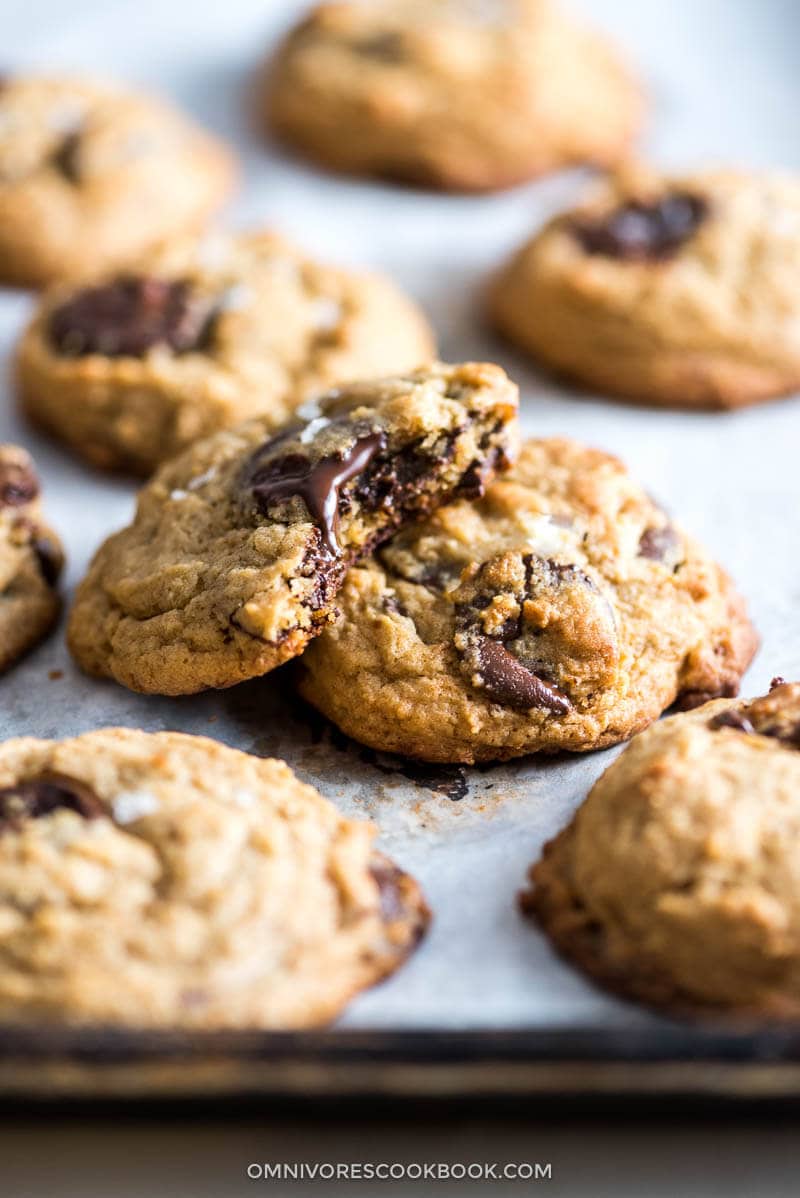 If the only thing you associate with miso is miso ramen, the concept might sound weird. Rest assured, miso paste is only a hidden flavor here and you probably won't be able to tell it's there. I got the inspiration from the miso caramel ice cream I had at Shake Shack. Just like adding sea salt to caramel, miso paste adds a savory umami taste that enhances the sweetness and make the cookies even better.
To make the best chocolate chip cookies, I highly recommend you to use chocolate feves (or "wafers") instead of chocolate nibs. These giant chocolate chunks are a bit pricier, but they have a more profound chocolate flavor and a silkier mouthfeel, without flavor enhancers.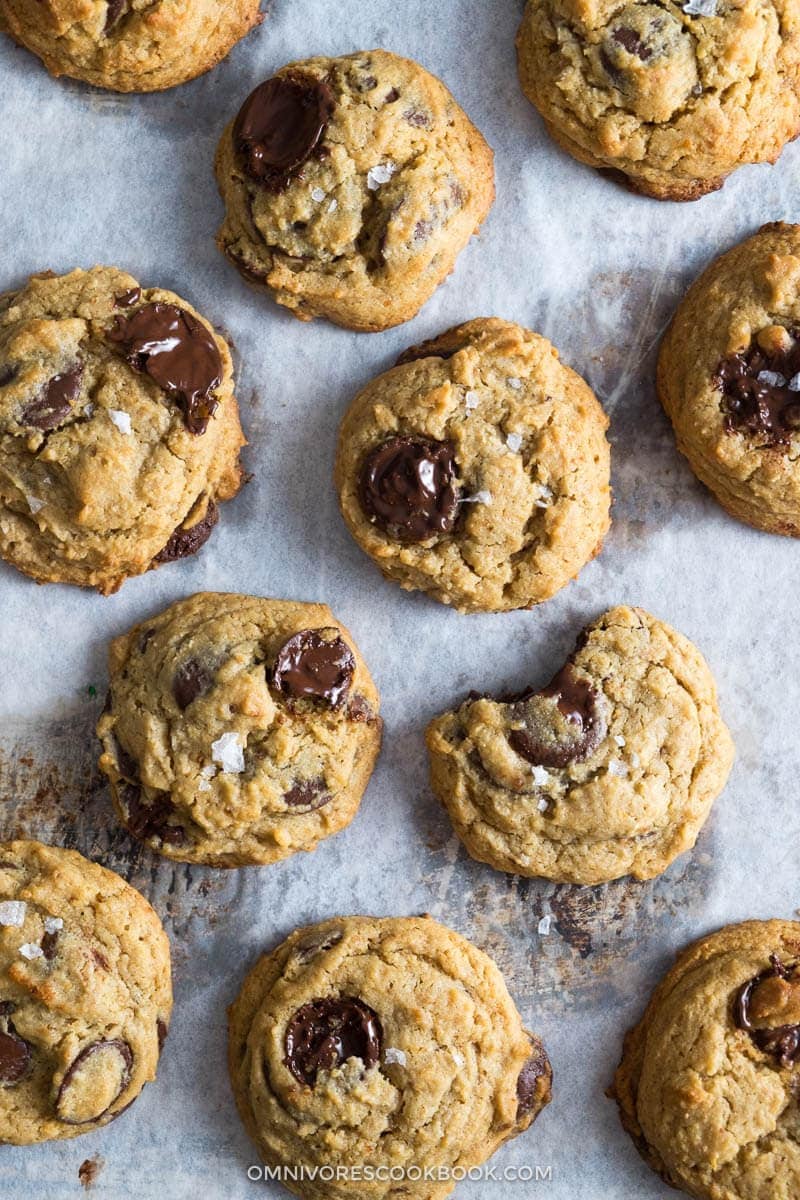 I purchased Valrhona chocolate féves (highly recommended) and Dilettante chocolate wafers to try out. The former one is better in quality and we ended up snacking on it. Alternatively, you can chop dark chocolate into smaller chunks and use them instead.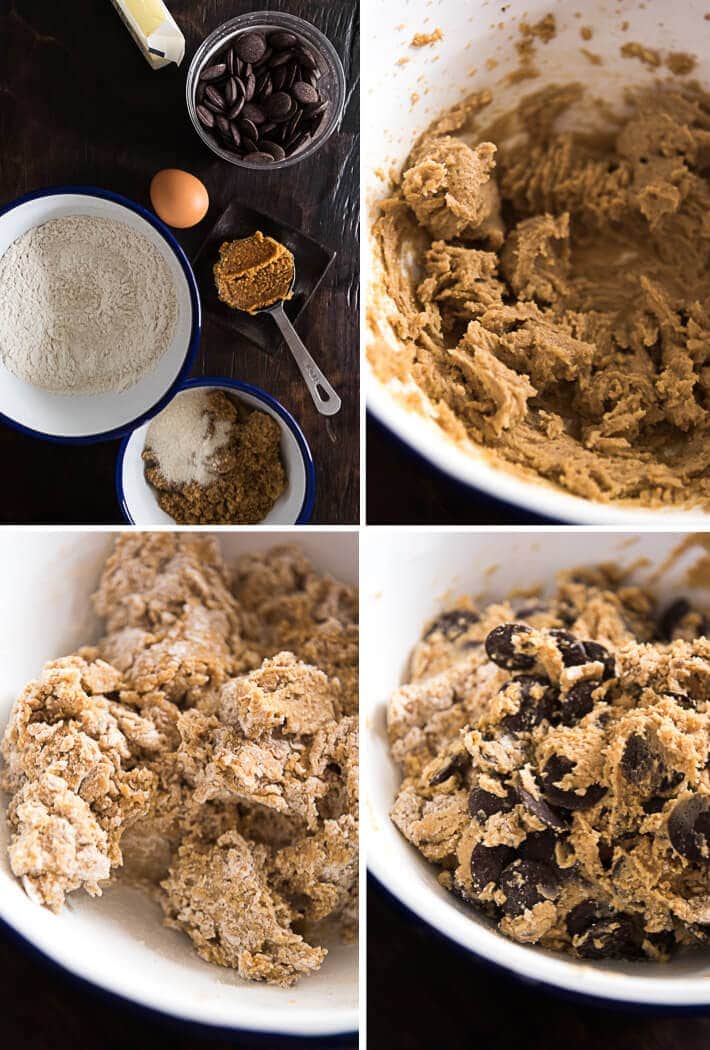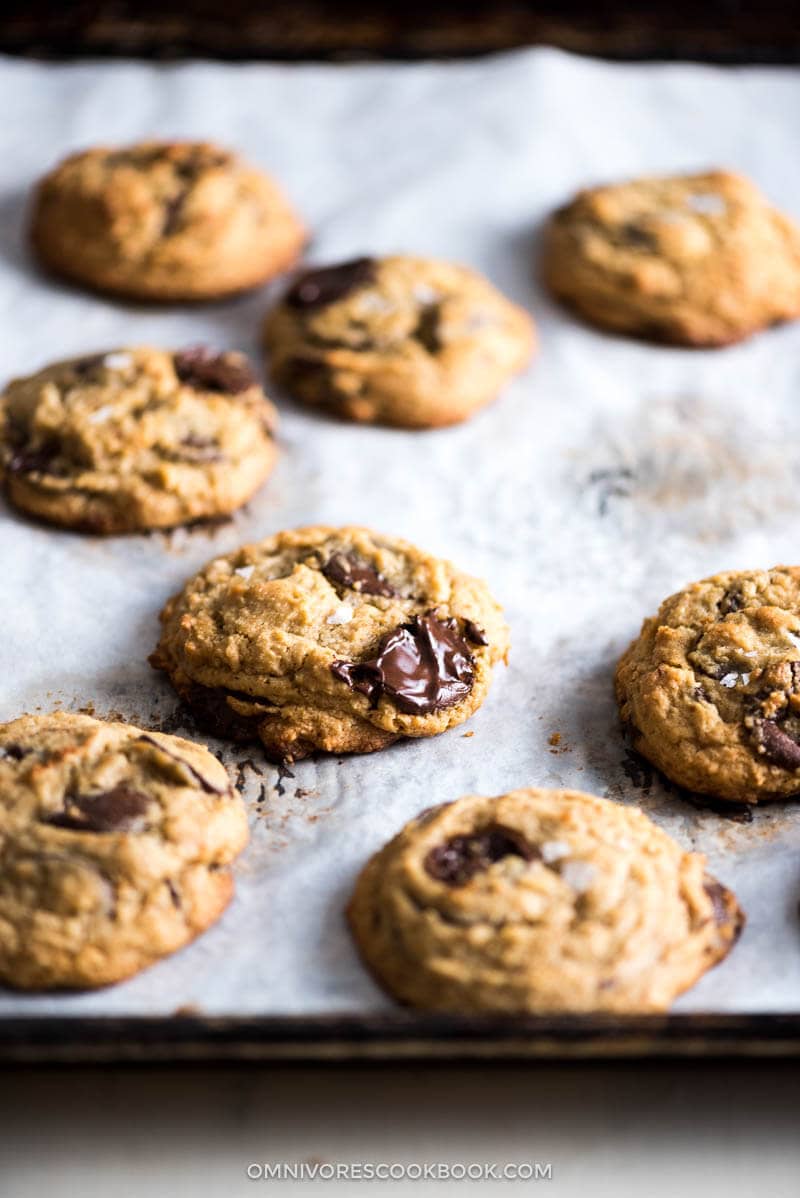 Looking for more baking recipes? Check out my most popular low sugar banana bread and my mom's fruitcake.
Want to Know More?
Receive our 5-Day Chinese Cooking Crash Course & Recipe Updates! Subscribe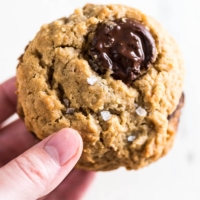 Salted Chocolate Chip Cookies
Heavenly, soft and thick cookies with melting chocolate chunks, a buttery texture, and a hidden savory umami that is even better than sea salt and caramel
Ingredients
1

and 3/4 cups (230-g / 8-oz)

all purpose flour

3/4

teaspoons

baking soda

1

110-g / 4-oz stick butter

2

tablespoons

white sugar

1

cup (160-g / 6.7-oz)

brown sugar

1

large egg

1/3

cup

miso paste

1

teaspoon

vanilla extract

1/2

pound (230 g)

dark chocolate féves

(or 1/2 pound dark chocolate cut into rough 1/2 inch chunks)

1/4

teaspoon

flaky sea salt

for sprinkling
Instructions
Preheat the oven to 182 degrees C (360 F). Line a cookie sheet with parchment paper.

Combine flour and baking soda in a small bowl. Stir to mix well.

Add butter and sugar into a big bowl. Mix with a hand mixer on medium speed until combined and fully and a peak forms, after about 5 minutes. Add the egg, miso paste, and vanilla extract. Keep mixing until combined.

Add the flour mixture. Mix with a spatula until barely combined.

Add chocolate and fold into the cookie dough.

Divide the dough into 12 to 18 portions by using a cookie scoop, and place onto the cookie sheet, at least 5-cm (2-inch) apart. Sprinkle with flaky sea salt.

Bake for 12 minutes, or until the edges are golden but the centers are gooey. You might need to bake them in two batches.

Transfer the cookie sheet onto kitchen counter and let cool for 15 minutes.

The cookies taste the best while warm.