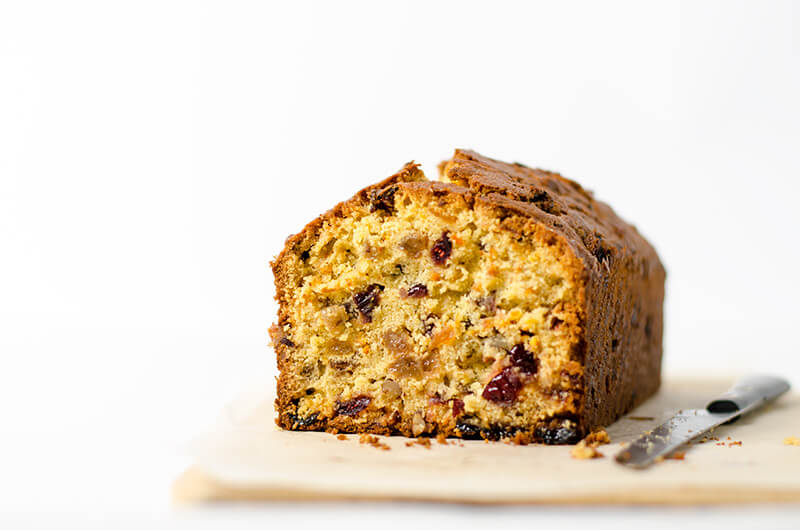 My London trip just came to an end and I'm back to Beijing today. I have to admit that among the feelings of excitement from the trip, I'm a bit sad now, because I miss the great weather in London.
Guess I was super lucky in the last 10 days. It's said that weather in London in June is unreliable and changeable, but I found most of days were sunny, cool and delightful. Sun set time is passed 9 in the evening, so you really feel the day is super long and you could accomplish a lot of things without getting tired. I spent as long as possible to stay outdoor to enjoy the sun shine. But now I'm back to steamy hot Beijing, which reminds me that everything is back to normal, and I need to start to work!
So, today is recipe will be – my family's favorite fruitcake!
You might be wondering why I'm talking about this recipe, since Christmas is still far far away. Well, this is not a normal fruitcake, but one of my family's favorite desserts. Fruitcake doesn't have a good reputation and some of you might think it's a joke. But I tell you, this recipe will totally change your view towards it.
This fruitcake tastes rich, full of fragrant of dried fruits, rum and butter. It rises very well, with fluffy texture inside and crispy surface. Unlike the other brownish fruitcake pictures on internet, this one has a beautiful golden color and a more appetizing appealing. A thin slice of this cake is a wonderful treatment with a cup of black coffee and everyone in my family loves it!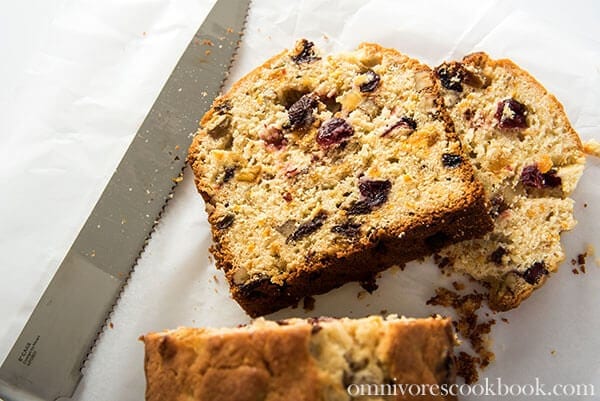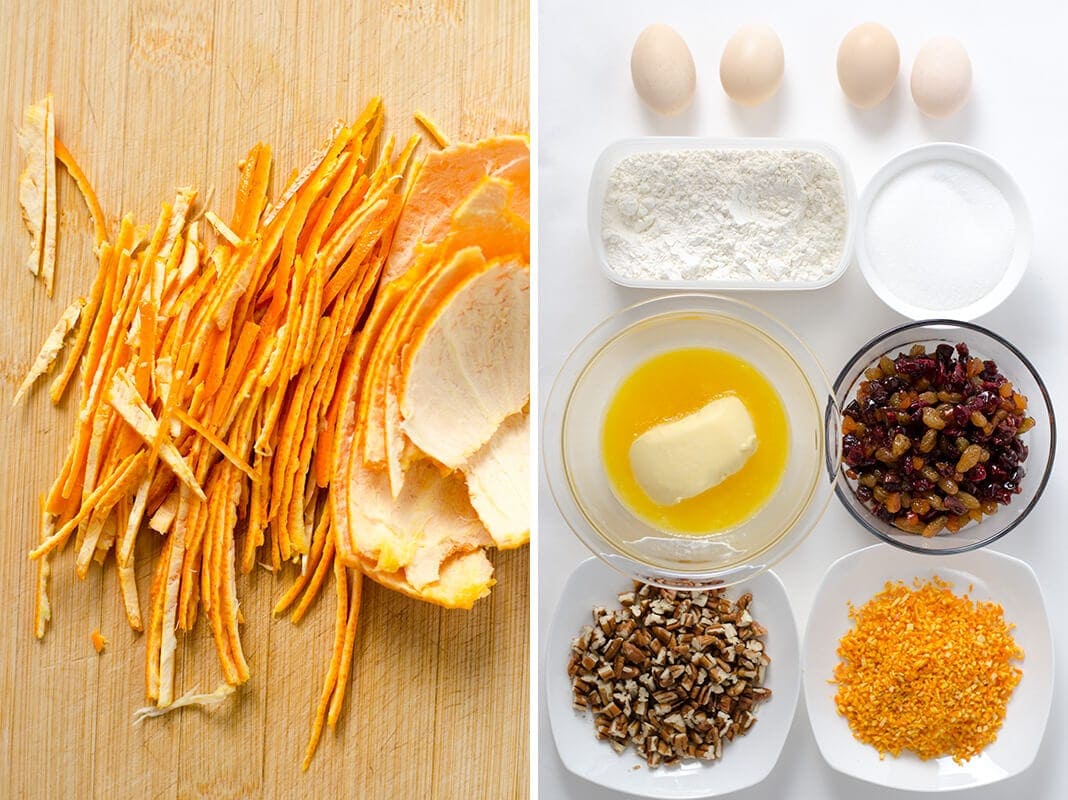 Traditionally, one of the most important function of fruitcake is for storage. It could be stored for weeks, sometimes half year, if stored properly. But in this recipe, I eliminate the storage part, because it tastes the best when it's fresh. I especially love the taste when the cake was freshly made. The surface is just so crispy and crumbly the day you make it.
Even you never like fruitcake ever, I suggest you to give this recipe a try. It will totally change your opinion. And next time, you'd want to save this one for a family gathering or holiday party!
The recipe was adopted from Cookpad.com.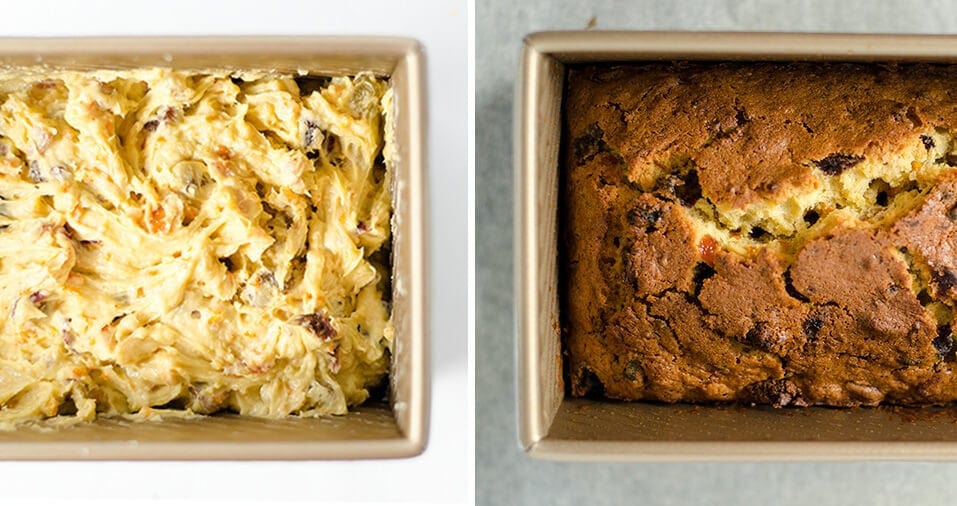 Want to Know More?
Receive our 5-Day Chinese Cooking Crash Course & Recipe Updates! Subscribe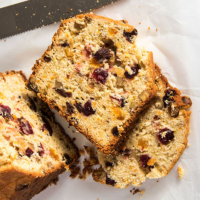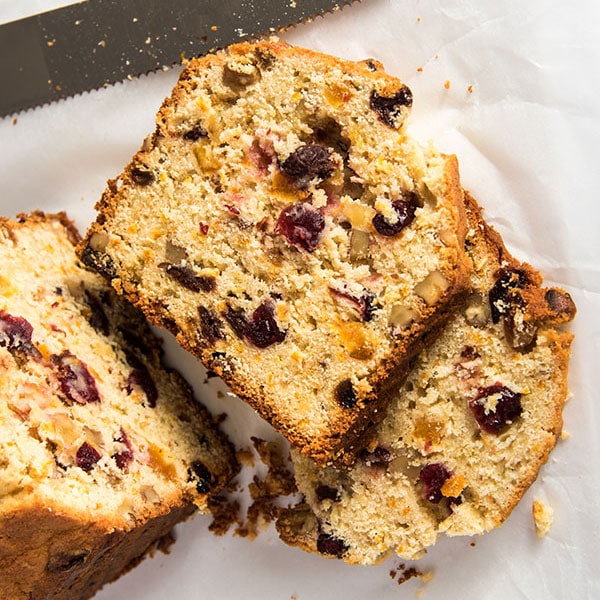 Family Favorite Fruitcake
This fruitcake tastes rich, full of fragrant of dried fruits, rum and butter. It rises very well, with fluffy texture inside and crispy surface.

Ingredients
200

grams (7 ounces)

dried fruits

(dried grapes, cranberries, cherries, apricot)

70

milliliter (2.4 ounces)

rum

200

grams (7 ounces)

unsalted butter

, melt

150

grams (5 ounces)

sugar

3

big eggs

(or 4 small ones)

50

grams (2 ounces)

orange peel

50

grams (2 ounces)

walnuts

, chopped (or pecan)

220

grams (7.8 ounces)

cake flour

1

teaspoon

dry yeast
Instructions
Add dried fruits and rum into a air tight container, mix well and cover. Marinate in fridge overnight.

Preheat oven to 170 degrees C. Grease a loaf pan with butter, dust with flour and set aside.

Add butter and sugar into a big bowl, mix well with mixer under low speed.

Add eggs and continue to mix under medium speed, till the mixture slightly risen and becomes fluffy.

Add in marinated dried fruits, orange peel and walnuts, mix well with a spatular.

Sift in flour and add dry yeast, mix again with spatular.

Bake in middle rack for around 70 minutes, until the surface turns golden brown and a chopstick comes out clean if inserted into the cake. During the baking, check on the fruit cake for a few times. If the surface starts to turn dark but the cake is not cooked yet, cover the loaf pan with lid or aluminum foil to avoid burning.

Place the fruitcake on a cooling rack and slice to serve after completely cooled down.

Store the fruitcake in a air tight container under room temperature for about 1 week.
Nutrition
Serving:
91
g
,
Calories:
302
kcal
,
Carbohydrates:
30.2
g
,
Protein:
4.9
g
,
Fat:
17.4
g
,
Saturated Fat:
9.1
g
,
Cholesterol:
82
mg
,
Sodium:
115
mg
,
Potassium:
92
mg
,
Fiber:
2
g
,
Sugar:
13.4
g
,
Vitamin A:
10
IU
,
Vitamin C:
13
mg
,
Calcium:
2
mg
,
Iron:
7
mg