This recipe is a shortened version of Julia Child's classic cream of mushroom soup, so it is easier to follow and practical to make for a weekday dinner without compromising on flavor.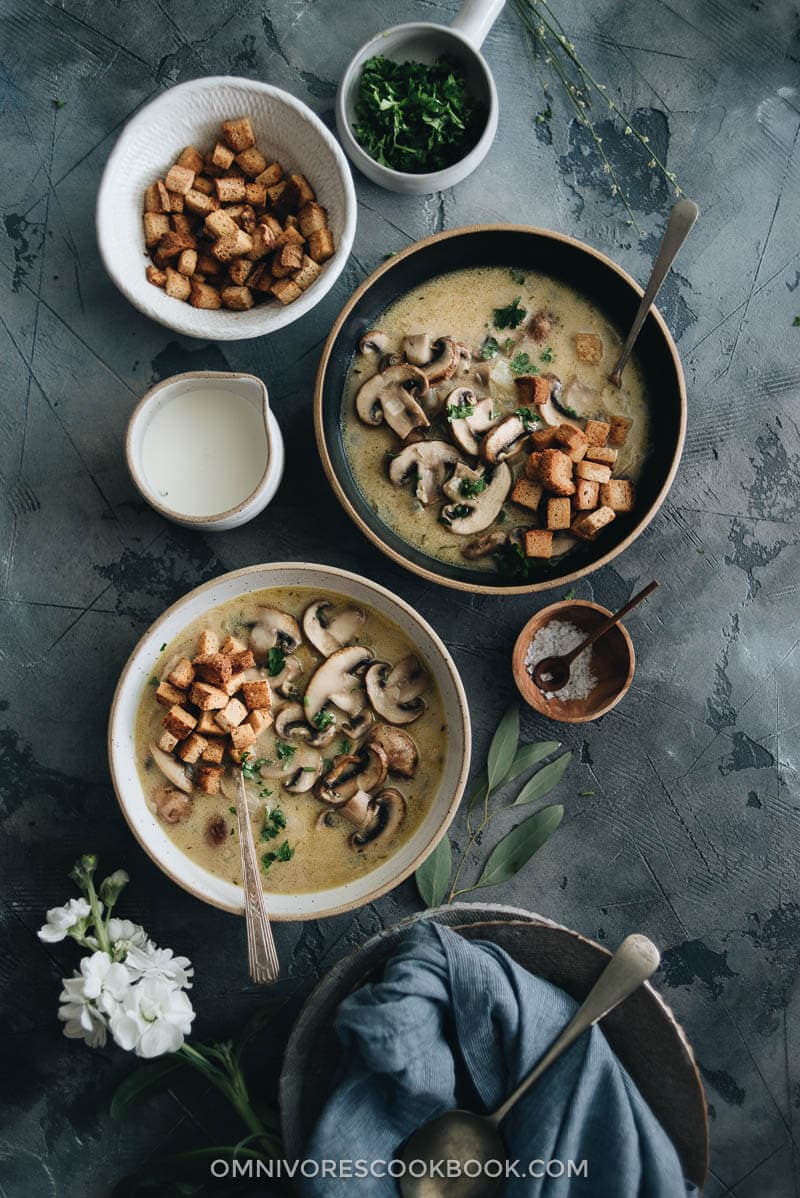 The first time I tasted cream of mushroom soup was 18 years ago, when Pizza Hut had just opened their first store in Beijing. I was 15. It has been one of my favorite soups ever since. Over the years I've tried many versions of mushroom soup. I've enjoyed every single one of them.
When I decided to recreate this classic dish at home, my first thought was to learn from Mastering the Art of French Cooking by Julia Child. The original recipe is really long and it took me quite some time to figure out all the steps. Today I want to document my experience while making the recipe slightly shorter and easier to follow.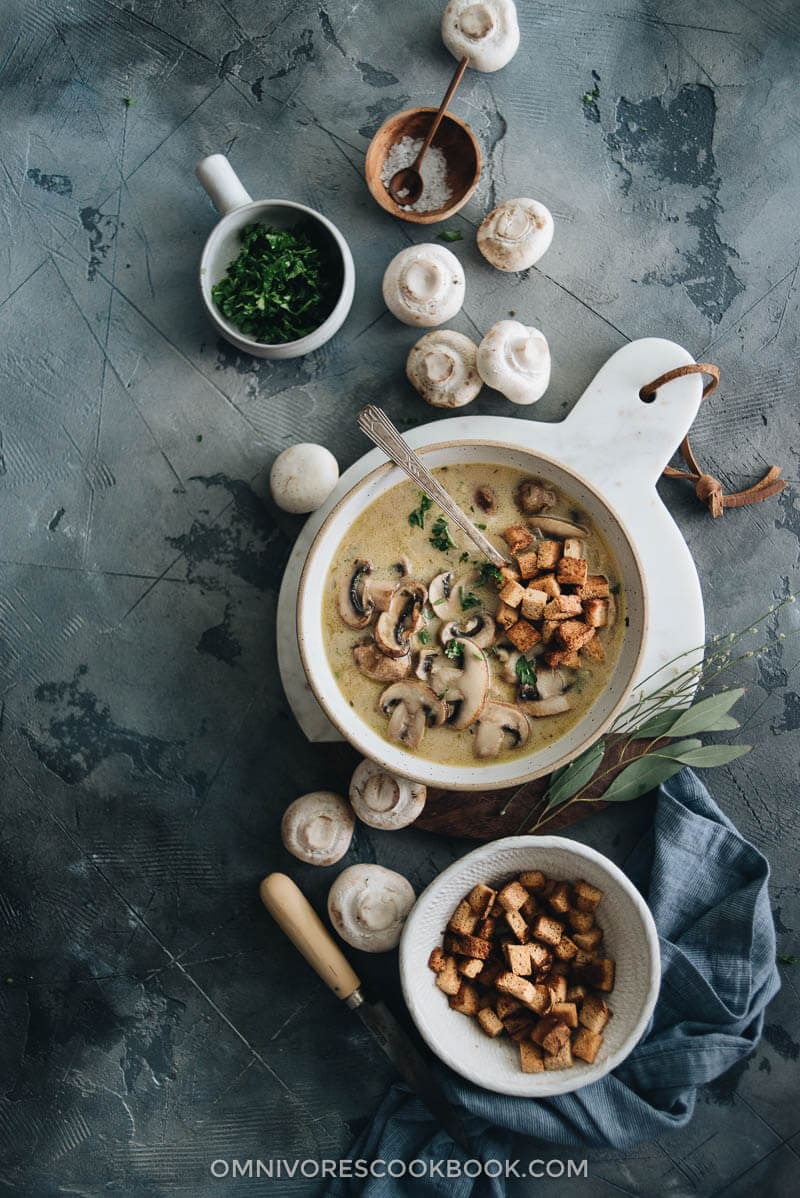 Cooking notes
I've done a few things that are slightly different from the original recipe, so the cooking time is shorter, but the results are just as satisfying. Here is what I did differently:
(1) Use whole mushrooms instead of separating the stems.
The original recipe removes the stems of the mushrooms, cooks the stems separately in the stock, and discards them at the end. The rationale is that this removes the tougher part of the mushrooms while infusing more flavor into the soup. However, I found the step unnecessary because the stem part never bothered me. Plus, the extra simmering and straining steps are quite time consuming.
If you don't like the tougher parts of the mushroom stems, simply cut them off and discard them.
(2) Use less chicken stock to make a creamier soup.
The original soup uses 6 cups of chicken stock, is simmered for 30 minutes, and uses 4 egg yolks to make the soup creamy. To shorten the cooking time and to make the soup less calorie-dense, I used less stock and skipped the egg yolks for a soup that is just as creamy.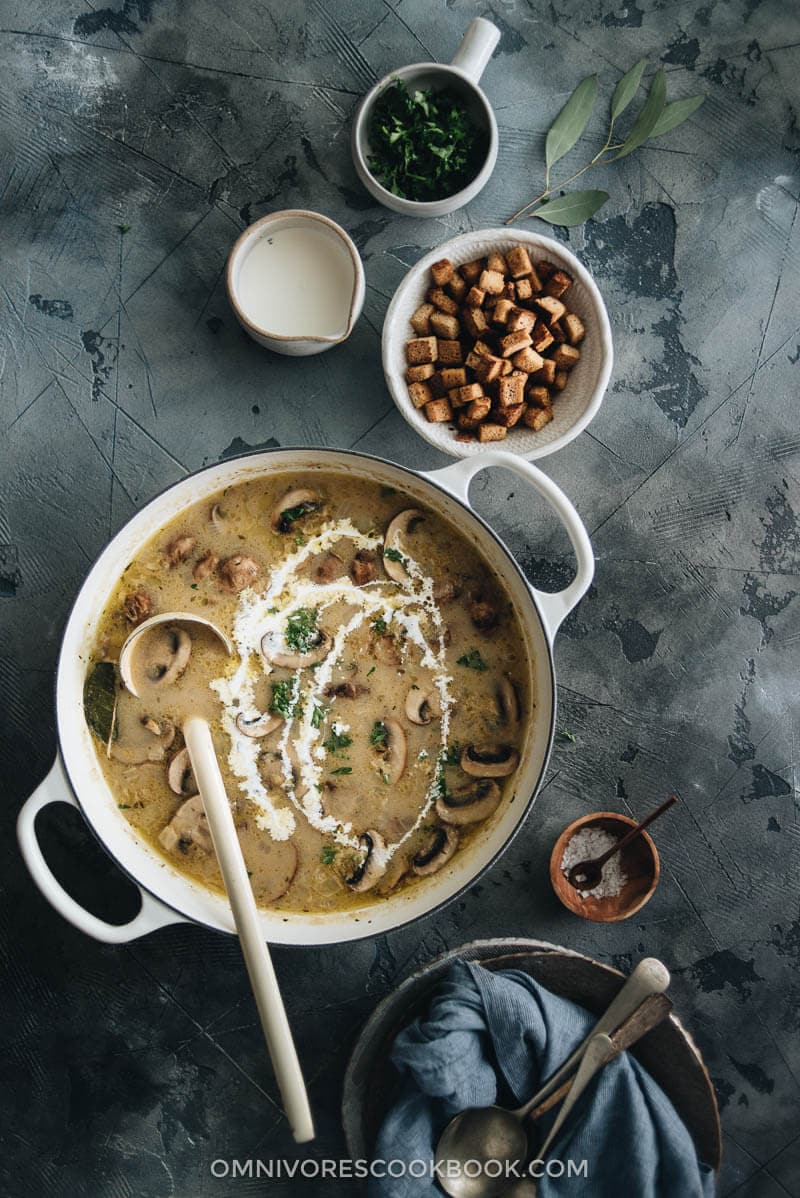 (3) Serve the soup without straining the broth.
The original recipe strains the broth, so it removes the mushroom stems and minced onion. Since I kept the mushrooms whole, I skipped this step because the onion in the soup tastes very good. If you want to keep your soup smooth, you could strain the broth in step 5 before adding the mushrooms. Or you could transfer the broth into a blender to mix the onion in.
Here it is, the slightly down-sized classic cream of mushroom soup recipe that is easy enough to make on a weekday evening. Your soup will come out delicious and delicate. It is not like those thick soups you might find at a chain restaurant or in a can. You can taste the delicious chicken soup infused with tons of mushroom flavor. Nothing is overpowering. The soup is creamy but not heavy. Simply toast a few pieces of bread and serve them on the side, and you'll have a hearty winter dinner in no time.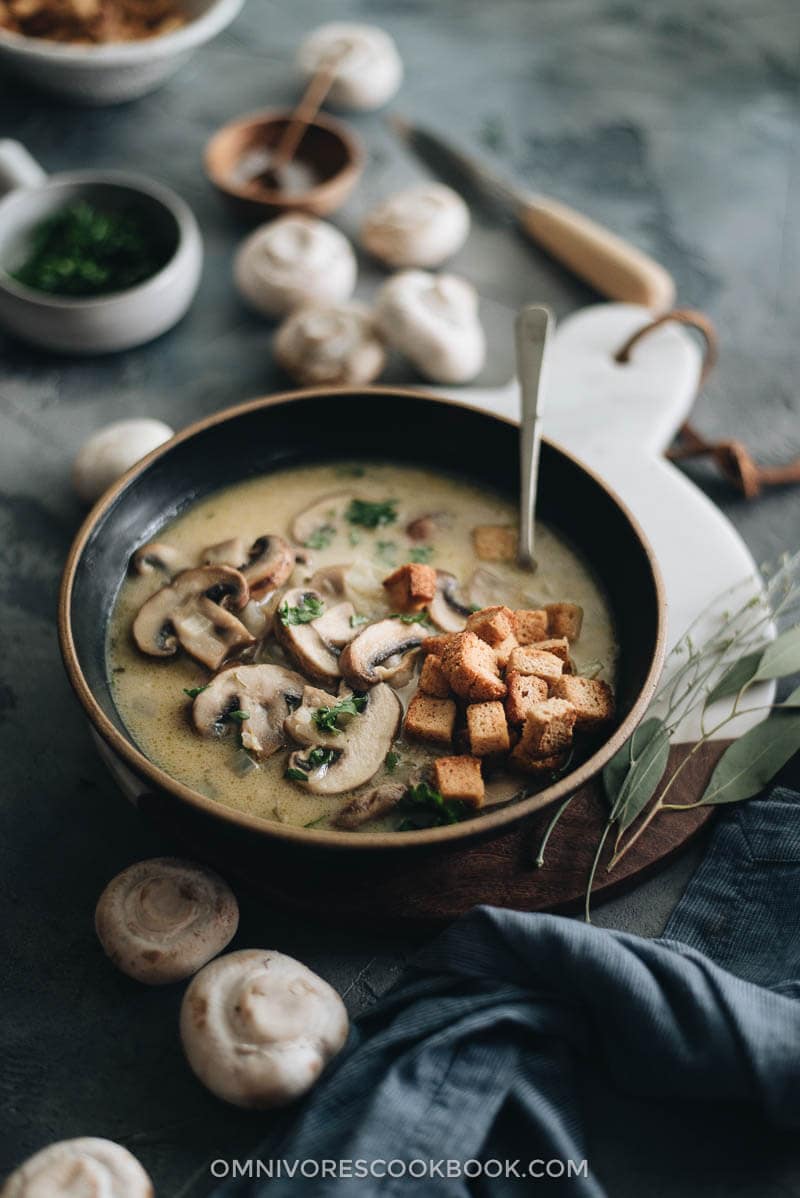 More delicious soup recipes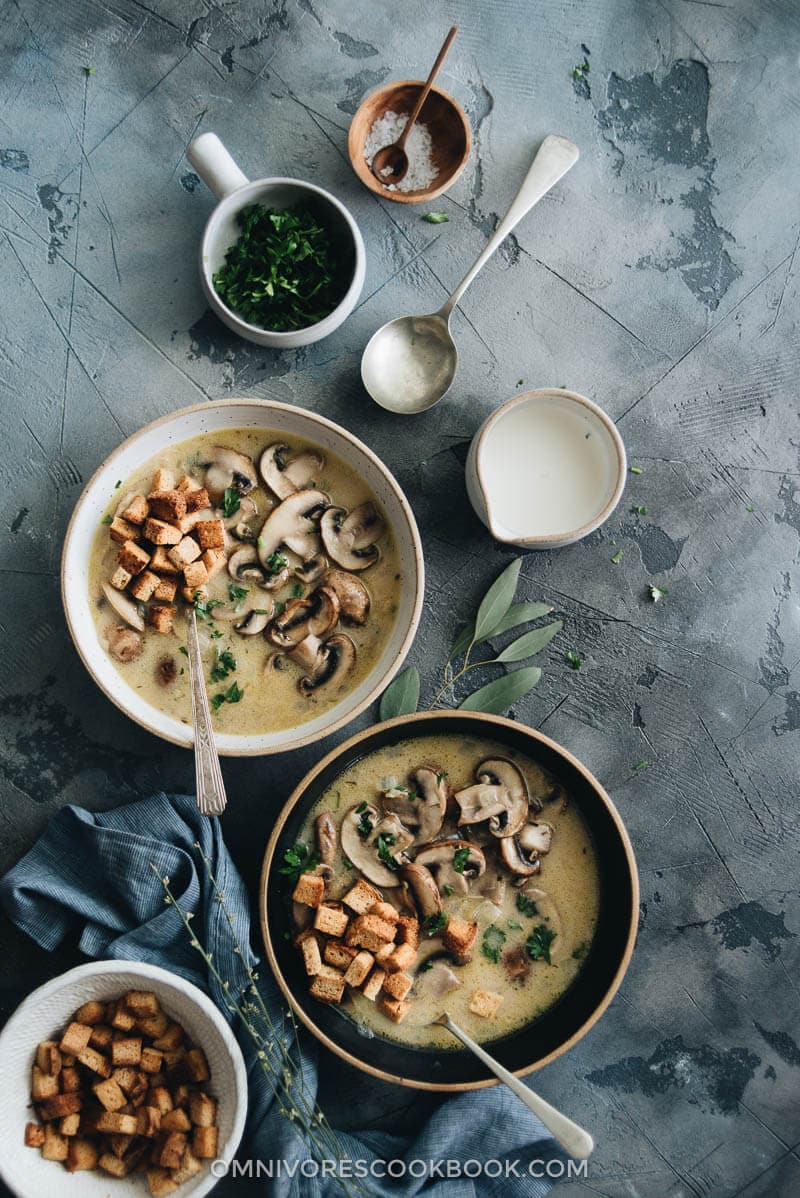 If you give this recipe a try, let us know! Leave a comment, rate it (once you've tried it), and take a picture and tag it @omnivorescookbook on Instagram! I'd love to see what you come up with.
Want to Know More?
Receive our 5-Day Chinese Cooking Crash Course & Recipe Updates! Subscribe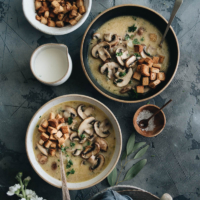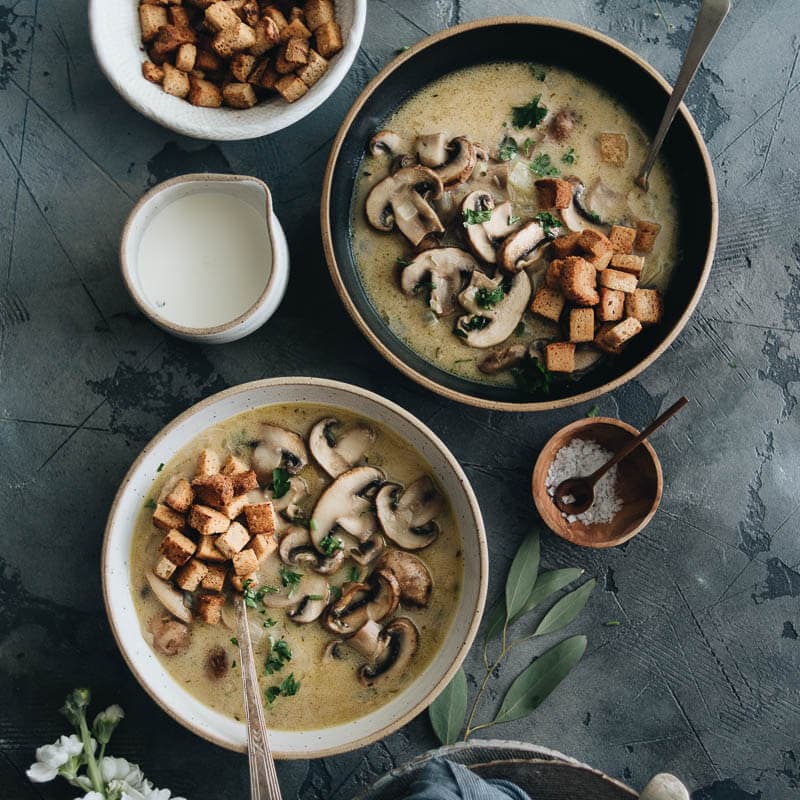 Julia Child's Cream of Mushroom Soup
Making the classic dish with an easier, shortened approach and less cooking time.
Ingredients
1

lb (450 g)

white or brown mushrooms

, sliced

5

tablespoons

butter

, divided

1/2

white onion

, minced

3

tablespoons

all-purpose flour

4

cups

chicken stock

1

teaspoon

dried parsley

1

bay leaf

Pinch of thyme

1/4

teaspoon

salt

4

egg yolks

(Optional) (*Footnote 1 & 2)

1/4

cup

heavy cream

parsley or croutons

, for garnish (Optional)
Instructions
Heat 3 tablespoons butter in a 3.5-quart dutch oven or heavy duty pot over medium heat. Add onion and turn to medium-low heat. Cook and stir onion until tender and translucent, about 8 minutes. Do not brown the onion.

Add flour and continue stirring over medium-low heat for 3 minutes, until flour and onion are well combined.

Add chicken stock, about one cup at a time. Stir constantly until it forms a silky paste and starts simmering.

Add the parsley, bay leaf, and thyme. Simmer over medium-low heat, partially covered, for 15 to 20 minutes, until the soup reaches the desired thickness.

While simmering the broth, cook the mushrooms. Melt the remaining 2 tablespoons of butter in a large skillet until the butter starts to bubble. Add mushroom slices and season with salt. Stir a few times to mix well. Cook, stirring occasionally, until the mushrooms are browned, about 5 minutes. Add the mushrooms into the soup.

Combine the egg yolks (if using) and heavy cream in a small bowl and beat until mixed well. Slowly add the cream-yolk mixture into the broth. Adjust the seasoning with salt and more cream if necessary. Heat over lowest heat for another 5 minutes. Do not bring the soup to a simmer.

Garnish with chopped parsley or croutons. Serve hot.
Notes
The original recipe uses egg yolks to create a thicker soup. When I want a lighter soup, I use just heavy cream and skip the egg yolks. It produces a satisfying soup that is almost as creamy.

The nutrition facts are calculated without any egg yolks or toppings.
Nutrition
Serving:
1
serving
,
Calories:
119
kcal
,
Carbohydrates:
11.4
g
,
Protein:
4.5
g
,
Fat:
6.4
g
,
Saturated Fat:
3.7
g
,
Cholesterol:
18
mg
,
Sodium:
922
mg
,
Fiber:
1.1
g
,
Sugar:
3.3
g
The original recipe was published on Oct. 15, 2013 and updated by Jan. 21, 2018.