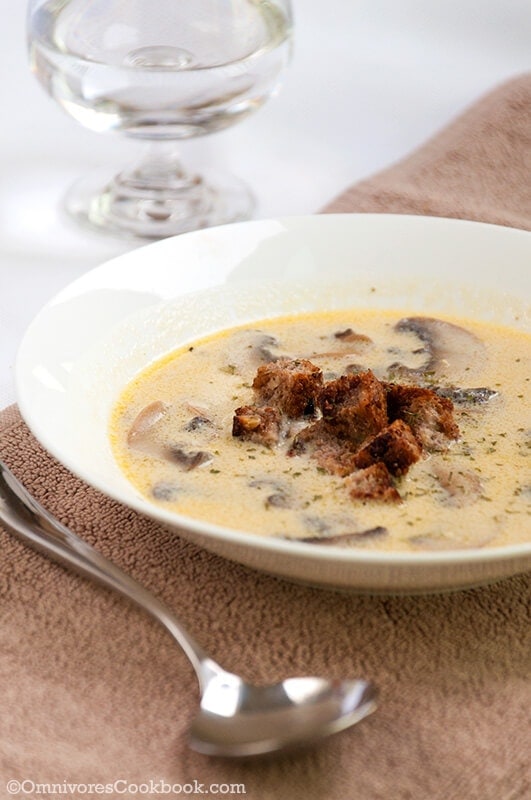 My first taste of cream of mushroom soup was at Pizza Hut when I was 15. From that point on, it's been one of my favorite soups. Since then, I've tried many versions of mushroom soup and enjoyed them all. Today, I decided to try the classic cream of mushroom soup from Julia Child's Mastering the Art of French Cooking. The original recipe is really long and it took me some time to figure out all the steps. In the end, I was surprised that the cooking process was actually quite simple.
There are tons of online recipes based on Julia Child's cream of mushroom soup. However, I decided to sum up the recipe with step-by-step photos so you can easily see the cooking process in a straightforward way.
The soup came out nicely. It is not like those thick soups you might find in a chain restaurant or from a can. You can taste the delicious chicken soup infused with tons of mushroom flavor. The seasonings are simple and bring out the fragrance of the ingredients without overpowering any element. The soup has a creamy texture but is not heavy. This recipe supposedly generates 4 to 6 servings, but I can finish an entire batch in one sitting.

Julia Child's Cream of Mushroom Soup
Author:
Omnivore's Cookbook
Ingredients
500 grams (16 ounces) white mushrooms
5 tablespoons butter
1/2 white onion, chopped
3 tablespoons all-purpose flour
6 cups chicken stock
1 teaspoon dried parsley
1 bay leaf
pinch of thyme
1/4 teaspoon salt
1 teaspoon lemon juice
4 egg yolks
1/2 cup heavy cream
(optional) parsley or croutons for garnish
Instructions
Remove stems from mushroom and set aside for later use. Thinly slice mushroom caps and set aside separately.
Heat 3 tablespoons butter in a nonstick skillet or a dutch oven over medium heat. Add onion and turn to medium low heat. Saute onion until tender and translucent, about 8 minutes. Do not brown the onion. Add flour and keep stirring over medium low heat for 3 minutes, until flour and onion are well combined. Turn off heat. Add chicken stock, parsley, bay leaf, thyme, and mushroom stems. Simmer over low heat, partially covered, for 30 minutes.
While simmering the broth, cook the mushroom caps. Melt the remaining 2 tablespoons of butter in a dutch oven or heavy bottom pot until butter starts to bubble. Add mushroom slices and season with salt and lemon juice. Stir a few times to mix well. Simmer, covered and over low heat, for 5 minutes.
When the broth is done, place a colander over the pot with the sauteed mushrooms. Pour broth through the colander into that pot. Add all the solids from the colander into a small bowl, squeeze the liquid from the onion and mushrooms, and return the liquid to the pot. Discard the solids. Simmer the broth over low heat for another 10 minutes.
Combine egg yolks and heavy cream in a small bowl and beat until mixed well. Slowly add the cream yolk mixture into the broth. Adjust the season with salt and more cream if necessary. Heat over lowest heat for another 5 minutes. Do not bring the soup to a simmer.
Garnish with chopped parsley or crouton on top of soup. Serve with toasted bread as a side dish.