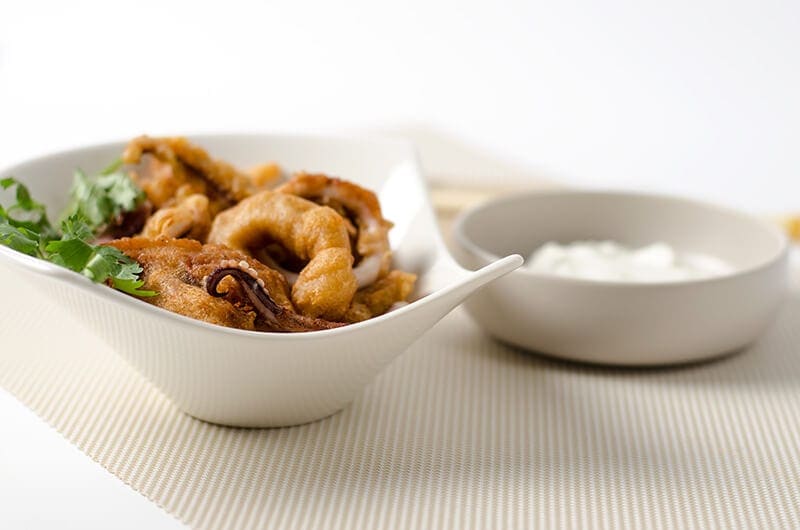 Beer Battered Calamari is spiced up with chili pepper and five spice. The pungent and tangy flavor is enhanced by the light and fluffy coating. The garlicky yogurt sauce adds a splash of refreshment to the fried calamari and stimulates your appetite immediately, making this dish taste heavenly.
Fried squid is a common snack in Asian restaurants. Not surprisingly, every place has its secret recipe for the batter and marinade, so you will encounter some delightful surprises for a simple snack.
Some of the best fried seafood I ever had was in Istanbul. Of course, the primary reason is that they use very fresh seafood. But they also create some of the best batter that is so buttery and fluffy, which tastes divine with a splash of yogurt dip. The other day, I saw this recipe for beer batter clams in Ghillie Basan's cookbook Classic Turkish Cooking. The idea of the batter looked so great that I decided to try it with a batch of calamari (If you have read my fish cake post, you understand how difficult it is for me to find nice seafood).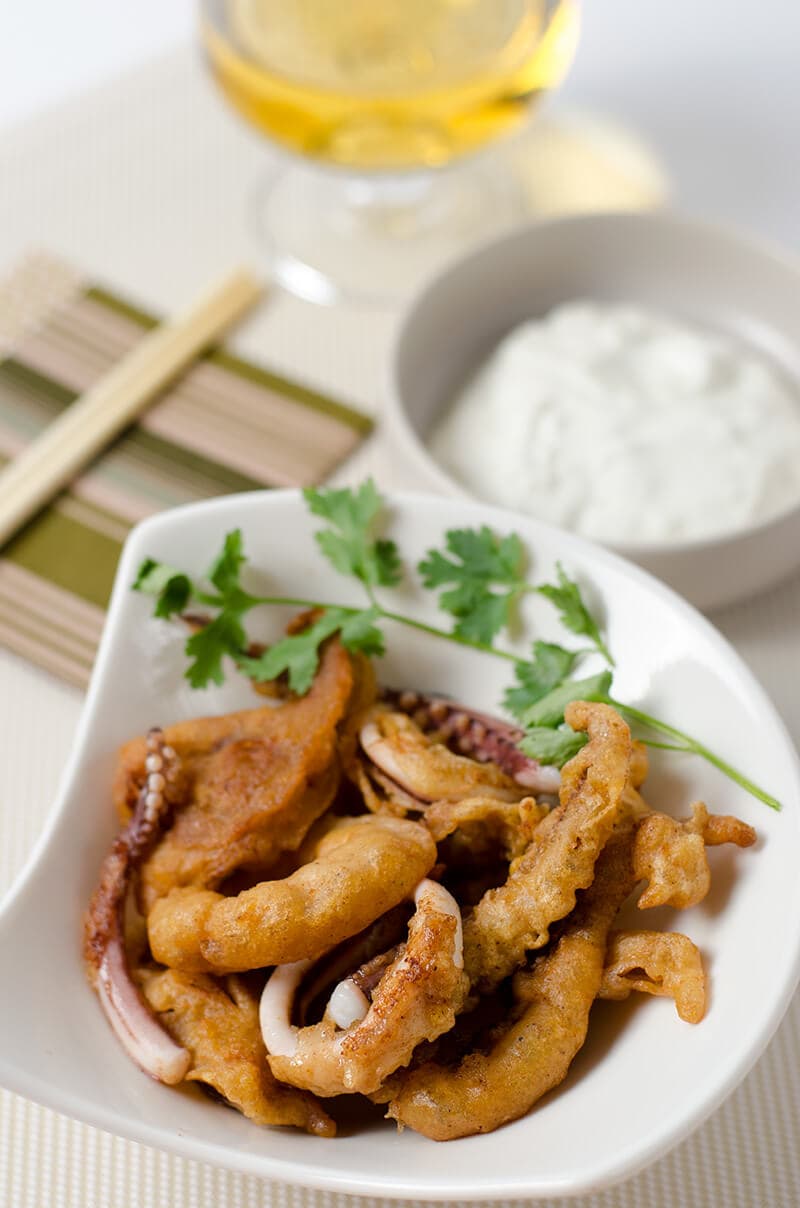 The secret to this recipe is the egg yolk. Basicly, a fry batter can be made with or without egg. The egg white functions similarly to glue, in that it holds the batter together and creates a thin, crispy coat. The flour itself will create a good batter if you add right amount of water. While egg yolk won't help hold the batter together, it does contribute to a fluffy texture. If used properly, the batter will be airy and light, different from the crispy batter type. I consider the fluffy type to be best suited for seafood.
Although egg yolk is the secret weapon for creating great batter, there is one thing that you should take note of. The batter will only work if you fry it in hot oil. If the oil is warm, the coating will turn out soggy and soft. To maintain a high oil temperature, fry the squid in small batches. If you add all the squid at once, the oil temperature will drop suddenly and lead to a prolonged frying time and a soggy coating.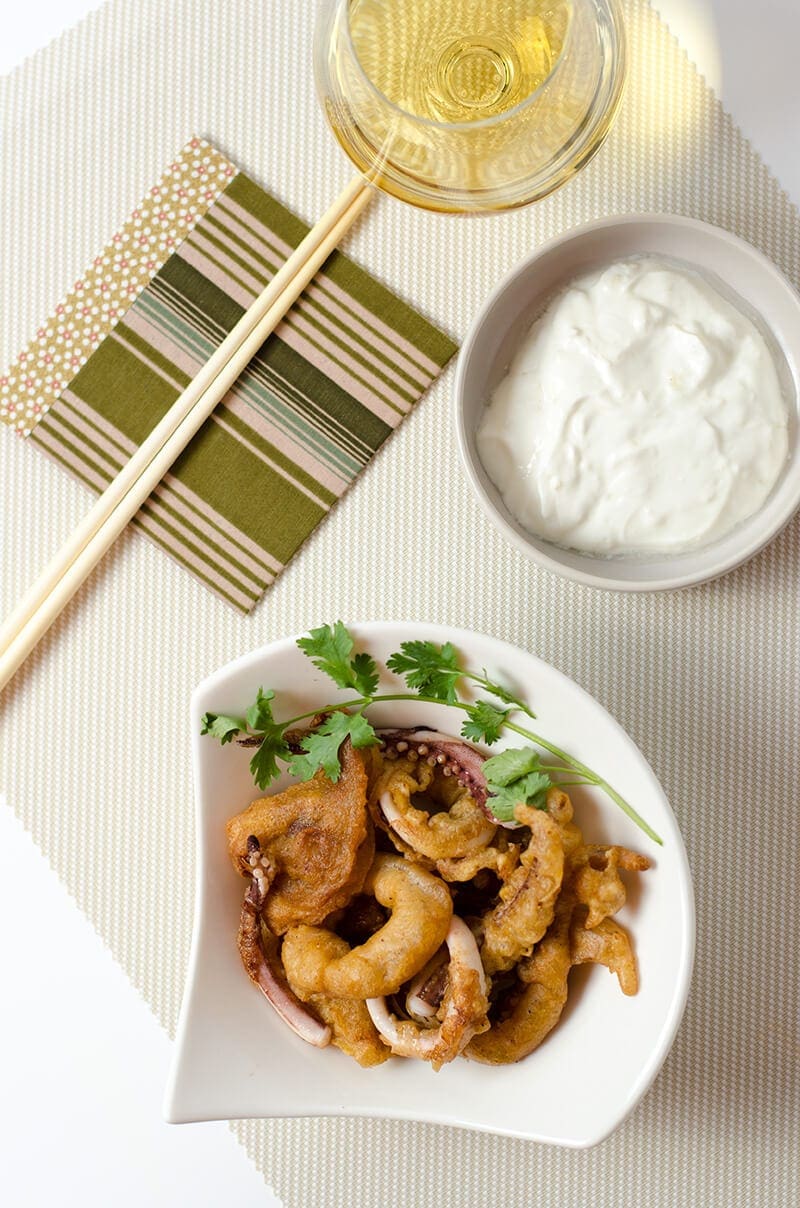 The other highlight of this recipe is the yogurt dipping sauce. The amount of garlic I prescribe may seem daunting, but the sauce will be so flavorful and pungent. The refreshing yogurt dip compliments and balances the fatty fried calamari to reach a delicate balance. The fried dish is so light and appetizing that I can finish a whole batch in one sitting! Not great for my diet goal!
After you make the fried squid, make sure to pour yourself a cold beer or a glass of sparkling wine. It'll feel so rewarding and satisfying! 🙂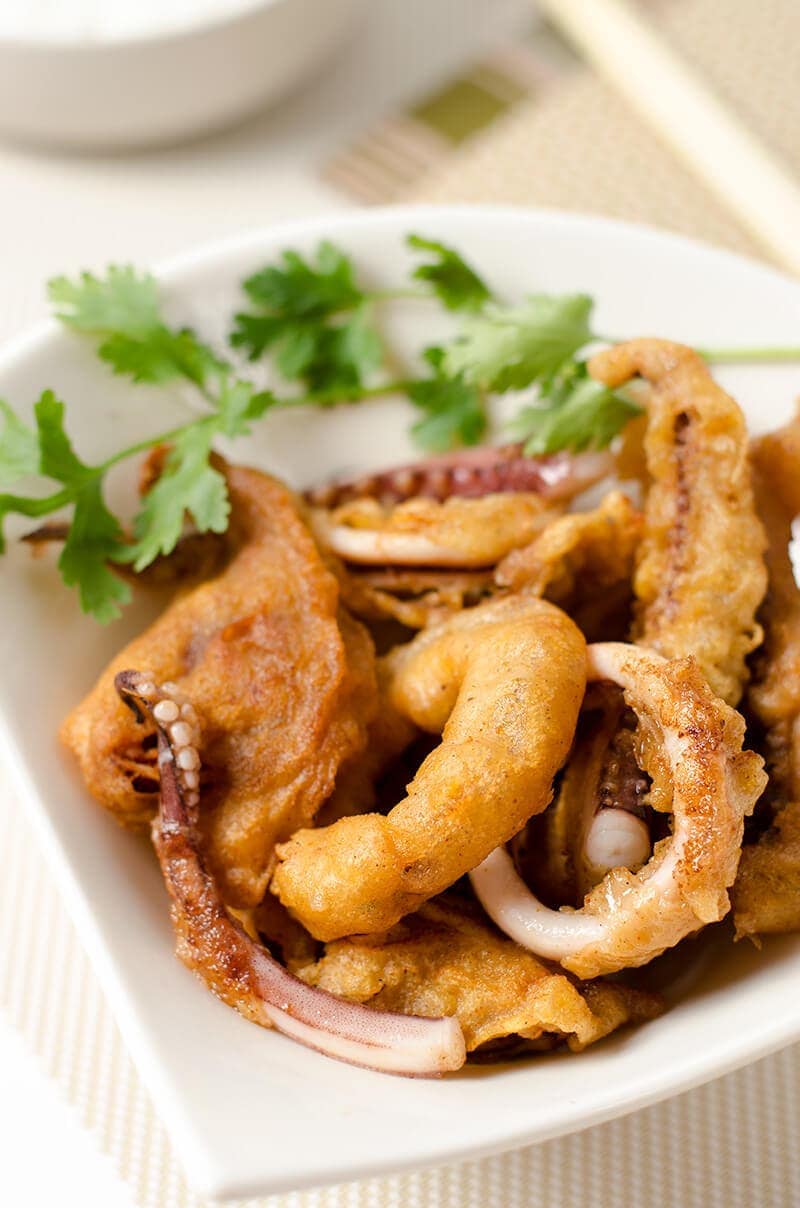 Want to Know More?
Receive our 5-Day Chinese Cooking Crash Course & Recipe Updates! Subscribe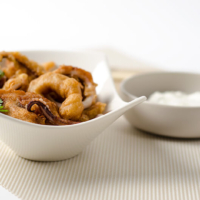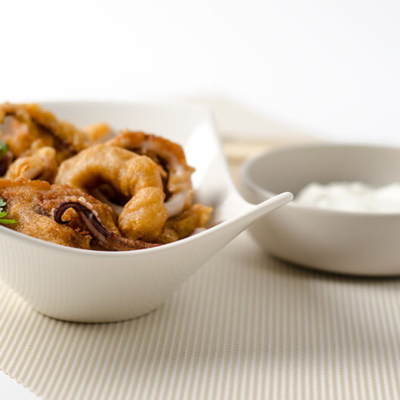 Beer Battered Calamari with Yogurt Sauce
Ingredients
for the batter
80

grams

3 ounces all-purpose flour

1/2

teaspoon

salt

1/2

teaspoon

Chinese five spice powder

1/4

teaspoon

ground cayenne pepper

1

egg yolk

150

milliliters

5 ounces beer

300

grams

10 ounces calamari, thawed and cut into rings
for the yogurt sauce
1/2

cup

Greek yogurt

6 - 8

cloves

garlic

grated

1

tablespoon

lemon juice

vegetable oil for frying
Instructions
Add flour, salt, Chinese five spice and cayenne pepper into a big bowl, use a fork to mix well. Add egg yolk and continue to mix a few times. Gradually add in beer and mix until fully incorporated. Set aside.

Thoroughly dry calamari before dipping into beer batter. A moist surface will cause the batter to fall off the calamari.

Place 2 layers of paper towel on a large plate and set it aside.

Mix all the ingredients to make yogurt sauce. Set aside.

Heat oil in a wok or a skillet on medium high heat. When oil is hot, coat calamari with batter and carefully place into oil, one by one. Do not add too many pieces at once, as it will cause the oil temperature to drop immediately and affect the frying process. Be careful not to overlap the calamari in the pan. It will cause the coating to turn soggy. Fry until golden brown. Transfer squid onto the plate with paper towel. Fry the rest of the calamari batch by batch.

The coating will turn crispy after the calamari cools down a bit. Serve immediately with yogurt sauce.