Crispy Chinese chicken dumplings feature a juicy ground chicken filling and are loaded with vegetables. Not only for celebrating Chinese New Year and other festivals, these dumplings are a great weekday snack because you can make them ahead and they freeze well.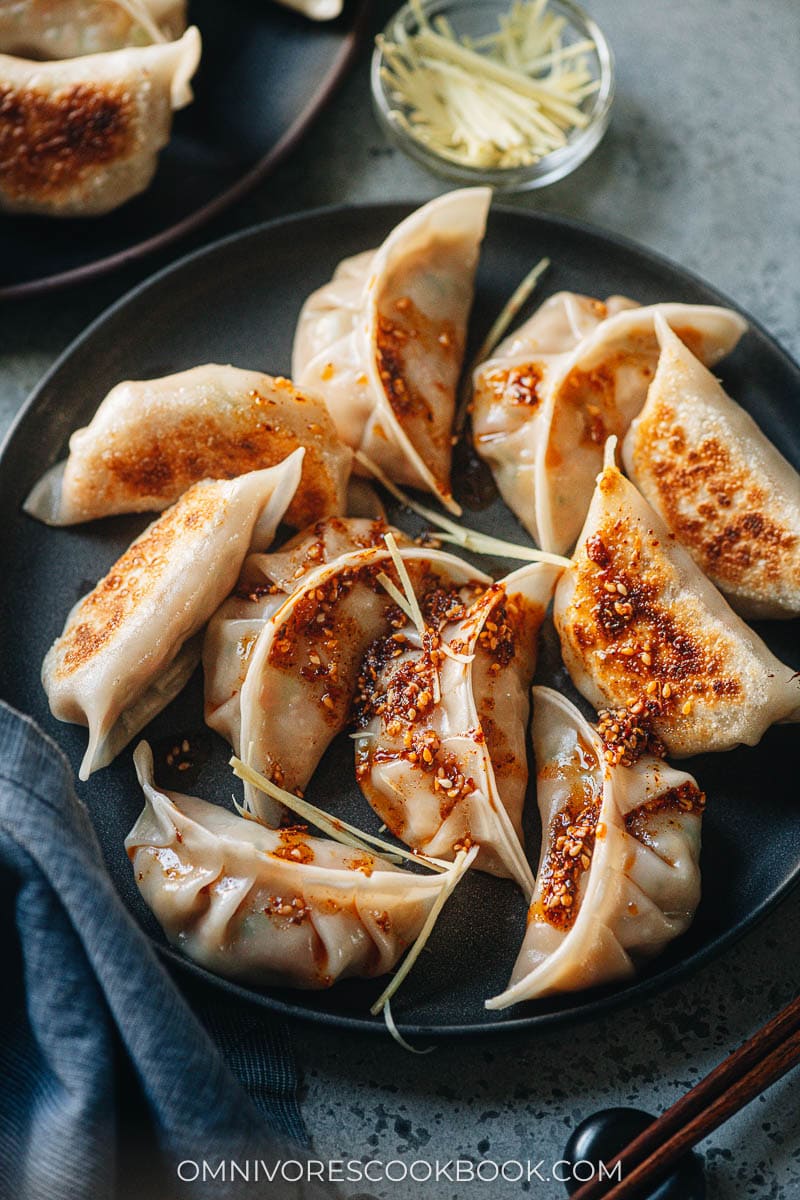 Chinese chicken dumplings, also known as "Jirou Jiaozi" (鸡肉饺子), are a delicious and popular dish that we love. These dumplings consist of a filling made from ground chicken, carrot, and corn, bundled in a thin dough wrapper and pan-fried. They are seasoned with plenty of aromatics and are juicy and flavorful inside and crispy on the outside. They can be served as an appetizer or a main course. And we usually make a big batch ahead of time so we can enjoy them any day of the week.
I have quite a few dumpling recipes on my blog, for example: Pork and Cabbage Dumplings, Beef Dumplings, Pork and Sauerkraut Dumplings, Egg and Pepper Dumplings, Vegan Dumplings. The chicken dumplings are one of my personal favorites. The corn and carrots add a nice sweet taste to the filling and they are so hearty. If you have a picky eater at home, try out these chicken dumplings to sneak some vegetables into your meal!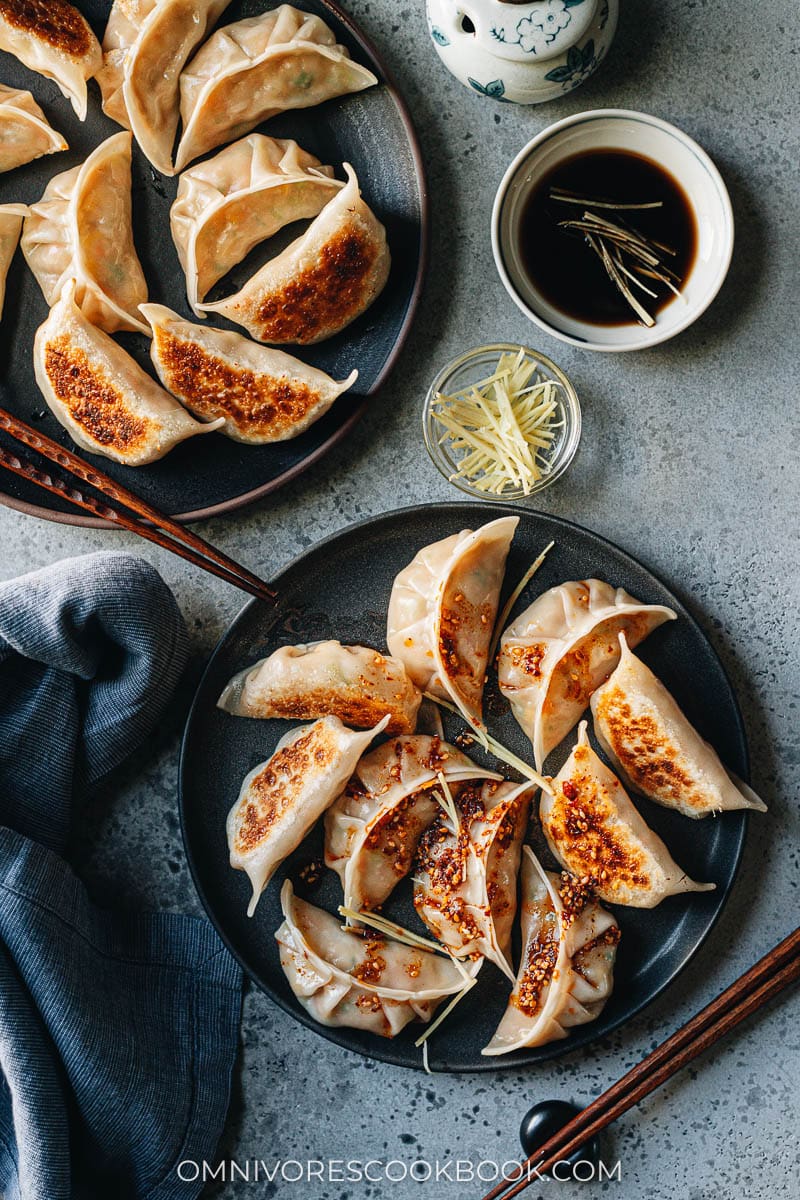 Dumpling wrappers
If you have access to an Asian market, I highly recommend the Shanghai Style Dumpling Wrappers from Twin Marquis. You can also find them on Umamicart. These wrappers are thin yet they have a chewy texture. They're perfect for making pan fried chicken dumplings.
You can also use gyoza wrappers (Japanese-style dumpling wrappers). Gyoza wrappers are usually thinner and a bit smaller. They will yield a nice crispy result but the dough will be less chewy.
Of course, you can also make dumpling wrappers from scratch. You can use this dumpling wrapper recipe for pan fried and steamed dumplings. And use this wrapper recipe for boiled dumplings.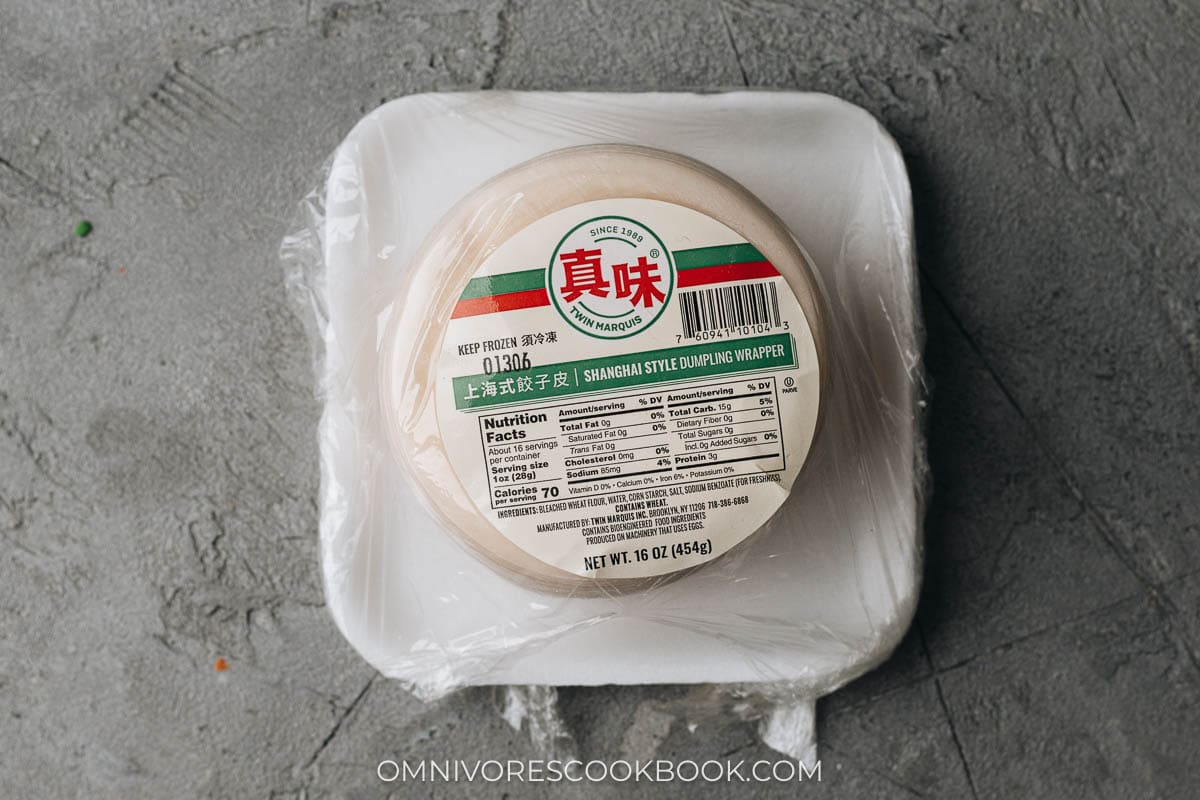 Chinese chicken dumpling filling
What ground chicken to choose
The filling uses ground chicken. To achieve the best result, use ground chicken thigh instead of ground chicken breast, because the thigh is fattier and juicier.
A lot of restaurants blend in a portion of ground fatty pork to make the filling very juicy. If you want to try this method, replace 30% (up to 50%) of the filling with ground pork.
How to make the filling
The key is to add the liquid seasonings to the ground chicken first, then beat the ground meat until sticky. This step is called "Da Shui" (打水). The purpose is to incorporate liquid into the meat so it yields a juicy result. By beating the ground chicken, the meat will bind together and form a nice chewy result.
The second step is to add the vegetables and aromatics.
Lastly, you will add the sesame oil at the end. This is a method that my family uses. My mom says that adding the sesame oil at the end is important. It will slow down the vegetables releasing liquid due to the salty seasonings, which would otherwise cause the filling to be watery.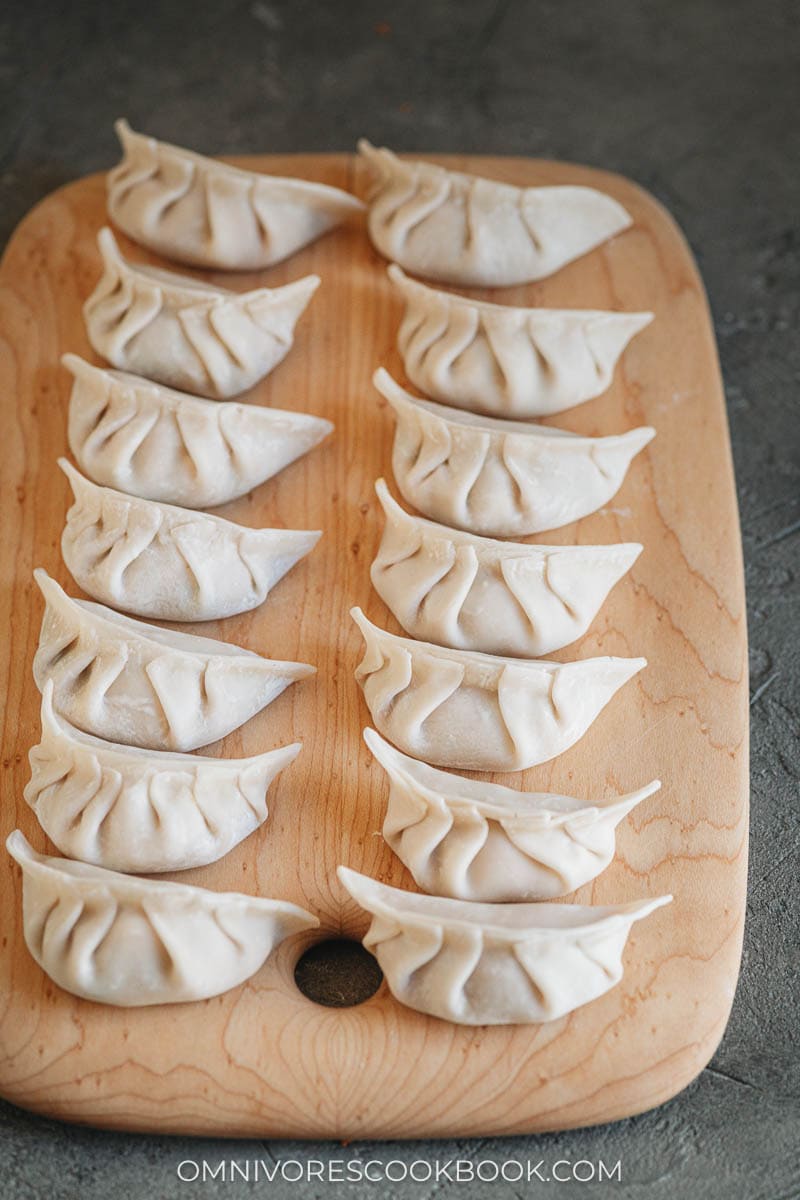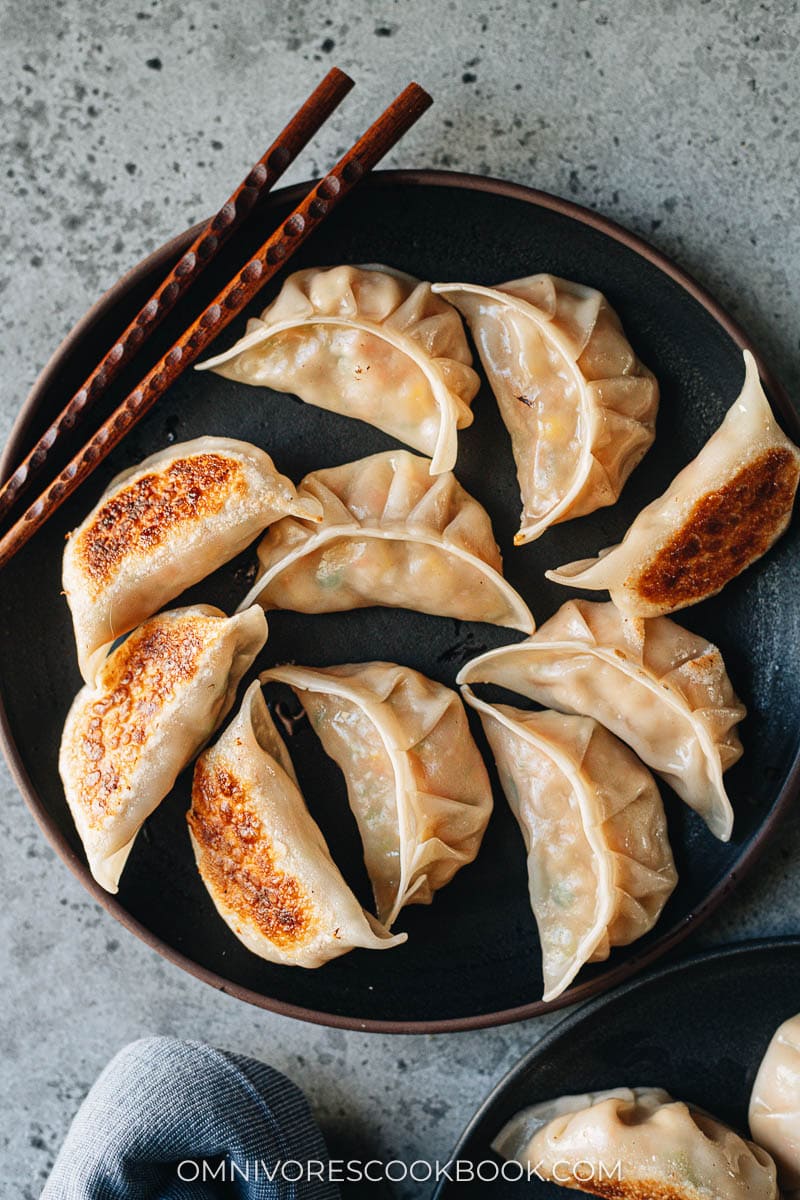 How to wrap the dumplings
Wet the dumpling wrapper with water (only for store-bought wrappers. Homemade wrappers do not require this step).
Add dumpling filling to the center of the wrapper
Pinch both sides of the wrapper together
Make pleats from the pinched point
Once you make all the pleats, press them thoroughly to seal well
Set the dumplings aside and cover them with a wet paper towel, to prevent drying out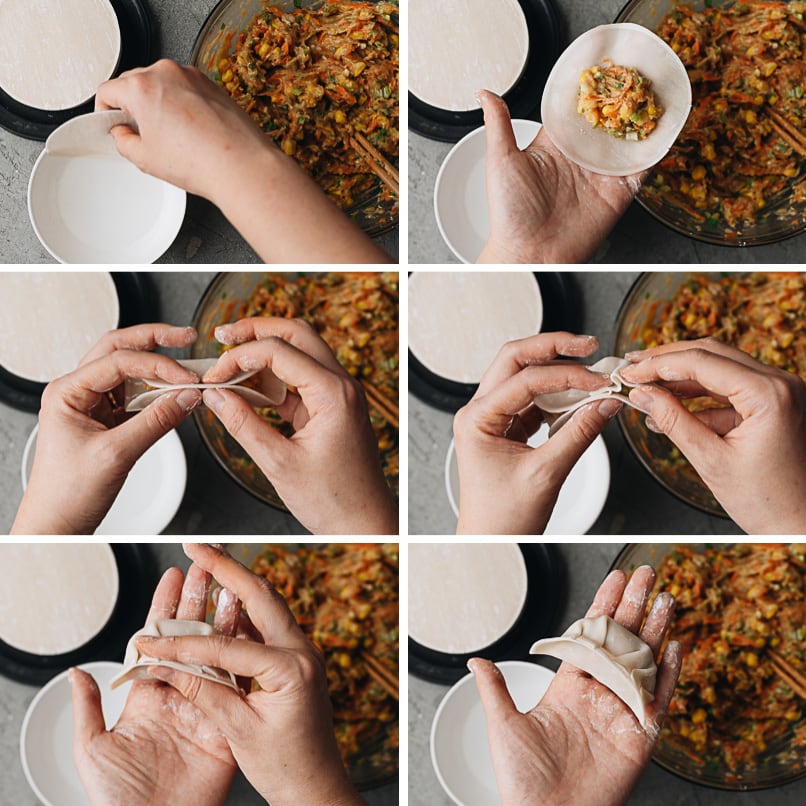 How to cook Chinese chicken dumplings
There are a few ways to cook chicken dumplings.
I demonstrate making pan fried dumplings in this recipe:
Add oil to the pan and the dumplings without overlapping.
Add water to the pan and cover with a lid. Steam to cook the dumplings.
Uncover the pan and cook until water is fully evaporated and the bottom of the dumplings turns golden brown.
You can also refer to this post to see how to steam chicken dumplings, and this post for boiled dumplings. Note, you should only boil the dumplings if you are using homemade wrappers or have bought the type of wrappers that are designed for boiled dumplings (they are usually thicker so they won't fall apart easily during boiling).
How to store and reheat Chinese chicken dumplings
Chicken dumplings are perfect for a weekend project, when you can take the time to make a big batch and freeze them for later.
How to store dumplings
You should always keep the wrapped dumplings covered with a wet paper towel to prevent them from drying out, when you place them at room temperature.
If you cook the dumplings the same day you wrap them, you can cover them with plastic wrap and store them in the fridge for a few hours.
If you do not cook the dumplings the same day you wrap them, the best way to store them is by freezing.
To freeze dumplings, you should place them on a tray or in a large container without overlapping, and seal it with plastic wrap or a cover. Freeze the dumplings until completely frozen. This way, the dumplings won't squish and stick together. Then you can transfer the dumplings to a bag to free up freezer space.
How to reheat dumplings
Frozen chicken dumplings reheat well and the cooking method is exactly the same. The only difference is that you need to steam the dumplings a bit longer (after you pour in the water and cover the pan), so the filling will be thawed and cooked through properly.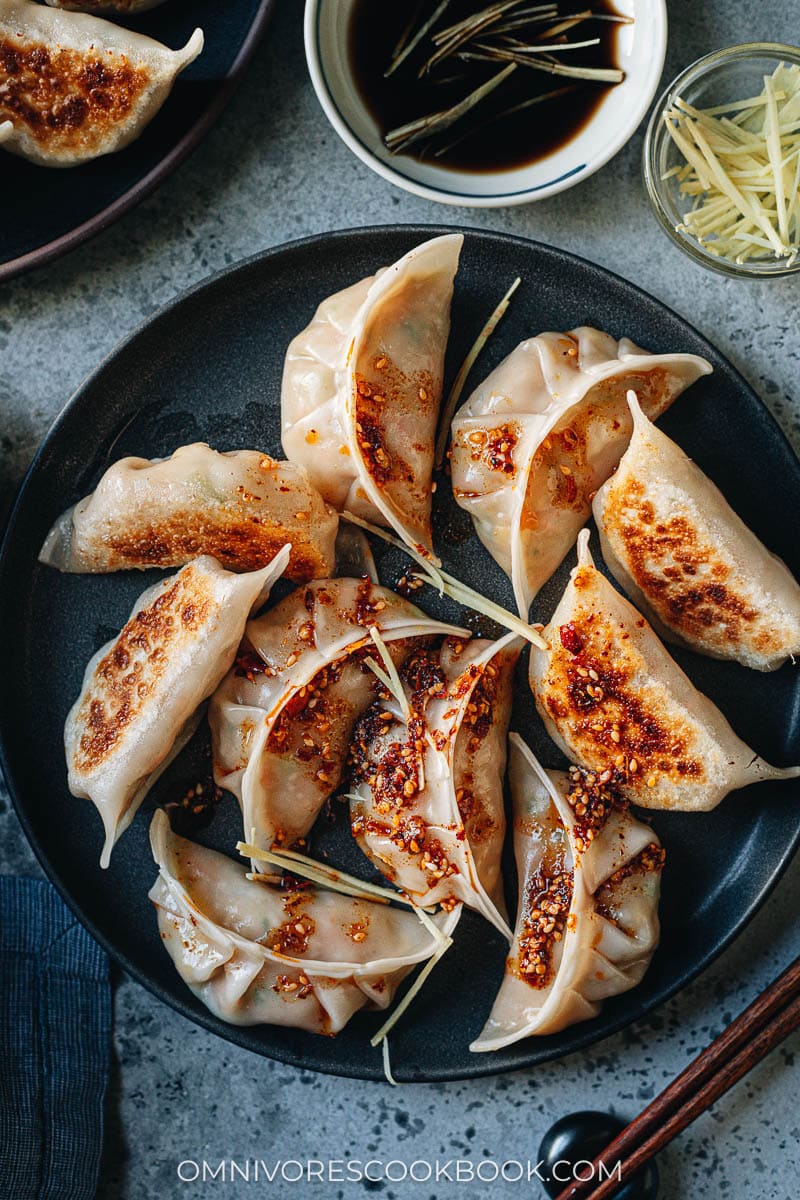 More dumpling recipes
Want to Know More?
Receive our 5-Day Chinese Cooking Crash Course & Recipe Updates! Subscribe
Chinese Chicken Dumplings (鸡肉饺子)
Crispy Chinese chicken dumplings feature a juicy ground chicken filling and are loaded with vegetables. Not only for celebrating Chinese New Year and other festivals, these dumplings are a great weekday snack because you can make them ahead and they freeze well.
Servings:
4
to 6 servings (24 dumplings)
Ingredients
Filling
1/2

lb (225 g)

ground chicken

1

tablespoon

light soy sauce

(or soy sauce)

1

tablespoon

Shaoxing wine

(or dry sherry)

2

teaspoons

grated ginger

4

green onions

, minced

1

small (4 oz / 110 g)

carrot

, grated

1/2

cup

canned corn

, drained (or frozen corn, thawed and drained)

1

teaspoon

salt

1

teaspoon

cornstarch

1/4

teaspoon

white pepper

1

tablespoon

sesame oil

Peanut oil

(or vegetable oil for pan frying)
Dipping sauce options
Instructions
Make dumpling filling
Add ground chicken into a big bowl. Add light soy sauce and Shaoxing wine. Mix using a pair of chopsticks until the liquid is fully absorbed and the meat becomes sticky. Cover with plastic wrap, and let marinate in the fridge while you prepare other ingredients.

(Optional) You can start making dumpling dough now if you're planning to use homemade dumpling wrappers.

When you're ready to make the dumplings, add the ginger, green onion, carrot, corn, salt, cornstarch and sesame oil into the ground chicken mixture. Stir to mix well.
To assemble the dumplings
Prepare a small bowl of water on the side. Wet the edge of a dumpling wrapper. Scoop about 1 tablespoon dumpling filling and place it in the center of the wrapper. Hold the dumpling with one hand and start sealing the edges with the other hand (watch the video below for the wrapping process). After folding, press the edges again to seal well. You can use any way to fold the dumplings as long as you're comfortable with it. Cover the dumpling wrappers and wrapped dumplings with wet paper towels to prevent them from drying out.

Now you can freeze the assembled dumplings if you aren't going to cook them immediately. Place them onto a baking tray and seal with plastic wrap. You can store the dumplings in the freezer for up to 1 month. Once the dumplings are completely frozen, after about a day, you can transport them to a gallon zipper bag to save freezer space.
To cook the dumplings
Cook the dumplings in batches. Heat the 1 tablespoon of oil in a nonstick skillet over medium heat until hot. Add dumplings. Add 2 tablespoons of water and cover. Cook until the dumplings are cooked through, 2 to 3 minutes. Uncover and keep cooking until the bottom side turns golden. If you use frozen dumplings, the cooking process is the same, but you will need to cook the covered dumplings for 4 minutes before uncovering the pan.

You can serve the dumplings immediately with some Chinkiang vinegar or dumpling dipping sauce.
Nutrition
Serving:
1
serving
,
Calories:
219
kcal
,
Carbohydrates:
28.8
g
,
Protein:
11.3
g
,
Fat:
6.9
g
,
Saturated Fat:
1.2
g
,
Cholesterol:
22
mg
,
Sodium:
708
mg
,
Potassium:
199
mg
,
Fiber:
2.2
g
,
Sugar:
2.3
g
,
Calcium:
19
mg
,
Iron:
1
mg