Continue my last fantastic cooking experience while I was in Chicago, my boyfriend and I successfully cooked some perfect steak at home.
Since it's so difficult and super expensive to get good steak in China, due to government restriction on imported beef, I seek the chance to get nice steak every time I come to the US. However, Chicago has been quite snowy lately and temperature dropped to minus 20 degrees C (-4 F). I felt freezing every time going out. So instead of trying out new restaurant, we decided to cook steak at home this time.
After some research online, we found out that a million people will have a million different theories toward cooking steak. No one says the same thing. But first thing first, we know that the most important thing will be getting a high quality cut. Some people insist that if the beef quality is high enough, the finished steak will be delicious no matter how you cook it. So we went to Whole Food Market and got 2 very nice cut – New York strip steak and rib eye, both are thick cut and dried aged, up to 1 pound for each cut.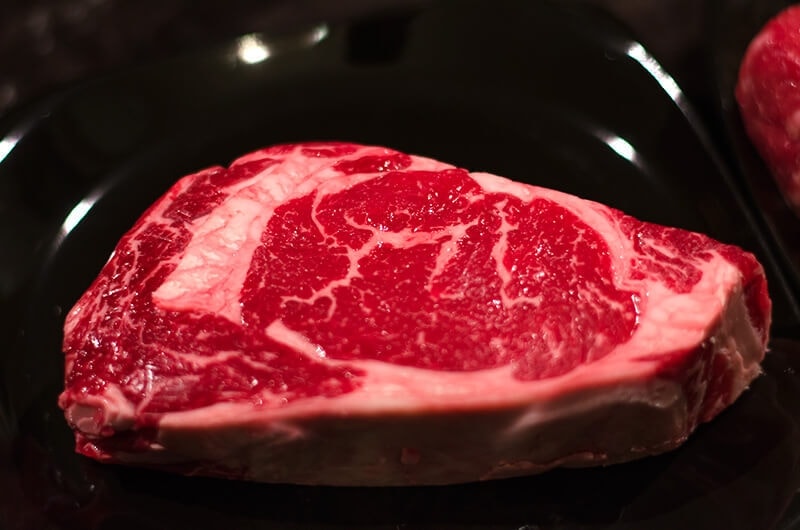 After picking our favourite cut, it's time to decide how to cook them. After browsing endless articles about tips for cooking perfect steak, we decided that we like the method from Serious Eat. While cooking the steak, we had to slightly alter the original recipe. After searing the steak until the surface is crispy, the inner color of the steak was still too raw. So we slide the cooking pan into oven and baked for another 5 minutes (it was a thick cut). We didn't have a thermometer, but luckily we nailed the time.
After taking the steak from oven, we waited nervously for another few minutes to wait the steak settled and meat juice absorbed. When I slice the steak carefully by a small sharp knife, I can tell we did it right by looking at the color and the feeling of cutting. The next few seconds was heavenly, after a small bite of the morsel. The steak was crispy outside and with perfect medium rare texture inside. It was rich, juicy and simply tasty. It sounds like bragging, but I do think we did as well as some nice restaurants. And after the first bite, I felt like it's the kind of time when you want to tell the friend next to you, "hey man, this steak tastes awful, so let me finish it all!"
As for side dish, we chose to cook Ina Garden's roasted brussels sprouts. It was easy and delicious. We found out that one of the biggest benefits to cooking steak at home instead of dining at a fancy cut house is, you just concentrate on the steak without being distracted by appetizer or snacks. Adding a little green to balance the rich and fatty steak will be enough. Of course, a bottle of fruity dry red wine is always necessary!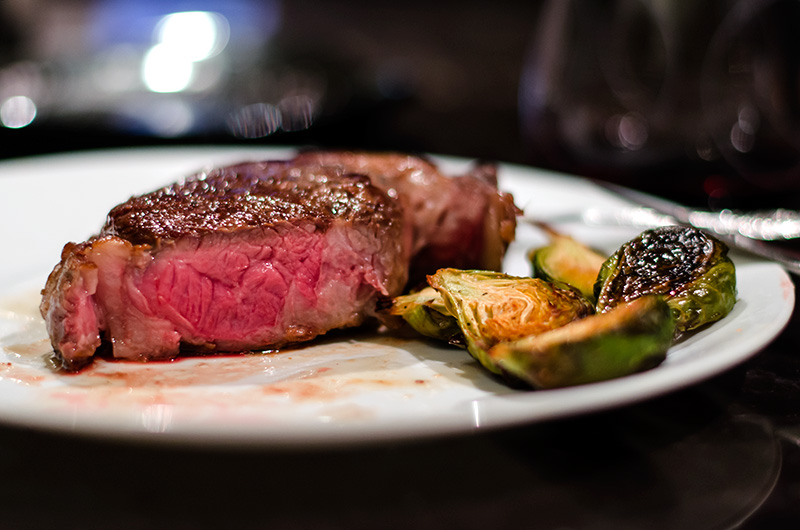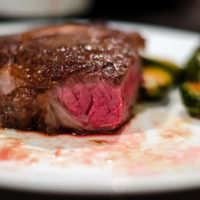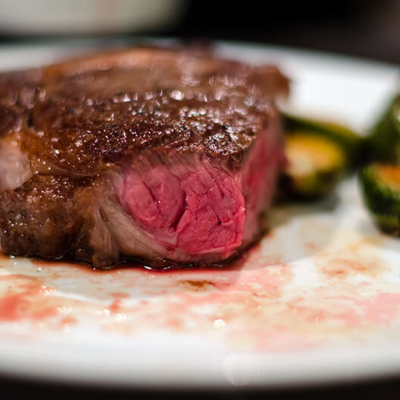 Perfect Steak and Roasted Brussels Sprouts - steak recipe
This recipe is for cooking medium rare steak without a meat thermometer. If you want different doneness, change the baking time in oven.
Please be noticed that different steak cut, meat quality and skillet will affect the cooking result. Change cooking time according to the doneness of steak when you cook it.
Ingredients
option 1 1 pound (500 grams) thick cut dry-aged New York strip steak

option 2 1 pound (500 grams) thick cut dry-aged rib eye

sea salt

3

tablespoons

vegetable oil

1

tablespoon

butter

freshly grounded black pepper
Instructions
Place steak in a plate, rub sea salt all over the whole steak. Use more salt than you would season for a normal meal. The salt will create a crispy surface in the cooking and it's the only seasoning in this dish. Set aside in room temperature for at least 40 minutes, up to 1 hour. The temperature of the steak should reach room temperature when it's ready to cook.

Preheat oven to 400 degrees F (200 C).

Heat a heavy bottom skillet (I used iron cast skillet) over medium high heat until hot. Add vegetable oil and keep cooking until the oil is smoking. The whole heating process takes around 5 minutes. Add steak carefully and fry the bottom side for 1 and half minute. Flip to another side and cook for 1 and half minute. Using a tong to let steak stands in the skillet. Fry the edge for 30 seconds. Flip to cook the other edge, 30 seconds. Repeat the whole process again and cook each side for 30 seconds. The steak should looks brown and quite done on the surface, but still raw inside.

Transfer the steak into another baking pan and add butter on top. Place the baking pan on the middle rack of oven. Bake for 5 minutes. Transfer the baking pan to the kitchen counter and let the steak rest for 2 to 3 minutes. Cut to see whether it's the desirable doneness. Place steak back to the oven, if the inside is still too raw.

Serve immediately.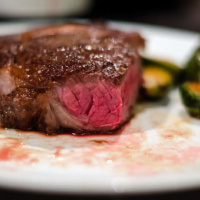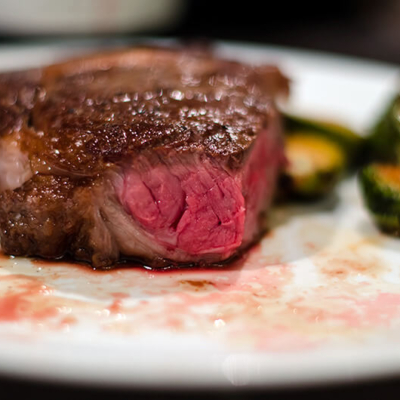 Perfect Steak and Roasted Brussels Sprouts - Roasted Brussels Sprout recipe
Ingredients
1

pound

500 grams brussels sprouts, ends removed

2

tablespoons

vegetable oil

1/2

teaspoon

sea salt and more to taste

1/4

teaspoon

black pepper
Instructions
Preheat oven to 400 degrees F (200 C)

Place brussels sprout onto a baking tray. Add vegetable oil, salt and pepper, and mix well. Baking on the middle rack of oven for 15 minutes. Flip to bake another side for 10 to 15 minutes, until crispy and cooked through.

Sprinkle more salt on top if necessary.

Serve warm.