An easy fried udon recipe with a Chinese twist that yields a rich result that tastes like a beef burger. The recipe calls for very basic ingredients and doesn't require a wok. Try it out if you like takeout – you'll like this homemade version even better.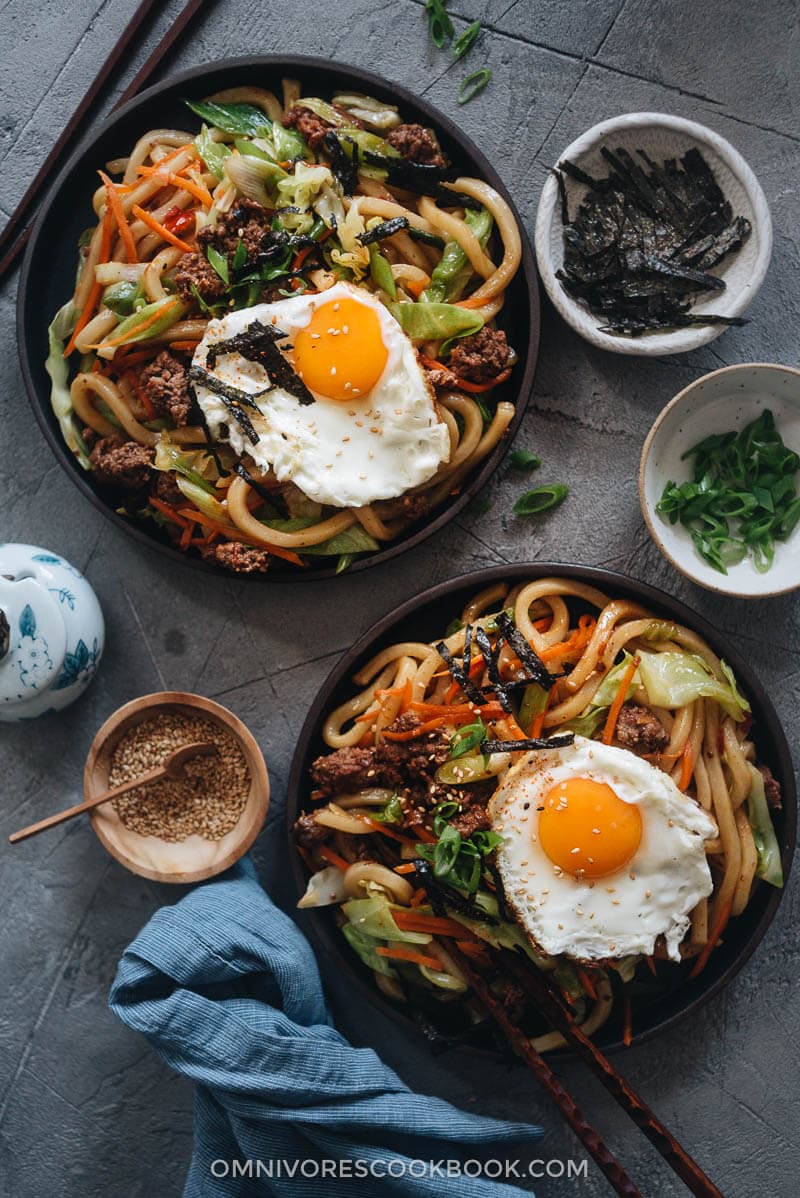 Since moving to New York a few months back, I've been sticking to making very simple dishes due to my limited kitchen space. Plus, our gas hasn't been turned on yet, so you might have noticed that I've been posting lots of stew and soup recipes. I do have a portable gas stove, which I use to make stir fries. But more often than not, we stick to one-pot meals that use our electric pot and create minimal clean-up.
Among all the dishes I've made recently, this easy fried udon with beef and cabbage is my favorite. Just to be clear, this recipe is not the traditional Japanese-style fried udon that uses mentsuyu and has a refreshingly mild taste. It is quite the opposite. I used very minimal seasonings that you probably already have if you cook Chinese food. The ingredients are so common that you can find them at any grocery store. But the result is magical. The sauce is fragrant and savory with a sweet note. And the noodles are infused with a strong beefy taste that somehow reminds me of a cheese burger.
If you want to make a traditional Japanese yaki udon, you need to look somewhere else. But if you love Chinese takeout and want to add a new easy recipe to your dinner repertoire, this recipe is perfect for you.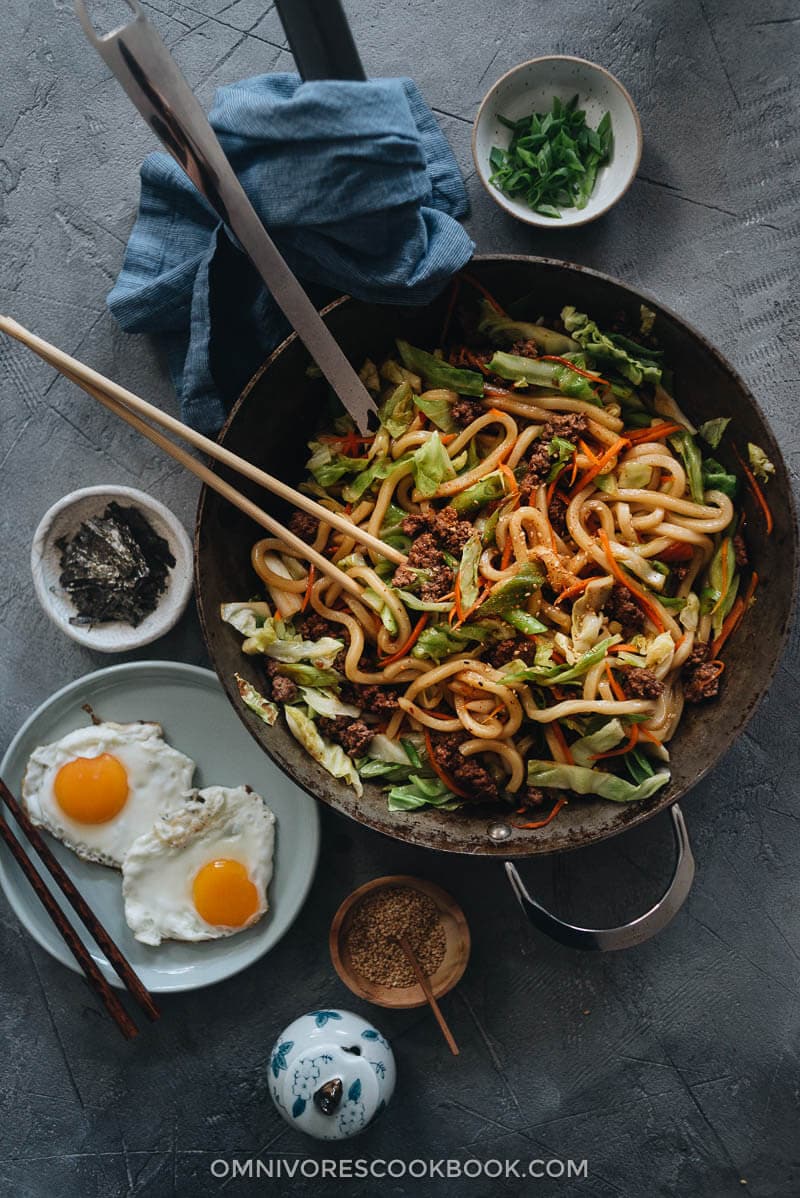 Cooking notes
1. Sauce
Traditional Japanese udon usually utilizes mentsuyu, a mild broth that is made from dried fish and seaweed to add a taste of the sea. However, I did come across different types of yaki udon sauces while living in Japan. For example, I once stayed with a Japanese family in Tokyo when I was a student. They told me that people in northern Japan use slightly bolder sauces and sometimes they make their fried udon using a sukiyaki sauce.
My recipe was inspired by that yaki udon version, only I replaced the mirin with Japanese sake and sugar to mimic the taste of mirin. I also added a small spoon of doubanjiang (the 3-year fermented type from The Mala Market), which adds an extra dimension of umami and a tiny hint of spiciness to the dish. In fact, doubanjiang is also a common ingredient in Japanese cooking and I've seen many udon recipes call for a small amount.
2. Why ground beef is always a good idea
Sliced meat is the most commonly used meat in takeout fried noodles and yaki udon. And yes, it does give the dish a more appetizing look and a different texture. But when it comes to home cooking, I always highly recommend ground meat. The advantages of ground meat are:
It doesn't require prep. No slicing or marinating needed!
You won't overcook it by accident. Unlike sliced chicken or beef, which usually requires high heat and a brief cooking time to yield the best result.
It tastes amazing with cheap ingredients. Because ground meat releases more flavor into the dish than sliced meat, your veggies and noodles will taste meatier and more delicious.
I used to use ground pork more often while living in China, because beef is not really a staple in northern China. The meat quality is not very good and it can be extremely pricey. After moving to the US, I started to experiment more with beef and the results have been delightful. I've found that ground beef infuses a far richer taste into a dish, no matter whether you're cooking fried noodles or a pot of kimchi stew. And that is the magical ingredient in this recipe to make your fried udon taste like a cheese burger.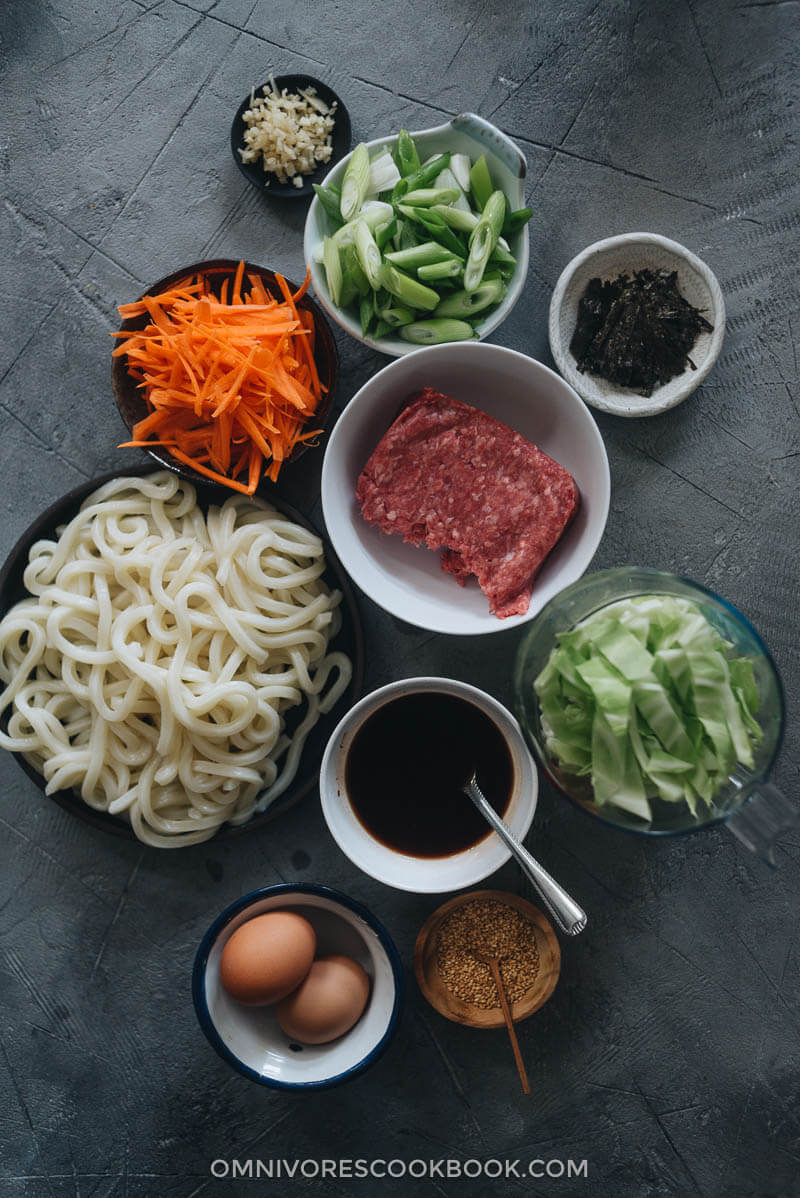 3. A word on noodles
The fat udon noodles are really the key in a fried udon dish. I used to buy the packaged cooked fresh udon while living in Japan. It's quite hard to find this type in the US, and your next best option is packaged frozen udon. The udon noodles are cooked and frozen. You only need to thaw them (either with a quick blanching or microwaving) before adding it to the stir fry. I really love the fact that you don't need to boil another pot of water to cook the noodles, since I just have one gas burner to work with.
You probably need to visit a Japanese grocery store to get the correct type. If the dried udon is the only product you can find, you can use it, instead. Please note, the noodles will come out quite narrow and flat, and it won't look like the dish shown in the pictures here.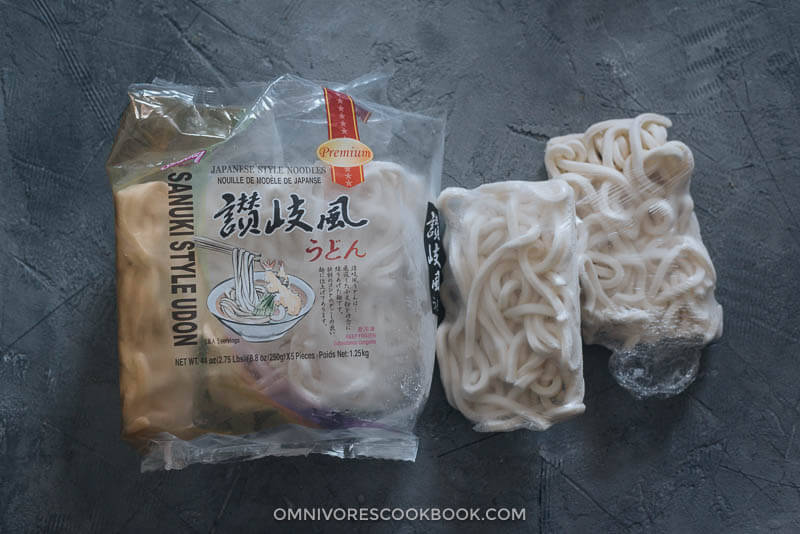 4. What pan to use
I used a carbon steel skillet to make this dish. The benefits of this pan are:
It's a heavy-duty pan that sears food well, but it's lighter than a cast iron pan.
It's quite nonstick once you season it well.
It doesn't have a chemical coating (like a nonstick pan) that might rub off into your food.
The downside is, it is still quite heavy to handle and it does require more oil to prevent sticking. I would definitely recommend a nonstick pan for this dish if you prefer hassle-free.
You can check out this article for more details on why I don't use a wok.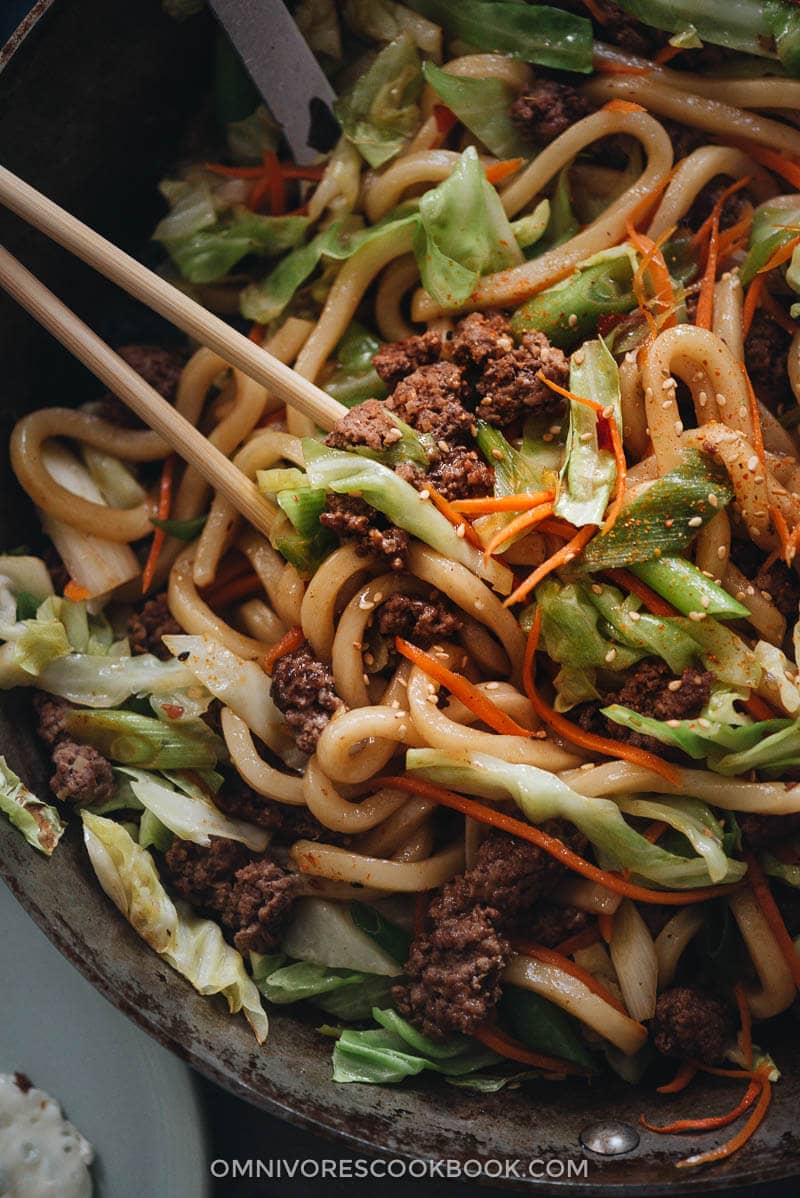 5. A fried egg goes a long way
This fried udon tastes so good that it's totally fine to make it without the egg topping. But if you want to make the dish perfect, a sunny side up egg (or two!) is the way to go. Alternatively, add a handful of shredded cheese onto your noodles while it's hot, so the residual heat will melt the cheese. It's actually a Japanese way to serve rice and noodle dishes, and I think it's genius. Plus, it's the perfect add-on for your "cheeseburger fried udon".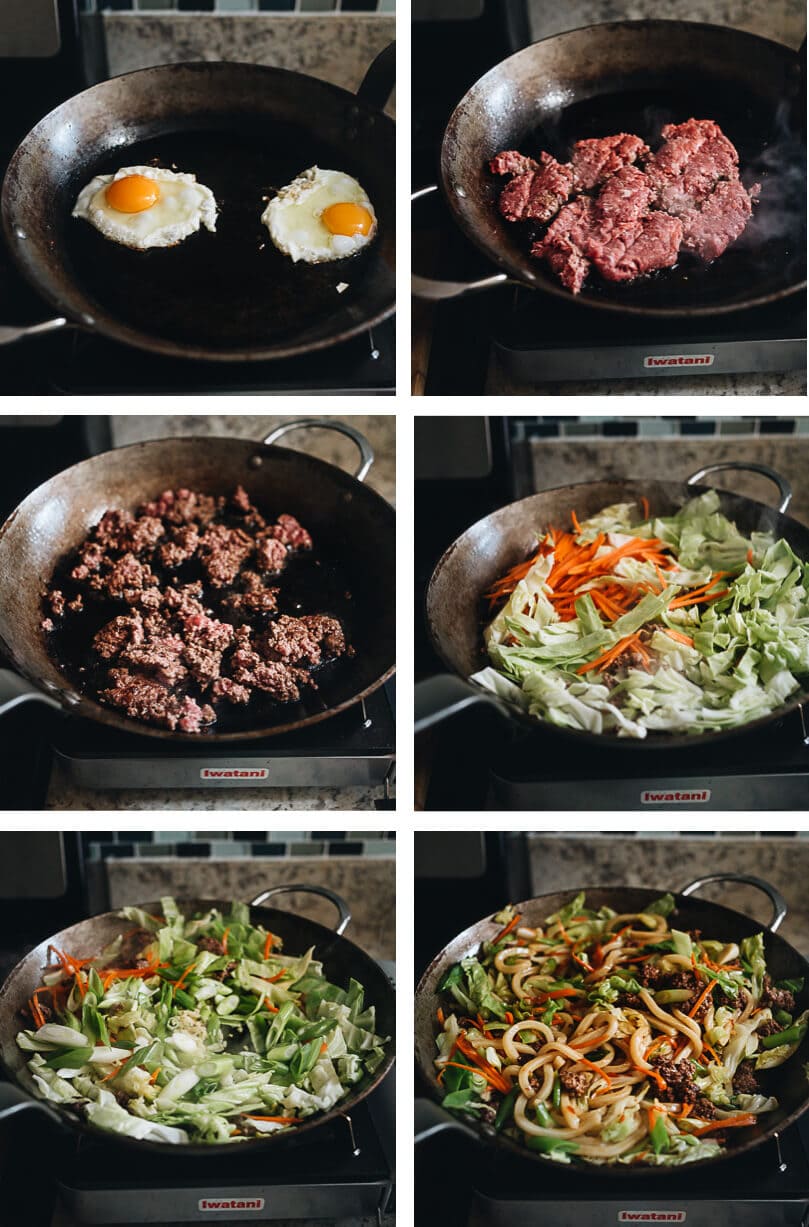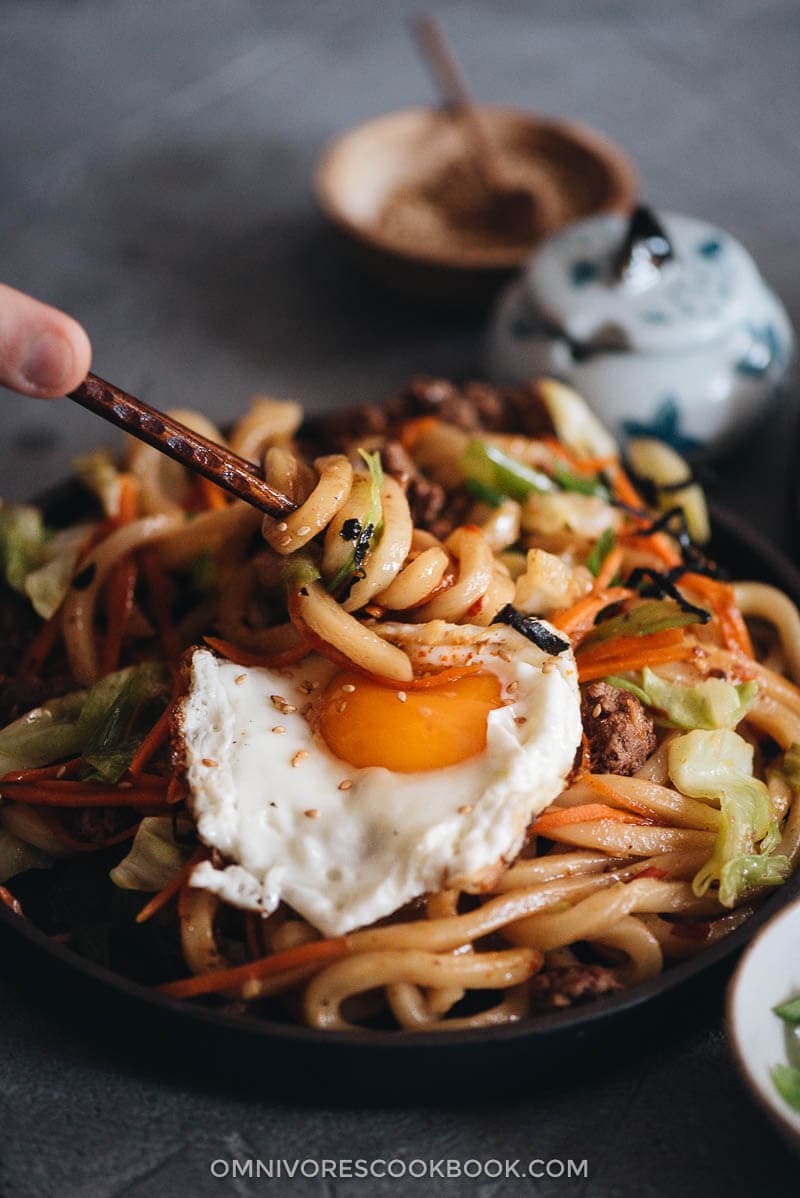 Some updates on New York life
I know I've been quite absent from my blog since my move and I haven't updated it nearly enough as I had hoped. But the good news is, I just learned that our gas will be turned on on July 2nd! Woohoo! I'm glad that we'll be able to use the oven to roast brussels sprouts and cauliflower again. I've been missing them so much.
I hope you like this dish as much as I do! Will be back soon with more delicious recipes.
More easy one-pot recipes
If you give this recipe a try, let us know! Leave a comment, rate it (once you've tried it), and take a picture and tag it @omnivorescookbook on Instagram! I'd love to see what you come up with.
Want to Know More?
Receive our 5-Day Chinese Cooking Crash Course & Recipe Updates! Subscribe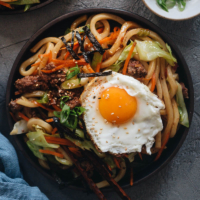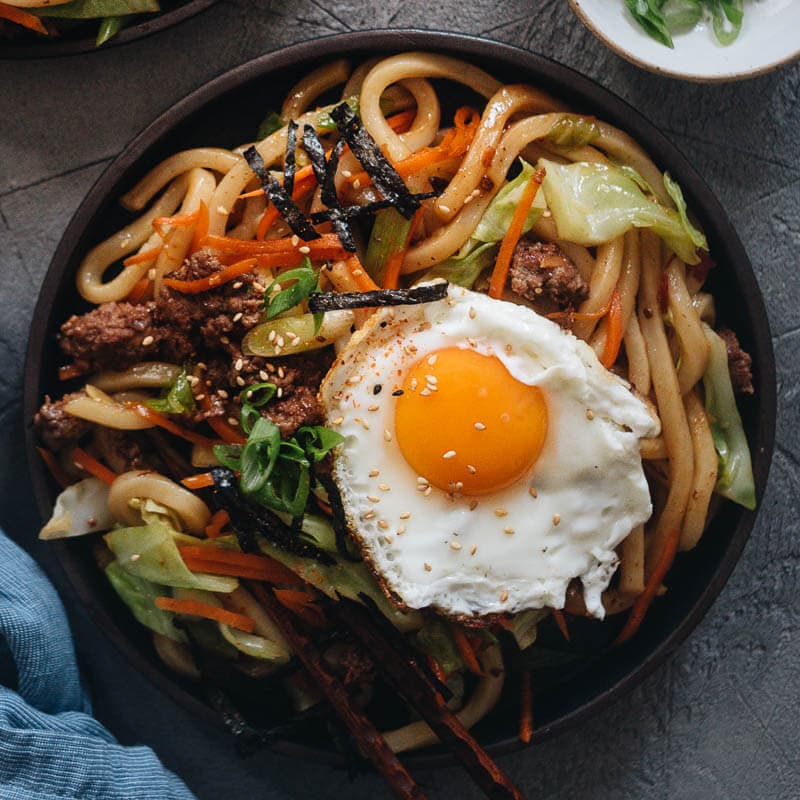 Easy Fried Udon (Yaki Udon)
An easy fried udon recipe with a Chinese twist that yields a rich result that tastes like a beef burger. The recipe calls for very basic ingredients and doesn't require a wok. Try it out if you like takeout - you'll like this homemade version even better.
Ingredients
2

packs (17-oz./500 g)

udon noodles

, frozen
Sauce
3

tablespoons

Japanese sake

(or dry sherry)

3

tablespoons

soy sauce

2

teaspoons

sugar

1

teaspoon

Doubanjiang

(fermented chili bean past) (Optional)
Stir fry
1 1/2

tablespoons

peanut oil

1/2

lb (225 g)

ground beef

(or ground pork, or ground chicken)

2

eggs

(optional)

1

carrot

, shredded

4

cups

cabbage

, sliced

4

green onions

,sliced

2

teaspoons

ginger

, minced

Garnish

(optional)

1

tablespoon

toasted sesame seeds

, plus more for serving

Sliced dried nori sheets for garnish
Instructions
To thaw the noodles, either place them in the fridge overnight, boil them for about 3 minutes, or microwave until just thawed. If the noodles have completely thawed you do not need to boil them. If using dried noodles, follow the instructions on the package. When you're ready to cook, rinse the noodles with tap water as you gently separate them by hand, and drain.

Mix the sauce ingredients in a medium-sized bowl.

Heat a large nonstick pan (or cast iron pan, or carbon steel pawith 1/2 tablespoon of oil until hot. Add the eggs. Cook until the bottom turns golden, the egg white is cooked, and the yolk is still runny. You can also cook the eggs to your desired doneness.

Add the remaining 1 tablespoon of oil into the pan. Add the ground beef. Cook and break it apart using your spatula. Cook until the meat is lightly browned.

Add the carrot and napa cabbage. Stir and cook for 1 minute. Add a bit more oil if the pan looks dry.

Add the green onion and ginger. Stir for 30 seconds or so, to release the fragrance.

Add back the noodles and pour in the sauce. Stir and mix until the sauce is absorbed. Transfer everything to serving plates. Top with the cooked egg and garnish with sesame seeds and nori.

Serve hot as a main dish. (This dish keeps well and you can definitely use it for meal prep. Store in an airtight container in the fridge up to 4 days.)
Nutrition
Serving:
1
serving
,
Calories:
487
kcal
,
Carbohydrates:
49.8
g
,
Protein:
38.9
g
,
Fat:
12.6
g
,
Saturated Fat:
3.7
g
,
Cholesterol:
95
mg
,
Sodium:
837
mg
,
Potassium:
676
mg
,
Fiber:
5.7
g
,
Sugar:
5.6
g
,
Calcium:
50
mg
,
Iron:
22.9
mg