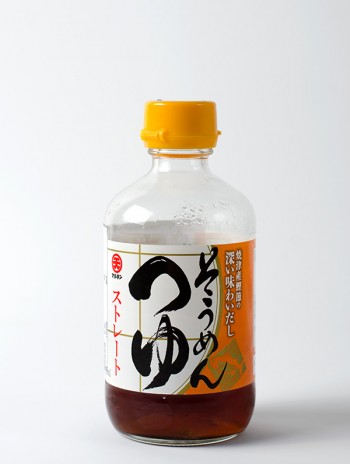 Mentsuyu is an all-purpose sauce in Japanese cooking. It is usually used as a dipping sauce for soba noodles or tempura, as a soup base for somen or udon noodles, or is poured over tofu and vegetables. Mentsuyu is typically made from Japanese sake, mirin, light soy sauce, dried seaweed, and dried bonito flakes. Thus, it has a savory flavor from the fermented beans and rice wine and is infused with the taste of sea.
It is easy to make mentsuyu at home. You can refer to this mentsuyu recipe from Just One Cookbook if you'd like to make it yourself.
Buying
You can also easily purchase it from a Japanese market. When you purchase bottled mentsuyu, pay attention to the label. You will find condensed mentsuyu most of time, but you can also find the diluted variety. For the condensed type, read the back label to learn how much water you should add when using. There are different types of mentsuyu for udon, somen, and soba noodles. The nuance of infused flavors (for example different types of dried fish) are different and you can only find out by trying them. Personally I like the somen type.
Usage
Although mentsuyu is a basic Japanese ingredient, I find it extremely useful in Chinese and other Asian dishes. By adding a few spoons of mentsuyu to a noodle soup, you can easily infuse umami into the broth. It is one of the best ways to make a plain soup base taste much more delicious without adding MSG.
Storage
Most mentsuyu does not contain food preservatives and should be used soon after opening. Once opened, you should always store mentsuyu in refrigerator, and it can be kept up to one month.
You can refer to the recipe – Crispy Spicy Salmon with Soba Noodle, to see how to use mentsuyu to cook a fusion dish.