A hybrid of authentic Chinese and American Chinese food, moo shu chicken is a refreshing and delicious dish that's better than the Chinese restaurant version. Tender juicy chicken, crisp napa cabbage, crunchy bamboo shoots, and wood ear mushrooms are quickly cooked in a savory and lightly sweet sauce. Serve either with moo shu wrappers or steamed rice and you'll have a healthy and delicious meal.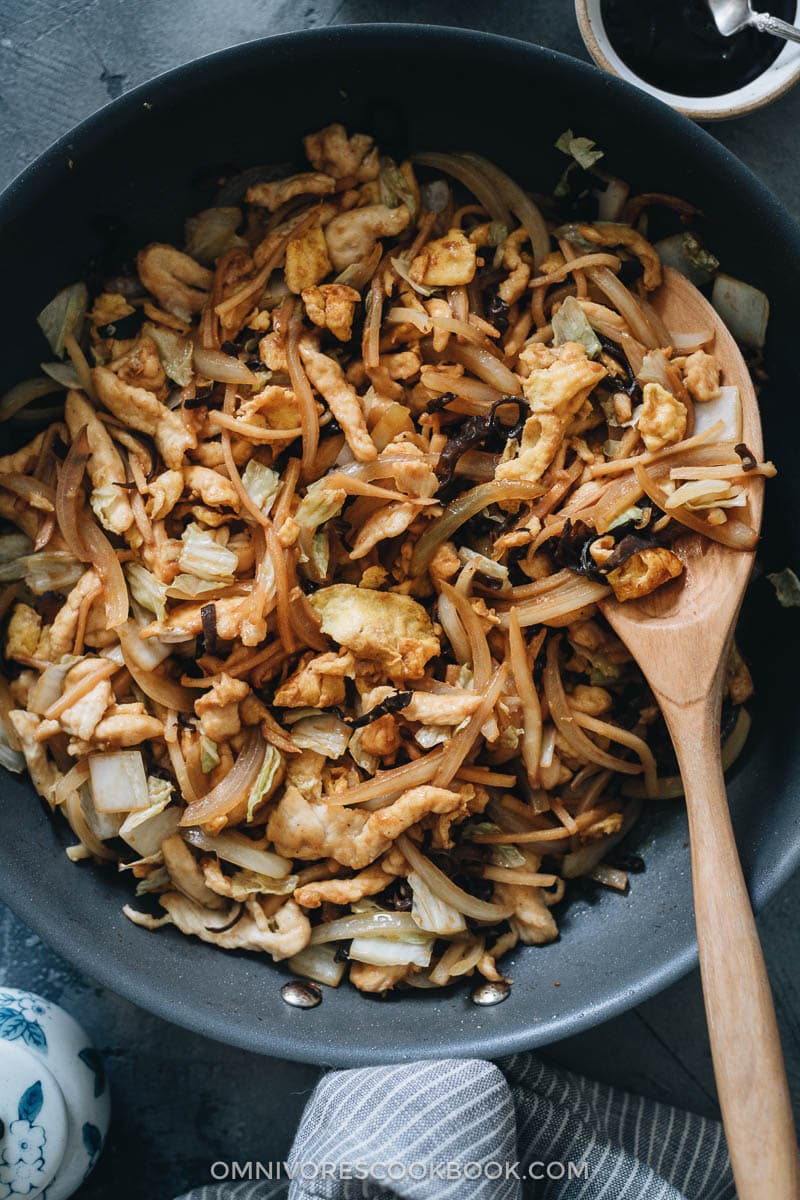 In two previous posts, Moo Shu Pork and Moo Shu Vegetables, I mentioned that the moo shu we eat in China is very different from that found in the US. The ingredients are usually stir-fried with a light chicken broth based sauce and the dish is served with rice. The ingredients in the moo shu are different, too. You won't see cabbage. Instead, the dish usually uses cucumbers, lily flowers, and wood ear mushrooms.
Having lived in the US for almost 5 years, I've started to enjoy American Chinese food more. I used to resist it when I saw dishes that were not "authentic" in my opinion. But now, I try to embrace them. Like the last time my husband ordered moo shu pork when we were eating out, I was surprised to find the dish very tasty, even though it was the Americanized version.
So today I want to share my version of Moo Shu Chicken – a mix of authentic Chinese taste and Americanized elements. The result is a pot of perfectly cooked tender chicken and crunchy veggies seasoned with a savory and lightly sweet sauce, with tons of aromatics.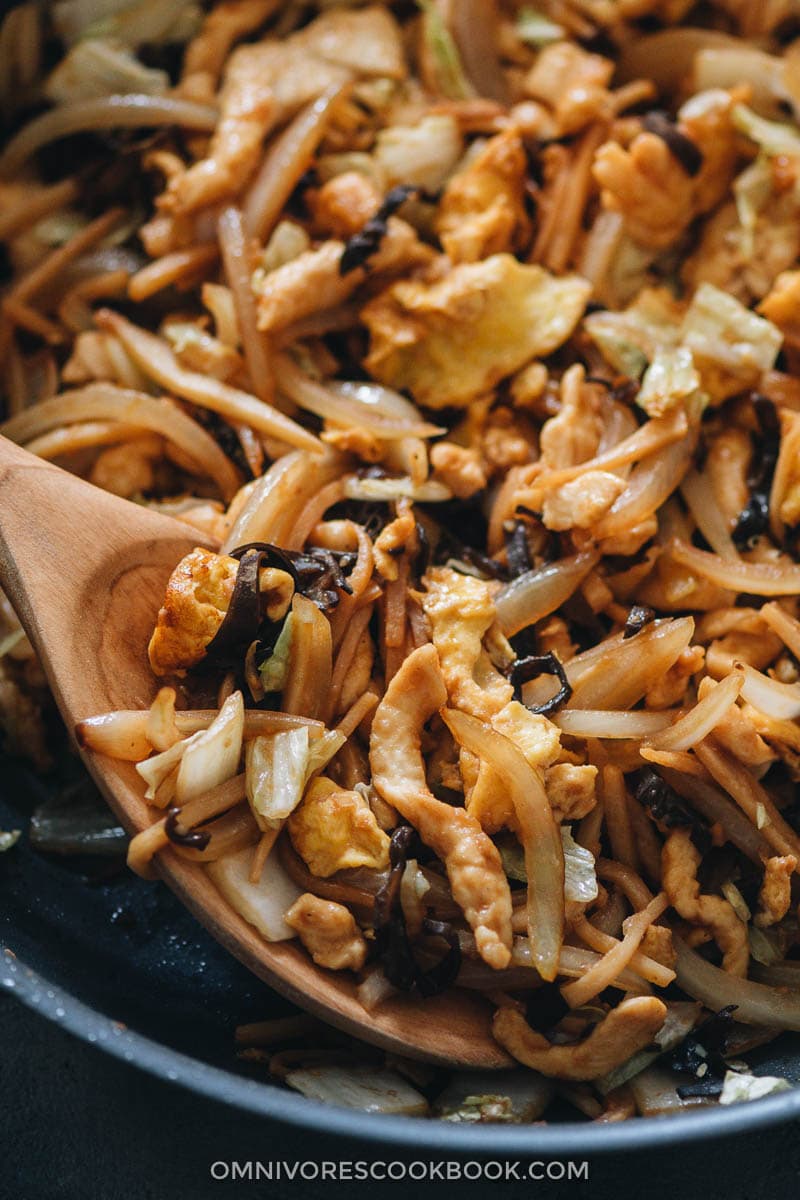 Tian Mian Jiang (Sweet Flour Sauce, 甜面酱)
Even though hoisin sauce is the more common sauce in the US, I decided to go with Tian Mian Jiang, or Sweet Flour Sauce. It is the official sauce that is used with Peking duck and pancakes, which inspired the American version of moo shu.
Tian Mian Jiang is a thick, opaque, reddish dark brown sauce that tastes salty, slightly sweet, and has a savory umami that is similar to that of fermented soybeans. The sauce is made primarily from fermented flour, along with salt. The sweet taste is from the glucose and maltose that are produced during the fermentation process, so the sauce is actually salty and only slightly sweet.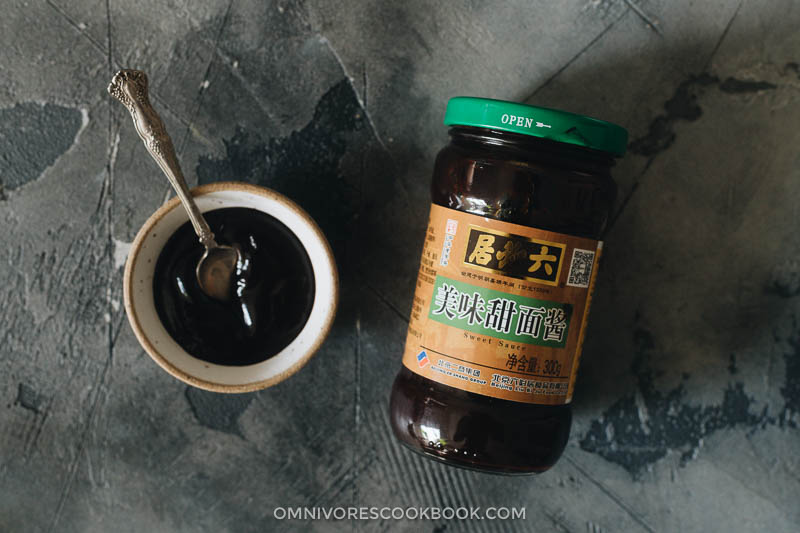 Compared to hoisin sauce, Tian Mian Jiang is more savory and less sweet, with very little added sugar, and makes your dish taste richer than simply sweet.
A fun fact: sometimes Chinese restaurants have hoisin sauce written on their menu, but they use Tian Mian Jiang in reality (which is lesser known). That's why your homemade version might taste different.
Where to buy it
The best place to purchase Tian Mian Jiang is at Asian Markets. It's usually on the room-temperature shelves that sell other sauces, near the soy sauce section. Sometimes it's labeled as "Sweet Flour Sauce", "Sweet Bean Sauce", or "Sweet Sauce".
You will come across two versions of Tian Mian Jiang – the Northern version (made primarily from flour) and the Southern version (made from soybeans). I love the Northern version, but the Southern version will work just as well.
You can also find Tian Mian Jiang on Amazon, but it's overpriced.
If you cannot find Tian Mian Jiang, substitutions are provided in the recipe below.
Moo Shu Pancakes / Duck Pancakes
I previously published a family recipe for duck pancakes, which produce soft paper-thin pancakes like in the restaurant. You can also find them in the frozen section of an Asian market, usually labeled as moo shu wrappers or duck wrappers. They are already cooked, so you simply need to heat them through according to the instructions on the package.
If you cannot find the pancakes, flour tortillas are the next best option. Remember, the proper moo shu wrappers are paper-thin and have a different texture. Tortillas are much thicker and you will need to use more sauce when serving.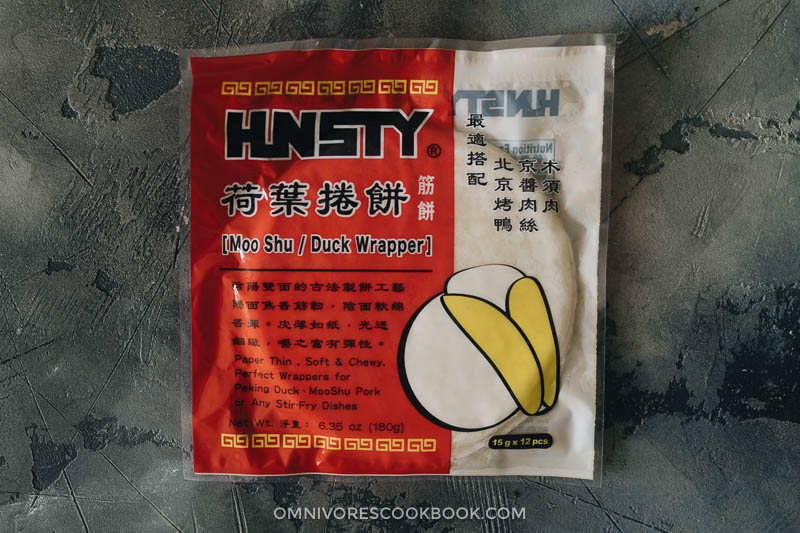 My choice of ingredients
I used napa cabbage instead of cabbage because it tastes great and has a better texture.
I added some rehydrated wood ear mushrooms and bamboo shoots for a couple of different crunchy textures. They are also common ingredients in restaurant-style moo shu chicken. You can skip the wood ear mushrooms if you don't have them on hand, but I highly recommend them. You can purchase them at Asian markets or on Amazon.
How to cut the ingredients
To make it easy to wrap the finished moo shu chicken in the pancakes, it's important to cut the ingredients into thin, even strips.
To cut the chicken breast:
Slice it against the grain into 1/5" (1/2 cm) thick pieces.
Flatten the chicken slices so they half overlap each other. (so you can cut them faster)
Further slice it into 1/5" (1/2 cm) thick strips.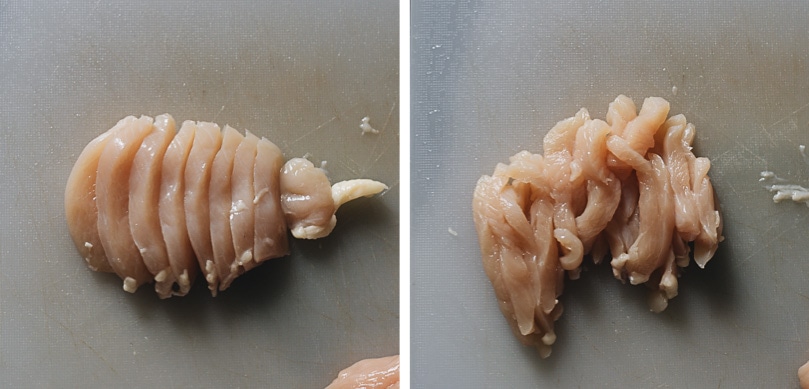 Slice the rest of the ingredients (except the napa cabbage) into strips.
Cut the napa cabbage into small squares.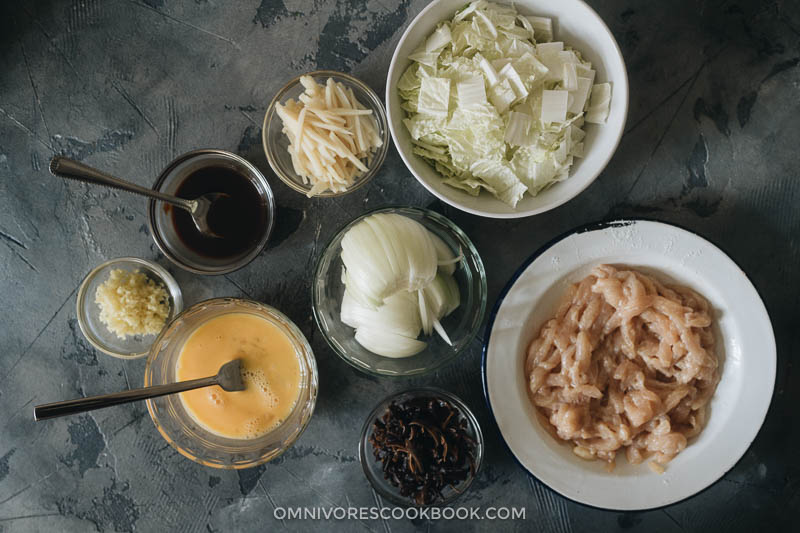 Cooking process
Moo shu chicken requires a bit of prep work, but the actual cooking process is extremely easy. All you need to do is make sure not to overcook the ingredients, so the chicken remains tender and the veggies crisp.
Saute the chicken. You will need to use two spatulas or a pair of chopsticks to separate the chicken pieces into a single layer so they cook evenly.
Make sure to remove the chicken from the pan immediately once it's cooked. It's OK if some of the pieces have a hint of pink, because you will cook them further in a later step.
Scramble the eggs then remove them from the pan once cooked.
Lightly cook the onion.
Quickly stir in the ginger.
Add the rest of the veggies – wood ear mushrooms, cabbage, bamboo and shoots. Cook 2 to 3 minutes so they are just cooked but still crunchy.
Add back the cooked chicken and egg.
Add the sauce and give it a final stir.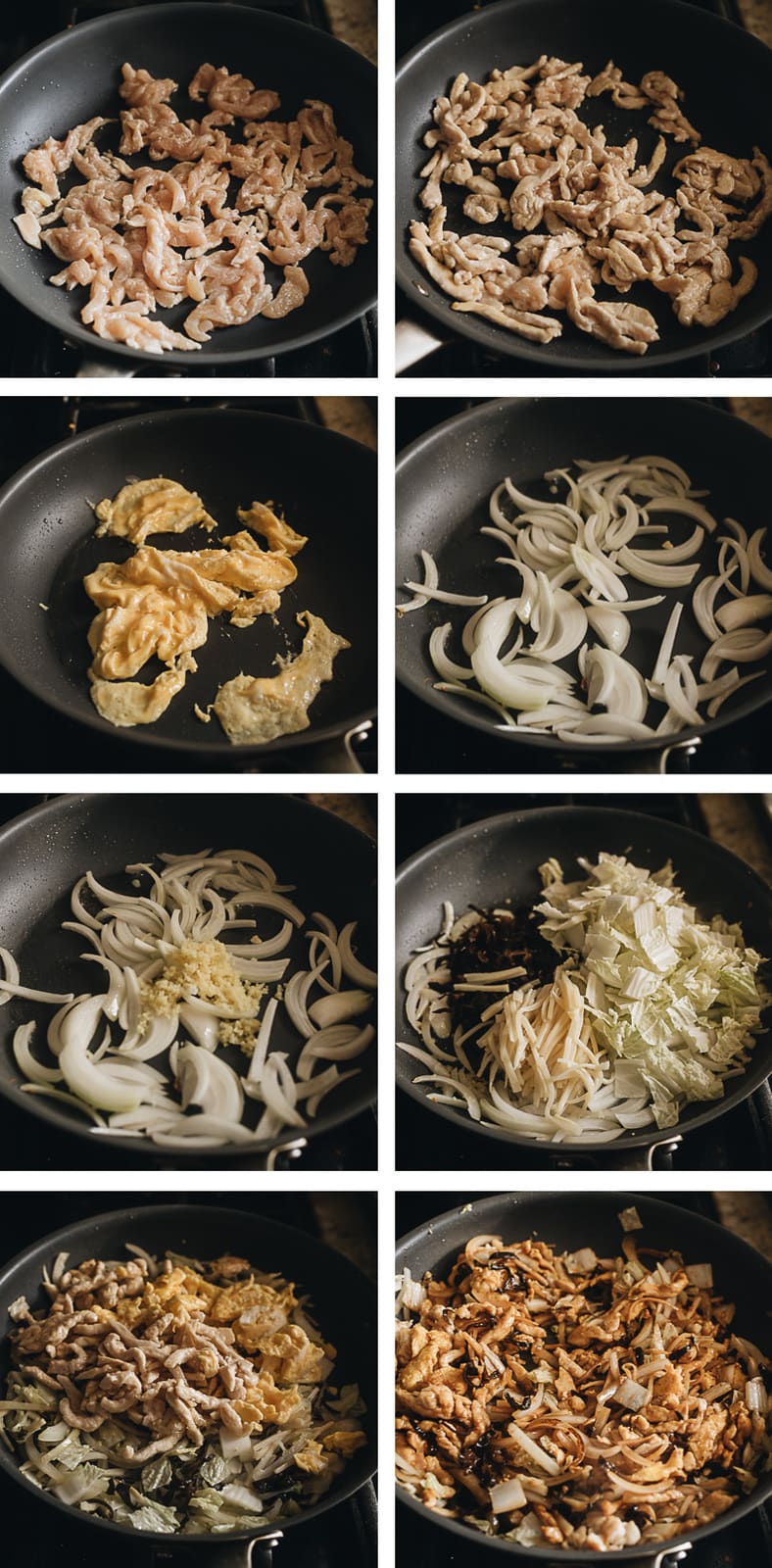 How to serve Moo Shu chicken
Once you've cooked the moo shu chicken, serve it with the steamed moo shu wrappers with extra sweet bean paste. If the sweet bean paste doesn't taste sweet enough for you, you can mix some sugar or syrup into it. For me, it's the perfect sweetness to serve with the moo shu chicken.
To make the wrap, I would carefully peel off one pancake, spread a thin layer of sweet bean sauce onto it, and add a heap of moo shu chicken on top. You'd be surprised how flavorful and fresh it tastes, using very simple and healthy ingredients.
I hope you enjoy it!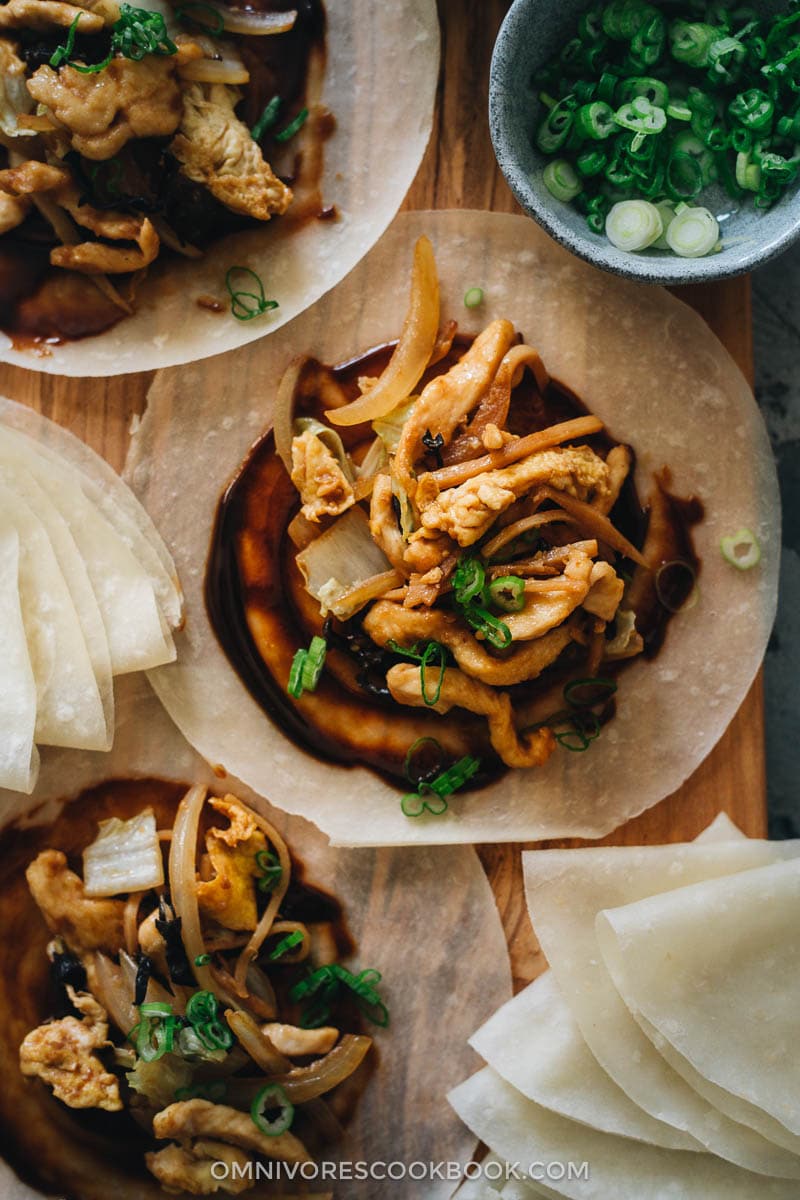 More Chinese takeout at home
If you give this recipe a try, let us know! Leave a comment, rate it (once you've tried it), and take a picture and tag it @omnivorescookbook on Instagram! I'd love to see what you come up with.
Want to Know More?
Receive our 5-Day Chinese Cooking Crash Course & Recipe Updates! Subscribe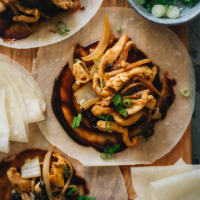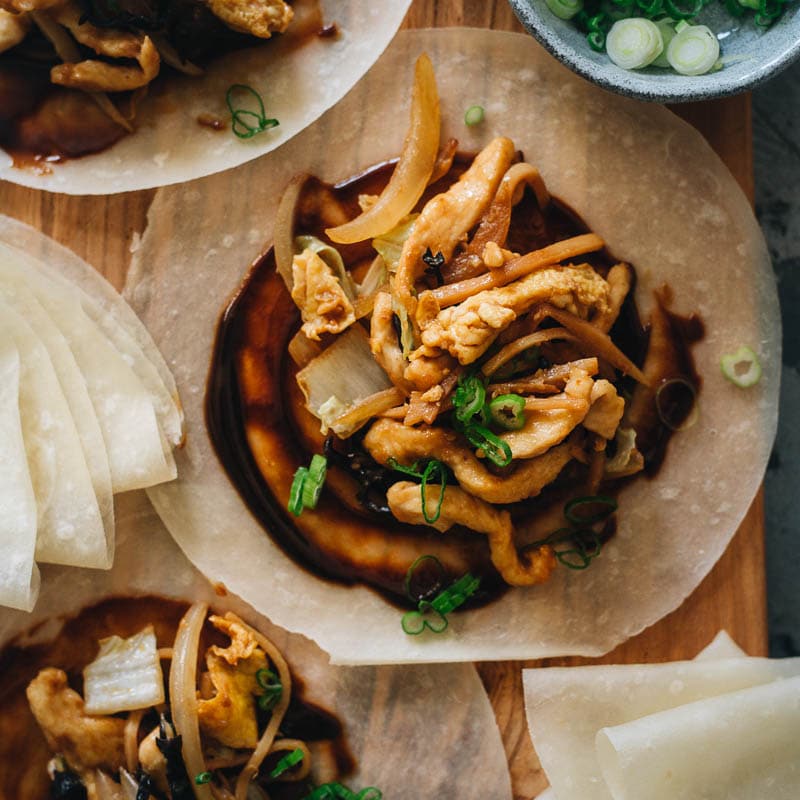 Moo Shu Chicken
A hybrid of authentic Chinese and American Chinese food, moo shu chicken is a refreshing and delicious dish that's better than the Chinese restaurant version. Tender juicy chicken, crisp napa cabbage, crunchy bamboo shoots, and wood ear mushrooms are quickly cooked in a savory and lightly sweet sauce. Serve either with moo shu wrappers or steamed rice and you'll have a healthy and delicious meal.
Ingredients
Instructions
Prep
Place the wood ear mushrooms in a small bowl and cover with hot water. Let rehydrate for 15 minutes, or until thoroughly tender. Drain, remove and discard any tough ends, and slice the mushrooms into thin strips.

Slice the chicken against the grain, first into thin slices then into thin strips.

Use your hands to gently coat the sliced chicken with the shaoxing wine, salt, and pepper. Then add the cornstarch and mix again until fully coated. Do the same with the sesame oil. This will help keep the chicken strips from sticking together. Marinate for 10 to 15 minutes.

While the chicken is marinating, combine the sauce ingredients.
Stir-fry
Heat 1 tablespoon of oil in a large nonstick pan over medium-high heat. Add the chicken. Seperate the slices using chopsticks or a spatula. Cook until both sides are just cooked, 2 minutes or so. It's OK if the center of the chicken still has a hint of pink. Transfer to a big plate.

Add 1 tablespoon of oil and the beaten egg into the pan. Cook the egg undisturbed for 30 seconds, then scramble it until just cooked. Transfer the egg to the plate with the chicken.

Add the remaining 1 tablespoon of oil and the onion. Cook over high heat until browned slightly, 1 minute.

Add the ginger. Stir a few times to release the fragrance.

Add the mushrooms, bamboo shoots, and cabbage. Cook until softened but still crunchy, about 2 minutes.

Add the cooked chicken and eggs back into the pan. Pour in the sauce. Stir until everything is evenly coated. Transfer everything into a big serving plate.

Serve over steamed rice or with steamed moo shu wrappers and extra sweet bean sauce on the side.
(Optional) Steam the pancakes
Heat up the homemade pancakes or store-bought pancakes by steaming them until they are just heated through. Steam 3 to 5 minutes for thawed pancakes or 10 to 15 minutes for frozen ones.
Nutrition
Serving:
1
serving
,
Calories:
232
kcal
,
Carbohydrates:
8.2
g
,
Protein:
16
g
,
Fat:
15.2
g
,
Saturated Fat:
2.6
g
,
Cholesterol:
118
mg
,
Sodium:
392
mg
,
Potassium:
432
mg
,
Fiber:
1.2
g
,
Sugar:
3.8
g
,
Calcium:
42
mg
,
Iron:
1
mg
Lilja Walter is a part of the Omnivore's Cookbook team and worked closely with Maggie to develop and test this recipe.