The tender pork, crisp vegetables, crunchy mushrooms, and creamy eggs are brought together by a simple chicken-stock-based sauce, creating a simple and earthy stir fry with great texture and nutrition.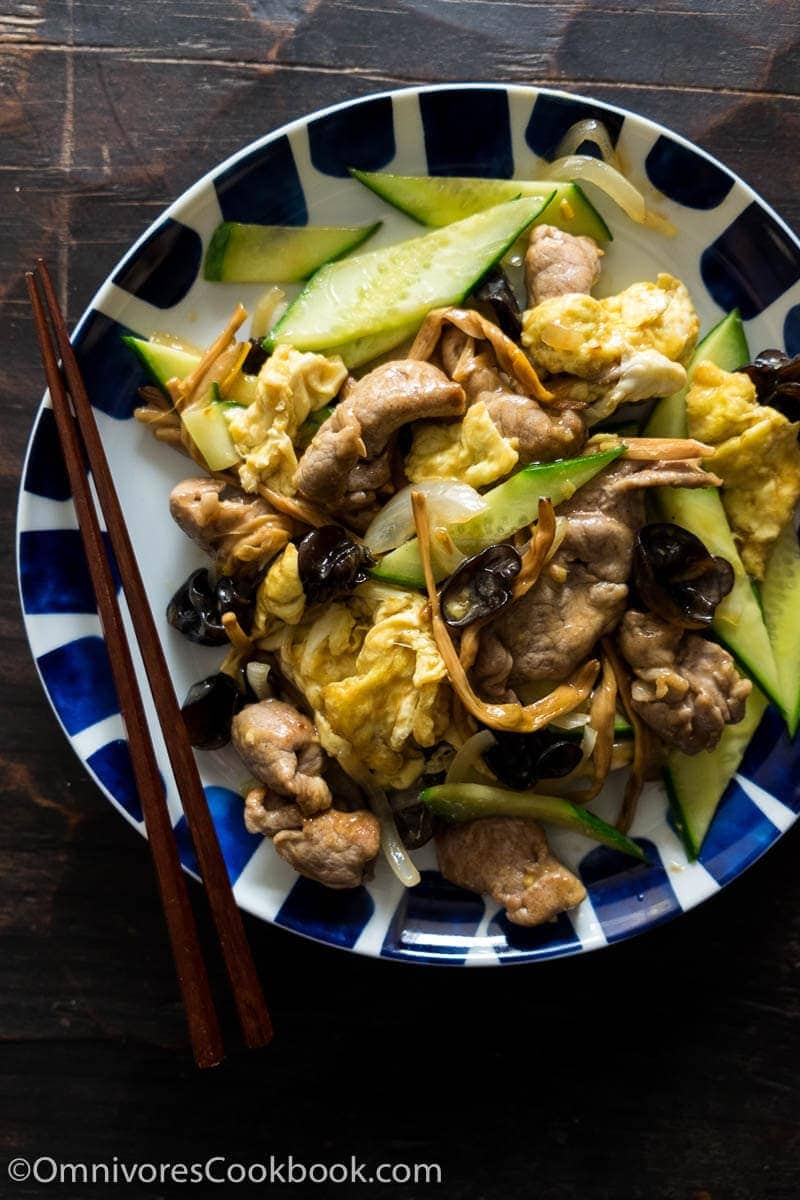 I have a love-hate relationship with Chinese cuisine. It has such diverse varieties and countless delicious dishes. On the other hand, some of the cooking processes are not be very friendly to home cooks just getting into the cuisine. This makes it very difficult for me to spread the love of Chinese food.
Moo shu pork, a type of "poor people's food", is a good example. Here, I'm talking about the real-deal moo shu pork eaten in China. Not the one you're familiar with, the one served with pancakes and hoisin sauce in Americanized Chinese restaurants.
If you read the description of moo shu pork on the Chinese equivalent of Wikipedia, it says "Moo shu pork is a classic northern home-cooked dish that features a quick cooking process and easy-to-get ingredients. It has a refreshing taste and does not use many spices."
After reading the recipe below, you'll think to yourself, "Maggie, are you kidding me?"
The ingredient list clearly has more than 15 items and the steps have more than 300 words (excluding my 500 words of notes)!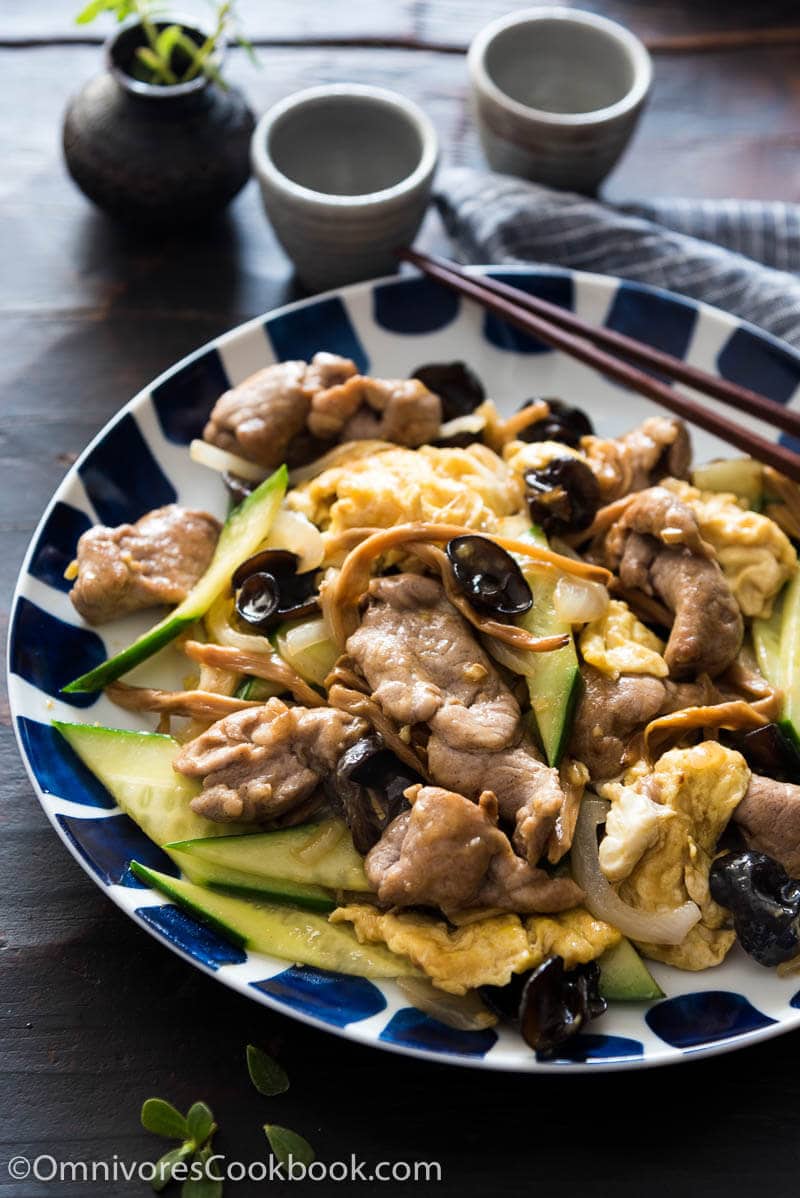 Unfortunately, my friend, this IS the beauty of real Chinese stir-fry. It utilizes all kinds of cheap ingredients you can get anywhere in China, with the minimum amount of protein, a few seasonings, and a wok cooking technique to create a dish that is nutritious and flavorful.
No wonder my mom hates cooking. Imagine you have a full-time job, but still need to cook dinner for your other half and your kid every single day (sometimes lunch, too). For a Chinese family, it means two to three stir fried dishes, a main dish (usually a stew or braised dish), a soup, and steamed rice. I bet if we had "one-pot wonders" or things like 5-ingredient chicken in our culture, my mom wouldn't hate cooking after all.
Back to the moo shu pork I grew up with – it is a classic northern Chinese dish. Most versions use pork, cucumber, eggs, and wood ear mushrooms, with a simple seasoning of salt and chicken bouillon powder.
The Beijing version uses another ingredient – lily flowers. We use them in vegetarian dishes, stews, and sauces, to impart an earthy flavor and a crunchy texture, to make simple dishes much more interesting. If you do have not this ingredient, it is OK to skip it. However, if you're into real Chinese cooking, this is a must-have ingredient that you should keep in your pantry.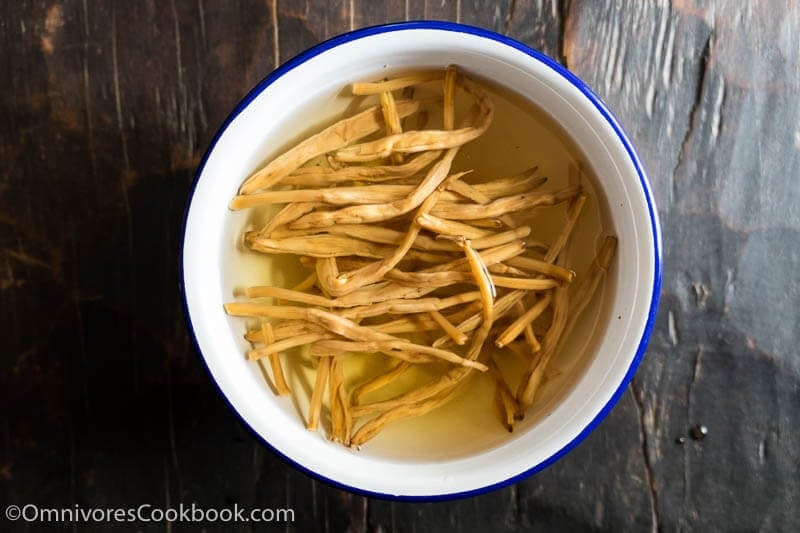 How to cook real-deal moo shu pork
Marinate the dried ingredients – wood ear mushrooms and lily flowers
There is no good way to measure them, so "a pinch" and "a small handful" are the best measurements I can give you. Some wood ear mushrooms expand more than 10 times from rehydration (see how different they are in the picture below), some do not. Either way, make sure to use a large bowl and more hot water than you think you'll need. You want to make sure all the ingredients are still submerged in the water after they're rehydrated.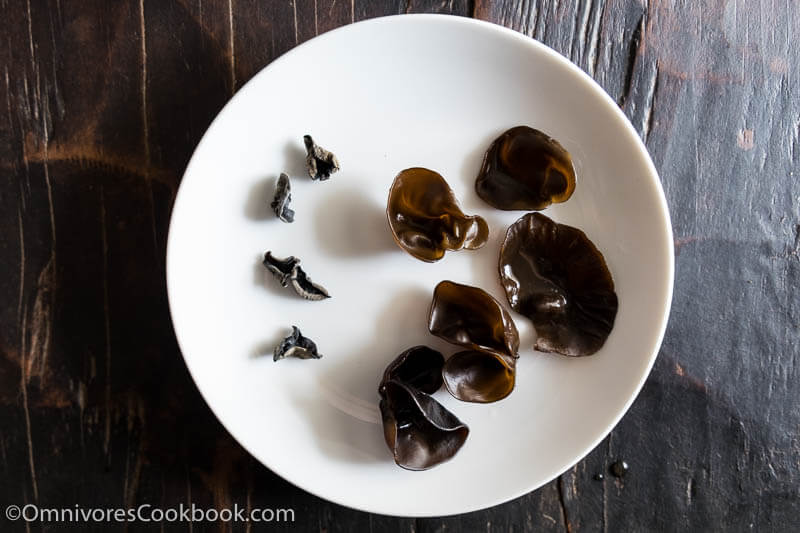 Slice and marinate pork
We chose pork tenderloin here, because it yields tender and juicy results. Slice the pork as thinly as possible and marinate it. The salt will tenderize the meat while the cornstarch forms a protective layer, so the pork will stay tender during cooking. Because of the thinness of the meat, it takes just 10 to 15 minutes to finish the marinating process.
One thing to note, use your hand to mix the pork instead of a fork or pair of chopsticks. This way you can ensure the marinade coats the pork evenly without breaking the pieces apart.

Cut vegetables
You just need to cut ginger, onion, and cucumber. To cut diamond-shaped cucumbers, see the dissection picture below.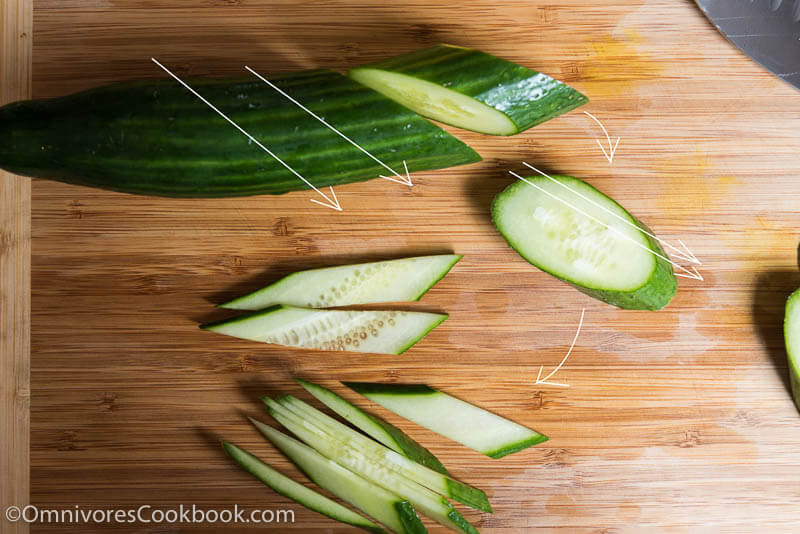 Mix the sauce
We use a very simple sauce in this recipe – a chicken-stock-based sauce with soy sauce and a touch of vinegar. It might look like a plain sauce, but you'd be surprised how flavorful the finished dish is. The sauce is just rich enough to bring out the freshness of the ingredients themselves.
Mise en place
I know I repeat this for every stir-fry dish, but it is too important to ignore. When you're cooking with extremely high heat, one hesitation will cause overcooked pork and a mushy dish.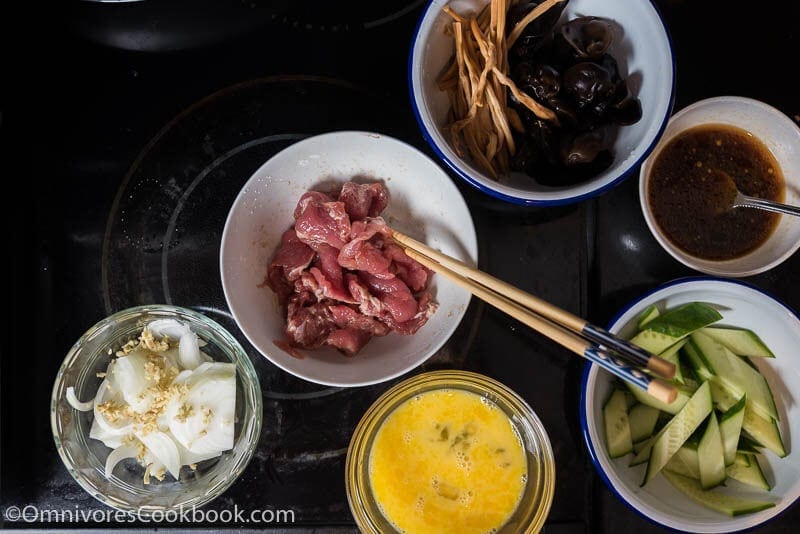 Get your wok really hot
Make sure the oil has just started to smoke before adding the first ingredient. And you probably need to keep the heat on the highest level throughout cooking. It took me slightly less than four minutes from the time I added the first ingredient until I was finished cooking (I timed it). If you take more time than this, your wok is probably not hot enough.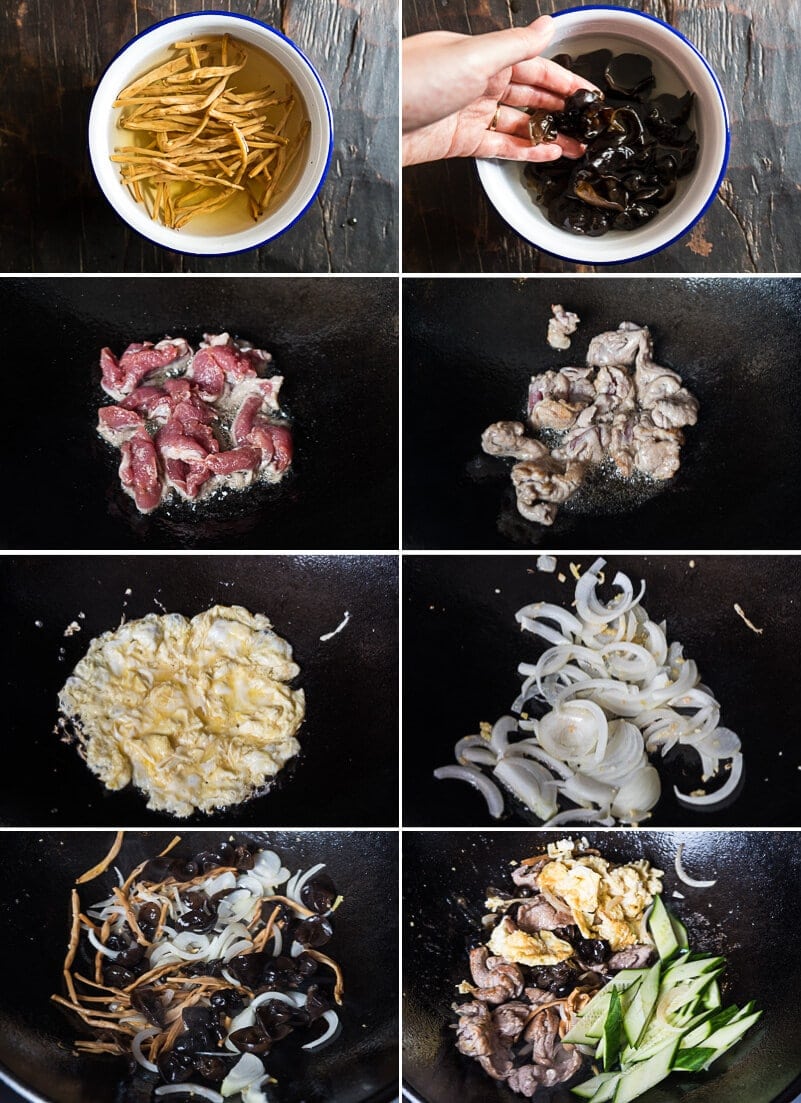 Be flexible
Lastly, although I tried my best to keep this recipe authentic, please feel free to tweak it with the ingredients you have at home.
If you cannot find wood ear mushrooms or lily flowers, try rehydrated shiitake mushrooms and carrots.
Or you can skip them and use just pork, cucumber, and egg.
Or replace the cucumber with bell pepper.
Also, you can replace the pork with chicken or beef.
This recipe is just a guide to teach you how to create a healthy, colorful, and delicious stir-fried dish for your weekday dinner.
The recipe might not belong in the "easy" category by your standards. But after some practice, the stir-fry technique will become your best friend, one that allows you to create a quick and nutritious meal with whatever you have in the fridge. Compare the mise en place and the finished dish – you'll be surprised at the volume of the dish made from a just few simple ingredients.
Happy cooking!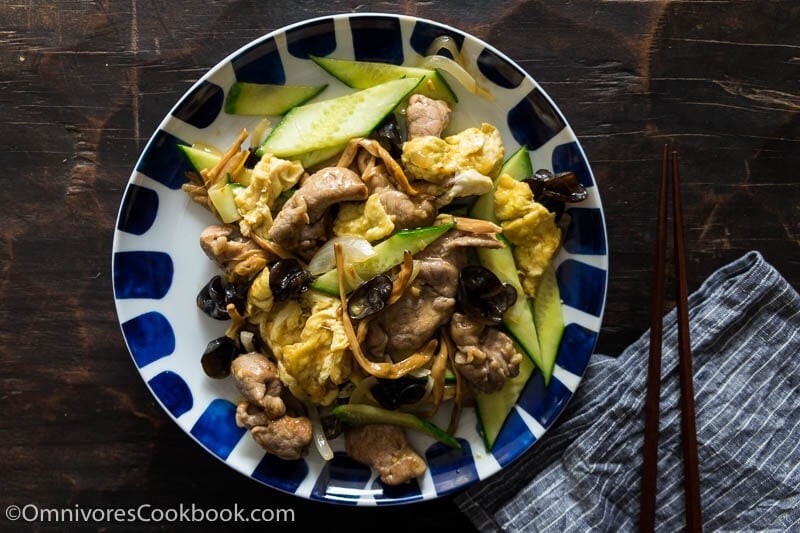 Want to Know More?
Receive our 5-Day Chinese Cooking Crash Course & Recipe Updates! Subscribe
Real-Deal Moo Shu Pork (木犀肉)
The tender pork, crisp vegetables, crunchy mushrooms, and creamy eggs are brought together by a simple chicken-stock-based sauce, creating a simple and earthy stir fry with great texture and nutrition.
Ingredients
Rehydrate
A small pinch of dried wood ear mushrooms

black fungus (yields 1 cup after rehydration)

A small handful of dried lily flowers (yields 1/2 cup after rehydration)

(Optional)
Marinade
4.5

ounces (130 grams)

pork tenderloin

(1/4 of a whole tenderloin)

2

teaspoons

Shaoxing wine

1/4

teaspoon

sea salt

1/8

teaspoon

white pepper powder

1/2

teaspoon

cornstarch
Stir fry
3

tablespoons

peanut oil

(or vegetable oil)

2

eggs

, beaten

1/4

white onion

, sliced (or 2 green onions, chopped)

1/2

teaspoon

ginger

, minced

1/2

seedless cucumber

, sliced into diamond shape
Instructions
Add dried wood ear mushrooms into a small bowl and hot water to cover. Add dried lily flowers into another small bowl and hot water to cover. Rehydrate for 20 to 30 minutes, or until ingredients turn tender. Check after 10 minutes to make sure the water still covers all the ingredients. If the water gets cold, change to another batch of hot water. Gently rub with hands and rinse to remove the dirt. Remove tough ends of the mushrooms and flowers. Drain and place in a small bowl. It is OK if the ingredients are still a bit wet.

Slice pork against the grain into bite-sized pieces, as thinly as possible.

In a small bowl, combine pork, Shaoxing wine, salt, and white pepper. Gently mix by hand so that the seasonings coat the meat evenly without tearing the meat apart. Add cornstarch. Continue to mix with hand until the it forms a thin paste that evenly coats the pork. Marinate for 10 to 15 minutes.

In another small bowl, combine chicken stock, light soy sauce, Chinkiang vinegar, salt (if using), sesame oil, and cornstarch. Mix well and set aside.

Heat a wok over high heat until hot. Add 2 tablespoons oil and swirl the wok so that the oil coats the bottom (*footnote 2). When the oil just starts to smoke, spread the pork in the oil. Cook without moving for 20 to 30 seconds, until the bottom side turns golden. Flip and cook until the surface just turns white but the inside is still pink. You don't want to stir too much here, since it might break the pork pieces. Scoop the pork with a spatula and let the oil drip back into the wok. Transfer pork to a plate.

You should still have about 1 tablespoon oil in the wok. If not, add more oil.

Add egg. Cook a few seconds to allow the bottom to set. Stir a few times until the eggs are just cooked. Transfer eggs to the same plate as the pork.

Add a teaspoon of oil and the onion (or green onion) and ginger. Stir until the herbs become fragrant. Add rehydrated wood ear mushrooms and lily flowers. Stir to mix well with the oil. Swirl in the sauce. Cook until the sauce thickens. Return pork, egg, and cucumber to the wok. Stir to mix everything well. Turn to low heat. Carefully try a piece of pork with a piece of vegetable. Adjust seasoning by sprinkling a bit salt and stir well, if needed. Transfer to a serving plate.

Serve immediately over steamed rice.
Notes
Include the salt if you're serving the dish with rice. If you want to serve the dish by itself, skip the salt.
Use a generous amount of oil at the beginning to help prevent the pork from sticking to the wok. The pork won't absorb a lot of oil, so you might not need to add more oil (or only need to add a little oil) during the process later.
Nutrition
Serving:
266
g
,
Calories:
376
kcal
,
Carbohydrates:
9.6
g
,
Protein:
23.8
g
,
Fat:
27.1
g
,
Saturated Fat:
5.6
g
,
Cholesterol:
211
mg
,
Sodium:
691
mg
,
Potassium:
490
mg
,
Fiber:
0.8
g
,
Sugar:
3.8
g
,
Vitamin A:
300
IU
,
Vitamin C:
4.1
mg
,
Calcium:
50
mg
,
Iron:
2.2
mg