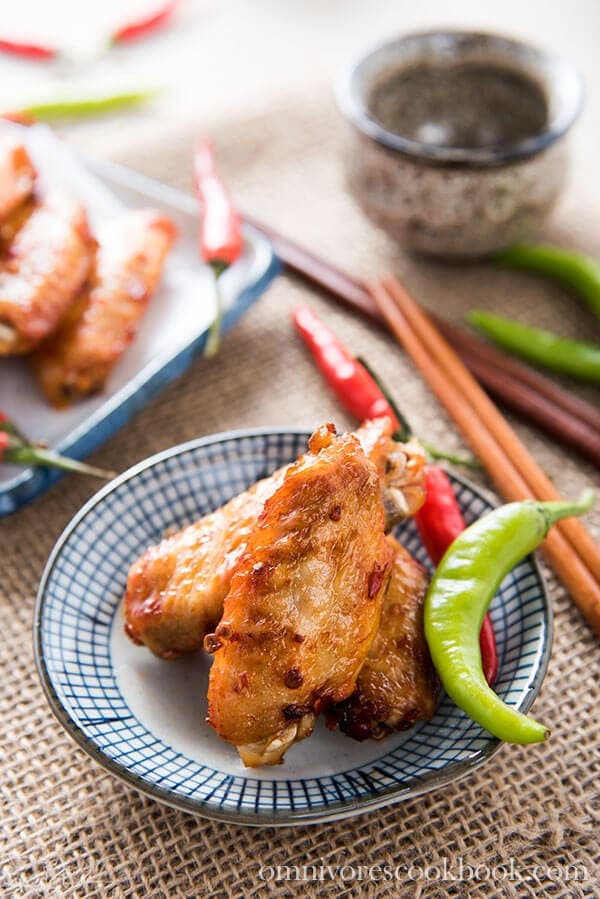 Chinese hot sauce chicken wings provide a great way to use your leftover fermented bean paste. It requires only five ingredients and half an hour to cook. Make these crispy hot wings to spice up your party!
Did you have a great Christmas with your family? The new year is so close and I bet you're getting busy again. If you're still sitting here reading a food blog, then I assume you urgently need to find some last minute recipes for your family gathering! Today I'd like to share my super lazy way to cook the Chinese version of finger-licking-delicious hot wings.
The chicken wings are super crispy on the outside, with a pungent flavor and a moist texture. They have a savory spicy taste that is so rich that they don't even need dipping sauce. You don't need to fry the wings, either. Even better, the grease will drip out of the chicken during roasting, so the finished dish will be low in fat. As far as I'm concerned, this dish is especially healthy when you consider the rich decadence of the typical holiday foods!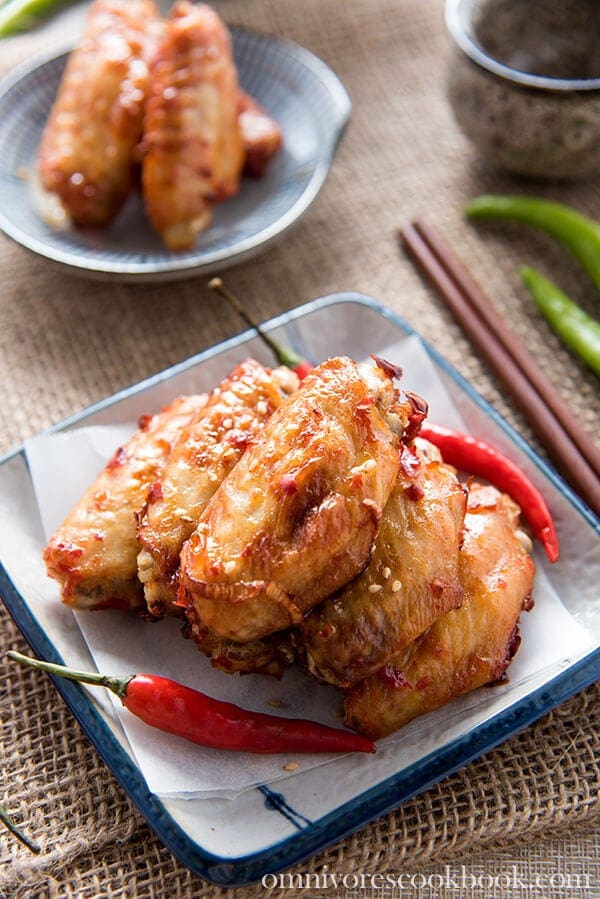 If you've ever cooked mapo tofu or fish fragrant eggplant, you might have some spicy fermented bean paste (豆瓣酱, doubanjiang) left over in your pantry. If not, no worries. You can easily find it on Amazon.
For those unfamiliar with doubanjiang, it's a thick, brown paste made from broad beans, chili peppers, and salt. It's a key ingredient in Szechuan cuisine, and is one of the most popular condiments in everyday home cooking. The paste has a very salty and pungent taste, such that a little goes a long way.
I found that it's very convenient to use the paste as a hot sauce itself because it has a very concentrated flavor and is quite salty. I simply add some wine and fresh herbs to create some depth of flavor. You can marinate it at room temperature for an hour and it'll be ready to cook. However, I prefer to marinate it in the fridge overnight, so the meat will be infused with a stronger spiciness. You could easily double or triple the recipe.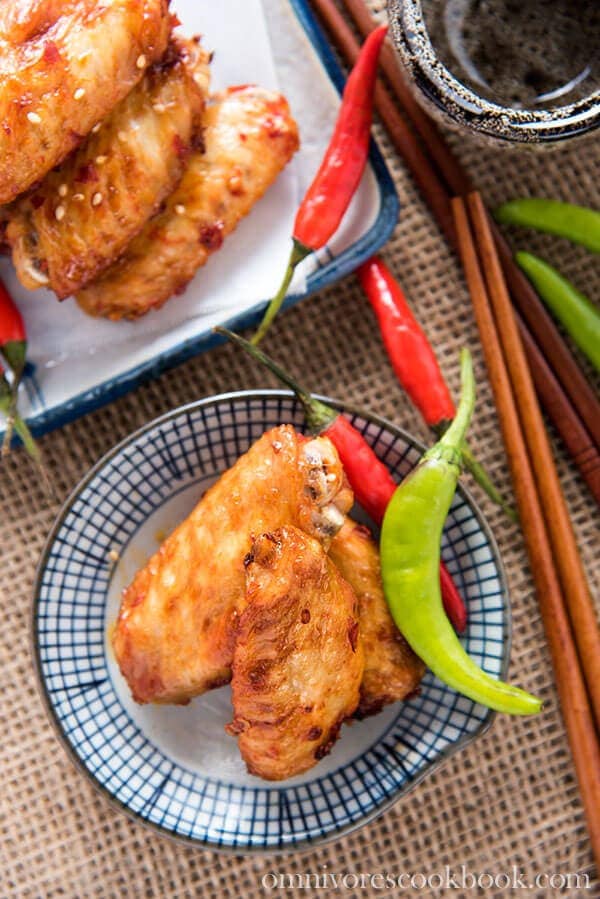 Check out more chicken wings recipes on Omnivore's Cookbook:
Braised Coca-Cola Chicken Wings
Grilled Salt and Pepper Chicken Wings
Crispy oven Fried Chicken Wings
Szechuan Style Baked Chicken Wings with Mushroom
Instructions
Combine all ingredients in a medium-sized bowl. Mix well and allow to marinate at room temperature for 1 hour (or overnight in the fridge).

Line a baking tray with aluminum foil.

Brush a thin layer of oil on a roasting rack and arrange chicken wings on top, skin side down.

Place chicken wings on middle rack and baking tray on bottom rack, to catch drippings. Bake at 220 degrees C (430 F) for 15 minutes (you don't need to preheat the oven). Flip the wings and continue to bake for another 10 to 12 minutes, until the wings turn golden brown and are nicely charred on the edges.

Transfer the wings to a plate and allow to cool for 3 to 5 minutes.

Serve warm as a snack.
The nutrition facts are calculated based on 1 of the 2 servings generated from this recipe.