This easy chicken lettuce wrap is one of my favorite dinner options. It is fast to prep and cook, full of nutrition, and finger-licking good. (Paleo-friendly)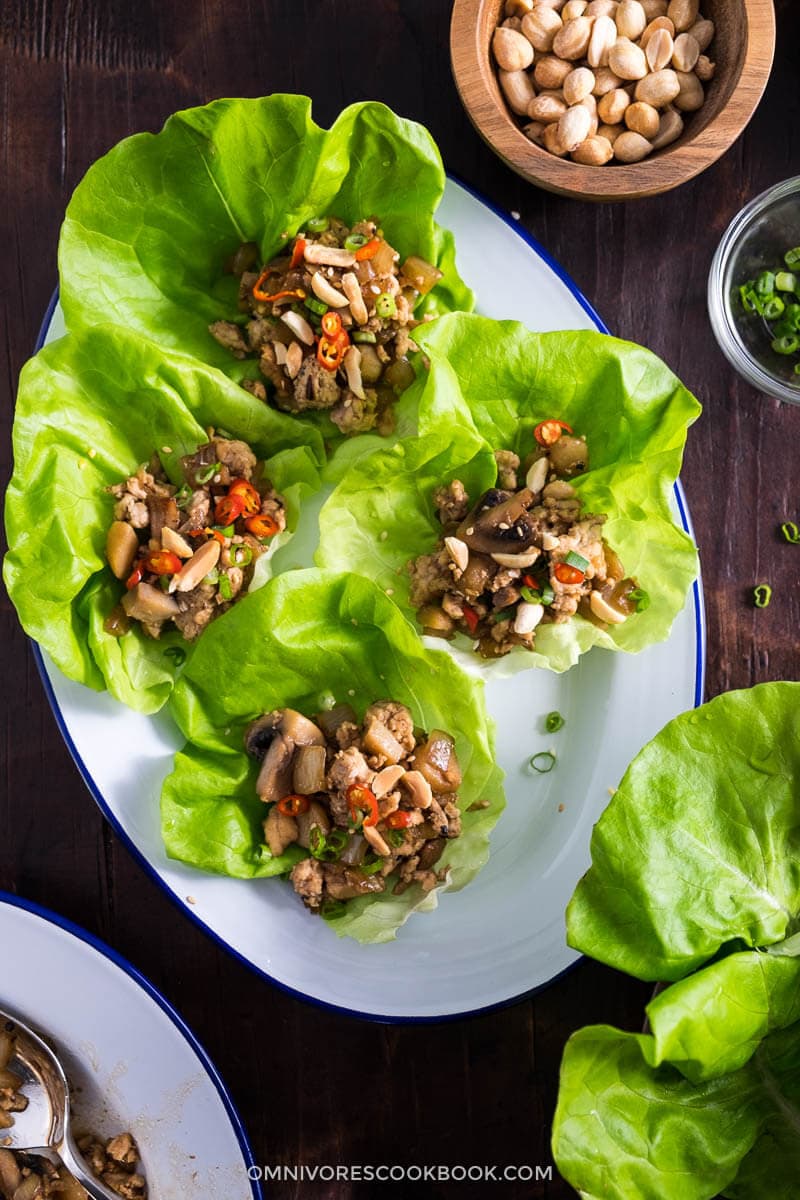 Making a great chicken lettuce wrap in your own kitchen is easy. All you need is:
A few vegetables that add texture. I chose mushrooms and water chestnuts.
Tons of ginger and garlic to boost flavor. If you don't have ginger, you can use one more clove of garlic and skip the ginger.
A simple sauce that brings out the flavor of the ingredients.
A lot of chicken lettuce wrap recipes use hoisin sauce during the stir fry part. I prefer to skip it during cooking and use it as a serving sauce, so it makes the wrap extra saucy.  If you don't have hoisin sauce, definitely try out my homemade version. It works great in this dish.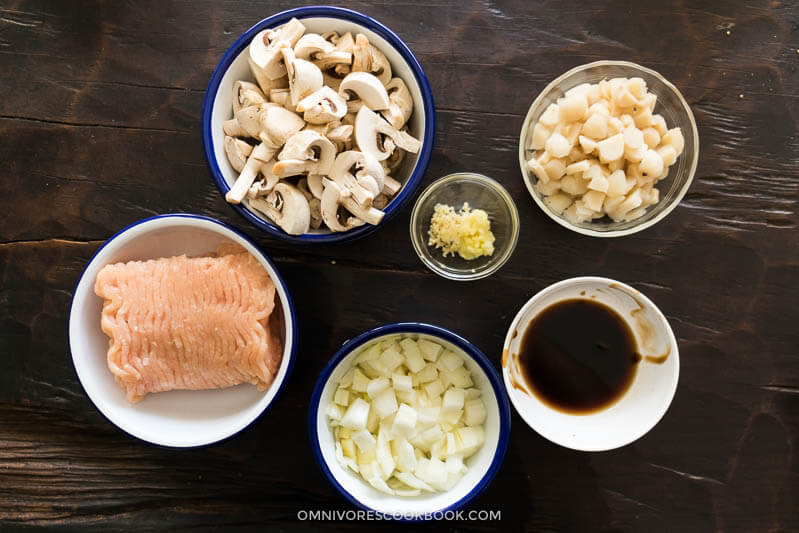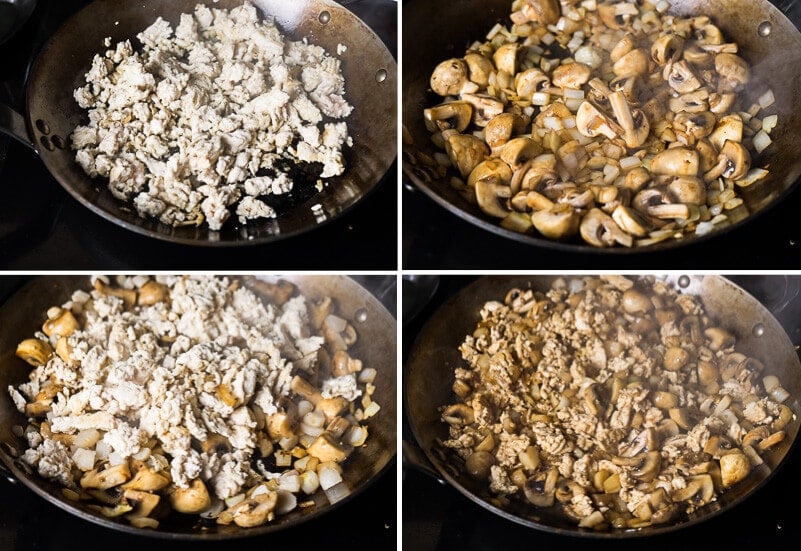 Sometimes I choose ground turkey with 20% fat over ground chicken, which produces more tender and juicier meat. If you use ground chicken breasts, pay extra attention to not overcook the meat. It will end up very tough and dry.
Cooking notes
I recommend browning the ground chicken first and taking it out before adding other ingredients. My recipe uses tons of mushrooms and water chestnuts. If you cook everything at the same time, the pan will be too crowded and difficult to keep at a high temperature. The chicken meat won't brown properly. Instead, it will end up being boiled and losing all the juices.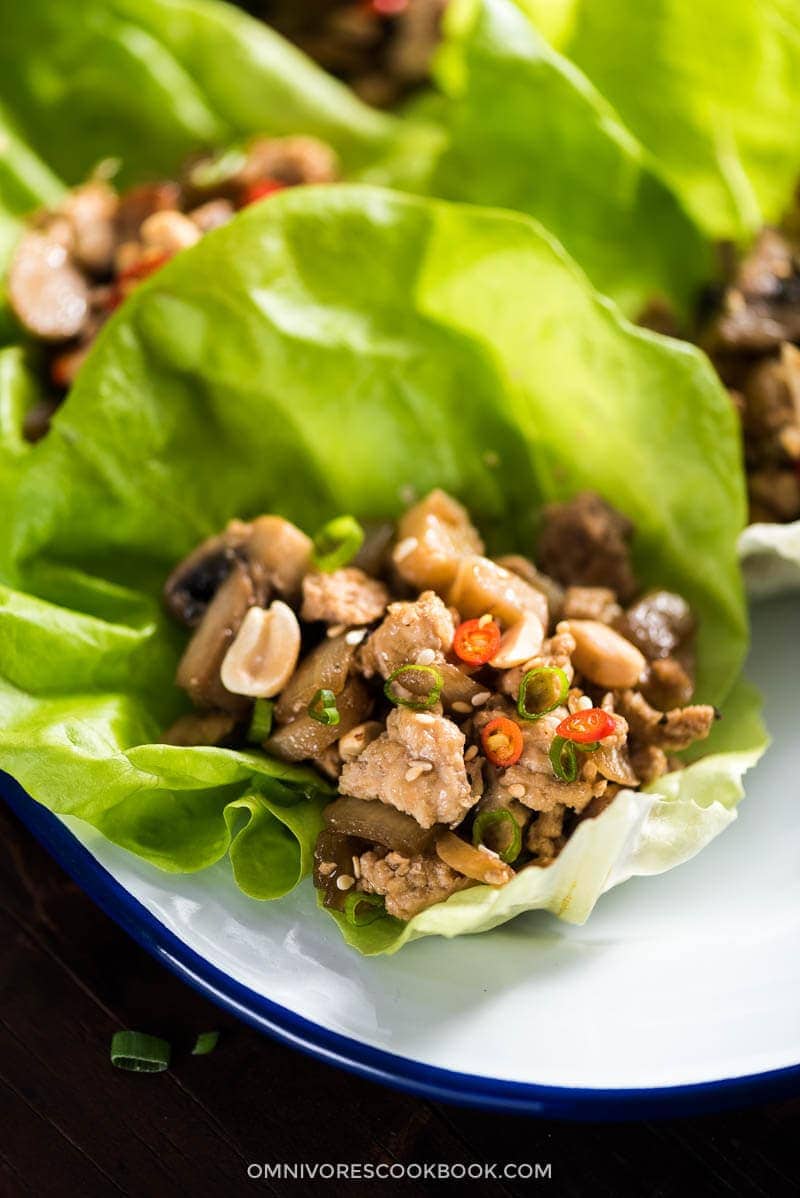 What you don't need to do is dice the mushrooms to tiny pieces – quarter them instead. It is true that Chinese stir fry recipes usually call for cutting all the veggies into the same size for even cooking and better presentation. But, in this case, mushrooms shrink a lot after cooking, so cutting them to bigger pieces will result in better mouthfeel.
To make the preparation easier, use a garlic press to mince garlic and use a lemon zester to mince the ginger. The recipe below might look long, but you'd be surprised how quickly you can prep these ingredients.
Serve the dish the family style without assembling it first, so the right-off-the-stove chicken won't wither the lettuce leaves. Plus, it allows each family member to choose their own favorite toppings and sauce. It makes the dining experience much more fun.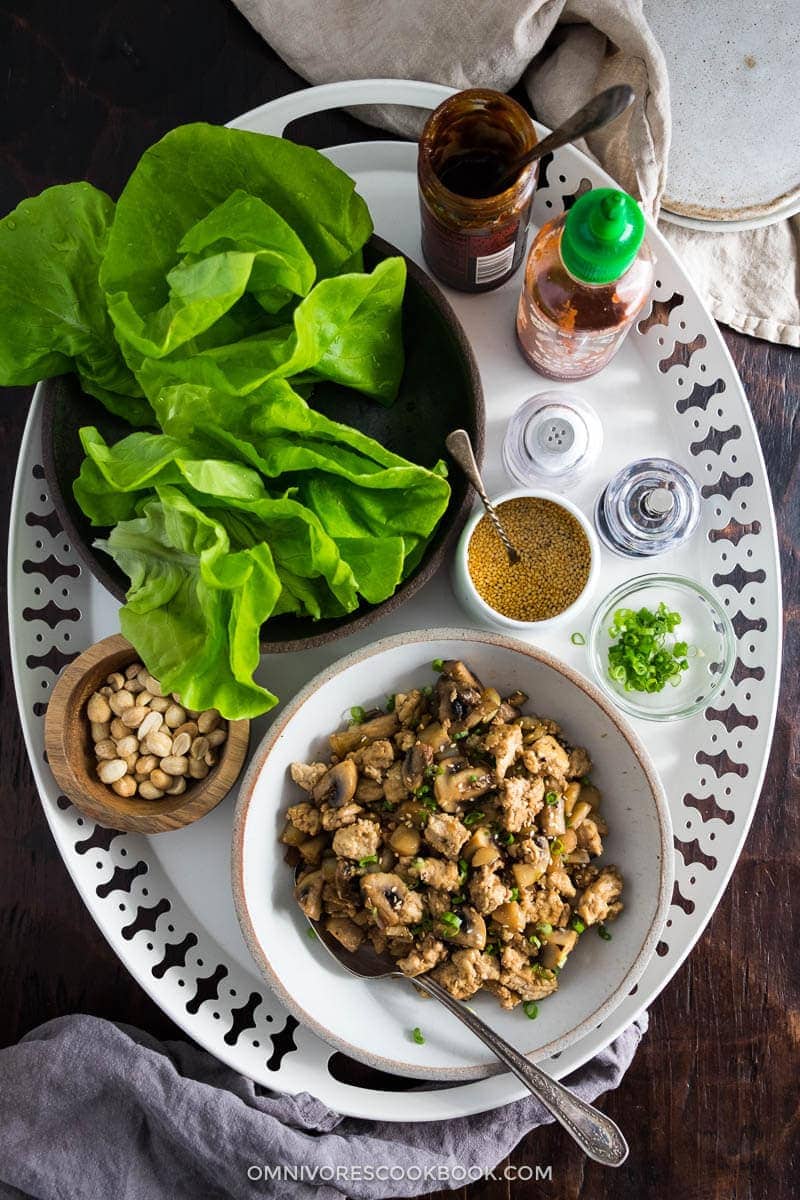 Want to learn more Chinese takeout recipes? Check these out: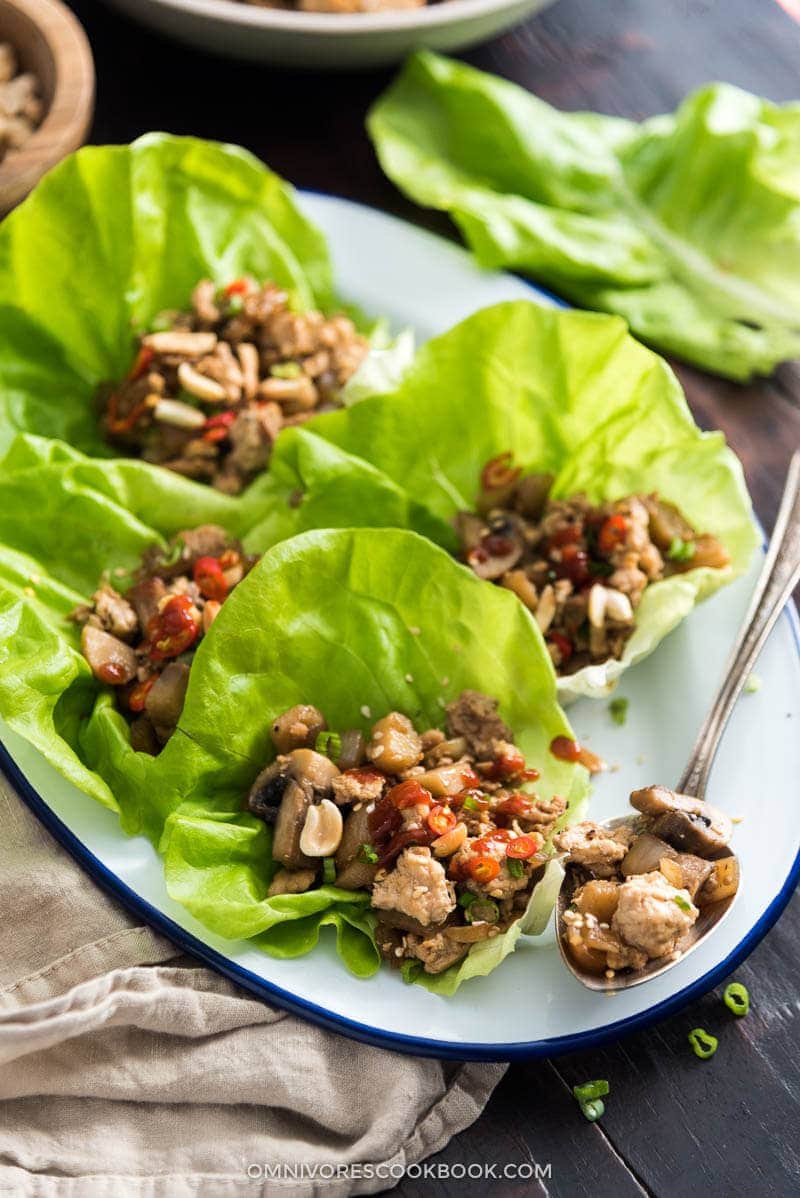 Happy cooking, everyone!
If you give this recipe a try, let us know! Leave a comment, rate it (once you've tried it), and take a picture and tag it @omnivorescookbook on Instagram! I'd love to see what you come up with.
Want to Know More?
Receive our 5-Day Chinese Cooking Crash Course & Recipe Updates! Subscribe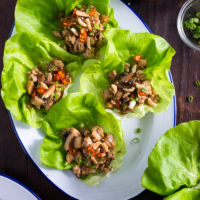 Easy Chicken Lettuce Wrap
The dish is enough for six if serving as appetizer. It makes a light dinner for two serving as main.
Ingredients
2

tablespoons

peanut oil

(or olive oil)

1

pound

ground chicken

(or turkey)

2

cloves

garlic

, minced

3

green onions

, sliced

2

teaspoons

ginger

, freshly grated

8

ounces (230 grams)

white mushrooms

, quartered

1

can (8 ounces)

whole water chestnuts

, drained and diced

1

head bibb

( or butter lettuce)
Sauce
1

tablespoon

Shaoxing wine

(or dry sherry, or Japanese sake, or chicken stock)

2

tablespoons

oyster sauce

2

tablespoons

soy sauce

(or light soy sauce)

1/4

teaspoon

black pepper powder
Topping options
Toasted sesame seeds

1/4

cup

slivered almond

(or other type of nuts)

Hoisin sauce

the homemade version works even better

Homemade chili oil

(or Sriracha)
Instructions
Mix all the ingredients for the sauce in a small bowl.

Heat 1 tablespoon oil in a large skillet over medium high heat. When the oil is hot, add ground chicken. Chop and stir, until separated to smaller pieces and the surface turns light brown but the inside is still a bit pink. Transfer the chicken to a plate and set aside. If your chicken sticks to the pan, pour in a tablespoon of cooking wine (dry sherry, Shaoxing wine, etc.) or chicken stock to deglaze, and transfer the brown bits to the plate with the chicken.

Add the rest – 1 tablespoon oil, onions and mushrooms. Cook until the onions turn tender and the mushrooms are browned.

Add the garlic and ginger. Cook for a few seconds to release the aroma.

Add back the cooked chicken and water chestnuts. Pour in sauce. Stir to mix well, until the sauce is mostly absorbed. Carefully taste the chicken. Adjust the seasoning by adding salt, if necessary. I prefer to not season too much during this stage because you might use other sauces to serve the dish.

Transfer the chicken onto a big plate and garnish with the green part of green onions and sesame seeds, if you're using them.

Serve warm with separated lettuce leaves, chili oil (or any other hot sauce you prefer), hoisin sauce, and chopped nuts on the side.

To eat, spoon the chicken mixture into the center of a lettuce leaf and add any preferred toppings. Enjoy it tacostyle!