These Pressure Cooker Potatoes are moist and tender in texture and crispy on the surface. They require less oil than roasted potatoes and taste even better!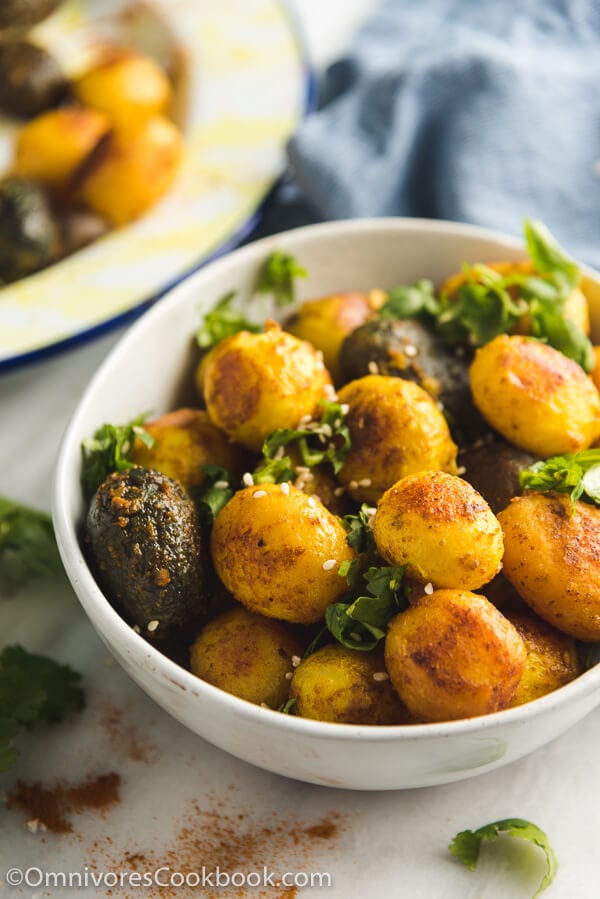 Roasted potatoes are a quick and easy side dish we all love. But I found that they usually need more oil than recipes call for, if you want to get the surface crisped up perfectly. Also, if you don't season them with plenty of salt, the flavor falls flat. I often add duck fat and bacon to potatoes, to make them extra rich in flavor. Yes, they taste great. And I don't mind using a bit of animal fat in my food once in a while. But it's not something I want to do on a daily basis.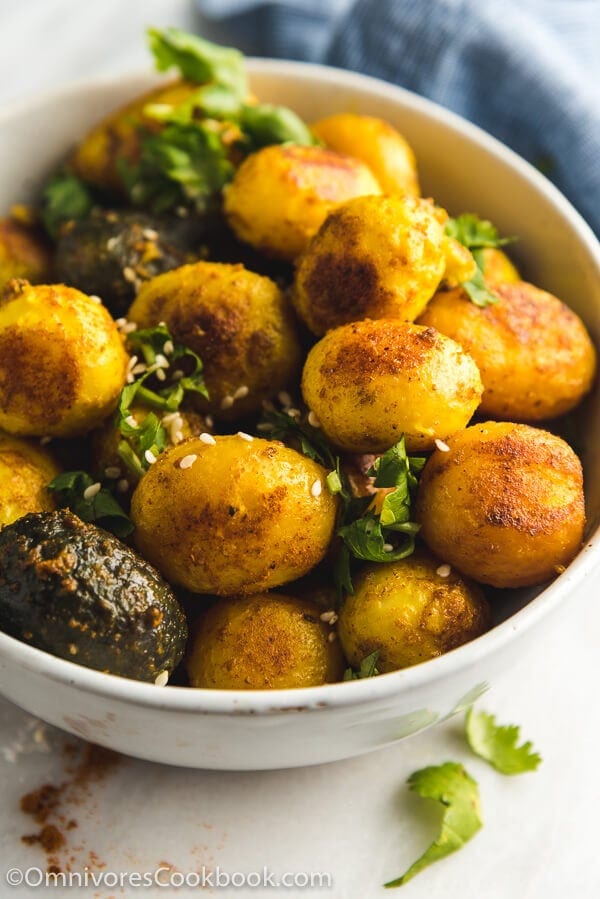 When I tried out the pressure cooker crispy potatoes from Nom Nom Paleo, I delightfully discovered that I could use way less oil to create flavorful potatoes with a tender texture and a crispy surface. Using pressure cooker not only shortens the cooking time to 5 minutes, but it actually releases more flavor from the potatoes themselves. In this case, you can actually taste the sweetness of the potatoes. I also like their texture better, because they remain moist after cooking.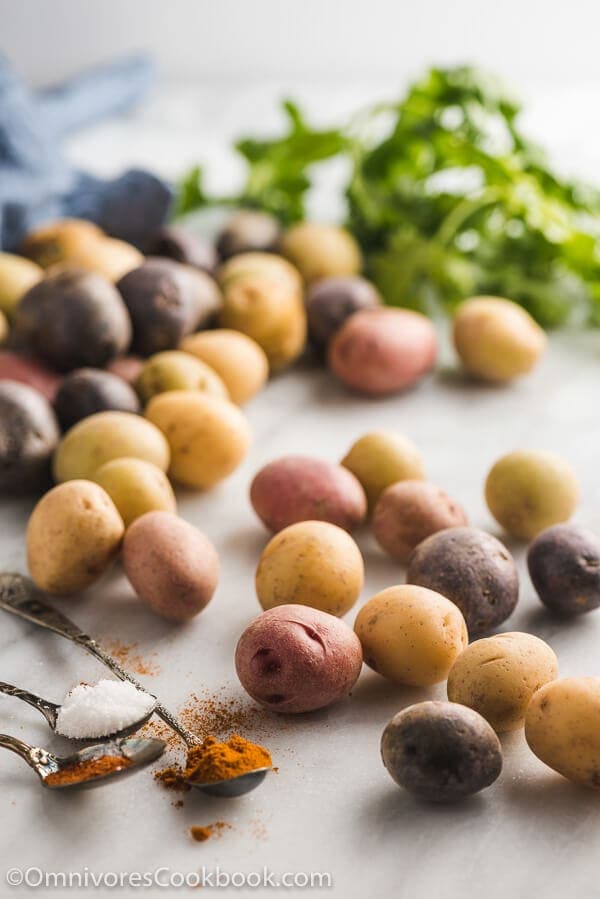 To make these potatoes taste even better than roasted ones takes just 3 extra minutes of cooking. Simply heat a spoonful of oil in a skillet and roast the cooked potatoes for a few minutes. The surface will crisp up and turn to a beautiful golden brown.
Here, I went with a simple spice blend to season the potatoes – turmeric powder plus a bit of chili powder. I chose turmeric as the main spice, because it is delicious, gives the food a beautiful golden color, and is a superfood with many health benefits.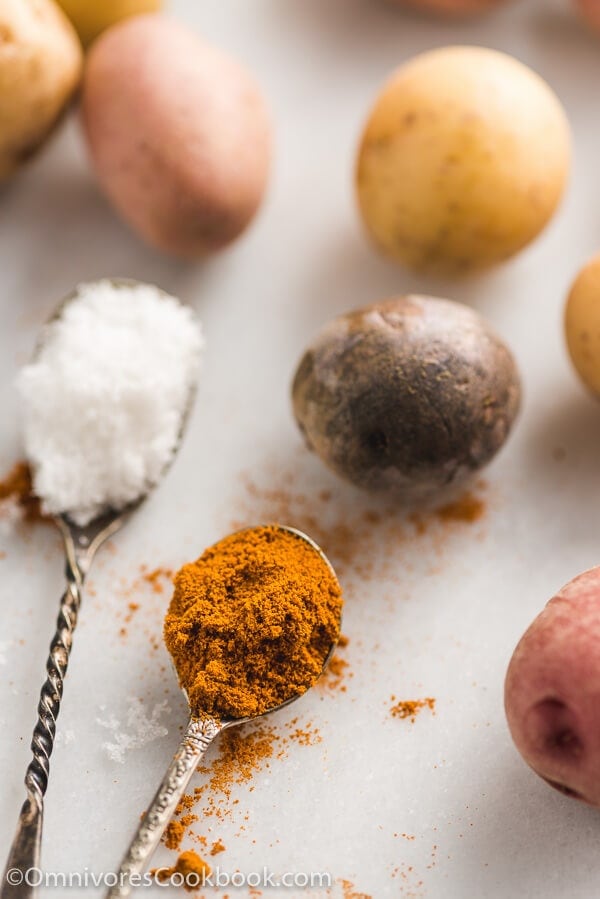 Turmeric is a powerful medicine that has long been used in the Chinese and Indian systems of medicine as an anti-inflammatory agent (according to the World's Healthiest Foods). With many health benefits to it, turmeric is also a super spice that can be added as an ingredient to almost any food. Believe it or not, when you season your potatoes with turmeric, it adds a savory umami so you won't need to add a lot of salt to make them tasty.
Want to add some extra kick to your crispy potatoes? Make honey Sriracha sauce to serve with them. The sauce is made with Greek yogurt but is as addictive as Sriracha mayo, with 1/7 the calories.
Try out these pressure cooker potatoes, and you'll find that creating delicious and healthy side dishes for your weekday dinner can be effortless!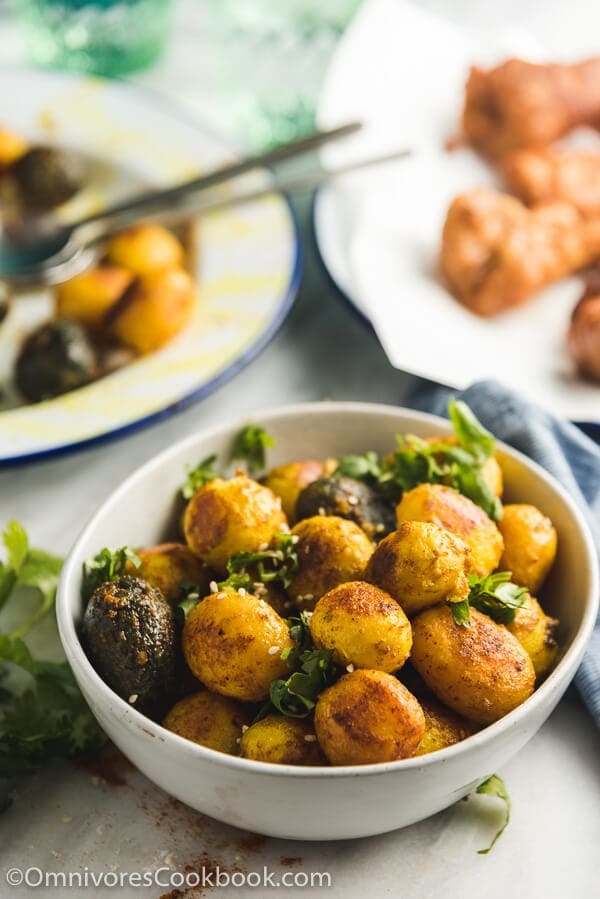 If you give this recipe a try, let us know! Leave a comment, rate it (once you've tried it), and take a picture and tag it #omnivorescookbook on Instagram! I'd love to see what you come up with. Cheers, friends!
Want to Know More?
Receive our 5-Day Chinese Cooking Crash Course & Recipe Updates! Subscribe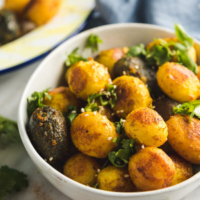 Crispy Pressure Cooker Potatoes
These Pressure Cooker Potatoes are moist and tender in texture and crispy on the surface. They require less oil than roasted potatoes and taste even better!
Ingredients
1.5

pounds (680 grams)

fingerling or Yukon Gold potatoes

(see footnote 1)

1

tablespoon

olive oil

(or vegetable oil)

Sea salt to taste

1/2

teaspoon

turmeric powder

1/4

teaspoon

chili powder

(or to taste)

2

teaspoons

Chinese black vinegar

(or balsamic vinegar)

1/4 cup chopped cilantro for garnish

(Optional)
Instructions
Add 1/2 cup of water to the bottom of a pressure cooker fitted with a steamer insert. Place potatoes in the steamer.

Cover the pot and cook over high heat for 5 minutes. If you're using an

Instant Pot

or electric pressure cooker, select "manual" and set timer to 5 minutes. If you are using a stovetop pressure cooker, cook over medium heat until until high pressure is reached. Turn to medium low heat and cook at high pressure for 5 minutes. Use natural release when the potatoes are done.

Carefully transfer the potatoes to a large plate to cool. When the potatoes are cooled enough to handle, peel the skin by hand. (*see footnote 2)

You can pan-roast the potatoes now, or store them until serving.

Add olive oil to a large skillet and heat over medium high heat until warm. Add potatoes to the skillet. Evenly sprinkle salt, turmeric powder, and chili powder on top. Let cook for a minute. Then gently shake the pan in a swirling motion, so that the potatoes are covered evenly with spices. Cook and stir until the surfaces are crisped.

Transfer potatoes to a serving plate. Drizzle a spoonful of vinegar on them and garnish with cilantro.
Notes
Try to select potatoes that are evenly sized. Alternatively, you can use large potatoes and chop them into 2-cm (1-inch) cubes. The original recipe suggests you peel the skin before cooking. I found that peeling after cooking is faster. Either way works.
The potato skin can leave a bitter aftertaste in your mouth. I highly recommend you remove the skin.
Nutrition
Serving:
178
g
,
Calories:
152
kcal
,
Carbohydrates:
27.3
g
,
Protein:
3.3
g
,
Fat:
3.8
g
,
Saturated Fat:
0.6
g
,
Sodium:
160
mg
,
Potassium:
789
mg
,
Fiber:
3
g
,
Sugar:
1.7
g
,
Vitamin A:
150
IU
,
Vitamin C:
20.6
mg
,
Calcium:
20
mg
,
Iron:
1.4
mg