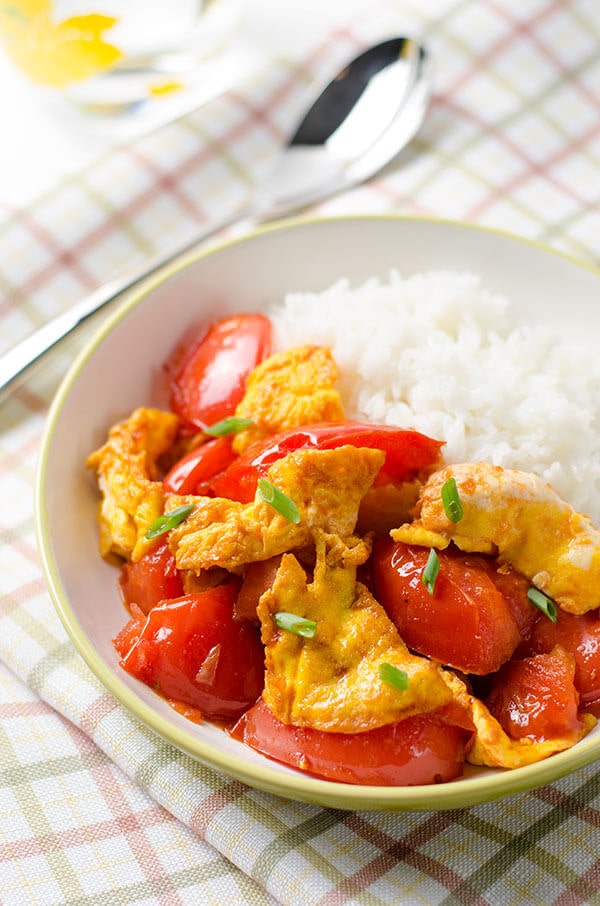 Tomato and egg stir-fry is classic, simple and delicious. It is the dish that overseas Chinese students miss the most. The moment I pour the tomato and egg over rice, I can smell the sweet, sour and savory aroma that brings back nostalgic feelings of childhood.
Tomato and egg stir-fry (西红柿炒鸡蛋, xi hong shi chao ji dan) is such a classic Chinese dish that it would feel strange not to write about it. Among the many simple and classic Chinese dishes, this one is the most comforting. It has become a must-have at almost every school and office cafeteria. Chinese people my age used to eat this dish all the time growing up, and it's something we still crave once in a while.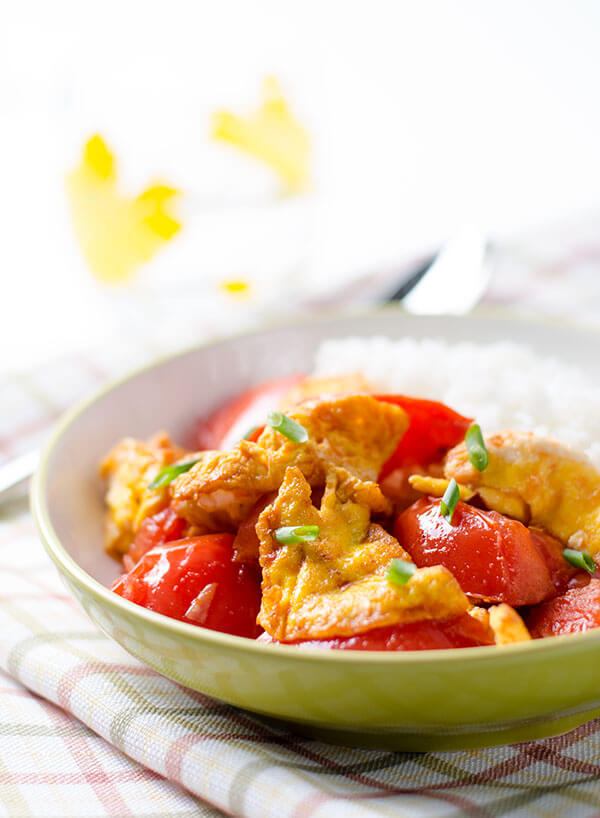 Good Old Days
Back in my early days, everyone in school or college had to participate in military training for sessions ranging from two weeks to a month. During the training, we lived in a really shabby place in the mountains, 20 people to a room, with cold showers and food slightly more appetizing than pig slop. There was no meat, of course, but once in a while, we got the chance to eat tomato and egg stir-fry. I won't go into details other than to recall that a big plate of it would disappear in less than a minute. It was pure happiness, a feeling of being home, that I seldom felt at the military camp.
Fast forward to my days living in Japan, when tomato and egg stir-fry became a routine, and I absolutely had to cook it once a week. Why didn't I eat it more often? Because tomatoes are expensive in Japan and were a luxury for us poor students. On the other hand, Japanese tomatoes were the best I'd ever tasted. Most tomatoes available in China are grown in greenhouses and are tough and flavorless. In Japan, you can only find tomatoes when they're in season. They are small, with skin thinner than paper and a super juicy and creamy texture. They have a sweet and very tomato-y taste. They are perfect stir fried with egg. When the two were served together over freshly steamed rice, I really didn't need anything else at all. It was the best!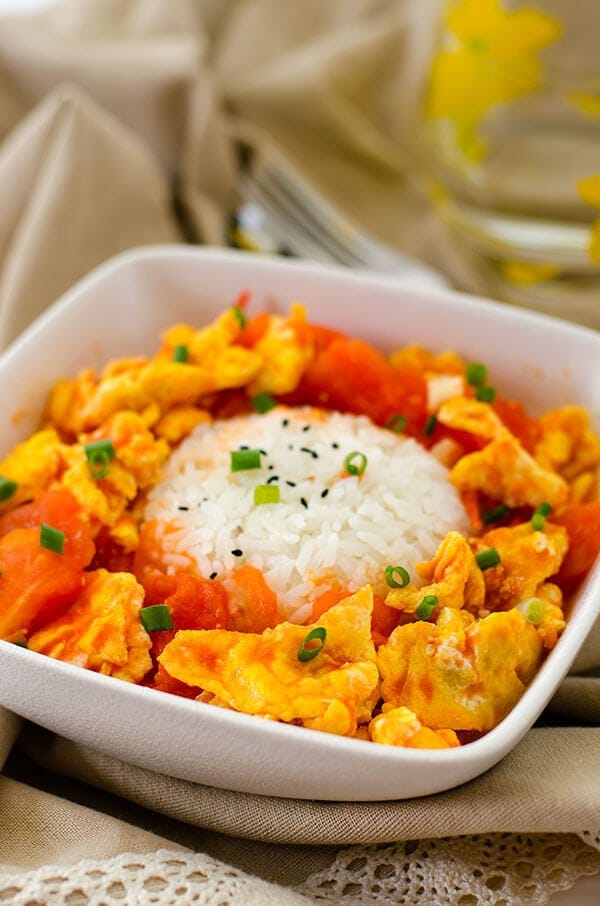 Now, for a few details on cooking this nostalgic goodie. Although the dish needs as few as six ingredients and ten minutes to prepare, it can be done in many different styles. If you've ever lived in China, you probably have your favorite. Although I listed my favorite combination in the recipe below, here are a few ways to alter it.
Create Your Own Favorite Tomato and Egg Stir-Fry
Use half a cup of chopped green onion instead of garlic. The finished dish will be sweeter and have less pungent garlicky taste.
Double the amount of sugar. The recipe below has a sweet and savory taste that is not extreme on either end. Adjust the seasoning according to your taste. Also note that you might need to adjust the amount of sugar slightly, depending on the quality of tomato you're using. If the tomato is on the sour side, you'll need to add extra sugar to balance that sourness.
Create a more savory dish by halving the amount of sugar . The sugar serves to balance the sourness of the tomato, so reducing the sugar eliminates some sweetness in the finished dish.
For a very soft egg – mix a quarter teaspoon of salt into the beaten eggs; in step 1 – stir the egg as soon as you pour it into the skillet, and transfer the egg to a plate when half cooked; in step 2 – add the egg back into the skillet after seasoning the tomato.
To get more sauce, making the dish almost like a stew – double the amount of tomatoes, chop them into smaller chunks, and cook them for a longer time over medium heat, until they have almost melted into a paste, before adding back the egg. By the way, this is the typical cafeteria style – it allows the chef to use fewer eggs and cut costs 😉
Did you find your favorite style in the list? If not, drop me a note below and I will add it!
Tutorial Video
You can find the video how to make tomato and egg stir-fry on my YouTube channel!
Print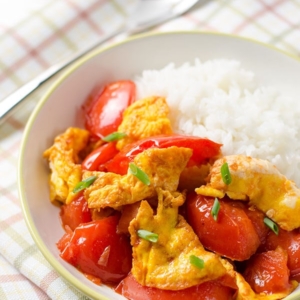 Classic Tomato and Egg Stir-Fry (西红柿炒鸡蛋)
---
Author:

Prep Time:

5 mins

Cook Time:

10 mins

Total Time:

15 mins

Yield:

2

-

4

1

x
Category:

Main

Cuisine:

Chinese
Description
The recipe yields 2 servings as main with steamed rice, 4 servings as side. Slightly reduce cooking time if you halve the recipe.
---
Ingredients
1

and 1/2 tablespoons peanut oil (or vegetable oil)

4

eggs, beaten

2

big tomatoes, chopped

3

cloves garlic, chopped (about

1 tablespoon

)

1 teaspoon

salt

1 tablespoon

granular sugar
(optional) chopped green onion for garnish
Steamed rice to serve with
---
Instructions
Heat 1 tablespoon oil in a medium sized skillet over medium high heat. When oil is ready, add egg and cook until the bottom side is done, but the top is still raw, about 30 seconds. Stir with a spatula, chopping the egg into bite sized pieces, until egg is just cooked. Turn to lowest heat, transfer egg to a plate, and set aside.

Add the remaining 1/2 tablespoon of oil and the garlic and turn back to medium high heat. Stir the garlic a few times until fragrant. Add tomato and stir fry until the edges are slightly charred and texture becomes soft, about 1 minute. Add egg back into skillet and spread salt and sugar on top of it. Quickly mix everything together will a spatula until evenly seasoned.


Serve warm over steamed rice.
The nutrition facts are calculated based on 1 of the 4 servings generated by the recipe without rice.