Make sure to cook extra when making these juicy tender pork ribs covered in a fragrant savory black bean sauce, because you will need to fight your way to get a few pieces when serving a crowd!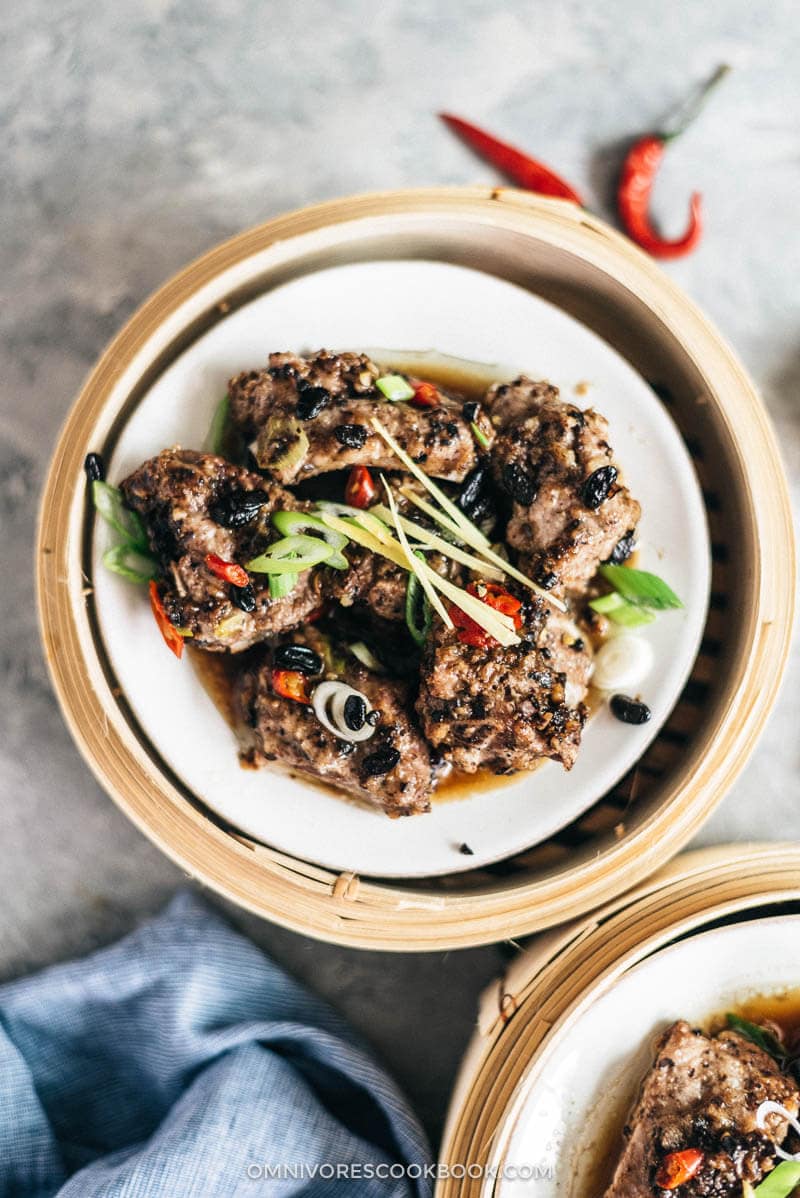 Steamed pork ribs, shrimp dumplings, pork shu mai, gai lan in oyster sauce, and Cantonese roast duck: these are my go-to dishes whenever I go to a dim sum restaurant. It makes my mouth water just thinking about them!
If you have ever tried steamed pork ribs at a Cantonese dim sum restaurant, you'd be surprised at how flavorsome they taste. Those bite-sized juicy ribs are covered with a rich, savory and garlicky sauce, and are served in mini bamboo steamers. It is too bad that each serving is so tiny because the whole plate will disappear within a single minute of being served. I rarely get more than two pieces when eating out with friends!
The great news is, you can cook these ribs at home and get the taste just as great as the restaurant-style. In the recipe below, I will teach you:
A great way to create a super flavorful, garlicky black bean sauce that tastes way better than the bottled sauce.
The tricks to create super tender ribs by using a steamer.
How easy it is to make restaurant-style ribs in 15 minutes.
How to make steamed ribs in black bean sauce
The key steps of making restaurant-like dim sum steamed ribs
Make the black bean sauce. You can either use a pre-cooked sauce, or make a quick sauce by following the recipe below.
Cornstarch is a must. Not only does it tenderize the meat, it also forms a thin coating outside of the ribs, so they won't come in contact with the hot steam. It is a key ingredient for creating tender ribs.
Marinate the ribs. An important step that you cannot skip. Marinating makes sure the ribs absorb all the flavors from the sauce so the result is an extra rich taste. The ginger in the marinade will also tenderize the meat during marinating.
Steam with minimum time to just allow the ribs to cook through, so it generates juicy and tender ribs. Overcooking will turn the ribs hard as rock.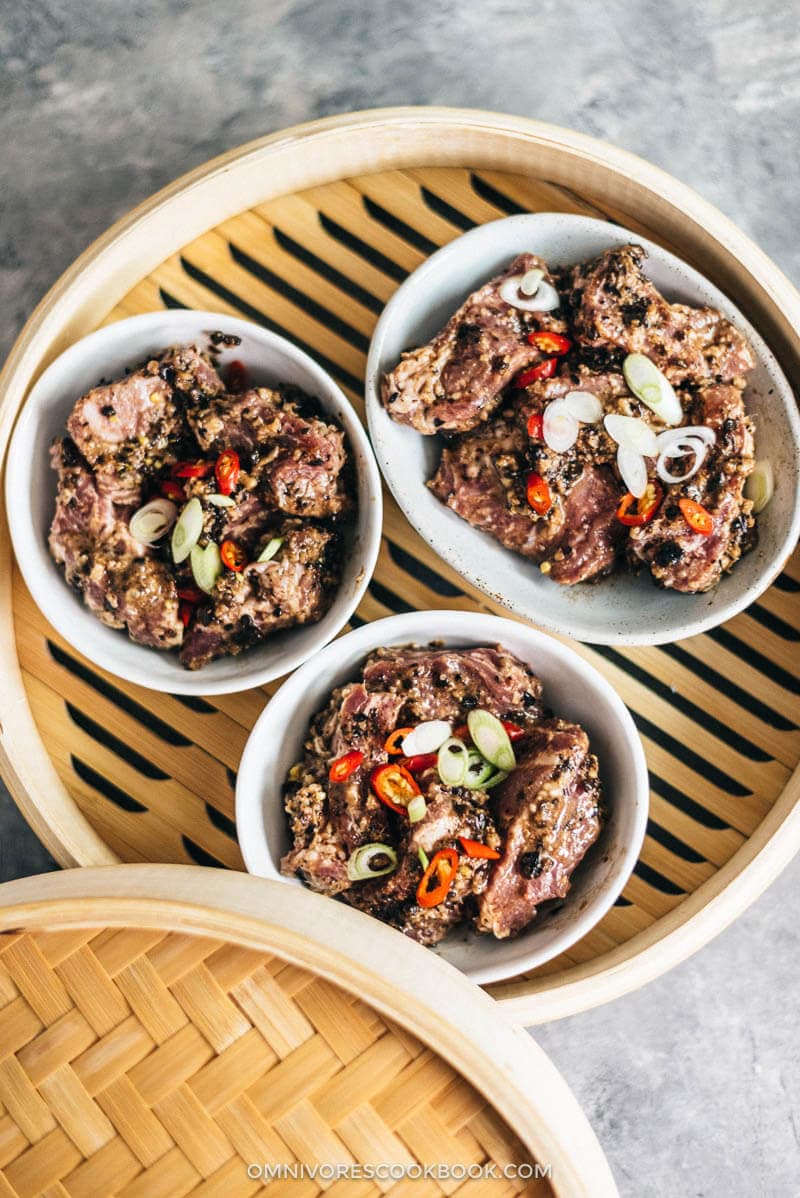 How long does it take to steam ribs?
There are two approaches when it comes to cooking steamed ribs.
Use the shortest time, just to cook the meat through.
Cook for a very long time or cook in a pressure cooker, until the meat falls off the bones.
I would recommend the first approach if you like the rib texture found at a Chinese dim sum restaurant. It has a slightly crunchy texture that is juicy and tender, but not a fall-off-the-bone type of tender.
I also found the second approach too time-consuming and it cannot guarantee a great result. Just like braising, you need a really long time, one hour or more, to get the pork turning tender. If you happen to pick a lean ribs, the meat will remain tough, no matter how long you cook it.
As a rule of thumb, ribs that attach with a thin layer of meat take about 10 minutes to cook through. Meatier ribs take about 15 minutes, or up to 20 minutes, to cook through.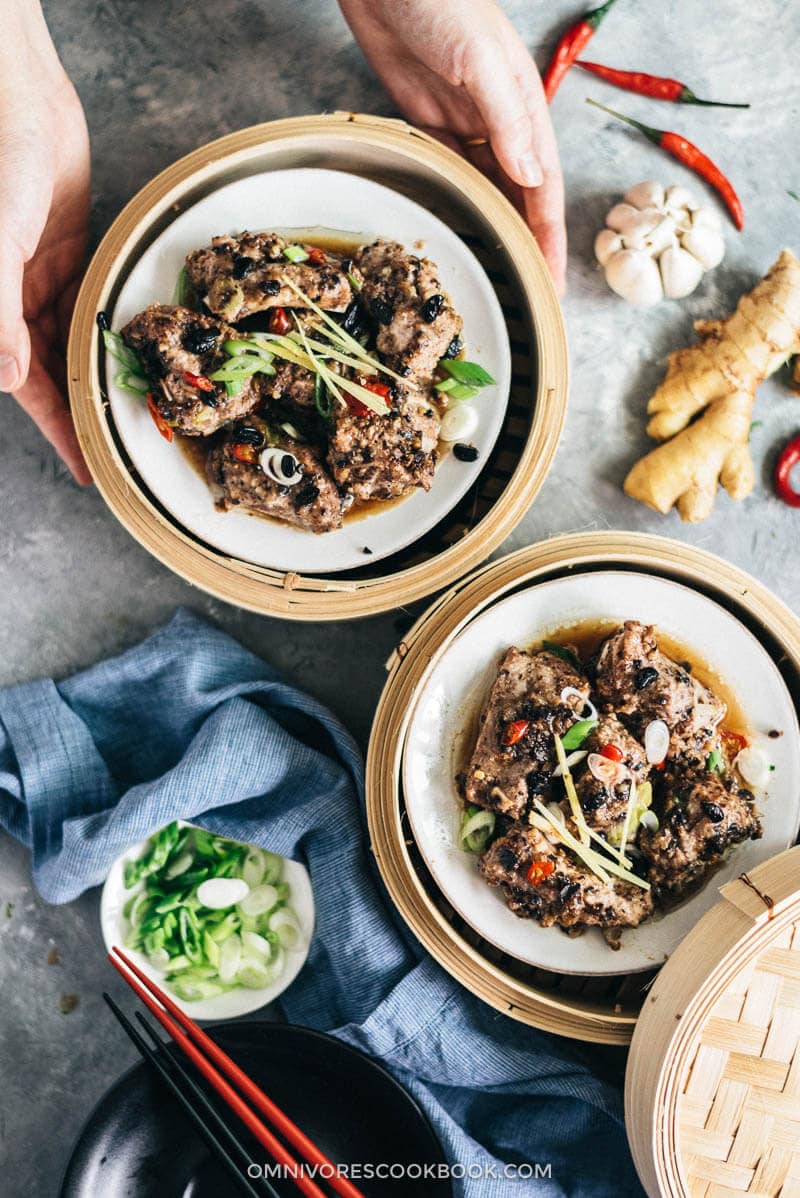 Where to get Asian style bite-size spare ribs for steaming?
Although you can easily find pre-cut bite-sized ribs in most Asian markets, I prefer to get it at a larger grocery store that has a butcher counter. The meat tends to be fresher and higher in quality. Simply ask the butcher to cut the ribs lengthwise across the bones into two long stripes. Then you can easily separate each rib by cutting through the meat when you're ready to cook.
Always choose a thin slab of ribs with well-marbled meat, which generates a more flavorful and tender result.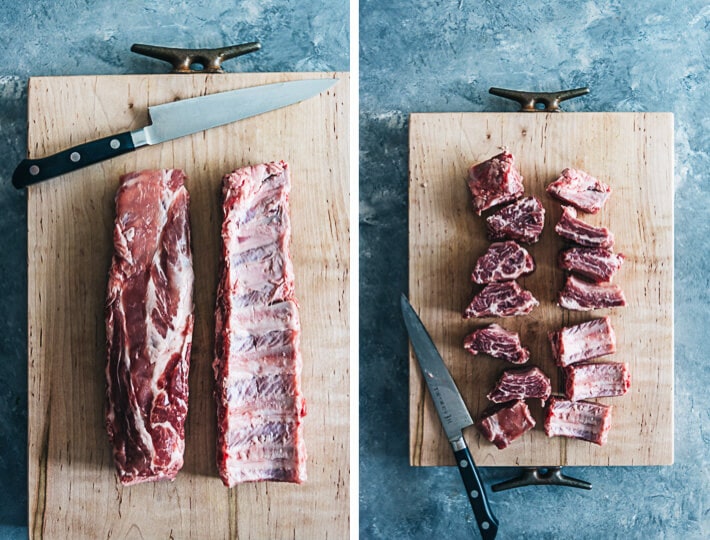 What makes a great black bean sauce?
The best black bean sauce is made with fermented back soybeans. These flavor bombs are widely used in Chinese cuisine to make stir fries and steamed dishes, to impart a deep savory flavor.
To make black bean sauce from scratch, add ginger, garlic, Shaoxing wine, soy sauce, and oil. Then slowly roast the sauce over a low heat until it turns so fragrant that you want to eat it with a spoon.
However, if you want a quick version, I introduced an easier approach in the recipe below. You simply need to add aromatics and a few ingredients into the chopped black beans, to make a great sauce in under five minutes.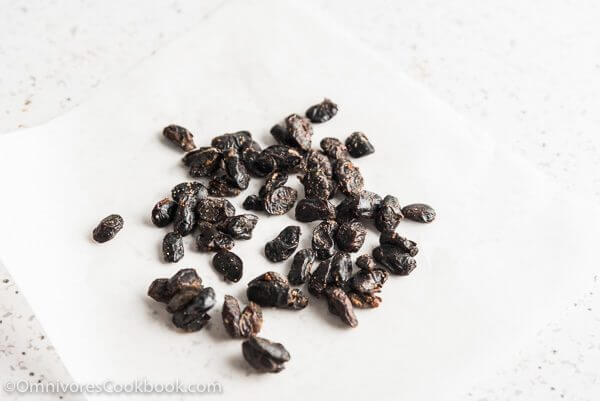 What if I cannot find fermented black beans?
Fermented black soybeans can be found in most Chinese markets and even online. If you cannot access them, simply replace them by using bottled black bean sauce. You can normally find it in any supermarket ethnic section.
As long as you follow the key points, a plate of hot finger-licking ribs will be waiting for you at the end of the cooking!
The biggest reason that I prefer steamed ribs is, they are easy to prepare and make no mess during cooking. It is one of my favorite dishes in summer, because it does not require me to stand in front of the stove and it does not turn my kitchen into a scorching oven.
Throw a few bok choy into the steamer and cook some steamed white rice on the side, and you will have a delicious and healthy meal in 20 minutes 🙂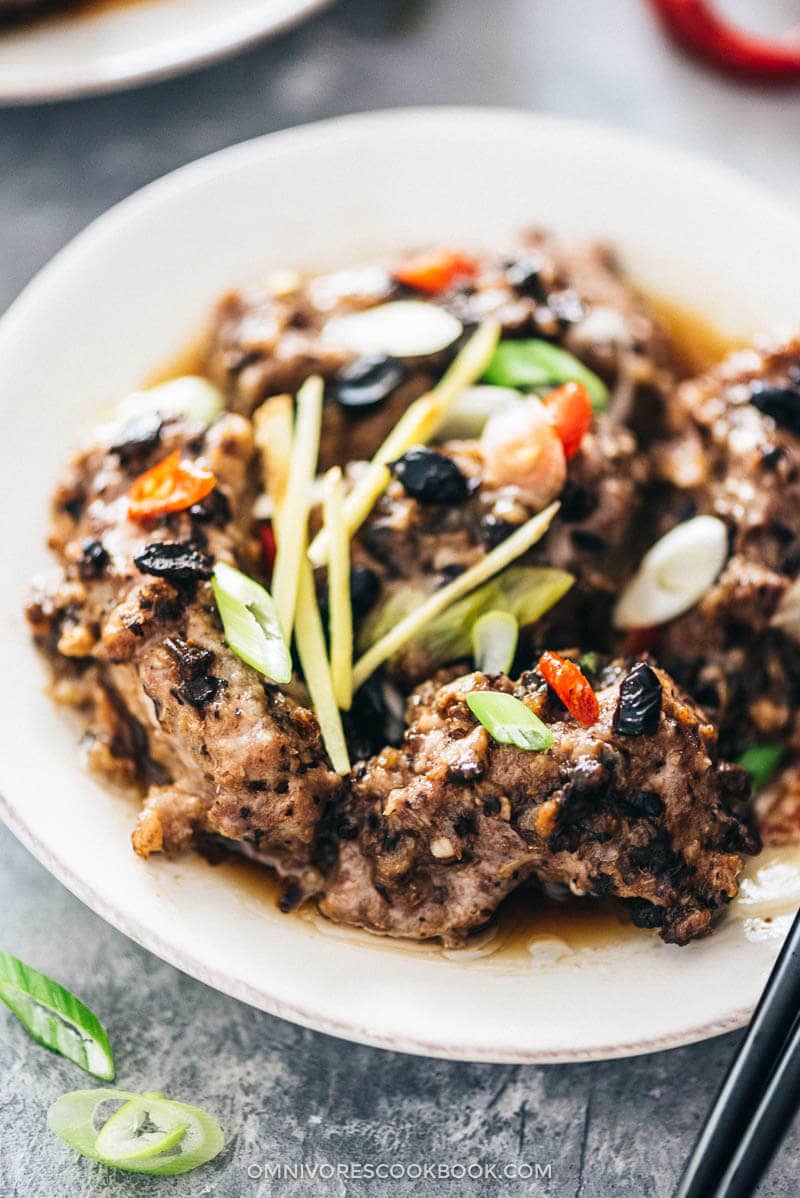 More Dim Sum recipes at home
If you give this recipe a try, let us know! Leave a comment, rate it (once you've tried it), and take a picture and tag it @omnivorescookbook on Instagram! I'd love to see what you come up with.
Want to Know More?
Receive our 5-Day Chinese Cooking Crash Course & Recipe Updates! Subscribe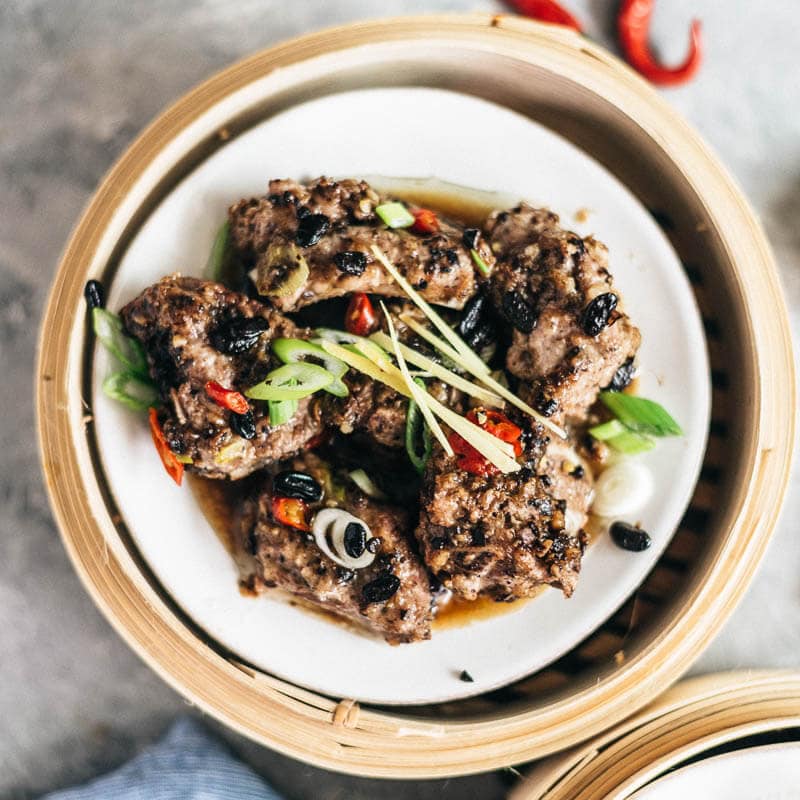 Steamed Ribs in Black Bean Sauce (豉汁蒸排骨)
Make sure to cook extra when making these juicy tender pork ribs covered in a fragrant savory black bean sauce, because you will need to fight your way to get a few pieces when serving a crowd!
The prep time does not include marinating time. You need at least 30 minutes to marinate the ribs. I highly recommend that you marinate the ribs for a couple hours, or up to overnight.
Ingredients
1

pound

pork baby back ribs

, divided crosswise into shorter ribs (*Footnote 1)

1

green onion

, chopped

Sliced ginger for garnish

(Optional)

2 Thai chili peppers (or jalapeño)

(Optional)
1

tablespoon

vegetable oil

1

tablespoon

Shaoxing wine

(or dry sherry for a gluten-free option)

2

tablespoons

fermented black beans

1

thumb

ginger

, minced (yields 2 tablespoons)

3

cloves

garlic

, minced (yields 1 tablespoon)

1

tablespoon

cornstarch

2

teaspoons

sugar

1/4

teaspoon

salt
Instructions
Add all the marinade ingredients to a small bowl, mix well.

Combine ribs with the marinade sauce in a big bowl and mix well. Marinate at room temperature for a minimum of 30 minutes or in the fridge, up to overnight.

To set up the steamer, use a large plate that has some depth (to hold the broth) that can fit in your steamer. You will also need to use a wok or a skillet to hold the steamer. In the case of a skillet, you might need a rack to elevate the steamer, so the water underneath doesn't touch the bottom of the steamer.

Spread the ribs on the plate with minimum overlapping and place the plate into the steamer. (*Footnote 2)

Add water to the wok (or skillet) to about 1-inches deep but not so deep it reaches the bottom of the steamer. Heat over a high heat until boiling.

Place the steaming rack, covered, on top of the wok. You should see steam rising from the top of the steamer. Cook over a medium-high heat until the ribs are just cooked through, 10 to 15 minutes for small bite-size ribs, and 20 minutes for meatier pieces. Test the ribs by cutting through. The meat should have a little hint of pink near the bones. Cook, covered, in 5 minute increments if the ribs are not done.

Garnish with chopped green onion, if using. Serve hot over rice or as an appetizer.
Notes
The easiest way to do this is to purchase the ribs at the butcher in a grocery store. Ask the butcher to cut the ribs into half crosswise, so it fits better in the steamer. Try to select well-marbled meat that is not too thick, which will generate super tender and flavorful meat.

I always like to add a few whole black beans onto the ribs as a garnish right before cooking. It makes the dish prettier and showcases the flavor profile of the dish.
Nutrition
Serving:
1
of 4 servings
,
Calories:
337
kcal
,
Carbohydrates:
8.4
g
,
Protein:
17.3
g
,
Fat:
25.5
g
,
Cholesterol:
62
mg
,
Sodium:
302
mg
,
Potassium:
258
mg
,
Sugar:
4.6
g