If you're looking for a great stir fry pan that performs well in a home kitchen, this is the place to start.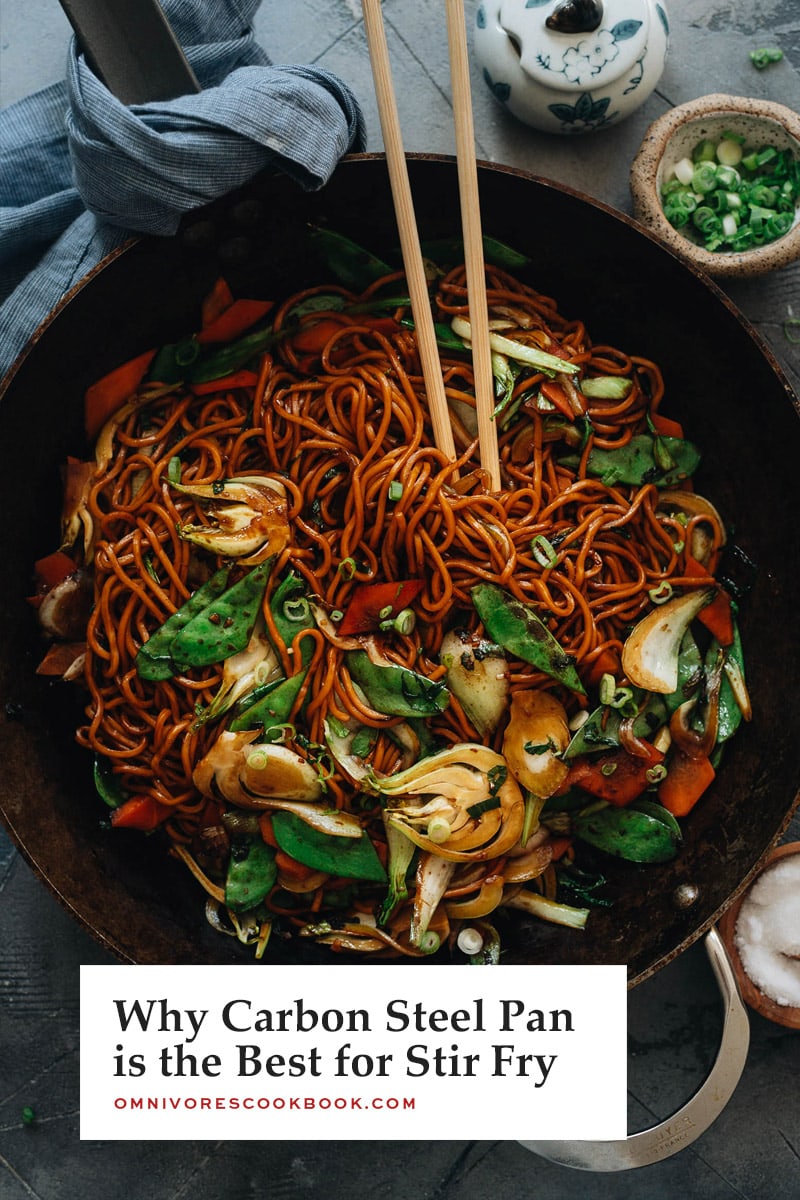 Over the years I've cooked in different home kitchens using different stoves and equipment. After many experiments and comparisons, carbon steel pans have become one of my essential pieces of equipment, and it's the pan I use most frequently, almost daily. I covered in a previous post why you shouldn't use a wok, and the best stir fry equipment depending on your kitchen setup. Long story short, I choose to use carbon steel pans because they're suitable for most home kitchens, where you have limited space and a stove that's not as powerful as in a commercial kitchen.
If you're looking for a pan that cooks great Chinese food (and other types of food!), and will last forever, a carbon steel pan is your best bet.
Why carbon steel pan
Carbon steel pan vs nonstick pan
Nonstick pans have a chemical coating that will dissolve when the pan gets too hot and pose a potential health hazard. Chinese stir fry requires heating up the pan very hot most of the time, which makes a carbon steel pan a safer choice since it's made from just metal. Carbon steel pans also hold heat better and thus sear food better than nonstick.
Carbon steel pan vs cast iron pan
Both require similar care and both are low-stick (and close to nonstick when well-seasoned). However, a carbon steel pan is slightly lighter and easier to handle, and cooks the food just as well. And the sloped side construction is more suitable for stir frying.
Carbon steel pan vs wok
A round-bottom wok requires a wok ring, which creates a wide gap with the stove and thus does not heat up well.
A carbon steel pan has a larger contact surface with the stove, which means you'll be able to heat up your pan better on an electric stove. It's also more stackable and takes up much less space than a wok.
Also, if you choose a taller carbon steel pan, it can actually function like a wok with a flat bottom.
Other advantages
A carbon steel pan is low-stick once seasoned, and quite non-stick for most types of food after you've used it for a while.
It retains heat well and cooks better food, especially in a home kitchen where the stove is not as powerful as a commercial stove.
If you know how to take care of your pan, it will last forever. So you'll be spending much less money on cooking equipment rather than buying a new nonstick pan every few years.
Things to note before purchasing a carbon steel pan
Carbon steel pans are quite heavy to handle. A 12" carbon steel skillet is just under 6 lbs, while a 12" nonstick is about 3 lbs. Though it's still lighter than a 12" cast iron pan, which is around 7 lbs.
A slightly steeper learning curve that requires some getting used to. Your food might stick to the pan at the beginning, but things will get better.
You will need to use a bit more oil (than if you were using a nonstick pan) to cook food properly.
It takes some aftercare whenever you use the pan, but it's super easy and you'll get used to it in no time.
My recommendation
It's a great pan for making Chinese stir fries, noodles, shallow frying, searing food (like steaks), and almost everything else. I like the large surface which allows you to heat it up thoroughly, whether you're using a gas stove or an electric one. Most of the stir fry recipes on my website are suitable for cooking in this pan. The 11″ Mineral Pro has a upgraded handle so you can use the pan in the oven as well.
The downside of this pan is its weight. It's 5.79 lbs, a bit heavy to handle if you're short like me (I'm 5'2").
You might worry that the pan is quite shallow and food might spill all over the stove. But it won't once you've gotten used to the cooking style – let the food sear, flip and stir the food less frequently, and use a pair of tongs to toss the food, so it won't cause a mess.
This might be the best wok replacement because it's shaped like a wok with a flat bottom. It has tall sloped sides that make it perfect for tossing and stir frying.
I recommend this pan only if you use a slightly more powerful gas stove (e.g. heat output – 12000BTU/hr). The bottom surface is smaller than the 12.5" pan, so it will heat up slower on an electric stove or on a weaker gas stove (like the one in my current apartment).
It's around 5.5 lbs, a bit lighter than the 12.5" frying pan. However, its shape makes it quite awkward to handle when you wash the pan. It also takes up more space. After moving from Austin to New York, I swapped it for a Debuyer 9" Country Chef Frying Pan.
This pan is like a mini wok and weighs only 4.18 lbs. I like to use it for making simple stir fried veggie dishes and for deep frying. It's a good size to have if you only need to cook for one or two people. And it's also great for making simpler dishes that contain less ingredients because it's quite light and easy to handle.
Other great carbon steel pan brands
Matfer Bourgeat is another reputable brand recommended by America's Test Kitchen. I've never used it personally but a friend told me it's very similar to Debuyer. The Matfer carbon steel pan is slightly lighter. Their 12.5" pan is 5.3 lbs and thinner than the Debuyer.
Other equipment you might need
Cleaning Brush
A cleaning brush designed for cast iron/wok is a must-have to pair with your carbon steel pan. I will talk about carbon steel pan care in another post, but long story short, you will need a brush that can sustain heat, is tough enough to clean off any food residue, but is not so tough that it scrapes off the pan seasoning. I found a wok brush to be perfect for this purpose.
Wok turner & tongs
A wok turner and a pair of tongs are also essential for making stir fries.
Unlike the wood and silicone spatulas that are popular in Western kitchens, the Asian style wok spatula has a sharper edge and lopsided design that helps flip the food and makes it easier to transfer food to a plate.
A pair of tongs is also important, especially if you like making fried noodles. The tongs will enable you to toss the noodles well without spilling food everywhere.
The next step
Once you get your carbon steel pan, the first step is to season it. You'll also need to take proper care of the pan, which will improve its performance and make it last forever. Read How to Season a Carbon Steel Pan.
Want to learn more about Chinese Cooking? Sign up my newsletter to receive the 5-Day Chinese Cooking Crash Course and recipe update!