The tender spinach is served in a rich and garlicky broth. Originally a restaurant dish, now you can easily make it at home to add delicious leafy greens to your dinner.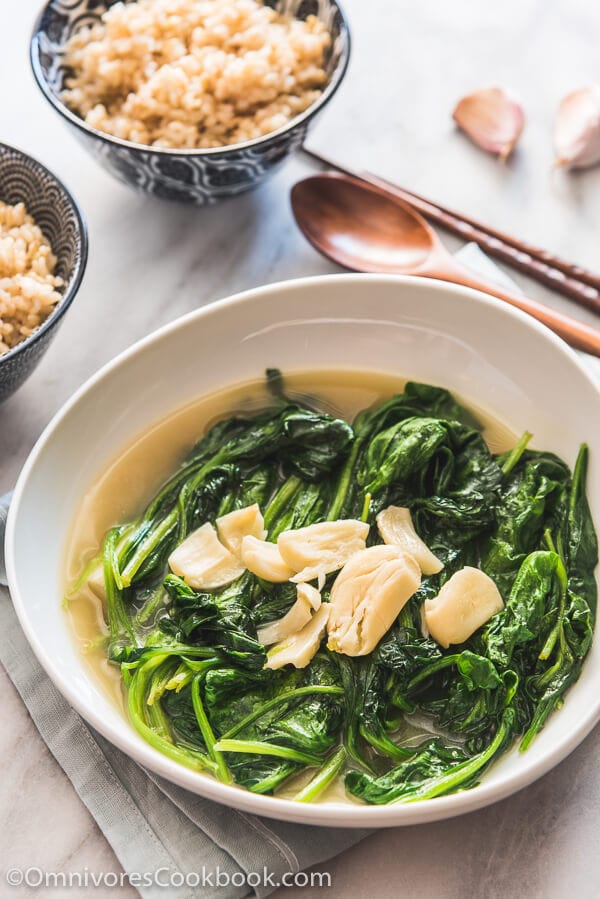 The name of the recipe – garlic spinach in chicken broth, is not an accurate description of the original dish. It is called Shang Tang Bo Cai in Chinese, which means spinach cooked in a master soup. In traditional Chinese cooking, master soup can be made from many things. Most of the time, it's a combination of several types of bone broth (usually chicken and pork) and quite condensed. It is a super rich, savory soup that restaurants use to cook vegetables and meat, to make the dish extra delicious.
There are many "Shang Tang" vegetable dishes, but the most common ones are made with spinach, baby napa cabbage (a mini version of napa cabbage, the size of your hand), or any leafy greens with large leaves and less crunchy stems. The leafy parts will absorb and become coated with more soup, so a crunchy leafy green with small leaves, such as baby bok choy, won't work very well.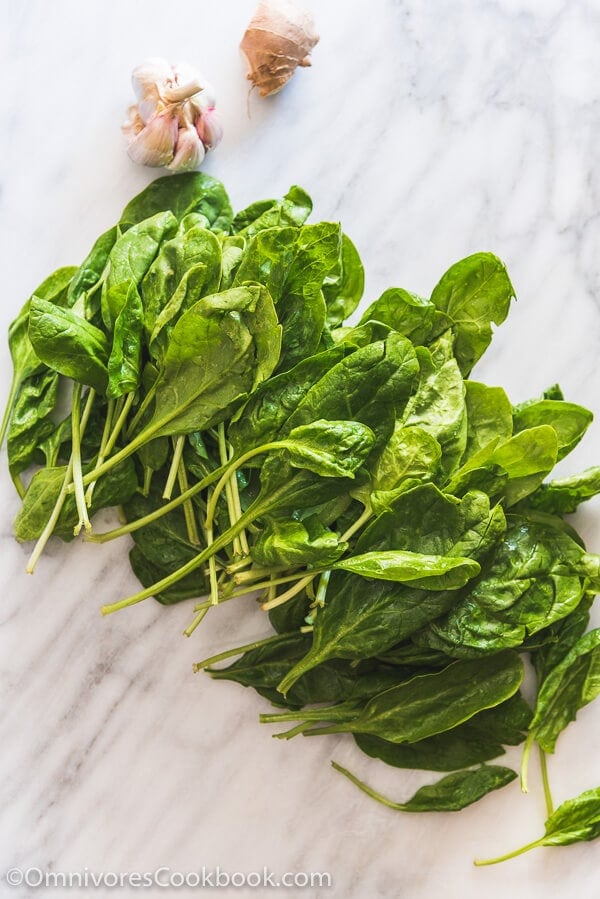 The soup consists of a rich bone broth with whole cloves of garlic, ginger, dried shrimp, sliced ham, straw mushrooms, chopped century eggs, and any other ingredients that add umami. You get the idea.
To cook the dish, simply cook the herbs in oil (a restaurant chef will fry the whole garlic cloves to make them creamy and nutty), add the master soup and the additional ingredients, bring to a simmer, and then poach the vegetables in the rich soup until tender.
After serving the dish, you need to use a large spoon to "drink" the vegetables with the soup and a few pieces of dried goodies. The soup is so rich that it's nearly creamy, without the addition of any heavy cream.
This is how a Chinese restaurant prepares a simple leafy green vegetable and makes it irresistible.
When we're cooking this dish as a side for our weekday dinner, of course we simplify the process and make it less fancy. We use homemade chicken stock, reduced supermarket stock, or sometimes even water plus chicken bouillon. We reduce the number of dried goods, and use whatever we have in the pantry. Sometimes even without dried goods. The only thing we don't skip is fresh herbs, which are crucial to impart the maximum flavor with the least effort.
Now you can make this delicious spinach that is just as good as one in a restaurant, with 5 ingredients instead of 15.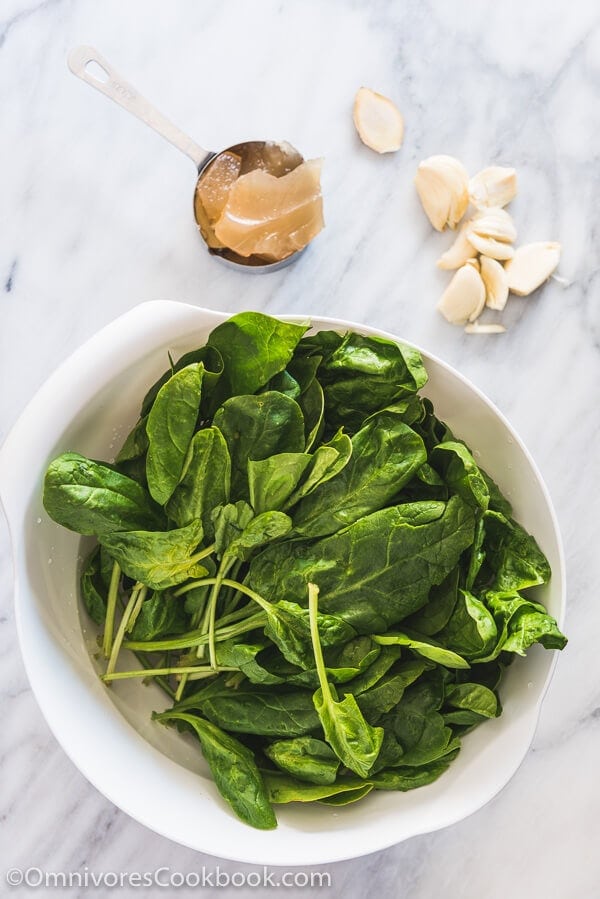 To make the soup work, I highly recommend you use homemade stock, especially one that's been reduced. I know this is a lot to ask. But this is how to cook the dish with the minimum ingredients and get the best flavor. If you're using a boxed stock, reduce it on the stove to half, or even one third. Spinach will release a lot of liquid while cooking. If you use a thin broth, it will be diluted at the end, and not rich enough to season the vegetables.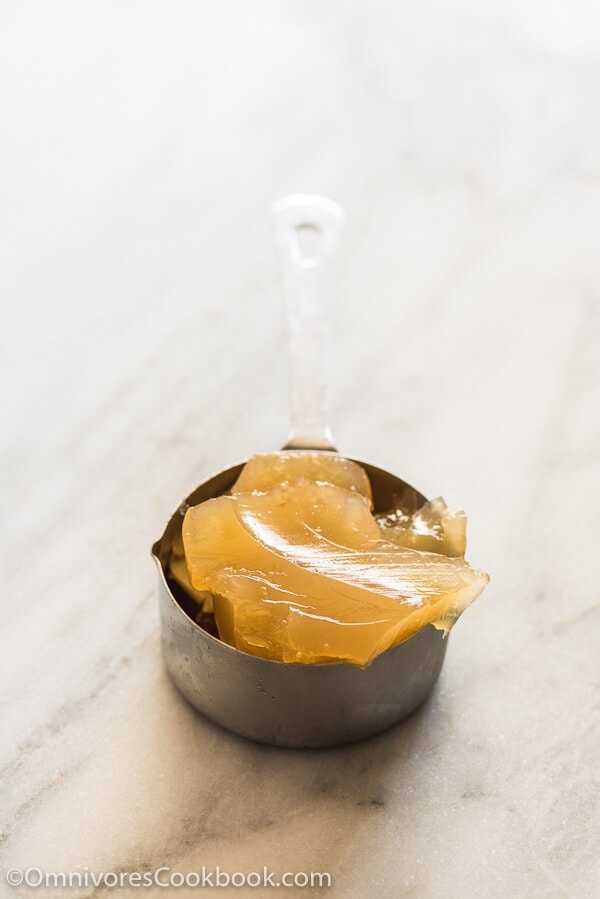 There are other ways to make the soup base very rich.
Chop 1 thick slice of bacon into lardons, cook until crispy before adding the herbs, and then follow the recipe.
Add ingredients into the soup just like a Chinese restaurant does. For example, thin sliced mushrooms (wild mushrooms work better), sliced ham strips, chopped century eggs (my favorite, it's like adding cheese to your stock), and rehydrated dried shrimp. Try any combo with the ingredients you have on hand.
Once you've tried this dish, the proper way, you will find you can easily finish an entire pound of spinach in a few minutes. This is a dish for 2, but I don't mind finishing a whole plate myself. It's that good.
Do you like my recipes? Sign up our weekly newsletter to get the latest updates delivered to your inbox and a FREE e-cookbook that contains my top 30 most popular recipes!
Want to Know More?
Receive our 5-Day Chinese Cooking Crash Course & Recipe Updates! Subscribe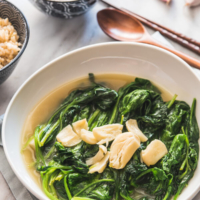 Garlic Spinach in Chicken Broth (上汤菠菜)
The tender spinach is served in a rich and garlicky broth. Originally a restaurant dish, now you can easily make it at home to add delicious leafy greens to your dinner.
Ingredients
1

tablespoon

peanut oil

(or vegetable oil)

4

large cloves garlic

, crushed with knife

1

piece

ginger

1/2

cup

homemade chicken stock

(or 1 cup store-bought chicken stock) (*see footnote)

1

pound (450 grams)

flat-leaf spinach

, thoroughly washed and tough ends removed

Pinch

salt
Instructions
To crush garlic, place a clove garlic on a cutting board, layer a knife on top of the garlic holding with one hand, press the knife with the palm of your other hand. This step lets garlic to release more flavor during the cooking.

Heat oil in a large skillet over medium high heat until warm. Add garlic and ginger. Cook and stir until fragrant.

Add chicken stock. Cook until bringing to a simmer.

Spread spinach in the pan. Cover and cook for a minute.

Uncover, stir gently so that most of the spinach is submerged in the liquid. Cover again. Cook until spinach just turns soft. Add a pinch of salt and gently stir.

Transfer spinach with the broth to a big serving place.

Serve warm as side.
Nutrition
Serving:
362
g
,
Calories:
129
kcal
,
Carbohydrates:
11.2
g
,
Protein:
7.3
g
,
Fat:
8
g
,
Saturated Fat:
1.4
g
,
Sodium:
562
mg
,
Potassium:
1309
mg
,
Fiber:
5.2
g
,
Sugar:
1.4
g
,
Vitamin A:
21250
IU
,
Vitamin C:
89.9
mg
,
Calcium:
240
mg
,
Iron:
6.3
mg