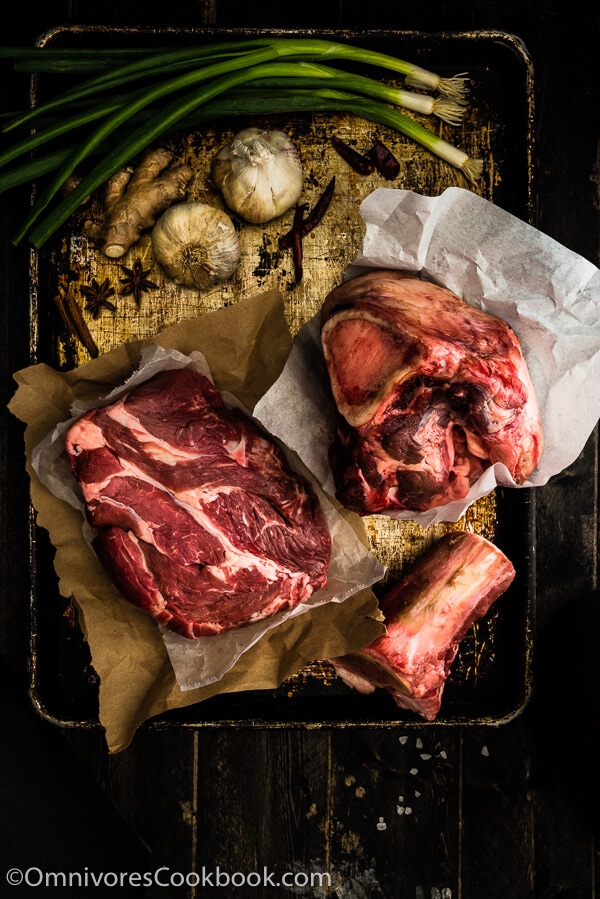 This beef stock recipe is a great fundamental element for making Asian noodle dishes, such as Taiwan beef noodle soup and Vietnamese beef pho. If you're pursuing authentic flavor, spending a bit more time to make your own stock is the best way to go.
The steps for cooking Asian beef stock are very similar to those for other types of stock. You roast the bones in the oven first, deglaze the pan, transfer everything to a big pot, add aromatics and water, and cook it for hours until the soup gets rich and flavorful. This recipe uses minimal Asian aromatics, such as ginger, green onion, star anise, and rice wine to bring out the beefy flavor without adding too much character to the stock.
Boil or roast the bones?
The one major debate when it comes to making beef stock is whether you should boil the bones first, or roast them in the oven. Most Asian beef noodle soup recipes suggest you boil the bones and discard the boiling water. On the other hand, most Western style beef stock recipes recommend you roast the bones before boiling them, so you get a richer stock.
I tried both ways and found that they both worked well in a bowl of Asian noodle soup. Roasting the bones will give the broth a darker color and a hint of smoky flavor. The advantage is that you can brown the meat at the same time, which generates a great texture and flavor if you're planning to serve the beef with the soup or cook it further with other ingredients.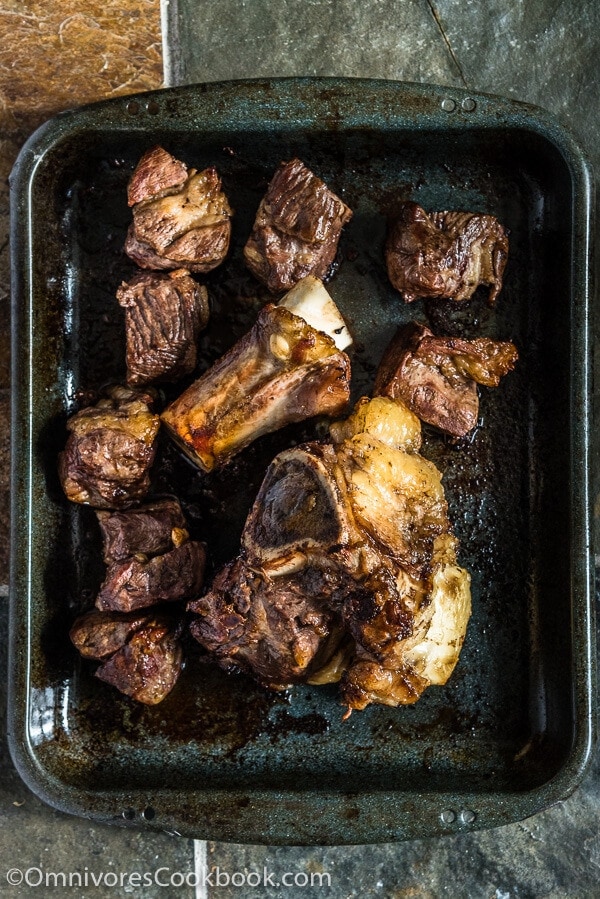 Why this recipe works
When I started developing this recipe, the beef stock was originally a part of a Taiwanese beef noodle soup. However, I realized that instead of using it just one way, you can also use it to create other dishes, such as Lanzhou beef noodles and Vietnamese beef pho noodle soup. In the end, I decided to separate the beef stock as a recipe of its own.
Different from the approach of most beef stock recipes, my recipe removes the beef (a cut of chuck, in my case) in the middle of cooking. You can either (a) braise the beef to make a very rich stew; or (b) serve the beef with the soup.
Boiling a large piece of beef with the bones will add great flavor to the stock, but if you cook it until the end, the meat will become very tough and bland. What I did here, is boil it halfway through, to get a very nice soup, with tender and flavorful beef to serve along with it.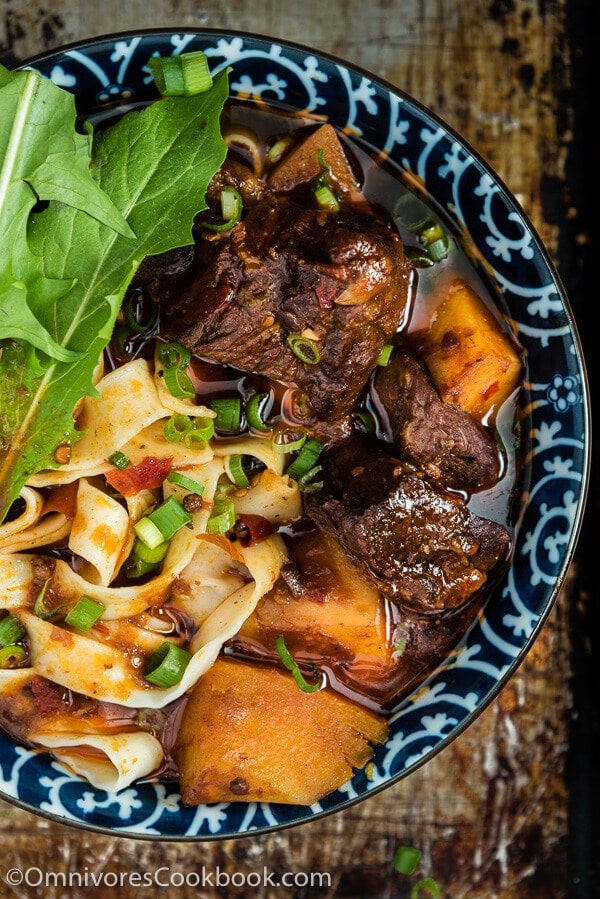 About aromatics
In the recipe you will see a list of optional aromatics. These ingredients will add depth of flavor, but it won't be a big problem if you skip an ingredient or two.
One word about the "Asian aromatic bag". In a lot of Asian recipes, especially those for stews, braised dishes, and soups, you might see a super long list of ingredients. You can get a combination of many of those spices in a tea bag at an Asian market, where it's called "aromatic bag" or "meat braising spice", or something similar.
My mom and grandma never recommended using these, and I suggest you not use them, either.
Every brand has its own combination and ratio, but these bags usually contain so many herbs that they can easily overpower the main ingredients. My mom said the aromatic bag is too much and every time she tries a new brand, the stew ends up tasting like Chinese medicine.
The truth is, every chef in a Chinese restaurant has his own secret combination of aromatics. The ingredients and their ratios vary depending on the cuisine and dish being cooked.
My suggestion is to always buy these ingredients separately and cook them according to the recipe. You probably won't have a problem if you miss an ingredient or two. But using too much of any herb can easily kill a dish.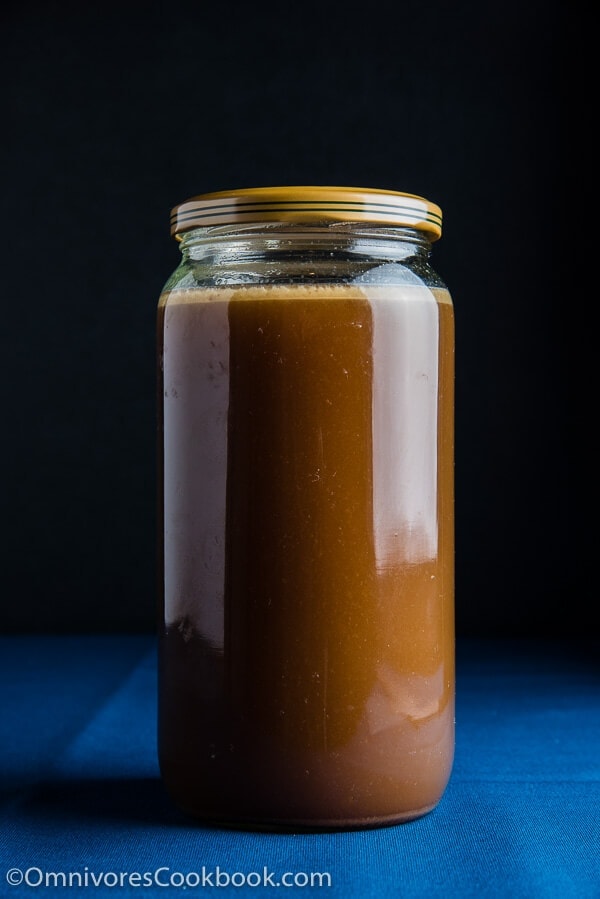 How to use the beef stock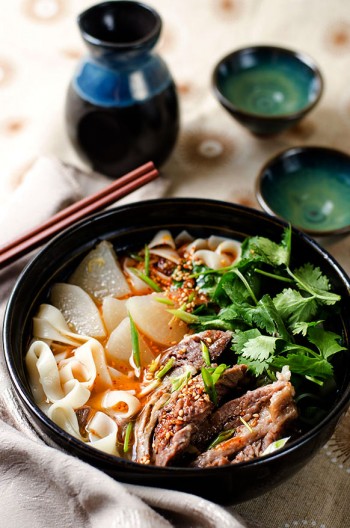 (1) Lanzhou beef noodles.
The original recipe used a different approach (boil the beef and bones instead of roasting them), but this recipe works, too.
If you want to produce a more concentrated and richer broth, remove the beef from the broth after simmering for 3 hours. You can continue cooking the bones for another 1 to 3 hours. When you're ready to serve the dish, transfer the amount of stock you'll be serving to a clean pot. If you have boiled down the stock, you might need to add water to dilute the stock. Slice the beef and add it into the broth. Reheat until bringing to a boil and season the soup with salt and white pepper. Serve noodles in the soup with beef and green onion on top. You simply need to drizzle a spoonful of homemade chili oil on top to enjoy a bowl of authentic Lanzhou beef noodle soup.
By the way, if you have cooked the beef in the stew and do not have any left over, you can simply add some leftover roast meat on top of the soup. The noodle bowl will just as tasty.
(2) Chinese red cooked beef noodle soup (红烧牛肉面)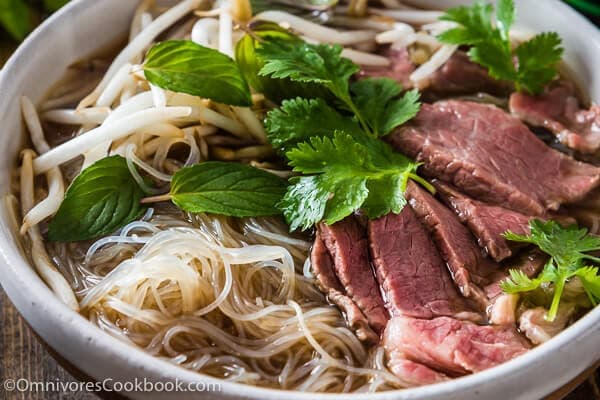 Do you like my recipes? Sign up for Omnivore's Cookbook's weekly newsletter to get the latest updates delivered to your inbox and a free e-cookbook! And stay connected via Facebook, Instagram, Pinterest and Google+. Thanks for reading and happy cooking!
Want to Know More?
Receive our 5-Day Chinese Cooking Crash Course & Recipe Updates! Subscribe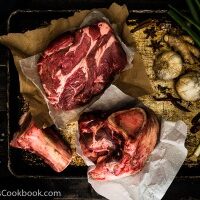 Asian Beef Stock
This beef stock recipe is a great fundamental element for making Asian noodle dishes, such as Taiwan beef noodle soup and Vietnamese beef pho. If you're pursuing authentic flavor, spending a bit more time to make your own stock is the best way to go.
Ingredients
3 to 4

pounds

beef stock bones

I used 5280 beef knuckle bones and marrow bones, sawn into smaller pieces (*see footnote 1)

2

pound

beef chuck

(or beef brisket, cut to 1.5 to 2 inches (4 to 5 cm) chunks) (*see footnote 2)

Vegetable oil

2

green onions

1

thumb ginger

, sliced

2

bay leaves

1/4

cup

Japanese sake
Aromatics
2

chili peppers

, dried

2

pieces

cloves

1

whole nutmeg

1/2

teaspoon

black pepper

1/2

teaspoon

coriander seeds
Instructions
Preheat oven to 400 degrees F (200 C).

Spread stock bones and meat in a large roasting pan. Spray a thin layer of oil onto the bones and meat. Roast on the bottom rack until the bones and meat turn an even golden brown color, about 40 minutes. Flip once, halfway through, and check on the bones frequently. If a higher part of the bones cooks too fast, cover with aluminium foil to avoid burning.

Transfer bones and meat to a large stock pot (I used a 16-quart pot). Pour a cup of hot water into the roasting pan and scrape the brown bits off the pan. Pour everything into the stock pot.

Add cold water to the stock pot to cover the ingredients by one inch. Turn on high heat. Add green onion, ginger, bay leaves, Japanese sake, and aromatics to the pot. Cook until bringing to a boil, stir a few times, and turn to low heat. Cook the broth at a gentle simmer. Cover and cook for 4 to 6 hours (remove the beef during this process), until the all the collagen on the bones has fallen off and the marrow is mostly dissolved. During the cooking, check on the stock and skim the brown foam from the top with a large spoon.

(Option 1) If you're going to make beef stew - After 1 hour of simmering, remove the beef chuck from the pot and transfer it to a container to use later.

(Option 2) If you're going to serve the beef immediately - Remove the beef when tender, after 2 to 3 hours.

When the stock is ready, you can remove the bones and turn to high heat to reduce the soup so it'll be easier to store.

Drain the stock with a colander and transfer it into airtight containers. Do not skim the fat from the top. You can store the stock in the fridge for 1 week or in the freezer up to 3 months.
Notes
You can ask the butcher to saw the bones when you're shopping for them. They release flavor much faster this way and will allow you to shorten the cooking time. I was working on another project while cooking with these bones, so I had to cook them whole. I cooked the stock overnight to get the desired thickness.
Do not cut the beef into tiny pieces. It will lose moisture faster and you will spend extra time dealing with it. You can always slice it into smaller pieces before serving.
In this recipe, you'll notice that the cooking process will take about 4-6 hours. Animal bones contain a lot of a protein called collagen, which is full of many beneficial amino acids. But because you can't digest bones, the long cooking process breaks down the collagen into a more digestible form called gelatin. It's this gelatin that makes this beef stock

incredibly healthy and great for improving your

digestive

and joint health.

I highly recommend you get bones made from a healthy animal. So make sure you ask your butcher for bones only from grass-fed or pasture-raised cattle.